Get connected with our daily update
(Felix Mizioznikov/Shutterstock)
It could be the biggest Austin economic development project in a generation. One observer calls it a "get-out-of-jail-free" ticket to overcome the devastating economic impact of the coronavirus pandemic. But Tesla, the high-flying builder of electric vehicles, has asked local officials to react quickly and fully to its requests. If not, Tesla could flee to a rival location in Tulsa, Okla.
---
Tesla, a Palo Alto, Calif.-based company, has three objectives.
Property tax abatements of $68 million and $14 million from the Del Valle Independent School District and Travis County, respectively, over a 10-year period. This means that Tesla would be paying approximately 20 cents on the dollar of the tax bill it would otherwise face. Still, say those familiar with the proposal, the Tesla payment would represent a huge boon to DVISD, a relatively poor school district that has 11,200 students in 10 schools. Eighty-four percent of the students are Hispanic.
Rapid approval of environmental permitting from the city of Austin. While Tesla's proposed site is not in Austin's city limits, it is within the city's extraterritorial jurisdiction (ETJ), an area extending out from the city in which Austin controls development that affects the environment.
Fast-track approval of all considerations by no later than July 31 so that Tesla could begin construction soon thereafter.
Seeking incentives
Some might think that the $82 million in tax abatements is pocket change for Tesla, a company with a market capitalization of $185.5 billion as of June 19. That is several times higher than General Motors' market cap of $38.1 billion and Ford Motor Co.'s market cap of $24.8 billion.

But a source familiar with Tesla's thinking says the property tax concessions are essential, and if not granted, are a deal-breaker. While the company is financially strong and its chief shareholder, Elon Musk, is wealthy enough to launch a manned space vehicle, the valuations on an automotive plant and its highly specialized equipment can be so high that thin profit margins "go upside-down very quickly, so what [the taxing bodies] do is very important."
Tesla property tax impact. (Travis County Commissioners Court)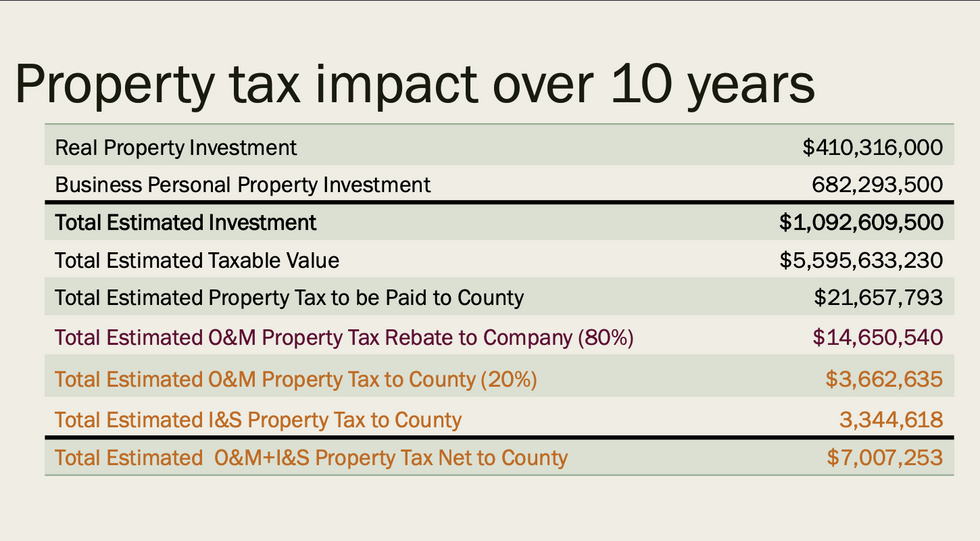 Choosing the site
Also critical is how the city of Austin's environmental regulators will consider the 2,100-acre site, where owner Martin Marietta now conducts sand and gravel mining. Tesla is said to be concerned with environmental standards in Texas that primarily relate to ranch water tanks—artificially created ponds dug to slake the thirst of cattle.

Those regulations, according to a source familiar with Tesla's application, require 300-foot setbacks from the tanks because of "wetlands" that surround them. If that standard were applied to Martin Marietta mining pits—which looks like a war zone after an aerial attack—there would be no land worthy of development, said a source. That source and others declined to be identified because they were not authorized by parties involved to speak publicly.
Tesla's proposed site is near corner of the intersections of state highways 71 and 130, east of the Austin-Bergstrom International Airport.
The rush to approval
Tesla's request for a "go-fast" processing of its application could present a significant challenge to the city of Austin, which is now overwhelmed with the need to respond to the COVID-19 pandemic and recent protests against police violence. According to observers, there is a real question whether the city has the capacity to focus quickly and in depth on the Tesla application.

Asked why Tesla is in a rush during a time when auto sales have declined sharply, a source familiar with Tesla's thinking said that for every day of lost production, there is lost revenue. "It's just the way business looks at it."
Still to be determined is whether Tesla's expectations about speed of movement align with the city's. Austin City Council is not scheduled to meet again until July 30. There is uncertainty about whether Tesla will wait that long. "The city of Austin can stand only so much pressure," said a source.
Supporters and opponents
Tesla is not without advantages in its pursuit. The firm believes it has allies within the Travis County government and DVISD, as well as in the Greater Austin Chamber of Commerce and "up and down" the ranks of state government. "The support so far has been remarkable," he said.
DVISD Superintended Annette Tielle said in a statement last week, "The addition of a company who has the ability to support our community both economically and academically would be advantageous for our students and accelerate our efforts to mentor and develop the workforce of the next generation." The DVISD board will next take up the proposal during a closed session at a meeting on Wednesday.
The Travis County Commissioners Court will receive presentations on the proposed agreement from staff and Tesla representatives at a meeting on Tuesday. In the presentation, which was made public last week, the county staff wrote that the proposal "results in a substantial benefit to the community and a net fiscal benefit to the County."
Commissioner Gerald Daugherty told Austonia that the proposed factory would benefit DVISD more than the county—equating it to the 2005 economic incentive deal Manor ISD entered into with Samsung. He added that the prospect of 5,000 jobs, most of which would go to skilled workers without college degrees, was alluring. "Let's face it, today in America manufacturing is really one of the more difficult areas to bring to your community," he said. "That's a pretty enticing deal for us."
A person familiar with Tesla's thinking said there were alternative plans if the manufacturer could not win speedy approval of the Austin site, but declined to give details. Tulsa has been mentioned publicly as a competing destination. The source declined to say whether there were alternative sites in Williamson County, which has been an ardent suitor of Tesla, or elsewhere in Texas.
Tesla job creation over time. (Travis County Commissioners Court)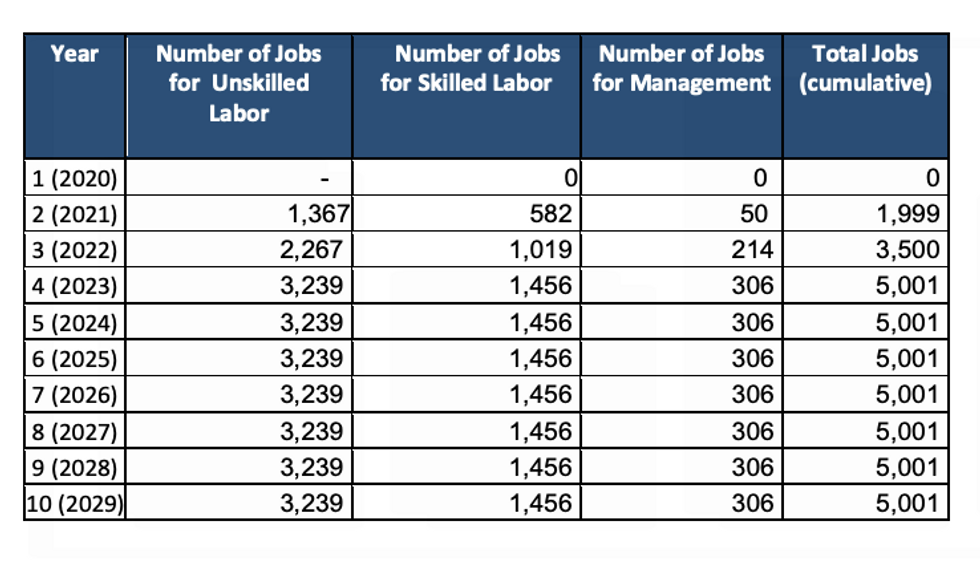 Travis County projects 5,000 Tesla jobs over the next several years.
While Tesla is unlikely to face opposition from neighborhood groups, because there are few neighborhoods in the area of the proposed site, it may well face challenges by the United Auto Workers, which has sought to organize Tesla. The firm's plants now are non-unionized. And the UAW, through allies in the local Workers' Rights groups, has political support in Austin that could become a factor in decision-making.

Rick Levy, president of Texas AFL-CIO, urged local officials to consider what he called Tesla's troubled history with taxpayer subsidies—and its flouting of government authority. He said Elon Musk reopened the company's Fremont, Calif., factory in defiance of a local county shelter-in-place order, meant to limit the spread of COVID-19.
So, you wanna give Billions to a billionaire? What's it like to work for Tesla? Have they ever kept their promises… https://t.co/TAc1Gr6yD8

— rick levy (@rick levy) 1592859690.0
In a phone interview on Monday, Levy worried that if Travis County gets Tesla to agree to worker protections and other terms, it may be hard to enforce compliance. "I'm not totally sure that it's possible because when somebody is as big as this operation is, does the tail wag the dog or does the dog wag the tail?" he said.
The optics of giving a public subsidy to a billionaire-owned company are unpalatable to some.
Mayor Pro Tem Delia Garza, whose district runs closest to the proposed factory site, said in a statement to Austonia: "For me, any consideration of an opportunity like this one for residents in Southeast Austin and Travis County must include good union jobs and fair wages. I'm also concerned about some of our small businesses struggling right now, and what kind of message is sent to them for government to help wealthy corporations."
Why Austin
Asked what makes Texas attractive to Tesla, a source said that Texas' "entrepreneurial, pioneering personality" matches that of Elon Musk. As for Austin, the city carries the added advantage of a highly-educated labor pool deep in engineering and technical skills. "There are not a lot of sparks flying, welding and molten steel going on in a Tesla plant," he said. "It's pretty clean and robotic."
Those employed would fall into two groups, those with advanced management and engineering backgrounds, and skilled labor. Also, he noted that construction of a plant would require a substantial force of workers from the building trades.
Austin Business Journal reported Monday that Tesla may also relocate its headquarters to Austin, following Musk's ongoing conflict with California lawmakers over COVID-19 policies.
Transportation was clearly an issue in the location of GM and Toyota plans in Arlington and San Antonio, respectively. I-35, I-30 and I-20 are all near Arlington, and I-35 and I-10 converge in San Antonio. The proposed Tesla site adjacent to SH 130 is clearly at an advantage. "That is a yet-to-be maxed-out highway, and gives access both north and south." To the north, SH 130 connects with I-35. To the south, it intersects with I-10, running east and west. Rail service has not yet been discussed, he said.
Not yet known is the ultimate capital investment Tesla will make in the site in the plant and its equipment, but a source called it "staggering." In a presentation prepared for Tuesday's meeting of the Commissioners' Court, the court's staff said the real property investment was $410,316 and the personal property investment, apparently the building and equipment, would be $682,294—for a total of $1,092,610 over 10 years.
An Austin-based firm that's established itself as one of the top Bitcoin miners in North America is set to go public.
On Thursday, the company, known as Core Scientific Inc., announced it's now trading on Nasdaq as $CORZ. The stock opened at $9.74 per share then peaked at $10.48. The company was assigned a $414 million market cap.
"As one of the largest publicly-traded blockchain infrastructure providers and digital asset miners in North America, we are focused on growing our capacity, defending and securing the blockchain ecosystem and building long-term shareholder value," CEO Mike Levitt said.
As reported by Yahoo News, investors approved a plan for a public debut through a $4.3 billion merger with special purpose acquisition company Power & Digital Infrastructure Acquisition Corp. The deal arrives as Austin sees its crypto scene soar, with increased activity in the NFT economy and groups pooling their money together through DAOs.
Core Scientific was established in 2017 and relocated its headquarters from Seattle to Austin last year. It has a site in Downtown Austin on 106 E. 6th St. and data centers in Georgia, Kentucky, North Carolina and North Dakota. More than 100 full-time employees are in the U.S., but it's unclear how many are in Austin.
Now, they say they are the biggest Bitcoin miners based on processing power, with claims that the combined mining capacity on the Bitcoin network exceeds that of competitors. And SEC filings from earlier this month show it's in the process of acquiring Blockcap, Inc., which moved to Austin last year.
The company describes itself as a leader in high-performance, carbon-neutral blockchain infrastructure in an industry that catches flak for its energy use.
Aside from mining, the company provides internet hosting services for other large-scale miners. In fact, it derives about half its revenue by helping big customers mine, a quality seen in what's often referred to as an "institutional-grade" miner.
Looking ahead, Core Scientific seems optimistic about the year ahead even as Bitcoin falls from its all-time high.
"We've worked hard to lay the groundwork that will enable us to achieve our 2022 projections," Levitt told Yahoo News. "Our objective is to be the best. Being the best means doing all that we can for our business, the industry in which we participate and for the Bitcoin network."
Watch some Cricket
When: 5:30-10 p.m. Saturday and Sunday
Where: The Crossover, 1717 Scottsdale Drive
What: Looking for a new sport to obsess over? Attend one of Sports Movement's indoor cricket matches.
Le Garage Sale
When: 11 a.m. Saturday and Sunday
Where: Palmer Events Center, 900 Barton Springs Rd.
What: Find over 100+ boutiques, brands and designers at Le Garage sale. Shop leisurewear, accessories, menswear, children's apparel, home decor and more. Tickets start at $10.
See a movie at the drive-in
When: 6:25-8:45 p.m., 9:15-10:50 p.m. Saturday
Where: The Globe Drive-In Theater, 8017 Cele Rd.
What: This weekend you can see Harry Potter and the Prisoner of Azkaban at 6:25 p.m. or you can see The Cabin in the Woods at 9:15 p.m. at the drive-in. Tickets cost $16 per car.
Museum of Ice Cream
When: 11:30 a.m Saturday and Sunday
Where: Museum of Ice Cream, 11410 Century Oaks Ter.
What: The Museum of Ice Cream is featuring 12 never-before-seen instillations celebrating the enjoyment of ice cream. View tickets here.
The Austin Flea
When: 12 p.m. Sunday
Where: Meanwhile Brewing, 3901 Promontory Point Dr.
What: Find handmade items, vintage wares, food and drink and more at The Austin Flea at Meanwhile Brewing. Vendors are handpicked for each show to guarantee a great selection of items to shop for.