Never miss a story
Sign up for our free daily morning email...
...and afternoon text update
Get connected with our daily update
photo by Dr. Steve Dobberfuhl
University of Texas-Austin graduate student Lexie Wille, 26, had her first appointment with her therapist via video on her laptop as a result of the coronavirus pandemic.
Her therapist offered video sessions for patients who wished to avoid coming into the office.
"I have a good sense of how we work, and I have trust in our relationship," Wille said. "I felt like I would be able to have about as close as an experience in session as I normally do in person."
She decided to try it. It also made sense because Wille's session would be covered by her insurance—something that may not have been true just weeks earlier.
---
As the pandemic worsens, state and federal agencies are waiving telemedicine regulations in an effort to preserve access to care while limiting community spread.
Last week, President Donald Trump expanded telemedicine coverage for Medicare patients, a benefit already offered to those covered by Medicaid and the Children's Health Insurance Program, or CHIP. That same day, Texas Gov. Greg Abbott required state-regulated insurance plans to pay the same amount for visits conducted in an office, over the phone and by video.
"Gov. Abbott very wisely temporarily expanded telemedicine to include telephone calls in the short term to meet immediate patient need while providers are making decisions about their choices of tool," said Nora Belcher, executive director of the Texas e-Health Alliance.
These changes have been critical for clinicians, who rely on this income.
"The reduction of barriers, that's everything," said Dr. Steven Dobberfuhl, a board-certified internal medicine physician who's been in practice for 20 years. "That's been a game-changer for us."
About 75% of the patients at Dr. Dobberfuhl's practice, Adult Care of Austin on Menchaca Road, are 65 years or older, a group particularly vulnerable to the new coronavirus.
Before the disease arrived in Austin, Dobberfuhl had never used telemedicine. Now he and his colleagues are working to shift as many patients as they can to virtual visits.
While Austin Adult Care has a videoconferencing service, many visits take place over the phone or via FaceTime or the Android equivalent, Google Duo, which Dr. Dobberfuhl said are easier to use than some HIPAA-compliant platforms and allowed under the new emergency rules.
"Patients love it," he said. "My response already is…'This has been great.'"
Samantha Bray, a therapist and owner of Bray Counseling in Westlake, said her four-person team has transitioned about 95% of their patients to telemedicine sessions—even before it was clear that insurers would pay for them.
"That first week I was just willing to eat [the cost] because I didn't think it was ethically okay to just tell everybody, 'No sessions,' at this time when people are in panic," Bray said.
For now, the practice is maintaining its caseload, but Bray worries about the long-term financial impact, especially as the number of inquiries she has received from prospective patients has dropped about 70%.
"I anticipate having issues with claims. I know they [insurers] agreed to this, but we'll see what happens," she said. "And I also expect that in the following weeks more clients are going to see how they're impacted financially and have to make hard choices."
Telemedicine's embrace by insurers and healthcare providers is a significant change.
"So often our public healthcare system and public safety agencies are slow to move in terms of innovation," said J.C. Adams, CEO of Cloud 9, a local telepsychiatry startup that connects patients with mental health care professionals.
Now, the city of Austin is advising residents with coronavirus symptoms to use telemedicine services.
Baylor Scott & White is screening patients for coronavirus tests with its MyBSWHealth app and has expanded its telemedicine services to include nearly all of its providers. Ascension Seton and Austin Regional Clinic already offered telemedicine services, which they continue to expand.
In the last two weeks, Cloud 9 has fielded calls from local governments, healthcare agencies and community health centers looking to introduce or expand telemedicine services.
Adams anticipates that after the pandemic telemedicine services will be more widely available.
"I think the overwhelming majority of people in and around the healthcare sector are saying that this is going to definitely be the tipping point for telemedicine," he said.
It's matchday! Austin FC—Austin's first major league sport team—kicks off its debut season in Los Angeles today after years in the making. We know how much this means to our beloved city and are taking you along with us as we journey to LA!
Austin FC writer Claire Partain and I are excited to bring you game-day coverage straight from the City of Angels. Check back here for updates, and visit our socials: @austonianews for the latest.
5 p.m: Kickoff!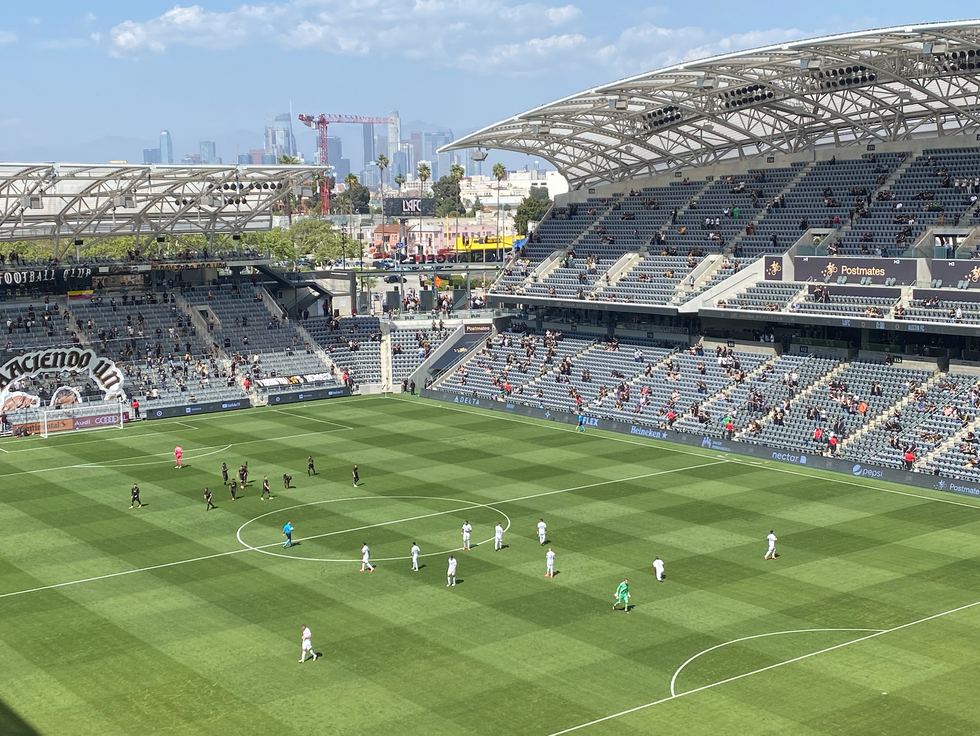 It's finally here! Claire will be updating Austonia's Twitter account live. And we'll post her game recap after the game. Best of luck Verdes!
4:40 p.m: Excitement radiates back home
Watch parties are in plenty supply back home. Austonia's Laura Figi visited Circle Brewing Co. and found a crowd of excited supporters.
4:20 p.m: Austin FC supporters are in the stadium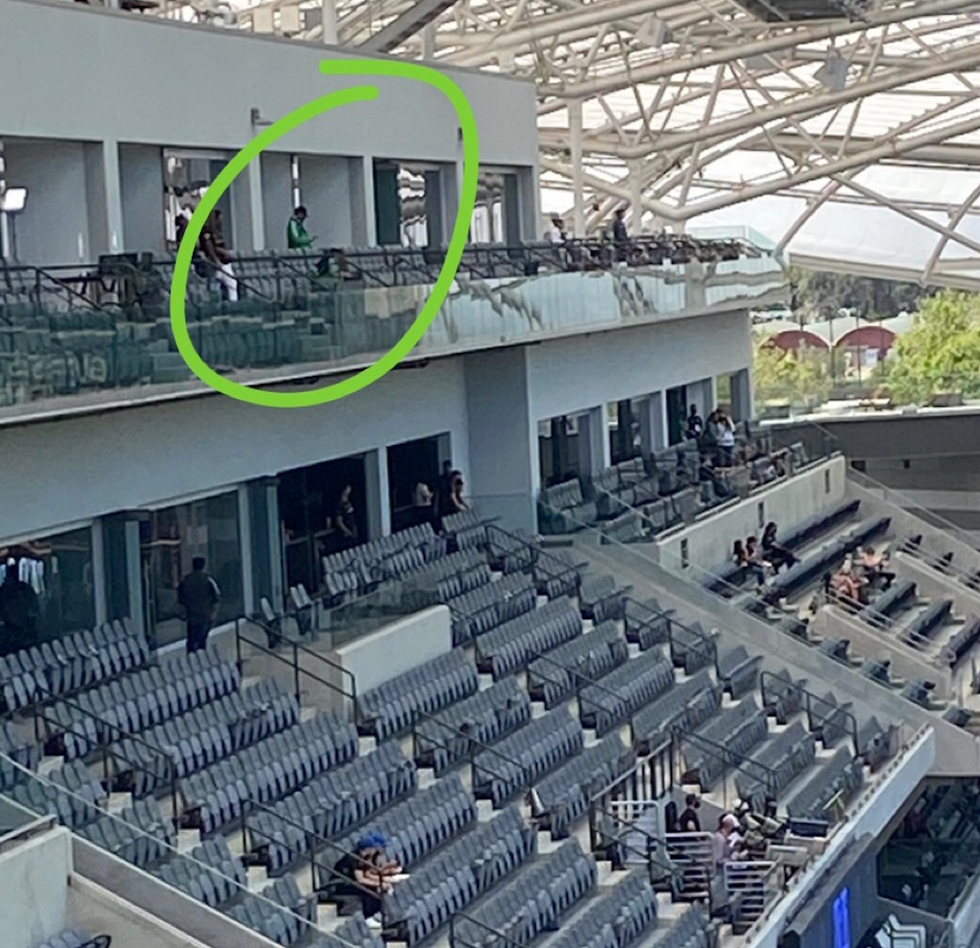 Although the Banc of California Stadium is hosting the match at limited capacity, we see some green in the stands ahead of kickoff. Just moments away from the Austin FC's debut!
~3:20 p.m: Austin FC's team bus enters the stadium grounds
With a warm welcome from Los Verdes, Austin FC players were welcomed into the Banc of California Stadium.
~1 p.m: Los Verdes in LA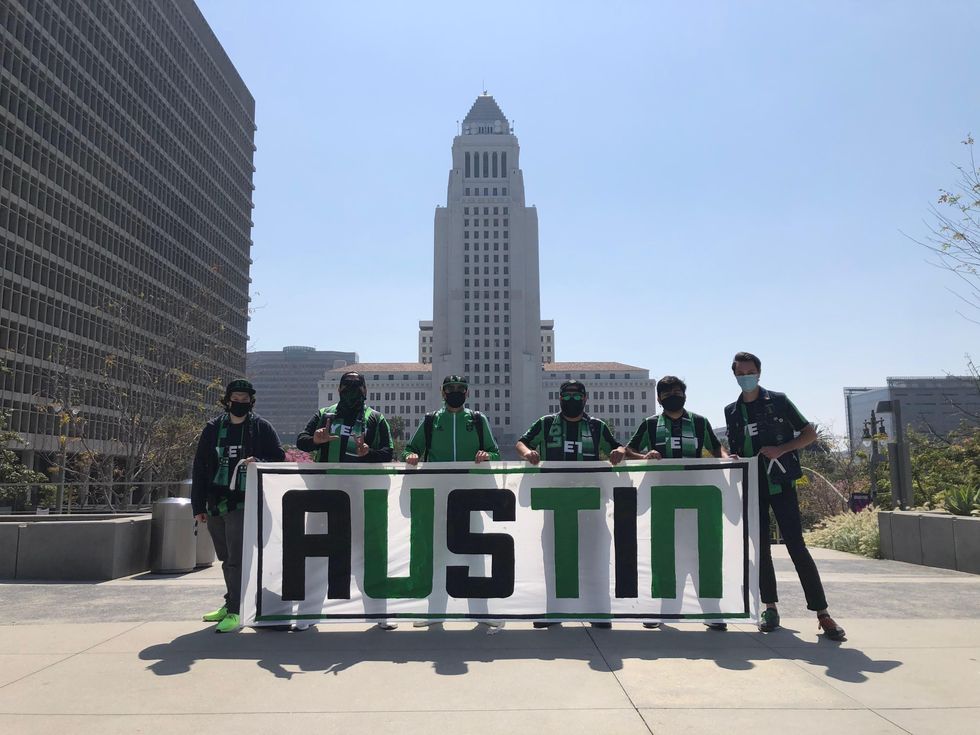 (Rigo Rodriguez/Los Verdes)
Austin FC supporters are making their presence known in LA, including the Los Verdes group.
Los Verdes members started having match-day fun around the area this morning with brunch. We'll be joining them about an hour before the game outside the stadium to share some of their excitement. We'll post immediately to Austonia's Instagram.
11:45 a.m: We landed!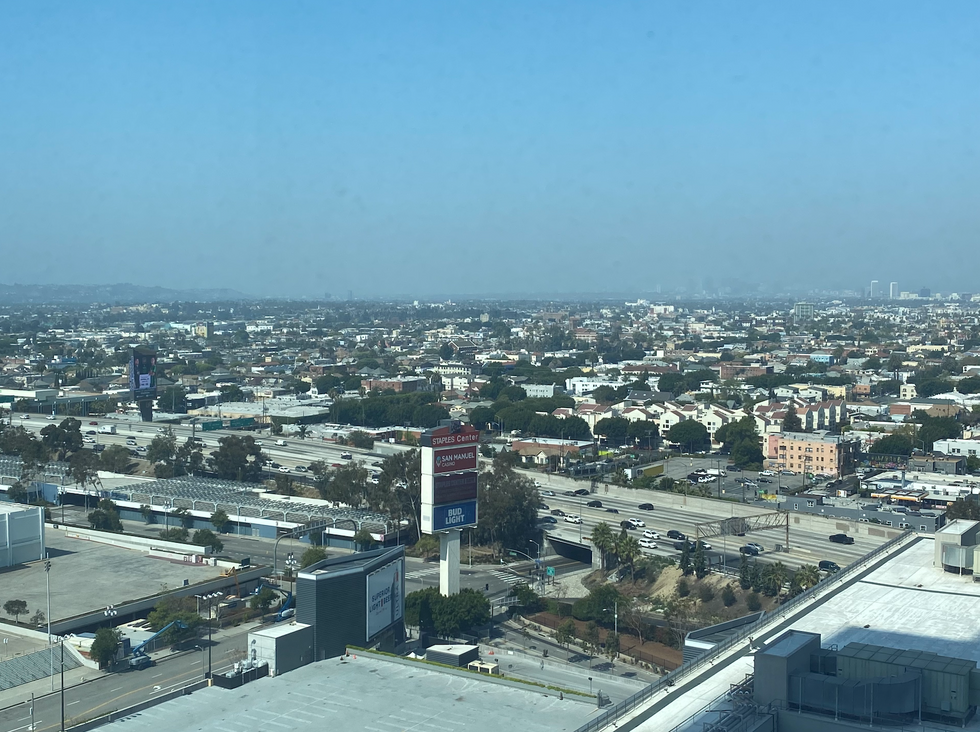 View from hotel room where we're staying; the stadium digital sign can be seen in the right corner. (Sonia Garcia/Austonia)
Switching over to pacific time, we're here and it's almost like no time went by. It's 9:45 a.m. here.
We've been in contact with Los Verdes, an Austin FC supporter group, who is also here in LA counting down to kickoff.
8:20 a.m: LA bound
Like many of you, we've been looking forward to this moment for, let's just say, a very long time. Today, we woke up bright and early, headed to Austin-Bergstrom International Airport and hopped on a flight to LA.
A gloomy day in Austin with a very quiet airport, we're headed to sunny skies in California.
As we wait for the game to start at 4:30 p.m., check out Claire's preview of the game with a predicted lineup and timeline of the long journey to get here.
Years before the city of Austin went Verde, thousands of the city's soccer fans formed a supporters' group—MLS in Austin—for a team that didn't even exist yet.
Now, as the team's catchphrase suggests, those same fans are #LISTOS as they prepare to see their team on national television at Austin FC's debut on Saturday.
What to expect
The team will face a significant opponent in LAFC, who is projected at No. 2 in the league's power rankings. Austin FC currently sits at No. 21.

"LAFC has one of the best attacking teams in the league," Head Coach Josh Wolff said. "They will punish you. They've never been shy of putting up goals, and again, I expect them to be one of the best teams in the league this year."
The club has lived up to Wolff's words: in just their second season of existence, LAFC took first in the Western Conference and were Supporters' Shield winners in 2019.
Austin FC will need to hold off LAFC captain Carlos Vela, a versatile winger/attacking midfielder who won the Most Valuable Player title in 2019, as well as high-scoring forward Diego Rossi.
Austin FC starting lineup vs. LAFC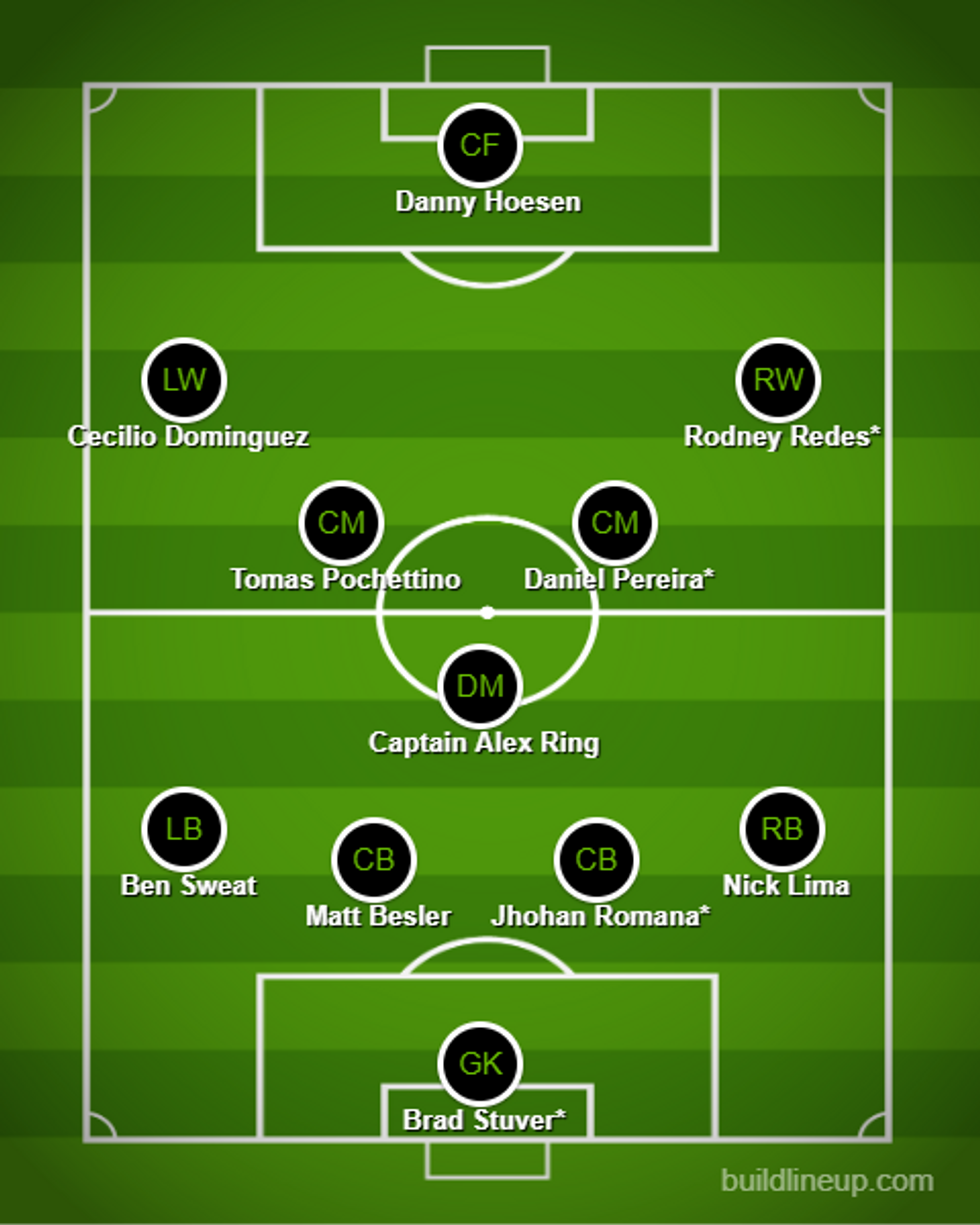 (Claire Partain/Austonia)
Meanwhile, LAFC will face challenges in DP Cecilio Dominguez and midfielder Alex Ring, the former NYCFC "ringleader" who wears the captain's armband for his new team. We still don't have any updates for starting forward Rodney Redes, who may or not be playing Saturday due to a "ding" on his knee.
If Redes is fine, we think he'll stay at forward, where he's been excelling throughout preseason. If not, a more experienced Kekuta Manneh might take to the pitch in his stead. Midfielder Jared Stroud is also in the running after he went in for an injured Redes against San Antonio FC on April 10.
While Captain Alex Ring and DPs Tomas Pochettino and Dominguez are shoe-ins for the starting lineup, some other positions are up in the air.
Twenty-year-old Daniel Pereira, Austin FC's No. 1 SuperDraft pick, has done even better than expected in preliminary scrimmages. He's still young, however, and Austin FC recruited him more for his depth than immediate starting appeal. If Pereira doesn't start, it's likely to be Diego Fagundez who takes the starting spot.
Another young potential starter comes in 22-year-old Jhohan Romana, a sturdy defender who has shown inconsistency in preseason. The backline is a clear weak spot for the team so far, and while Romana shows promise, Wolff may look for experience in Julio Cascante for their first starting lineup.
Finally, goalies Brad Stuver and Andrew Tarbell are neck-and-neck in the race for a starting spot. We put Stuver on here for his preseason performance, but neither would be a surprise as starting goalkeepers.
How we got here
It's hard to put into words how monumental it is for these supporters to see their own team one day away from its historic opening match, but the excitement can be felt across the city.
To put things in perspective, here's a timeline of events that brought us here, from "MLS in Austin" all the way up to Saturday's opener.
Where to watch
While Austin FC's first season will officially be underway, their inaugural match will be nearly 1,500 miles away from their home city.
That's no problem for some fans, including those in Austin FC fan group Los Verdes. A group of dedicated supporters are going to the West Coast to welcome their team into the stadium. While LAFC isn't officially allowing Austin fans in due to COVID protocol, some are still searching for a way to watch their beloved team take the pitch for the first time.
Meanwhile, thousands of dedicated fans are also staying home to support their club. Austin FC's first official watch party is sold out with over 1,000 RSVPs, and Austin Anthem is holding a 1000 plus-person watch party as well. For a full list of Austin FC watch parties and participating pubs, click here.
For those staying home, the match will be broadcast nationally on FOX and FOX Deportes at 5 p.m. on Saturday.
Don't miss out on the game!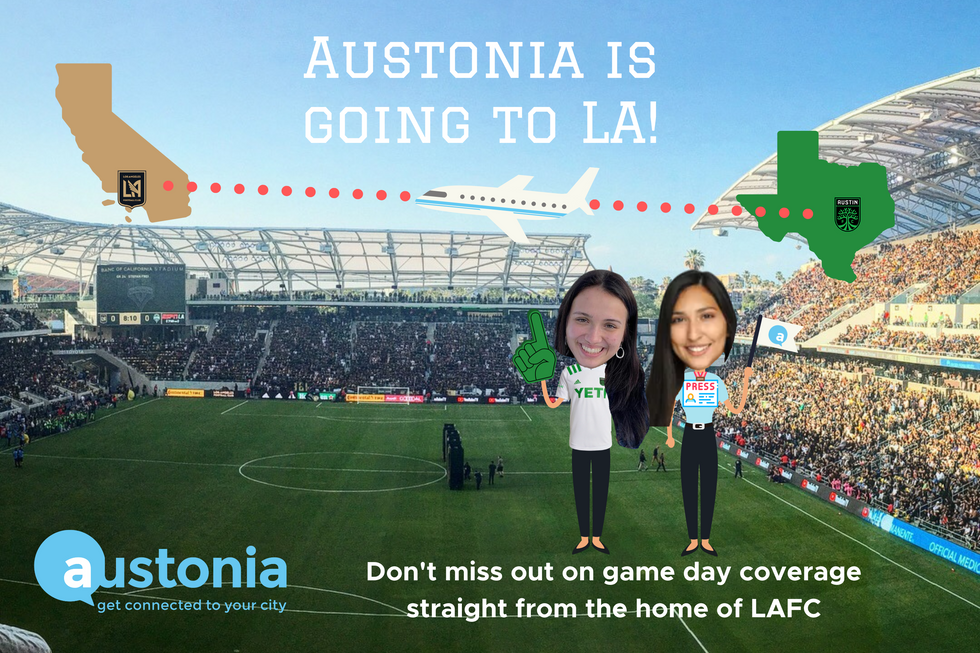 (Laura Figi/Austonia)