Get connected with our daily update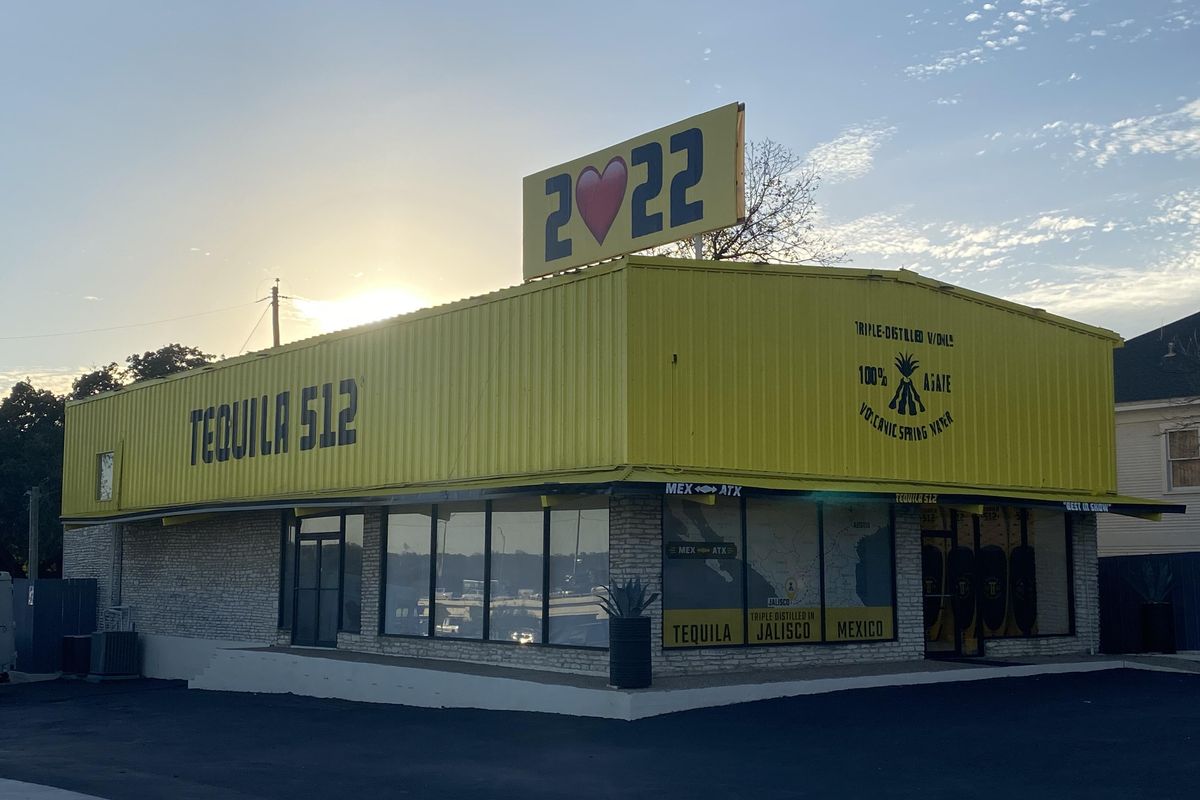 Want to know what's going on in that big yellow building on the corner of Mopac and Lake Austin Boulevard? Spoiler: It's not the tasting room or merchandise store you thought it might be.
---
Tequila 512 CEO Nick Matzorkis and business partner Josh Keller have spent months preparing for the big reveal. The building, which has frequently changed hands over the years, made headlines in September when it debuted a cheeky billboard poking good fun at Elon Musk. Now, its billboard reads "2❤️22," foreshadowing a host of surprises that will come to be revealed over time starting in January.
The building won't host a tasting room and won't even sell its Jalisco-made tequila—instead, 2201 Lake Austin Blvd will serve as an "interface with Austin culture and all the things that people equate with Austin, from fitness and running, to stand-up paddling to Tequila 512," says Matzorkis. Instead of a sales-driven venue, the building will be a community hub with different access for "friends of the brand" as well as the average Austinite.
"We're going to protect this little intersection of Austin. If you look downtown Austin is changing dramatically day by day—everything around Austin is changing—this intersection has not changed a bit" Matzorkis told Austonia in an exclusive interview. "This building is here to be that physical representation of those brands and to open it up to the value that it has in terms of its proximity to things."
While he said he isn't ready to divulge the full extent of what is in store for the building, Matzorkis said a few things are certain for now.
What will the building be used for?
A better question is, what won't the building be used for? The space is divided into two sections: Austin by day, which will be a community water sports hub, and Austin by night, a private stage and studio that will allow local musicians to host a jam session.
Sometime in the first three months of the year, a SUP ATX truck will park outside and provide paddleboards free of charge to anyone, with seating out front inviting you to relax after a day out on the lake.
A love of water sports led Matzorkis, who is originally from California, and Keller to create SUP ATX when he missed the ocean upon moving to Texas. When it started in 2007, the surf shop and paddleboarding company raised awareness about the sport on a road trip from Malibu to Austin.
"I'm very much an ocean beach guy and I love Austin," Matzorkis said. "I just wanted to bring the ocean surfing culture to landlocked states (and) to have a vision for turning every lake and river across the country into a place where you can experience the many joys and benefits of interacting with water via surf-shaped boards."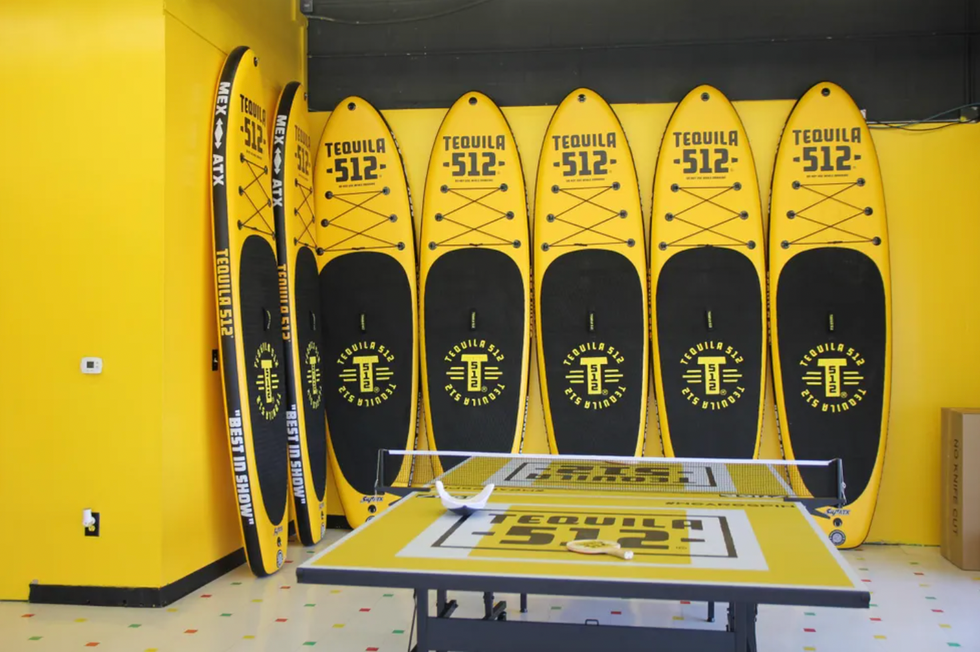 Matzorkis is currently working on getting all 300 of its branded paddle boards moved to the building so he can share them with Austin. (Laura Figi/Austonia)
Additionally, a RunTex truck will park on the other side, featuring running clinics starting in January by Paul Carozza. Coming full circle, Carozza originally welcomed SUP ATX into the building when it was still occupied by RunTex.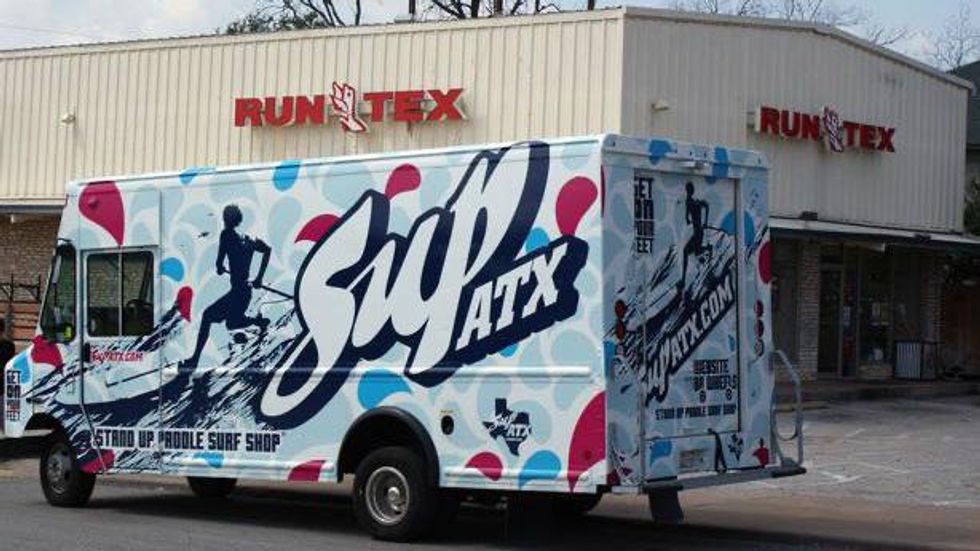 SUP ATX got its start parking in the RunTex lot and is now repaying the favor. (Courtesy of Nick Matzorkis)
Union Square Media HQ
The corner building will also serve as the faceless HQ of digital marketing company Union Square Media, which Matzorkis and Keller started after they met back in 2005, when they created the "world's first internet band," the ClipBandits. After a viral stint with features on Good Morning America and The Tyra Banks Show, the pair continued their business together by starting the media company in Keller's home state of New York, with Matzorkis holding down the fort in Austin.
The media company grew exponentially, with offices in Los Angeles, Miami, New York and Austin. It has since gone entirely remote and moved its home base to Austin—Matzorkis said that it has also grown to double the revenue with 10% of the workforce when compared to fellow Austin-based creative agency GSD&M.
"This building right here is actually the world headquarters for Union Square media. It's faceless, for now," Matzorkis said, teasing an undisclosed surprise.
Since Union Square Media, soon to be named USM ATX to christen its Austin placement, is all remote, the building will not serve as an office but rather a shared space to Tequila 512 sister brands who can use it.
A big billboard
Though the yellow exterior is striking, Matzorkis and Keller plan to use it as a backdrop to promote the things, artists, musicians and companies that are near and dear to Austin's collective heart.
The exterior underwent a full makeover for ACL season, promoting Jack Harlow's set. Matzorkis, who spent years as a promoter in the music industry, discovered Harlow years ago at the beginning of his music career and said he wanted to give him the recognition he deserved.
"That was the first example of the use, which was letting a friend of the brand use the building to promote something locally that we believed in," Matzorkis said. "In that case, we believed in him as an artist and that he would make it."
Harlow's set drew over 35,000 people—the largest crowd he had ever played.
What's the catch?
It may sound too good to be true but there doesn't seem to be a catch—the facility will only be open to the public on specified occasions but anyone is welcome to grab a board or take a running clinic.
With COVID taking a toll on the fun of life in Austin, Matzorkis said he just wants to give back to the community that he has loved and has loved him in return.
"It's all just love, just trying to bring positivity into the world. We're trying to build off of that, specifically with the heart," Matzorkis said. "This whole thing is about something much larger than just the promotion of these brands, we're really trying to make it mean something more."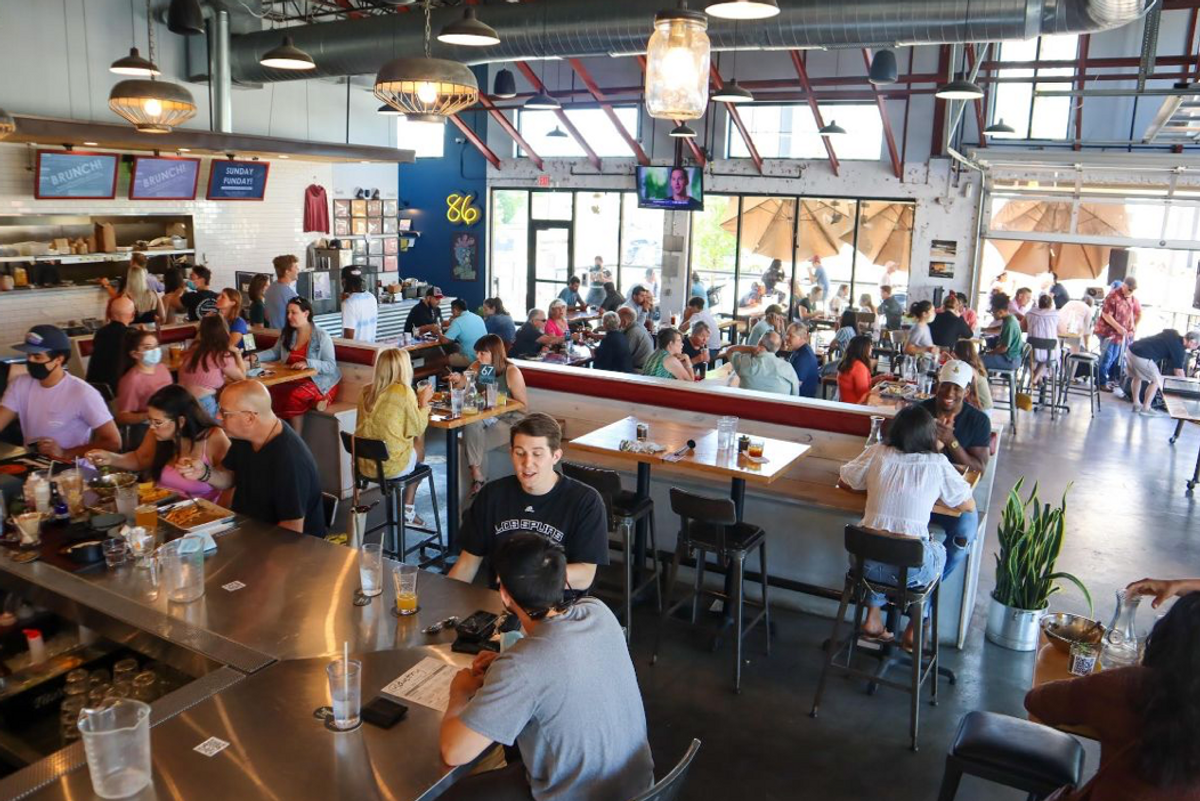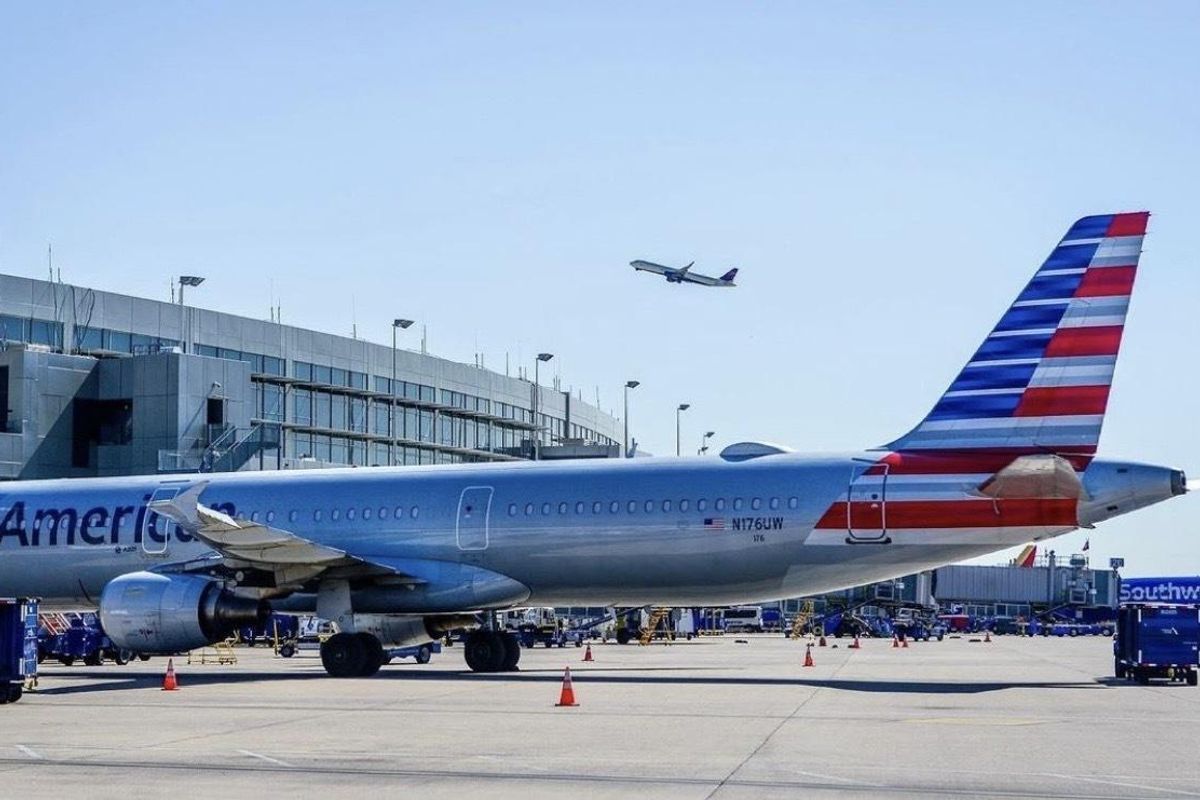 With major entertainment events slated for October, the Austin-Bergstrom International Airport is gearing up for a busy month.
Artists and music lovers are set to pack into Zilker Park for The Austin City Limits Music Festival in the coming two weekends. Following that, Formula One will bring racing fans to the Circuit of the Americas.
For those two events, the airport is anticipating high passenger days with 30,000 or more people departing flights.
ABIA recommends arriving at least two and a half hours in advance for domestic flights on those days. For ACL, it's expected on both Sundays of the festival along with the Monday and Tuesday after. The F1-driven high passenger days are expected on Oct. 20-21 and Oct. 23-26.
\u201c#AustinCityLimits visitors, you\u2019re in for a weird and wild ride \ud83e\udd18\u262e\ufe0f \n\nFlying in or out of our airport? We got firm and fun tips for you: https://t.co/RawVRalOXN\u201d

— Austin-Bergstrom International Airport (AUS) (@Austin-Bergstrom International Airport (AUS)) 1664894083
F1, especially, could draw in loads of travelers as the three-day event saw 400,000 attendees last year. ABIA warns that highways leading to the airport may see even higher traffic than usual around the event and that travelers should plan their route accordingly.
Bailey Grimmett, a spokesperson for ABIA, said travel numbers come in 24 hours in advance. So, it's hard to predict if the airport will see travel volumes at the same levels that have happened around previous F1 races or if it'll top ACL's flight traffic.
Still, she says historical knowledge points to a chance for it.
"We've had that Monday after F1 break the record for single busiest in airport history," Grimmett said. "So context clues I would say yes, but I can't confirm that. But the historical background points to that."
In anticipation of the high volume of flyers, the airport received additional TSA officers for security screening through the end of October. To prepare even further, the Department of Aviation and partners hosted a job showcase and hiring fair to address the continued labor shortage the airport has experienced.
Relief from hectic travel days is on the horizon with November likely to see a slowdown.
"I don't anticipate it will be as busy as October just because we don't have as many events going on," Grimmett said. "Thanksgiving is kind of our primary holiday that we see a lot of passengers coming in and out of the airport."