Get connected with our daily update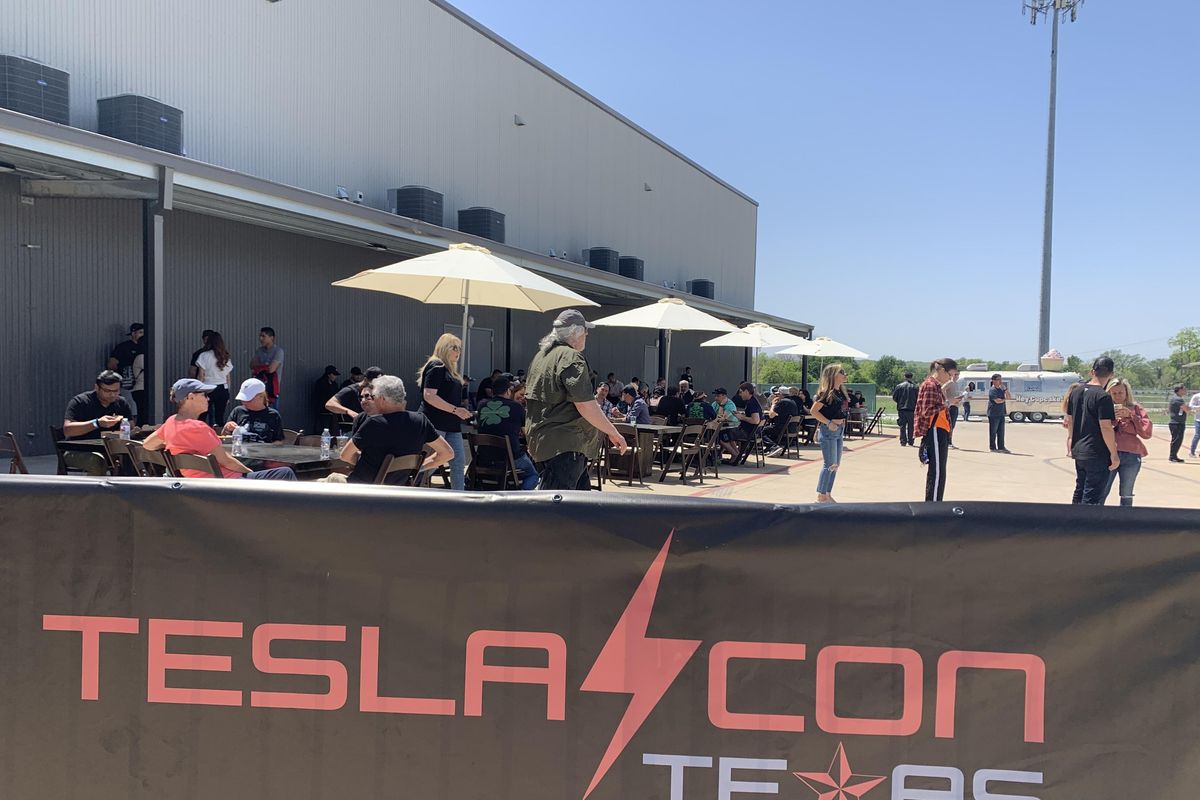 The Tesla Owners Club of Austin hosted Tesla Con Friday afternoon, continuing the party for fans after the gigafactory hosted its grand opening Thursday evening with much fanfare that included fireworks and a drone show.
---
The festivities featured panels of Tesla fans and investors talking about where the automaker company is headed and what the future of Austin looks like with Tesla's headquarters here and other tech giants growing their Central Texas presence.
"It's a walkable downtown, we have great music, we have great art, we have a friendly attitude and we're really open to people coming from other places, so if you're thinking of moving here, I promise, people are really friendly," one panelist said while in conversation with tech YouTuber Galileo Russell.
Organizers also attempted to set a world record for most Tesla vehicles gathered in one place.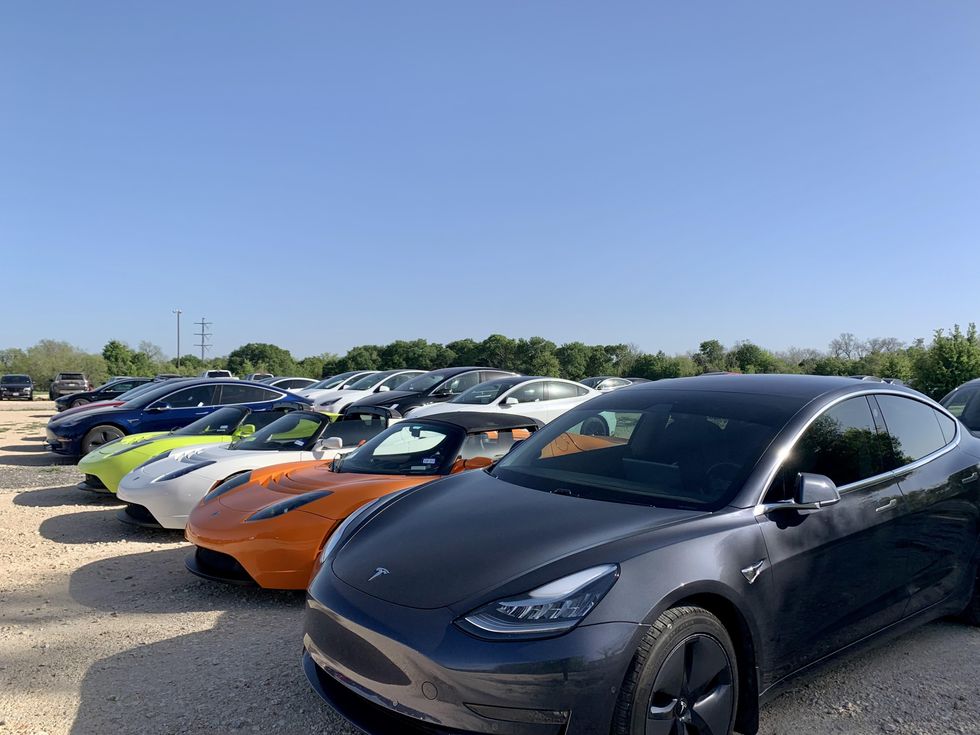 Some, like Haya Hasan, were still gushing over the grand opening party.
"What's amazing is you'll have like yesterday with 15,000 in attendance, I would say mostly younger crowd, like early 20s," Hasan said. "And it was just such a positive, amazing high energy for a car company. What other car company has this type of following?"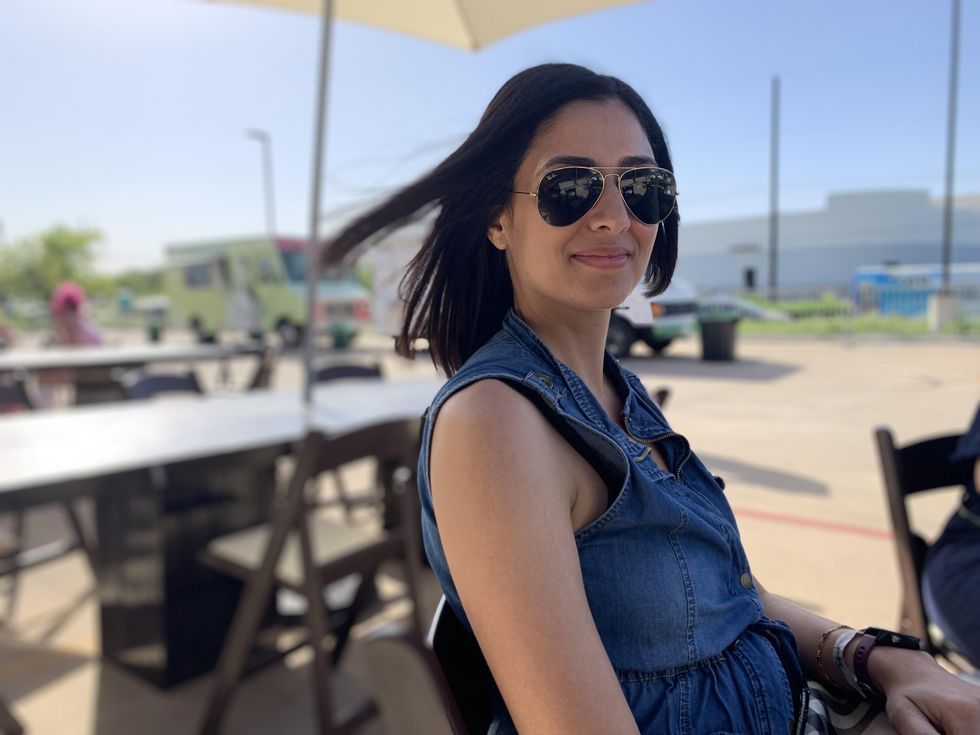 Hasan lives in Austin working in marketing for manufacturing corporation 3M and talked about how Tesla's gigafactory is giving Austin a new image.
"Just to be able to say that Tesla has a factory here is great for our economy, it's already creating this amazing buzz within the city. It's really putting us on the map," Hasan said. "I think people would hear about Austin like 'oh it's a great music capital of the world.' Now, it's going to add a different brand to Austin—it's not just music. It's high tech and entrepreneurship and all that."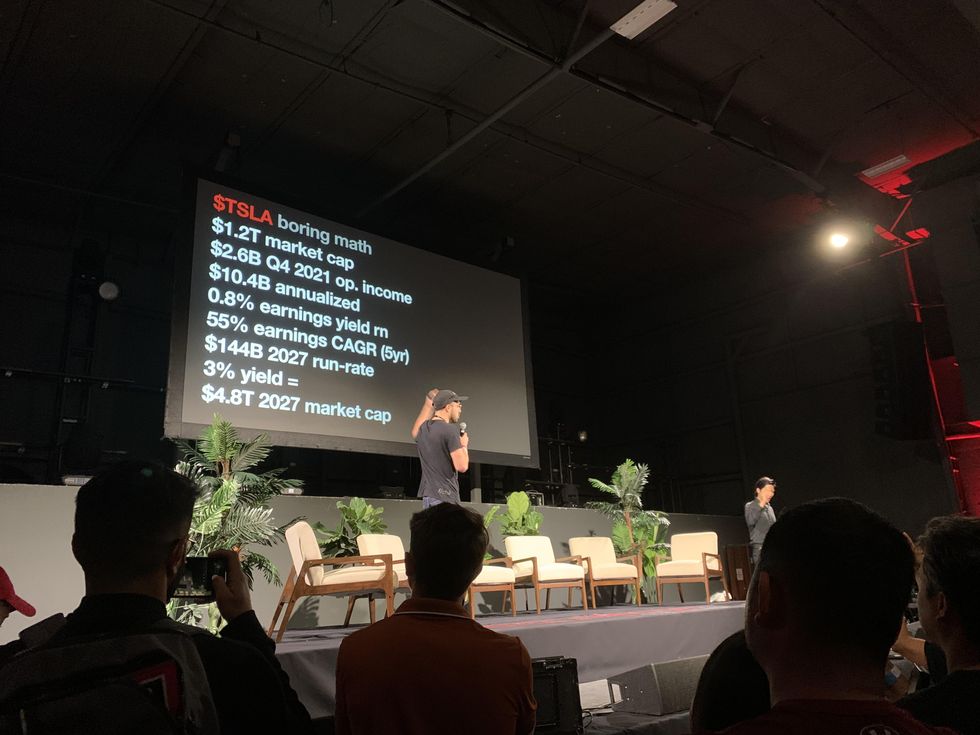 For others who couldn't snag a ticket to the grand opening, Tesla Con was an opportunity to gather with fellow fans. Ryan Wrobleski, a 17-year-old who made a two-and-a-half-hour drive coming from north of Houston, started investing in Tesla in 2019 and owns a Model 3. While he didn't have a pass for the grand opening, he joined others on the side of the road who watched the festivities from afar.
"That excitement—I didn't think it'd be this contagious, but it's pretty hard to not get excited about," Wrobleski said.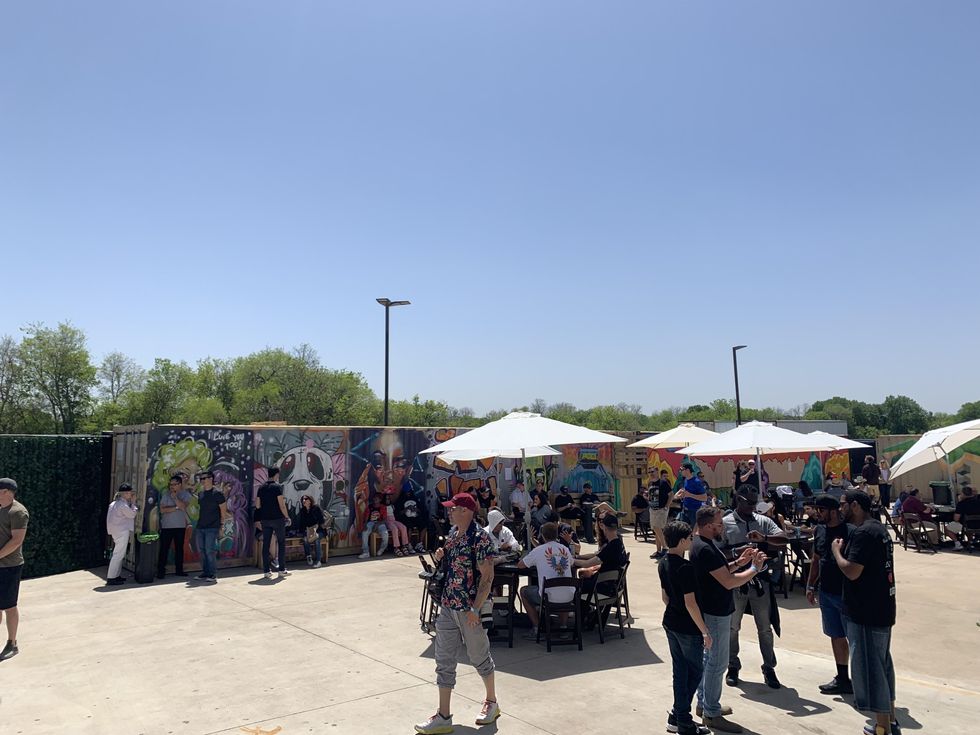 Panelists pondered over Tesla's activity, like what will happen with the wide swath of open floor space they noticed in the factory or whether the company should extract lithium in the U.S.
But they acknowledged Musk will ultimately have the last word on those actions. He'd even bemoaned the price of lithium—a mineral used in lithium-ion batteries for EVs—earlier in the day, tweeting, "Tesla might actually have to get into the mining & refining directly at scale unless costs improve."
On Musk, panelist Dave Lee said "most CEOs, most people, reach a certain pinnacle, they call it quits, buy their island, penthouses all over the world and chill out."
Not Musk though. One thing Tesla Con attendees seemed in agreement on was their praise of him, characterizing him as an engineer and artist who will go down in history.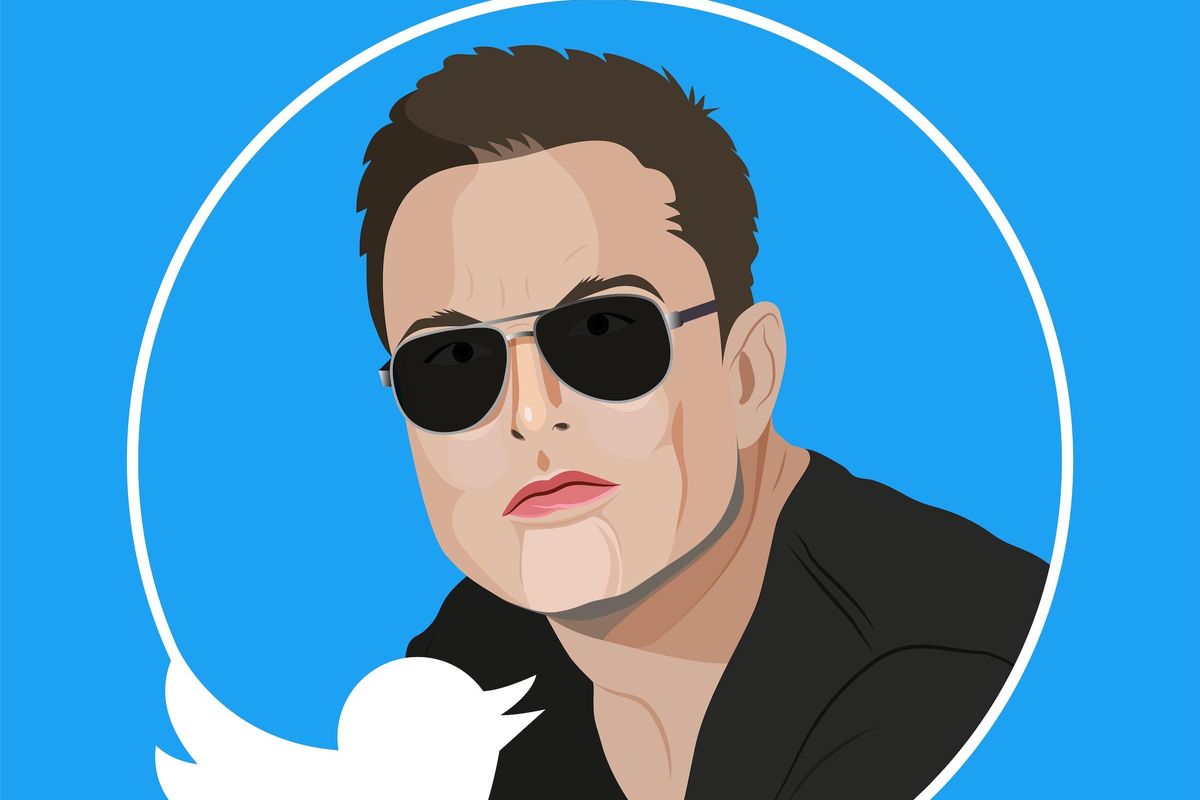 Shutterstock
Elon Musk has proposed once again to buy Twitter for $54.20 a share.
The news that Musk is offering to carry on with the $44 billion buyout was first reported by Bloomberg. Now, a filing with the Securities and Exchange Commission shows Musk made the proposal in a letter to the tech giant on Monday.
The New York Stock Exchange temporarily halted trading in Twitter stock twice Tuesday, first because of a big price move and the second time for a news event, presumably the announcement of Musk's renewed offer.
While the per share offer price on this latest proposal remains the same as the original offer, it's unclear if Musk has made other term changes or if Twitter would reject it. According to other reports, a deal could be reached this week.
The stock closed at $52.00/share Tuesday, indicating market uncertainty around the $54.20 offer.
After Musk informed Twitter of plans to terminate the original agreement in July, Twitter sued. A trial has been expected in Delaware Chancery Court on Oct. 17.
With the proposition of a buyout on the table again, it revives the question of whether Musk might move Twitter from San Francisco to Central Texas.
He's done so with some of his other companies. Tesla's headquarters in southeast Travis County had its grand opening earlier this year and tunneling business The Boring Company moved to Pflugerville. At least two other Musk companies, SpaceX and Neuralink, have a Central Texas presence without being headquartered here.
Technology journalist Nilay Patel this afternoon voiced concerns that owning Twitter and Tesla together could be problematic for Musk, as his Tesla manufacturing facilities in Germany and China are both in countries that have disputes with Twitter over content moderation and censorship.
Telsa shares fell after the Twitter news became public, before rallying to close up, at $249.44.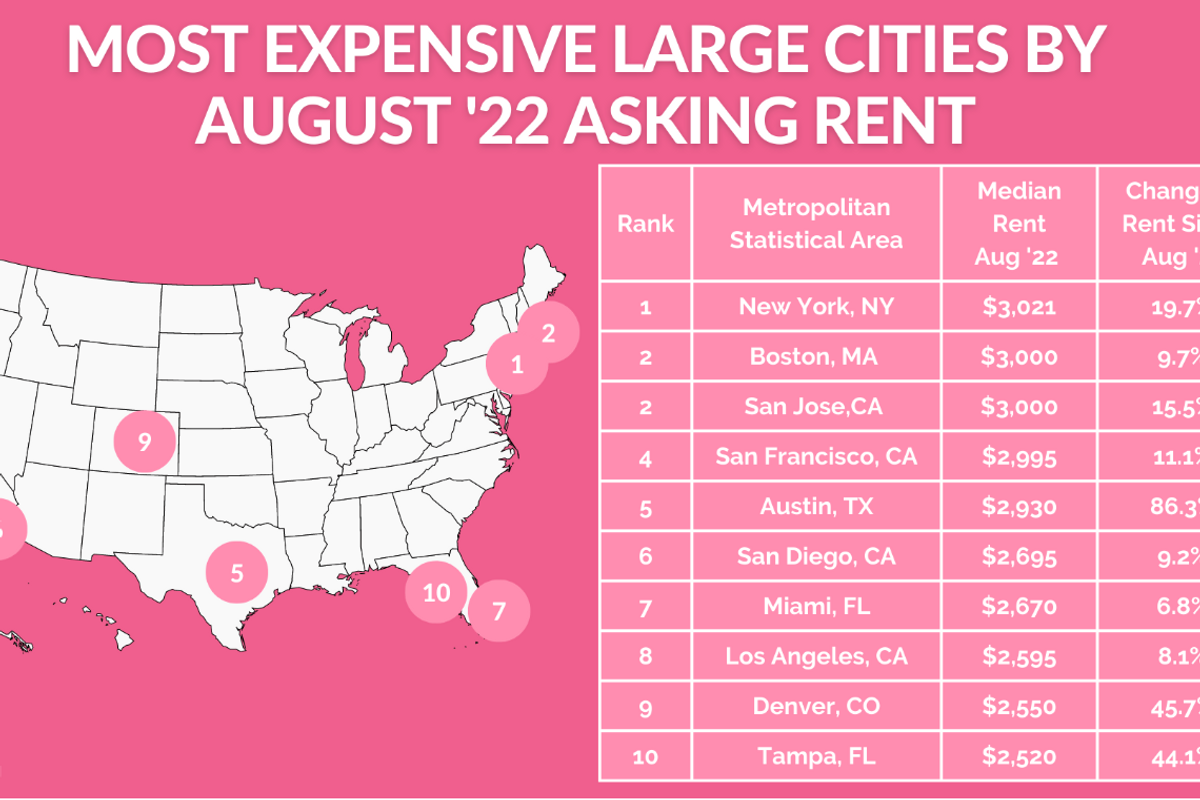 Dwellsy
While searching for a place to live, Austin renters will face monthly rates of nearly $3,000, a recent guide from rental marketplace Dwellsy shows.
The median rent in August this year was $2,930, a more than 86% increase since August 2021. That's $820 more than the nationwide median asking rent in August and puts Austin just below the Bay Area, Boston and New York for large cities with the most expensive asking rent.
"Within this group, Austin, TX stands out for the highest increases in asking rent, which has nearly doubled since this time last year," the study notes.
Outside of those large cities, however, others are seeing even higher rent spikes. Metro areas that ranked above Austin in one-year increases include those like Kansas City, MO with a 112% change in rent since last August and Tucson, AZ with a 124% change.
The data reflects large apartment communities, single-family homes and 2-6 unit buildings.