Get connected with our daily update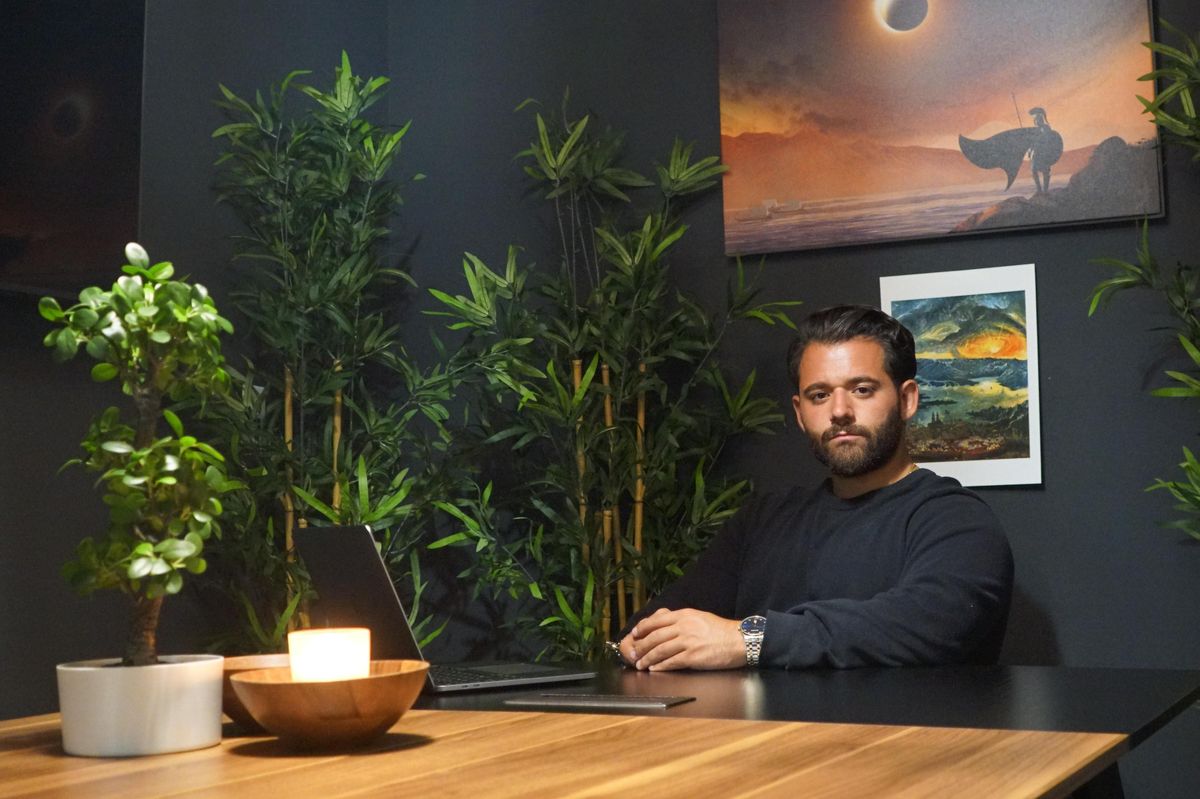 Nick Nanakos is taking the long view.

Founder and CEO of Austin-based ZIKI, Nanakos is on a "multi-decade, global-scale conquest to build the most significant company to ever exist in food."
His Spartan ancestry has made him a fighter for excellence, and his Macedonian heritage (think Alexander the Great) may be what helps drive him toward empire.
Venture capital firm Gigafund, core Elon Musk backers who invested more than $1B into SpaceX, are backing Nanakos's expansive vision of disrupting and transforming the food industry on an industrial scale.
His plan to optimize and re-aggregate multiple elements—ingredients, chefs, cooking techniques, agriculture, teams, factories, real estate, systems, technology, design, and logistics—all integrated on a foundation of proprietary technology, reminds at least one of his investors of a famous trillion-dollar Austin-based company.
"ZIKI is approaching restaurants the same way Tesla approaches cars—with a master plan to be the fastest, most creative company in the category," said investor Ryan Metzger.
---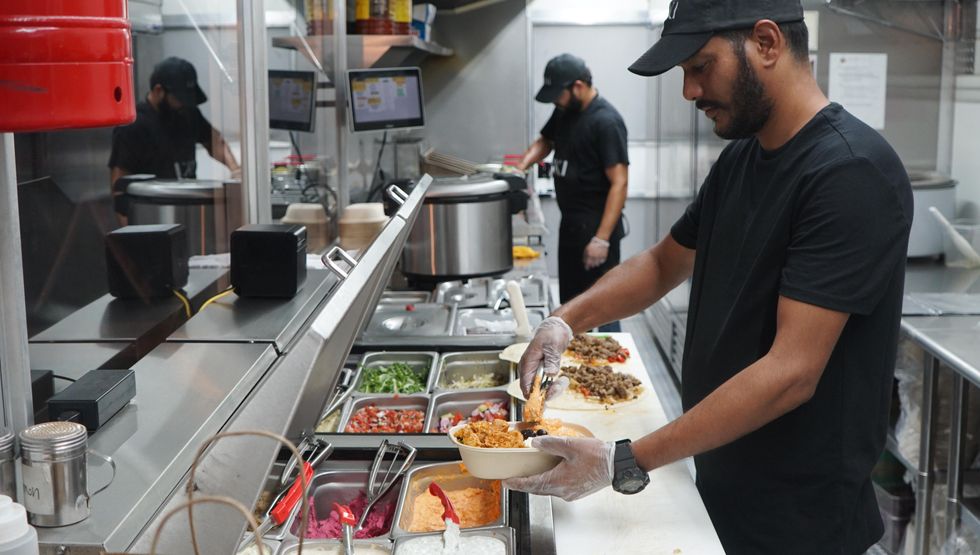 ZIKI
ZIKI is short for "Tzatziki," Greek cuisine's most iconic flavor
ZIKI is a fast-casual restaurant serving Greek & Mexican fusion. Signature bowls, zurritos, salads, sides, drinks, and desserts. The brand's hot pink color illuminates from a distance and is impossible to miss. Food is prepared fresh daily. Veggies, dairy, and meats are sourced locally.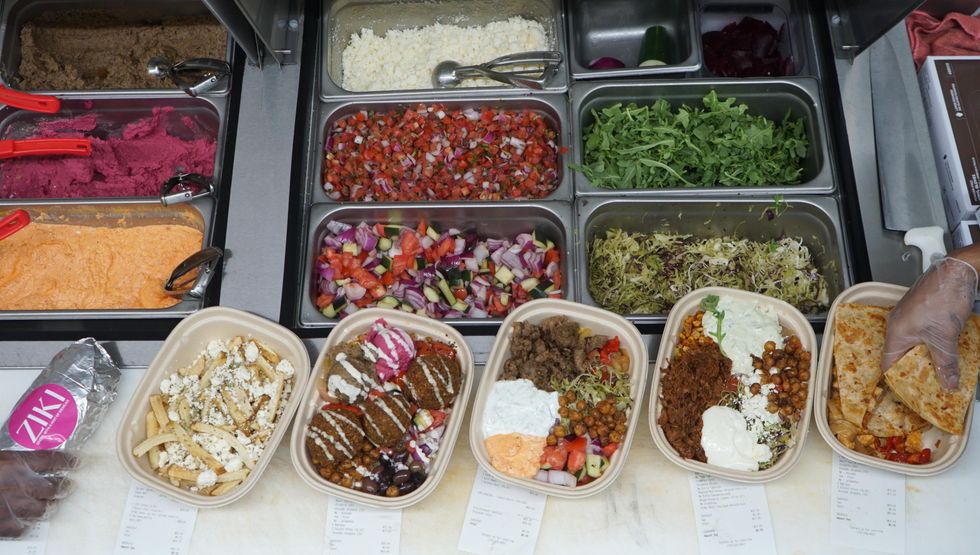 The Zurrito, Greek Fries, Falafel Bowl, Gyro Bowl, Pork Bowl, Quezzadilla
ZIKI
Head of Quality Control, Chef Mo, outlines the system and philosophy: "Proper food sourcing, agricultural partnerships, and quality control systems are imperative to our kitchen operations. The food must always look good, and make people feel good as well."
Nanakos says that it's as much about the heart as it is the head. "Food is a passion business. Embracing our chefs by creating the best possible environment for them determines the outcome of the food. Our chefs are the backbone to our business. When they are happy, they thrive."
Get ready, Austin—you're about to turn pink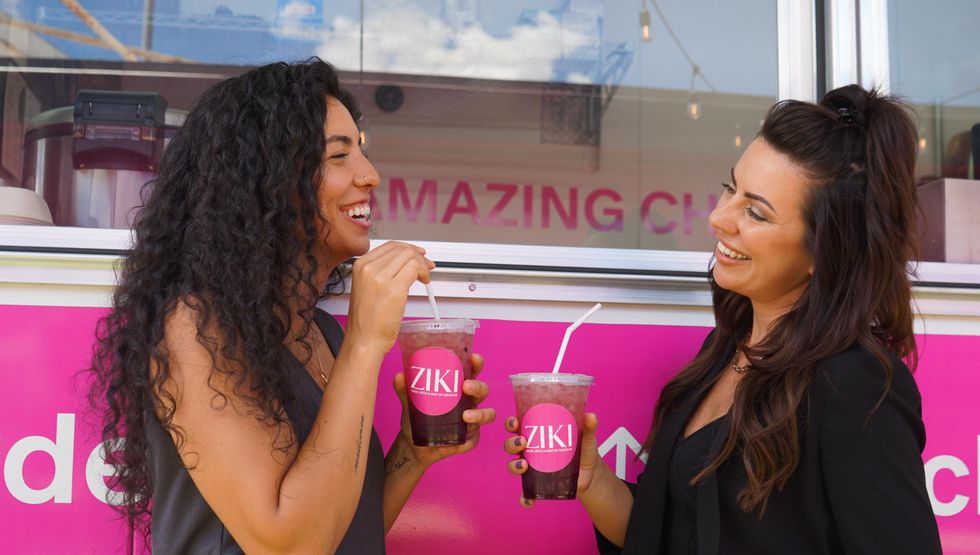 ZIKI
With the boost from Gigafund, ZIKI's goal is to quickly have the largest restaurant presence in all of Austin, before expanding to other cities.
"Austin's love of food, culture, and tech are what add to its vibrancy," says ZIKI's Head of Marketing, Kat Vasylyshyn. "We're painting the city pink."
ZIKI is a member of the largest commercial kitchen in Texas. This serves as their central point of logistics for local restaurant operations. Food inventory arrives here from suppliers. It's prepared on-site, ensuring the highest quality, with an added level of safety and control.
A fleet of Sprinter vans brings the food to modular kitchens for final prep.
ZIKI's systems identify areas with the highest order volume densities and target those areas for placement of new kitchens.
Getting big fast: Why ZIKI is the Tesla of restaurants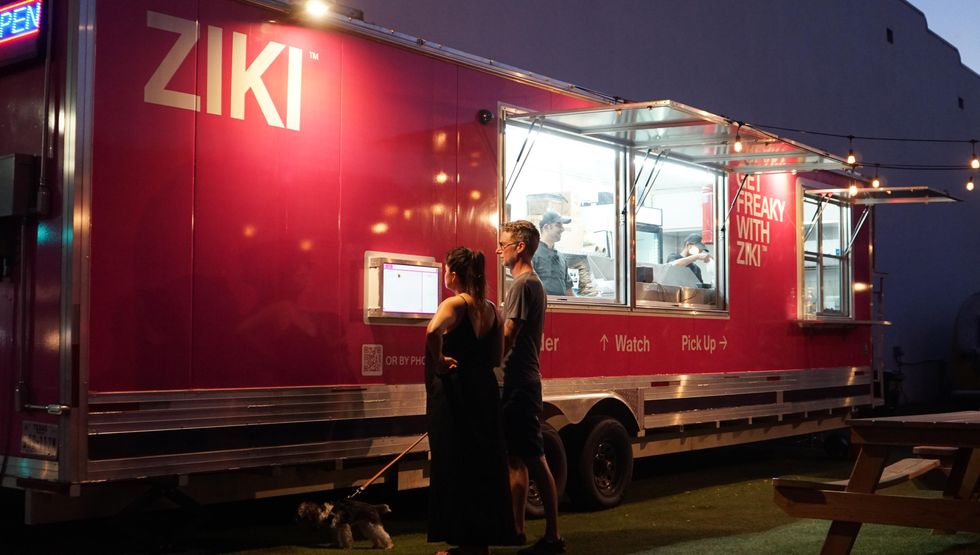 ZIKI
CEO Nick Nanakos is not afraid to state his bold plan: "Our vision is to become the fastest-growing restaurant company on the planet, with unstoppable unit economics."
That doesn't just happen on its own. ZIKI's Chief of Staff, Anthony D'Apolito III, says the Gigafund backing is the green light for a fast start: "We've spent an enormous amount of time building systems prior to our funding, which has positioned us well for scale, and that's showing now in how quickly we're moving."
ZIKI believes that a restaurant should control its own expansion destiny. This is why they're vertically-integrated, manufacturing modular restaurants in the company's Texas factory.
Cutting-edge developments in manufacturing, technology, real estate, and hiring complete the picture.
ZIKI is a company led by a driven, visionary founder that's ready to conquer the world, starting by making you happy with their Greek/Mexican fusion fare, right here in Austin.
You can keep up with ZIKI on Instagram, YouTube, TikTok, and their website.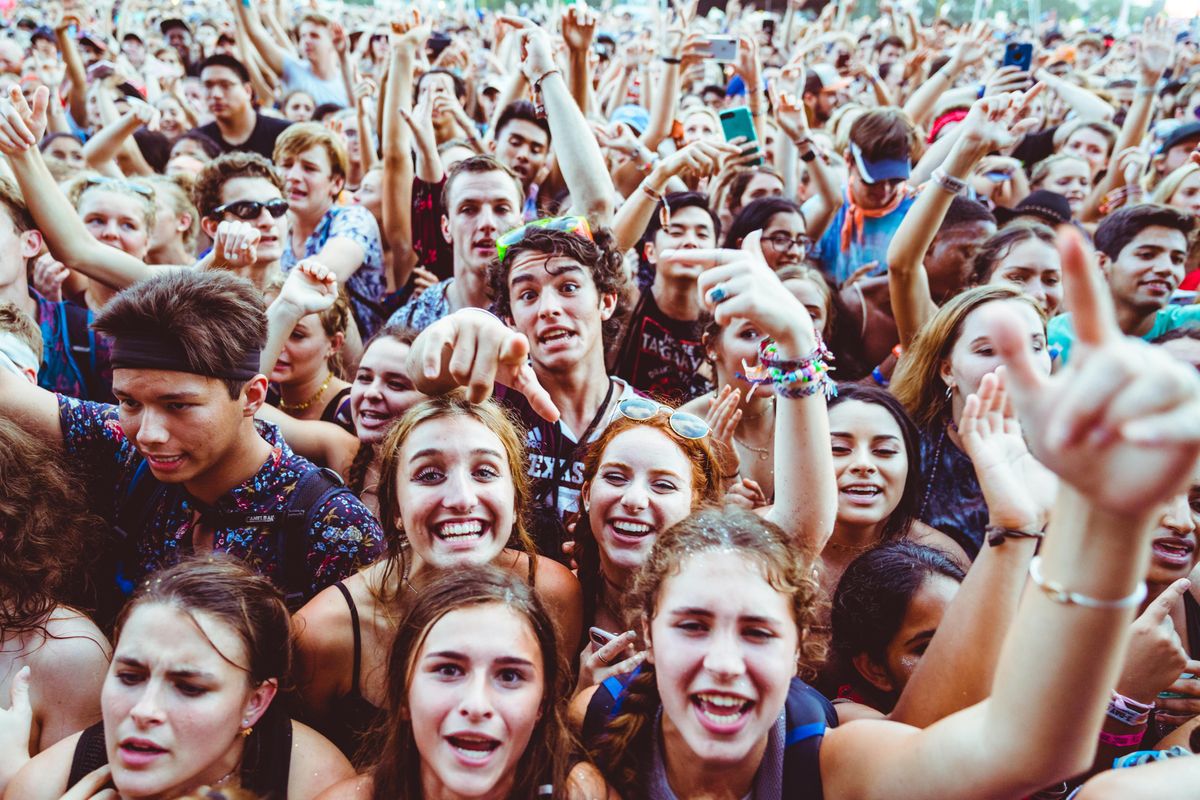 Ismael Quintanilla III / Shutterstock.com
There are only two logical reasons for you to click on an article about Austin City Limits one week before the annual festival makes its grand return to Zilker Park: You're either psyching yourself up for another whirlwind weekend, or you want to justify your decision for not snagging tickets.
Luckily, there's something in this article for both parties.
This year's ACL lineup delivers several heavy-hitting triumphs along with a few puzzling inclusions. One praiseworthy feature that immediately sticks out: There's at least one woman occupying the top line of each day on the festival poster, and two on Friday (The Chicks, SZA) and Sunday (Kacey Musgraves and Paramore) apiece. It might not seem like much, but in an era where music festival lineups are still overwhelmingly male (and white), it's a notable gesture that hopefully signals even greater diversity in future bookings.
Female headliners are also supplying the bulk of the star power this year. C3 Presents had their work cut out for them matching last year's megawatt George Strait headlining performance, but they rose to the occasion with the savvy booking of the Chicks, who haven't played a proper Austin show since 2016 at the Germania Insurance Amphitheater (they also dropped by the Moody Theater in 2018 to perform at Mack, Jack & McConaughey's annual gala). And with Musgraves returning just three years after her last Zilker Park romp (admittedly a strange move), ACL further shores up its identity as a top-draw festival that's more country-friendly than many of its contemporaries — this is the Lone Star State, after all.
Unfortunately, this comes at the expense of a solid rock lineup, which feels increasingly like an afterthought at ACL. Don't get it twisted: Paramore are poised to make a triumphant ACL debut, and with a new song, "This Is Why," out this week and an album of the same name coming in February (their first since 2017's After Laughter), they're a no-brainer booking. But it's harder to get excited about their Sunday night counterparts, Red Hot Chili Peppers.
Sure, the veteran funk-punks recently reunited with classic-era guitarist John Frusciante and will be promoting two new albums, April's Unlimited Love and the brand-new Return of the Dream Canteen, out Oct. 14. But the band headlined ACL just five years ago, and in a year featuring mammoth tours and residencies from Rage Against the Machine, My Chemical Romance, Elton John and Aerosmith (not to mention the Strokes, who just finished supporting RHCP on their U.S. stadium tour), the booking feels particularly uninspired.
You've got to squint awfully hard to find other bonafide rock bands on the undercard too. Stalwart emo and indie-rockers like Death Cab for Cutie, Spoon, the War on Drugs and Manchester Orchestra might scratch the itch for some, but they're a far cry from Metallica's thundering 2018 set or the back-to-back wallops of the Raconteurs and Guns N' Roses in 2019. And if you're thinking about stopping by Yungblud's set to get your fix of snot-nosed, adolescent pop-punk — spare yourself the agony and head to the Torchy's Tacos stand instead.
Enough bellyaching, though. ACL would be nothing without its pop and hip-hop bookings, and this year delivers in spades. SZA will make her ACL debut more than four years after her last Austin visit, when she co-headlined the Top Dawg Entertainment Championship Tour alongside Kendrick Lamar. The R&B star has come a long way since the release of her triple-platinum debut album CTRL in 2017, the same year she played her last proper Austin headlining gig at the comparatively puny Emo's, which holds less than 2,000 people.
Yet even SZA's star is dwarfed by Lil Nas X, the flamboyant pop-rap cowboy who parlayed his stratospheric "Old Town Road" success into a flourishing career. The 23-year-old TikTok savant has since scored two more No. 1 hits — the Jack Harlow-assisted "Industry Baby" and the sultry "Montero," the title track off his 2021 debut album of the same name — and his ACL set is guaranteed to be both extravagant and hilarious. And festival-goers who want a bombastic, hit-filled throwback set need look no further than Pink, who's racked up an astounding 14 Top 10 hits and dazzles in concert with her aerial acrobatics.
The rest of this year's undercard offers plenty of highlights for fans of lighter, poppier and occasionally more reflective fare. Led by Michelle Zauner, Japanese Breakfast will captivate with their vivid storytelling and jubilant alt-pop. Culture Club, fronted by the legendary Boy George, will bring an arsenal of euphoric new wave hits in weekend 2, filling a similar role as Duran Duran last year. And pop-R&B singers Arlo Parks and Omar Apollo promise plenty of sultry hooks and good vibes.
As always, ACL attendees should make an effort to brave the early-afternoon sun and check out the treasure trove of local artists playing this year. Eric Tessmer blends incendiary blues-rock guitar playing with smart, anthemic hooks, while Pleasure Venom (who opened Bikini Kill's sold-out Austin show in May) packs a furious, garage-punk punch. And on weekend 2, Flora & Fawna will hit the Miller Lite Stage with their explosive electro-pop confections, powered by Lili Hickman's powerhouse vocals and tireless stage presence and anchored by Mason Ables' deft guitar work and infectious production.
What are you waiting for, Austin? Festival season is upon us. Go bask in the glory of your favorite artists and find a few new ones in the process — just don't expect to do much head-banging.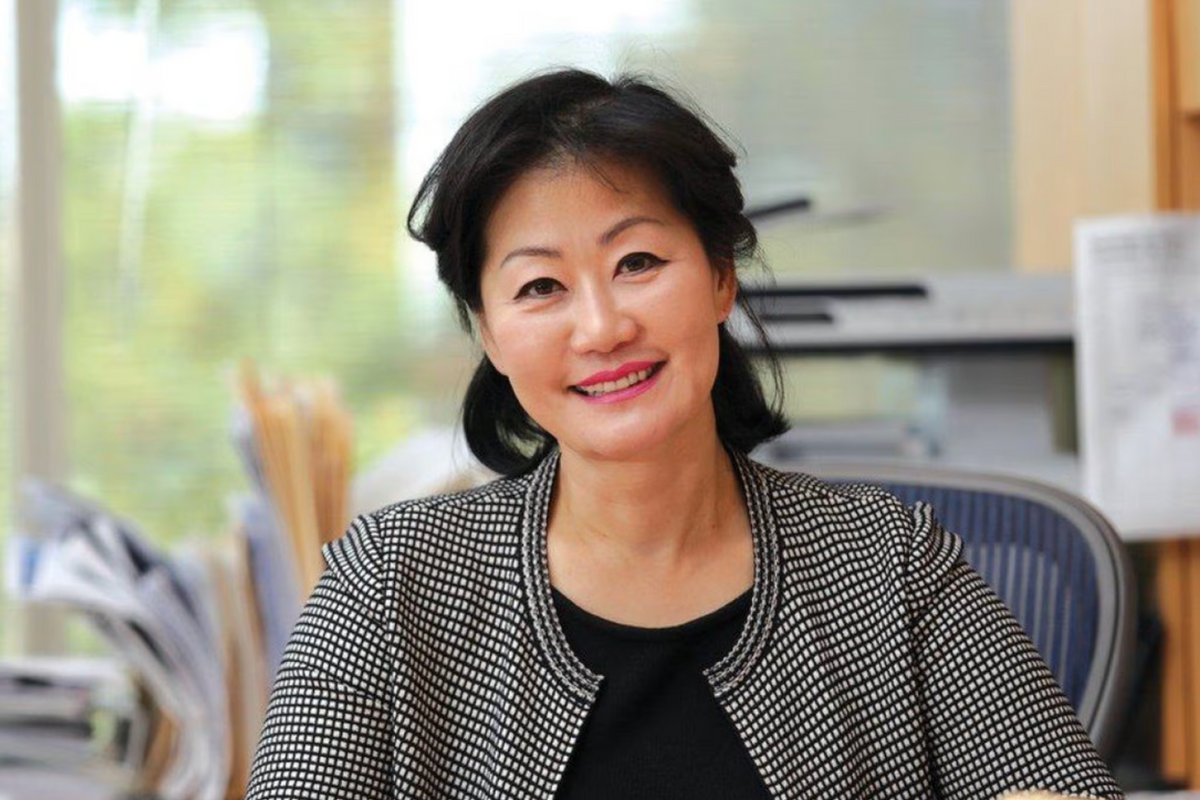 @siraj_iqb/Twitter
The new list is out from Forbes. Here are the Austin, or in some cases, Austin-ish, people on it:

1. Elon Musk, $251B, technology (various locations, primarily Austin)
16. Michael Dell, $50B, technology
86. Robert Smith, $8B, private equity (Vista Equity located here but he may reside in Florida)
99. Joe Gebbia, $7.6B, Airbnb
202. Tito Beveridge, $5B, beverages
234. Joe Liemandt, $4.5B, software
252. Thai Lee, $4.2B, IT
369. John Paul DeJoria, $2.9B, hair care, beverages

Click here to read the complete list on Forbes.