Get connected with our daily update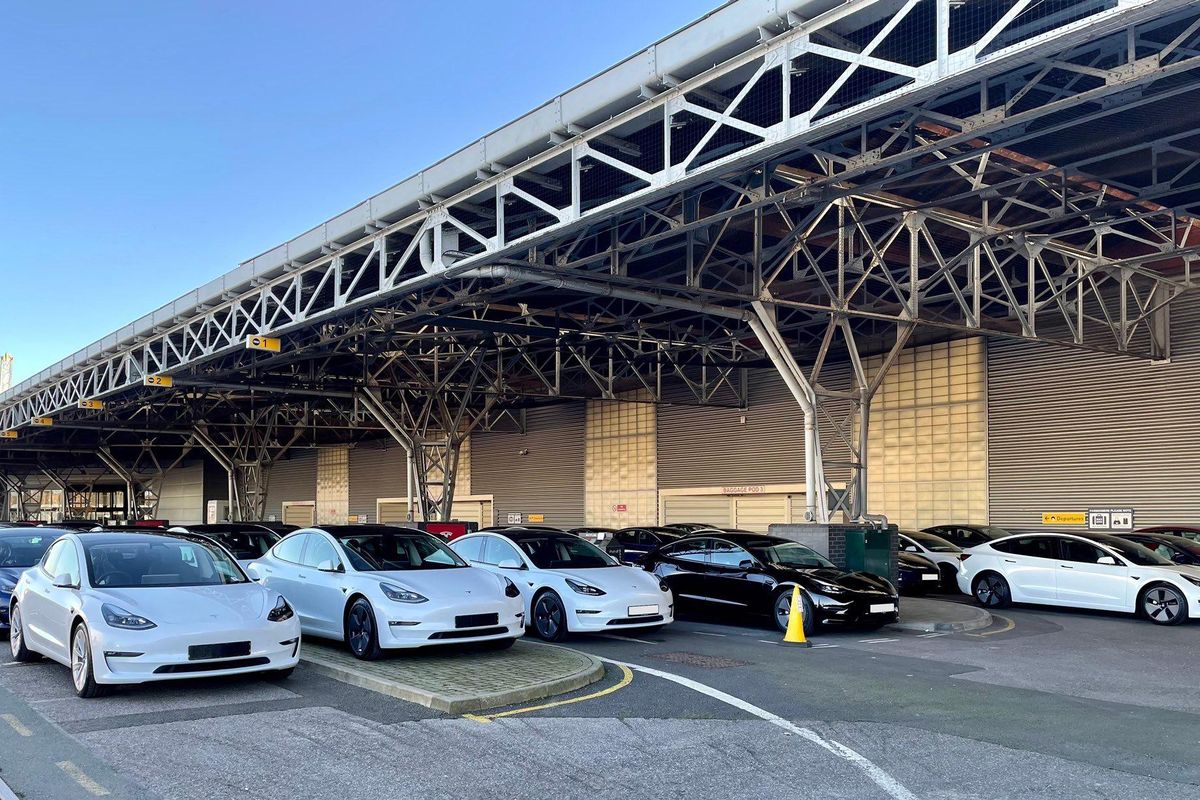 In the last quarter of 2021, Tesla upped its previous delivery record set in last year's third quarter.
---
Tesla delivered 308,600 electric vehicles in the fourth quarter of 2021, beating the previous high of 241,300 set in quarter 3. This also surpassed analyst predictions by more than 40,000 deliveries.
The quarter 4 deliveries put Tesla at 936,172 EV deliveries for the year, a sharp 87% increase from 2020 when the company had its first annual profit.
CEO Elon Musk tweeted about the first look of the quarter's activities after they were released Sunday, celebrating his team's work.
Great work by Tesla team worldwide!https://twitter.com/tesla/status/1477691175897341955\u00a0\u2026

— Elon Musk (@Elon Musk) 1641146210
Also in quarter 4, Tesla produced 305,840 vehicles, though the cars had some slight adjustments.
In May, Tesla announced cars produced at the Fremont, California factory would have some technical changes, including the removal of radar sensors from Model 3 and Model Y vehicles built for North American customers. Instead, the cars use a camera-based system to enable features like automatic lane-keeping and traffic-adjusted cruise control.
Even with changes to features and a massive recall following safety reports by the National Highway Traffic Safety Administration, Tesla dominates the EV industry over competitors like Rivian and Ford.
Going forward, Austin will play a major role in Musk's goal to increase the company's vehicle sales volume to 20 million annually over the next nine years.
The long-anticipated Gigafactory in southeast Travis County, which will have public tours early this year, will soon add to production numbers, as production of the Model Y is expected to ramp up, and eventually the Cybertruck. Recently, Musk said the site, which now serves as the company's headquarters, will generate 20,000 direct jobs and 100,000 indirect jobs, a move that would make it the largest private employer in Austin.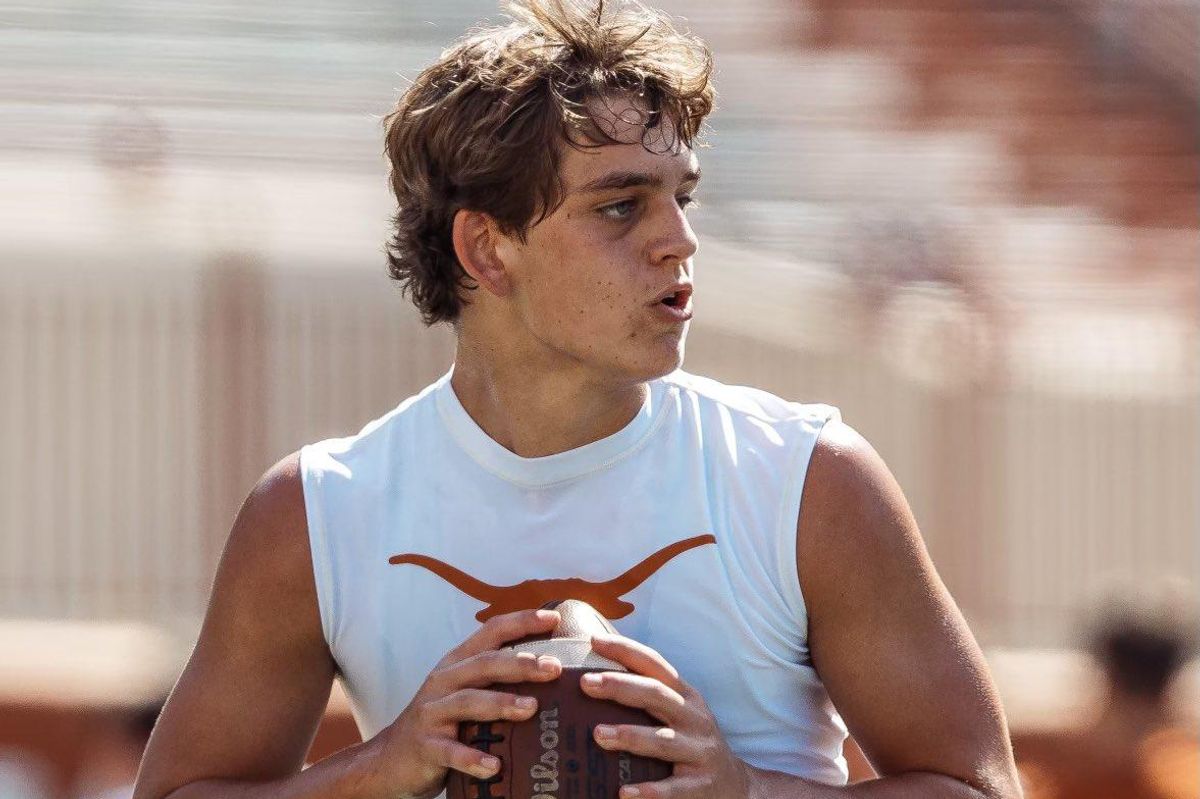 Arch Manning, the latest prospect in the Manning football family and No. 1 recruit in the class of 2023, has committed to the University of Texas.
Manning is the nephew of Eli and Peyton Manning and the son of Cooper Manning, a former wide receiver for Ole Miss. The Manning football legacy began with Archie Manning, Arch Manning's grandfather and namesake who played for the New Orleans Saints throughout the 1970s.
Manning joins head Texas football coach Steve Sarkisian's program after a disappointing 5-7 first season. Manning, who has been the starting quarterback at New Orlean's Newman High School since he was a freshman, was the No. 1 recruit in the 2023 class, according to 247sports.
Manning had plenty of SEC suitors, including Georgia, Alabama and LSU, but committed to Texas after a recent visit to Austin.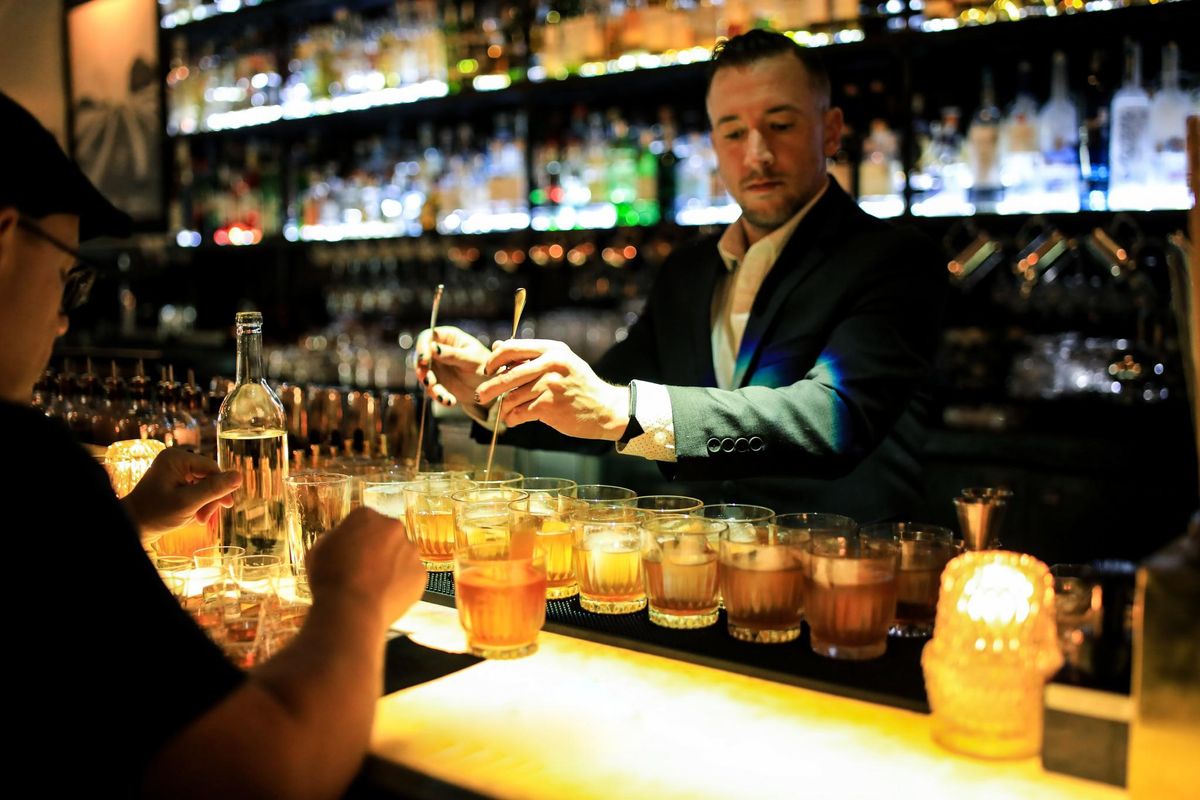 Nightlife is back and better than ever as Austin emerges as an "18-hour city."
Austin's tourist and hospitality sectors have seen a surge in revenue showing a complete picture of pandemic recovery, according to the Downtown Austin Alliance's State of Downtown Report, which was released earlier this month.
For 18 hours straight, Austinites are enjoying what the city has to offer, only dropping off between 3 a.m. and 8 a.m.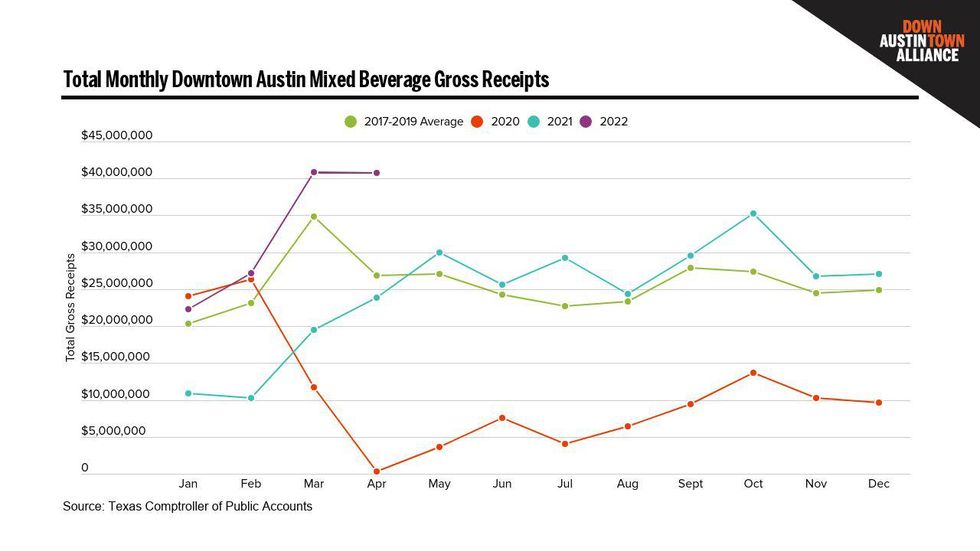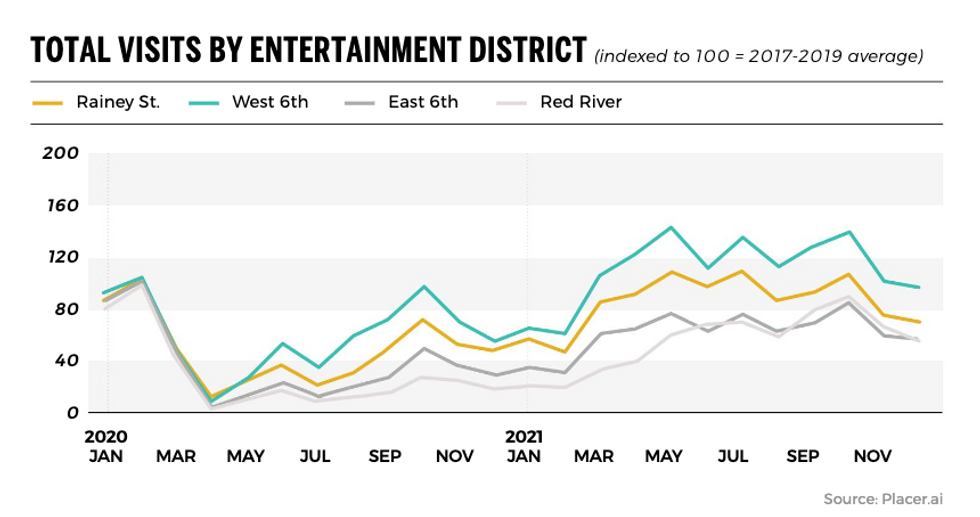 Mixed alcoholic beverage sales downtown reached a record $40.8 million in March this year, nearly matching in April with $40.7 million in sales. Rainey Street and West 6th are neck and neck in terms of sales but the latter wins out in terms of foot traffic; meanwhile, data shows East 6th has become the least popular party district.
The return of nightlife goes hand-in-hand with the recovery of hotel occupancy, which reached 98% of the average traffic from 2017-2019. High hotel prices are also back, reaching $216 of revenue per room in April and $198 in May, surpassing the average from the same time frame.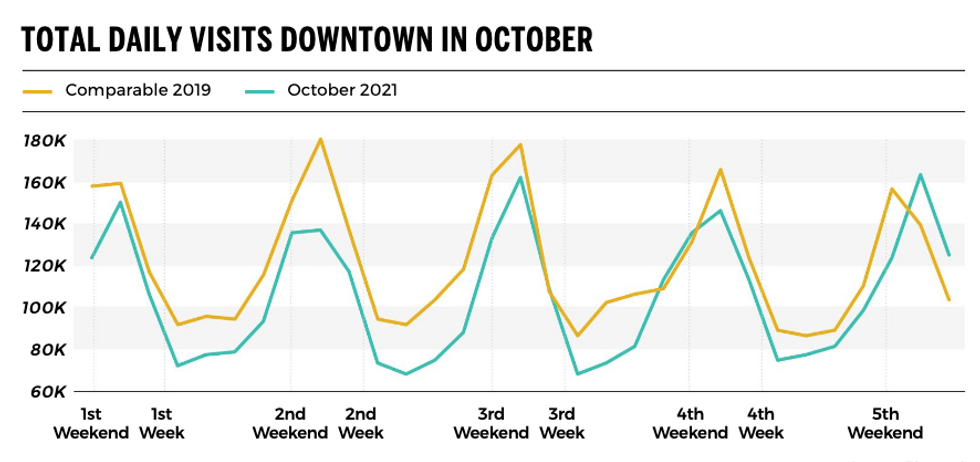 One of Austin's biggest tourism seasons occurs in October, when events like ACL Festival and Formula 1 attract visitors from around the world, a pattern that mirrored previous years in 2021. Tourism tracks through airport traffic as well, which is at an all-time high.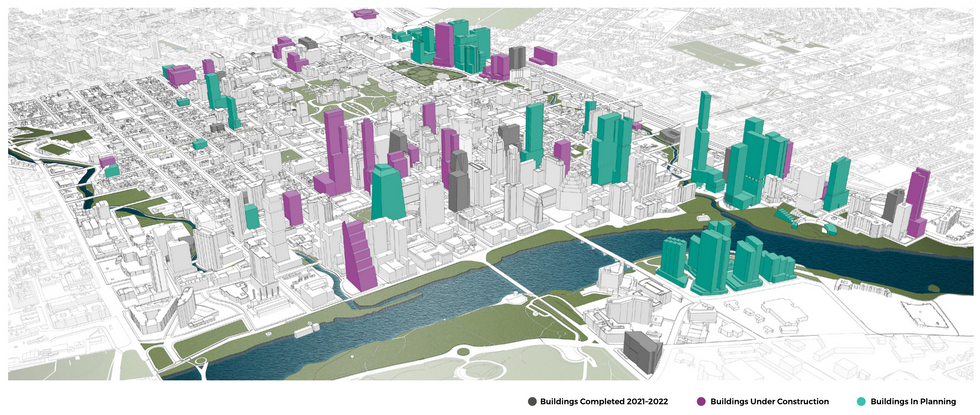 Downtown's COVID-induced need for rentals has also cooled to pre-pandemic levels, with the help of two million square feet of new residential space and another 2,161,727 square feet of office, residential and retail space currently under construction.
However, for-sale housing inventory is still at an all-time low, with fewer than two months of inventory–around 50 listings–in Q4 of 2021.