Get connected with our daily update
Dallas-based nonprofit Texas 2036 launched a COVID-19 dashboard today that compiles county-level data on cases, testing and morbidity as well as on hospitals and economic impact.
---
Texas 2036 staff consulted with experts at Dell Medical School in choosing which information to include, according to a news release from Texas 2036. The data is updated daily and comes from a variety of sources, including the state health department and banks.
Pulling up Travis County on the dashboard reveals that the local death rate is 3%, which is slightly higher than the statewide death rate of 2.73%, and the testing rate is just over one per 1,000 people, compared to about 1.6 in Texas.
Nearly a third of area hospital beds are occupied, as of May 6, and emergency rooms reported 108 visits related to COVID-19. Statewide hospital data is reported slightly differently—in terms of available resources rather than those in use. In Texas, 78% of hospital beds, 57% of ICU beds and 30% of ventilators are in use.
In terms of economic data, the dashboard reports nearly 70,000 Travis County residents have filed for unemployment benefits since March 21, using data culled from the Texas Workforce Commission. The local industries hardest hit by this pandemic, in terms of claims, are restaurants; hotels and motels; and physicians offices. Statewide unemployment is at 4.7%, according to the dashboard.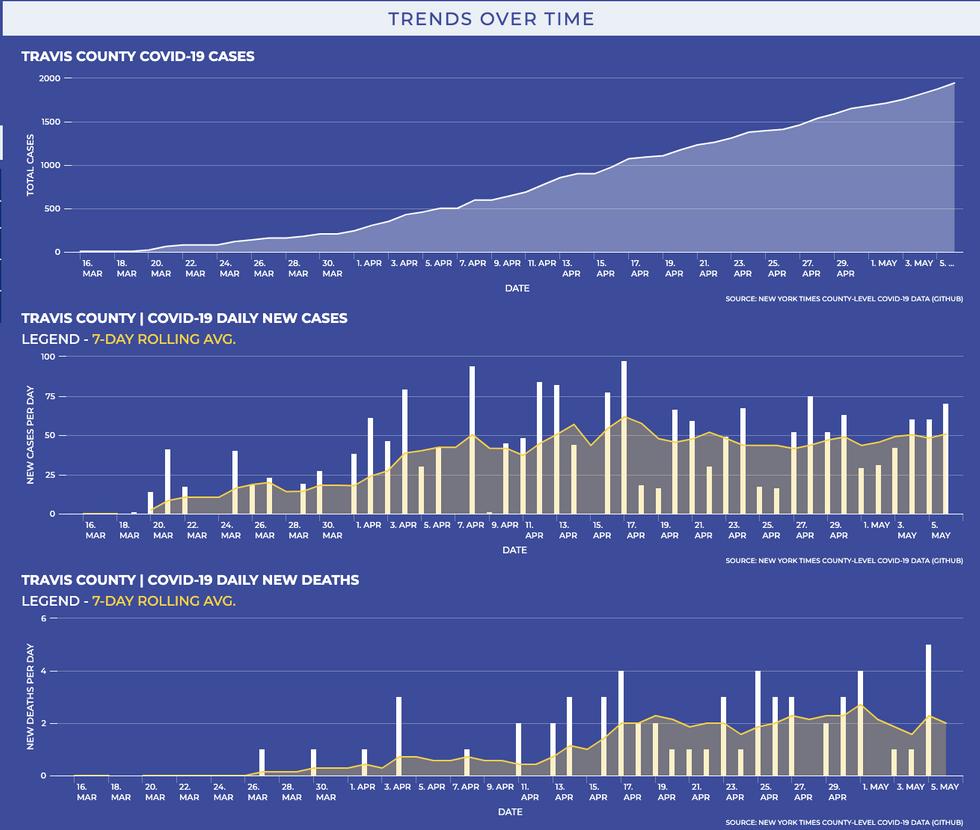 The dashboard also trends over time.(Texas 2036 COVID dashboard)
(Bradley Wilson)
I'm very proud and pleased to tell you that the Austonia team has been selected as a finalist for a nationwide award—Best Emerging (New) Publisher, from the Local Independent Online News Publishers association, the industry group for local digital news sites like ours.
View the 2020 LION awards finalists here.

Recognition like this from our peer group motivates us to work even harder on our mission of connecting you to our ever-changing city.
Thanks to each of you for supporting us. If you like what we're doing, you can help us by forwarding articles to your friends, posting on social media and signing up for our daily AM newsletter.
(Austin FC/Facebook)
Austin FC is one seat closer to opening the doors to its new stadium for the 2021 Major League Soccer season.
<div class="rm-shortcode" data-rm-shortcode-id="6e740949dde8192ce5bcef44525886db"><div class="fb-post" data-href="https://www.facebook.com/AustinFC/posts/626207471406427"></div></div><p>On Tuesday, the organization posted to Facebook that the club installed the first stadium seat of the Austin FC Stadium at <a href="https://www.statesman.com/news/20180222/mckalla-place-the-good-bad-and-ugly-for-possible-mls-stadium-site" target="_blank">McKalla Place</a>. The stadium, located near the Domain, will reportedly hold 20,000 plus fans when it opens for the team's next season. <span></span></p><div class="rm-embed embed-media"><iframe allowfullscreen="" aria-hidden="false" frameborder="0" height="450" src="https://www.google.com/maps/embed?pb=!1m18!1m12!1m3!1d3441.7050557034395!2d-97.72175558487675!3d30.387732081758692!2m3!1f0!2f0!3f0!3m2!1i1024!2i768!4f13.1!3m3!1m2!1s0x8644cbd96a7af0dd%3A0x79427365a674ed87!2sAustin%20FC%20Stadium!5e0!3m2!1sen!2sus!4v1603231798317!5m2!1sen!2sus" style="border:0;" tabindex="0" width="600"></iframe></div><p>Austin FC also launched their <a href="https://www.austinfc.com/post/2020/10/19/verde-listos-campaign-highlights-austinites-legendary" target="_blank">"Verde Listos" campaign</a>, highlighting local Austinites in an effort to better connect with the Austin community. The campaign includes Austin musician Shakey Graves, Valentina's pitmaster Eliana Gutierrez and muralist Chris Rogers among others.</p><div class="rm-shortcode" data-rm-shortcode-id="4c0fec0199595722ba3a0471b22db4b2" id="aa5d2"><blockquote class="twitter-tweet twitter-custom-tweet" data-partner="rebelmouse" data-twitter-tweet-id="1318201472417452032"><div style="margin:1em 0">Join us... #VERDE... #LISTOS https://t.co/KY7YspS4C1</div> — Austin FC (@Austin FC)<a href="https://twitter.com/AustinFC/statuses/1318201472417452032">1603118696.0</a></blockquote></div><p>The Austin FC season starts in the spring. Season tickets <a href="https://www.austinfc.com/tickets/season-tickets" target="_blank">went on sale in August</a> and sold out, however, fans can add themselves to the <a href="https://www.austinfc.com/tickets" target="_blank">waitlist for when tickets</a> become available again. </p>