Get connected with our daily update
The most extreme abortion law since Roe v. Wade went into effect today in Texas, banning the procedure well before many women know they're pregnant. With no action from the U.S. Supreme Court, some Austinites are mourning a bill they thought would never pass.
---
The new law and 665 others were signed by Gov. Greg Abbott after the regular legislative session in May. Senate Bill 8 bans abortions once a fetal heartbeat is detected at around six weeks, respectively. The bill offers no exceptions for rape or incest and also empowers private citizens to sue abortion providers or anyone who "aids or abets" the procedure.
A handful of other states have passed similar bills that were blocked by the courts but Texas' uniquely puts enforcement into the hands of the people. Lawsuits carry no criminal penalty but anyone who successfully sues a clinic provider could be awarded $10,000 or more.
It's 12:01 CDT here in Texas. #SCOTUS has not acted.

That means #SB8 — the most restrictive abortion law since Roe — is now in effect, and that virtually *all* abortions in Texas after the sixth week of pregnancy (when many women do not even *know* they're pregnant) are illegal.
— Steve Vladeck (@steve_vladeck) September 1, 2021
While some organizations like the ACLU of Texas hoped the "Heartbeat Bill" would be struck down by the U.S. Supreme Court, it failed to take action before going into effect today and minutes before midnight Wednesday, refused to block the law in a 5 to 4 vote. In another attempt to go around the bill, a Travis County judge issued a temporary restraining order against the legislation on Tuesday. However, the restraining order does not strike the bill down since it will be enforced through civil court.

Attempts to tear down Roe v. Wade protections in Texas are not new, Elizabeth Doyel, an Austin-based women's rights activist at political communications firm Superior Blue who previously worked at Planned Parenthood at Greater Texas. Major abortion providers in the city, like Planned Parenthood and Whole Women's Health clinics, are complying with the law and dramatically reducing procedures to only permitted medical emergencies.
"There are so many women in Texas that woke up today and didn't realize what had happened," Doyel said. "Today, we mourn. Tomorrow, we have to get up and we have to fight."
'I can't help you, I will be sued.'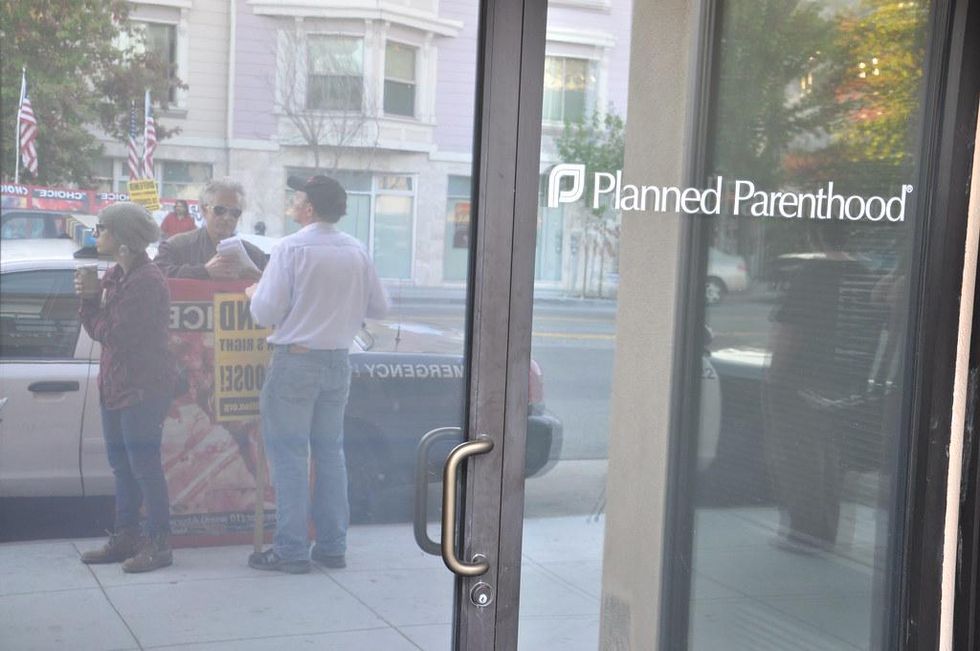 (Steve Rhodes/CC)
Doyel, who lives in the Rosedale neighborhood, has never had an abortion and is past her childbearing years but SB8 still affects her—she says it sets back years of work she has done and takes an emotional toll. Doyel remembers helping a friend in high school who was raped get an abortion in rural Arkansas. Doyel was quickly disowned by her friend's parents afterward—something she said changed the direction of her life.
"It makes me scared for that young woman who exists somewhere in Texas, to know that she has no one to turn to because her friends will be like, 'I can't help you. I will be sued for at least $10,000,'" Doyel said, holding back tears. "The Texas Legislative Republicans have made average Texans vigilantes. That's part of it that I find just horrifying."
Doyel says she has been there for friends who needed abortions—and people who have died trying to get one—and worries about the future and safety of women, especially those who are underprivileged.
'A plane ticket is more than a lot of people can afford.'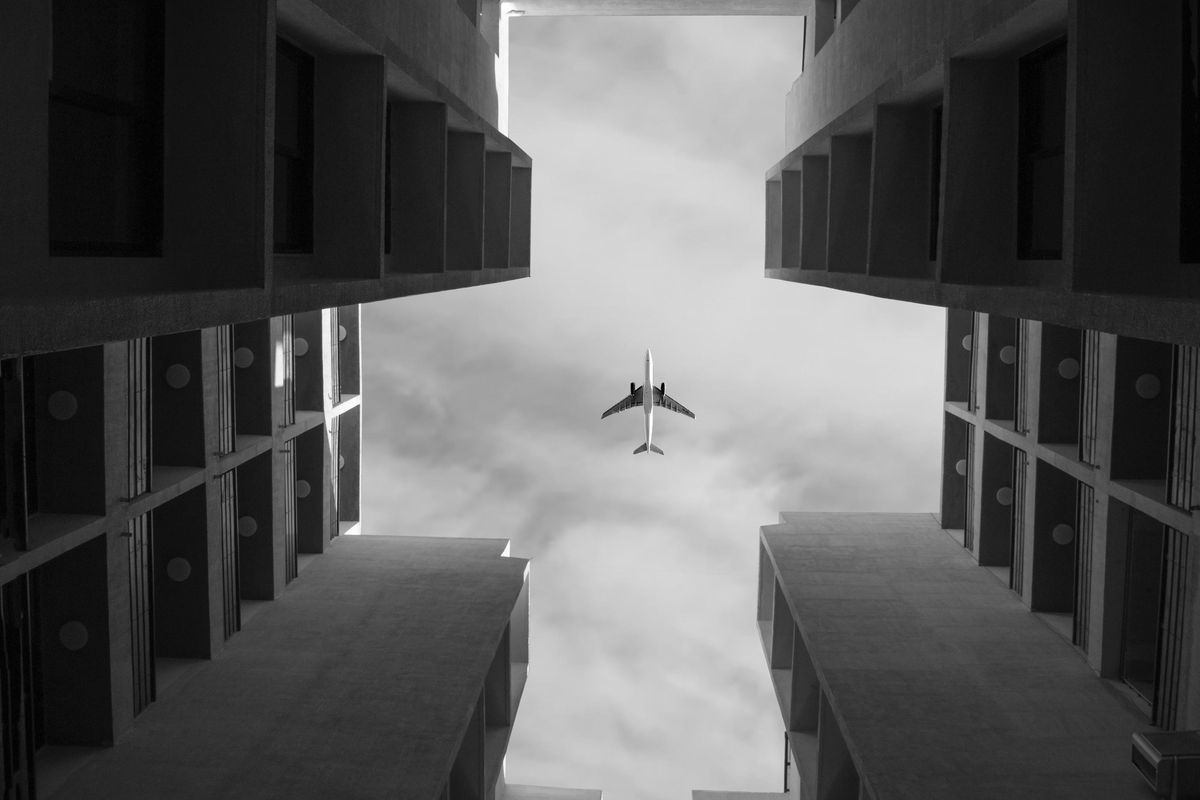 (Pexels)
The new bills won't stop abortions for Texans who have the means to travel—abortion is legal without any term restrictions in Colorado and in most circumstances in New Mexico and Nevada. Financially comfortable women will still be able to get an abortion if need be but the law will put much more strain on disadvantaged communities.
Doyel said she's been fighting the misconception that all abortions result from assault or unwanted pregnancy—restricting abortions puts the lives of women who can't carry to term, can't afford a child or are too young to raise a child, in danger.
"Texas is not a small state; it takes hours to get to an abortion provider in Colorado, or New Mexico, or Nevada or any of those type of places," Doyel said. "A plane ticket is more than a lot of people can afford. Abortion has always been available for wealthy, white women who need it. Abortion access for women in other groups: rural, poor, women of color, has not been possible and that's what Roe, opened up."
​'A moment of political theater'
The Texas Heartbeat Act is now in effect!

Texas is officially the first state EVER to enforce a heartbeat law!

God bless Texas.

Text HEARTBEAT to 40237#ProLife #Texas

— Texas Right to Life (Text ProLife to 40237) (@TXRightToLife) September 1, 2021
Our message to everyone who may need an abortion in Texas is this: Abortion funds are here to affirm that no matter what barriers you are facing, you have the right to access abortion and we will keep fighting for you. https://t.co/cxofiCIOHV

— Lilith Fund (@lilithfund) September 1, 2021
Texas Right to Life, a nonprofit organization that opposes abortion in all forms, set up a "whistleblower" website to report violations of the new law.

"These lawsuits are not against the women," Texas Right to Life Legislative Director John Seago told NPR. "The lawsuits would be against the individuals making money off of the abortion, the abortion industry itself. So this is not 'spy on your neighbor and see if they're having an abortion.'"
With other issues in Texas' infrastructure, like the power grid that collapsed in February and Austin's growing affordability crisis, Doyel said she is sad, but not surprised, that Texas legislators have chosen not to target more pressing issues.
"A group of people in that pink building made a decision to take away a fundamental right for a woman, all in a moment of political theater," Doyel said. "Austin is a blueberry in a bowl of tomato soup as they say, but there's plenty of tomato soup in this town."
This story was updated Thursday morning to include that the U.S. Supreme Court voted to not block the law.
East Austin restaurant la Barbecue has been robbed a third time in less than three months, according to a post on the restaurant's Instagram.
In the post, the restaurant included photos of what appeared to be a man exiting a minivan from surveillance footage.
"This guy pulled up in a car full of stuff… he ripped our gate open and stole a couple empty kegs," the post said. "The ring system scared him off so he did not venture back into the area. PLEASE EVERYONE ON THE EAST SIDE BE CAREFUL!!! This guy goes back into his car to grab something before he goes in. I am hoping he won't be back!!"
The robbery comes as many restaurant and food truck owners have been on guard from recent break-ins. East Austin cheesesteak truck R&B's Steak and Fries has also been robbed three times in around three months, according to owner Kris Elliott. Elliot said the truck was last robbed around a month and a half ago.
"When the weather gets cold, it seems like these things start to happen more often," Elliott said. "We're just happy no one got hurt."
Additionally, he said all 5 of the food trucks in their lot have experienced burglaries. The landlord of the space is taking action by investing in alarm and camera systems. "Been very tough dealing with this problem as us small business owners are just trying to survive during the pandemic," Elliott said.
And it's not just in East Austin. North Austin restaurants Eldorado Cafe and Chez Zee Bistro were both broken into and robbed on the weekend of Jan. 8, while over a dozen food truck robberies and break-ins were reported in the latter half of 2021.
Some, like Chez Zee's Deborah Velasco, wonder if the understaffed Austin Police Department's decision to no longer respond to non-emergency calls is part of the problem. Xose Velasco, owner of East Austin's Discada, said owners are keeping their guard up in the wake of the robberies as he was robbed twice within a month of reopening in November 2021.
"We try to keep the lights on," Velasco said. "We're a little bit more careful."
After 12 months, the long-anticipated massive Tesla factory in Southeast Travis County is up and operating and everyone wants a look inside.
Phase 1 of Giga Texas appears to be tied up as production of the Model Y Tesla is underway, the electric car company revealed on Wednesday in its fourth-quarter earnings call. The factory, located on the former Harold Green-turned Tesla Road, sits on more than 2,000 acres of land in southeast Travis County.
Here's a glimpse inside the factory.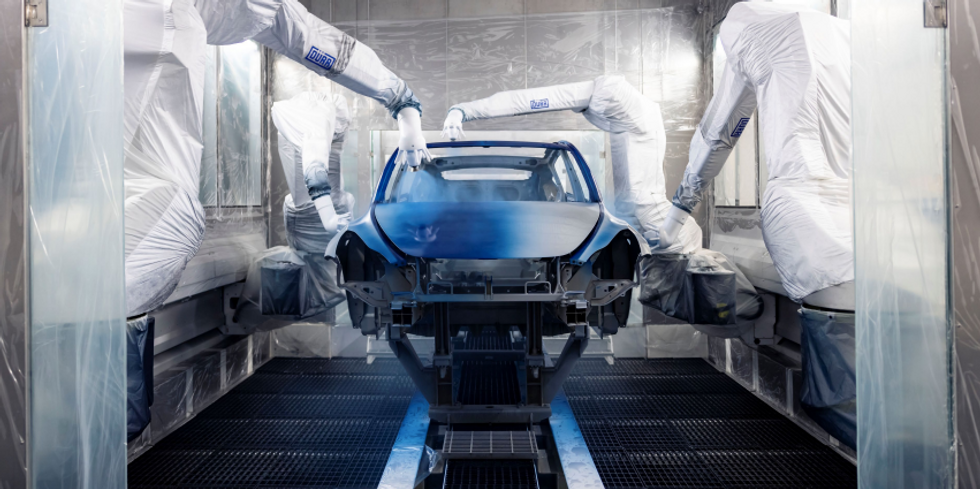 (Tesla)
Model Ys will be the first Teslas to come out of Giga Texas with an estimated delivery of August. The wait estimate comes after Tesla noted supply chain issues have affected their factories, which have been running below capacity for several quarters. A deep blue metallic like this goes for $1,000 more than a white or silver Model Y, totaling $61,990.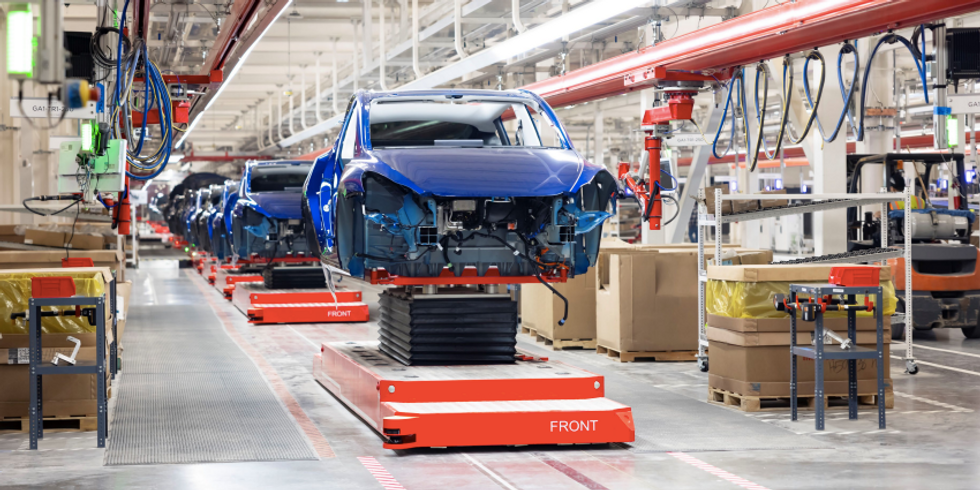 Model Ys began being produced at Giga Texas at the end of 2020. In general assembly at the factory, the Teslas get their major interior components to finish the vehicle.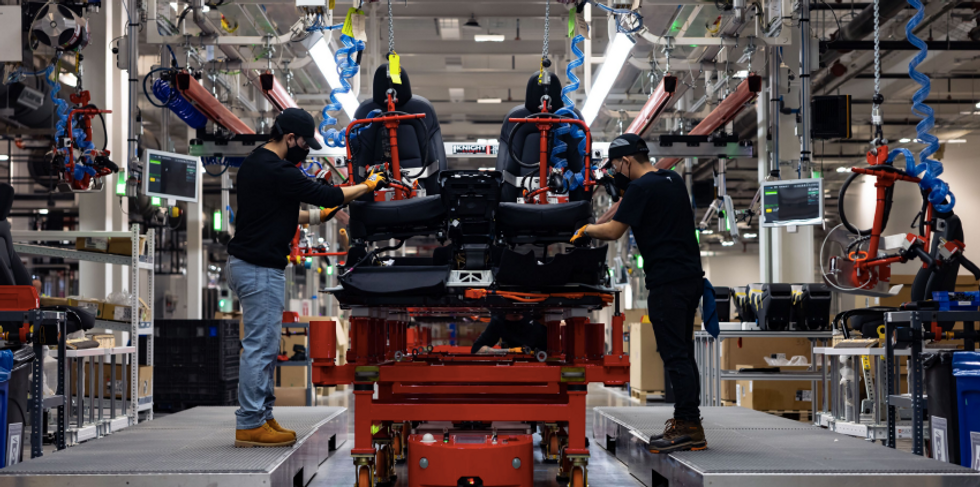 (Tesla)
Workers at Austin's Gigafactory are attaching seats to a structural battery pack. It's been described by some as the biggest difference between Texas-made Model Y's and the current version at the Fremont, California factory. It shouldn't have a major impact on the owner's experience, but Tesla has updated instructions for the jacking procedure, as the lift points are different.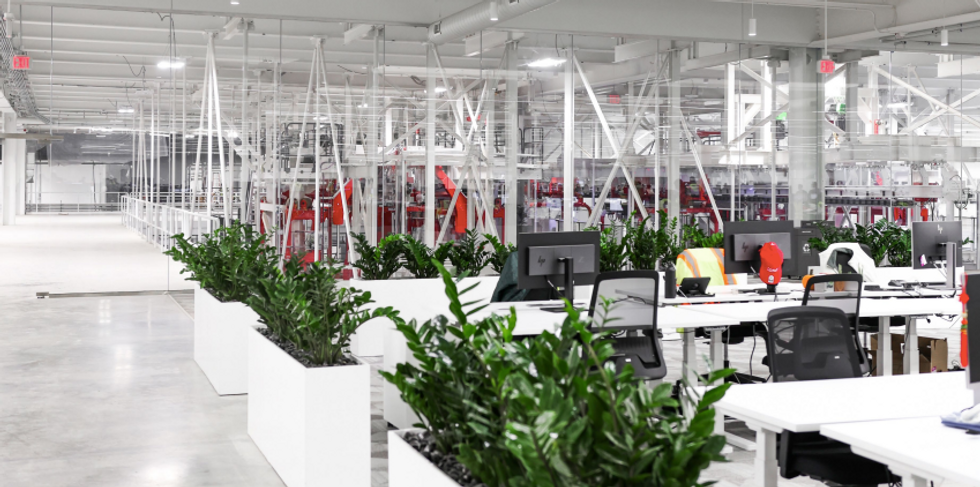 With a sleek, open office setup, workers can take in a view of the factory from their seats. It's a component CEO Elon Musk wanted for what is now the headquarters of Tesla.
On the Austin, Texas public location Snapchat, a photo of inside Giga Texas has appeared. On the left you can see a sneak peek of a Model Y body.pic.twitter.com/N7zliZ5vkL

— Sawyer Merritt (@Sawyer Merritt) 1643081462
With Snapchat's maps, anyone can look at everyday activity happening at the factory. To view these geographically-linked stories, click the bottom left "map" icon and search "Tesla Giga Texas." Once you've found it, you can view the Snapchat story of those in and around the facility. While most stories stay up for only 24 hours, Giga Texas is a designated place on Snapchat, allowing users to view a collection of photos and videos from the inside.
Following Model Ys, Texas-made Teslas will include the Cybertruck, Semi and Model 3. But it might be a while before those other models arrive. EV makers have been hit hard by the chip shortage, and it's thought that changing features are contributing to Cybertruck delays as Tesla works to compete in the electric pickup market.
Joe Rogan paid a visit to buddy Elon Musk this week. The two have been seen around town since both moving to Texas. Naturally, Rogan was impressed with the prototype.
If you're dying to get a closer look at this factory, you just might get to. In December, Musk said the factory would have tours available to the community early this year.