Get connected with our daily update
Starting next week, Gov. Greg Abbott will allow Texas bars to reopen at 50% capacity indoors in counties that choose to opt in and where COVID patients account for no more than 15% of hospitalizations.
---
"It is time to open up more provided that safe protocols are followed," Abbott said in a live Facebook announcement on Wednesday.
Travis County Judge Sam Biscoe intends to take the next several days to confer with the county attorney's office and the Austin-Travis County Health Authority to determine the safest route, according to a statement.
Certain health protocols must be observed, at a minimum, at those bars that reopen, according to the governor's reopening strike force.
Bar customers may not loiter at the bar and should remain seated at their tables, groups must maintain six feet of distance from each other unless partitions are in place, dance floors must remain closed, and contactless payment is encouraged.
Texas Bar and Nightlife Alliance President Michael Klein issued a critical statement in response to the governor's announcement, saying he has "passed the buck" to county judges.
"[T]his is a death sentence for so many of our members under the jurisdiction of county judges who still believe that we should be locked down like we were in March and April, despite all the progress we've made coexisting with this virus," he said.
New COVID cases and related hospitalizations are declining in Austin. However, Texas has reported more COVID cases than any other state in the last week, according to a data analysis by the New York Times.
Local health officials have repeatedly stressed that allowing bars to reopen would be unwise given their current ways of operating.
"It's unmistakable that when people come together face-to-face without masks on for longer than 15 minutes, the risk of transmission is going to increase," Austin-Travis County Interim Health Authority Dr. Mark Escott said Wednesday. "So there would have to be substantial changes in how bars function to make them safe."
Abbott initially closed bars in March before reopening them in May. But when COVID cases surged statewide in late June, he closed them again.
Last month, Abbott announced restaurants and other businesses could increase their capacity to 75% but that bars would have to remain closed because they were "nationally recognized as COVID-spreading locations."
Some Austin bars have already reopened under the Texas Alcoholic Beverage Commission's guidance that allows them to reclassify as restaurants if a majority of their sales come from food rather than alcohol.
But this approach hasn't worked for everyone, and many industry groups and bars owners have criticized the governor, saying their businesses and service industry workers' jobs are at stake.
Abbott said reopening bars this time around will be more successful because Texans are more aware of protective measures, the protocols in place have improved and the state is better equipped to test and trace new cases.

"Opening bars does not mean that COVID is no longer a threat," he said. "We simply now know better how to protect ourselves from getting COVID."
Abbott also announced that other businesses—including amusement parks, movie theaters, zoos, aquariums and bowling alleys—may open at 50% capacity on Oct. 14.
More: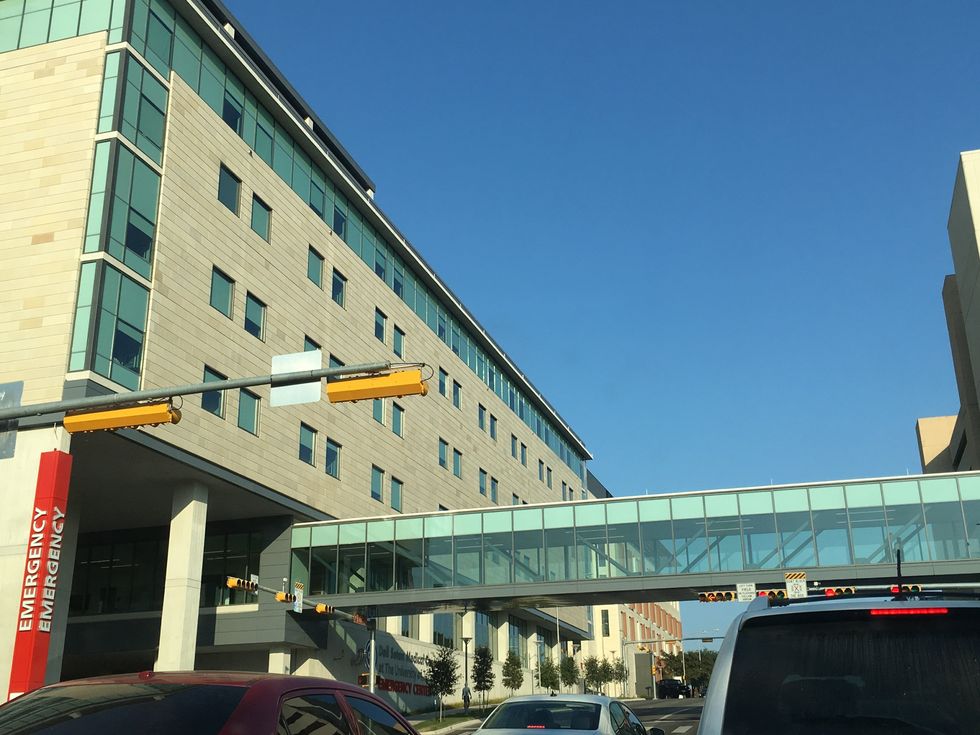 Everything we know about COVID-19 in Austin right now: new cases, bars, schools
Terry Black's Barbecue is journeying outside of the smoked meats sphere and into the hospitality sector, announcing plans to open "Friday Mountain," a resort-style vineyard near Driftwood.
According to a report from the Austin Business Journal, Friday Mountain will be located on 64 acres at 150 Concord Circle, featuring a boutique hotel with 22 rooms, a 14-acre vineyard and a 20,000-square-foot underground wine facility, a spa, event space, all-day café and high-end restaurant. Construction is poised to start in the next month.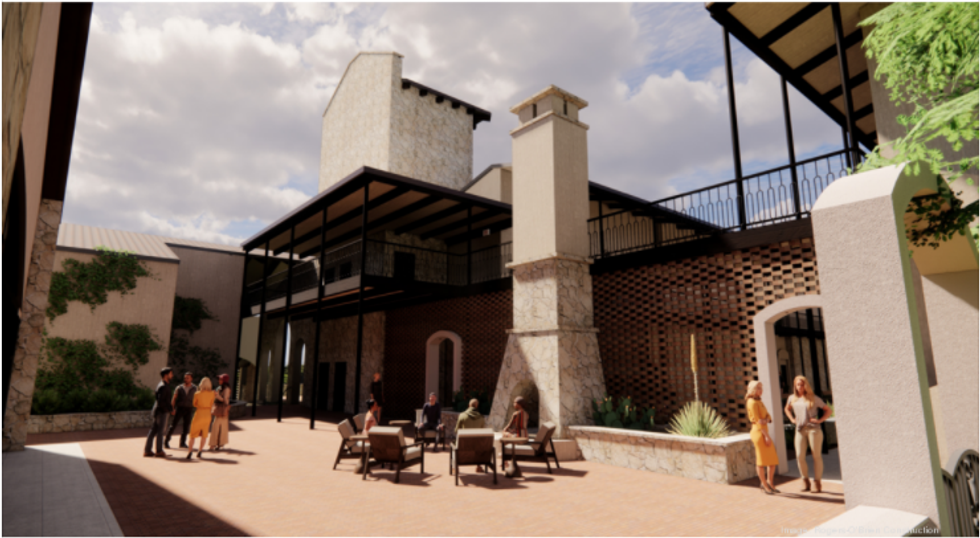 The courtyard outside of the event space will echo Hill Country architecture. (Rogers-O'Brien Construction)
Co-owner Mark Black said he expects construction to last about 10 months, hoping for opening early next year, and would hire around 140 employees: 60 full-time and 80 part-time.
The new project has long been in the works for the restaurateurs—including Mark's twin brother Mike and sister Christina—who come from the same lineage as those behind Lockhart's Black's BBQ but separated the business due to a falling out within the family.
Friday Mountain was originally planned to be a wedding venue but issues arising about noise, traffic and environmental concerns led the Dripping Springs City Council to ask for updated plans.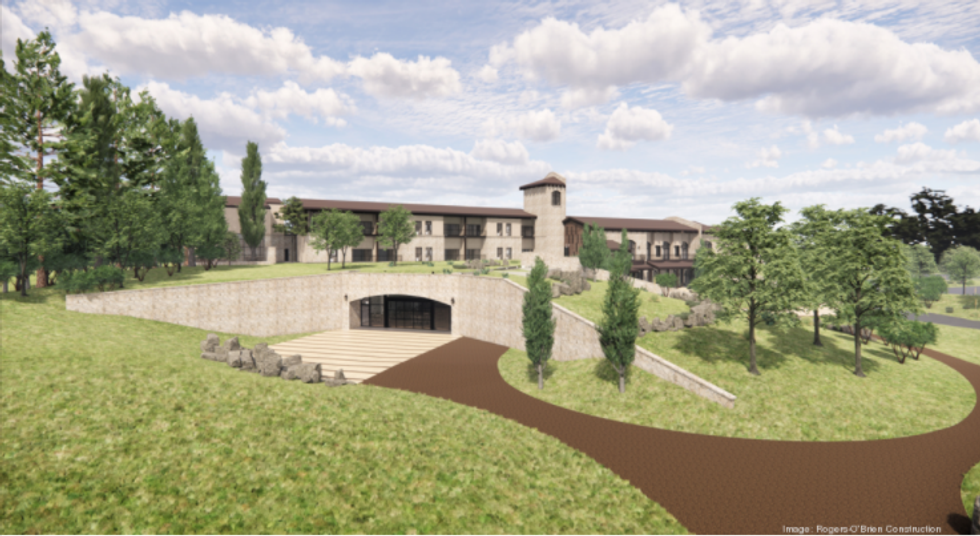 A rendering of the entrance to the planned underground wine cave. (Rogers-O'Brien Construction)
In the new plans, which have since been submitted, Black said he heard the neighborhood's concerns and is focusing on working with the right contractors to avoid issues. Black said he knows not everyone will be on board with the venue but that it will provide a little something for everyone.
To bring the concept to life, Black is partnering with engineers at Kimley-Horn and Associates Inc., architects at Lawrence Group, and Rogers-O'Brien Construction Co. Ltd. as the general contractor.
As for the vineyard, Black has partnered with Salt Lick Cellars to have wine aged and ready to drink wine upon opening and will hand off wine making operations to enthusiast Phil Price.
According to a Texas Department of Licensing and Regulation filing, the project will cost an estimated $20 million to be completed in January 2023.
From Your Site Articles
Related Articles Around the Web
The Texas French Bread Bakery, located on 2900 Rio Grande Street, has been completely destroyed after a fire erupted on Monday night.
The Austin Fire Department responded to the fire just before 11 p.m., where they arrived to see flames coming from the roof of the bakery. Firefighters fought the fire for about an hour before the roof collapsed.
While no one was injured in the fire, firefighters say the historic building was completely totaled.
AFD determined that the fire was accidental and caused by mechanical failure. AFD said the damages amounted to $1.6 million total: $1.1 million in structural damage and $500,000 in damage to the contents of the bakery.

This year, Texas French Bread will celebrate 40 years of business. Before the bakery occupied the building, it was the Rome Inn, a music venue that hosted 1970s artists like Stevie Ray Vaughan.