Get connected with our daily update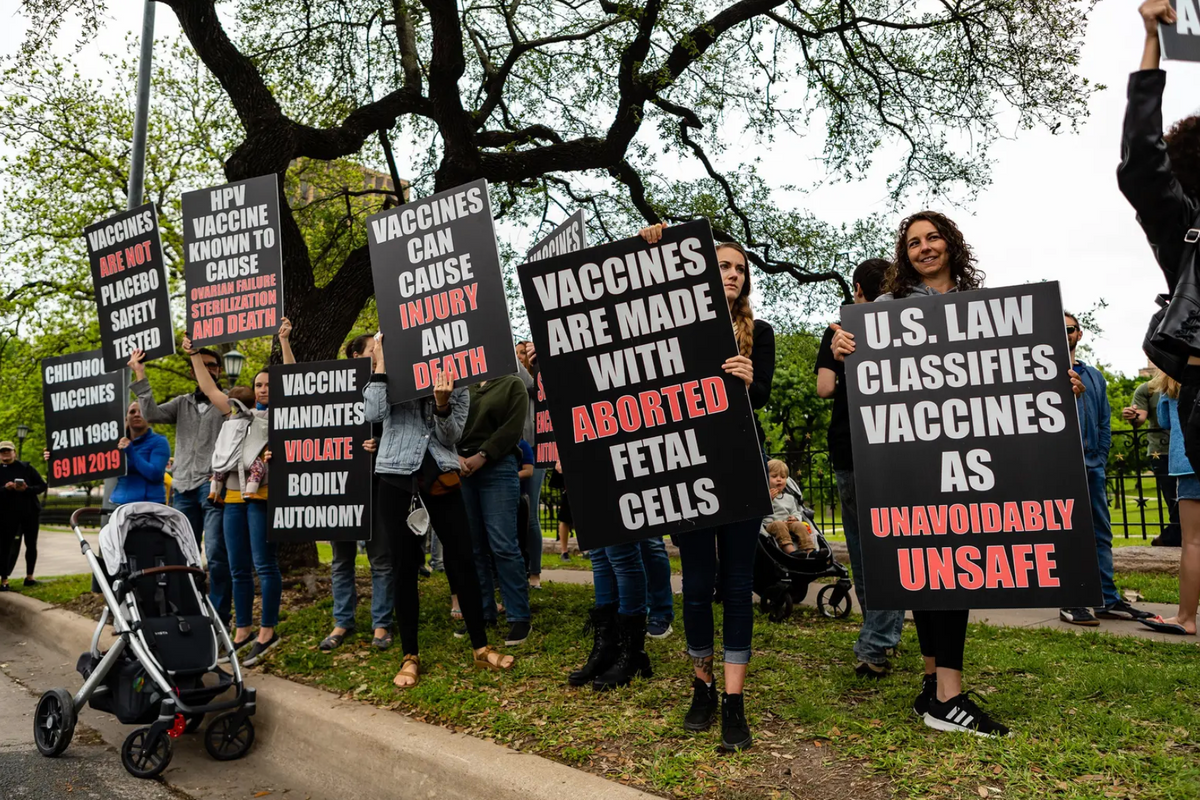 (Jordan Vonderhaar/The Texas Tribune)
By Sami Sparber
Texas-based anti-vaccine organization Informed Consent Action Network was among five anti-vaccine groups that collectively received more than $850,000 in federal loans from the Paycheck Protection Program, the Washington Post reported Monday. The organization received $166,000 in May 2020, according to founder Del Bigtree.
---
"Vaccine hesitancy" or "vaccine skepticism" poses a significant and ongoing challenge for health authorities trying to overcome mistrust within communities of color, by the anti-vaccine crowd and general uncertainty nationwide. Doctors and scientists say the coronavirus vaccines currently available in the United States are safe and effective.
"At a minimum, it's a mixed message from the government," said Timothy Callaghan, an assistant professor in the Department of Health Policy and Management at the Texas A&M University School of Public Health. "Those individuals who are hesitant are going to be looking to various pieces of information to help them make this decision...and if one of the key pieces of information coming out is the government funding anti-vaccine groups, it could send a signal to these individuals that maybe they shouldn't be vaccinating," he told The Texas Tribune.
The Austin-based nonprofit has more than 43,000 followers on Facebook and regularly posts information questioning the safety of the coronavirus vaccines. Bigtree's online anti-vaccine talk show was penalized by Facebook and YouTube last year for violating misinformation policies and downplaying the severity of the pandemic.
Facebook has cracked down on several of the groups that received the PPP loans, a spokesperson for the social network told the Post. Informed Consent Action Network's page, labeled with a link to Facebook's Coronavirus Information Center, is not being recommended to users by the company's algorithms, the Facebook spokesperson told the Post.
In an interview, Bigtree said his organization spent the funds on employees' salaries. "Just like everybody else, we were trying to keep employees employed instead of putting them on unemployment," Bigtree told The Tribune. He described the effect of Facebook's anti-misinformation efforts on his organization's content as "censorship" and a "dangerous" sign of the times.
Recent polling shows vaccine skepticism poses a public health threat in Texas, where Republican elected officials have largely echoed President Donald Trump's minimizing of the pandemic, said James Henson, head of the Texas Politics Project at the University of Texas at Austin. An October University of Texas/Texas Tribune Poll found that if a vaccine against the coronavirus became available at a low cost, 42% of Texas registered voters said they would try to get it and 36% said they wouldn't — a significant drop from the 59% who said in a UT/Texas Politics Project poll in June that they would get vaccinated against the disease.
That anti-vaccine groups received PPP funds "sticks out as being really at odds with public health, but the bigger problem here is that there has been a pronounced lack of consistent messaging on the safety, effectiveness and necessity of the vaccine from both national and statewide leaders, in particular Republicans," Henson said. "That's left a huge vacuum where there should be unambiguous messaging about the vaccine."
The five groups that received the loans are The National Vaccine Information Center, Mercola Com Health Resources LLC, Informed Consent Action Network, Children's Health Defense Co., and the Tenpenny Integrative Medical Center, according to the U.K.-based Center for Countering Digital Hate, the Post reported.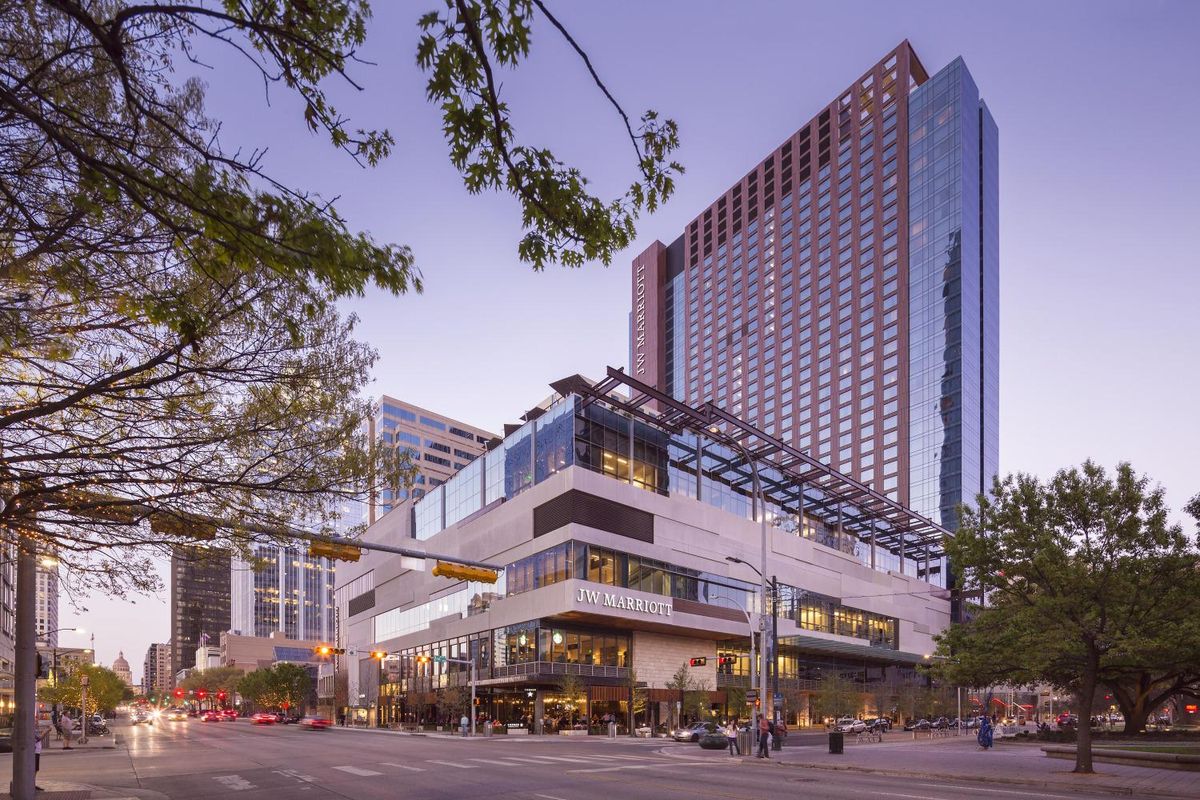 Chi Lee, the director of architecture firm HKS's new Austin office, describes this point in our city's life as puberty.
"Our voices are changing and we have freckles everywhere," Lee said. "You know, starting to look like an adult but still acting like a kid kind of thing."
But as Austin matures and faces all the pressures of its increased popularity—competing for company relocations and expansions all while managing rising rents and affordability woes—Lee thinks we should look outside when planning an approach to Austin's growth.
"A big mistake we could make is if we don't embrace what other cities, nationally, regionally, internationally have done to improve upon the experience of all the folks who live there."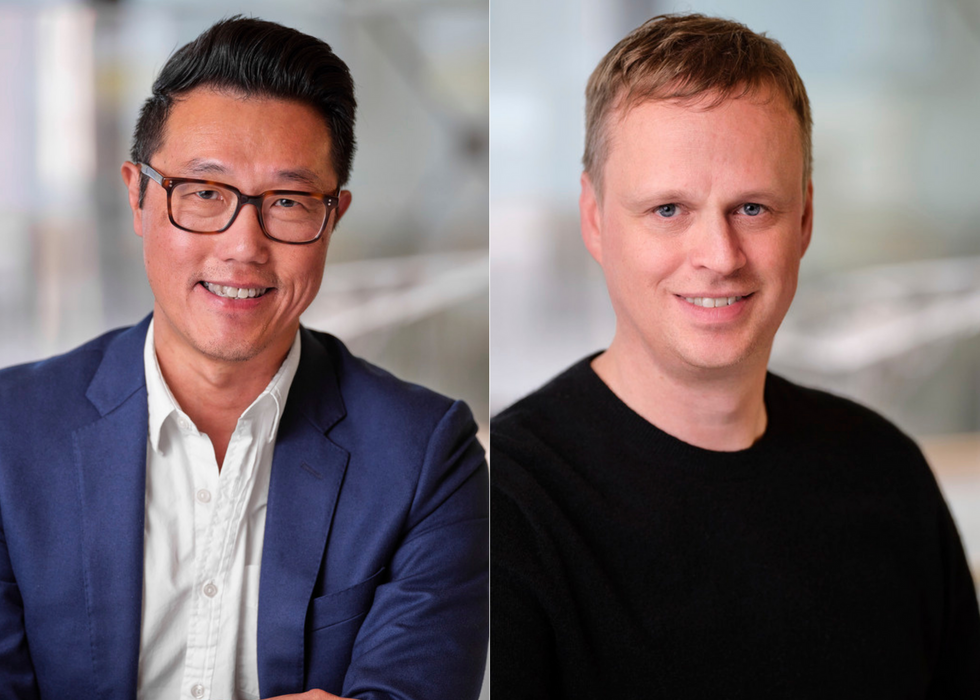 Chi Lee and Brad Wilkins (HKS)
Lee and HKS studio design leader Brad Wilkins keep this in mind as the firm, which has carried out projects in Austin since the 80s, further cements its presence here.
HKS is making ambitious strides in Austin: the firm has more than 50 projects in design or under construction in the Austin market, including Domain 9, the Dell Children's Medical Center expansion and projects in the Rainey Street District including one that may end up being the tallest tower in Texas.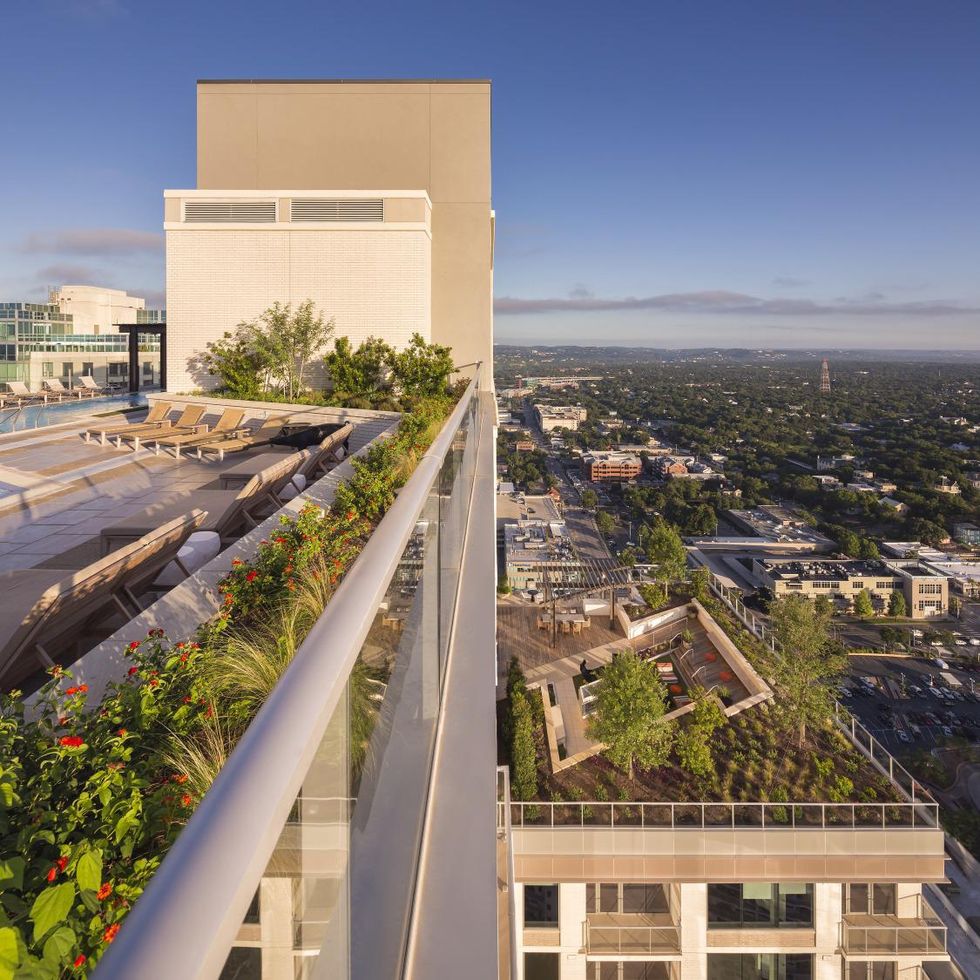 The Bowie, a 36-story apartment tower HKS designed in Austin's Central Business District. (HKS)
"We've been able to do things during the pandemic, and since then, which are really pushing the boundaries of what Austin would typically do. And frankly, what would be done anywhere in the world," Wilkins said. "Things like having outdoor space on every level of an office tower and creating the spaces not just to be like outdoor spaces, but to be spaces that people can actually enjoy."
As these projects span all over the city, Lee and Wilkins are observant of how action on certain quality of life factors could be key to preventing problems as Austin draws in a larger population.
For Wilkins, that's informed by his international work. He's lived in about half a dozen places in Europe and Asia, starting his career out in Chicago. He's carried out big projects and was one of the designers of the first LEED platinum building just outside of Hong Kong.
"One thing that we're always needing to be very careful about is looking at things that were not done great," Wilkins said. "There are mistakes in public transportation in those cities that I worked in overseas, there are mistakes in public housing."
It's partly why the pair see Project Connect—the $7.1 billion transit system expansion voters approved in November 2020 that includes light rail lines, a downtown subway and an expanded bus system—as a boon to the city's future.
Lee said he's excited that HKS is working on a couple of projects that are along the future lines and sees it as a massive opportunity for the city.
"We need to get out of our cars if we can. We just don't have the type of transportation infrastructure in place that needs to be in place," Lee said. "A lot of major metropolitan and urban cities have subway systems and light rail systems and things like that, where we don't."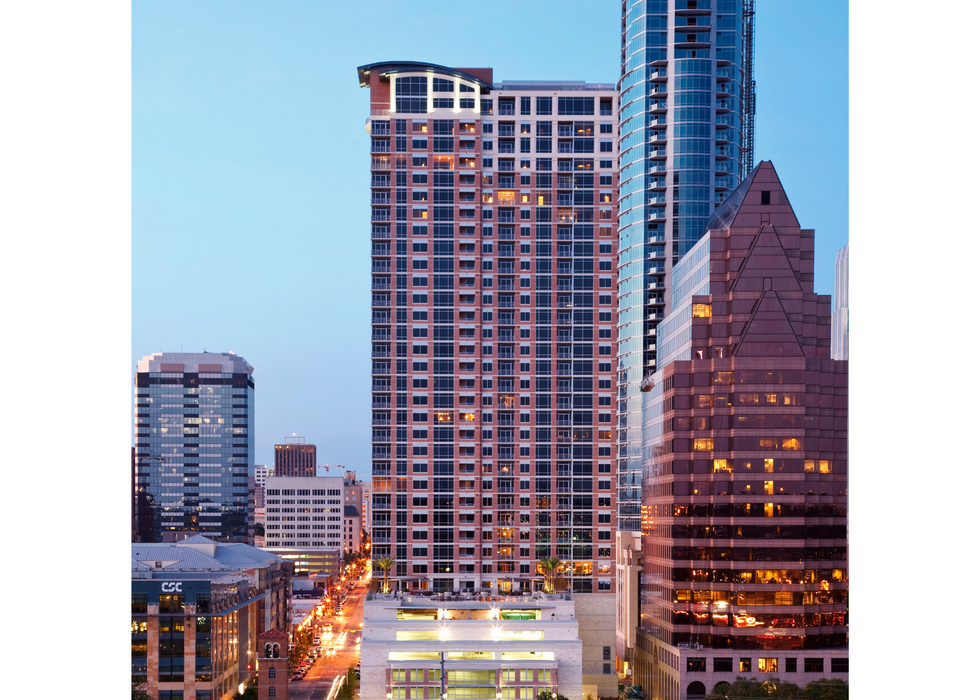 The Ashton (HKS)
Still, someday Austin will. The plan is trudging ahead with moves on anti-displacement initiatives and collecting input on design proposals for key lines. So even while HKS prepares for changes to the city from the ground up, Lee and Wilkins aim to maintain the city's personality.
"I'm always more about the local place, not the international place, even though I do bring with me international experience," Wilkins said. "Chi and I are only interested in doing Austin, we're interested in making Austin special, keeping Austin culture."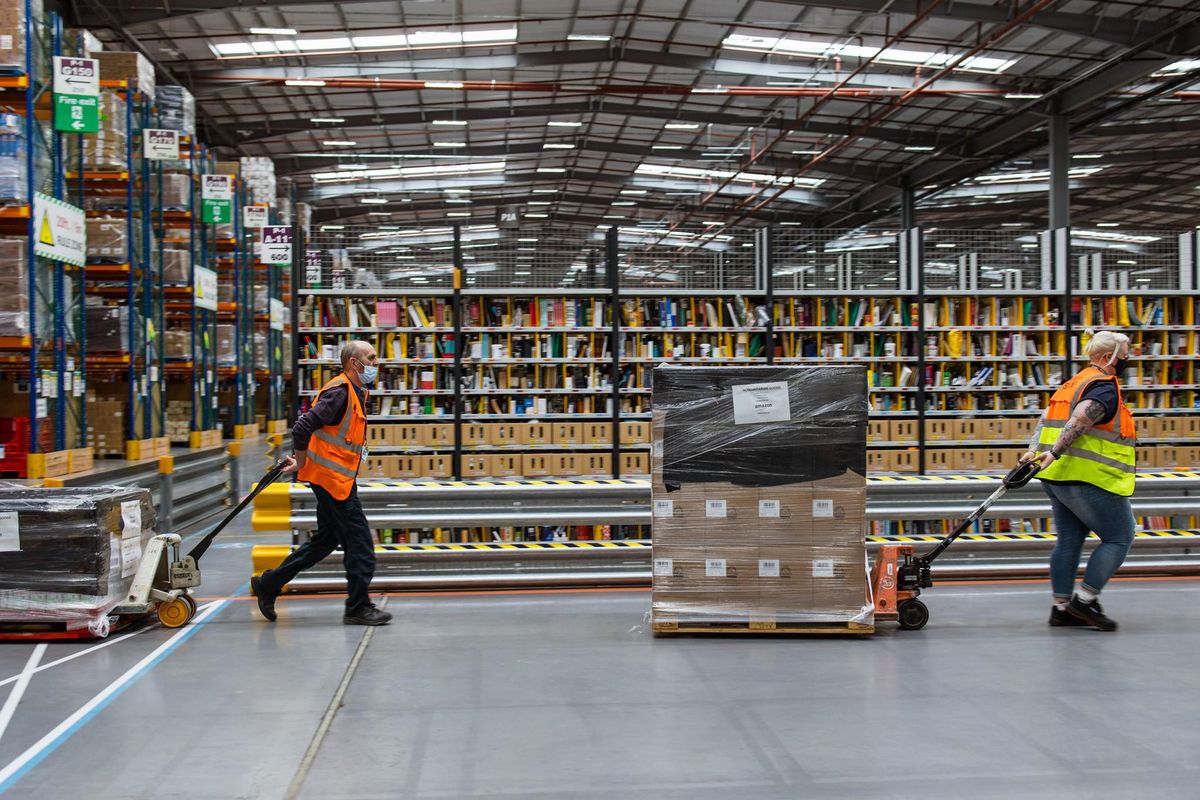 Plans for an Amazon warehouse in Round Rock—a $250 million project slated to be a large distribution center—are on hold.
This comes just after the tech giant had its worst financial quarter in seven years.
The details:
Late last year, it announced an expansion at the Domain adding 2,000 more corporate and tech jobs.
Amazon still owns the site in Round Rock. Plans for it are unclear.
Early this week, the Wall Street Journal reported that Amazon is aiming to scrap warehouse space as it faces a slowdown in its e-commerce operations.
Part of that effort involves exploring the possibility of ending or renegotiating leases with outside warehouse owners. Another aspect is a plan to sublease warehouse space.
"It allows us to relieve the financial obligations associated with an existing building that no longer meets our needs," an Amazon spokeswoman told the Wall Street Journal. "Subleasing is something many established corporations do to help manage their real estate portfolio."