Get connected with our daily update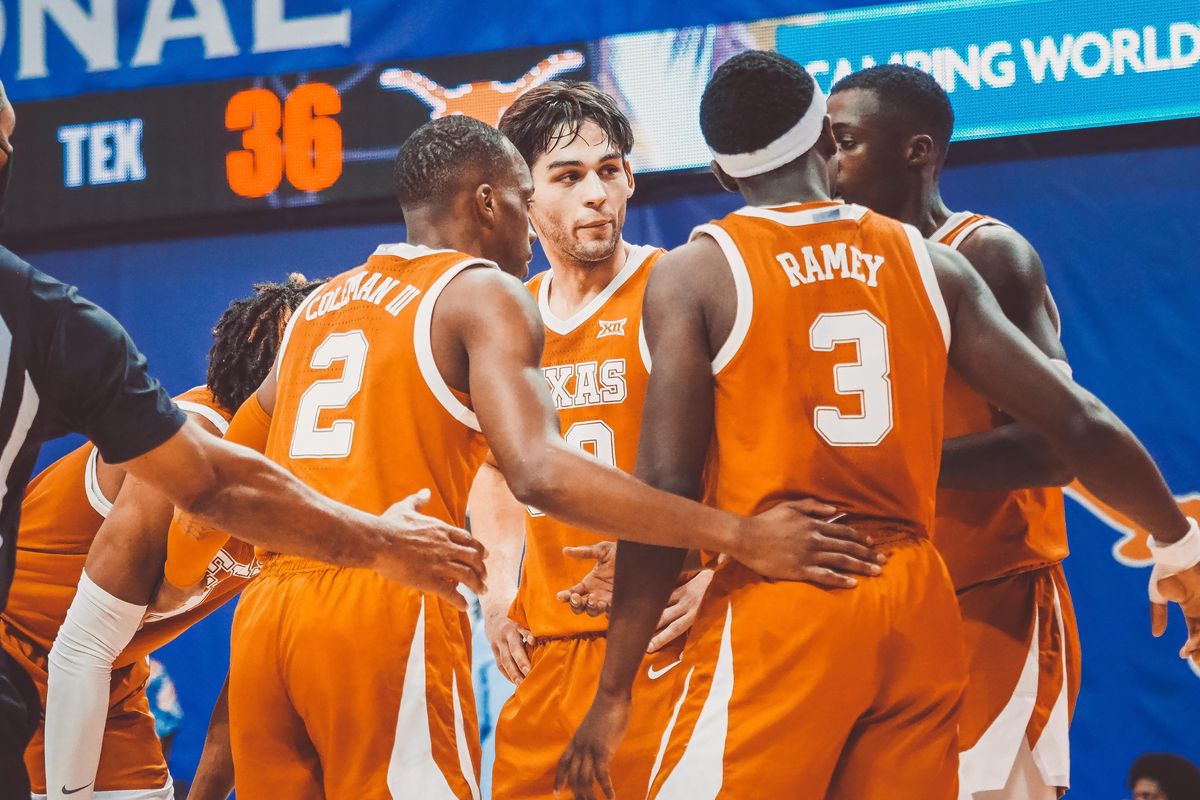 (University of Texas Athletics)
For the first time in almost a decade, the Texas Longhorns basketball team started its season 9-1 and 3-0 in conference play with a 84-59 blowout win over No. 3 Iowa State Tuesday. Some fans are wondering, with this early success, what has been the difference between this season and previous ones under Head Coach Shaka Smart?
---
In a season undermined by a pandemic, a lack of fans and game cancellations, you might think that Texas would struggle out of the gate. Other programs have. But the Longhorns have found success by playing with an edge.
Texas might have had the best college basketball win so far this season when they traveled to Allen Fieldhouse to take on Kansas last Saturday. The 25-point win propelled Texas to No. 4 in the country and has the entire college basketball world looking to Austin and sixth-year coach Smart for clues about the turnaround.
"Results on the court are first and foremost going to be a function of the improvement that players have made," Smart said at this week's press conference. "The ability of the players to be connected around winning and around what goes into winning. I think anytime that you're able to win a significant game that's an indication of that."

Smart attributes the early season success on the court to confidence, defense and chemistry.
Confidence
The cliche that "confidence is the key to success" applies to Texas this season.
Texas has found a system on offense that relies on trusting their guards to make the right decisions when running the offense and having their big men rebound and set screens.
"Everything is opening up now," 6-foot-10 forward Jericho Sims said. "I think if I get to the rim and make a lot of people collapse on me, then that really opens up the floor for everybody else."
When you watch the Longhorns play, there is a sense of purpose that may have been missing during stretches last season. Sims and freshmen Greg Brown are both in the top 10 for rebounds in the Big 12 and in the top 50 nationally.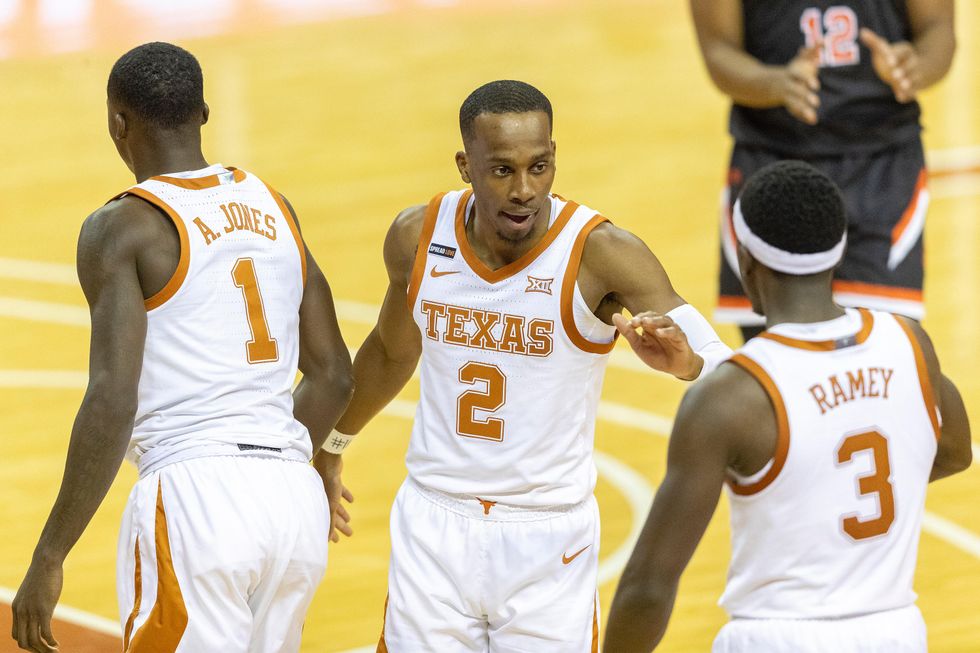 Senior guards Matt Coleman and Andrew Jones and junior Country Ramey on the court. (University of Texas Athletics)
The Longhorns have also found confidence in the formidable trio of senior guards Matt Coleman and Andrew Jones and junior Country Ramey. Together, the three upperclassmen have figured out different ways in every game this season to put the Longhorns in situations to win. Only Texas and Saturday's opponent West Virginia have three players averaging more than 13 points this season in the Big 12.

"I think our guys definitely have more confidence and expect to win," Smart said. "Definitely felt that on Saturday (against Kansas), but it's a fine line. What we like to tell the players as coaches: 'Expect to win, but expect to do what goes into winning.'"
Defense
"When you have a lead, if you keep the other team from scoring," Smart said, "then you're not going to lose the lead."
Every Shaka Smart team has one thing in common, a defensive philosophy that pressures shooters and doesn't allow driving lanes into the paint. The three most recent players that Texas has sent to the NBA—Jarrett Allen, Mo Bamba and Jaxon Hayes—have been shot blockers and defensive standouts who had to work on their offensive games once they got to the pros.
The Longhorns have kept their opponents shooting under 40% early in the season. The Big 12 can be one of the best conferences week in and week out, with different types of lineups and different defensive looks. Texas has to try to match the energy and intensity of each opponent they face.
"On the defensive end our guys have done a really good job playing with energy," Smart said. "But we also know that that's not a given. It's something that we've got to make sure that we bring. As I tell the guys all the time, it starts with our edge. We have to have an edge about us."
Chemistry
With 10 upperclassmen on the team, it's easy to see how teamwork and experience have created successful chemistry.
"We're a group of guys that really worked on our games over the offseason and really looked to improve and be better as a team," Jones said. "We trust each other, we trust our work and we don't really get down about shot selections that guys take. We just trust each player is going to make the right play."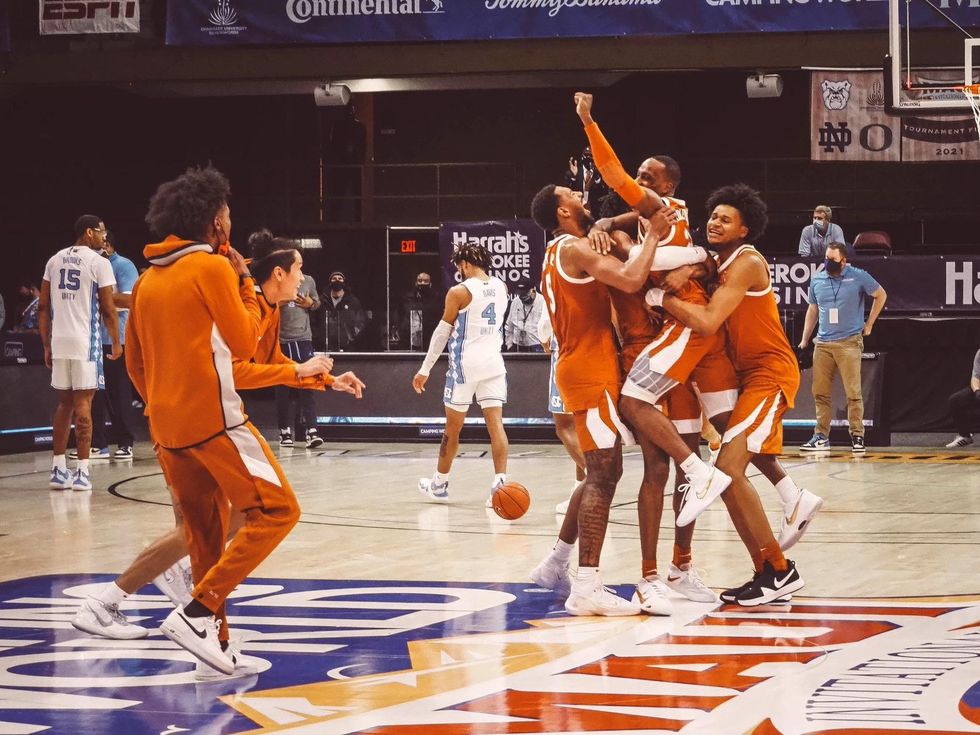 The team celebrates on the court. (University of Texas Athletics)
The group is connected to each other, a foundation laid when Coach Smart came to Texas.

"You got a group of guys who have really bought into the culture and who we are and want to be," Jones said. "I wouldn't necessarily say it's a culture shift, it's more of our culture finally being noticed and brought to light with our connectivity."
And like so many things, the "confidence, defense and connectivity" that binds this team together can be traced back to another CDC—Chris Del Conte, University of Texas at Austin Athletic Director. Many ADs might have cut bait with Smart, who came from success at mid-major VCU, when he missed the tournament in 2017, or when the Longhorns lost by four to Nevada in the first round. Instead, Del Conte stuck with Smart and fans are starting to see the culture that the Longhorns head coach has been trying to build—and some wished to see the football team reflect this growth. Smart has now outlasted two football coaches and is proving to be worth it.
Who knew that Tom Herman was the one holding back the basketball team too? #HookEm

— /r/LonghornNation (@/r/LonghornNation) 1609613357.0
The Longhorns have a tough test Saturday when they take their undefeated conference record to Morgantown to face off against No. 14 West Virginia Mountaineers. The game tips off at noon on ESPN.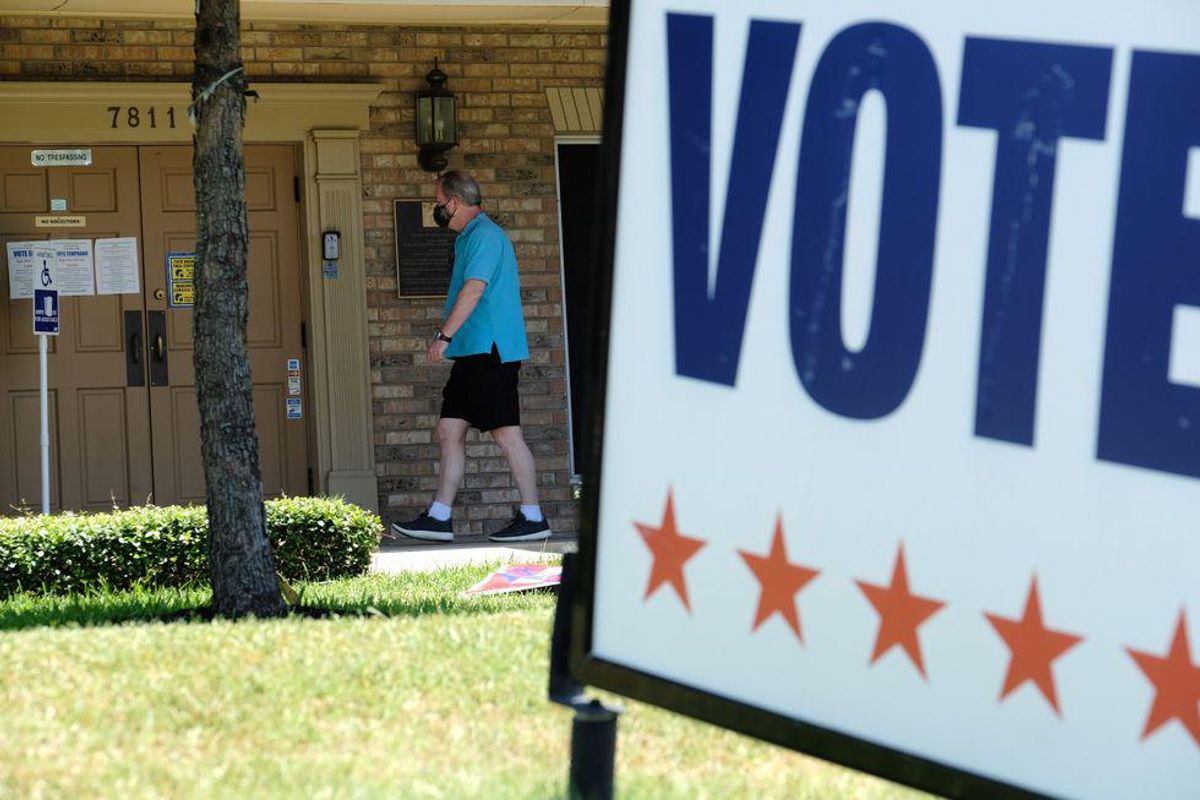 May's second election is here, in which voters will decide on the candidates to represent their party in the November general election after the winner in some March primary races was unclear.
Just like the March primaries, voters will choose which party they choose to vote in. Then based on location, each ballot will show which races are in a runoff.
In Texas, candidates must win at least 50% of the vote to be elected. In the races where the top candidate only received a plurality of votes, a runoff is being held.
Here's everything you need to know before heading to the polls.
Know before you go
Early voting for the Texas primary runoff election begins Monday and will last through May 20; Election Day is May 24.
The registration period for this election has passed; check if you're registered to vote here.
The polls are open from 7 a.m. to 7 p.m. daily. As long as you're in line by 7 p.m., you can vote.
You'll need a valid photo ID to present once you're at a polling location.
Here are the early voting locations in Travis County.
View wait times at polling locations here.
Races to watch in Travis County:
Statewide
Lieutenant Governor
Republican: Incumbent Lt. Gov. Dan Patrick won his primary in March.
Democratic: Mike Collier and Michelle Beckley are vying to be the Democrat candidate on the ballot.
Attorney General
Republican: Incumbent AG Ken Paxton is fighting for his seat against George P. Bush.
Democratic: Rochelle Garza and Joe Jaworski will face off to be the Democratic candidate in this race.
View all the statewide races on the ballot here.
U.S. House of Representatives

View the district you live in here.
District 21
Republican: Incumbent Chip Roy won his primary in March.
Democratic: Claudia Andreana Zapata and Ricardo Villarreal are hoping to secure this vote.
District 35
Republican: Dan McQueen and Michael Rodriguez are going head to head to be the Republican candidate in this race.
Democratic: Former Austin council member Greg Casar won this race in March.
Texas House
District 19
Republican: Ellen Troxclair and Justin Berry are vying to be the Republican candidate in this race.
Democratic: Pam Baggett won her primary in March.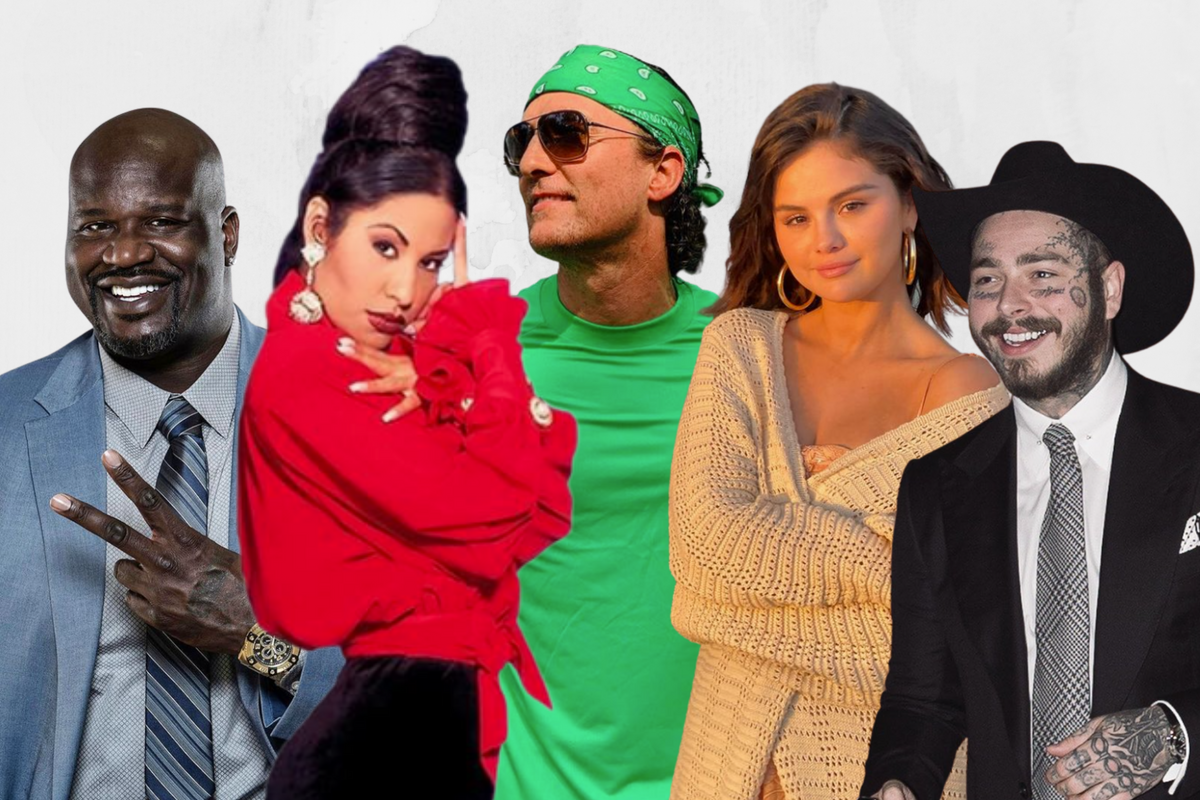 Texas has been home to some of the country's biggest celebrities of all time—think Amarillo resident Georgia O'Keeffe, Lubbock's Buddy Holly and Corpus Christi's famous singer Selena.
The Pudding's People Map of the U.S., which shows each city's "most Wikipedia'ed" resident, placed celebrities from all walks of life on the Texas map. As for Central Texas celebrities, there are some interesting (and not so surprising) names on deck.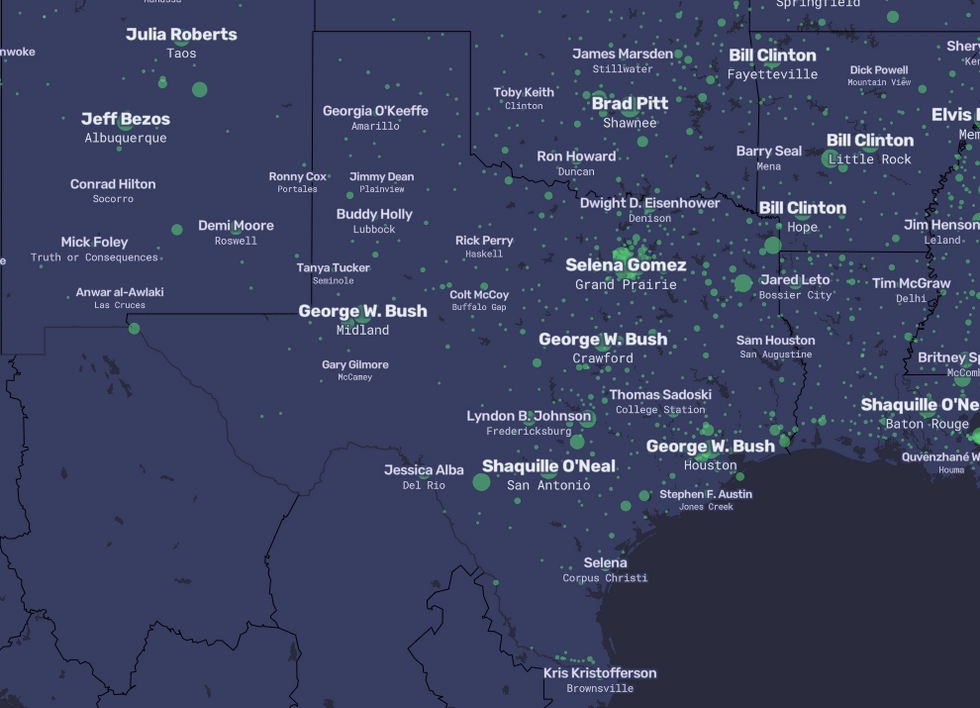 (The Pudding)
Proving that Austin is "alright, alright, alright," Minister of Culture Matthew McConaughey is both Austin's and Uvalde's top Wikipedia'ed resident. McConaughey, who was born in San Antonio adjacent Uvalde, has deeply ingrained himself in Austin by studying Radio-Television-Film at UT Austin, starring in the Austin-filmed movie "Dazed and Confused" and investing in Austin FC.
Heading down just a few miles south, San Marcos claimed former president Lyndon Baines Johnson as Texas State University's most famous alumni, who graduated in 1930, and was also named in Fredericksburg. LBJ wasn't the only ex-president on the map—George W. Bush was listed as the top resident in Dallas, Midland, Houston and Crawford.
You'll see some other names with ties to Austin strewn around the state: Janis Joplin in Beaumont and Port Arthur; Stone Cold Steve Austin in Victoria and Edna; Dan Rather in his hometown of Wharton; and Waylon Jennings in Littlefield.
Venturing outside of the central areas, there are big celebrities who call Texas Home. Actress and artist Selena Gomez dominated search traffic in her hometown of Grand Prairie, musical artist Post Malone was most "Wikipedia'ed" in Grapevine, and Shaquille O'Neal was named in the city where he went to high school, San Antonio.
Plus, Thomas Haden Church, Angela Kinsey, Jessica Simpson, Chuck Norris, Roy Orbison, Ron White, Jessica Alba, Colt McCoy, Jimmy Dean and Johnny Manziel all had at least one city covered on the list.
Where's Texas' newest resident, Elon Musk? You'll find him still in Los Angeles, as his foray into Texas living has just begun.
Click here
to view the full map.