Get connected with our daily update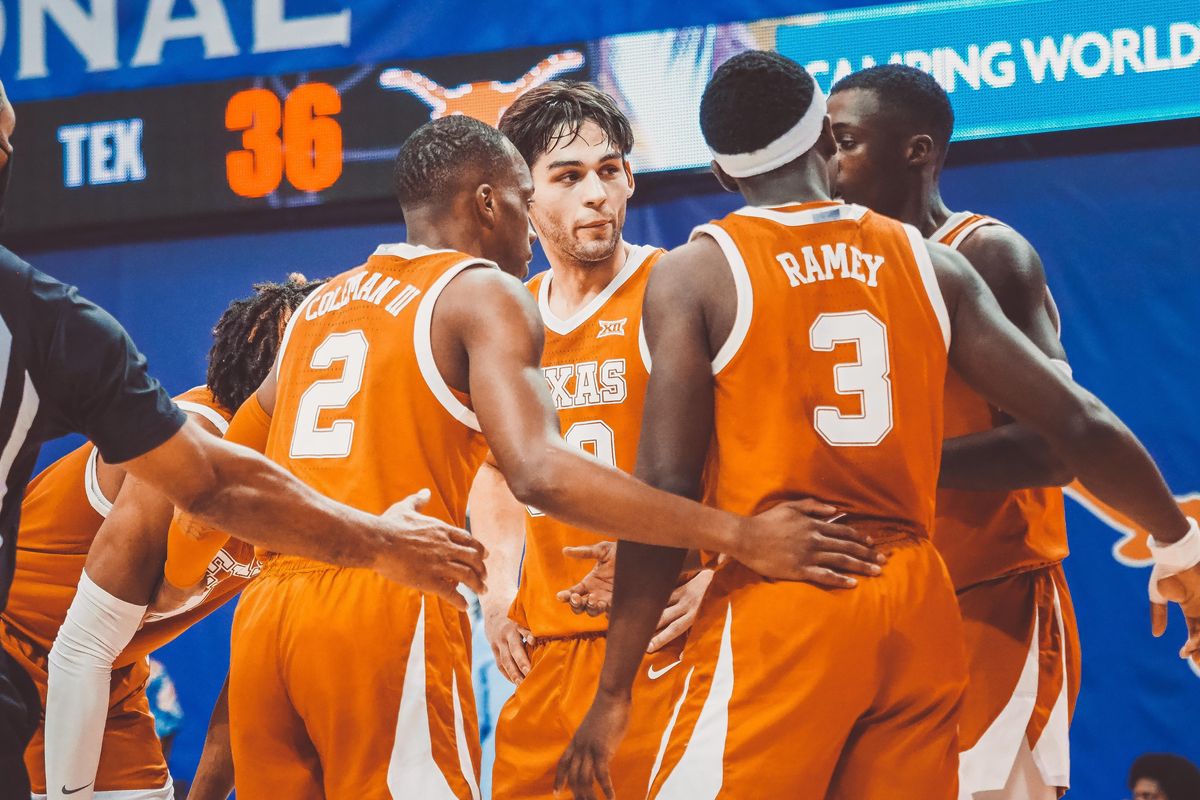 (University of Texas Athletics)
For the first time in almost a decade, the Texas Longhorns basketball team started its season 9-1 and 3-0 in conference play with a 84-59 blowout win over No. 3 Iowa State Tuesday. Some fans are wondering, with this early success, what has been the difference between this season and previous ones under Head Coach Shaka Smart?
---
In a season undermined by a pandemic, a lack of fans and game cancellations, you might think that Texas would struggle out of the gate. Other programs have. But the Longhorns have found success by playing with an edge.
Texas might have had the best college basketball win so far this season when they traveled to Allen Fieldhouse to take on Kansas last Saturday. The 25-point win propelled Texas to No. 4 in the country and has the entire college basketball world looking to Austin and sixth-year coach Smart for clues about the turnaround.
"Results on the court are first and foremost going to be a function of the improvement that players have made," Smart said at this week's press conference. "The ability of the players to be connected around winning and around what goes into winning. I think anytime that you're able to win a significant game that's an indication of that."

Smart attributes the early season success on the court to confidence, defense and chemistry.
Confidence
The cliche that "confidence is the key to success" applies to Texas this season.
Texas has found a system on offense that relies on trusting their guards to make the right decisions when running the offense and having their big men rebound and set screens.
"Everything is opening up now," 6-foot-10 forward Jericho Sims said. "I think if I get to the rim and make a lot of people collapse on me, then that really opens up the floor for everybody else."
When you watch the Longhorns play, there is a sense of purpose that may have been missing during stretches last season. Sims and freshmen Greg Brown are both in the top 10 for rebounds in the Big 12 and in the top 50 nationally.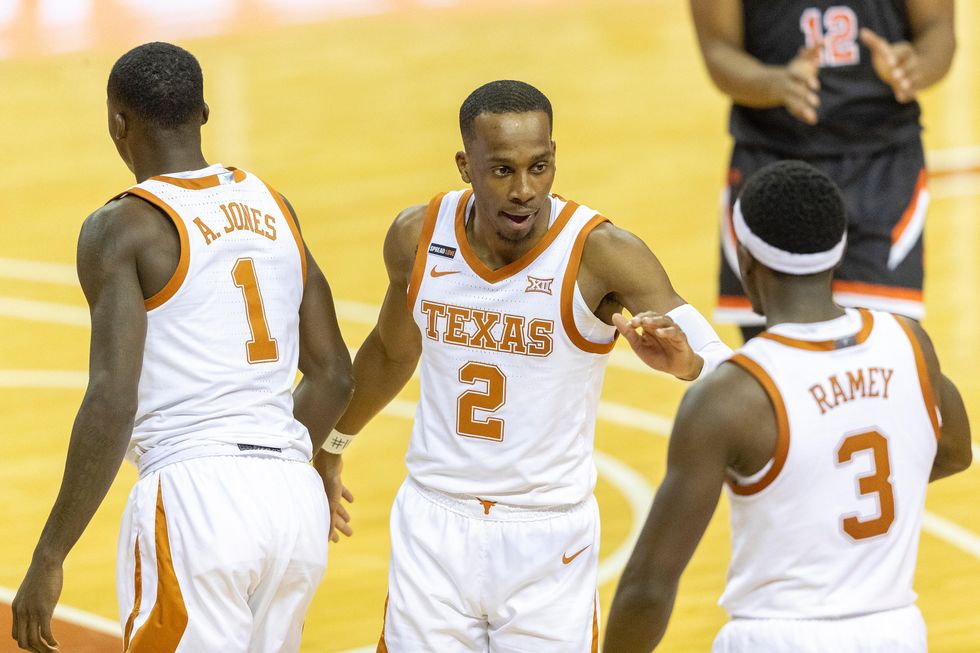 Senior guards Matt Coleman and Andrew Jones and junior Country Ramey on the court. (University of Texas Athletics)
The Longhorns have also found confidence in the formidable trio of senior guards Matt Coleman and Andrew Jones and junior Country Ramey. Together, the three upperclassmen have figured out different ways in every game this season to put the Longhorns in situations to win. Only Texas and Saturday's opponent West Virginia have three players averaging more than 13 points this season in the Big 12.

"I think our guys definitely have more confidence and expect to win," Smart said. "Definitely felt that on Saturday (against Kansas), but it's a fine line. What we like to tell the players as coaches: 'Expect to win, but expect to do what goes into winning.'"
Defense
"When you have a lead, if you keep the other team from scoring," Smart said, "then you're not going to lose the lead."
Every Shaka Smart team has one thing in common, a defensive philosophy that pressures shooters and doesn't allow driving lanes into the paint. The three most recent players that Texas has sent to the NBA—Jarrett Allen, Mo Bamba and Jaxon Hayes—have been shot blockers and defensive standouts who had to work on their offensive games once they got to the pros.
The Longhorns have kept their opponents shooting under 40% early in the season. The Big 12 can be one of the best conferences week in and week out, with different types of lineups and different defensive looks. Texas has to try to match the energy and intensity of each opponent they face.
"On the defensive end our guys have done a really good job playing with energy," Smart said. "But we also know that that's not a given. It's something that we've got to make sure that we bring. As I tell the guys all the time, it starts with our edge. We have to have an edge about us."
Chemistry
With 10 upperclassmen on the team, it's easy to see how teamwork and experience have created successful chemistry.
"We're a group of guys that really worked on our games over the offseason and really looked to improve and be better as a team," Jones said. "We trust each other, we trust our work and we don't really get down about shot selections that guys take. We just trust each player is going to make the right play."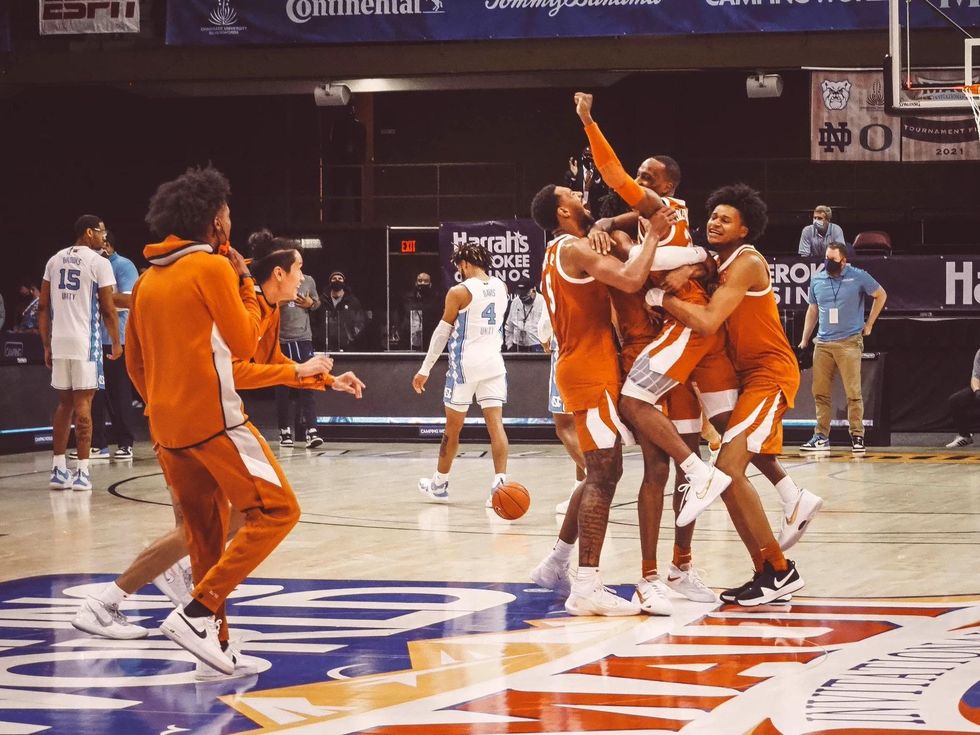 The team celebrates on the court. (University of Texas Athletics)
The group is connected to each other, a foundation laid when Coach Smart came to Texas.

"You got a group of guys who have really bought into the culture and who we are and want to be," Jones said. "I wouldn't necessarily say it's a culture shift, it's more of our culture finally being noticed and brought to light with our connectivity."
And like so many things, the "confidence, defense and connectivity" that binds this team together can be traced back to another CDC—Chris Del Conte, University of Texas at Austin Athletic Director. Many ADs might have cut bait with Smart, who came from success at mid-major VCU, when he missed the tournament in 2017, or when the Longhorns lost by four to Nevada in the first round. Instead, Del Conte stuck with Smart and fans are starting to see the culture that the Longhorns head coach has been trying to build—and some wished to see the football team reflect this growth. Smart has now outlasted two football coaches and is proving to be worth it.
Who knew that Tom Herman was the one holding back the basketball team too? #HookEm

— /r/LonghornNation (@/r/LonghornNation) 1609613357.0
The Longhorns have a tough test Saturday when they take their undefeated conference record to Morgantown to face off against No. 14 West Virginia Mountaineers. The game tips off at noon on ESPN.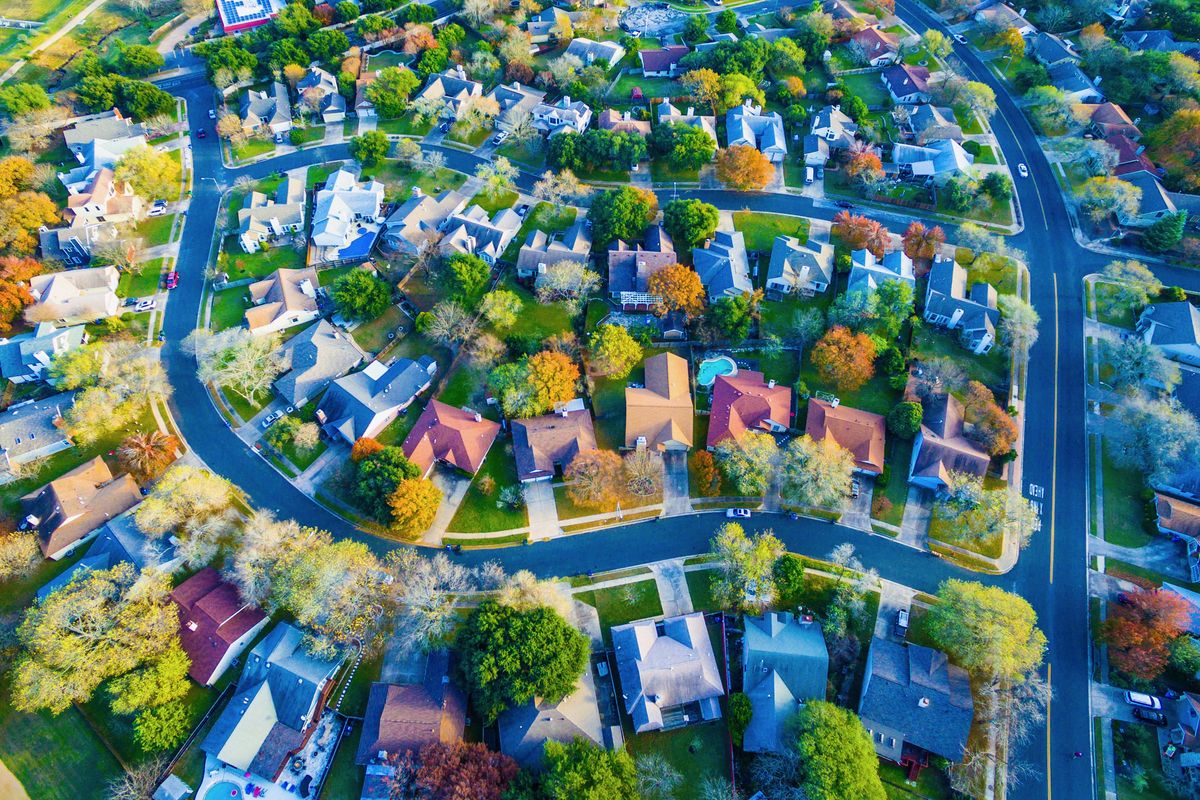 Shutterstock
So you want to buy a house?

To anyone trying to get on the "housing ladder," it's been a discouraging couple of years as prices skyrocketed in a market crowded with buyers bidding against each other for just about any available home.

Things may be calming down, with the Austin Board of REALTORS reporting fewer sales and more available homes this summer.

Mortgage rates have more than doubled in the last year, from around 3% to well over 6% on a 30-year fixed rate loan, getting even more of a bump this week after the Federal Reserve raised bank rates on Wednesday.

So how affordable are homes right now? That, of course, depends on what you want and how much you're able or willing to pay, but here are some rough estimates of what a typical buyer would pay to buy a $650,000 home, which would be considered "mid-price" in today's market.

Mortgage banker Chris Holland (NMLS 211033) of Austin's Sente Mortgage ran some numbers for Austonia to illustrate a typical purchase.


Holland says that while the 30-year fixed rate mortgage is often mentioned in the media, the most popular loan that he's seeing now is a 7/1 adjustable rate mortgage, which has a fixed rate for 7 years and then adjusts every year based on market rates, with a limit on how much it can increase each year. The interest is amortized over a 30-year period. Adjustable Rate Mortgages (ARMs) offer lower rates than fixed rate loans.

Here are the numbers, which are examples. In practice, exact numbers vary with a buyer's credit rating and overall financial situation, and with the rate, which can move up or down at any time.
$650,000 home purchase price
7/1 ARM at 5.875%
5% down payment, equals $32,500
95% financed, equals $617,500
$4,990 payment, including principle and interest (P&I), insurance, and property tax
Typically, a borrower's debt to income ratio needs to be at or below 45%. So for this mortgage, a borrower, or borrowers, would need income of roughly $11,100/month, or $133,200/year. That number could be higher, depending on the buyer's outstanding credit balances on things like credit cards and car loans.
Not included are closing costs, moving costs, maintenance, and any changes a new buyer might want to make to the home.

Holland says he's had a lot of clients approved for loans who were house hunting but have put that on hold, hoping prices come down.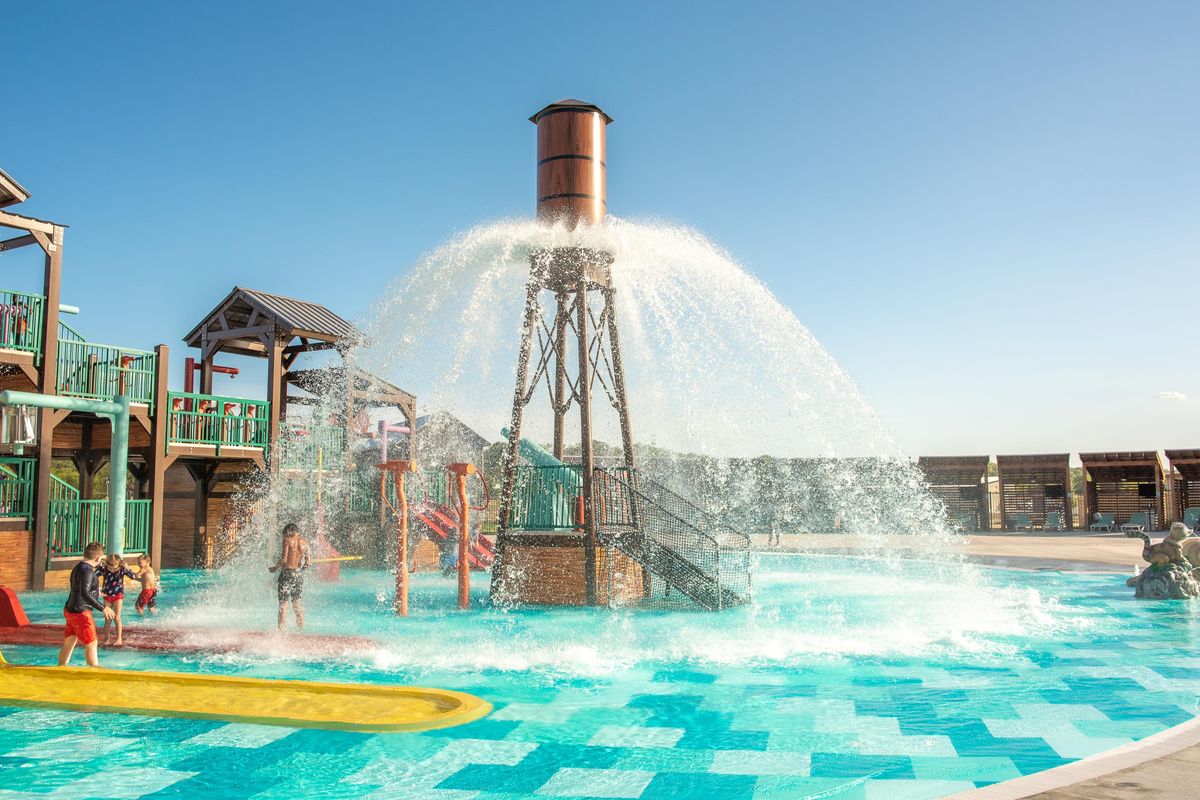 Camp Fimfo Waco
Camp Fimfo Waco, a brand new camping resort, is kicking off football and fall camping season in style! With top-notch amenities, premium accommodations, and 10 weekends of fall fun, there's no better place to have a fall camping getaway, especially if you're a Baylor football fan!
Fall promises to be a one-of-a-kind camping experience. From Sept. 16 to Nov. 24, weekends will be packed with fall-themed activities, including special Halloween weekends in October. Campers can enjoy activities like fall crafts, campground trick-or-treating, costume contests, site decorating, outdoor movie nights, and more!