Get connected with our daily update
The horrors of the 1974 classic "The Texas Chainsaw Massacre" are being resurrected in a sequel via Netflix, with Austin-based director David Blue Garcia pitting Leatherface against young hipsters, his newest prey.
---
The Bulgarian-shot film stars Sarah Yarkin, Elsie Fisher, Nell Hudson and Jacob Latimore, playing a modern-day group of friends who venture too far away from the city and into the jaws of Leatherface, played by Mark Burnham, and his cannibal family. The movie, "Texas Chainsaw Massacre," is set to be released on Feb. 18, 2022.
Netflix's official synopsis: "Melody (Yarkin), her teenage sister Lila (Fisher), and their friends Dante (Latimore) and Ruth (Hudson), head to the remote town of Harlow, Texas to start an idealistic new business venture. But their dream soon turns into a waking nightmare when they accidentally disrupt the home of Leatherface, the deranged serial killer whose blood-soaked legacy continues to haunt the area's residents—including Sally Hardesty (Olwen Fouéré), the sole survivor of his infamous 1973 massacre who's hell-bent on seeking revenge."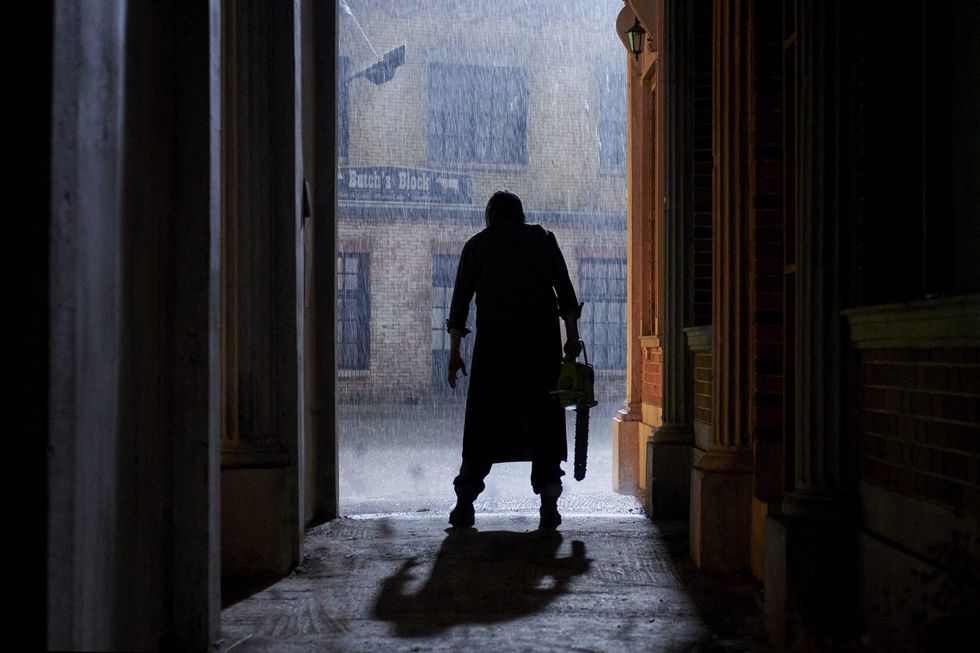 Confirmed: Leatherface is canonically the same character in the new movie. (Netflix/Legendary)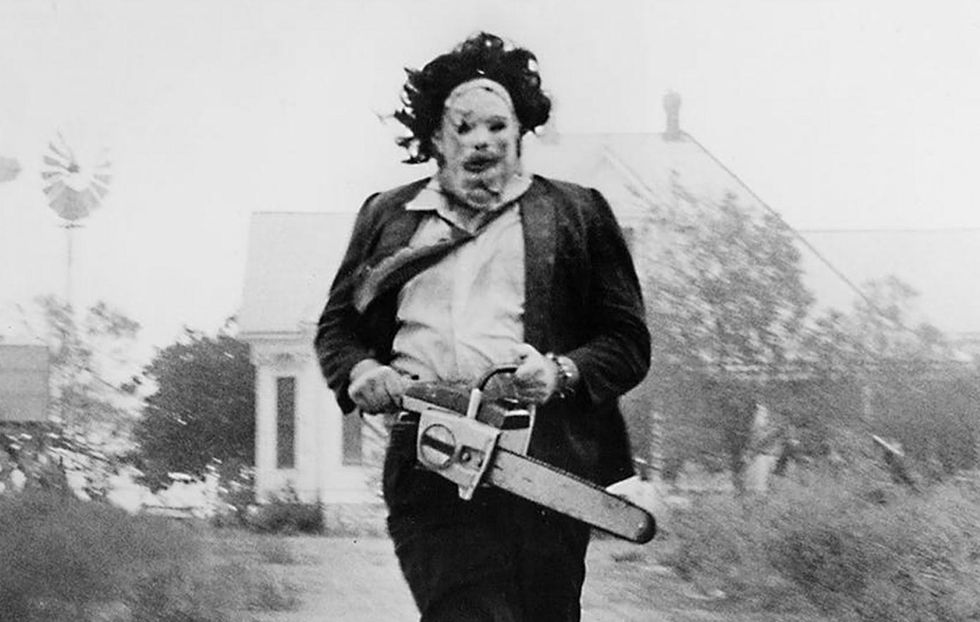 Be prepared for horrifying sights that build on the original. (Bryanston Distributing Company)
"Me and my business partner Dante (Latimore) are these young hip people that come to this ghost town in Texas and try to get other people to come there and make it the next hip place to be," Yarkin told Entertainment Weekly. "Our fatal flaw is that we ignore the history that came before us."
The thriller has some horror veterans returning to the set: written and produced by director of 2013's "Evil Dead" Fede Álvarez and screenwriter Rodo Sayagues, and produced by Kim Henkel, who was a co-writer on the original film.
The new version picks up years after the original, with Leatherface in hiding and "trying to be a good person," according to Álvarez.
"These people arriving in this town are going to awaken the giant," Álvarez said.
The movie may not follow all of the host of other sequels made to connect with "The Texas Chainsaw Massacre," and producers said that the franchise is a bit messy in terms of continuity, but it does tie directly to the original. Some of the movie may be up to your own interpretation!
Capital Metro has been awarded $750,000 from the Federal Transit Administration to go toward Project Connect's Orange Line, documents show.
The FTA announced the funding round on Thursday, which dispersed $11 million across 12 states and 20 projects. The money is meant to connect communities to affordable transit and housing through the FTA Pilot Program for Transit-Oriented Development planning.
CapMetro said the funds will go toward projects at eight stations spanning 6.5 miles on the South end of the Orange Line, which has a total of 22 stations. The full project stretches across the 20 miles from Southpark Meadows to Tech Ridge.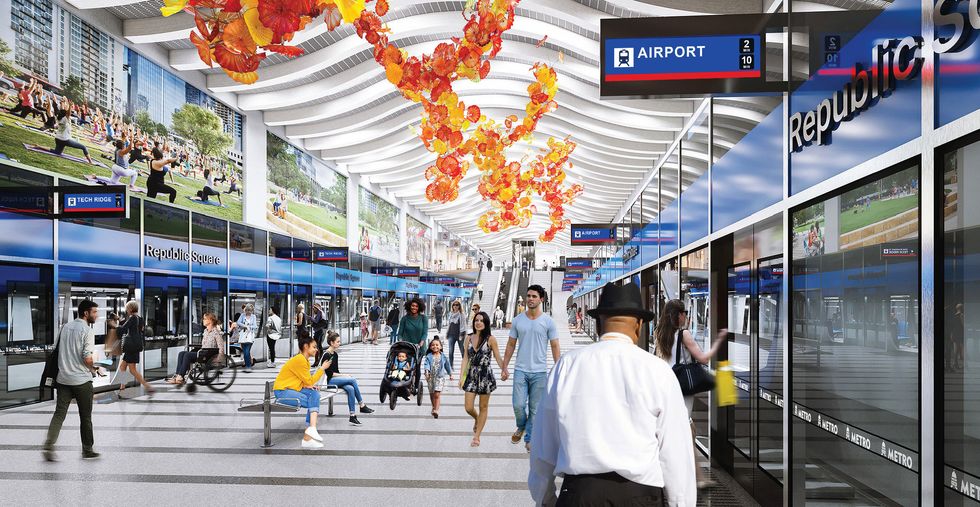 Republic Square station is along the Orange Line. (Project Connect rendering)
Once it's complete, which officials estimate will be in 2028, the Orange Line will reach the following stations:
Tech Ridge (Park & Ride)
North Lamar International District
Crestview
The Triangle
UT campus
Republic Square
Auditorium Shores
South Congress
Southpark Meadows (Park & Ride)
A $500 million mixed-use development spanning 1,400 acres is coming to Southeast Austin, near Tesla's headquarters at Giga Texas.
Plans for the development by Houston-based real estate firm Hines include 2,500 houses along with multi-family and townhomes, and commercial land. Hines is partnering with Trez Capital, Sumitomo Forestry and Texas-based Caravel Ventures.
The development, which is known as Mirador, will be located off the 130 Toll and Highway 71, which the developers say provides easy access to the Circuit of the Americas Formula 1 racetrack and other Austin attractions like restaurants, parks and live music venues.
Hines also boasts amenities like a 60-acre lake, over 600 acres of greenbelt, community parks, trails and a swimming pool.
"As Austin continues to grow into the tech epicenter of Texas, coupled with a supply-constrained market, the demand for new housing is at its highest," Dustin Davidson, managing director at Hines, said. "Mirador will be critical in providing more options for Austin's growing population and we are excited to work alongside our partners given they each provide a unique and valued perspective in single-family development."
The local housing market has been hot in recent years, with home sales accelerating earlier in the pandemic. In July 2021, the Austin metro area hit its pricing peak at $478,000. As Austonia previously reported, the area has been expected to see the Tesla effect, with the new workforce driving up demand for housing and other services.
The single-family houses are expected to be developed over the course of six years, in phases. Construction on the homes is expected to start this year and home sales will begin in 2023.