Never miss a story
Sign up for our free daily morning email...
...and afternoon text update
Get connected with our daily update
(H-E-B)
Vaccine priority groups are expanding once again, the state health department announced Wednesday. Texans 50 and older will be eligible for the COVID-19 vaccine starting March 15.
---
More than 93% of Texas COVID deaths have been among people 50 and older, with those ages 50 to 64 accounting for 20% of all COVID deaths, according to the Texas Department of State Health Services.
"We've seen a remarkable decrease in the number of hospitalizations and deaths since people 65 and older started becoming fully vaccinated in January," DSHS Associate Commissioner and Expert Vaccine Allocation Panel Chair Imelda Garcia said in a statement. "Expanding to ages 50 to 64 will continue the state's priorities of protecting those at the greatest risk of severe outcomes and preserving the state's healthcare system."
More than half of Texas seniors have received at least one dose of the COVID vaccine, and 30% are now fully vaccinated, according to DSHS.
The COVID vaccine rollout began in mid-December. Texas first opened up eligibility to health care workers and long-term care facility residents and staff. Later that month, the state expanded access to group 1B, which includes people 65 and older as well as those with a medical condition. In response to a federal directive, the state opened up eligibility to educators and child care personnel last week.
In Travis County, these priority groups account for more than half of the estimated population 16 and older, according to DSHS data.
Although the vaccine supply has increased in the last couple of weeks, largely due to the recent FDA approval of the Johnson & Johnson single-shot vaccine, demand remains high, and many eligible residents are still finding it difficult to make an appointment and encountering tech glitches. Expanding access could exacerbate these issues.
"We're still working out the process ... to ensure that we have parallel strategies in order to get more folks vaccinated in different risk areas," Austin-Travis County Interim Health Authority Dr. Mark Escott said during a Friday press conference.
State officials were expected to announce expanded eligibility criteria this week; however, Escott and others speculated it would include essential workers.
New confirmed COVID cases and related hospitalizations have dropped sharply since January, after a peak health officials have attributed to holiday gatherings and travel. In Travis County, the seven-day moving average number of daily new confirmed cases has dropped 84% since Jan. 17, when it was 701.7, to 109.6 on Tuesday. The average number of daily COVID-related hospital admissions in the five-county Austin metro has also fallen nearly 70%, from 93.7 on Jan. 9 to 28.4 on Tuesday, according to Austin Public Health data.
Former Minneapolis police officer Derek Chauvin was found guilty on three charges—second- and third-degree murder as well as manslaughter—in the killing of George Floyd, an unarmed Black man whose final moments were recorded by onlookers, sparking a global protest movement over police violence and racial injustice. He faces up to 40 years in prison.
Jurors deliberated for 10 hours over two days after an intense, three-week trial before reaching a verdict Tuesday afternoon, four days shy of the first anniversary of the Austin police killing of Mike Ramos, an unarmed, 42-year-old Black and Hispanic man whose name became a rallying cry—along with Floyd's—for Austin protestors, who marched en masse last summer, prompting some police reforms.
Austin Police Department Officer Christopher Taylor was charged with first-degree murder—an unprecedented charge in Travis County—in the case of Ramos' death on March 10. But Warren Burkley, community outreach director for the Austin Justice Coalition, was measured in his response to the Chauvin verdict. "It's highly visible accountability, so it will give people hope in the system," he told Austonia. "But it's just one innocent life taken. And even in this city, this happens regularly, and it doesn't make national news."
Local elected officials, community leaders and residents also responded to the news as APD officers spent their second day on tactical alert, prepared to respond to any protests or demonstrations, and City Council heard recommendations from a task force on how to reimagine public safety.
Californians love Texas, and Austin—with its liberal politics, relatively affordable housing and job opportunities—is particularly adored. In fact, the Lone Star State was the main recipient of departing Californians in 2019, according to the latest available U.S. Census Bureau data.

But other states, including Florida, are seeing increased interest. Miami Mayor Francis Suarez has made a name for himself on Twitter recruiting techies and hyping up his city, which has a lot in common with Austin—with the added benefit of a beach and sans the "Don't California my Texas" attitude.
California expats and industry experts say Austin remains the bigger draw for Californians, especially those in the tech sector, but warn that this advantage could shift to Miami if the city doesn't address the policy challenges that prompted the migration in the first place: housing affordability.
"If Austin doesn't accommodate this influx, I think all the talent will come to Miami," said Peter Yared, a tech entrepreneur who moved to Miami from San Francisco in September. "I think Miami's going to be the one that sucks it all up."
Push factors
Both Texas and Florida promise business-friendly state tax policies, and their governors tout the relocations of companies such as Tesla and Oracle from California. But Darien Shanske, a law professor at the University of California Davis whose specialties include taxation, said this is a red herring because corporate taxes are based on where sales occur rather than headquarter locations.
This is not to say other state policies are irrelevant. "The area in which California regulatory policy has been, in my opinion, not a complete failure but problematic … is housing policy," Shanske said. Austin and Miami can offer "not cheap, just cheaper" housing than what is available in Silicon Valley. Plus, both cities are developing a critical mass of talent, which further draws Californians in. "If you're a software engineer, you want to live near other software engineers," he added.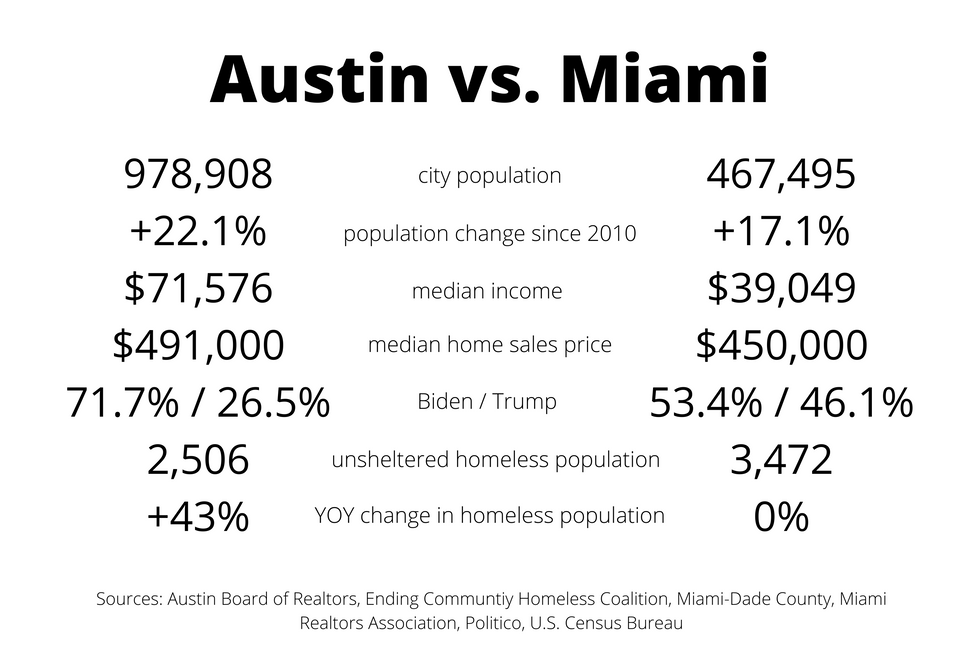 But not every Californian is motivated to move. "San Francisco is a fantastic place to live if you can afford it," said Brandy Aven, a professor of entrepreneurship at Carnegie Mellon University's Tepper School of Business. As a result, it's more common for what she called the labor—engineers, programmers and even company founders—to relocate to cities such as Austin and Miami than the monied venture capitalists. Burgeoning tech cities may find that they need to develop homegrown investor networks to support local ventures in the absence of Californian transplants, but she believes this is doable.
Pull factors

Paul O'Brien, CEO of the Austin-based MediaTech Ventures and a startup veteran, moved to Austin from California in 2009, during the Great Recession. "I'm a firm believer that the world has been seeking an alternative to Silicon Valley for a long time," he said, pointing to Austin as the natural heir for myriad reasons.
Austin has regional appeal as the epicenter of three of the country's largest cities—Houston, Dallas and San Antonio—and their respective industry niches. Tech entrepreneurs could cater to the local consumer goods industry or Houston's oil and gas sector. Plus the city has cultural appeal, thanks to the Red River District and South by Southwest, which made it attractive to job seekers. "The whole reason everyone moved to Silicon Valley is opportunity," O'Brien said. "The whole reason people are now looking beyond Silicon Valley to somewhere else is opportunity."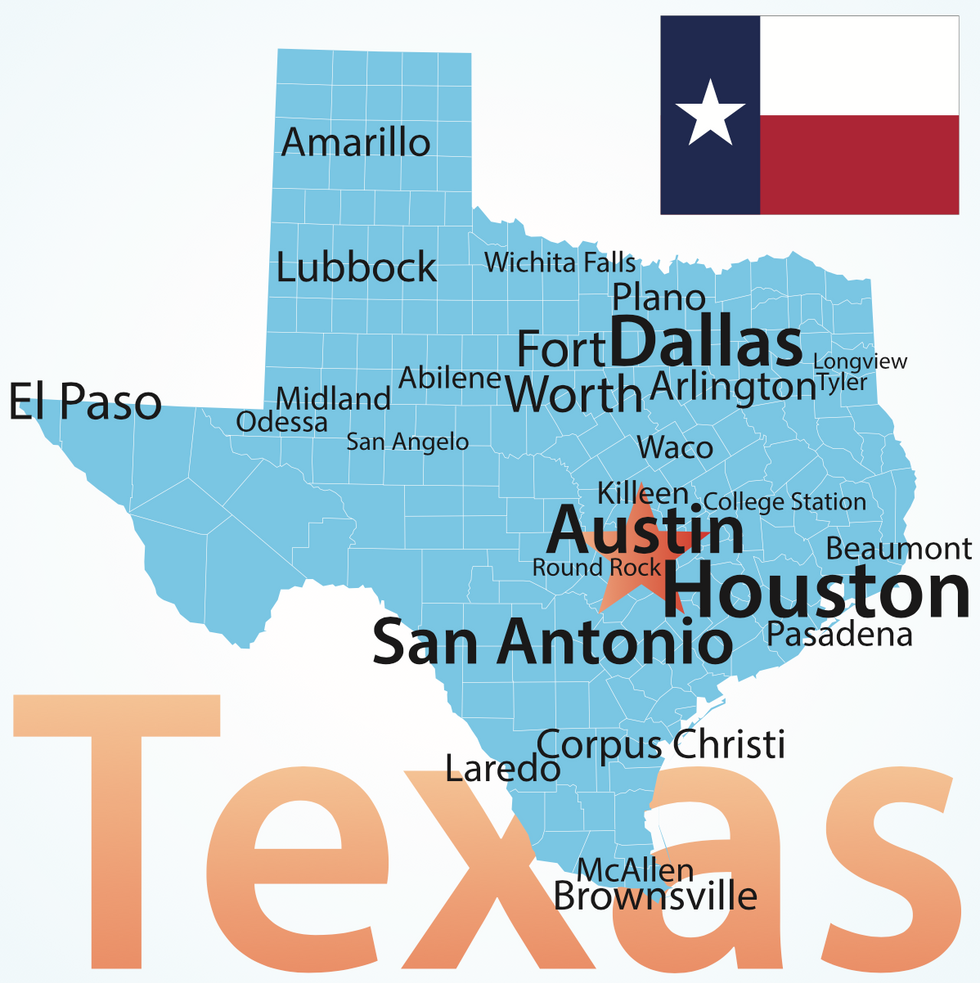 It's less clear what Miami's key industries are, O'Brien said, but the city offers other selling points, including the mayor's buy-in and "a tremendous depth of wealth" to support a technology and startup ecosystem.

Although Yared didn't consider moving to Austin, he is aware of its appeal to engineers, especially now that their hero, Elon Musk, has moved there, shunning California. "Austin has a lock on tech," he said, but Miami draws a different crowd, including financiers from New York. This parallel migration, coupled with the city's more outwardly pro-growth building policies, gives him hope that Miami could supplant Austin in the coming years. "In the end, communities get to choose what they want," he said.
After more than a year-long closure, the Red River live music venue Mohawk will reopen for select shows, private events and rentals next month and for daytime events and reduced-capacity outdoor shows in June.
The reopening will be done in a "safe and effective manner," consistent with CDC and Red River Cultural District guidelines, according to a Tuesday news release.
Texas Gov. Greg Abbott announced the end of a statewide mask mandate and business capacity restrictions in early March, prompting the venue to tweet: "Thanks bro but we ain't gonna do it till it's safe."

Since closing last March due to the pandemic, the venue has redesigned its space and added new amenities, including an upgraded website and rental options for rehearsals, recordings and private events.
The local business also plans to tackle "serious issues in the industry," starting with increased wage minimums, salaried roles, access to health insurance and a formal HR program. "Overall, we believe it is time to advance the culture of our industry as it relates to staff and working to create more careers than jobs over time," the release states.

Austin's live music venues and bars have been particularly hard hit by COVID-19. Researchers at the University of Houston's Hobby School of Public Affairs reported in July that more than half of the city's live music venues, restaurants and bars would be forced to close permanently in the next six months without financial assistance from the government.