Get connected with our daily update
By Alexa Ura
A wave of changes to Texas elections, including new voting restrictions, are headed to Gov. Greg Abbott's desk.
---
Three months after House Democrats first broke quorum to stymie a previous iteration of the legislation, Republicans in the House and Senate Tuesday signed off on the final version of Senate Bill 1 to further tighten the state's voting rules and rein in local efforts to widen voting access. Abbott, a Republican, is expected to sign it into law.
The bill was delayed one more time as its Republican author, state Sen. Bryan Hughes, disapproved of language added by the House to address the controversial conviction of Crystal Mason, a Tarrant County woman facing a five-year sentence for a ballot she has said she did not know she was ineligible to cast. Hughes' objection triggered backroom talks to strip the Mason amendment before the bill could come up for a final vote.
The votes mark the end of a legislative saga that encompassed two sessions of legislative overtime and featured marathon hearings, a dramatic decampment to Washington, D.C., and escalating tensions between the Democrats who fled in protest of what they saw as a danger to their constituents' votes and the Republicans left behind unable to conduct business.
Republicans pushed for SB 1 citing their desire to further safeguard elections from fraud — for which there is no evidence of a widespread problem — and to standardize election procedures. The legislation establishes new ID requirements for voting by mail, enhances protections for partisan poll watchers and sets new rules, and possible criminal penalties, for those who assist voters.
Throughout the last few months, they've also strived to leave intact provisions of the bill that will ban drive-thru voting and set new limits on early voting hours to outlaw overnight voting. Republicans were clear they were targeting initiatives carried out by Harris County last year, which county officials have said were disproportionately used by voters of color.
"We don't do 24-hour voting in Texas, but we do have a lot of opportunities to vote. We don't do drive-thru voting, but we do make sure that folks who have disabilities have access to curbside voting," Hughes said just before the Senate's vote.
For Democrats, the risk the measure carried in raising new barriers for voters of color and those with disabilities were justification enough to bring the Legislature to a standstill for nearly six weeks. But the return of enough Democrats to the House chamber earlier this month put SB 1 back on the path to finally make it across the finish line.
Republicans in the House and Senate began the special sessions fairly aligned in their proposals after using as a blueprint the massive voting bill, then known as Senate Bill 7, that Democrats doomed in May when they first broke quorum. Last week, the House further amended its legislation to match the relatively few differences in the Senate's bill and include a few changes Democrats had pushed for, including training for poll watchers. Left off were controversial provisions from the spring that would've restricted Sunday voting hours and made it easier for judges to overturn elections.
"This bill is not good enough for me to vote for. I think it still has major flaws that will create problems down the road," said state Rep. Garnet Coleman, a Houston Democrat whose return to the chamber helped Republicans reach quorum. "And all I can hope is that if those problems occur … that we come back here in two years and fix it. Because the worst thing we could ever do is prevent someone from exercising their constitutional right to vote."
On Tuesday, Democrats decried the Senate's objection to the Mason amendment, with state Rep. John Turner, D-Dallas, stating he hoped it was "not because they believe that more people in situations like that of Crystal Mason should be prosecuted or imprisoned."
Coleman and Turner were part of the panel that worked out the final version of the bill in backroom talks. Despite their support for the amendment, House Republicans on that panel also signed off on removing it.
The amendment — offered by state Rep. Briscoe Cain, R-Deer Park, but worked on as a bipartisan effort — was meant to prevent voter mistakes from being prosecuted as fraud.
"We're just ensuring that people who do innocent things are not harmed from their past mistakes," Cain said before it was quickly adopted by the House last Thursday.
Mason was convicted of illegal voting for casting a provisional ballot in the 2016 election while she was on supervised release for a federal tax fraud conviction. Her vote was never counted, and Mason has said she had no idea she was ineligible to vote under Texas law and wouldn't have knowingly risked her freedom.
Tarrant County prosecutors pressed forward to land the conviction, which was upheld by a state appeals court that ruled that the fact Mason did not know she was ineligible was "irrelevant to her prosecution." Her case is currently under review by the Texas Court of Criminal Appeals, the state's court of last resort for criminal matters.
Cain's amendment would have clarified existing law that currently defines illegal voting as an instance in which a person "votes or attempts to vote in an election in which the person knows the person is not eligible to vote" by emphasizing that a person must be aware of the "particular circumstances that make the person not eligible" and also that "those circumstances make the the person not eligible" to vote.
Mason's case has played out as Republicans' baseless claims of rampant illegal voting have intensified. But with lack of widespread evidence, her case has landed among the handful of high-profile prosecutions of people of color.
Mason, who is Black, is appealing her case as the Texas attorney general's office prosecutes Hervis Rogers, who is also Black, after he was featured in news coverage of the March 2020 primaries for being the last person to vote at Texas Southern University in Houston at 1 a.m. His registration was active even though he was a few months away from completing his parole as part of a 25-year prison sentence for burglary and intent to commit theft in 1995.
Hughes on Thursday said the amendment raised concerns for "people in the building" and "outside the building" that the language could go farther than intended, and noted he believed non-citizens who vote in elections should be prosecuted even if they were not aware they were ineligible. Notably, the Mason amendment could have also affected the state's prosecution of Rogers, who was charged with two counts of illegal voting.
Hughes also noted the bill still includes language that would require proof beyond a provisional ballot for an attempt to cast an illegal vote to count as a crime.
Following the House's final vote on SB 1, Republican state Rep. Dustin Burrows offered a resolution addressing the appeals court's ruling in Mason's case to "reaffirm" the House's position that mistakes should not be prosecuted as illegal voting.
"The Cain amendment, which was adopted, in all honesty, it may not have been necessary in the first place because the law as written, if interpreted correctly, should have already provided for this," Burrows said. "If you make an honest mistake… you should not be put in jail for five years under those circumstances."
Though it is expected to draw the state into federal court, SB 1 is set to go into effect three months after the special legislative session, kicking in before the 2022 primary elections.
East Austin restaurant la Barbecue has been robbed a third time in less than three months, according to a post on the restaurant's Instagram.
In the post, the restaurant included photos of what appeared to be a man exiting a minivan from surveillance footage.
"This guy pulled up in a car full of stuff… he ripped our gate open and stole a couple empty kegs," the post said. "The ring system scared him off so he did not venture back into the area. PLEASE EVERYONE ON THE EAST SIDE BE CAREFUL!!! This guy goes back into his car to grab something before he goes in. I am hoping he won't be back!!"
The robbery comes as many restaurant and food truck owners have been on guard from recent break-ins. East Austin cheesesteak truck R&B's Steak and Fries has also been robbed three times in around three months, according to owner Kris Elliott. Elliot said the truck was last robbed around a month and a half ago.
"When the weather gets cold, it seems like these things start to happen more often," Elliott said. "We're just happy no one got hurt."
Additionally, he said all 5 of the food trucks in their lot have experienced burglaries. The landlord of the space is taking action by investing in alarm and camera systems. "Been very tough dealing with this problem as us small business owners are just trying to survive during the pandemic," Elliott said.
And it's not just in East Austin. North Austin restaurants Eldorado Cafe and Chez Zee Bistro were both broken into and robbed on the weekend of Jan. 8, while over a dozen food truck robberies and break-ins were reported in the latter half of 2021.
Some, like Chez Zee's Deborah Velasco, wonder if the understaffed Austin Police Department's decision to no longer respond to non-emergency calls is part of the problem. Xose Velasco, owner of East Austin's Discada, said owners are keeping their guard up in the wake of the robberies as he was robbed twice within a month of reopening in November 2021.
"We try to keep the lights on," Velasco said. "We're a little bit more careful."
After 12 months, the long-anticipated massive Tesla factory in Southeast Travis County is up and operating and everyone wants a look inside.
Phase 1 of Giga Texas appears to be tied up as production of the Model Y Tesla is underway, the electric car company revealed on Wednesday in its fourth-quarter earnings call. The factory, located on the former Harold Green-turned Tesla Road, sits on more than 2,000 acres of land in southeast Travis County.
Here's a glimpse inside the factory.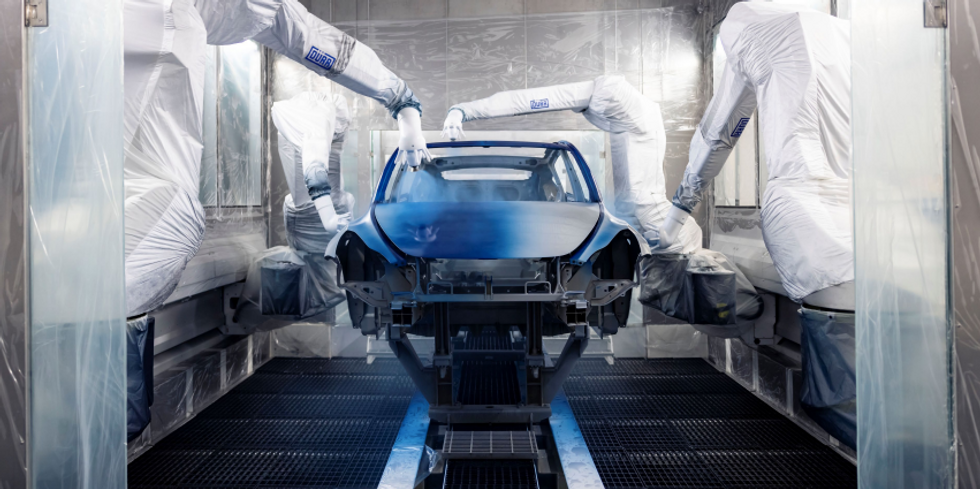 (Tesla)
Model Ys will be the first Teslas to come out of Giga Texas with an estimated delivery of August. The wait estimate comes after Tesla noted supply chain issues have affected their factories, which have been running below capacity for several quarters. A deep blue metallic like this goes for $1,000 more than a white or silver Model Y, totaling $61,990.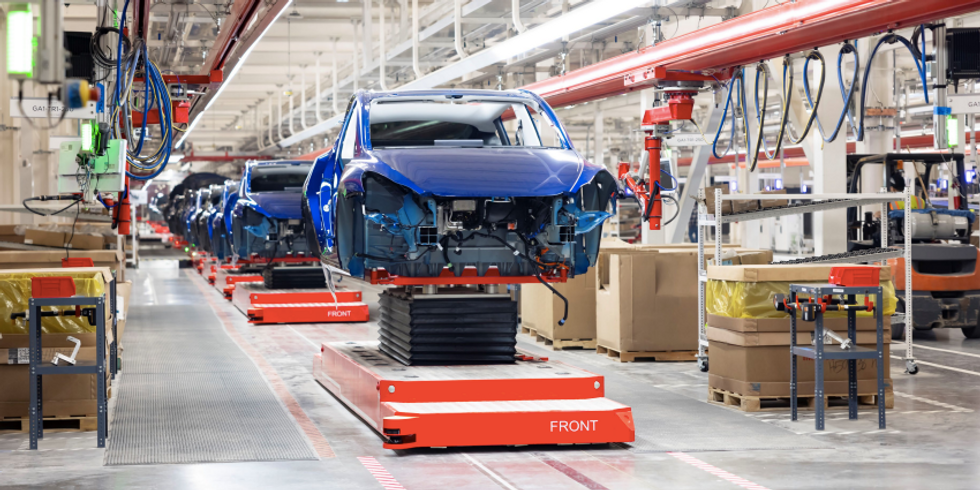 Model Ys began being produced at Giga Texas at the end of 2020. In general assembly at the factory, the Teslas get their major interior components to finish the vehicle.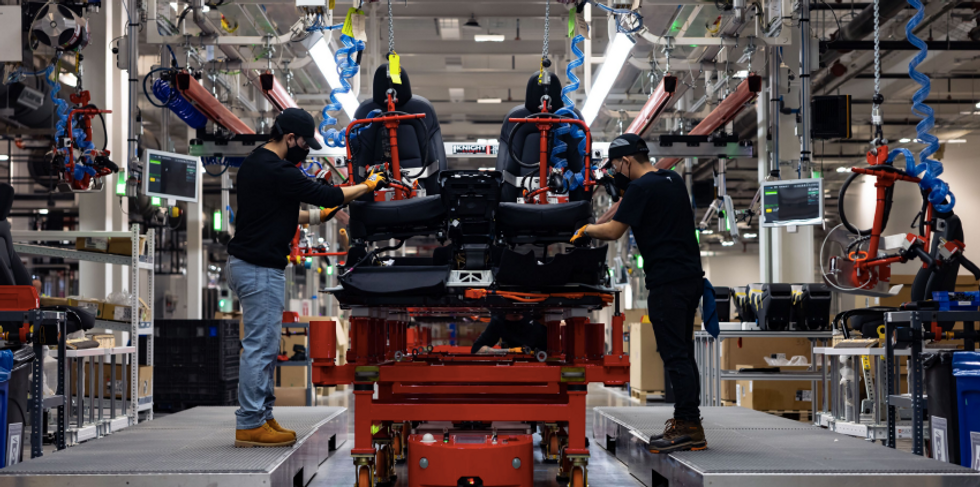 (Tesla)
Workers at Austin's Gigafactory are attaching seats to a structural battery pack. It's been described by some as the biggest difference between Texas-made Model Y's and the current version at the Fremont, California factory. It shouldn't have a major impact on the owner's experience, but Tesla has updated instructions for the jacking procedure, as the lift points are different.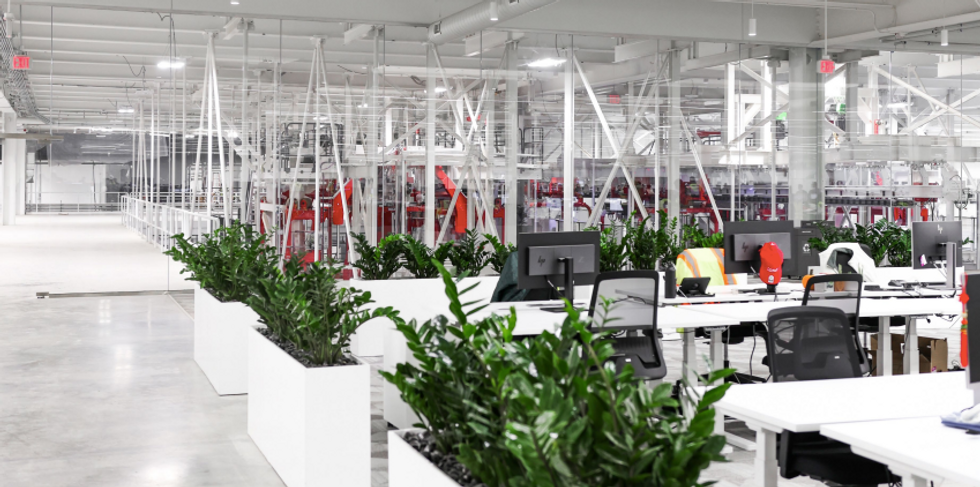 With a sleek, open office setup, workers can take in a view of the factory from their seats. It's a component CEO Elon Musk wanted for what is now the headquarters of Tesla.
On the Austin, Texas public location Snapchat, a photo of inside Giga Texas has appeared. On the left you can see a sneak peek of a Model Y body.pic.twitter.com/N7zliZ5vkL

— Sawyer Merritt (@Sawyer Merritt) 1643081462
With Snapchat's maps, anyone can look at everyday activity happening at the factory. To view these geographically-linked stories, click the bottom left "map" icon and search "Tesla Giga Texas." Once you've found it, you can view the Snapchat story of those in and around the facility. While most stories stay up for only 24 hours, Giga Texas is a designated place on Snapchat, allowing users to view a collection of photos and videos from the inside.
Following Model Ys, Texas-made Teslas will include the Cybertruck, Semi and Model 3. But it might be a while before those other models arrive. EV makers have been hit hard by the chip shortage, and it's thought that changing features are contributing to Cybertruck delays as Tesla works to compete in the electric pickup market.
Joe Rogan paid a visit to buddy Elon Musk this week. The two have been seen around town since both moving to Texas. Naturally, Rogan was impressed with the prototype.
If you're dying to get a closer look at this factory, you just might get to. In December, Musk said the factory would have tours available to the community early this year.