Austonia AM
100% Austin news, info, and entertainment, straight to your inbox at 6 a.m. every morning.
In five minutes, you're fully informed and ready to start another great day in our city.
Get connected with our daily update
When Operation Warp Speed officials announced back in November that they would allocate COVID-19 vaccines to states based on their adult population, it seemed to bode well for Texas, the second most populous state in the country. More than two months into the rollout, however, Texas finds itself almost dead last in terms of the number of vaccine doses it has received from the federal government on a per capita basis.
---
As of Monday, the state of Texas had received 4,402,275 doses of the COVID-19 vaccine, according to the Centers for Disease Control and Prevention. This evens out to 15,182 doses per 100,000 people, leaving Texas in 47th place nationally. This marks a slight improvement from a few weeks ago when Texas ranked 48th in the country.
On average, states have received 17,839 doses per capita, according to the CDC data. If Texas had received vaccine doses at this rate, the state would have an additional 647,325 doses to administer—enough to provide initial shots to an additional 14% of the residents in the top two priority groups, according to Ariadne Lab's Vaccine Allocation Planner.
"We're very much aware of it," Texas Department of State Health Services Director of Media Relations Chris Van Deusen told Austonia. The agency has been in touch with federal officials, who said state allocations are based on adult population numbers. "It's something we're still looking into," he added. "We want to make sure that Texas is getting the numbers that it should be."
A closer look
Alaska leads the pack, with 33,969 doses delivered per capita, CDC data shows. This is largely thanks to additional allocations made by the Department of Veterans Affairs and the Indian Health Service. As a result, the state has received enough doses to vaccinate more than twice as many people on a per capita basis as Texas.

Other factors contribute to discrepancies between states, including unpredictable weekly shipments and last-minute adjustments to their allocations, as reported by ProPublica. Texas officials are not the only ones who have taken notice: Nevada's COVID-19 response director recently met with CDC and FEMA officials to discuss the state's allocation, and Utah's health department director suggested his state was being shortchanged because it is the youngest state in the nation.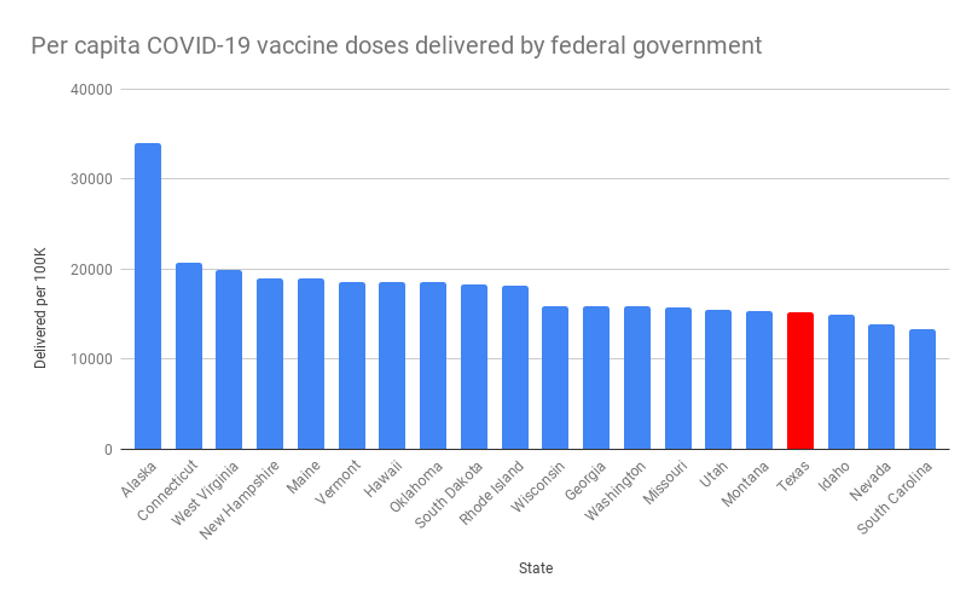 This chart shows per capita vaccine allocations for 20 states: the 10 that have received the most (Alaska through Rhode Island) and the 10 that received the fewest (Wisconsin through South Carolina).
Former Houston mayoral candidate and blogger Bill King wrote that Texas was getting shortchanged as part of the federal vaccine rollout on his blog last month. "I kind of became a little obsessed with (COVID data)" he told Austonia. When he realized Texas ranked so low in terms of per capita vaccine allocation, he reached out to some of Texas' congressional representatives. "The only person I got to pay attention to it was (U.S. Rep. Dan) Crenshaw's office," he said.

Even if the federal government changes its distribution strategy to rightsize Texas' share, it wouldn't necessarily account for this deficit. "It's not an inconsequential number," King said.
Underserved but overperforming
Although Texas has received fewer doses of the COVID-19 vaccines on per capita than most other states, it is administering those doses fairly quickly. As of Monday, Texas had administered 75% of its allocated doses—more than 30 other states and the national average, according to the CDC data.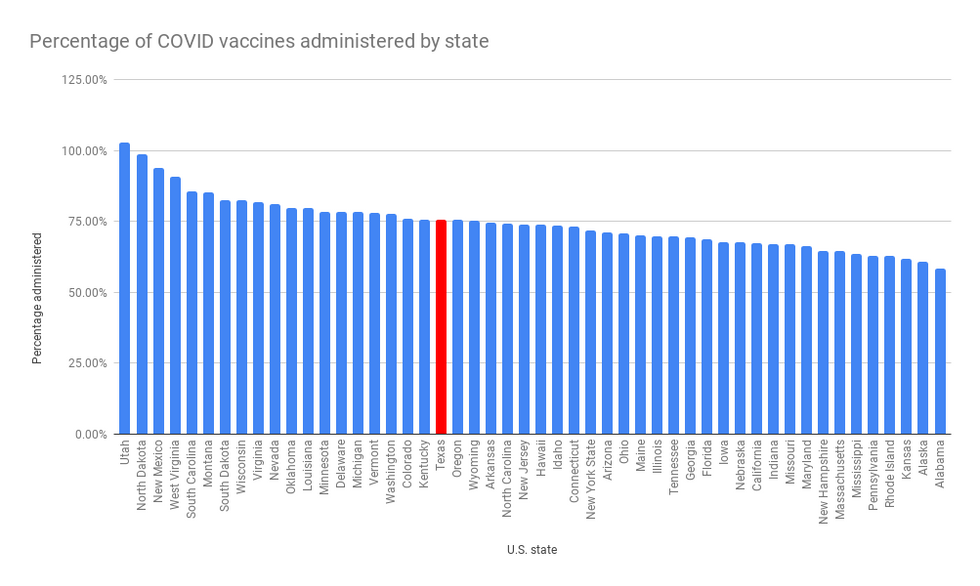 Recent changes to the state's rollout plan have addressed some concerns. After Texas House Democrats urged Gov. Greg Abbott to address constituents' "growing confusion and frustration" around how to access vaccines last month, he announced a shift to large-scale hub providers.

With this change, Austin Public Health was designated a hub provider and debuted a pre-registration waitlist. It remains deeply oversubscribed, with more than half a million people signed up, but is open to anyone who is eligible under the state's priority guidelines. Before the creation of such hubs, some smaller providers were only offering appointments to existing patients or did not have a waitlist at all, leaving eligible residents feeling shut out.
These improvements, however, do not address the scarcity of vaccine doses allocated to the state overall. "It's just never going to be enough right now," National Association of County and City Health Officials CEO Lori Tremmel Freeman told Austonia.
New governance
Under the Biden administration, the vaccine distribution process remains largely the same. But there have been some "subtle" shifts, Freeman said, including a 5% increase in the weekly allocation to states thanks to increased production by Pfizer and Moderna, direct shipments to pharmacies and improved communication with state and local health departments.
The president has also promised to give states firmed up weekly allocation numbers three weeks in advance to allow for better on-the-ground planning. APH and other local providers typically learn of their weekly allocations a couple days in advance, a department spokesperson told Austonia.
But challenges remain, including concerns about equity, lag times in second dose shipments and new virus variants.
"The longer view we can have as to vaccine supply, the better the distribution and administration of vaccines will be," Freeman said.
Matthew McConaughey is reportedly weighing a run for Texas governor in 2022.
The Austin resident and Oscar winner has been "quietly making calls to influential people in Texas political circles, including a deep-pocketed moderate Republican and energy CEO" as he decides whether to run, according to Politico.
McConaughey said a gubernatorial run is "a true consideration" while on a March episode of Houston's "The Balanced Voice" podcast.
Although most political strategists doubt McConaughey's commitment and viability as a candidate, some are still intrigued by the possibility.
"I find it improbable, but it's not out of the question," Karl Rove, a top Republican strategist with a long history in Austin, told the political news site. He added that the big question is whether McConaughey would run as a Republican, a Democrat or an independent.
Brendan Steinhauser, an Austin-based GOP strategist, told Politico he's surprised McConaughey isn't being taken more seriously. "Celebrity in this country counts for a lot," he said. "It's not like some C-list actor no one likes. He has an appeal."

Texas Gov. Greg Abbott plans to run for a third term and remains popular among Republican voters, 77% of whom approve of his performance as of April, according to the Texas Politics Project.
Some strategists believe an independent McConaughey run would benefit Abbott. But a recent poll from The Dallas Morning News and the University of Texas at Tyler found that McConaughey would beat Abbott, 45% to 33%, with 22% opting for someone else.
Mimi Swartz, an executive editor at Texas Monthly, mulled a McConaughey run in a recent opinion essay from the New York Times. "Texas may not be ready for a philosopher king as a candidate, much less governor," she wrote. "May the best man win, man."
Some JuiceLand production facility workers and storefront employees are organizing to demand wage increases, better working conditions (including air conditioning in the warehouse) and pay transparency, among other asks. They are also calling on staff to strike and customers to boycott the Austin-based company until their demands are met.
JuiceLand responded on Saturday. "We are listening," the company wrote on their Instagram story. "JuiceLand crew now makes guaranteed $15 an hour or more companywide."
JuiceLand, which was founded in 2001 by Matt Shook and now has 35 locations in Austin, Houston and Dallas, acknowledged the rising cost of living across Texas and the added stress of the pandemic in an email to employees on Saturday, part of which @juicelandworkersrights shared on social media. "There's no denying that times are tough and financial security means more now than ever," the company wrote.
Organized JuiceLand workers rejected this proposal, according to a recent post on the @juicelandworkersrights Instagram account, and reiterated their demands.
"Cost of living in Austin is rising exponentially and will only continue to get worse with the tech boom," the post read. "$15 is barely a sustainable living."

Related Articles Around the Web