Get connected with our daily update
(Eddie Gaspar/The Texas Tribune)
BY ALEXA URA
Through a small notice tucked into the state's business register, Texas appears to have acknowledged that the 2020 census count is going badly.
With just a month of counting to go in the crucial decennial census, the self-response rate for Texas households has barely topped 60%. As census workers have followed up in person with households that haven't responded, the share of households accounted for has risen to 79.5% — but Texas is still far behind several other states and several percentage points behind the national average.
---
On Aug. 26, the Texas secretary of state's office quietly put out word that it has up to $15 million to spend on an advertising campaign intended to urge residents to get themselves counted. The effort — which Texas will pay for by dipping into federal dollars meant to address the coronavirus pandemic — amounts to a last-minute about-face by the state, whose Republican leadership had previously shot down any significant state funding for efforts to avoid an undercount.
The urgency the state is feeling a month out from the census deadline is apparent in the timeline of its request for proposals for a broadcast, print and digital campaign to "educate Texans on the significance and value of participating in the 2020 Census" and drive up response rates. The notice was posted last week, and bids are due by Wednesday. The contract is projected to begin two days later. Counting for the census is set to end Sept. 30.
The latest census figures showed that households in urban, Democratic-leaning areas of Texas had filled out the census online, by phone or by mail at higher rates than those in more rural, Republican-controlled areas and South Texas communities. The U.S. Census Bureau's door-to-door campaign to follow up with households that did not respond to the census is ongoing.
The state's sudden pursuit of a multimillion-dollar advertising campaign to promote the count comes more than a year after it left local governments, nonprofits and even churches to fill the organization void in chasing an accurate count.
"It's frustrating that we're doing this at the last minute," said Luis Figueroa, the legislative and policy director for Every Texan, a left-leaning think tank previously known as the Center for Public Policy Priorities that has been at the forefront of census efforts in the state. "We hope there is enough time for it to be meaningful and effective. There's an adage about 'better late than never,' but there is also 'a day late and a penny short.'"
A spokesperson for the Texas secretary of state's office confirmed the $15 million budget for the campaign, funded through a portion of the money the state received through the Coronavirus Aid, Relief and Economic Security Act passed by Congress. Neither the secretary of state nor a spokesperson for Gov. Greg Abbott responded to questions about the state's last-minute decision to spend money promoting the count.
An accurate census is paramount to the state's economic and political future. The population count flows down to Texans' daily lives for an entire decade. If it is carried out properly, census estimates indicate that Texas should post huge population gains since 2010, with more than 3.8 million new residents.
But every person missed puts funding on the line for everything from early childhood programs to highway planning and construction. An inaccurate count will lead to faulty data that is used to build communities, including where grocery stores are built and whether schools will be large enough. The once-a-decade count is also used to distribute political power, with the population data used to determine how many seats Texas gets in Congress and how to divvy up voters into political districts.
If enough Texans are missed in the count, it would jeopardize the three additional seats in Congress the state was expected to gain after this census.
Even as other states put millions of dollars into census campaigns, Texas lawmakers declined to put additional state dollars toward the census during last year's legislative session, rejecting proposals by Democratic lawmakers to create a statewide outreach committee and set aside millions of dollars in grants for local outreach efforts.
Already without state funds, the local canvassing and outreach efforts were derailed by the coronavirus pandemic. Then, the U.S. Census Bureau announced it was moving up the deadline for responding up by a month. Combined with the strain on outreach efforts brought on by the pandemic, the earlier deadline has heightened the risks that Texas will be undercounted and that some Texans, particularly those who are low income or Hispanic, will be missed in the count as the pandemic continues to ravage their communities.
"Republicans had an opportunity to address this. They refused to do this, and now the secretary of state is in the fourth quarter of the game, in the final seconds, trying to throw a Hail Mary, and it ain't going to work," said state Rep. César Blanco, an El Paso Democrat who had unsuccessfully pursued state dollars for the census. "This is an embarrassment."
The Texas French Bread Bakery, located on 2900 Rio Grande Street, has been completely destroyed after a fire erupted on Monday night.
The Austin Fire Department responded to the fire just before 11 p.m., where they arrived to see flames coming from the roof of the bakery. Firefighters fought the fire for about an hour before the roof collapsed.
While no one was injured in the fire, firefighters say the historic building was completely totaled.
AFD determined that the fire was accidental and caused by mechanical failure. AFD said the damages amounted to $1.6 million total: $1.1 million in structural damage and $500,000 in damage to the contents of the bakery.

This year, Texas French Bread will celebrate 40 years of business. Before the bakery occupied the building, it was the Rome Inn, a music venue that hosted 1970s artists like Stevie Ray Vaughan.
Austin's first major league team is ready to extend its reach with a new collaborative sports complex The Pitch, an Austin FC destination packed with local food, beverages and Verde fervor is set to open in Northeast Austin in February.
The Pitch, a collaboration between Austin FC and Karlin Real Estate, among other entities, will be located in the 50-acre Parmer Pond District, which already hosts the club's practice facility St. David's Performance Center.
Dubbed a "true destination" for both soccer fans and the community, The Pitch will consist of multilevel shipping containers designed by Mark Odom Studio that will carve out into a 1,200-seat stadium complete with a soccer pitch made of turf, food and beverage options and a five-acre "Parmer Pond" featuring jogging trails.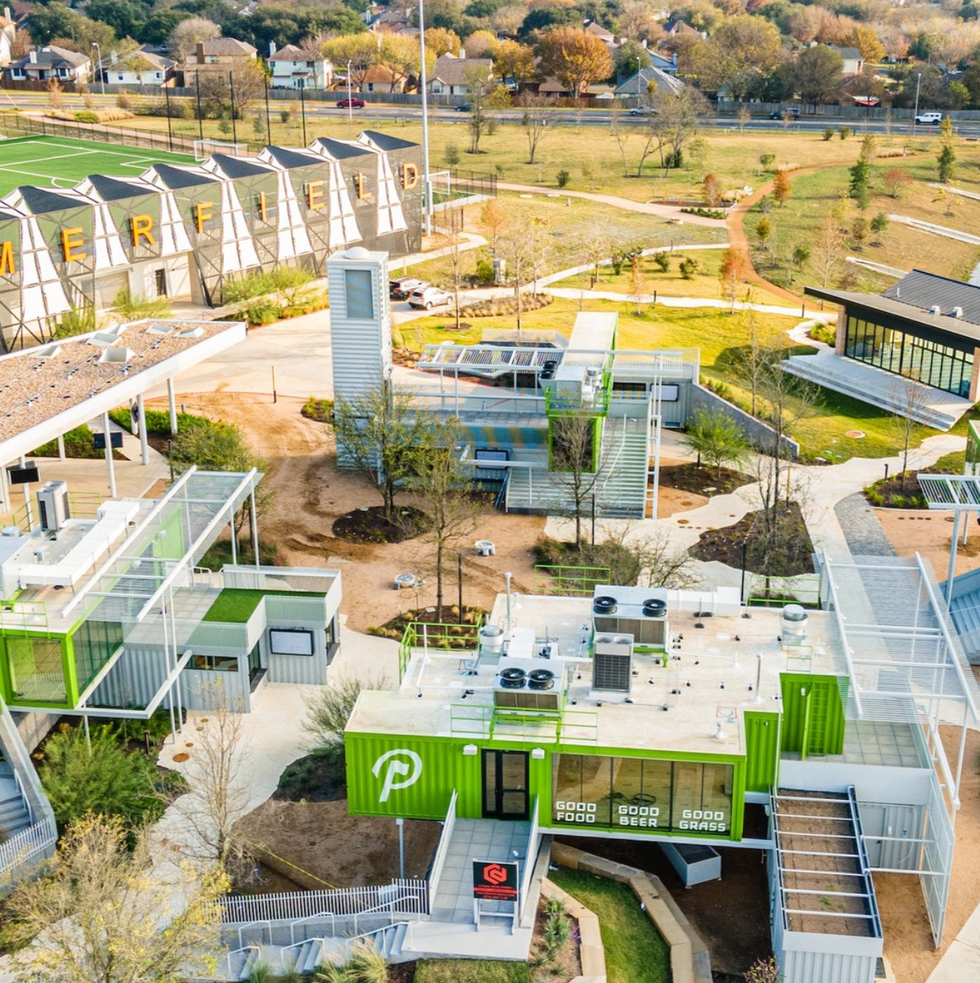 Made from multilevel shipping containers, The Pitch will include food and a 1,200-seat soccer pitch made from artificial turf. (The Pitch)
"The launch of Karlin's new food and entertainment experience will greatly enhance the Parmer development while perfectly complimenting St. David's Performance Center," Austin FC founder Anthony Precourt said. "The Pitch... will offer a strong variety of food options and gathering spaces for guests who will utilize St. David's Performance Center and Parmer Field for a variety of events."
The Pitch project lead Dave Greeley, who helped come up with the concept, is a former president of Austin FC parent company, Two Oak Ventures.
"The vision behind The Pitch at the Parmer Pond District is to be a first-of-its-kind sports, dining and entertainment destination," said Dave Greeley, The Pitch project lead and Team Orbis president. "This will be an unmatched experience for Parmer Austin tenants, Austin FC and club supporters, and the community."
With its proximity to the practice center, the venture hopes to contribute to the growing "soccer city" of Austin during Austin FC matches and youth games with the Austin FC Academy hosted at the St. David's Performance Center.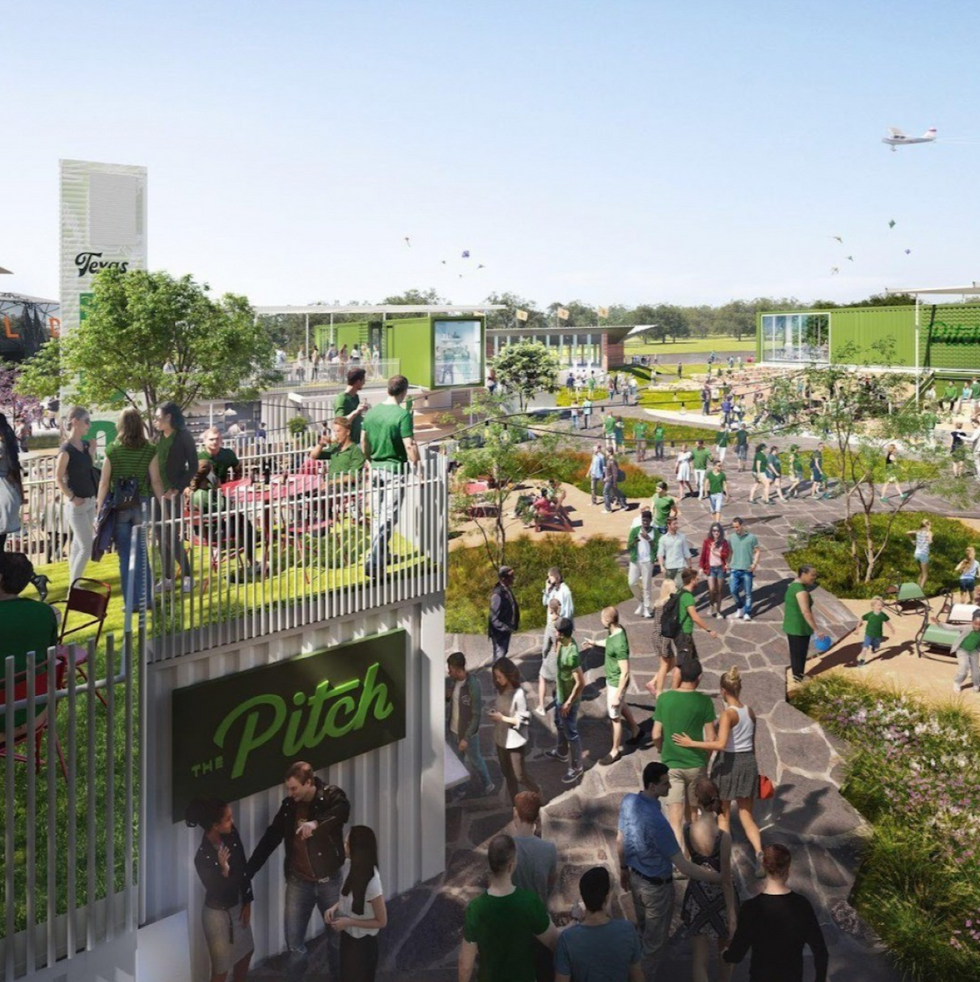 The Pitch hopes to converge both community and club interests with Austin FC. (The Pitch)
In addition to the soccer pitch, stadium and pond, The Pitch will provide a foody experience made by the creative team behind Austin staples like Fareground and Easy Tiger. The complex will offer local bites including:
Ranger Burger, which offers beers and burgers made from highly-coveted Wagyu beef direct from Ranger Cattle in East Austin
Ga Roti, which merges flavors from Northern Vietnam with the culinary techniques of France to create a unique rotisserie chicken joint
Taco Flats, a local taco chain serving Mexico City-style tacos, micheladas and more
Sand Bar, which fulfills its namesake with beauty cocktails, local beers and a sand volleyball court
Coffee Club, a coffee shop and bakery
Corner Kick Bar, the soccer-focused main bar of The Pitch complete with "tunes, TVs and (a) beer garden"
The Pitch will squeeze between St. David's Performance Center and Parmer Pond alongside the southern edge of Parmer Austin, a Karlin Real Estate venture that will eventually include multifamily housing, corporate office space and an aerospace and defense center.