Austonia AM
100% Austin news, info, and entertainment, straight to your inbox at 6 a.m. every morning.
In five minutes, you're fully informed and ready to start another great day in our city.
Get connected with our daily update
(Eddie Gaspar/The Texas Tribune)
BY ALEXA URA
Through a small notice tucked into the state's business register, Texas appears to have acknowledged that the 2020 census count is going badly.
With just a month of counting to go in the crucial decennial census, the self-response rate for Texas households has barely topped 60%. As census workers have followed up in person with households that haven't responded, the share of households accounted for has risen to 79.5% — but Texas is still far behind several other states and several percentage points behind the national average.
---
On Aug. 26, the Texas secretary of state's office quietly put out word that it has up to $15 million to spend on an advertising campaign intended to urge residents to get themselves counted. The effort — which Texas will pay for by dipping into federal dollars meant to address the coronavirus pandemic — amounts to a last-minute about-face by the state, whose Republican leadership had previously shot down any significant state funding for efforts to avoid an undercount.
The urgency the state is feeling a month out from the census deadline is apparent in the timeline of its request for proposals for a broadcast, print and digital campaign to "educate Texans on the significance and value of participating in the 2020 Census" and drive up response rates. The notice was posted last week, and bids are due by Wednesday. The contract is projected to begin two days later. Counting for the census is set to end Sept. 30.
The latest census figures showed that households in urban, Democratic-leaning areas of Texas had filled out the census online, by phone or by mail at higher rates than those in more rural, Republican-controlled areas and South Texas communities. The U.S. Census Bureau's door-to-door campaign to follow up with households that did not respond to the census is ongoing.
The state's sudden pursuit of a multimillion-dollar advertising campaign to promote the count comes more than a year after it left local governments, nonprofits and even churches to fill the organization void in chasing an accurate count.
"It's frustrating that we're doing this at the last minute," said Luis Figueroa, the legislative and policy director for Every Texan, a left-leaning think tank previously known as the Center for Public Policy Priorities that has been at the forefront of census efforts in the state. "We hope there is enough time for it to be meaningful and effective. There's an adage about 'better late than never,' but there is also 'a day late and a penny short.'"
A spokesperson for the Texas secretary of state's office confirmed the $15 million budget for the campaign, funded through a portion of the money the state received through the Coronavirus Aid, Relief and Economic Security Act passed by Congress. Neither the secretary of state nor a spokesperson for Gov. Greg Abbott responded to questions about the state's last-minute decision to spend money promoting the count.
An accurate census is paramount to the state's economic and political future. The population count flows down to Texans' daily lives for an entire decade. If it is carried out properly, census estimates indicate that Texas should post huge population gains since 2010, with more than 3.8 million new residents.
But every person missed puts funding on the line for everything from early childhood programs to highway planning and construction. An inaccurate count will lead to faulty data that is used to build communities, including where grocery stores are built and whether schools will be large enough. The once-a-decade count is also used to distribute political power, with the population data used to determine how many seats Texas gets in Congress and how to divvy up voters into political districts.
If enough Texans are missed in the count, it would jeopardize the three additional seats in Congress the state was expected to gain after this census.
Even as other states put millions of dollars into census campaigns, Texas lawmakers declined to put additional state dollars toward the census during last year's legislative session, rejecting proposals by Democratic lawmakers to create a statewide outreach committee and set aside millions of dollars in grants for local outreach efforts.
Already without state funds, the local canvassing and outreach efforts were derailed by the coronavirus pandemic. Then, the U.S. Census Bureau announced it was moving up the deadline for responding up by a month. Combined with the strain on outreach efforts brought on by the pandemic, the earlier deadline has heightened the risks that Texas will be undercounted and that some Texans, particularly those who are low income or Hispanic, will be missed in the count as the pandemic continues to ravage their communities.
"Republicans had an opportunity to address this. They refused to do this, and now the secretary of state is in the fourth quarter of the game, in the final seconds, trying to throw a Hail Mary, and it ain't going to work," said state Rep. César Blanco, an El Paso Democrat who had unsuccessfully pursued state dollars for the census. "This is an embarrassment."
(Stubb's Austin/Instagram)
After a long, long year without live music, Austin has waited patiently for a return that has finally come. Festivals are planning returns and even venues that adhered strictly to safety protocols during the pandemic are feeling safe enough to gather again in person.
Starting in just a few short days, you can finally enjoy what makes Austin, well, Austin again. Here are a few of the live shows to look forward to.
Remember to jump on those tickets–Austinites have been missing their live music!
We asked you what you wanted and you told us. More newsletter!
Austonia launched its new and improved newsletter today. You can expect:
100% Austin news, info and entertainment
Sent straight to your inbox at 6 a.m. every morning
In 5 minutes or less, you're fully informed and ready for a great day
Sign up here:
For Marco Silvestrini, gelato takes him back to his childhood when he and neighborhood kids in a small Italian town would end their day at the local gelato shop. It was part of what made some of the best memories for him.
He's since been offering that same experience for the past seven years with his artisanal gelato shop, Dolce Neve, in Austin, alongside his sister and her husband.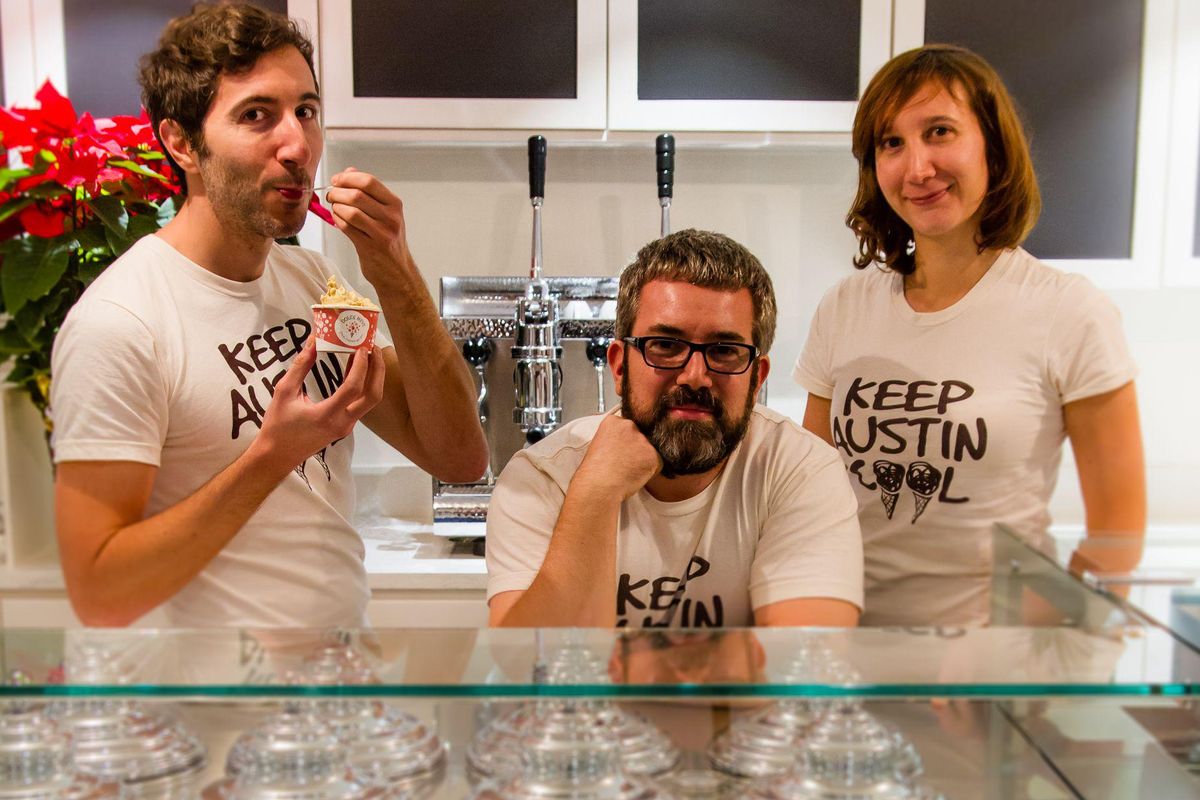 Leo Ferrarese, Marco and Franscesa Silvestrini run Dolce Neve. (Dolce Neve)
While gelato always played a big role in Silvestrini's life, it wasn't in his plans to take on a business with his favorite treat. After a few years in New York working as a management consultant, he felt he was missing out on something. "I decided to take a step back and started thinking, what could... I do to make society better and happier, even just for a moment," Silvestrini said.
He thought back to his childhood and the role gelato played in it and wanted to offer the same experience to Americans.
Once he had the product idea down, it came down to location. Growing up among farmers in a small community in Central Italy, Silvestrini knew he wanted a slower pace of living than New York, so he asked around. The answer he got: "Austin." The only thing he knew about what would become his future home was it had a Formula 1 track.
But after visiting once, he felt a great sense of community he didn't feel in The Empire State. "I felt it was not just a good place for a concept like mine, but also a good place to live because at the end of the day, you cannot just think about your business," he said.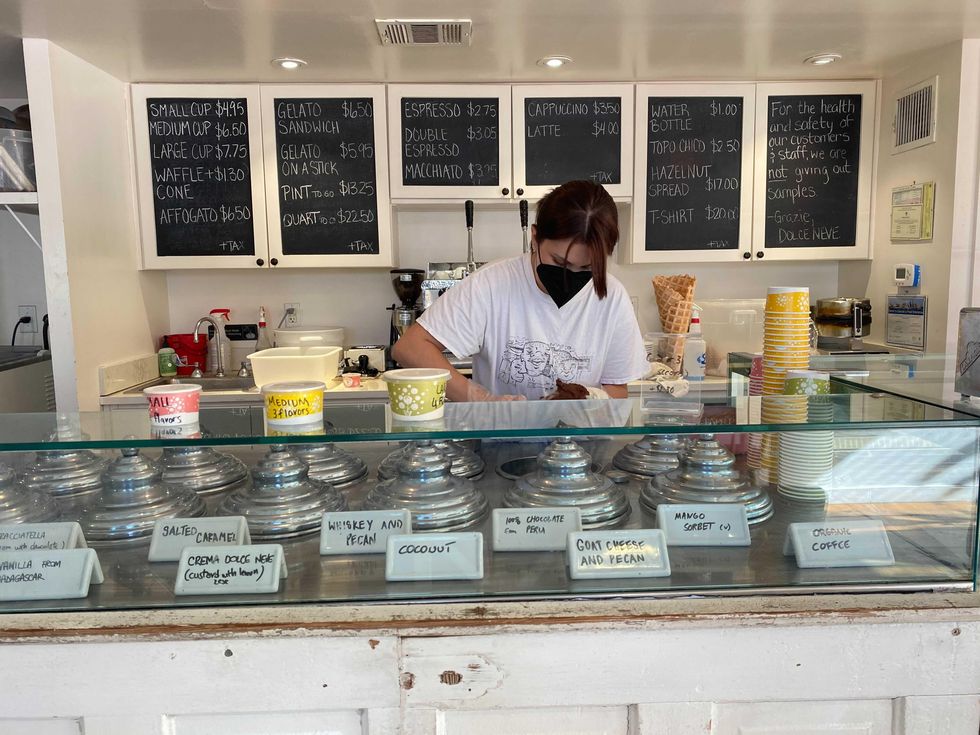 "Dolce Neve" translates to "sweet snow." The shops offers 12-18 flavors at a time. (Dolce Neve)
Similarly, his sister Francesca Silvestrini was experiencing the same feelings while studying for her Ph.D. in Ohio before teaming up with Silvestrini. She went back to Italy to be properly trained in making gelato while Silvestrini focused on the business plan. They brought Leo Ferrarese, her husband, onboard and opened their first shop on South First Street in January 2014. The rest is history.
On the menu, you'll find various traditional and innovative flavors that rotate out. Some of the staples include chocolate, 100% vanilla from Madagascar and salted caramel. Other rotating or seasonal flavors include whiskey and pecan, organic cantaloupe sorbet, goat cheese and pecan, almond custard and tiramisu. They've created over 300 flavors together in the span of the business.
So what's next for the shop? Lately, Silvestrini has been thinking a lot about that. With two locations in Austin, one in Houston—he's just not sure if expanding more is the right move. Maintaining a quality product and good service is of utmost importance that he's not willing to sacrifice.
"In order to be happy, it's not about making money, it's about being an integral part of the community," Silvestrini said. "There have been so many cases in which I think what I did today really made a difference in somebody's life."