Get connected with our daily update
By Neelam Bohra
One of the nation's most restrictive abortion bills — which bans abortions as early as six weeks into pregnancy — took effect at midnight after the U.S. Supreme Court did not take action on an emergency appeal by Texas abortion providers Tuesday.

---
The law prohibits abortions whenever an ultrasound can detect what lawmakers defined as a fetal "heartbeat," though medical and legal experts say this term is misleading because embryos don't possess a heart at that developmental stage.
Providers and abortion rights advocacy groups say this would affect at least 85% of the abortions taking place in the state. Many people don't know they are pregnant within the first six weeks.
But the state wouldn't enforce the law. SB 8 instead provides enforcement only by private citizens who would sue abortion providers and anyone involved in aiding or abetting an abortion after a "heartbeat" is detected.
This mechanism could allow SB 8 to skirt Roe v. Wade, the 1973 Supreme Court decision that legalized abortion, within some limits.
Attorneys from Planned Parenthood Federation of America and Whole Woman's Health, another abortion provider involved in the case, said the uncertainty around the law has created "chaos on the ground."
Doctors and providers planned to remain at Whole Woman's Health clinics in Texas until 11:59 p.m. Tuesday to provide abortions before the law took effect and the clinics' waiting rooms were "filled with patients and their loved ones," the organization said on Twitter.
Whole Women's Health argued to the justices in a court filing that SB 8 "unquestionably contravenes this Court's precedent and will cause clear harm beginning at midnight tonight, with abortions after six weeks banned throughout Texas — something that has never been allowed to occur in any other state of the nation in the decades since Roe.
"Through no fault of their own, thousands of pregnant Texans will lose constitutionally protected access to abortion in mere hours unless this Court acts," the group added. "Applicants and their patients urgently need relief."
Planned Parenthood will try to keep clinics open, staff attorney Julie Murray said. But there is a chance that some abortion clinics will begin closing, said Helene Krasnoff, vice president of public policy litigation and law.
Marva Sadler, senior director of clinical services at Whole Woman's Health, said the clinics will have to start turning patients away on Wednesday.
Sadler said the organization has also struggled to hire and retain employees as the future of abortion in Texas became murky.
On Tuesday morning, Sadler said she was "engulfed" with helping to treat over 100 patients at the organization's clinic in Fort Worth as Texans scrambled to undergo abortions on what many feared was the last day the procedure would be legal.
In the meantime, Travis County District Judge Amy Clark Meachum issued a temporary restraining order in a separate case, barring the anti-abortion organization Texas Right To Life; John Seago, its legislative director; and others from "organizing, encouraging and filing lawsuits" against a Dallas attorney and nonprofit organization.
But the scope of the ruling was narrow, and Seago said it was "unnecessary" because he had no plans to sue the plaintiffs.
But Seago and Texas Right to Life, the biggest anti-abortion organization in the state, do plan to start suing those they believe violate SB 8. The organization has even set up a whistleblower website, where anyone can file anonymous tips about illegal abortions.
In August, a viral tweet brought attention to the website, leading thousands of people from around the world to flood it with fraudulent tips. Seago said the website is still up, but he "appreciated the publicity" the website received from the tweet.
Even if the Supreme Court were to block the law after Sept. 1, Seago said abortion providers could still be held "legally accountable" for abortions performed after the law took effect but before the high court acted.
Providers and doctors also worry about frivolous lawsuits that could financially ruin them and their employees. Individuals who file lawsuits under SB 8 don't have to provide a personal connection to whomever they sue. Seago said Texas Right to Life does not plan on filing frivolous lawsuits.
Over the past decade, the Texas Legislature has attempted similar "big swings" to eliminate access to abortion, said Kari White, a professor of social work at the University of Texas at Austin and investigator for the Texas Policy Evaluation Project.
House Bill 2, a 2013 measure that was eventually struck down by the Supreme Court, required abortion clinics to meet specific, hospital standards and shrunk the number of abortion clinics in Texas from more than 40 to 19 by 2016.
When the pandemic began, Gov. Greg Abbott's executive order banning all non-medically necessary surgeries effectively banned abortion and was the subject of litigation for weeks. During that time, there was a 12-factor increase in the number of patients seen at the Colorado Planned Parenthood of the Rocky Mountains, one of the nearest abortion clinics outside of Texas.
A separate bill currently under consideration by state lawmakers, Senate Bill 4, would prevent physicians or providers from giving abortion-inducing medication to patients who are more than seven weeks pregnant.
The implementation of SB 8 would "shoot a large hole in the protection offered by Roe v. Wade," said Lawrence Gostin, a professor of constitutional law at Georgetown University.
"Most women in Texas who can afford it will get their abortions out of state," Gostin said. "But for poor and rural women, the effects on their physical and mental health could be devastating."
East Austin restaurant la Barbecue has been robbed a third time in less than three months, according to a post on the restaurant's Instagram.
In the post, the restaurant included photos of what appeared to be a man exiting a minivan from surveillance footage.
"This guy pulled up in a car full of stuff… he ripped our gate open and stole a couple empty kegs," the post said. "The ring system scared him off so he did not venture back into the area. PLEASE EVERYONE ON THE EAST SIDE BE CAREFUL!!! This guy goes back into his car to grab something before he goes in. I am hoping he won't be back!!"
The robbery comes as many restaurant and food truck owners have been on guard from recent break-ins. East Austin cheesesteak truck R&B's Steak and Fries has also been robbed three times in around three months, according to owner Kris Elliott. Elliot said the truck was last robbed around a month and a half ago.
"When the weather gets cold, it seems like these things start to happen more often," Elliott said. "We're just happy no one got hurt."
Additionally, he said all 5 of the food trucks in their lot have experienced burglaries. The landlord of the space is taking action by investing in alarm and camera systems. "Been very tough dealing with this problem as us small business owners are just trying to survive during the pandemic," Elliott said.
And it's not just in East Austin. North Austin restaurants Eldorado Cafe and Chez Zee Bistro were both broken into and robbed on the weekend of Jan. 8, while over a dozen food truck robberies and break-ins were reported in the latter half of 2021.
Some, like Chez Zee's Deborah Velasco, wonder if the understaffed Austin Police Department's decision to no longer respond to non-emergency calls is part of the problem. Xose Velasco, owner of East Austin's Discada, said owners are keeping their guard up in the wake of the robberies as he was robbed twice within a month of reopening in November 2021.
"We try to keep the lights on," Velasco said. "We're a little bit more careful."
After 12 months, the long-anticipated massive Tesla factory in Southeast Travis County is up and operating and everyone wants a look inside.
Phase 1 of Giga Texas appears to be tied up as production of the Model Y Tesla is underway, the electric car company revealed on Wednesday in its fourth-quarter earnings call. The factory, located on the former Harold Green-turned Tesla Road, sits on more than 2,000 acres of land in southeast Travis County.
Here's a glimpse inside the factory.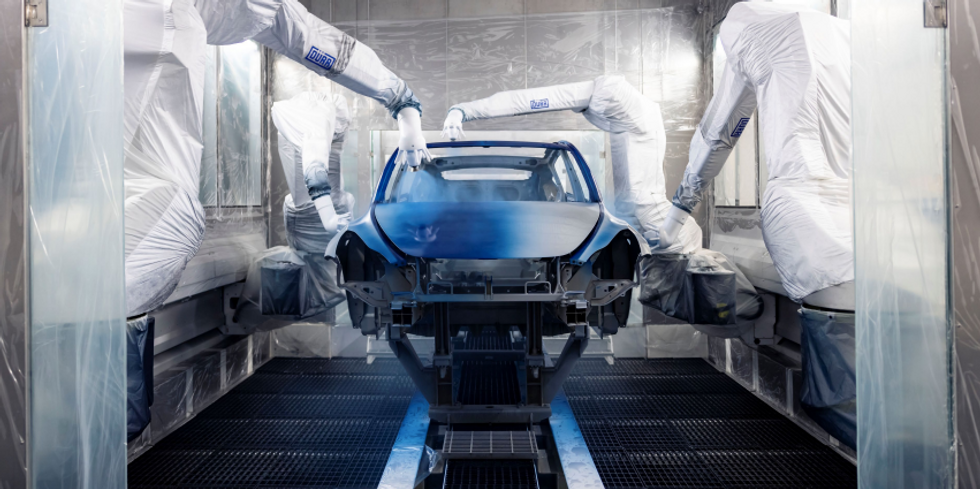 (Tesla)
Model Ys will be the first Teslas to come out of Giga Texas with an estimated delivery of August. The wait estimate comes after Tesla noted supply chain issues have affected their factories, which have been running below capacity for several quarters. A deep blue metallic like this goes for $1,000 more than a white or silver Model Y, totaling $61,990.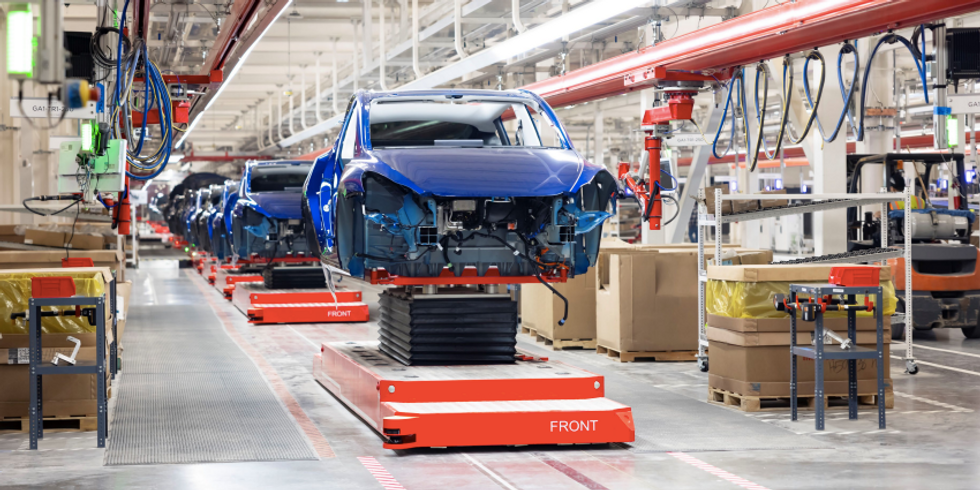 Model Ys began being produced at Giga Texas at the end of 2020. In general assembly at the factory, the Teslas get their major interior components to finish the vehicle.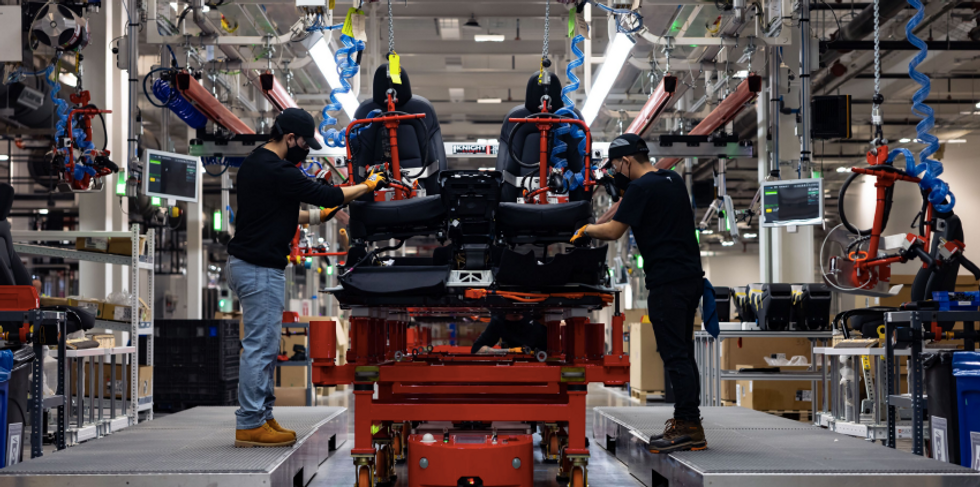 (Tesla)
Workers at Austin's Gigafactory are attaching seats to a structural battery pack. It's been described by some as the biggest difference between Texas-made Model Y's and the current version at the Fremont, California factory. It shouldn't have a major impact on the owner's experience, but Tesla has updated instructions for the jacking procedure, as the lift points are different.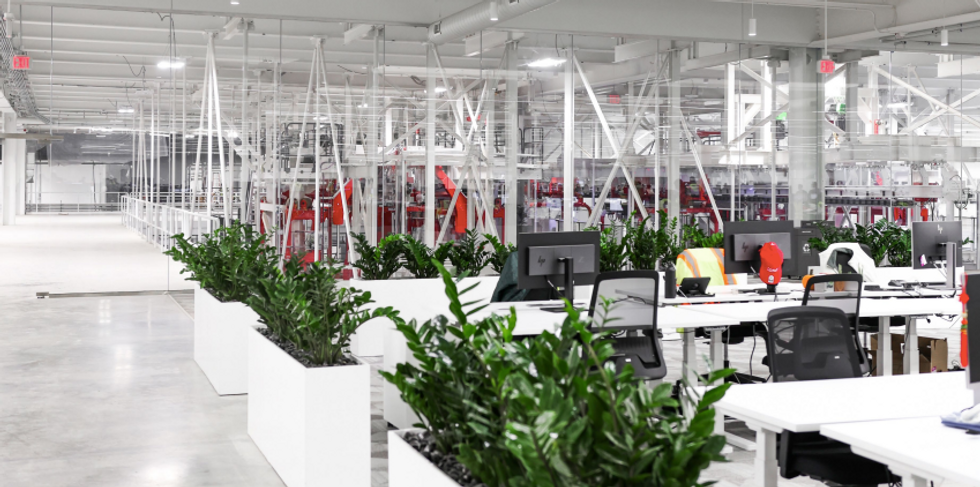 With a sleek, open office setup, workers can take in a view of the factory from their seats. It's a component CEO Elon Musk wanted for what is now the headquarters of Tesla.
On the Austin, Texas public location Snapchat, a photo of inside Giga Texas has appeared. On the left you can see a sneak peek of a Model Y body.pic.twitter.com/N7zliZ5vkL

— Sawyer Merritt (@Sawyer Merritt) 1643081462
With Snapchat's maps, anyone can look at everyday activity happening at the factory. To view these geographically-linked stories, click the bottom left "map" icon and search "Tesla Giga Texas." Once you've found it, you can view the Snapchat story of those in and around the facility. While most stories stay up for only 24 hours, Giga Texas is a designated place on Snapchat, allowing users to view a collection of photos and videos from the inside.
Following Model Ys, Texas-made Teslas will include the Cybertruck, Semi and Model 3. But it might be a while before those other models arrive. EV makers have been hit hard by the chip shortage, and it's thought that changing features are contributing to Cybertruck delays as Tesla works to compete in the electric pickup market.
Joe Rogan paid a visit to buddy Elon Musk this week. The two have been seen around town since both moving to Texas. Naturally, Rogan was impressed with the prototype.
If you're dying to get a closer look at this factory, you just might get to. In December, Musk said the factory would have tours available to the community early this year.