Get connected with our daily update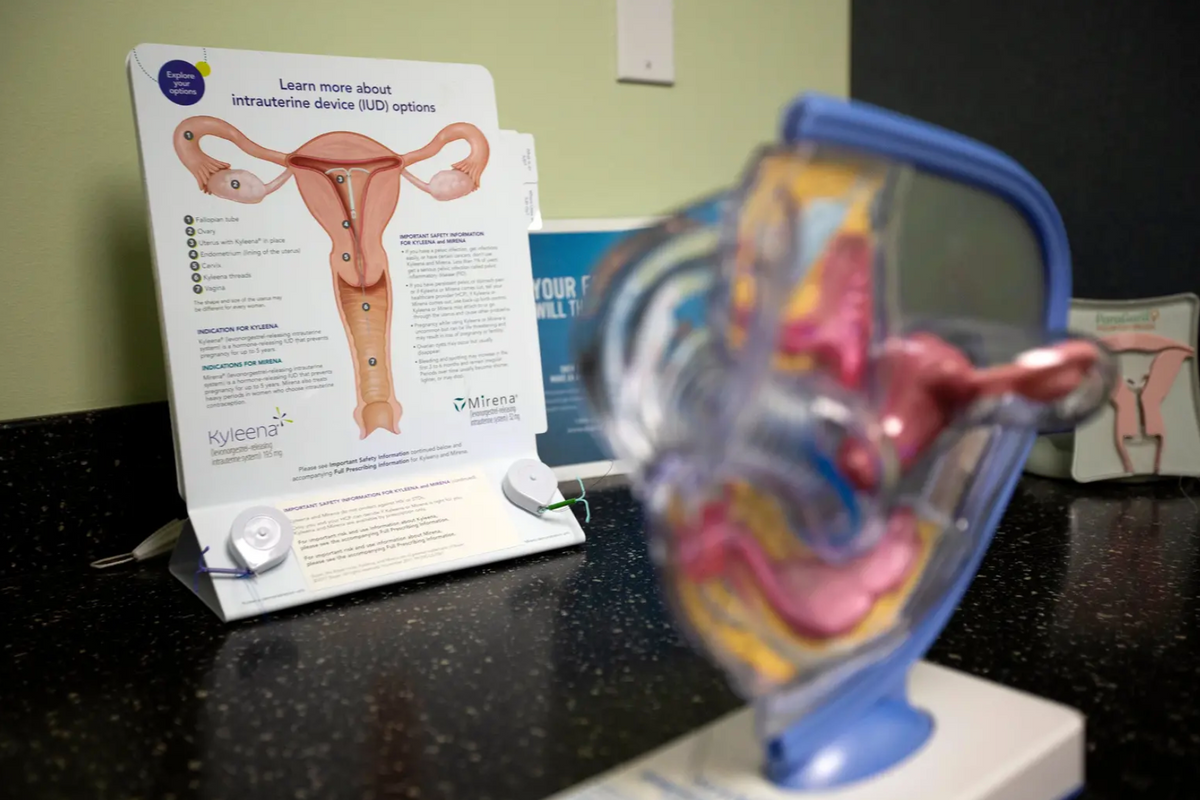 By Neelam Bohra
One of the nation's most restrictive abortion bills — which bans abortions as early as six weeks into pregnancy — took effect at midnight after the U.S. Supreme Court did not take action on an emergency appeal by Texas abortion providers Tuesday.

---
The law prohibits abortions whenever an ultrasound can detect what lawmakers defined as a fetal "heartbeat," though medical and legal experts say this term is misleading because embryos don't possess a heart at that developmental stage.
Providers and abortion rights advocacy groups say this would affect at least 85% of the abortions taking place in the state. Many people don't know they are pregnant within the first six weeks.
But the state wouldn't enforce the law. SB 8 instead provides enforcement only by private citizens who would sue abortion providers and anyone involved in aiding or abetting an abortion after a "heartbeat" is detected.
This mechanism could allow SB 8 to skirt Roe v. Wade, the 1973 Supreme Court decision that legalized abortion, within some limits.
Attorneys from Planned Parenthood Federation of America and Whole Woman's Health, another abortion provider involved in the case, said the uncertainty around the law has created "chaos on the ground."
Doctors and providers planned to remain at Whole Woman's Health clinics in Texas until 11:59 p.m. Tuesday to provide abortions before the law took effect and the clinics' waiting rooms were "filled with patients and their loved ones," the organization said on Twitter.
Whole Women's Health argued to the justices in a court filing that SB 8 "unquestionably contravenes this Court's precedent and will cause clear harm beginning at midnight tonight, with abortions after six weeks banned throughout Texas — something that has never been allowed to occur in any other state of the nation in the decades since Roe.
"Through no fault of their own, thousands of pregnant Texans will lose constitutionally protected access to abortion in mere hours unless this Court acts," the group added. "Applicants and their patients urgently need relief."
Planned Parenthood will try to keep clinics open, staff attorney Julie Murray said. But there is a chance that some abortion clinics will begin closing, said Helene Krasnoff, vice president of public policy litigation and law.
Marva Sadler, senior director of clinical services at Whole Woman's Health, said the clinics will have to start turning patients away on Wednesday.
Sadler said the organization has also struggled to hire and retain employees as the future of abortion in Texas became murky.
On Tuesday morning, Sadler said she was "engulfed" with helping to treat over 100 patients at the organization's clinic in Fort Worth as Texans scrambled to undergo abortions on what many feared was the last day the procedure would be legal.
In the meantime, Travis County District Judge Amy Clark Meachum issued a temporary restraining order in a separate case, barring the anti-abortion organization Texas Right To Life; John Seago, its legislative director; and others from "organizing, encouraging and filing lawsuits" against a Dallas attorney and nonprofit organization.
But the scope of the ruling was narrow, and Seago said it was "unnecessary" because he had no plans to sue the plaintiffs.
But Seago and Texas Right to Life, the biggest anti-abortion organization in the state, do plan to start suing those they believe violate SB 8. The organization has even set up a whistleblower website, where anyone can file anonymous tips about illegal abortions.
In August, a viral tweet brought attention to the website, leading thousands of people from around the world to flood it with fraudulent tips. Seago said the website is still up, but he "appreciated the publicity" the website received from the tweet.
Even if the Supreme Court were to block the law after Sept. 1, Seago said abortion providers could still be held "legally accountable" for abortions performed after the law took effect but before the high court acted.
Providers and doctors also worry about frivolous lawsuits that could financially ruin them and their employees. Individuals who file lawsuits under SB 8 don't have to provide a personal connection to whomever they sue. Seago said Texas Right to Life does not plan on filing frivolous lawsuits.
Over the past decade, the Texas Legislature has attempted similar "big swings" to eliminate access to abortion, said Kari White, a professor of social work at the University of Texas at Austin and investigator for the Texas Policy Evaluation Project.
House Bill 2, a 2013 measure that was eventually struck down by the Supreme Court, required abortion clinics to meet specific, hospital standards and shrunk the number of abortion clinics in Texas from more than 40 to 19 by 2016.
When the pandemic began, Gov. Greg Abbott's executive order banning all non-medically necessary surgeries effectively banned abortion and was the subject of litigation for weeks. During that time, there was a 12-factor increase in the number of patients seen at the Colorado Planned Parenthood of the Rocky Mountains, one of the nearest abortion clinics outside of Texas.
A separate bill currently under consideration by state lawmakers, Senate Bill 4, would prevent physicians or providers from giving abortion-inducing medication to patients who are more than seven weeks pregnant.
The implementation of SB 8 would "shoot a large hole in the protection offered by Roe v. Wade," said Lawrence Gostin, a professor of constitutional law at Georgetown University.
"Most women in Texas who can afford it will get their abortions out of state," Gostin said. "But for poor and rural women, the effects on their physical and mental health could be devastating."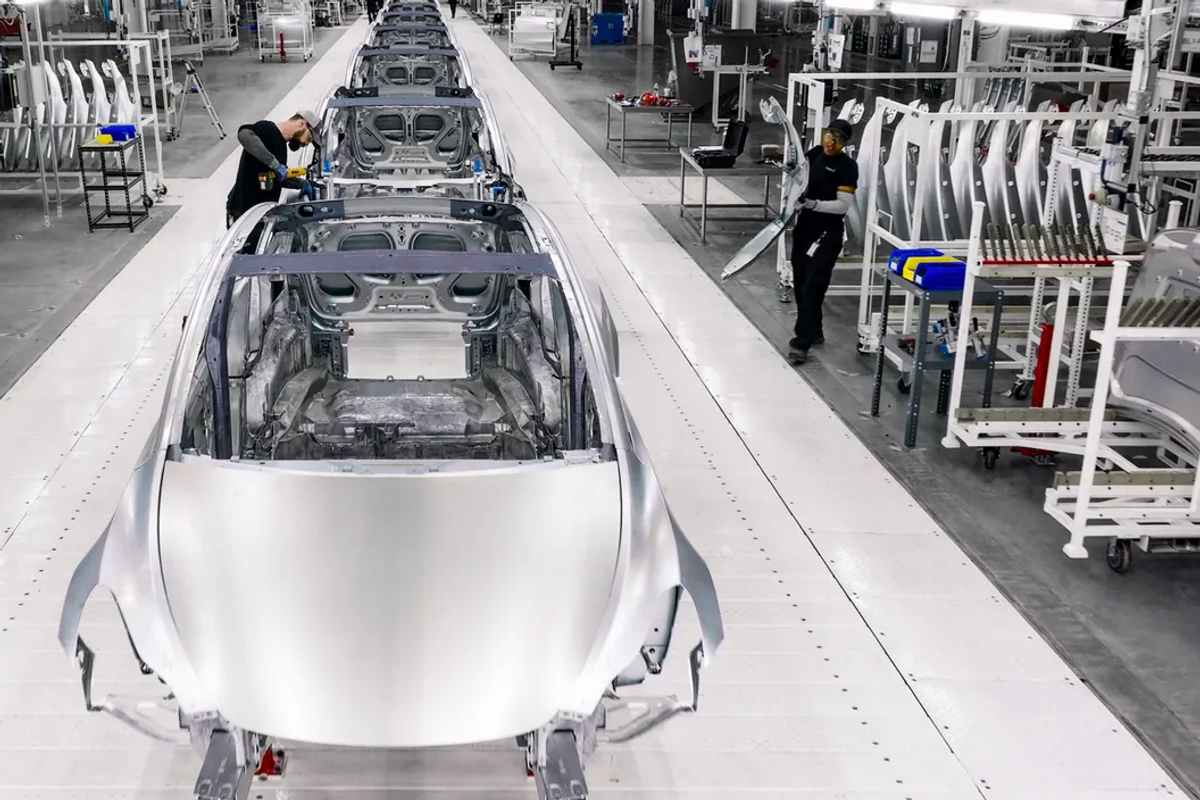 Giga Texas, the massive Tesla factory in southeast Travis County is getting even bigger.
The company filed with the city of Austin this week to expand its headquarters with a new 500,000-square-foot building. The permit application notes "GA 2 and 3 expansion," which indicates the company will make two general assembly lines in the building.
More details about the plans for the building are unclear. The gigafactory has been focused on Model Y production since it opened in April, but the company is also aiming for Cybertruck production to kick off in mid-2023.
While there is room for expansion on the 3.3 square miles of land Tesla has, this move comes after CEO Elon Musk's recent comments about the state of the economy and its impact on Tesla.
In a May interview with Tesla Owners Silicon Valley, Musk said the gigafactories in Berlin and Austin are "gigantic money furnaces" and said Giga Texas had manufactured only a small number of cars.
And in June, Musk sent a company wide email saying Tesla will be reducing salaried headcount by 10%, then later tweeted salaried headcount should be fairly flat.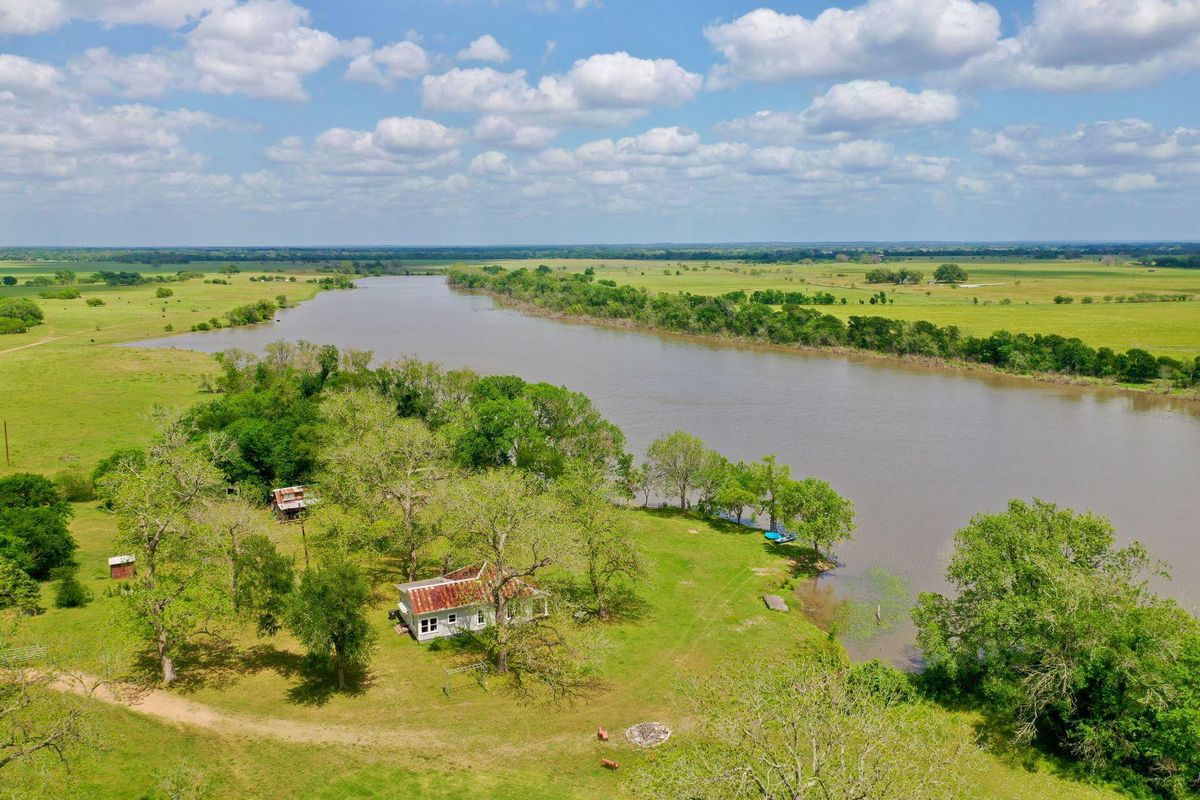 It's been a record-breaking hot summer already and Austin still has a few months of heat to weather. But the heat doesn't have to be so bad if you've got a swimming hole in your backyard, like these three ranches.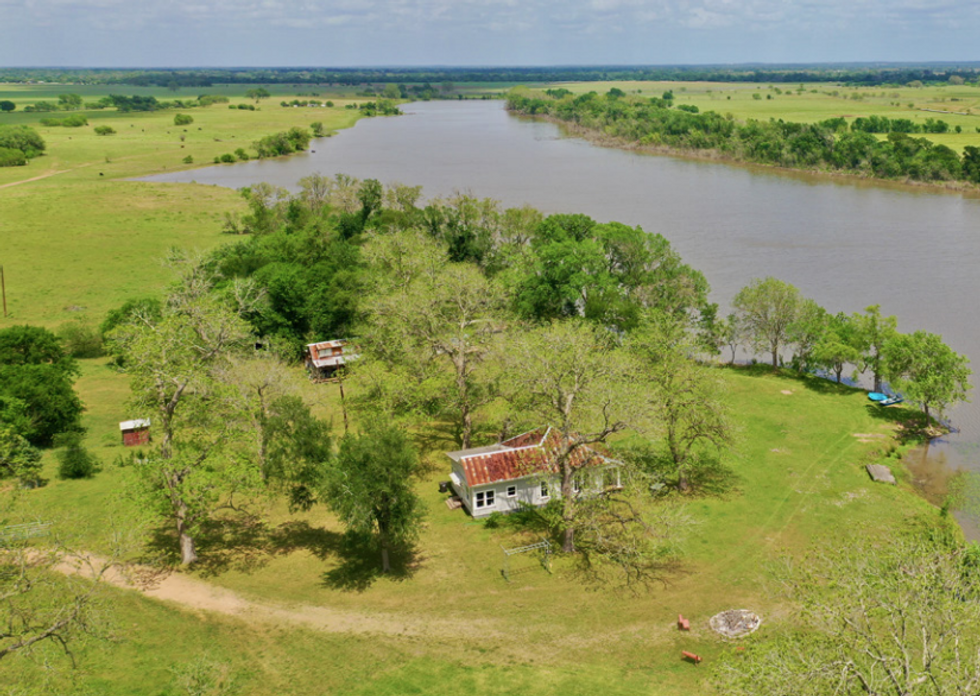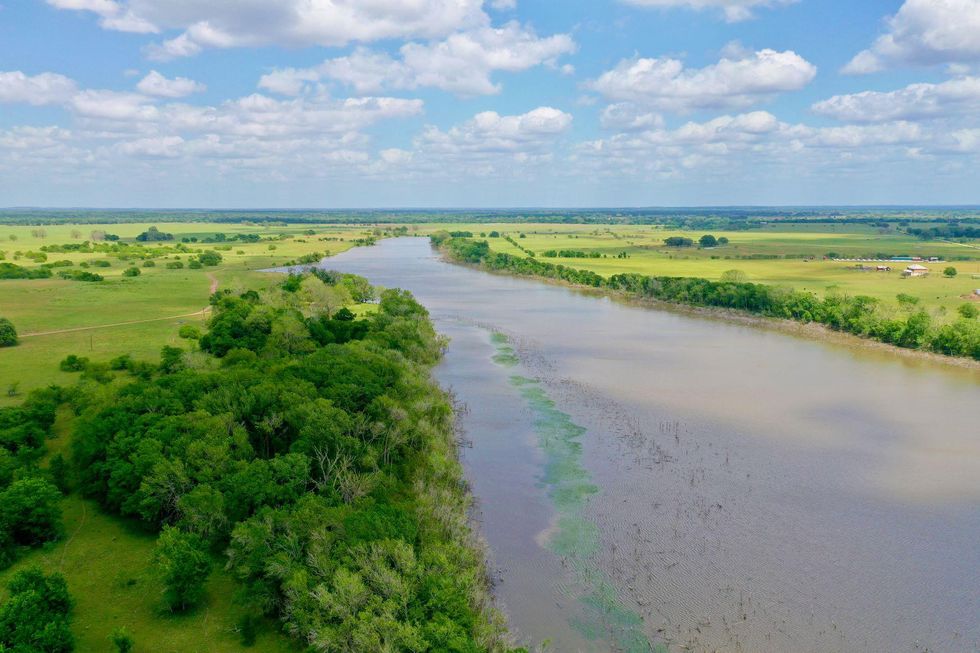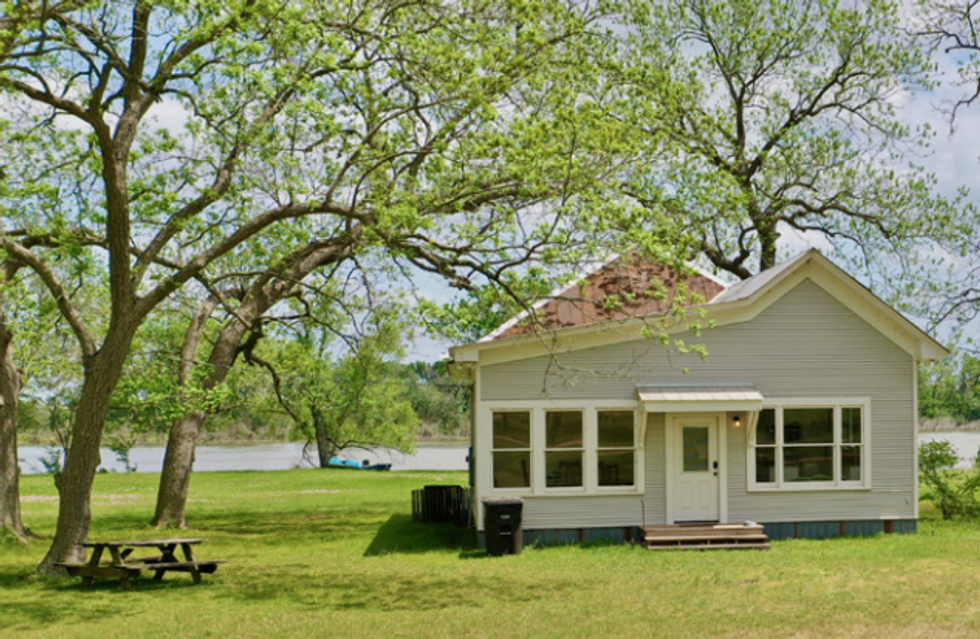 You'll have to leave city limits if you're looking for a proper ranch property like 417 Acres Shipp Lake Ranch, aptly named for its acreage. The property comes built out with three farmhouses, one of which has bedrooms and two bathrooms and two of which have two bedrooms and one bathroom. The nearly untouched property, which surrounds the 100-plus-acre Shipp Lake, has remained in the same family since the early 1900s and gives you picturesque views for the making of a dream home. In fact, the previous owners ran a water ski camp on the property.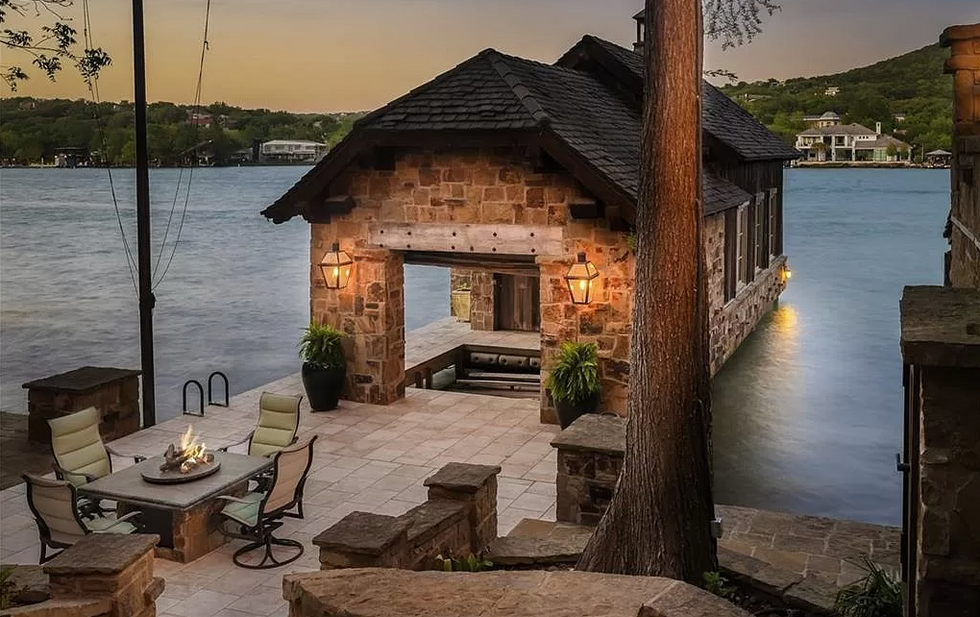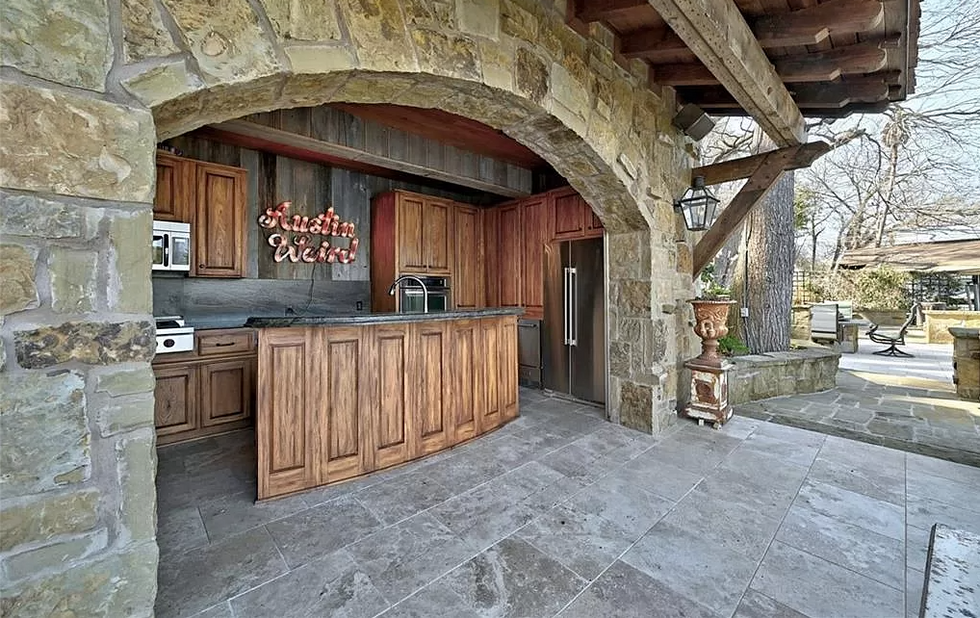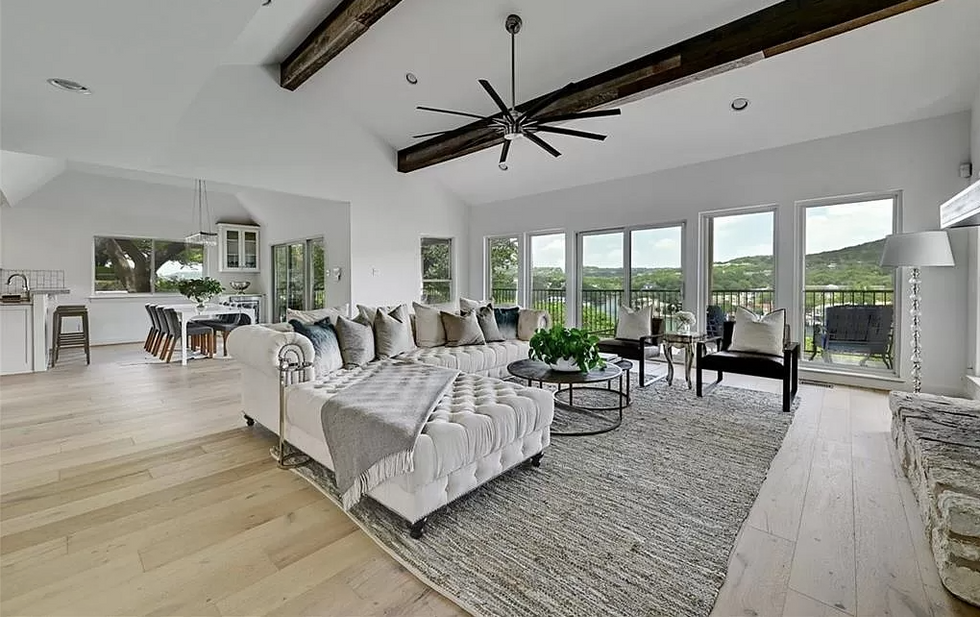 Sitting waterside on Lake Austin, this home gives you the unique opportunity to own a piece of the lush Hill Country with views of Mount Bonnell. The 2,750-square foot, three-bedroom, four-bathroom house allows you to integrate indoor and outdoor life with large windows opening to an outdoor living area. The crown jewel is the .76-acre parcel of land that tapers off to your own lakeside resort, featuring an covered outdoor kitchen, fire pit, stone boat house to store your water sports supplies and veranda sitting at the mouth of the water, perfect for an entertainer.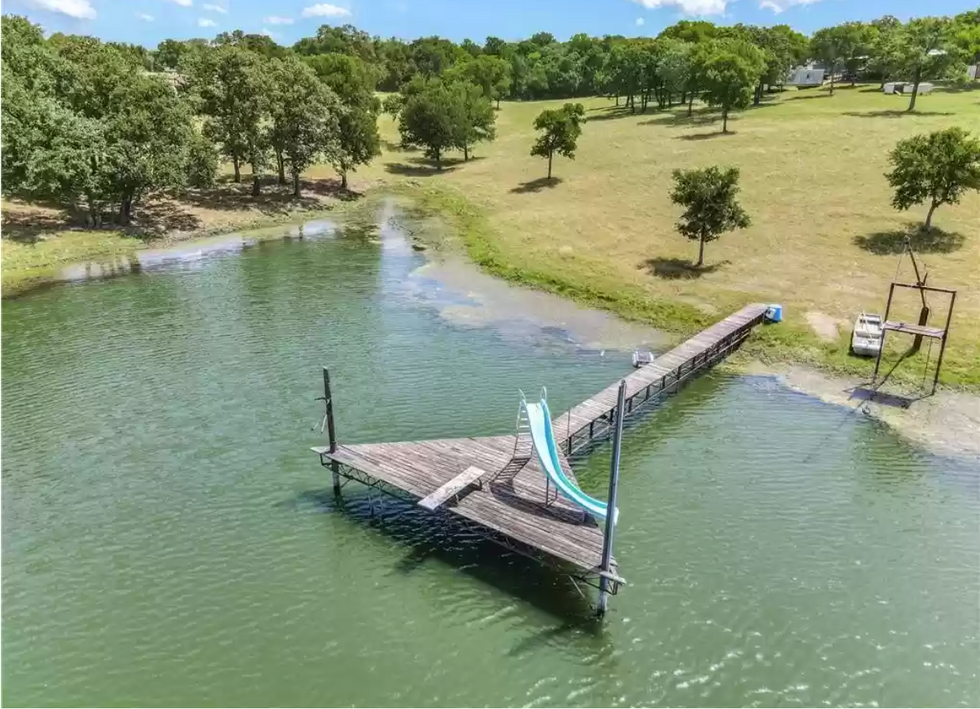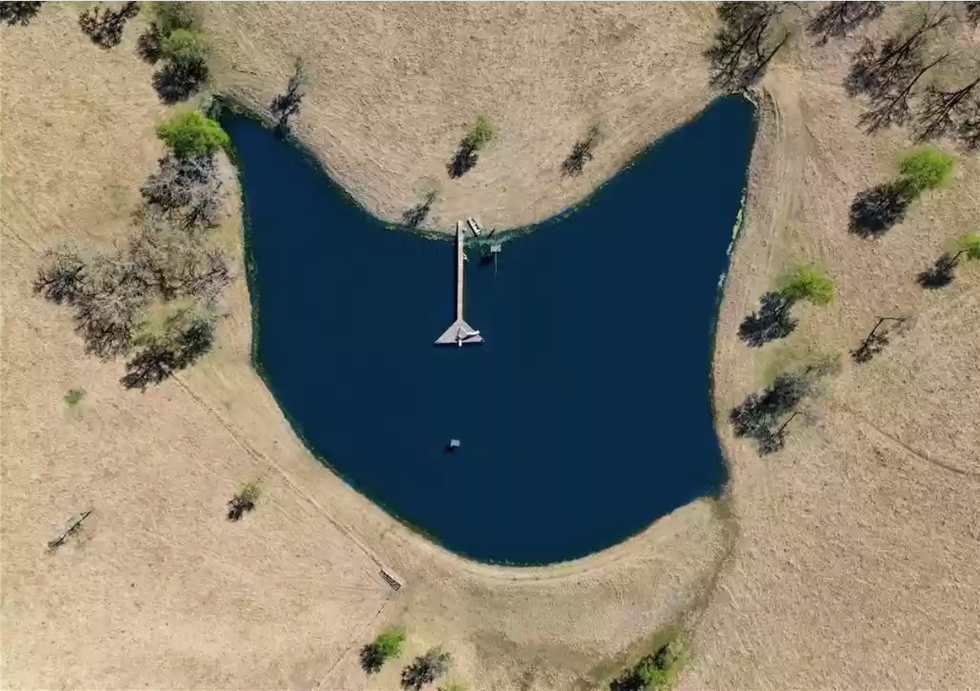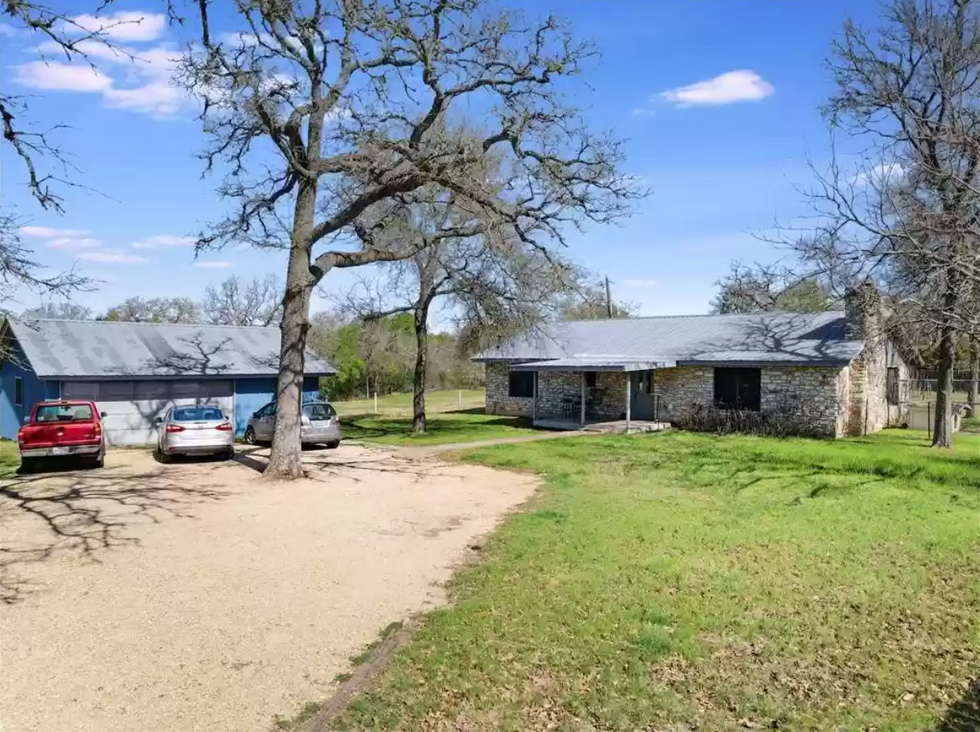 Got dreams of becoming a real Texas rancher? 7814 Brown Cemetery Rd. is the perfect place to start with 40 rolling acres of land and its very own swimming hole. Just east of Austin in Manor, the modest-on-the-outside home clocks at 4,412 square feet with five bedrooms and five-and-a-half bathrooms, but there are an additional two living structures on the property. The horseshoe-shaped pond sits in the heart of the property and comes equipped with a water slide, diving board and a fishing dock.