Get connected with our daily update
Austin barbecue is getting the recognition it deserves, taking up three spaces on Texas Monthly's top best BBQ joints list.
---
While Fort Worth's Goldee's Barbecue topped the list, coming in second was Austin's Interstellar BBQ; in fifth, LeRoy & Lewis; and in seventh, Franklin Barbecue. Four more Austin joints made the unranked list.
The list, which is the sixth of its kind to come out since 1997, was formulated after 411 barbeque locations across the state were visited by Texas Monthly and narrowed down by barbecue editor Daniel Vaughn and food writer Patricia Sharpe. The writers made note of a new generation of pitmasters that are challenging tradition and giving tried and true places a run for their money.
Interstellar BBQ, 12233 Ranch Road 620 N. 
Much can be said about Interstellar BBQ, which beat out Franklin Barbecue in their list debut.
Interstellar opened in 2019 from John Bates, 46; Carlos Cruz, 43; and Warren McDonald, 53; serving up all the usuals with some traditional methods while also experimenting where they can.
Their secrets behind the goodness? Texas Monthly writes: "(Bates') brisket is simple: salt, pepper, garlic, and obsessive heat management. For his pork ribs, he eschews the usual glaze but, knowing diners expect a little sweetness, adds brown sugar to the rub. He also smokes what he calls the Tipsy Turkey Breast, which marinates overnight in hefeweizen."
LeRoy and Lewis Barbecue, 121 Pickle Road (food truck parked at Cosmic Coffee) 
Another newer kid on the block is LeRoy and Lewis Barbecue.
Serving up "new school barbecue, old school service," LeRoy and Lewis opened in 2017 from pitmaster Evan LeRoy, 35.
What does new school barbecue mean? Texas Monthly writes: "At LeRoy and Lewis, the new-school approach means Evan LeRoy eschews pork ribs (though on Saturdays he does offer "bacon ribs"—massive pork ribs with the belly still attached) and turkey (except around Thanksgiving) and serves brisket only on Saturdays and Sundays."
Franklin Barbecue, 900 E. 11th, Austin
It's not a barbecue list without the iconic Franklin Barbecue.
Since 2009, Jordan Jackson, 39; Megan Nesland, 38; Matthew Van Orden, 46, have been serving up masterful barbeque that saw lines stretch around the block pre-pandemic. In 2013 and 2017, it captured the number one and number two spots, respectively, on the Texas Monthly list.
Should it still be in the top? Texas Monthly writes: "Franklin's drop into the bottom half of our top ten isn't a sign that the beloved establishment has diminished—no one does the traditional barbecue lineup better. But it is a sign that the new wave is reshaping the scene in ways we couldn't have imagined a few short years ago."
Honorable Austin mentions from the list (unranked)
Distant Relatives
La Barbecue
Micklethwait Craft Meats
Valentina's Tex Mex BBQ
The holiday season is upon us, so get ready to celebrate with carols, snacks and light shows galore. Austin is full of holiday festivities spanning throughout all of December so get out and enjoy the cool weather while it lasts.
Don't miss these nine holiday-themed light shows.
Austin's most famous annual light show and a Readers Choice of USA Today's 10 Best Public Displays of Holiday Lights, the Trail of Lights will be drive-thru again this year Nov. 27-Dec. 31. For 57 years in a row, the Trail of Lights has lit up Zilker Park with games, food, local vendors and more than two million lights gleaming for the holidays. The event, as always, is free to the public and you can reserve slots here. The Zilker Tree is already up, so you can already see it if the holiday cheer is too much to bear.
Coming back for the second year in a row, Peppermint Parkway will transport you to COTALAND, where six million lights gleam and Christmas is just a one-mile drive away. The hybrid event will have you drive through the display of lights, dancing elves and unique little villages before you hit the walking plaza, where you can grab a bite to eat and meet Santa. Tickets range from $40-$95, some including a lap around the COTA track, running from Nov. 26-Dec. 26.
Dreamland Dripping Springs has been transformed into a winter wonderland—running throughout the month of December, the venue's first-ever holiday display is taking over with activities for the whole family. Plus, running from Nov. 20-Jan. 4, a pop-up ice skating rink will really bring the holiday cheer for $10 or $5 Monday specials. The lights display will feature half a million lights and warm, festive sips from the taproom.
With events galore for the holiday season, winter is really when the Hill Country Galleria thrives. Starting with its Light Up The Plaza event on Saturday from 6-8 p.m., where visitors can see Santa, gaze at the official lighting of the holiday tree and hear some live tunes from rock band American Authors. The Galleria will also hold a holiday market every Thursday, Friday and Saturday leading up to Christmas Eve and periodic photos with Santa at Buenos Aires Cafe.
Deck the Halls at the Driskill Hotel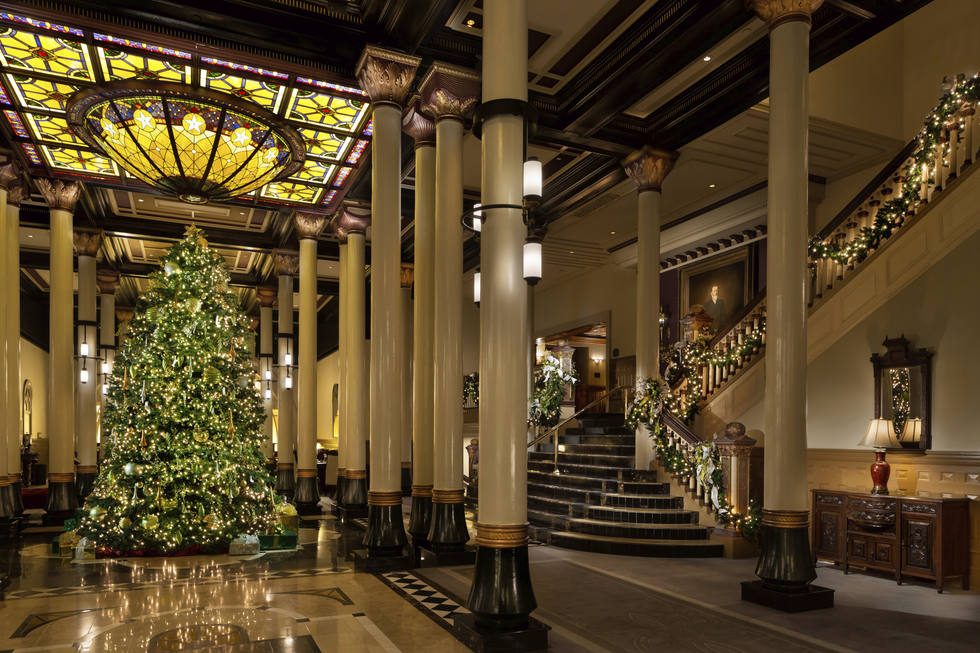 (Courtesy of the Driskill Hotel)
This holiday season, the Driskill will deck out every nook and cranny of the historic hotel from the grand staircase to the 16-foot Christmas tree in the lobby to be lit on a Dec. 1 ceremony that will be open to the public. Touches of Driskill festivities can also be seen at Dell Children's Hospital with a gingerbread village for its annual "Cookies for Caring" event.
Kicking off the lighting of the tree on Saturday, Dec. 4, Austinites will gather on the steps of the Texas Capitol at 6 p.m. to sing the 45-foot tree to life. Afterward, local band Los Coast will close out the night with a free concert. The fun doesn't stop there though as the Downtown Austin Alliance will host the Downtown Holiday Stroll, with "holiday passports" and stamps to collect for local restaurants and stores, and a Frida Friday Holiday Market at Republic Square.
Combining festive holiday lights and the beautiful native plants of Central Texas, Luminations at the Wildflower Center is back with thousands of lights, luminarias and a lit-up look at Fortlandia. This year will also feature an interactive light maze called "silvana" by Ben Busche of architecture firm Brut Deluxe, which will be the maze's first appearance in North America. The event will run Thursdays-Sundays from Dec. 2-Jan. 30 for $10-$25 per person.
Reserved tables are back for Mozart's Coffee Roasters annual Christmas Lights Show for $20 four-person tables and $30 six-person tables—so get your tickets early because these tables are likely to sell out. The light show will also feature a festival-style Bavarian marketplace for those last-minute gifts. If you're too late to reserve a table, don't worry, there will be standing room available for free so come one, come all, and come early for parking.
From Dec. 2-4, Old Settlers Park will light up with holiday displays, family activities, festive refreshments and live music. Watch the balloons hover above the lake as you sip on a hot chocolate or give to those in need, with stands for Round Rock Operation Blue Santa, which is taking toys for kids in need, the Play For All Foundation, which is accepting cash donations for disabled children, and the People & Parks Foundation, accepting cash donations for green space in the community. Admission to the event is free, along with most of the activities in the park.
In this season of gifts, giving, and gratitude, Tito's is making it easy to shop for your friends and loved ones while helping our community.
The beloved Austin company's Love, Tito's retail space, downtown at 215 Lavaca Street, is fully stocked with great gear. 100% of net proceeds of whatever you purchase—a new collar for your four-legged friend, a Tito's tee, some branded barware—go to the nonprofits they support. From the environment to animal rescue, you can choose your cause while choosing a new copper cocktail kit… or old school cap… or golf polo.
The store is stocked with stuff that the online experience just can't offer: never-before-seen swag, doggy photo booths (to say it's a dog-friendly space is an understatement), a record player to spin some tunes, and a bar finder listing local spots serving mean Tito's cocktails. Locals and out-of-town visitors alike can enjoy wonderful distractions while kicking back in an environment designed to cater to Tito's fans.

While you can't enjoy a cocktail there due to Texas liquor laws, the store offers unique experiences for any and all fans of the brand, and gives folks a chance to find what resonates with them while taking home a piece of the Tito's story.
*At our Love, Tito's store in Austin, net proceeds constitute an average margin of at least 25% of the retail price of a product, excluding the cost of tax on the purchase. We are not deducting cost of our people, the store rent or other operating costs.
When Texas and the NCAA passed a bill allowing college athletes to profit off their names and likenesses this summer, Longhorn athletes joined professional teams and athletes by stepping into the growing NFT scene.
NFTs, which are essentially unhackable codes used as one-of-a-kind "certificates of authenticity" paid for with cryptocurrency Ethereum, have been cropping up in the Austin art scene and worldwide—and they're quickly evolving into a sports fans' paradise as a new way to snag some bragging rights through digital trading cards, tickets and highlight reels.

Here are five Austin-based athletes and sports venues now involved in NFTs: