Get connected with our daily update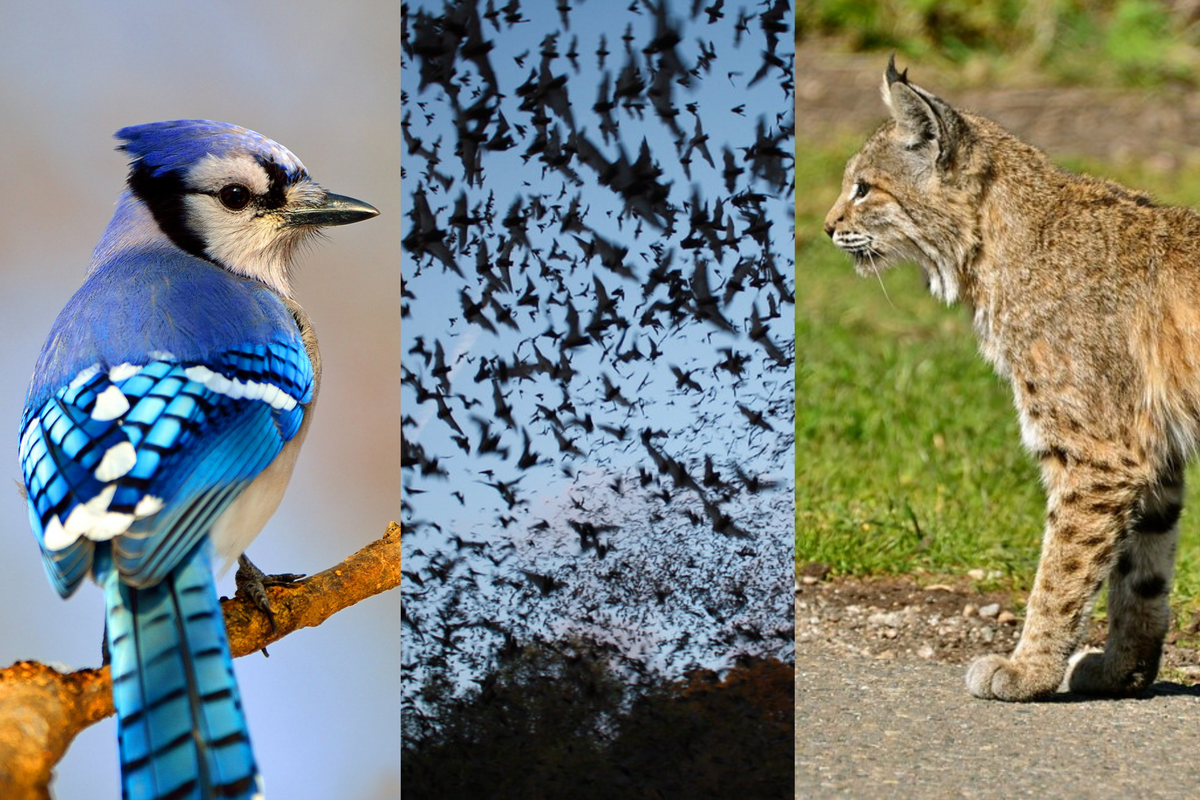 The rolling Hill Country isn't just home to your friends and neighbors—it is well known for its diverse ecosystem and impressive wildlife.
---
From turtles sunbathing on Lady Bird Lake to bats feeding on the Congress Bridge to animals that make bumps in the night, you can find it all in the Central Texas habitat. Very few of our animals are harmful but almost all of them are a sight to see.
These are just a few of the critters you're likely to spot while you're in Austin, but you can click here for more information.
Mammals
We didn't include coyotes on this list, as you're likely to see them all over North America.
Bats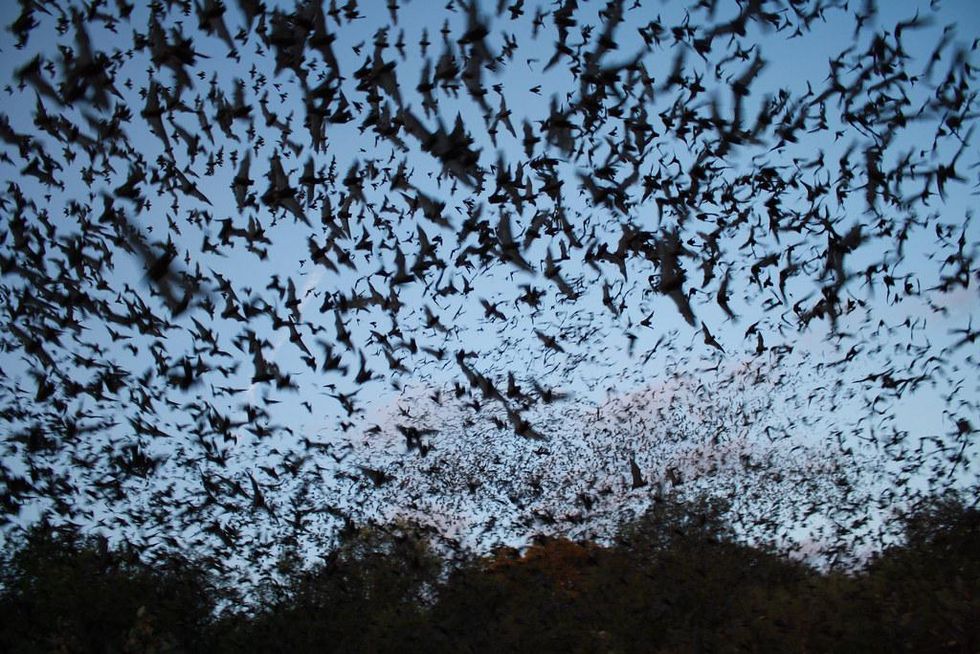 (USFWS Headquarters)
Danger level: ✅ Low, just don't touch
The symbol of the city, Austin is home to more than a million Mexican free-tailed bats depending on the time of year, with the most visible around July and August. Both the Congress Avenue bridge and Round Rock's McNeil bridge are maternity colonies, where females give birth to pups in the summer. Austin is famous for bat-watching when the creatures feed, which tends to fall around sunset between March and August.
Fun fact: Bats tend to live up to 11 years in the wild.
Bobcats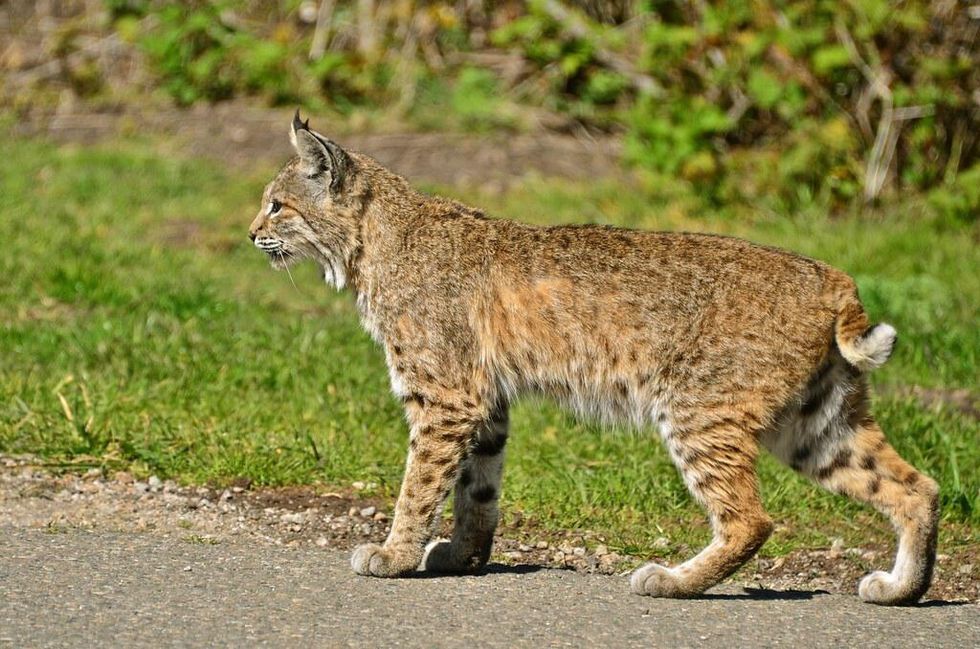 (Linda Tanner)
Danger level: ⚠️ Medium, admire from a safe distance
Texas is home to a number of wild cats—bobcats tend to prefer habitats in the Hill Country but you're unlikely to spot one in the wild in Austin. An adult bobcat measures about 3 and a half feet in length, weighing 12-36 pounds, and eats small mammals, birds, domestic sheep and occasionally deer. Bobcats typically don't cause great damage or attack humans, but it's best not to disturb one if you spot it. Mountain Lions are also native to the southern parts of the Hill Country.
Fun fact: Bobcats are the only native Texas cat important to fur production.
Nine-banded armadillo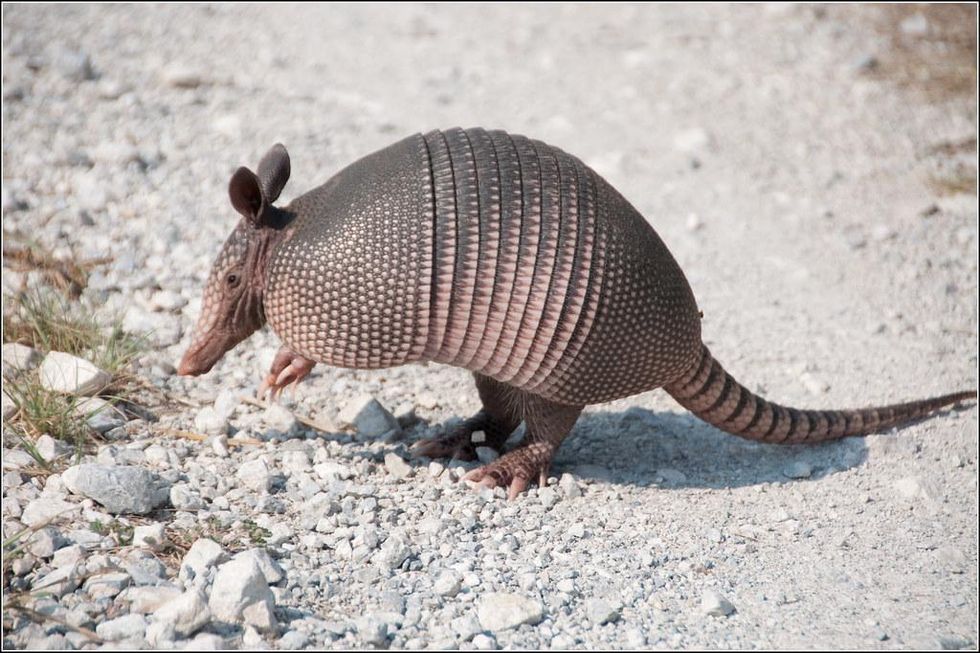 (Rich Anderson)
Danger level: ✅ Low, just don't touch
As the official small mammal of Texas, you can find armadillos wandering all around the state except the Trans-Pecos. You're most likely to see an armadillo using its sharp claws to dig for some tasty grubs, which can be harmful to crops, or build a den. They can be quite noisy when foraging and if you startle an armadillo, it might jump straight up into the air before quickly scuttering out of sight. If you see one of these armored little guys, do not touch it, as armadillos are the only animal known to carry leprosy and are illegal to sell in Texas.
Fun fact: Armadillo mothers give birth in springtime to four fully-formed identical quadruplets.
Raccoons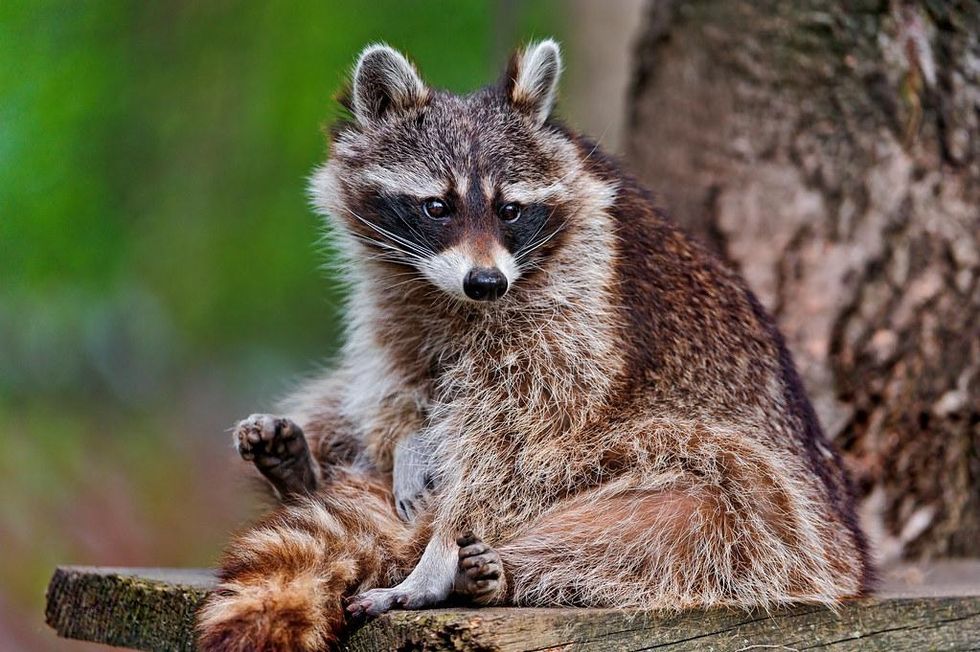 (Tambako the Jaguar)
Danger level: 🆘 High, do not approach
With their unique coats, raccoons can be easily spotted in Austin, likely digging through trash or going through your plants. They're known for looking cute but raccoons have a high risk for rabies and often act aggressively, so don't feed or socialize with them. Covering trash cans can be a good way to keep them out of your garbage.
Fun fact: Raccoons will often make dens in logs or tight, enclosed spaces.
Reptiles and amphibians
These little guys are often spotted at Lady Bird Lake.
Frogs, toads and salamanders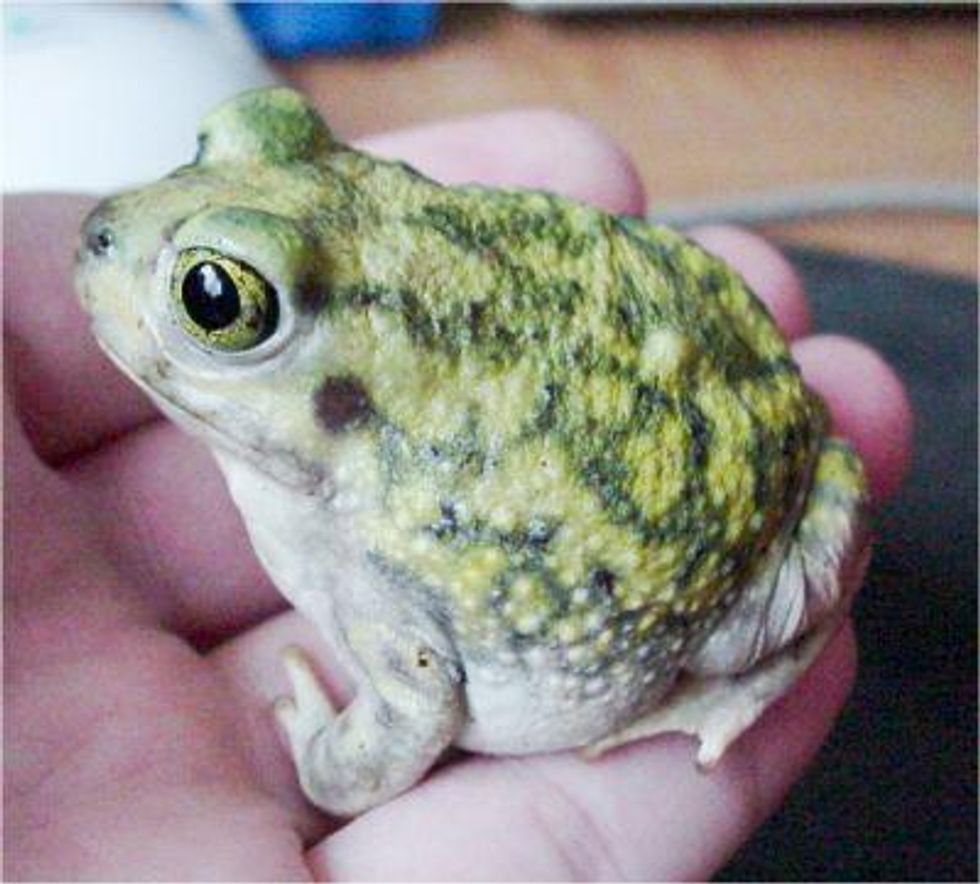 Danger level: ✅ Low, just don't touch
There are a plethora of all three residing in Central Texas, if you're quiet enough to spot one. The American bullfrog, green tree frog and spotted chorus frog mark the most well-known in town and tend to be harmless. Coach's Spadefoot and Woodhouse's toads are common as well, and you might see a Barton Springs Salamander while paddleboarding, but they'll stay away.
Fun fact: The brighter the colors, the more likely these critters are to be poisonous.
Turtles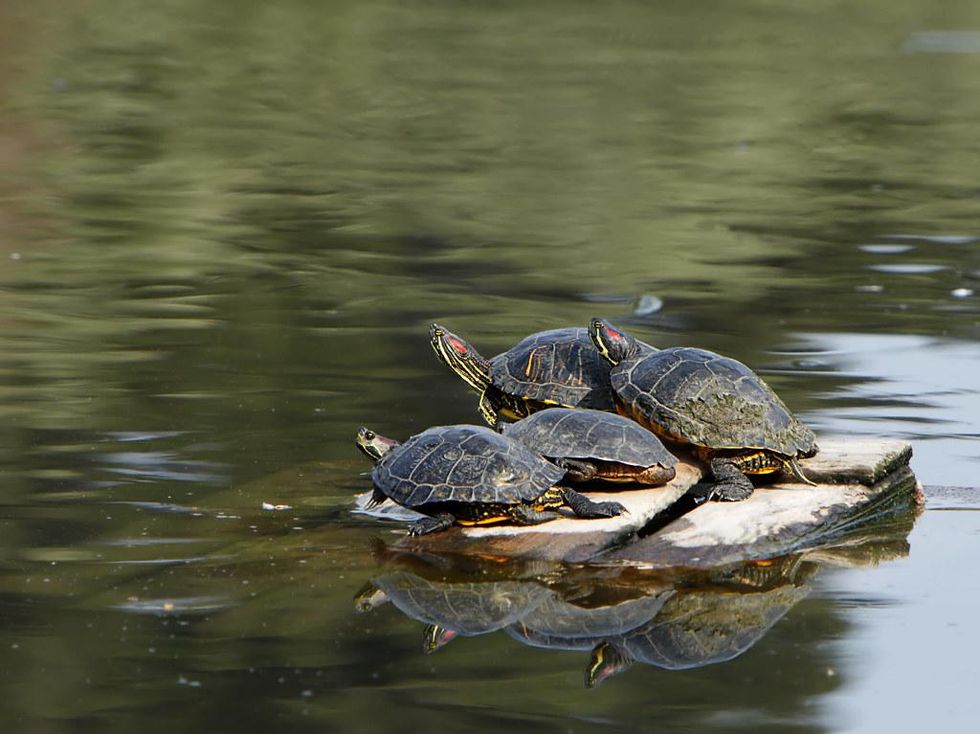 (Alan Vernon)
Danger level: ✅ Low, just don't touch
You've probably seen a mix of red-eared sliders, softshell and snapping turtles sunning on a log while on Lady Bird Lake. Turtles can live upwards of 30 years on a diet mostly consisting of small fish, plants and decaying matter. Turtles ribs are infused with its shell, so it never outgrows its home. It's possible that these little reptiles will bite, but unlikely, and could carry salmonella but they are nothing to be afraid of.
Fun fact: If there isn't enough space for everyone to sun, turtles will stack themselves on top of each other.
Snakes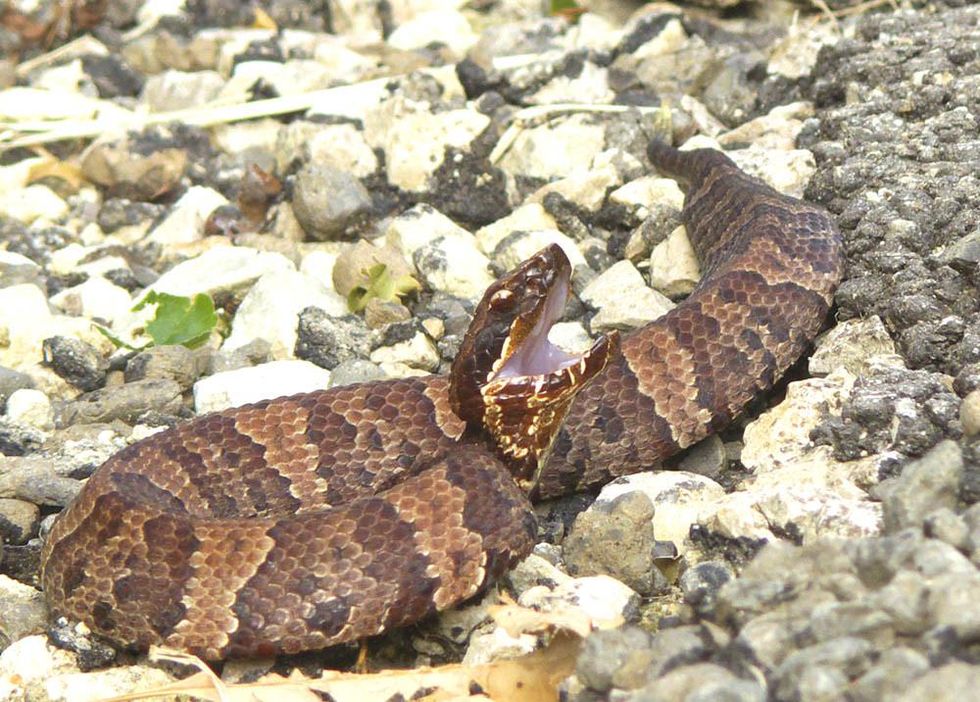 (Tom Spinker)
Danger level: Medium, admire from a safe distance.
There are over 105 different types of snakes living across Texas but there are only four you need to be concerned about in Austin: the western diamondback rattlesnake, the broad bandit copperhead, the western cottonmouth and the Texas coral snake are all venomous. The rat snake is often confused with the rattlesnake, since they have similar snaking tails, though it is not venomous. The best way to avoid a bite is to give the snake space and do not handle it.
Fun fact: The shape of a snake's head is an easy indicator of whether or not the snake is venomous—snakes with triangular heads tend to be venomous but a rounded head is a good sign.
Birds
There are over 660 species of birds living across Texas.
Blue Jays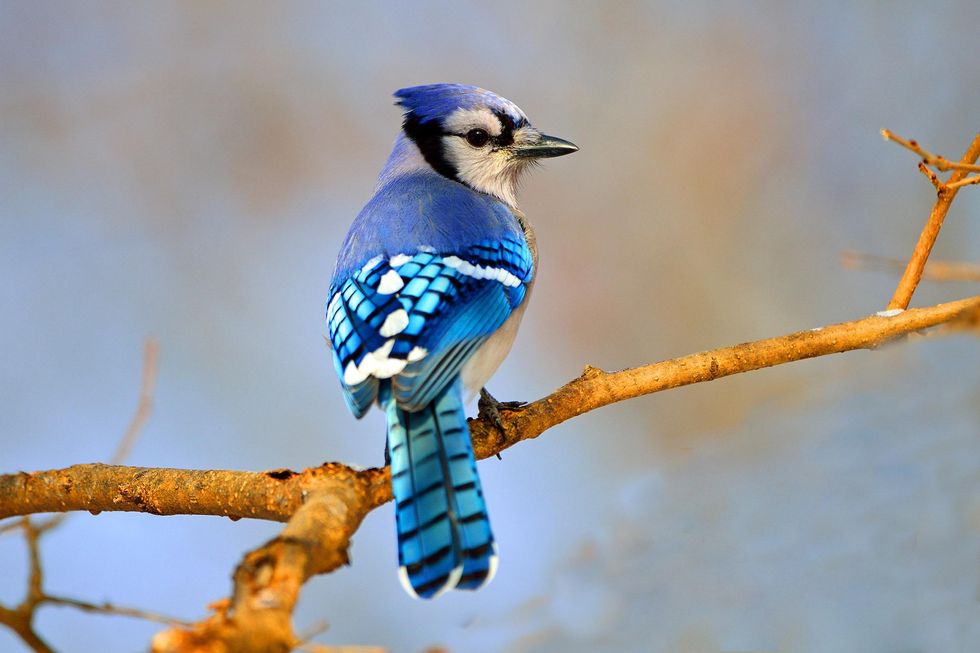 (Brian Kushner)
Danger level: ☺️ Harmless
These blue beauties look pretty, but don't be fooled, they're loud and aggressive toward other birds. Blue jays are known for attacking owls and imitating a hawk call to scare away any threats. However, blue jays are normally tame around humans.
Fun fact: These birds are known for eating the eggs of other birds to frighten them away.
Grackles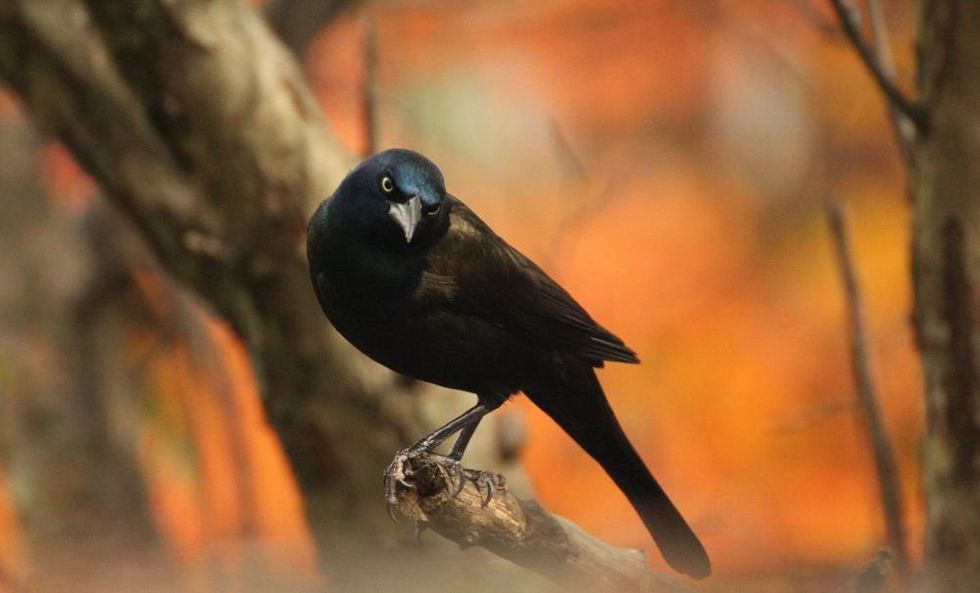 (Madeline Poster)
Danger level: ☺️ Harmless
More likely than not, Grackles are the source of the bird noises that annoy you most. With a look similar to that of a blackbird, a bit taller and more iridescent. Grackles are known for their cocky struts and eating anything at their disposal.
Fun fact: Grackles are the number one threat to corn crops.
Golden-cheeked warblers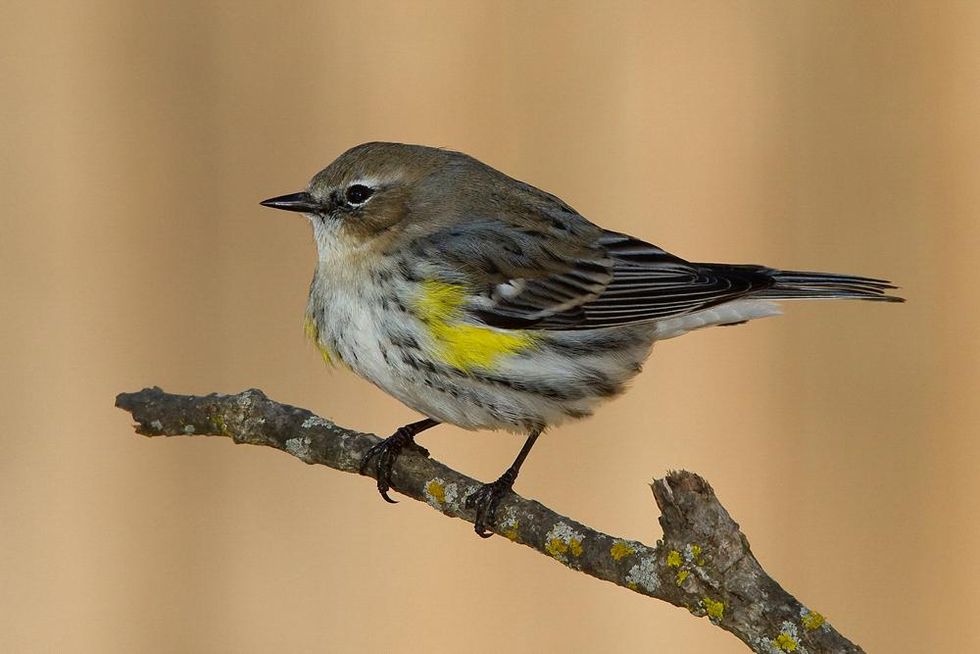 (Duane Angles)
Danger level: ☺️ Harmless
This yellow-cheeked bird only nests in Central Texas, leaving for Mexico in July to spend the winters, and takes up residence in wooded areas. The golden-cheeked warbler is categorized as endangered by both Texas and U.S. standards.
Fun fact: The golden-cheeked warbler is the only bird that breeds in Texas to exclusively nest in Texas.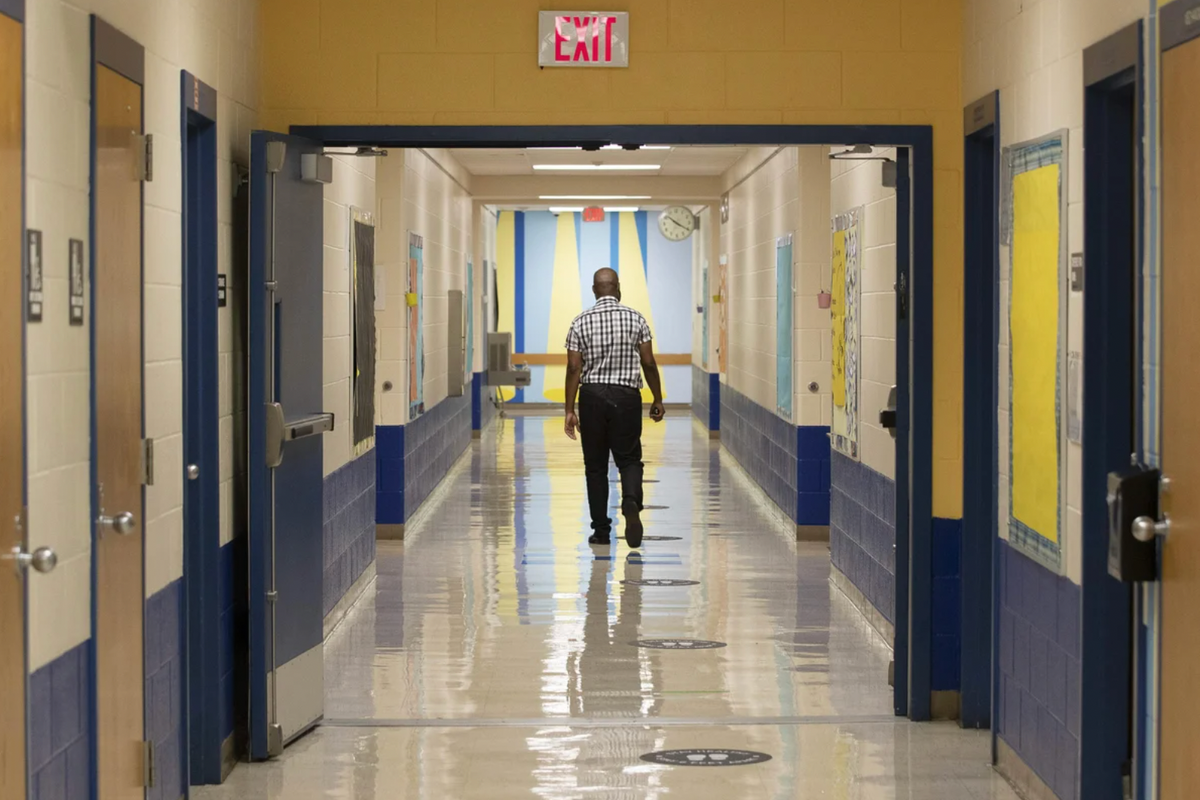 Matias Segura swept his hand across a whiteboard in his office at AISD headquarters, describing how an entrance vestibule works. It might remind you of a sally port at a prison. The vestibule is designed to protect our children from the active shooters who have plagued our nation since Columbine in 1999.
"You start with the signage," he said. "You know exactly where the entrance is, and that's for first responders too. We really want to make sure we keep up with visitor patterns. If they come in, they go through a system. Driver's license, background check, which takes about a minute. We have a software system."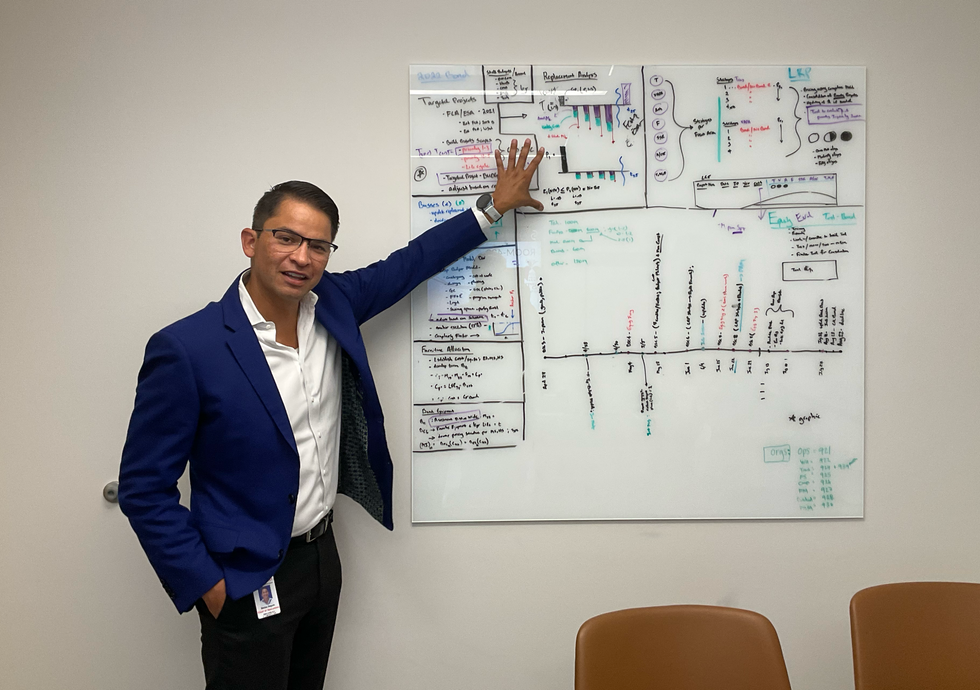 AISD Director of Operations Matias Segura explains the overall school construction and what the entry vestibule looks like. (Rich Oppel)
The vestibule has two sets of locked doors. The exterior set has an audio-visual intercom, operated by a desk officer who has a view of visitor parking, the building approach and the vestibule. If allowed in, a visitor is buzzed through and then faces questioning and clearance by the desk officer. The visitor is given a card-reader pass. If a second person attempts to "trail in" behind another visitor, he is trapped in the vestibule until his status is determined. The second set of doors, into the main school building, remains locked and shut. It is open when students arrive in the morning.
Thus, the days of walking into the school, maybe waving at the principal's executive assistant and strolling off to the cafeteria for lunch with your daughter are gone, a relic of a more bucolic time when "active shooters" were never imagined. But one must ask, what do we give up for greater safety?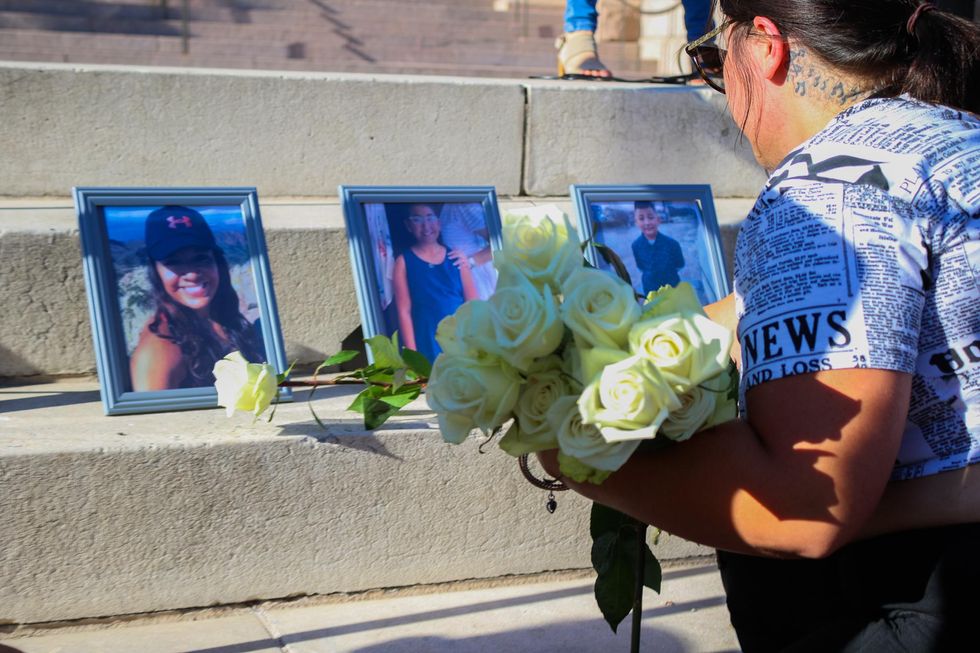 Austinites remembered the Uvalde shooting victims in a vigil at the Texas Capitol in May. (Tony Fuentes)
Some critics argue that we are at risk of losing traditional values in the redesign of schools, courthouses, hospitals, churches and shopping centers. Writing in The Washington Post, architecture critic Philip Kennicott said the nation's gun culture "threatens an essential precondition for democracy: its public space… Ideals of openness, flow, transparency and access will no longer be sustainable."
Segura contemplates the question. At 41, he has held his job as AISD director of operations for four and a half years. Prior to that he was a consultant who led the team to build Austin's new courthouse. His Austin and Texas roots are deep. He was born here, graduated from Bowie High, and went off to Lubbock to earn a degree in civil engineering from Texas Tech. He returned to secure an MBA at the University of Texas at Austin. He and his wife Joy Burson-Segura have two daughters who attend AISD schools. Segura said he and his operations team love AISD, care deeply about their work, and want citizens "to see us as partners."
Back to what we lose in hardening the schools.
Segura says, "We think about students' health. Having daylight, bringing light into a hardened facility, being able to access outdoor learning areas, (which is) hypercritical, especially in what we have learned in the pandemic." Segura doesn't like the idea of moats around schools (exotic, expensive) nor of classroom bomb shelters (what would teachers and students think about their looming presence?), efforts that are being tried elsewhere.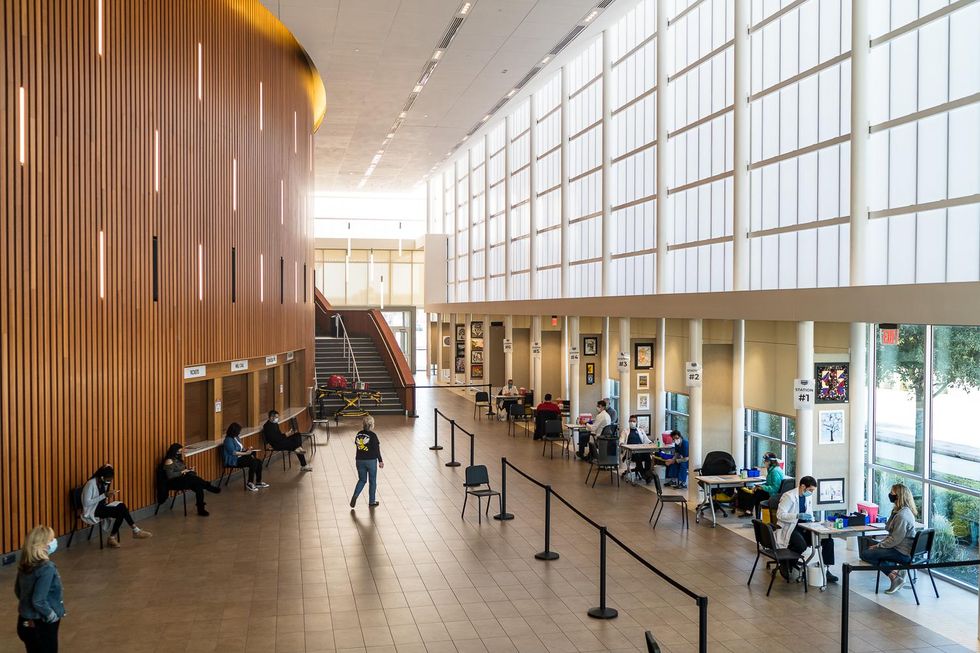 Healthcare workers receive the Moderna COVID-19 vaccine at the AISD Performing Arts Center in Mueller in 2021. (Jordan Vonderhaar)
AISD must juggle school security with the historic use of our schools for other purposes, such as voting, PTA-PTO meetings, community fairs, and, more recently, COVID-19 testing, vaccinations and food distribution. AISD does not want to end those uses, so the challenge is to design schools with separate rooms or places for those uses.
Clearly, Segura has thought about balancing conflicting equities. For him, it's not all locked doors and blank brick or concrete walls. He stresses the importance of building a culture that includes shared responsibility of all school employees where, for example, a custodian could ask a stranger whether they have a visitor's badge. All staffers should be well-trained in security measures, knowledgeable about new technology, and committed to working as a team to protect students, teachers and others. "We are working very, very hard on the culture," he says. "Also, we need (financial) investment if we are going to move the needle."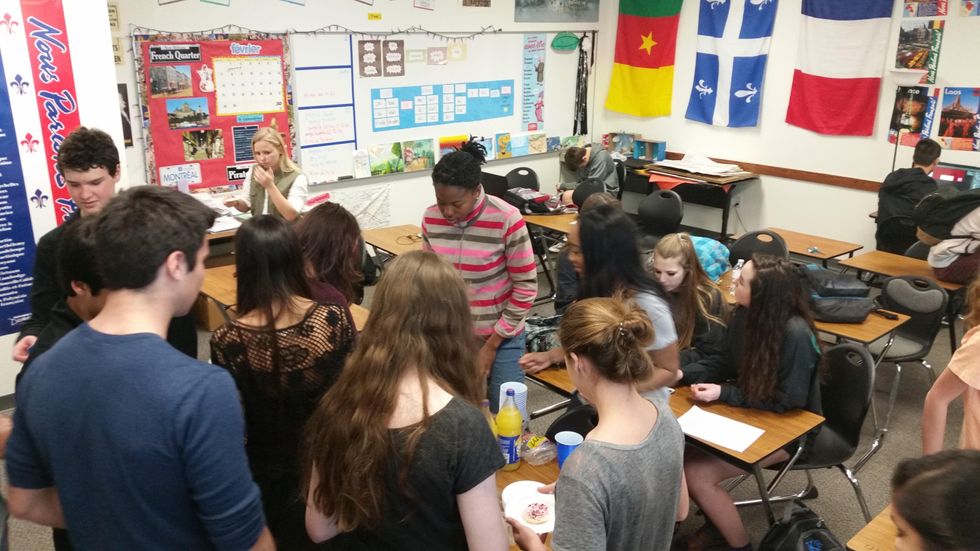 (Laura Figi)
Kennicott, the Washington Post critic, quotes the late Sen. Patrick Moynihan, a sociologist and New York Democrat, who said, "Architecture is inescapably a political art, and it reports faithfully for ages to come what the political values of a particular era were. Surely, ours must be openness and fearlessness in the face of those who hide in darkness."
But that was in 2001. What messages will Austin's new public schools convey to future generations about our 2021 political values?
"First and foremost, these are education spaces that belong to our community. Our objective is to create incredible learning experiences for our students and at the same time ensure that the students and staff are safe." He said he wants people to view schools as "inspired," places where they would want to send their children. "Great things are happening in that space," and that teachers see a place where they want to work and where they feel safe.
Voters in AISD will decide Nov. 8 on a $2.44 billion bond package to provide "funding for improvements to enhance safety, centers on equity, benefits every campus, and addresses affordability," according to AISD officials.