Get connected with our daily update
Stock photo
We all need a little escapism even in the best of times—certainly these days—and sports have always scored big on that field.
The roaring crowds, mile-long concession lines and heady weekend tailgates in the parking lot are mostly gone for the year, but that doesn't mean you can't cheer your guts out for your favorite teams.
---
Some, like local baseball, are canceled or winding up their seasons. And others, like college women's basketball, are as-yet unscheduled.
We find ourselves in an interesting fall championship game line up with pro baseball entering an extended season, minor league soccer having its postseason championships, and hockey and basketball in delayed finals seasons (that we'd normally be enjoying in the spring and early summer), it's an exciting time to be a fan!
Here are some ways to safely get your Texas sports fix right now—and the escape we're all craving.
Football
Football starts in earnest this month for the NFL and some universities. Because the pandemic didn't do much to disrupt the season, timing-wise (except for the canceled preseason), not much will change for those who watched from their couches.
Dallas Cowboys
The Dallas Cowboys' NFL season starts on Sept. 13, but the first home game is slated for Sept. 20 against the Atlanta Falcons at noon. Catch it on FOX, or if you're in North Texas, limited tickets and suite rentals are available at AT&T Stadium in Arlington

Houston Texans
The Houston Texans' virtual kickoff happened on Sept. 3, with Texans players, coaches, celebrities and more. If you missed it, you can catch the archive here. The season started on Thursday, Sept. 10, but the the first home game happens on Sunday, Sept. 20 against the Baltimore Ravens at 3:25 p.m. at NRG stadium. Limited tickets and suites are available.
UT Longhorns
The Big 12 season is on! UT's first game, a match up at home against UT-El Paso, happens 7 p.m. Saturday, Sept. 12. But the first official Big 12 conference game is set for Sept. 26 against the Texas Tech Raiders. You can catch Longhorn Network games—including the season opener—on ESPN or stream them online. Some fans can also go to games at Darrell K Royal Texas Memorial Stadium on the UT-Austin campus, which is only allowing a 25% capacity crowd at this time.
Baseball
Major League Baseball ends its regular 60-game season on Sept. 27 and then prepares for an extended 16-team playoff season—which some are thinking could include the Houston Astros. Check out this link to stream MLB games online.
Houston Astros
The Houston Astros' season has begun, and while they are allowing no fans in the Minute Maid Park for the games— they are making it easy to watch them on TV and online. Next game is at 7:07 p.m. Saturday, Sept. 12 against the LA Dodgers.
Texas Rangers
The Texas Rangers, like their MLB counterparts in Houston, continue their season on Saturday against the Oakland A's at 4:05 p.m. Saturday, Sept. 12. Like the other MLB franchises, they won't be playing to any crowds—with no in-person attendance at Globe Life Park in Arlington—but they're easy to find online.
You can listen to them on the radio here.
Basketball
The NBA's conference semifinals are underway, with the final matchup series set to start on Sept. 30. We're used to baseball and football championships in the fall and winter, but this is a bonus. There is no in-person seating but you can register for a chance to be a "virtual" fan here.
And while the Dallas Mavericks' season came to an end on Aug. 30 with a loss to the L.A. Clippers, there's still another Texas team to watch.
Houston Rockets
You can catch the Rockets against the L.A. Lakers in their second match-up of the series on ESPN at 7 p.m. Saturday, Sept. 12. Or register for a chance to be a virtual fan and take home viewing to a whole 'nother level.
Hockey
We'd normally be watching the NHL conference finals in the late spring and early summer, but the pandemic took care of that—and now we get to pile the Stanley Cup championships onto our high-stakes fall season.
The Dallas Stars
The Dallas Stars are on the short list for the cup this year, facing the Vegas Golden Knights in the Western Conference finals, with Game 4 set for Saturday, Sept. 12.
The season is set to wind up with the Stanley Cup finals tentatively set for early October. Tickets to stadium watch parties are sold out but you can watch on FOX Sports Southwest or the Fox Sports GO app.
Soccer
We have to wait until spring for Austin's new Major League Soccer team, the Austin FC, to start playing at McKalla Place —but you can still enjoy some exciting Austin soccer.
UT Soccer
The University of Texas Longhorns soccer Big 12 season gets underway on Friday night, Sept. 10 with new guidelines issued for in-person attendance at the school's Mike A. Meyers Stadium. Watch them on the Longhorns Network.
Austin Bold FC
The United Soccer League is ending its season in early October, and our own Austin Bold FC team is angling for a spot in the USL post-season championship playoffs next month. Their next scheduled game is at 8 p.m. Saturday, Sept. 12 against the Rio Grande Valley Toros. You can watch them on ESPN+ or app.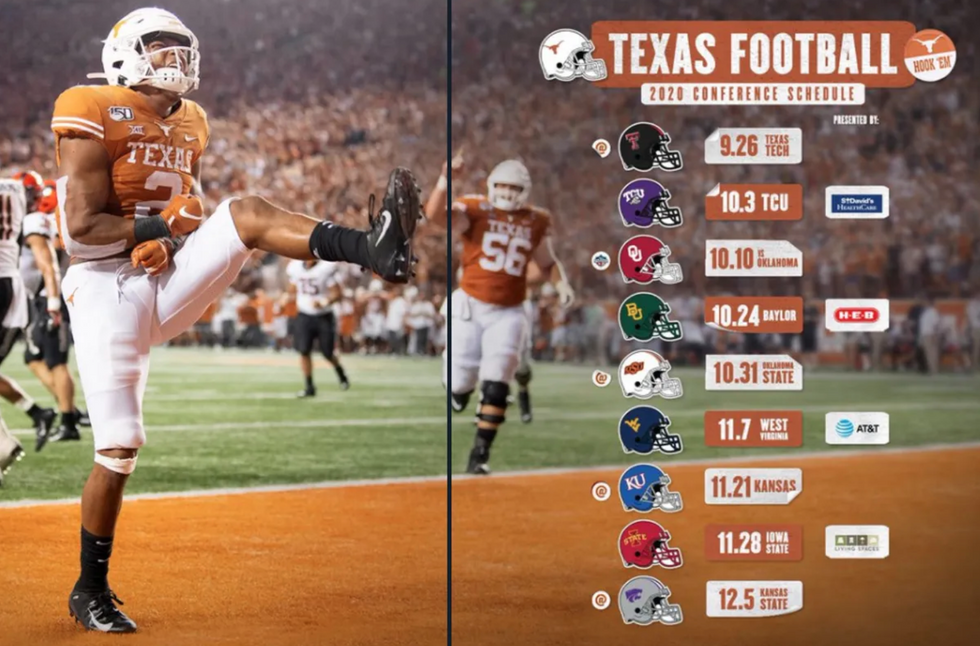 Capital Metro has been awarded $750,000 from the Federal Transit Administration to go toward Project Connect's Orange Line, documents show.
The FTA announced the funding round on Thursday, which dispersed $11 million across 12 states and 20 projects. The money is meant to connect communities to affordable transit and housing through the FTA Pilot Program for Transit-Oriented Development planning.
CapMetro said the funds will go toward projects at eight stations spanning 6.5 miles on the South end of the Orange Line, which has a total of 22 stations. The full project stretches across the 20 miles from Southpark Meadows to Tech Ridge.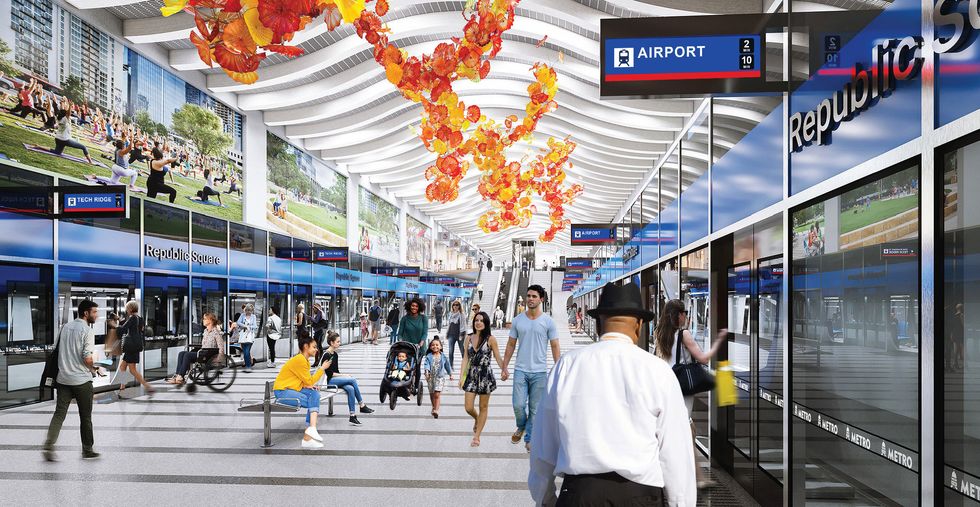 Republic Square station is along the Orange Line. (Project Connect rendering)
Once it's complete, which officials estimate will be in 2028, the Orange Line will reach the following stations:
Tech Ridge (Park & Ride)
North Lamar International District
Crestview
The Triangle
UT campus
Republic Square
Auditorium Shores
South Congress
Southpark Meadows (Park & Ride)
A $500 million mixed-use development spanning 1,400 acres is coming to Southeast Austin, near Tesla's headquarters at Giga Texas.
Plans for the development by Houston-based real estate firm Hines include 2,500 houses along with multi-family and townhomes, and commercial land. Hines is partnering with Trez Capital, Sumitomo Forestry and Texas-based Caravel Ventures.
The development, which is known as Mirador, will be located off the 130 Toll and Highway 71, which the developers say provides easy access to the Circuit of the Americas Formula 1 racetrack and other Austin attractions like restaurants, parks and live music venues.
Hines also boasts amenities like a 60-acre lake, over 600 acres of greenbelt, community parks, trails and a swimming pool.
"As Austin continues to grow into the tech epicenter of Texas, coupled with a supply-constrained market, the demand for new housing is at its highest," Dustin Davidson, managing director at Hines, said. "Mirador will be critical in providing more options for Austin's growing population and we are excited to work alongside our partners given they each provide a unique and valued perspective in single-family development."
The local housing market has been hot in recent years, with home sales accelerating earlier in the pandemic. In July 2021, the Austin metro area hit its pricing peak at $478,000. As Austonia previously reported, the area has been expected to see the Tesla effect, with the new workforce driving up demand for housing and other services.
The single-family houses are expected to be developed over the course of six years, in phases. Construction on the homes is expected to start this year and home sales will begin in 2023.