Austonia AM
100% Austin news, info, and entertainment, straight to your inbox at 6 a.m. every morning.
In five minutes, you're fully informed and ready to start another great day in our city.
Get connected with our daily update
(Pexels)
When the tax office began its voter registration push in January, it was prepared for high registration numbers, given that it is a presidential election year.

But then registration flatlined in Travis County for the first time in decades.
---
Typically, the tax office expects an increase of up to 2,000 registered voters a month leading up to a presidential election. The office saw a net change of zero in April, Elfant said, and only a few hundred May.
"We were stopped in our tracks by COVID-19," Voter Registrar and Tax-Assessor Collector Bruce Elfant said Wednesday.
Although application numbers increased leading up to the July primary election, only 56,255 people registered to vote in Travis County between January and July, compared to nearly 90,000 over the same period in 2016.
A new program
In response, the Travis County Tax Office launched a revamped version of its discontinued Text2Register program, which it hopes will help encourage more people to register to vote.
Texas is one of 10 states that does not allow online voter registration. Residents may request an application online through the Texas Secretary of State but must fill it in by hand and return it by mail. They may also register to vote in person.
The Text2Register program streamlines the remote process by allowing applicants to use their phones and fill out their form in advance, so the application that arrives only needs a date and signature.
County officials said the program removes a major barrier to voter registration for two reasons: 1) It makes the process easier for the voter and 2) it makes the process easier for the voter registrar.
Text2Register initially allowed applicants to request an application, print it out, fill out the form manually and find an envelope and stamp to return it. The program was discontinued in 2016 after one year because more than 75% of users did not return the form by mail, Elfant said.
The new Text2Register program aims to circumvent this issue by mailing the pre-filled form, along with a return envelope, reducing the number of steps needed.
Since it launched, about 300 people have used it to apply, Elfant told Austonia on Friday.
The process
By texting "Register" to 48683 (IVOTE), Travis County residents are prompted to fill out a voter registration form, which the tax office will then mail to them to sign, date and send back to the tax office for review.
The Text2Register program may also help prevent hard-to-read handwriting or discrepancies that lead to failed applications.
"The beauty of this is when the application is received in our office, we already have the data in our system," said Gretchen Nagy, director of voter registration for the county. "We don't have to enter it manually."
During the program's initial run, among those who completed the registration process, more than 80% turned out to vote, Elfant said.
A wider effort
In addition to the Text2Register program, the tax office also moved its volunteer deputy-registrar training online and has made application forms available at libraries and on bookmobiles.
Another concern this year is post office delays.
Postmaster General Louis DeJoy, a Republican donor whom President Donald Trump appointed in May, launched a reorganization of the U.S. Postal Service in July, which union officials say is the cause of delays.
Elfant cautioned that Travis County voters should not wait until the Oct. 5 deadline to mail in their applications, as many invariably do.
"In any year, we do the admonition about mailing [voter registration applications] early," Elfant said. "This year especially … you don't want to be mailing it anywhere near the deadline."
Clarification: This story has been updated to report that the program, which is run through Travis County, can also be used in other counties and states through a partnership with a larger text-based program. Also, the tax office saw a net change of zero registered voters in April.
Pls RT. News-Travis County offering contactless voter registration. Thanks to partnership with @GoRegister2Vote our… https://t.co/r6iHw7QTNj

— Travis County Tax (@Travis County Tax)1597251532.0
Everyone wants to be in Austin—tech, celebs and now sports. At least that's what it looks like.
In the midst of a first season for Austin FC, the city's first major league professional sports team, the Buffalo Bills are reportedly looking at a possible move to Austin.
The news comes from ESPN's Seth Wickersham, who reports the NFL team is saying it is considering a move from New York to Austin, possibly to push public funding of its new $1.5 million stadium.

An ownership source tells me that Austin is a possible destination—or threat—as one of the "other cities elsewhere that desire an NFL franchise and would pay handsomely for it." https://t.co/zMf1oChO8K
— Seth Wickersham (@SethWickersham) August 1, 2021
Austin was without a major pro team until Austin FC came to town. While all eyes have been on Austin's "boomtown" status, the city isn't exactly expected to get an NFL team with two other major teams in the state—the Dallas Cowboys and Houston Texans.

Nevertheless, the governor and mayor responded to the rumor.
Editor's note: Addie Broyles is a longtime food writer, who wrote for the Austin American-Statesman for 13 years. This piece was published in her weekly newsletter, "The Feminist Kitchen," where she shares stories about parenthood, grief, ancestry, self healing and creativity. Check it out here.
You know Bruce McCandless' most famous moment, but you probably don't know his name.
McCandless is the astronaut who, in 1984, became the first untethered astronaut in space. He's the guy on those posters, mugs, shirts and everything else NASA could sell with the image of his "leisurely waltz with eternity," as his son calls it in his new book, "Wonders All Around: The Incredible True Story of Astronaut Bruce McCandless II and the First Untethered Flight in Space."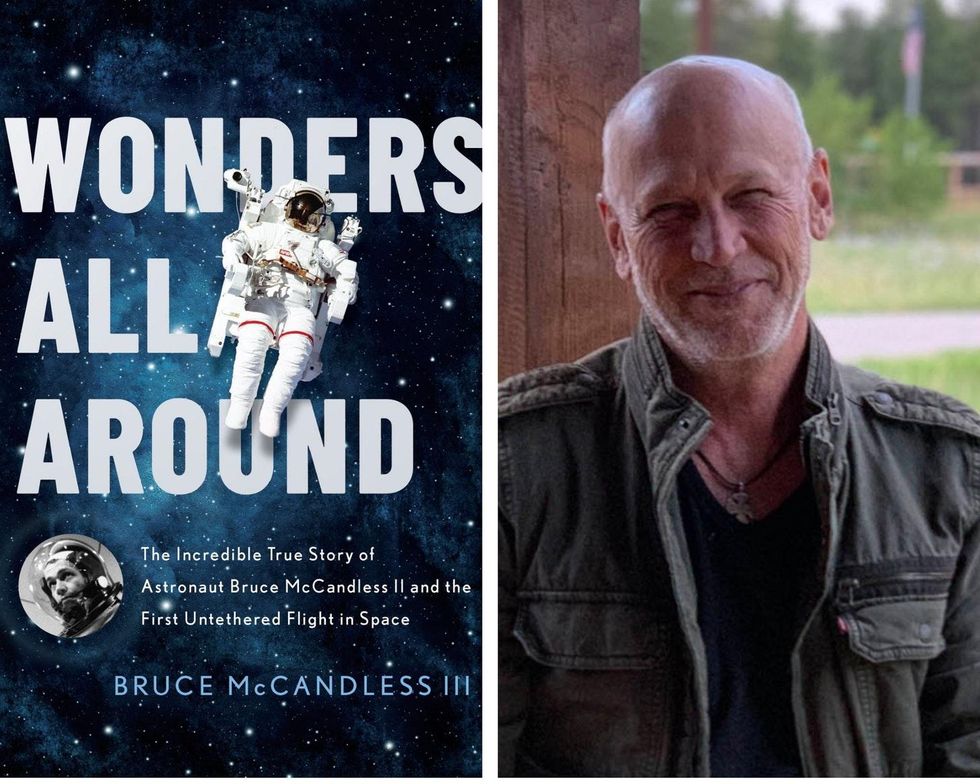 'Wonders All Around' is a new book by Austinite Bruce McCandless III about his dad, the astronaut Bruce McCandless II. (Bruce McCandless III)
I met McCandless III, who lives in Austin with his wife Pati, for a coffee a few months ago, thanks to the introduction from a mutual friend. As we talked about losing our dads, being writers and parents and living in Austin while still dealing with COVID, his dad's famous flight didn't come up, but the process of writing such an epic biography of a complex, only recently passed man was something worth unpacking over coffee.
I hadn't read the book yet, but over the next few weeks, I got to know the McCandless family in such a sweet way that I wanted to write a little about the book here to perhaps inspire you to seek out a copy of "Wonders All Around."
As much as this is a book about space, it's also a book about grief. And persistence. And stoicism. And masculinity and maternality.
The elder McCandless died in 2017, just a few years after losing his wife, Bernice, to cancer.
This passing of the torch from father to son left the younger McCandless inspired to take on this decades-long narrative. McCandless III sets the tone for the book with a memory of the family sitting around the dinner table at their home outside Johnson Space Center near Houston in the mid 1970s, when his dad, who joined NASA in 1966 at the age of 28, wasn't sure he'd ever actually make it to space.
"Our dinners were somber affairs. We ate around a rectangular Formica table in the breakfast nook. Tracy and I sat on benches padded with orange vinyl cushions. Mom and Dad occupied faux-Spanish style chairs with green felt upholstery. Despite the informal, Howard Johnson's-at-the-airport feel of the furnishings, there was a tension in the air that set in right around the time the frozen string beans started steaming. I had the feeling that my sister and I had forgotten to do something important, though I couldn't figure out what it was, or that judgment had been rendered on us and we'd been found guilty of … something — again, it was unclear what. Horseplay was prohibited. The TV and all sources of music or other frivolity were turned off, and singing was strictly forbidden. The only sound came from the aquarium pump. My father had a 100-gallon tank along the wall behind his chair. Sometimes the big plecostomus would attach itself by its mouth to the glass facing us, and I imagined it sucking all the oxygen out of the room."
Imagining what it must have been like to require oxygen to survive, not in outer space but in the living room with your family, sets up the story of the McCandless ancestors, including a guy who was killed by Wild Bill Hickok and the author's grandfather, who was an admiral in the U.S. Navy.
No pressure, Bruce.
It was fascinating to read about the 18 years that Bruce McCandless II worked for NASA before he finally had his first flight, which debuted the Manned Maneuvering Unit, a jet-fueled backpack that he and Ed Whitsett Jr. spent so many years developing. (That's the joystick-controlled machine he's wearing in that mind-bending poster that hung on millions of Americans' walls over the following decade.)
The author McCandless has the unenviable task of trying to put into words what that flight must have felt like. His dad flew 150 feet away from the shuttle Challenger, which would, of course, break into a million little pieces just a few years later.
When President Reagan called the shuttle to congratulate the astronauts that day in 1984, the command center set up a demonstration space walk to give the president a live view of McCandless through the shuttle window.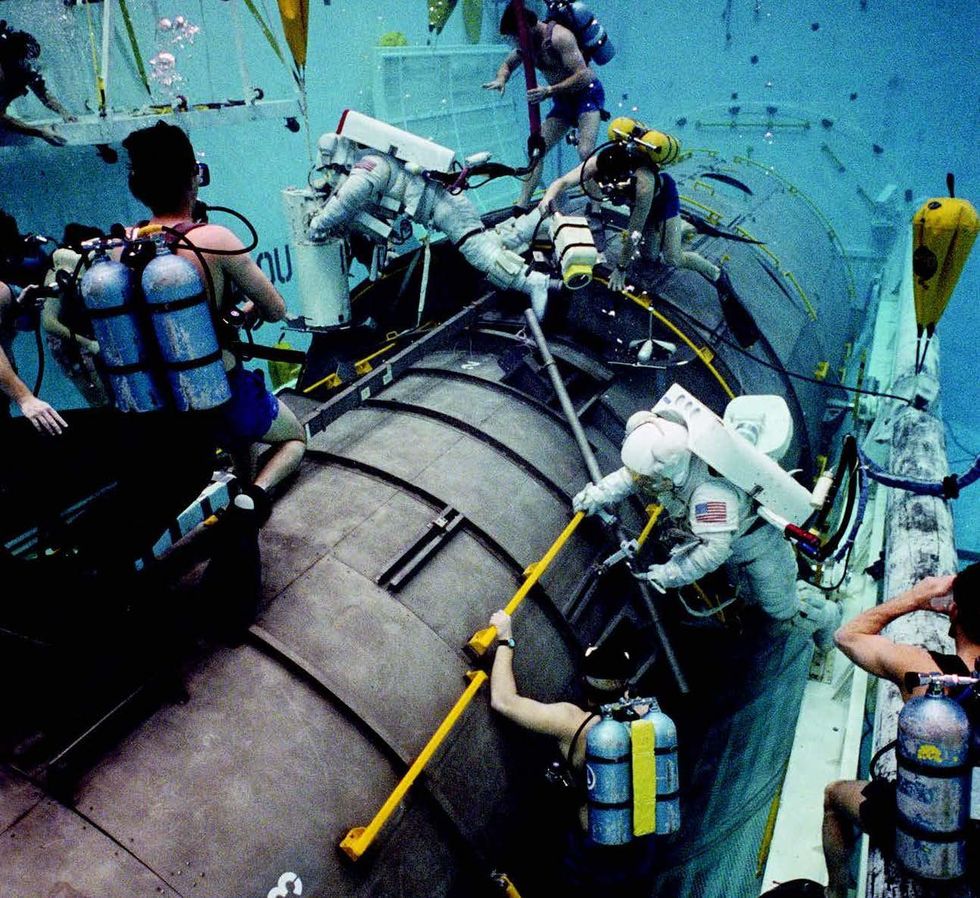 Bruce McCandless II, trains with Kathy Sullivan, right, in preparation to launch the Hubble Space Telescope. (NASA)
The only problem was, there wasn't much fuel left. McCandless went out anyway, trying to stay within 10-15 feet of the spacecraft. He got into position and turned off the unit to preserve propellant. After the president said a few words and the video switched off, McCandless turned on the unit and "looked for the closest piece of the orbiter, pointed at it, put the hand controller in +X (and) got a sort of sighing noise as it accelerated in that direction." He ran out of fuel just as he grabbed onto a rail on the orbiter. Hand over hand, he brought himself back to the donning station.
It's that kind of suspense that made this book so thrilling to read.
There's space tension like when McCandless is operating as CAPCOM, the only person talking to Neil Armstrong and Buzz Aldrin while they are walking on the surface of the moon, and his commander wants him to break protocol and call them back early, even though there are no signs of distress.
The book is also so touching. I cried while reading about the declining health of Bernice, who survived so many astronaut wife struggles over the years and at the end of her life remained a loving partner and mother.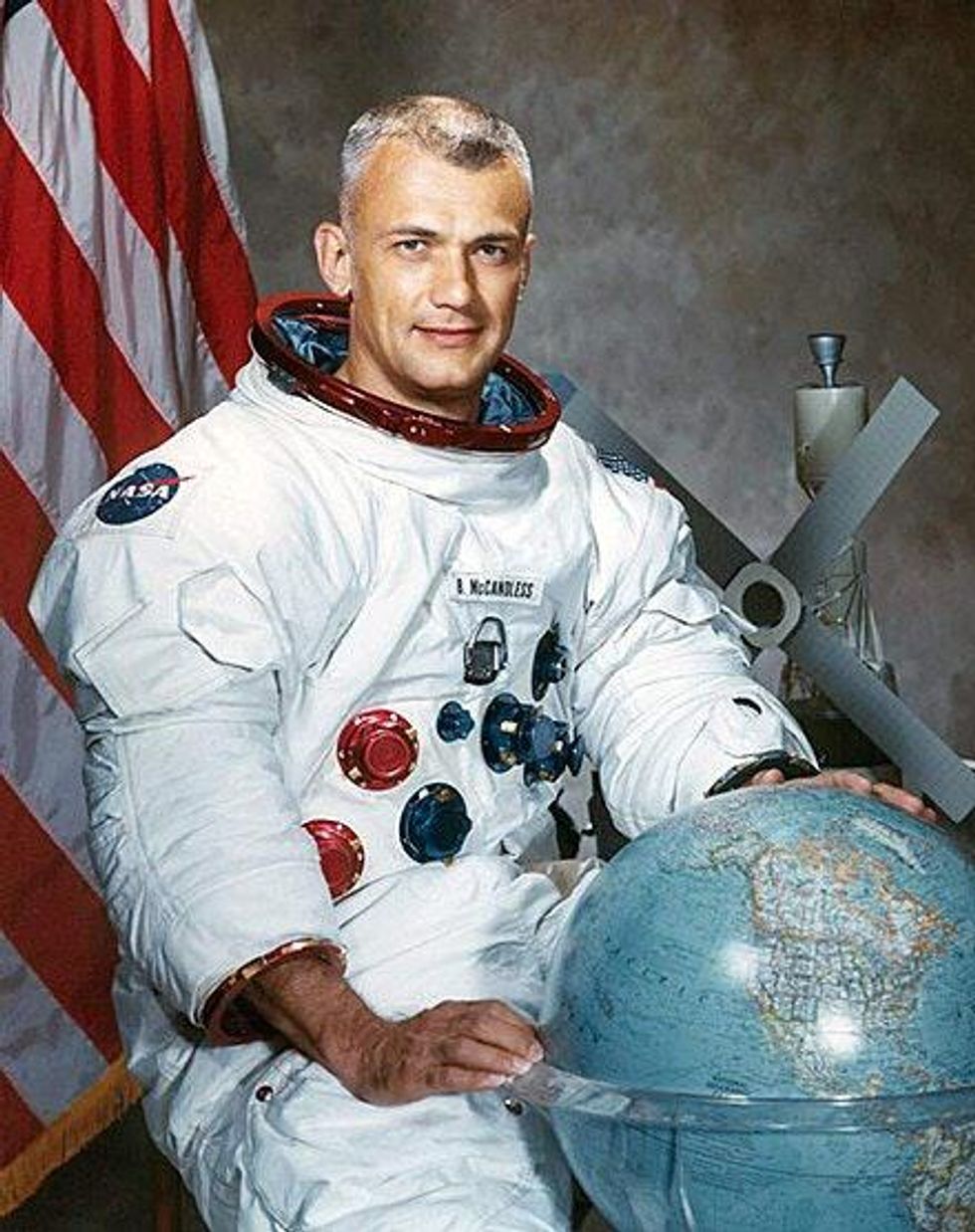 Bruce McCandless was a Navy pilot who was picked to join NASA in 1966. His first space flight wasn't until 1984. (NASA)
It's easy to forget that McCandless II had an entirely other memorable historic moment—launching the Hubble Space Telescope in 1990—and this one seems to have struck an even deeper chord with McCandless III.
The Hubble launch was McCandless' second and final flight. He was 52 and had worked at NASA for 24 years.
McCandless II spends the last chapters of the book making a compelling case that his dad's work to fix and update the Hubble are among the greatest achievements to science. He continued to work on Hubble for another two decades after retiring from NASA through his work at Lockheed Martin.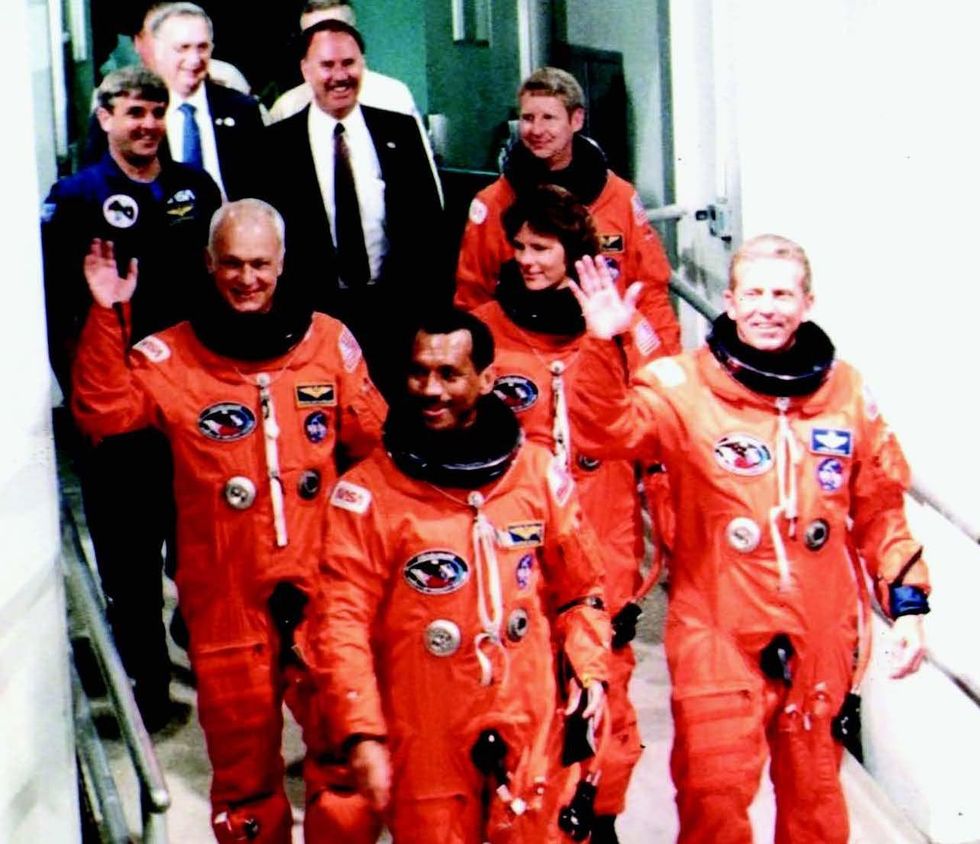 Bruce McCandless, left, and the flight crew that launched the Hubble Space Telescope in 1990. He was 52 years old. (NASA)
He was the "nuts, bolts, screws, and wires guy," the auto mechanic rather than the scientist, who kept the telescope going 340 miles above Earth for more than twice its life expectancy. The Hubble has been cited in more than 18,000 scientific papers and has revealed countless secrets and unsolved mysteries from around the universe and beyond.
"The size, shape, and sheer spectral weirdness of the images boggle the imagination and make prophets and dreamers of us all," McCandless writes toward the end of "Wonders All Around. "Some of us pay therapists to tell us we're important and unique. Then we check in with Hubble so the satellite can inform us just how galactically marginal we all are. The truth is somewhere in the middle."
What a beautiful reminder.