Get connected with our daily update
Gov. Greg Abbott and the Governor's Commission for Women announced Monday that they are inducting six "extraordinary" Texas women, including one Austin face, into the Texas Women's Hall of Fame for 2020-2021.
---
The women are chosen for their outstanding achievements in their fields; filling in the business category, jewelry designer and entrepreneur Kendra Scott will represent Austin this year in the hall. The induction ceremony will be held on Nov. 4 at Texas Woman's University in Denton, Texas.
"The Texas Women's Hall of Fame recognizes and celebrates remarkable Texas women not only for their individual achievements but also for their contributions to an even stronger Texas of tomorrow, and I am honored to welcome these six accomplished women as inductees," Abbott said. "Each of the honorees is recognized as a trailblazer, an inspiration for the next generation of leaders who will follow in their footsteps."
The honorees:
Kendra Scott, business
As founder of the jewelry empire of the same name, Scott is being recognized for her "extraordinary entrepreneurial spirit," strong leadership abilities and continuous philanthropy in support of women and children's causes.
Lauren Anderson, arts
A lifelong ballerina and one of the first Black dancers to become a principal dancer for a major dance company, the Houston Ballet, Anderson's artistic achievements, philanthropy "inspiring children to reach for the stars," and barrier-breaking accomplishments earned her a spot in the hall.
Charlye Ola Farris, legal profession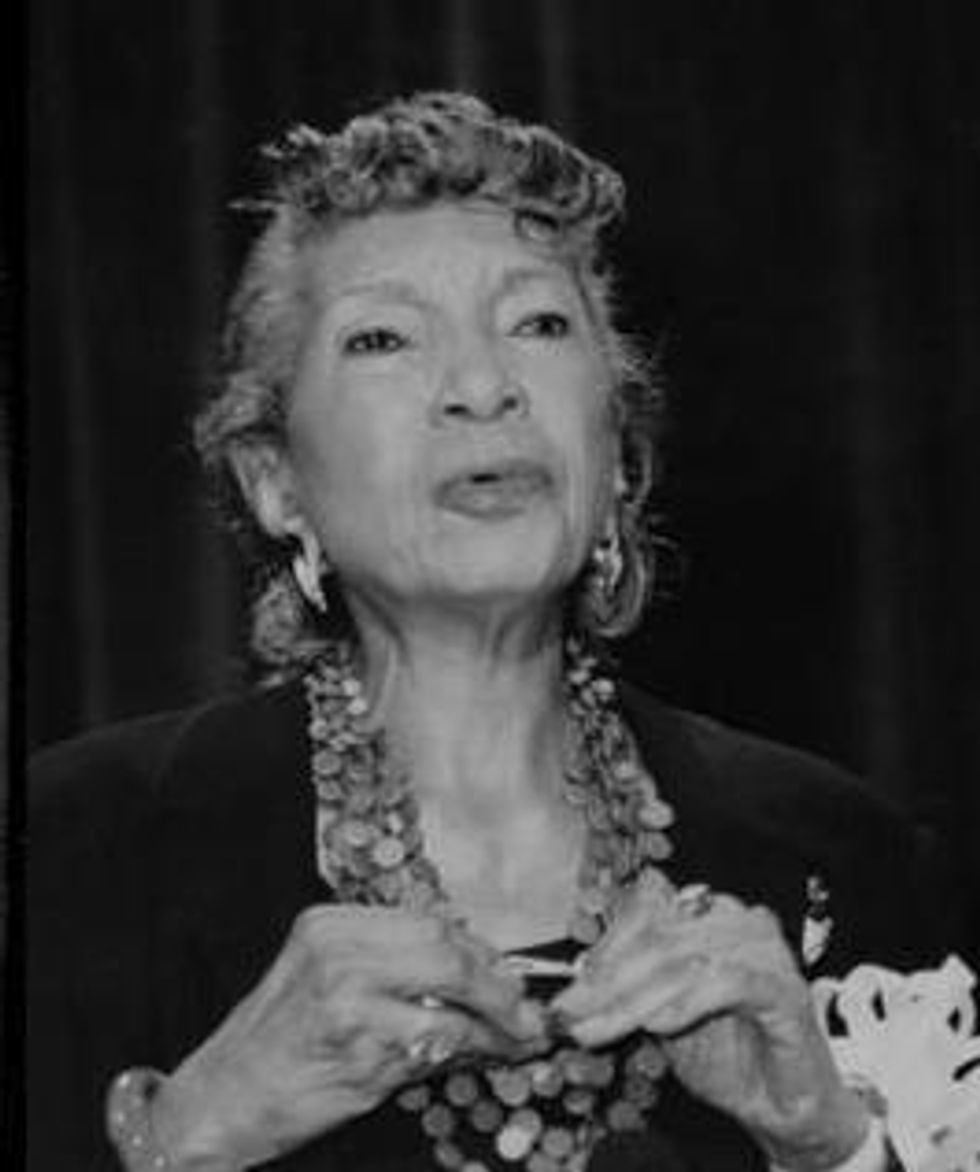 (Wichita County Historical Commission)
Born in 1929 in Wichita Falls, Texas, Farris would go on to become the first female lawyer in her hometown and the first Black woman to serve as the Special Wichita County Judge in 1954. Though she passed away in 2010, Farris is being inducted into the hall for her "pioneering role" in the legal sphere and "paving the way for others by overcoming adversity with dignity and perseverance."
Dawn Ferrell, military service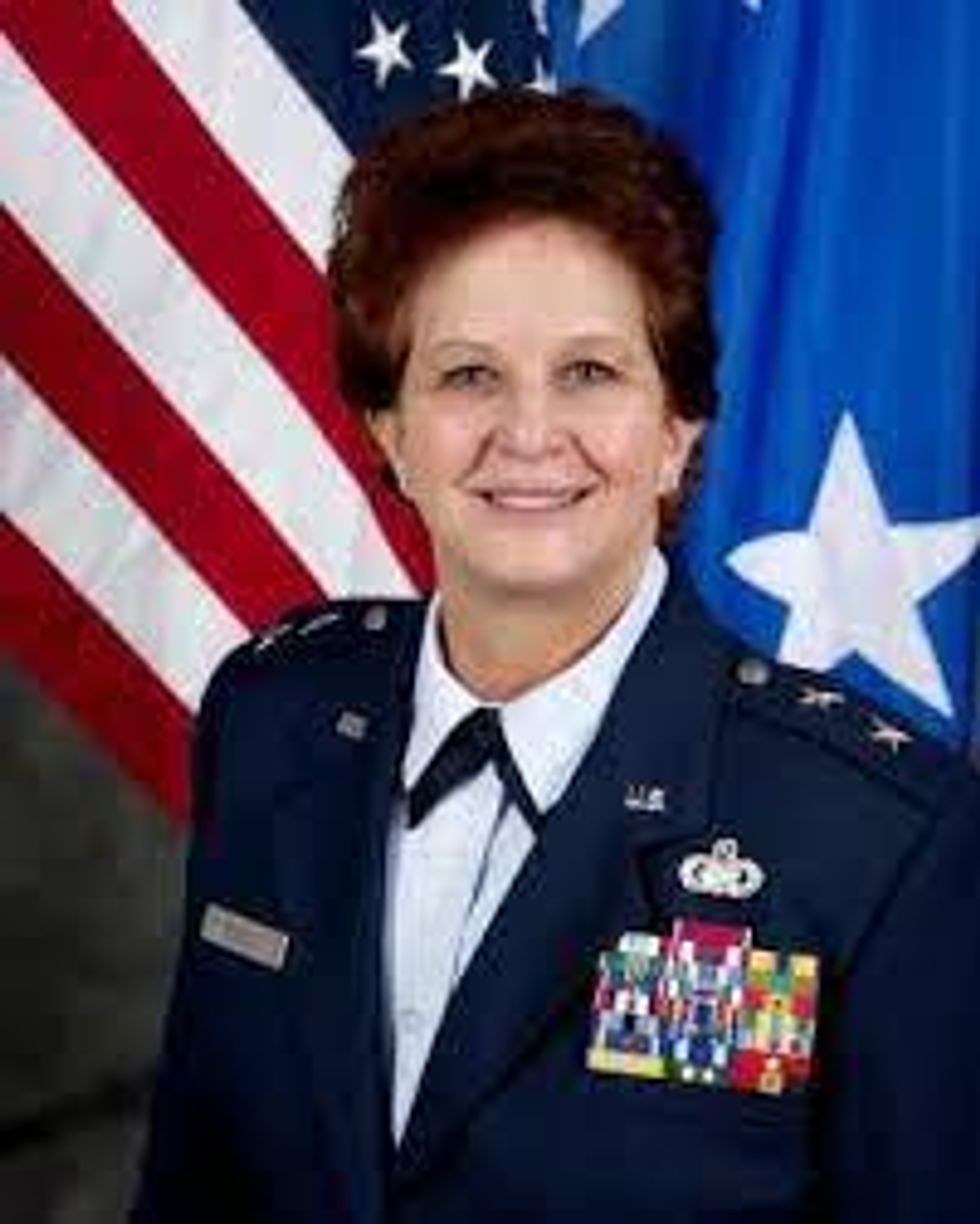 (National Guard Biography)
A retired Major General in the U.S. Air Force, Ferrell was a principal advisor to the Adjutant General of Texas for all Air National Guard issues and is being recognized for her military service and contributions to higher education.
Elaine Stolte, community service
Known for her advocacy for decades of service connecting child sexual abuse survivors to help services, Stolte, strategic policy and partnership advisor for The Children's Assessment Center Foundation in Houston, was inducted for her work as a "tireless advocate" who gives a voice to children.
Ofelia Vasquez-Philo, civic leadership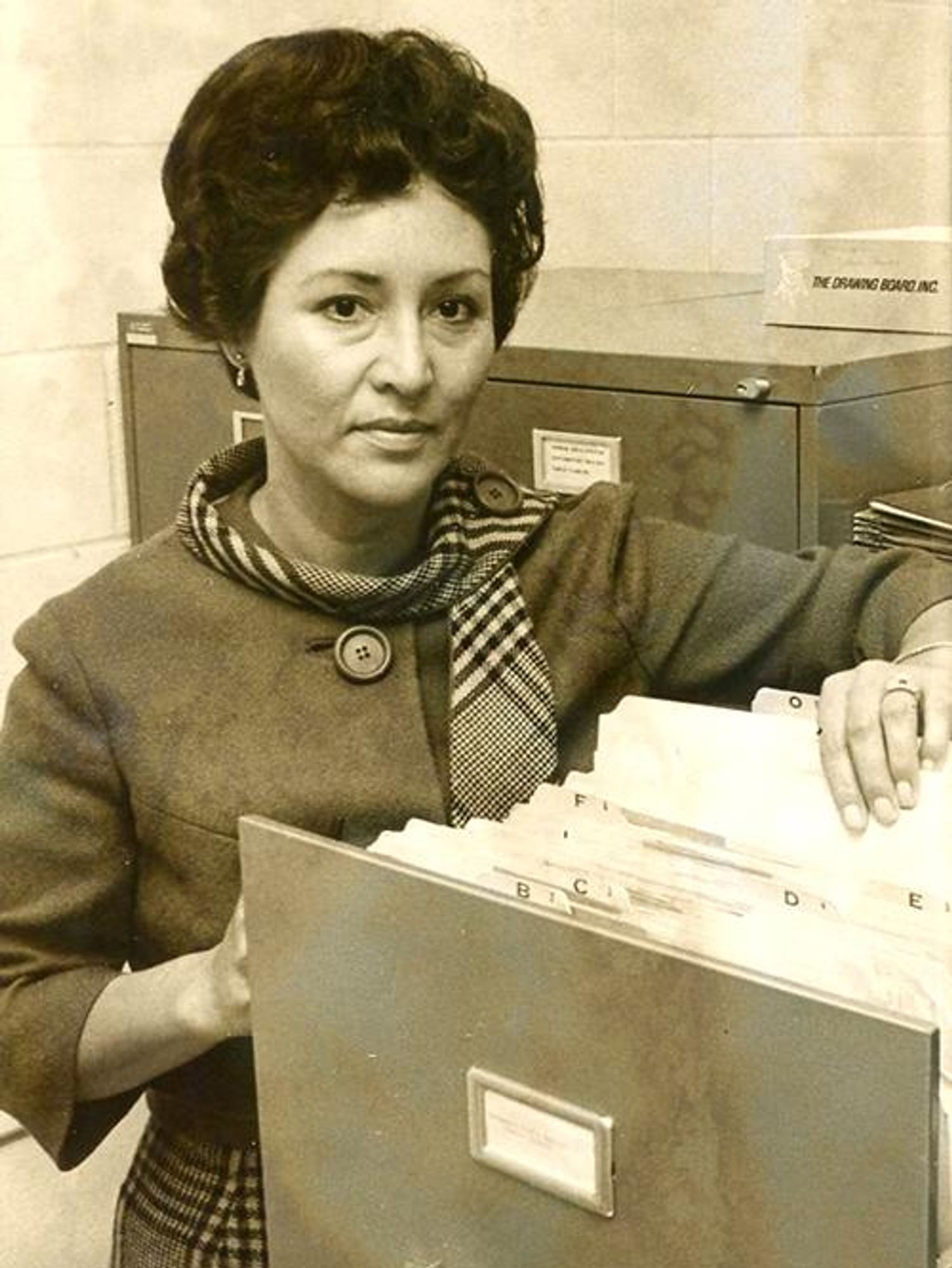 (San Marcos Public Library)
A prominent figure in nearby Hays County, Vasquez-Philo founded the Centro Cultural Hispano de San Marcos community center and was an active promoter of Hispanic heritage. She passed away in 2017 but will be remembered for her "legacy of community service and trailblazing leadership in support of civil rights and the preservation of Hispanic arts, culture and heritage."
All six women, joining former First Ladies, astronauts and other significant women, will be forever immortalized with a photo and biography in the Hall of Fame at Texas Woman's University. Women have been nominated for the list biennially since 1984.

East Austin restaurant la Barbecue has been robbed a third time in less than three months, according to a post on the restaurant's Instagram.
In the post, the restaurant included photos of what appeared to be a man exiting a minivan from surveillance footage.
"This guy pulled up in a car full of stuff… he ripped our gate open and stole a couple empty kegs," the post said. "The ring system scared him off so he did not venture back into the area. PLEASE EVERYONE ON THE EAST SIDE BE CAREFUL!!! This guy goes back into his car to grab something before he goes in. I am hoping he won't be back!!"
The robbery comes as many restaurant and food truck owners have been on guard from recent break-ins. East Austin cheesesteak truck R&B's Steak and Fries has also been robbed three times in around three months, according to owner Kris Elliott. Elliot said the truck was last robbed around a month and a half ago.
"When the weather gets cold, it seems like these things start to happen more often," Elliott said. "We're just happy no one got hurt."
Additionally, he said all 5 of the food trucks in their lot have experienced burglaries. The landlord of the space is taking action by investing in alarm and camera systems. "Been very tough dealing with this problem as us small business owners are just trying to survive during the pandemic," Elliott said.
And it's not just in East Austin. North Austin restaurants Eldorado Cafe and Chez Zee Bistro were both broken into and robbed on the weekend of Jan. 8, while over a dozen food truck robberies and break-ins were reported in the latter half of 2021.
Some, like Chez Zee's Deborah Velasco, wonder if the understaffed Austin Police Department's decision to no longer respond to non-emergency calls is part of the problem. Xose Velasco, owner of East Austin's Discada, said owners are keeping their guard up in the wake of the robberies as he was robbed twice within a month of reopening in November 2021.
"We try to keep the lights on," Velasco said. "We're a little bit more careful."
After 12 months, the long-anticipated massive Tesla factory in Southeast Travis County is up and operating and everyone wants a look inside.
Phase 1 of Giga Texas appears to be tied up as production of the Model Y Tesla is underway, the electric car company revealed on Wednesday in its fourth-quarter earnings call. The factory, located on the former Harold Green-turned Tesla Road, sits on more than 2,000 acres of land in southeast Travis County.
Here's a glimpse inside the factory.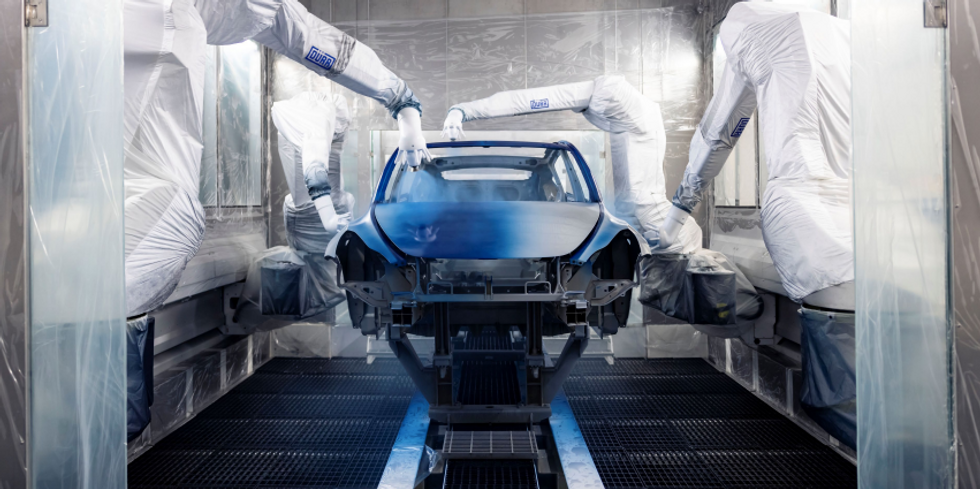 (Tesla)
Model Ys will be the first Teslas to come out of Giga Texas with an estimated delivery of August. The wait estimate comes after Tesla noted supply chain issues have affected their factories, which have been running below capacity for several quarters. A deep blue metallic like this goes for $1,000 more than a white or silver Model Y, totaling $61,990.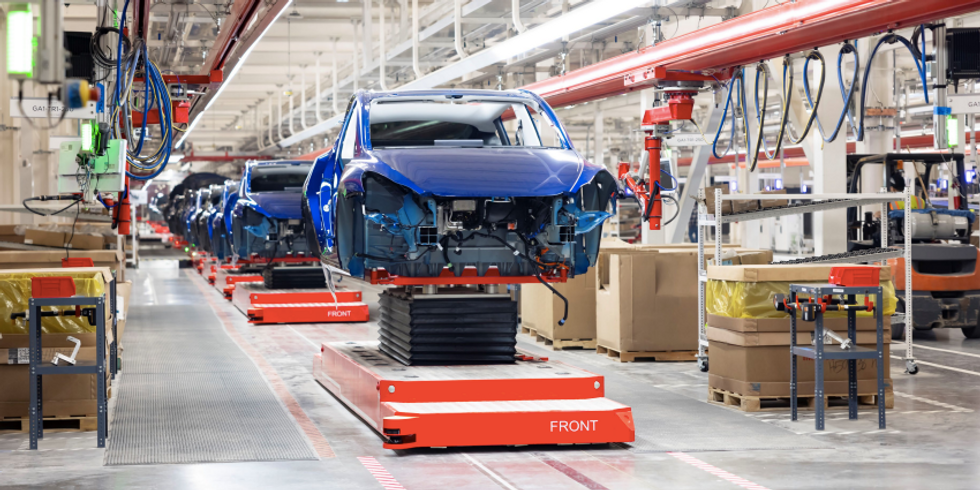 Model Ys began being produced at Giga Texas at the end of 2020. In general assembly at the factory, the Teslas get their major interior components to finish the vehicle.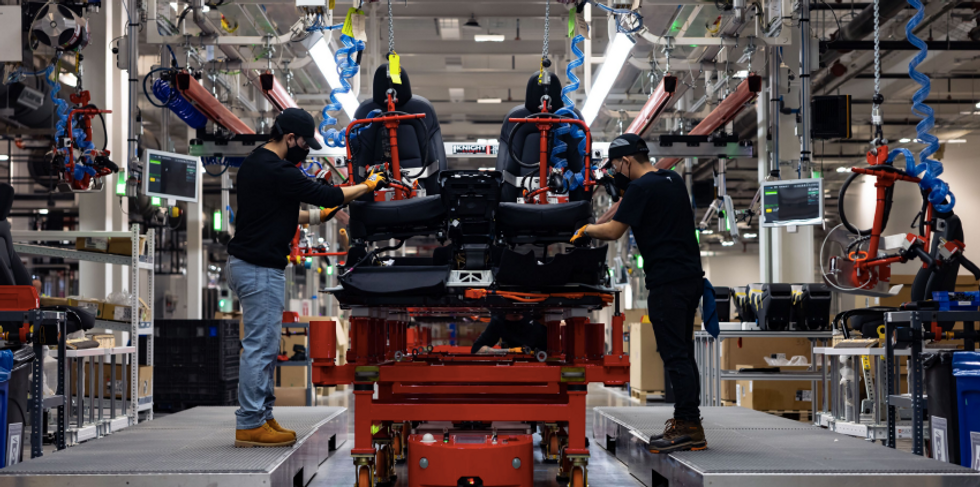 (Tesla)
Workers at Austin's Gigafactory are attaching seats to a structural battery pack. It's been described by some as the biggest difference between Texas-made Model Y's and the current version at the Fremont, California factory. It shouldn't have a major impact on the owner's experience, but Tesla has updated instructions for the jacking procedure, as the lift points are different.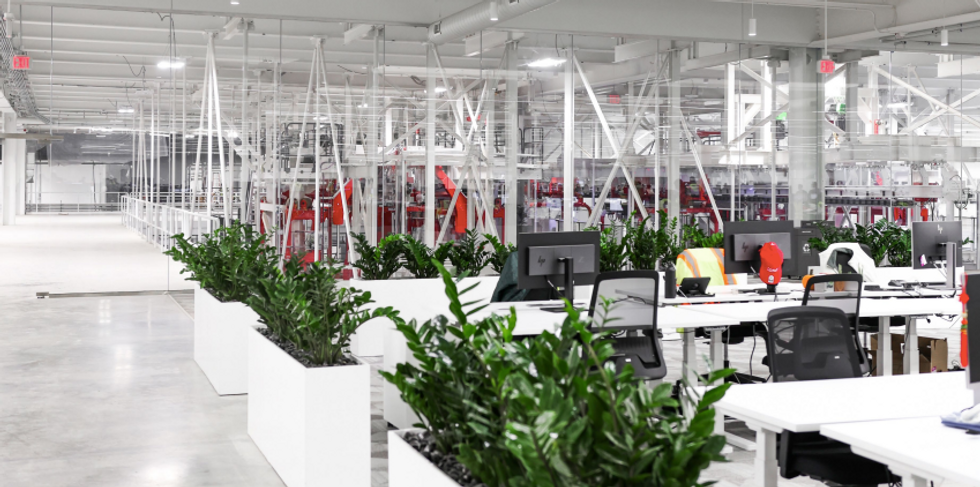 With a sleek, open office setup, workers can take in a view of the factory from their seats. It's a component CEO Elon Musk wanted for what is now the headquarters of Tesla.
On the Austin, Texas public location Snapchat, a photo of inside Giga Texas has appeared. On the left you can see a sneak peek of a Model Y body.pic.twitter.com/N7zliZ5vkL

— Sawyer Merritt (@Sawyer Merritt) 1643081462
With Snapchat's maps, anyone can look at everyday activity happening at the factory. To view these geographically-linked stories, click the bottom left "map" icon and search "Tesla Giga Texas." Once you've found it, you can view the Snapchat story of those in and around the facility. While most stories stay up for only 24 hours, Giga Texas is a designated place on Snapchat, allowing users to view a collection of photos and videos from the inside.
Following Model Ys, Texas-made Teslas will include the Cybertruck, Semi and Model 3. But it might be a while before those other models arrive. EV makers have been hit hard by the chip shortage, and it's thought that changing features are contributing to Cybertruck delays as Tesla works to compete in the electric pickup market.
Joe Rogan paid a visit to buddy Elon Musk this week. The two have been seen around town since both moving to Texas. Naturally, Rogan was impressed with the prototype.
If you're dying to get a closer look at this factory, you just might get to. In December, Musk said the factory would have tours available to the community early this year.