Austonia AM
100% Austin news, info, and entertainment, straight to your inbox at 6 a.m. every morning.
In five minutes, you're fully informed and ready to start another great day in our city.
Get connected with our daily update
The effects of the California migration have now bled into politics.
On Monday, the U.S Census Bureau announced a shift in political power as Texas gained two congressional seats—the most out of any state—while California lost one seat for the first time in its 170-year history.
---
The announcement came after extensive population growth in the Lone Star State, especially among the Hispanic population, which has grown by more than 2 million people between 2010 and 2020. Locally, it seems like every other person is from California with Texas being the number one state for Californians to move to.
With Austin and other Texas metros offering more "bang for your buck" housing as well as the Techsodus, which has seen several tech companies from California and elsewhere bring their headquarters to Texas, Californians are coming into the state in rapid succession.
Over 80,000 Californians moved to Texas in both 2018 and 2019, according to the Census Bureau, with a net migration of around 45,000 each year. That number appears to have only increased in recent years, aided by each state's response to the COVID pandemic and the public migration of influential figures such as Tesla CEO Elon Musk and podcaster Joe Rogan.

By contrast, California's growth is at a standstill for the first time in nearly two centuries.
While the state has seen changes such as new tech jobs and, already, the reshaping of some Texas cities, this marks the first time that the California migration can be seen in Texas' national politics.
With two new congressional seats, the state will have 38 seats in the U.S. House of Representatives for the next decade.
The migration has already started to shuffle the U.S' political geography. Young people, who tend to vote Democratic, have flocked to Texas' urban centers. According to an Associated Press analysis of American Community Survey data, the 20-34-year-old population grew by 22% in Austin, 24% in San Antonio and 19% in Houston since 2010.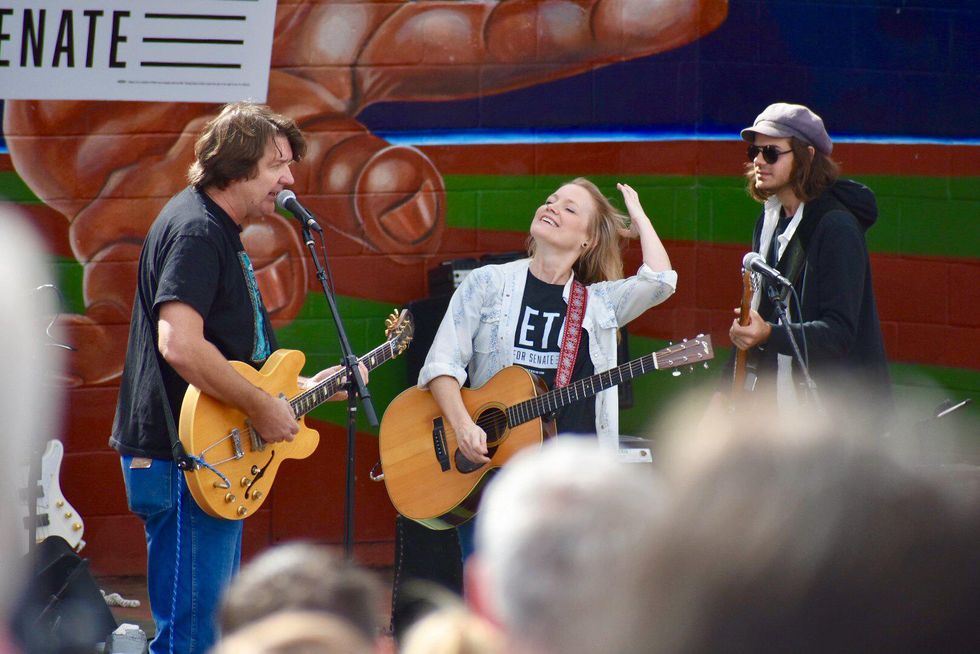 Bruce Robison & Kelly Willis perform at Beto Rally at the Pan American Neighborhood Park in Austin.
Texas, a once-conservative stronghold, was threatened by the power of young, liberal voters, many of them migrants from other states, when Beto O'Rourke almost beat an incumbent Republican senator for the first time in 40 years.
With two more seats in the House of Representatives, the U.S' second-biggest state going blue would have a bigger impact than ever before.
But if the people migrating to Texas bring the politics of the state they're moving from, will Texas stay an affordable, job-laden haven?
This fall, the census will release more extensive data, which will be used by state lawmakers to start the difficult, often-contested process of redrawing legislative and congressional districts.
Until then, Texas' housing market will continue to climb, Tesla's Gigafactory will come closer to completion in the Texas capital and, if the trend continues, 85,000 Californians will begin filing in to the ever-growing Lone Star State.
A week after Texas added two congressional seats and California lost one, state officials reported a population decline in 2020 for the first time in the Golden State's history.
California fell by over 182,000 people from January 2020 to January 2021, dropping almost 0.5% to cap out at around 39.5 million people. It is still the nation's most populous state.
For over thirty years, California has seen more people leave than move in from other states, state officials said, with 6.1 million people moving out and 4.9 million coming in last year. Immigration and births kept California growing, but the state saw a shrink in international migration in 2020 due to COVID and the White House's hold on visas.
Of the steady flow of ex-Californians moving to other states, more are moving to Texas than any other state. Many are relocating to Austin, which has been labeled a "little California" by billionaire resident Elon Musk and continues to grow astronomically.
Meanwhile, California cities including Los Angeles, San Diego, San Jose and San Francisco saw a population decline.
With immigration and state migration on the decline, the Golden State was also hit with a spike in deaths- 51,000 people died from COVID in 2020, and all but seven of the state's counties saw death rates higher than the three-year average.
Still, the California Department of Finance said a "slightly positive annual growth" can be expected next year as the state recovers from COVID deaths and political repercussions.


Ingredients:
1 1/2 oz of hibiscus-infused Tito's Handmade Vodka
2 oz sparkling water
1 oz fresh lime juice
3/4 oz simple syrup
1 tsp allspice dram
Directions: Add infused Tito's Handmade Vodka, lime juice, and simple syrup to a shaker with ice. Shake and strain into a glass over fresh ice. Top with sparkling water, and garnish with a lime slice. Enjoy!
The sun is out, and thousands of Austin FC fans will be as well as Austin FC goes to Kansas to play Sporting Kansas City at 6:30 p.m. on Sunday.
There's plenty of pub partners to choose from, but here's a few watch parties to help you get in on the action.