Austonia AM
100% Austin news, info, and entertainment, straight to your inbox at 6 a.m. every morning.
In five minutes, you're fully informed and ready to start another great day in our city.
Get connected with our daily update
(Stephen Spillman/CapitolPressPhoto)
More than a century after "The Eyes of Texas" was written, Natalie Wright entered the University of Texas for her freshman year.
---
The 2014 graduate was in the band, where she played the French horn.
"It was probably the formative part of my college experience," she told Austonia.
At the time, Wright felt the school song was a classic, one that transcended generations. "When I played it, I felt like I was part of something bigger than myself," she said.
But over the summer, like many others, Wright learned more about its origins, which include taking inspiration from a Robert E. Lee quote and first being performed at a minstrel show, where white performers wore blackface and mimicked Black Americans.
Members of a private Longhorn alumni band Facebook group are engaged in heated discussions over the song and its future, Wright said, and are divided largely along generational lines.
There are also students who support keeping "The Eyes of Texas" as the school song.
Longhorn quarterback Sam Ehlinger, who posted in support of the Black Lives Matter movement in May, defended the song in a post-game press conference on Oct. 12.
"I grew up singing 'The Eyes of Texas' win, lose or draw," Longhorn quarterback Sam Ehlinger said at a post-game press conference on Oct. 12. "I shared that experience with my (late) dad, and never once singing that song has anything negative ever crossed my mind."
But Dr. Stefan Bradley, a professor of African American Studies at Loyola Marymount University, said this dynamic fits into a long history of campus debates, over issues such as integration and going coed.
"It will be interesting to see how this ends," he said. "But I wouldn't be surprised if young people have their way with this."
Wright would be happy with such an outcome.
"In my opinion the younger generation just keeps carrying this torch of education and awareness and antiracism," she said. "I'm really impressed with how the kids younger than me are handling things like this."
Uncovered history
The killing of George Floyd at the hands of Minneapolis police on May 25 set off a national outcry over racism in America.
Students at UT-Austin—around 5% of whom are Black, compared to nearly 13% of the state's population—and on campuses across the country started petitions and lobbied for the removal of statues that commemorated Confederate leaders and slave owners.
In June, UT student-athletes asked the administration to take a series of actions, including renaming buildings such as the Robert Lee Moore Hall and replacing "The Eyes of Texas" with a song "without racist undertones."
The song's lyrics are not explicitly racist:
The Eyes of Texas are upon you,
All the livelong day.
The Eyes of Texas are upon you,
You cannot get away.
Do not think you can escape them
At night or early in the morn.
The Eyes of Texas are upon you
'Til Gabriel blows his horn.
But as Dr. Edmund T. Gordon, an associate professor of African and African diaspora studies and vice provost for diversity at UT-Austin, explains in his racial geography campus tour, the lyrics are drawn from a quote often repeated by the supreme commander of the Confederate army, Robert E. Lee: The eyes of the south are upon you.
The next month, University President Jay Hartzell responded with a letter, entitled "A More Diverse and Welcoming Campus." Although the university announced it would fulfill some of the students' requests—and has since taken steps to do so—the administration decided to keep "The Eyes of Texas" as the school song.
"It is my belief that we can effectively reclaim and redefine what this song stands for by first owning and acknowledging its history in a way that is open and transparent," Hartzell wrote.
On the field
Then the football season started.
Ehlinger, who posted in support of the Black Lives Matter movement in May, received press attention for being one of few players to sing the song after the Texas vs. Oklahoma game on Oct. 10. Although Ehlinger called the episode a "misunderstanding," it prompted the creation of a hashtag—#StandWithSam.
A group of disappointed alumni and fans of UT, who have not publicly identified themselves, launched a petition: #StandWithSam & The Eyes of Texas. It has received more than 16,000 signatures.
On Oct. 21, three days before the band's first live performance of the football season and in the middle of the campus celebration of Free Speech Week, The Daily Texan student newspaper broke news. The Longhorn band lacked the "necessary instrumentation" to play the school song at the Oct. 24 game against Baylor University.
Hartzell said there were no plans for the band to perform live at the Baylor game and said he "remain(s) truly optimistic that we will find ways to join together around our song, which has been so positive for so many Longhorns over the past 120 years," in an Oct. 21 statement.
The next day, the University of Texas System Board of Regents announced it's "unequivocally and unanimously in support of" Hartzell.
A campus tradition
Some students and alumni feel the song is a unifier that is being unfairly painted as a divider.
"I believe the anthem should remain," Jason Hannah wrote as his reason for signing the #StandWithSam petition. "Please don't allow the plague of cancel culture to destroy our history."
Others raised concerns that replacing the song would affect alumni giving to UT, which has the second largest endowment in the country, and disputed that the song was racist.
"There are no words in the 'Eyes of Texas' that should divide us," Jan Brown wrote. On Saturday, ahead of the Texas vs. Baylor game, a banner was flown around the Darrel K. Royal-Texas Memorial Stadium that directed people to the #StandWithSam petition homepage.
West Campus bar Cain and Abel's also hosted a pregame event celebrating the song, which it called "one of UT's greatest traditions" on its Facebook page.
Past precedent.
Bradley, the Loyola Marymount professor, said this type of debate is par for the course.
"What ends up happening is everybody has their vision of what their university was and is," he told Austonia. "The problem is that not everybody's vision matches.
Bradley's research focuses on Black student activism during the post-WWII era, including during the Civil Rights and anti-Vietnam War movements. During these periods, some alumni and university administrators pushed back against Black student activists and others advocating for policy changes, such the creation of an African American studies department or admitting women, arguing that doing so would compromise the university's standing.
Of course, now such changes seem inevitable.
With the debate over "The Eyes of Texas," students are similarly responding to cultural shifts—such as the Black Lives Matter movement—outside of the academy's walls, which are harder for the administration to control.
"The major stakeholders at the university … the students themselves believe that the university should operate a certain kind of way, and they've begun to operate in the way that they think the university ought to," he said. "That is very, very difficult to stop."
Bradley also responded to concerns about alumni giving, saying that there may be a cost associated with defending the song when it comes to young alumni and prospective students, who have grown up watching the media coverage of Trayvon Marton's death and live streamed video of Floyd's.
"No university wants to be known as the university that's mired in racial tensions," he said. "You can't sell that on the admissions tour."
(Pexels)
Curiosity into cryptocurrency has grown nationwide with 63% reportedly "crypto curious," or those wanting to learn more about it but have not started investing, according to Gemini, a digital currency exchange and custodian platform. The platform reports 14%, or 21.2 million, Americans currently own cryptocurrency with 68% of owners buying within the last two years.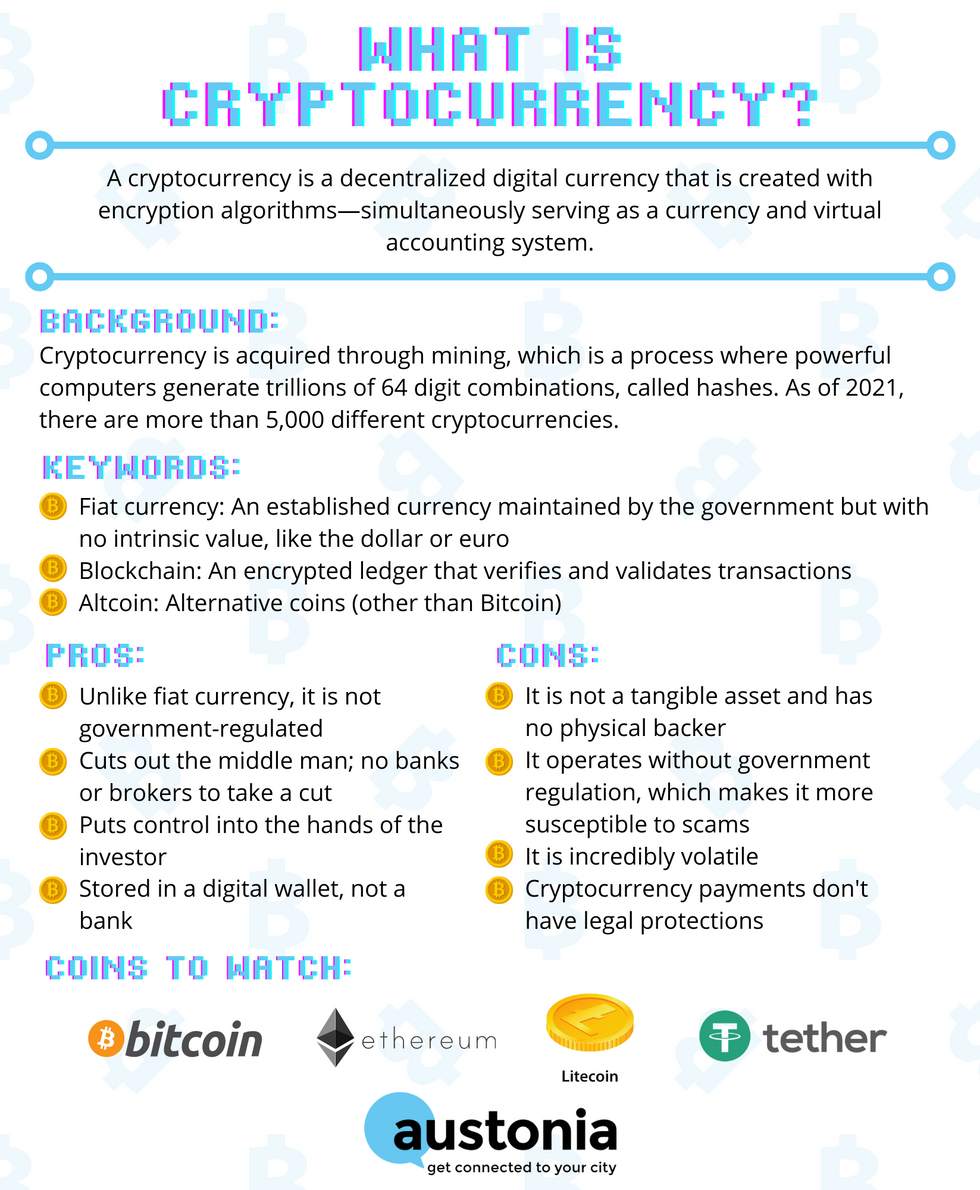 (Laura Figi/Austonia)
Who is buying in?

Sam Nassar, a Texas State University accounting graduate student, started investing in cryptocurrency in July 2020, although he kept up with crypto trends before that. At 23 years old, Nassar said the decision to take the plunge and invest was born from quarantine boredom.
"I've always been intrigued in technology, and I've always been an early adopter, so I just decided to start to invest in it and understand kind of a little bit of behind it," Nassar said. "I do believe in the technology and I know it's so useful and truly is the future"
Since then he has invested over $700 in Bitcoin, Ethereum, Litecoin, Tether, Cardano, Chainlink and Internet Computer.
Cryptocurrency interest is heavily skewed toward younger men with the biggest percentage primarily between the ages of 25 and 44.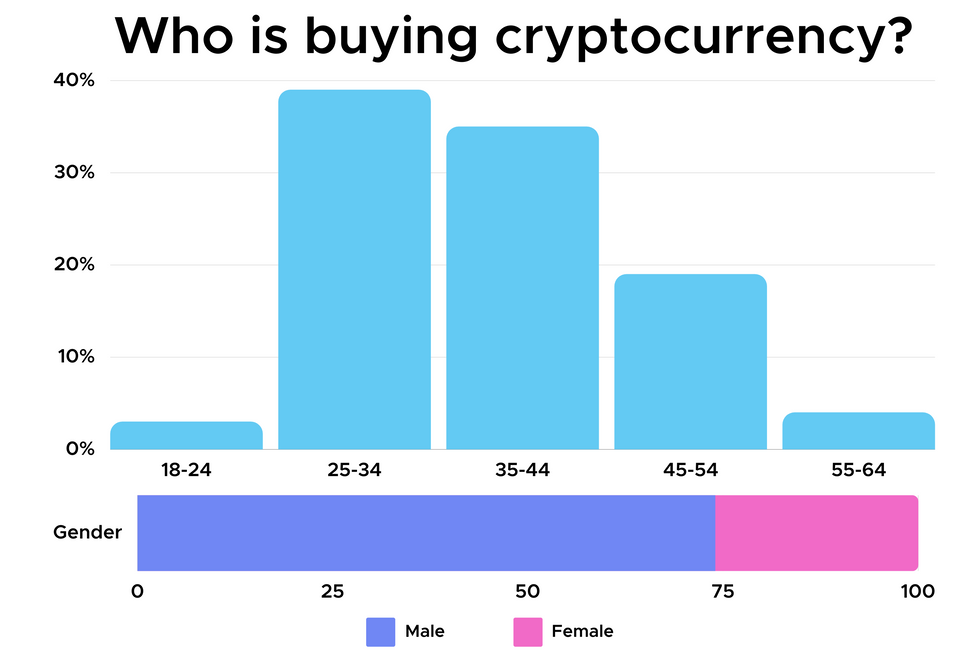 (Laura Figi/Austonia)
Likewise, 26-year-old, Liam Duddy, a South Austin salesman, started to involve himself in cryptocurrency after hearing the buzz about Bitcoin and how much money people were making off of it.

"I was like wow, so you're telling me it only takes me one of these little coins if I can get a hold of them and I have 30 grand," Duddy said. "That opened up a whole different world of all these different kinds of coins you can buy into."
Why are they investing?
For Nassar, cryptocurrency is about being part of the technology of the future. Nassar is studying to be a Certified Public Accountant and believes cryptocurrency, blockchain technology and innovations like smart contracts, or self-executing contracts programs, have the capacity to completely change the industry he wants to work in.
"You're going to have to have specialized auditors that understand blockchain technology in order to truly audit it, otherwise fraud can occur," Nassar said. "I think it really is the future. I really do think that that's another reason I'm investing into it, because I do believe that technology."
Cryptocurrency is about the gains for Duddy, who originally invested $400 and saw a $2,000 return when he invested in Bitcoin and Chainlink. Although he does see value in the future of blockchain technology, Duddy also has fun with it.

"Right now there's not a whole lot (of real-world application), it's not as easy to pay with, but if I have it and it's going up, you have one of them it's worth $50,000 U.S. dollars you can buy a car," Duddy said. "I guess you look at it as something fun to start off with."
What's their advice for new investors?
Do your research before investing
Use a platform meant for cryptocurrency
Don't just listen to Elon Musk's predictions
Look before you leap
Both Nassar and Duddy recommend using an app like Coinbase or Gemini, to track your cryptocurrency.
Finally, don't let the volatility scare you but do make sure you do your research before you sink your life savings into an unregulated currency.
"At the end of the day it's like gambling," Duddy said.
From Your Site Articles
Related Articles Around the Web
Texas Gov. Greg Abbott announced Monday that Texas will opt out of further federal unemployment benefits related to the pandemic effective June 26, citing the number of current job openings and concern about potentially fraudulent unemployment claims. The benefits include a $300 weekly supplement.
"The Texas economy is booming and employers are hiring communities across the state," Abbott said in a statement. "According to the Texas Workforce Commission, the number of job openings in Texas is almost identical to the number of Texans who are receiving unemployment jobs."
TWC listed 837,273 job openings as of Monday afternoon compared to 226,849 unemployment insurance claims filed statewide between March 31 and May 1. An estimated 1 million Texans were unemployed as of March, according to latest estimates released by the state agency.
Some local business owners, including Doc's Backyard Grill owner Charles Milligan, suspect unemployment benefits are deterring Austinites from returning to work. But others agree with economists who say multiple factors are at play, including health concerns and child care availability.
We're seeing lots of posts about how nobody wants to work right now. Just wanted to share our experience.

We received over 60 resumes for a taproom bartender position we posted last week. Every applicant we've set up an interview with has shown up.

People want 𝘨𝘰𝘰𝘥 work.
— Austin Beerworks (@AustinBeerworks) May 11, 2021
Abbott also cited fraudulent unemployment claims. Between March 2020 and April 2021, TWC received 4.48 million unemployment benefit applications, 611,000 or around 14% of which were tagged as suspicious. Most of those tagged were blocked before any benefits were paid out, according to an April 29 press release.

Federal law requires the effective date of such benefits change to be at least 30 days after the U.S. Department of Labor is notified.
From Your Site Articles
Related Articles Around the Web
Is it just us, or is the current Austin mask situation confusing? Are we supposed to wear a mask or not, and where? And should we wear one anyway, even if not requested or required?
Austin health orders requiring masks expire Tuesday. What then?
Take our three-question quiz, and tell us what you're thinking.