Get connected with our daily update
Radhia Gleis never meant to join a cult—in fact, she didn't even know she was part of one until decades after she had joined—and she's still picking up the pieces that her departure left behind.
---
Although it was Buddhafield, a movement that has been called a cult by a host of ex-followers, that brought Gleis to the Hill Country, the group's Austin presence has diminished to almost nothing. After over two decades in the group, Gleis revealed it all in her first-place PenCraft award-winning book, "The Followers, 'Holy Hell' and the Disciples of Narcissistic Leaders" in which she talks about the dangers of groupthink and the impact that spending years in the Buddhafield cult had on her.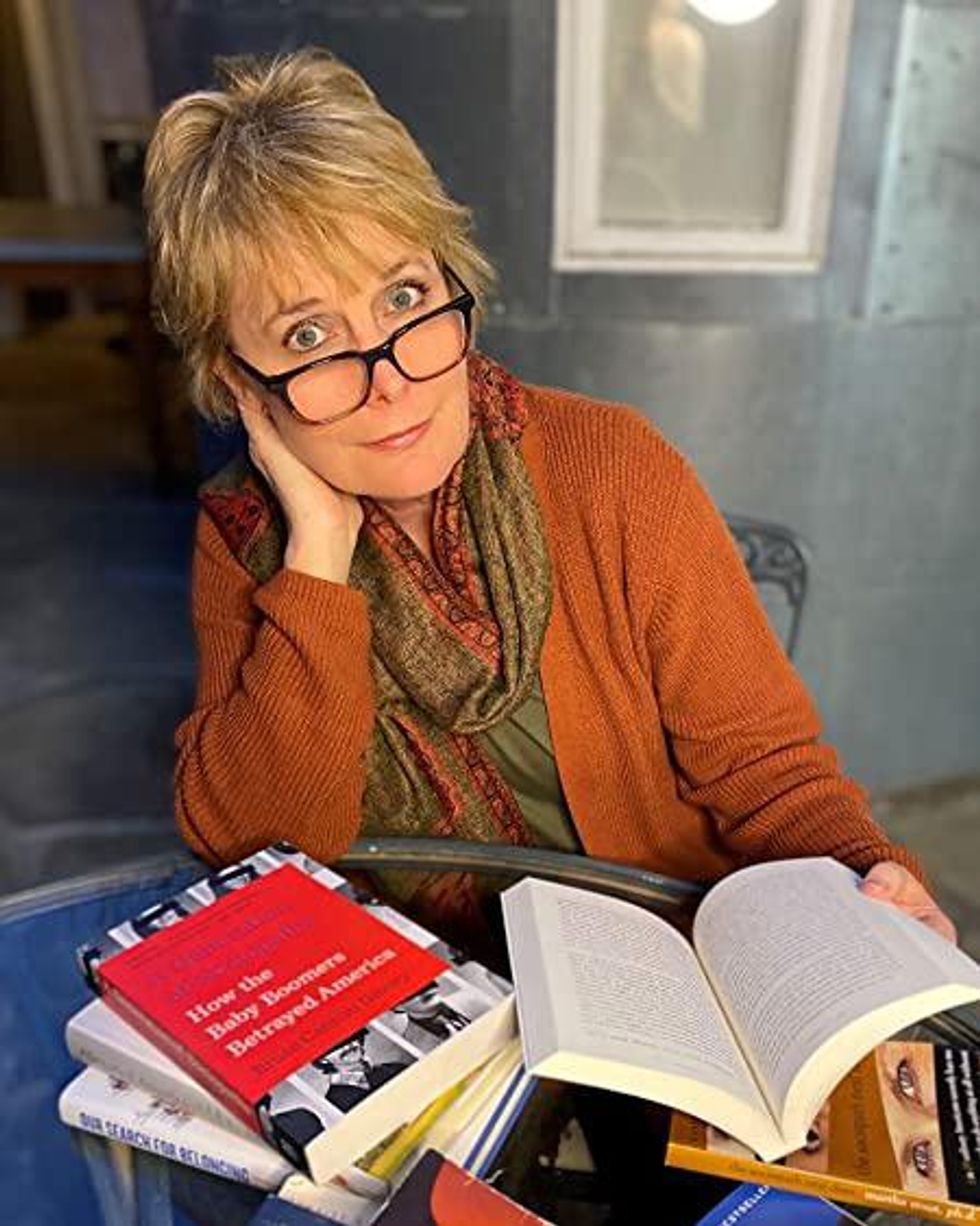 Gleis now works as a clinical nutritionist and is working on healing through her art. (radiagleis.com)
From a "well-to-do" family in California, Gleis was learning how to make cocktails for wealthy dinner guests shortly after she learned how to walk. She grew up emotionally distant from her parents and only brother; Gleis vividly remembered being called "dopey" by her father, consistently forgotten by her mother and held at knifepoint by her brother.
Needless to say, Gleis grew up without secure connections. On top of that, she grew up in the 1960s and '70s during mass cultural upheaval, the free love movement and obsession with Eastern religions.
"There were these desires to expand your thinking, expand your consciousness as opposed to the 'Leave it to Beaver' kind of paradigm," Gleis told Austonia. "There was a rebellion, a schism in the culture."
She had become interested in the idea of nirvana when she was in high school, so when a friend told her about spirituality sessions with a beautiful woman named Malila who claimed to have experienced God directly, her interest was piqued.
Her experiences with Malila threw her into the spiritual realm. Gleis met Jaime Gomez, the would-be leader of the Buddhafield cult who went by many names, in the early 1980s through a friend of Malila's in California. Gomez, a native of Venezuela, was known to often wear only eyeliner and a speedo in his prime and when Gleis met him, he was clad only in a golden tan, skin-tight jeans and a small vest.
The Shakti scam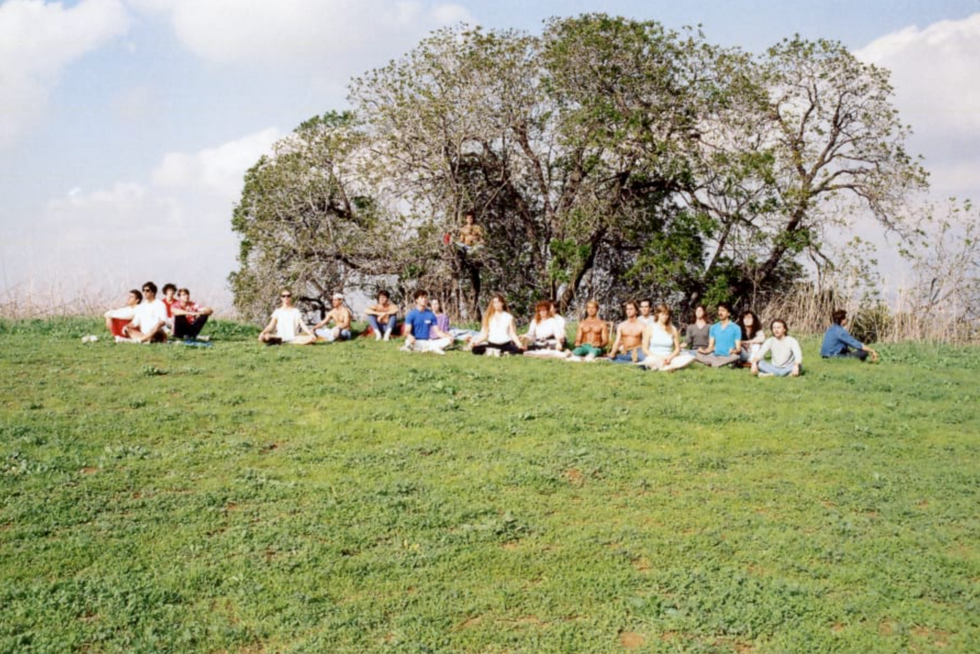 Gomez originally began guiding members through an independent spiritual journey but flags were raised when he began to see himself as a godlike figure. (WRA Productions LLC)
Her initiation was subtle—it started as just a group of friends who followed Gomez, a young yogi with a small but growing following, to learn techniques of "The Knowing" that he possessed. Members were initiated via "shakti," a godly transfer of power that opened your third eye. Members would "pranam," or deeply bow to show respect, to God during the first four years of Gleis' time with Gomez.
The initiation started as a relationship between the individual and their "divine birthright" through God.
"Generations were trying to get Shakti from him, they were trying to get his energy," Gleis said. "He was like, 'Whatever you experience in your initiation is between you and God, it has nothing to do with me.'"
Things started to change at the next initiation when Gomez had new members pranam to him and connect to his love, not the divine love they had come seeking.
"He would say, 'Well, Radhia, some people, not you, need a living person they can touch and see and talk to, I am just being that for them,'" Gleis said. "So he considered himself now a living deity like Jesus or Krishna or Buddha."
Although she did not support the pranam to Gomez, the shift was harrowing. While Gomez was a "skilled sociopath," Gleis said, he was also her friend and she was his close adviser; he knew all of her' hopes, dreams, fears and how to keep her around.
"If you go to Disneyland, it's a fantasy, but you're willing to forgo your disbelief for the fun, for the ride," Gleis said. "But what if you don't know it's fake? What if all your friends and all your family are in on it? And the one person that you revere the most is creating the illusion?"
It would take years for Gleis to learn Gomez was secretly taking advantage of members in the group.
The domino effect
Life inside Buddhafield's compound was well-documented by Will Allen, who made the documentary "Holy Hell" years after leaving. (WRA Productions LLC)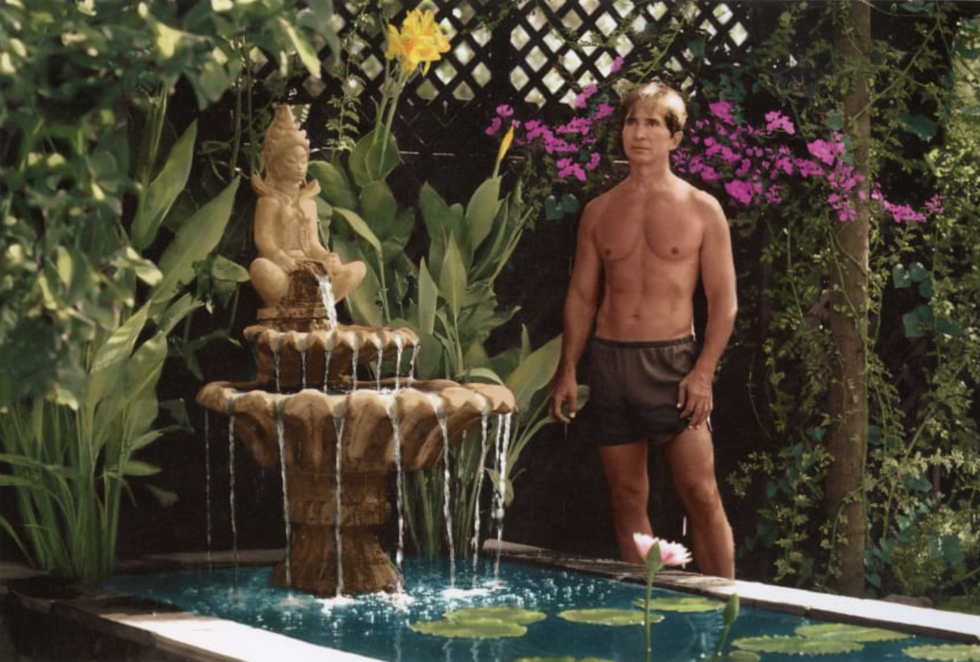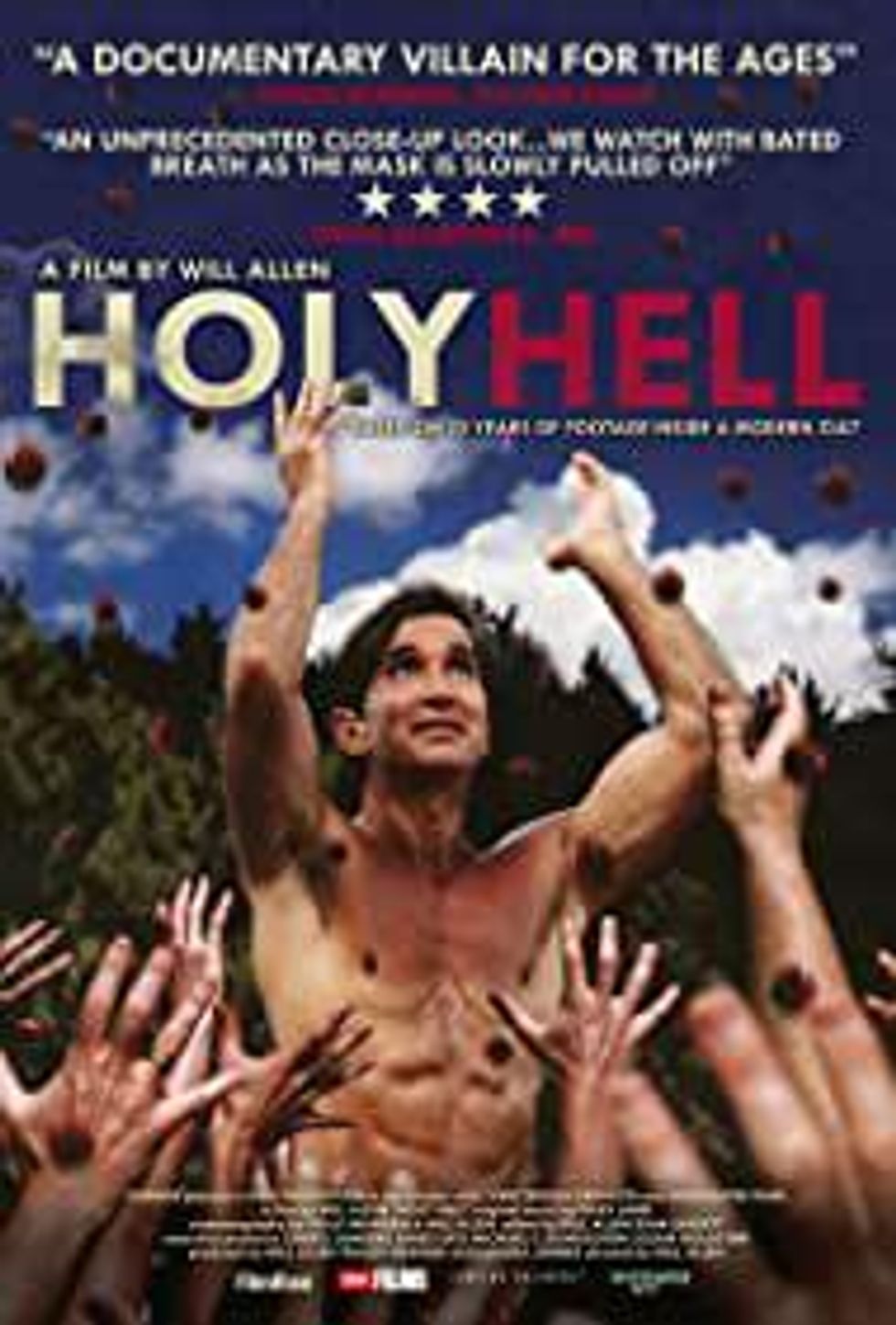 The Buddhafield waltzed into Austin from West Hollywood in the late '90s after accusations against Gomez came out, Gleis would later learn. She found out that later that multiple members alleged that Gomez sexually abused them, and it was a pattern of his to jump ship and change his name once people started speaking out.

There were a few reasons the group chose Austin: their new home had to be in a warm climate, near a body of water, full of rich culture and jobs.
Having been in the cult for over a decade, the Austin move had triggered a need to build a life outside Buddhafield for Gleis. The connections she made outside the "family" she had made for herself led her to visit the home of an injured member of Buddhafield, where she says she was greeted by two men who told her tales of Gomez's transgressions.
Tales of Gomez attempting to hypnotize male members of the group into removing their clothes, which Gomez would deny, and his penchant for using the AIDS crisis to scare members into silence came to light. It was a feat in and of itself to tell a single soul about the things the victims had experienced, let alone make formal charges.
Among the victims was Will Allen, who released the documentary "Holy Hell," made from hours of his own original footage, in 2016 to detail his experiences.
The women in the group were untouched to Gleis' knowledge and some of the victims took years to gain the courage to speak out.
"Now it was like dominoes, it was like this was our #MeToo movement. When this guy came out, now all of a sudden, I'm getting phone calls because the rumors spread," Gleis said. "It was very heartbreaking—I started hearing all these stories of what (Gomez) had done and all the secrets that all of these men had been holding, these traumas that they had been holding in for years."
That was her line in the sand—so, at 55 years old, Gleis left Buddhafield, "alone and forsaken." And she has learned a good deal about herself since then—she works as a clinical nutritionist but left all of her friends behind, with no one to fall on but herself.
It has been 15 years since her departure—15 years to ponder how she was manipulated into that place. Gleis often compares those two decades of her life to Trumpism, where Gomez had tapped into her preconceived notions and led her to believe what she wanted to believe.
As someone who grew up not knowing love, it made sense to jump headfirst into the sense of community and protection that Buddhafield offered.
"We have to be careful when we use words like 'brainwashed.' We went willingly. Jaime didn't torture us. He didn't brainwash us," Gleis said. "All he did as a narcissist—he figured out what we were all thinking about and he became that for us. When you pranam to him, which we did, then he becomes bolder. That's what a sociopath does."
Gleis details her story of what led her in and out of Buddhafield in her book, "The Followers." Gomez and certain members who are still connected to Buddhafield have moved on to Hawai'i, but Gleis remains in Austin and is currently working on a children's novella.

Enjoying Austonia? Signup for our newsletter to get daily Austin news, straight to your morning inbox!
No matter how long you've been in Austin, Samuel Grey Horse has probably been here longer than you and the spirit of his indigenous ancestors walked the land far before anyone living did. Born and raised in the capital city in 1961, the city has grown and changed all around him.
You've probably seen or heard of Grey Horse before—he's been called the "Sixth Street Cowboy" due to his penchant for riding his horses through the city streets, dressing up as Santa Claus during the holidays and making national news back in 2011 when he received a DUI while riding his mule down Sixth Street.
"I remember when I could see the capital from anywhere," Grey Horse told Austonia. "I never thought or imagined that I would see Austin like this."
Now, living with his three horses, mule and dogs in East Austin on "the road that time forgot," Grey Horse lives the "Native" lifestyle; he cares for his horses, tends to his garden, holds sacred prayer ceremonies, writes music, sings with legendary musicians and occasionally films with Richard Linklater, director of "Dazed and Confused."
Just as Austin changed over the years, so too did Grey Horse. On June 26, 2010, he was in an accident that he credits for changing his life. While riding a racing horse, Grey Horse's saddle came loose and dragged him underneath for 150 yards. By the time they had stopped, Grey Horse had 12 broken ribs, collapsed lungs, a broken neck, broken clavicle, cracked skull, broken wrist and went into a coma.
"I had all the things done to me but that's how the universe teaches you," Grey Horse said. "They said I would never ride a horse again or walk correctly, but no, I don't live in that world, because where I went to with my coma. I was living in another world, in the other world's illusion."
His road to recovery was long, arduous, miraculous and aided by his horses: Big Tex, Big Red and mule Mula. Grey Horse said they took care of his "energy" when he needed them most. Despite the pain that ensued from horses, who have all been in his care for well over a decade, his accident drew the cross-species family together.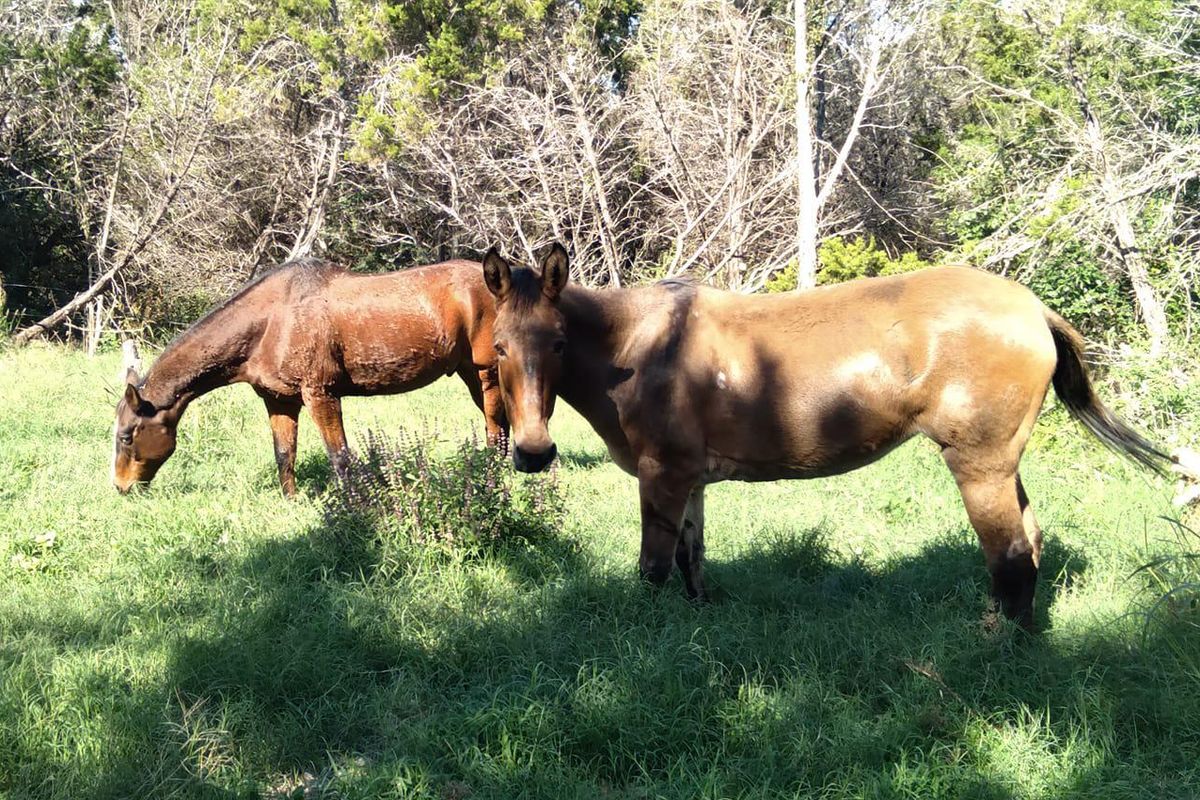 Big Red and Mula have been living with Grey Horse for 16 and 14 years, respectively. (Sam Grey Horse/Instagram)
"I ride them around town and share them with everybody because everything has a purpose," Grey Horse said. "You don't throw something away just because it's a little beat up. I was all beat up."
The winters are still painful for his joints but he powers through so he can bring joy to the people of Downtown Austin in his Santa Claus costume every year.
"I can't hurt because I'm Santa Claus, and I got to be Santa for the kids and everybody. I give them inspiration and energy, I make millions happy downtown," Grey Horse said. "I sing often with a cordless mic, my horses dance and they're happy. If I can make one person happy that makes a difference."
Though it was never his intention, a career in music found Grey Horse and it felt right due to his mother telling him as a child he would be a singer one day. Grey Horse recently returned from his tour with The Greyhounds and Sir Woman across Texas, Arkansas and Oklahoma.
His original song, "Crow Dog," is a tribute to his life and the people who have passed along their loving energy in it.
Show biz can't get enough of Grey Horse, who also models for Patagonia and Levi's; he taught Joe Jonas how to ride a horse for a video shoot. He is now working with a British filmmaker on a documentary, and was featured on episode 10 of Linklater's "That Animal Rescue Show."
"I sing with Grammy winners, which is very special to me, and I write songs about my life. Very magical stuff," Grey Horse said. "(The tour) was one of the best runs we've done for now—people are out and want to get out and the energy the guys bring is amazing."

You're certain to see Grey Horse around town if you spend some time near The Continental Club on South Congress or the Texas Capitol into the night. Until then, tok sha.
"There are no words for goodbye in my language, it's 'tok sha,'" Grey Horse said. "It means I'll see you again. I'll see you soon. I'll see you in the next life."
Austinites love their pets and even more so, they love to name them Charlie and Luna, according to the latest report.
The two names topped both top male and female categories for dogs and cats in the annual end-of-year report from Rover, a site for dog care. While the names Charlie and Luna topped the Austin lists, they came in second nationally. Luna goes on another year of reigning, while Charlie climbed up to the top spot this year.
Top dog names of 2021 in Austin
Male:
Top cat names of 2021 in Austin
Male:
But that's not to say the year's events and other factors didn't have an impact on how people named their furry friends. Here are some notable trends seen this year in Austin pet names.
Food-inspired names: Hershey is up 1,030% for dogs, while Sushi is up 944% and Bean is up 544% for cats.
Alcohol-inspired names: Tequila is up 630% and Merlot is up 330% for dogs.
Olympics: Manny, after Puerto Rican skateboarder Manny Santiago, is up 730% for dogs. Amber, inspired by U.S. Women's Skeet Shooting Gold Medalist Amber English, is up 730%.
Pop-culture: Dogs named Greta are trending up 930%, which could be inspired by rock band Greta Van Fleet.
COVID: For the first time in Austin, the dog names Rona and Zoom made the list.
Austin weather: Storm is the most popular new-to-the-list name for cats. Snow was also new to the list.
Nationally, even more creative names were seen for the first time, including Britney Spears, Dua Lipa, Bitcoin, Elon Musk and Bezos.
"Each year our annual top pet names report showcases what cultural moments made an impact and clearly, the pandemic was a big factor. From sports to the TV shows we binge-watched, our pets' names were shaped by a truly unique year," said Kate Jaffe, trend expert for Rover. "With the continuation of work from home, our bonds with our pets have grown even deeper."
Looks like Austin FC is cleaning house—and they're taking a few Verde faves out ahead of the 2022 season.
Following the retirement of defender Matt Besler, the club's original 33-man roster was trimmed to 22 in roster changes announced Tuesday.
Who's out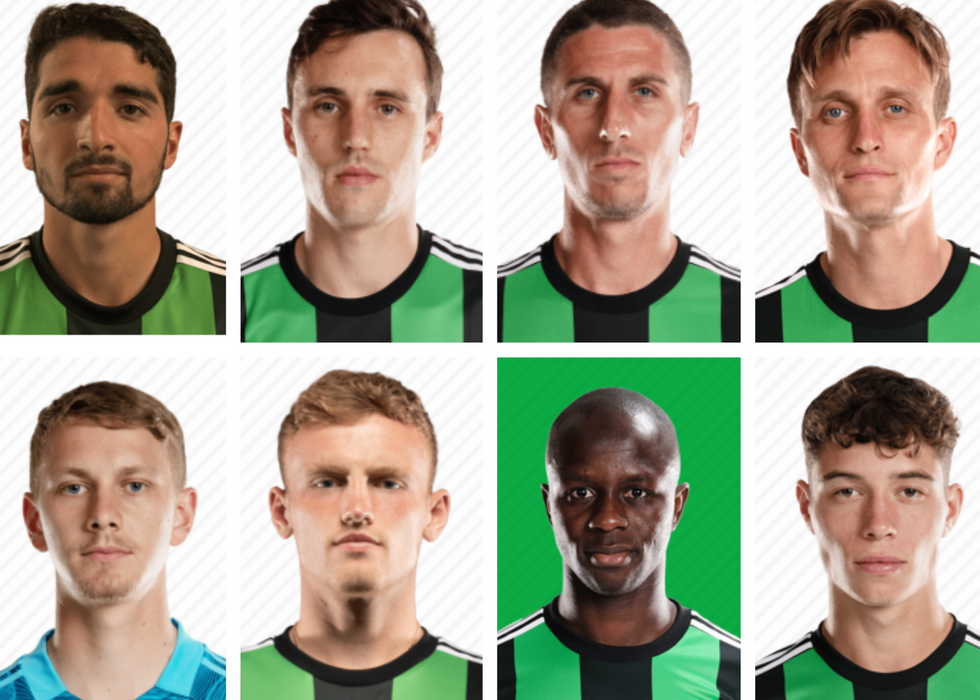 (From top left) Players Emmanuel Perez, Jared Stroud, Ben Sweat, Aaron Schoenfield, Brady Scott, Aedan Stanley, Kekuta Manneh and Sebastian Berhalter will not be with Austin FC for the 2022 season. (mlssoccer.com)
Austin FC declined its contract options for six players, including:
Kekuta Manneh
Aaron Schoenfeld
Brady Scott
Aedan Stanley
Jared Stroud
Ben Sweat
Stroud became an early fan favorite for the team after helping teammate Diego Fagundez to the team's first goal in April, racking up a second assist just one match later with another Fagundez goal. After a few months of limited appearances, Stroud started once again in November and attempted his first MLS goal, but no dice.
Manneh, a forward, showed promise as Austin FC's first Austinite: a Gambia native, Manneh played soccer in the Texas capital while in high school and early in his professional career. Manneh showed energy on the pitch but never saw his efforts translate to the stat board.
By the start of the season, Sweat had secured a starting spot as left back for Austin FC but tore his ACL in the Colorado Rapids match on April 17, putting him off the pitch for the remainder of the season.
Both under 23, Stanley and Scott saw few appearances to the Verde pitch. In May, Scott went on loan to play as goalkeeper for USL Championship side Memphis 901. Schoenfield, a 31-year-old forward, has played briefly for various MLS and USL teams as well as professional teams in Israel.
Austin FC also announced that they would not exercise the transfer options for Sebastian Berhalter and Emmanuel Perez, both of whom spent the 2021 season in Verde on loan.
Berhalter, the son of U.S. Men's National Team Head Coach Gregg Berhalter, filled some big shoes in key moments of the season as central midfielder. At just 20, Berhalter started five times in the key position for Captain Alex Ring. Perez made four starts as forward for Austin FC.
Who's in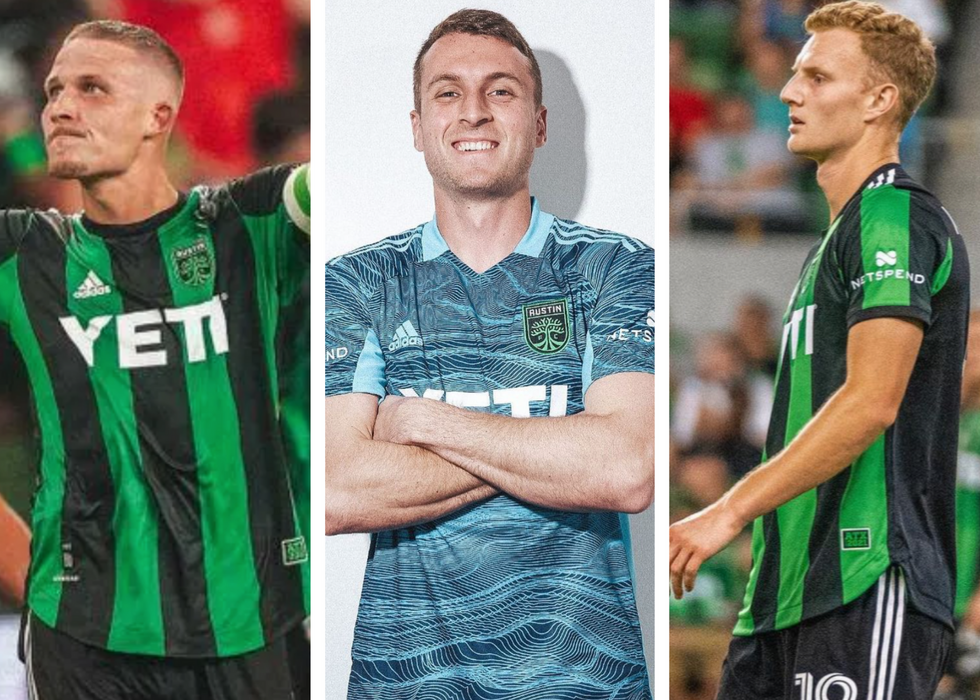 (From left) Captain Alex Ring, Will Pulisic and Freddy Kleemann all had their contracts renewed with Austin FC for the 2022 season.
It wasn't all doom and gloom. The club held on to the following for the 2022 season:
Captain Ring
Freddy Kleemann
Will Pulisic
Ring, known as one of the top defensive midfielders in the league, had a rocky but rewarding road as Austin FC's captain in their inaugural season. Despite two red cards that rendered him out of two key matches, Ring tallied four goals and three assists as he led the team throughout the season, earning MLS Team of the Week honors multiple times.
At 22, Kleemann made just three appearances in central midfield for Austin FC but showed potential toward the end of the season. Pulisic wasn't able to start due to fellow goalkeeper Brad Stuver's standout success, but the cousin of Chelsea standout Christian Pulisic has plenty of years left in the tank.
Who's missing
Austin FC now has three goalkeepers, six defenders, seven midfielders and six forwards as the team's brief offseason continues. After the retirement of legendary central midfielder Matt Besler, the team will need to make strong signing options in the back and midfield positions in the MLS SuperDraft and transfer seasons before their first match against FC Cincinnati on Saturday, February 26.
But don't worry about fan favorites Fagundez, Sebastian Driussi or Stuver: all 22 other players are still firmly rooted in place for the upcoming season.