Get connected with our daily update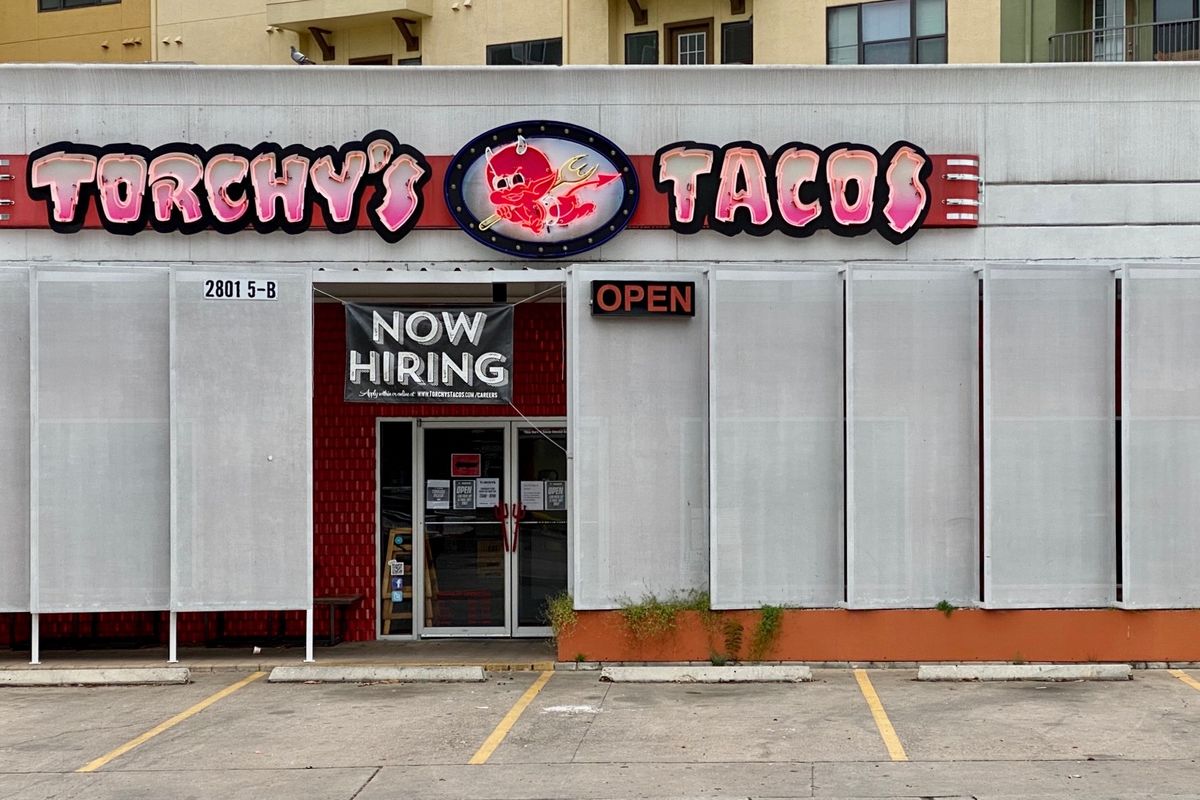 Torchy's Tacos on Guadalupe was still hiring. (Mark Dewey)
We went to an allergy clinic on West 34th Street Monday, and that provided an excuse for driving downtown to witness the impact of the coronavirus pandemic. We had cabin fever, not treatable by injection, and this was an excuse to get out of the house and explore downtown Austin.
Supercuts, Antone's Records and AT&T on Guadalupe Street were already shut down, and Torchy's Tacos and some other restaurants were serving only from to-go windows. The sign at Domino's Pizza proclaimed "Business is Booming, We are Hiring." Austin's flower-child of a grocery store, Wheatsville Food Co-Op, sympathetically advertised, "We are here for you."
---
The front yard of the Zeta Psi house was strewn with a collapsed kicker net, hammock, yard chairs and a Whataburger cup. Clearly, the Zetes fled town on an endless spring break for warm beaches. On 6th Street, the bars and shops were boarded up, and on Congress Avenue—believe it or not—Austin's parking problem had been miraculously solved.
One could draw bleak conclusions. It looked like no more than 40% of the usual number of workers were downtown. This is worse than Austin's empty-buildings phase of the 1980s, when overbuilding matched high unemployment.
But hold on. It gradually occurred to us that Austin's streets and side lots were filled with construction workers, men wearing orange safety jackets (orange contrasts better than other colors with the construction environment) and yellow helmets.
As the lunch hour approached, they were at Torchy's, the 7-Eleven and other take-outs. The construction sites were all over: West Campus, east of the Capitol, around the old Brackenridge Hospital on Red River, along Congress, at Barton Springs Road and South 1st Street. There was a time when I arrived here as a newspaper editor in 1995 when I could identify every building under construction that was four or more stories high. Today, not a chance. I saw 20-story buildings and had no idea what they were to become.
As we passed over the Ann Richards Bridge, the clouds parted and revealed the sun. On our left was the American-Statesman printing plant and office building, destined for imminent destruction. After the Statesman's shrunken staff moves into leased quarters, the site will be cleared for more office and condo towers. More construction, on a huge scale.
Austin is bursting with growth. Maybe, you say, developers just haven't had time to react to the seriousness of the pandemic and the recession that is unfolding before us. Maybe. But I don't think so. I think they are looking at Austin's long-term prospects.
And we should be too. We'll come out of this, if we take it seriously and stay safe.
As we drove west toward home on Barton Springs Road, we passed under the ancient oaks near the Palmer Events Center. Those old ladies had donned start-of-spring finery, high capes of small, chartreuse leaves that created a magical feel as we passed under them.
Across the neighborhoods of Austin, leaves and lawns are getting greener. It hit 90 degrees this week. Our world is awakening to spring.
Coronavirus? This too shall pass. Please be safe.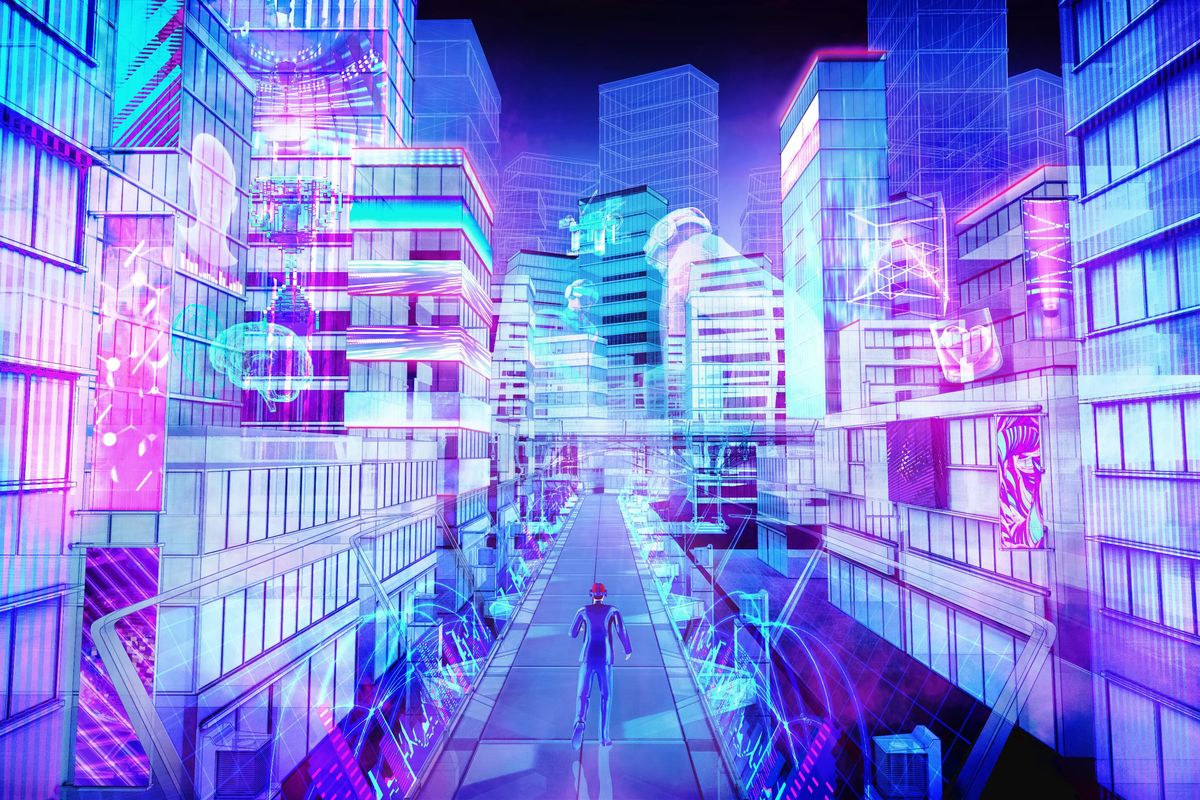 If the idea of the metaverse makes you feel more scared than excited, you're not alone.
In a recent poll on the metaverse, a third of respondents leaned toward feeling more scared about it. It's a response fitting for a tool that's in its infancy stages, where it's not uncommon for some to find it elusive or irrelevant, or require a virtual reality headset.
Amber Allen, founder of metaverse company Double A, has noticed these concerns. Now with the Austin-based company, she's working on advancements in the metaverse, which may see progress in business use before it becomes mainstream in the general public. But getting to that point involves demystifying misconceptions over it, like that we'll all put a headset on and avoid real life.
"A lot of people are talking about the metaverse and like what it could be in 10 or 30 years. And they're not talking a lot about what it is right now. And I think that's what scares people and confuses them," Allen told Austonia. "I'm just very passionate about what is the metaverse now. It's the next wave of the internet. No, you don't need to wear a VR headset."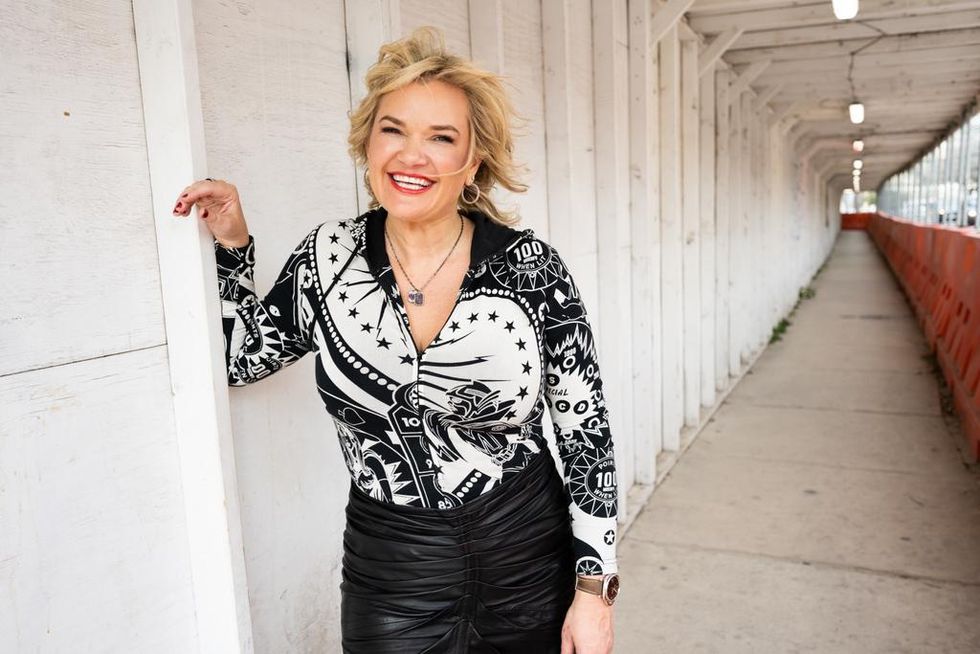 (Amber Allen/Twitter)
She broke this down last week in Forbes, writing about what is hype versus what's actually happening with this phase of the internet.
Allen sees how eventually, the metaverse could become a part of how we play and interact. But before the Metaverse extends to the average consumer, many predict that it will be popular in business first.

It's why some think Microsoft may have an edge over Facebook turned Meta in the industry. And why Allen has designed for work that's 3D, interactive and business to business, garnering interest from companies like General Mills, Dell and Chanel.
She points to how many workers now prefer a hybrid work environment, but says the business tools are not there right now. It's not just within the workplace, however. Double A also offers tools for boosting sales and generating brand engagement through activities like watch parties and meet and greets.
With companies like Allen's, corporate metaverse use could see wider adoption. Double A has hired 13 people this year, adding to the ranks of nearly 30 employees plus dozens of contractors. Some are remote workers outside of Texas while others use the office in East Austin with graffiti art that includes popular gaming figures like Zelda and the Mario Brothers.
Allen takes great pride in working in her home state, saying that she'd like to be a great ambassador for Austin. She said she wants people new to the city to feel welcome. She has meet ups from time to time so that new people who have moved in can get face time with others who have been in Austin for a while.
Still, her work is bound to extend outside of Austin as she aims to create products that will have global reach.
"I want to change the world," Allen said. "You got to think localized. If I'm creating something, how does this work for Europe? How would this work for Asia? How can they build on things?"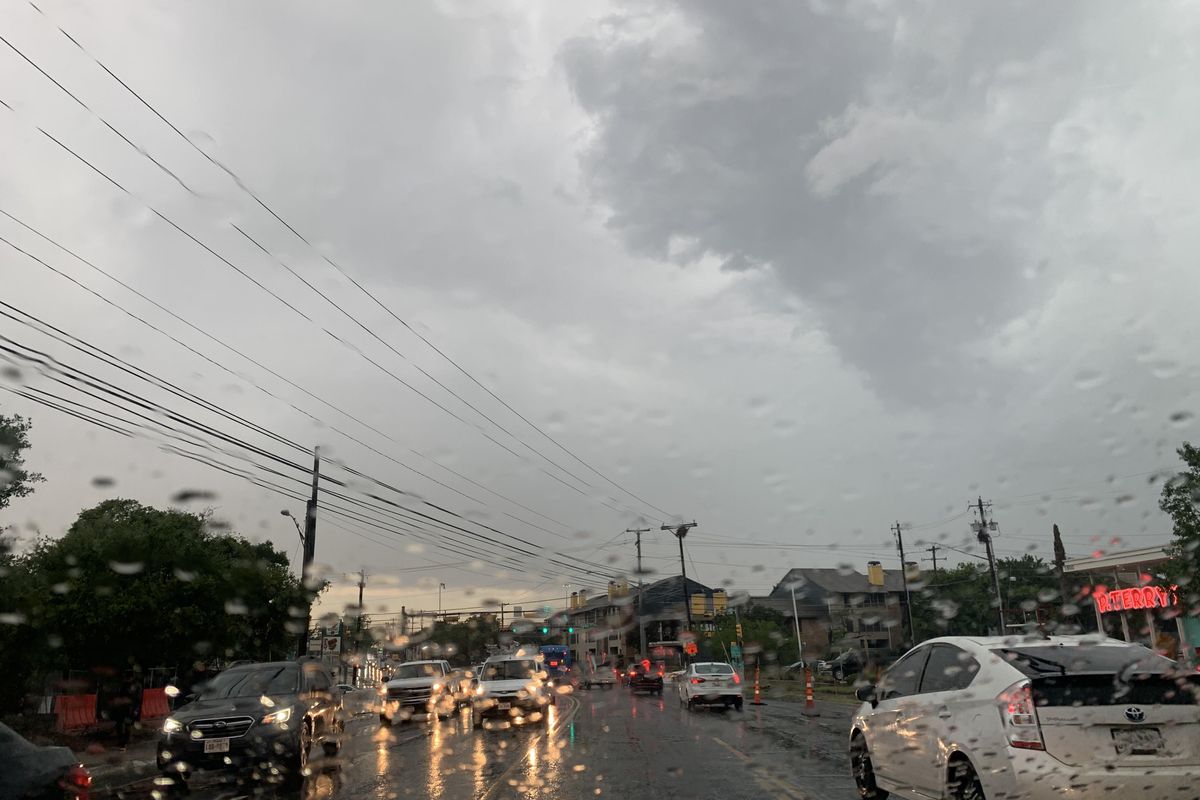 The record-breaking heat seen last week is officially coming to a halt as some much-needed rain is expected in Austin from Monday through Wednesday.
The National Weather Service has issued a Hazardous Weather Outlook for Central Texas as thunderstorms headed this way could be strong to severe.
Thunderstorms are forecast to begin in the west around 6 p.m. Monday, bringing about a half-inch of rain through the night. Then Tuesday, thunderstorms will likely begin after 1 p.m. lasting through the night. Temperatures on Monday and Tuesday will be in the mid-80s before dropping to the mid-70s on Wednesday. Wednesday will also bring rain and thunderstorms in the morning before clearing out.
Rainfall chances will increase today beginning in the west before spreading east. Rain chances remain elevated through tonight and then again tomorrow and tomorrow night. Strong to severe storms and locally heavy rain will be possible from the stronger activity. pic.twitter.com/f8OpN50dkX
— NWS Austin/San Antonio (@NWSSanAntonio) May 23, 2022
The rain comes after a dry spring that has pushed drought conditions from moderate to severe, according to the U.S. Drought Monitor. Lake Travis has dropped to its lowest level in almost 4 years as a result.