Never miss a story
Sign up for our free daily morning email...
...and afternoon text update
Get connected with our daily update
Torchy's Tacos on Guadalupe was still hiring. (Mark Dewey)
We went to an allergy clinic on West 34th Street Monday, and that provided an excuse for driving downtown to witness the impact of the coronavirus pandemic. We had cabin fever, not treatable by injection, and this was an excuse to get out of the house and explore downtown Austin.
Supercuts, Antone's Records and AT&T on Guadalupe Street were already shut down, and Torchy's Tacos and some other restaurants were serving only from to-go windows. The sign at Domino's Pizza proclaimed "Business is Booming, We are Hiring." Austin's flower-child of a grocery store, Wheatsville Food Co-Op, sympathetically advertised, "We are here for you."
---
The front yard of the Zeta Psi house was strewn with a collapsed kicker net, hammock, yard chairs and a Whataburger cup. Clearly, the Zetes fled town on an endless spring break for warm beaches. On 6th Street, the bars and shops were boarded up, and on Congress Avenue—believe it or not—Austin's parking problem had been miraculously solved.
One could draw bleak conclusions. It looked like no more than 40% of the usual number of workers were downtown. This is worse than Austin's empty-buildings phase of the 1980s, when overbuilding matched high unemployment.
But hold on. It gradually occurred to us that Austin's streets and side lots were filled with construction workers, men wearing orange safety jackets (orange contrasts better than other colors with the construction environment) and yellow helmets.
As the lunch hour approached, they were at Torchy's, the 7-Eleven and other take-outs. The construction sites were all over: West Campus, east of the Capitol, around the old Brackenridge Hospital on Red River, along Congress, at Barton Springs Road and South 1st Street. There was a time when I arrived here as a newspaper editor in 1995 when I could identify every building under construction that was four or more stories high. Today, not a chance. I saw 20-story buildings and had no idea what they were to become.
As we passed over the Ann Richards Bridge, the clouds parted and revealed the sun. On our left was the American-Statesman printing plant and office building, destined for imminent destruction. After the Statesman's shrunken staff moves into leased quarters, the site will be cleared for more office and condo towers. More construction, on a huge scale.
Austin is bursting with growth. Maybe, you say, developers just haven't had time to react to the seriousness of the pandemic and the recession that is unfolding before us. Maybe. But I don't think so. I think they are looking at Austin's long-term prospects.
And we should be too. We'll come out of this, if we take it seriously and stay safe.
As we drove west toward home on Barton Springs Road, we passed under the ancient oaks near the Palmer Events Center. Those old ladies had donned start-of-spring finery, high capes of small, chartreuse leaves that created a magical feel as we passed under them.
Across the neighborhoods of Austin, leaves and lawns are getting greener. It hit 90 degrees this week. Our world is awakening to spring.
Coronavirus? This too shall pass. Please be safe.
Austin FC couldn't find the stamina to fight off a 2-0 loss against LAFC for their inaugural match on Saturday.
The match, which saw No. 21 Austin FC go head-to-head with No. 2 LAFC in Los Angeles, was broadcast nationally on FOX and FOX Deportes.
Eleven players took the stage as Austin FC players for the first time, with five starters making their MLS debut. "Ringleader" Alex Ring took the captain's armband and wore it well. The defensive midfielder could be seen leading his teammates through their first ever match, but it wasn't enough to stage an Austin takeover in LA.
As Austin FC took the stage for their first-ever match, they appeared more experienced than their track record. The club held LAFC to a scoreless first half, keeping about equal possession of the ball.
In the signature style of Head Coach Josh Wolff, the team played with quickness and intensity, nearly connecting on several fast breaks.
The club was given some generous breaks from No. 2 LAFC, who had one or both of their star DPs out for the half. While forward Diego Rossi is out for the entire match due to a hamstring injury, Carlos Vela was accidentally pulled too soon on what turned out to be a miscommunication.
"He gave us the sign that he needed to come off," LAFC Head Coach Bob Bradley said on broadcast. "I can't say more than maybe it's my fault."
LA pulled some dramatics and slowly gained more possession throughout the half, but ATXFC's defense wasn't initially as shaky as it seemed in preseason. Jhohan Romana has pulled his weight in getting the ball out of goal, and a 34-year old Matt Besler held his own in center back.
As the second half commenced, however, it became clear that LAFC had the advantage over Austin's first major league team.
Goalkeeper Brad Stuver had his work cut out for him, fending off 24 shot attempts, 11 of which were on goal.
LAFC finally connected in the 61st minute of play as Corey Baird shot one into the bottom right corner. The team capitalized off their momentum and put one past Stuver a second time, drawing roars of approval from the LAFC crowd.
While some last-minute attempts from Jon Gallagher and others were made, Austin FC didn't have the endurance to bring a tie. After seven additional minutes of stoppage time, the club lost their first match 2-0.
It's matchday! Austin FC—Austin's first major league sport team—kicks off its debut season in Los Angeles today after years in the making. We know how much this means to our beloved city and are taking you along with us as we journey to LA!
Austin FC writer Claire Partain and I are excited to bring you game-day coverage straight from the City of Angels. Check back here for updates, and visit our socials: @austonianews for the latest.
5 p.m: Kickoff!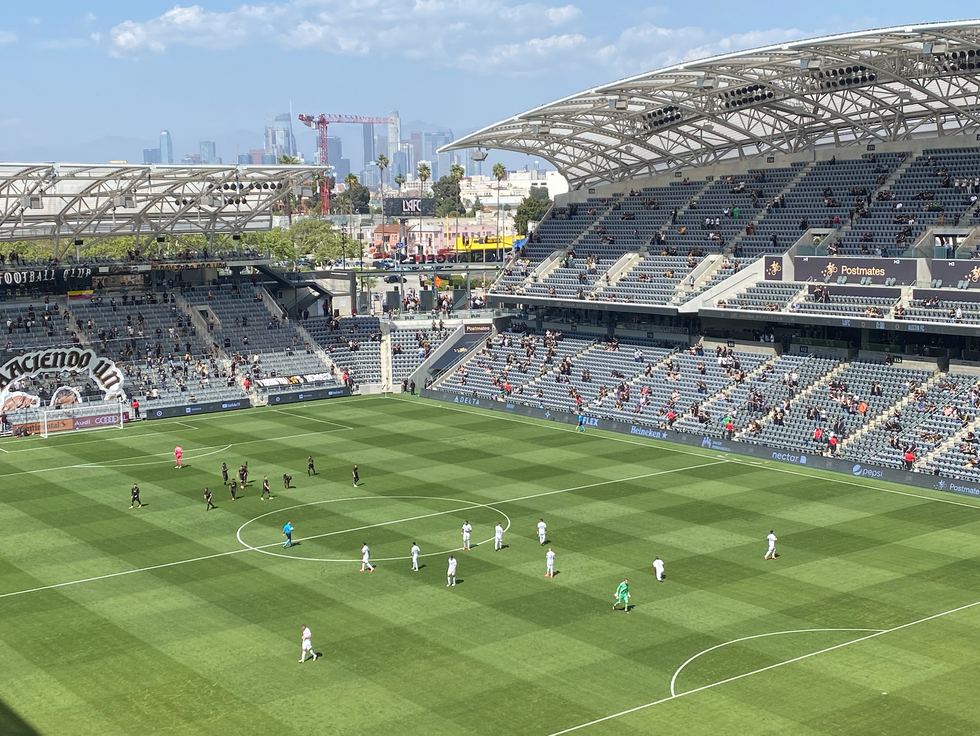 It's finally here! Claire will be updating Austonia's Twitter account live. And we'll post her game recap after the game. Best of luck Verdes!
4:40 p.m: Excitement radiates back home
Watch parties are in plenty supply back home. Austonia's Laura Figi visited Circle Brewing Co. and found a crowd of excited supporters.
4:20 p.m: Austin FC supporters are in the stadium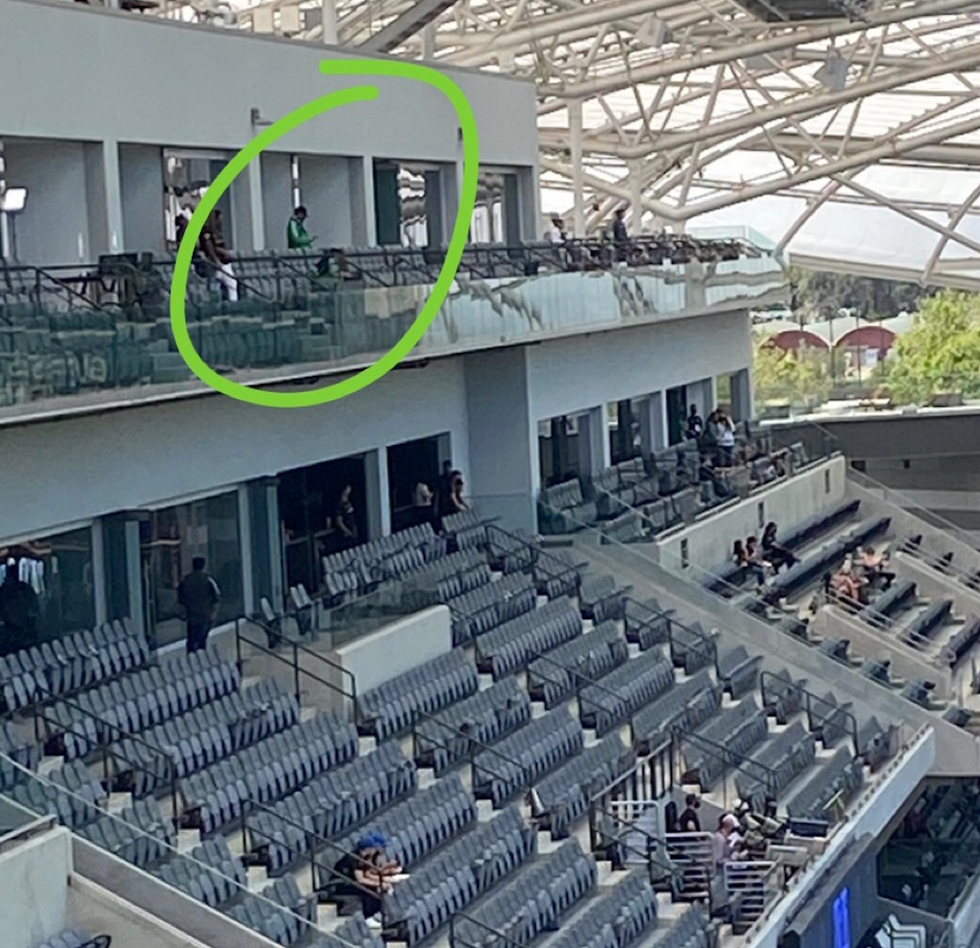 Although the Banc of California Stadium is hosting the match at limited capacity, we see some green in the stands ahead of kickoff. Just moments away from the Austin FC's debut!
~3:20 p.m: Austin FC's team bus enters the stadium grounds
With a warm welcome from Los Verdes, Austin FC players were welcomed into the Banc of California Stadium.
~1 p.m: Los Verdes in LA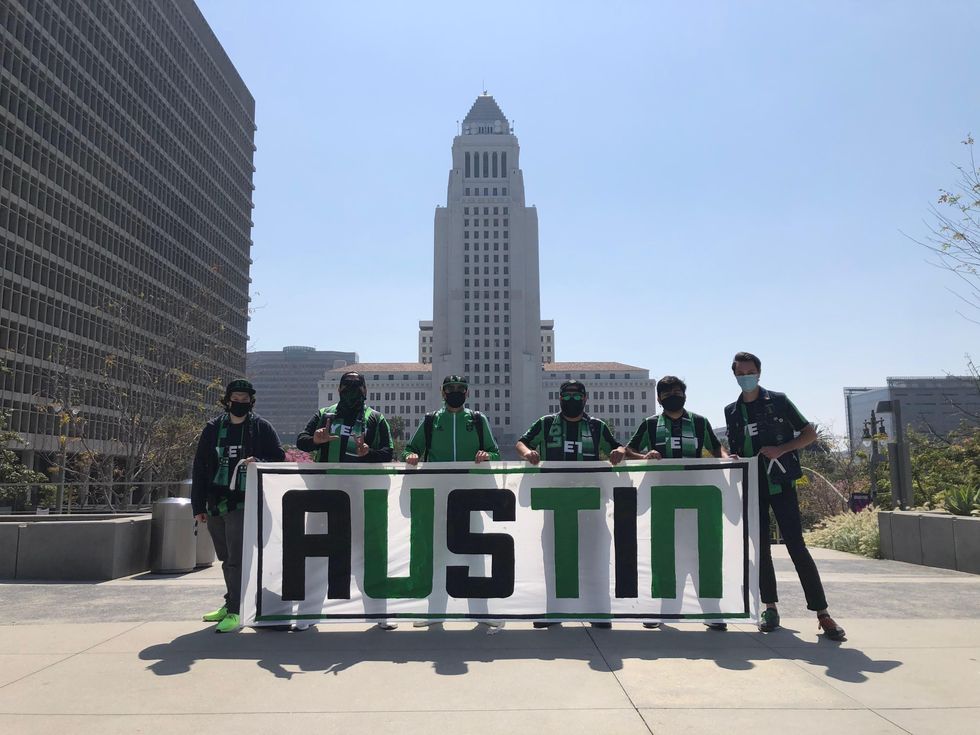 (Rigo Rodriguez/Los Verdes)
Austin FC supporters are making their presence known in LA, including the Los Verdes group.
Los Verdes members started having match-day fun around the area this morning with brunch. We'll be joining them about an hour before the game outside the stadium to share some of their excitement. We'll post immediately to Austonia's Instagram.
11:45 a.m: We landed!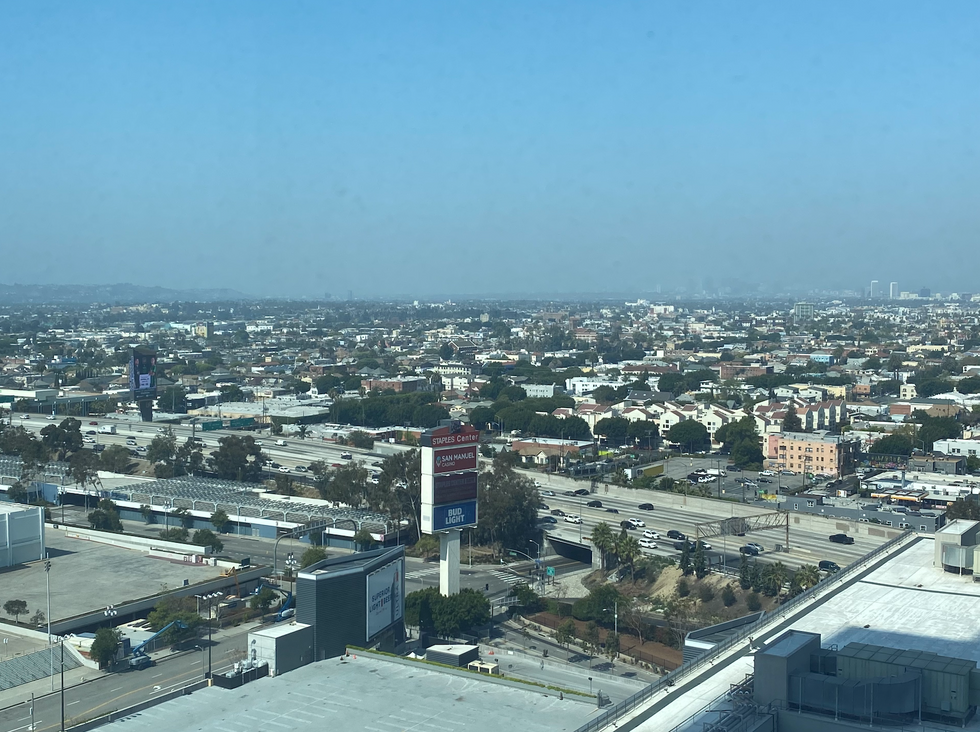 View from hotel room where we're staying; the stadium digital sign can be seen in the right corner. (Sonia Garcia/Austonia)
Switching over to pacific time, we're here and it's almost like no time went by. It's 9:45 a.m. here.
We've been in contact with Los Verdes, an Austin FC supporter group, who is also here in LA counting down to kickoff.
8:20 a.m: LA bound
Like many of you, we've been looking forward to this moment for, let's just say, a very long time. Today, we woke up bright and early, headed to Austin-Bergstrom International Airport and hopped on a flight to LA.
A gloomy day in Austin with a very quiet airport, we're headed to sunny skies in California.
As we wait for the game to start at 4:30 p.m., check out Claire's preview of the game with a predicted lineup and timeline of the long journey to get here.