Get connected with our daily update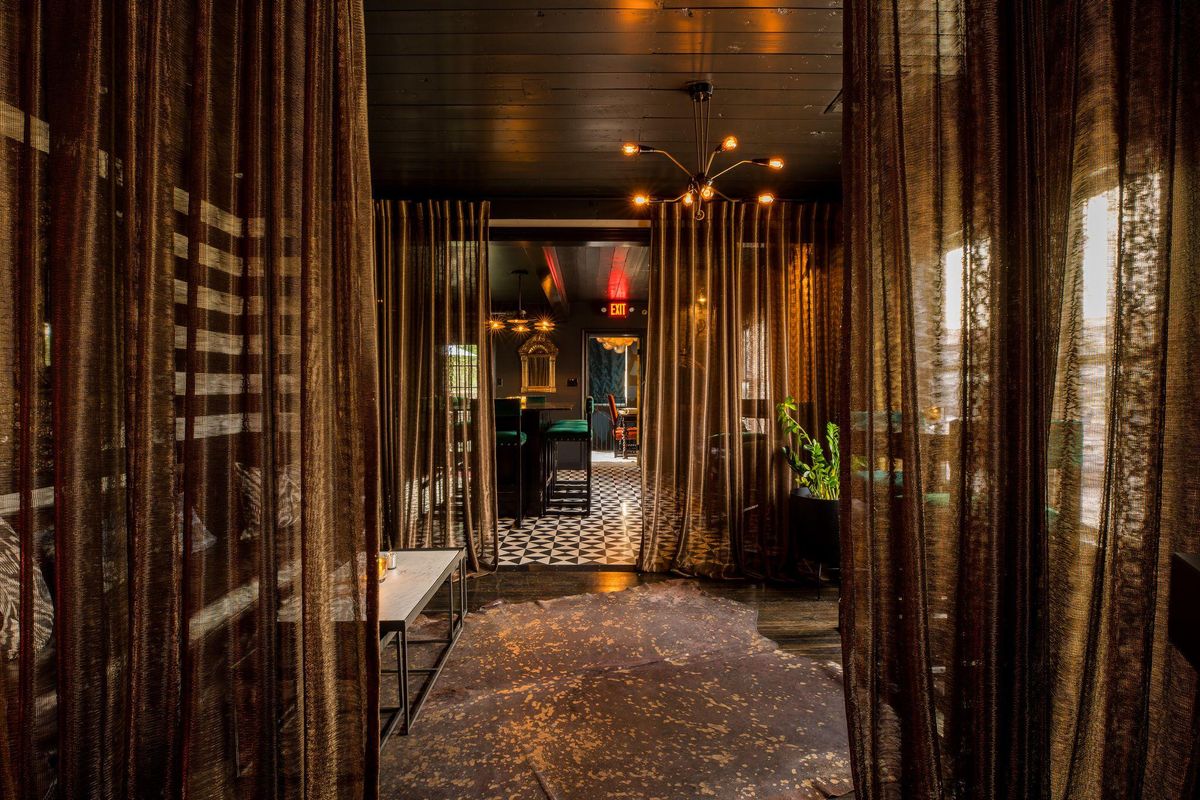 A local musician, a comedian and a tech startup CEO all walk into a bar. It's not in a high rise or even on the new Music Lane like Soho House, instead, it's in an unassuming warehouse-like building built on an old home and lumber barn in East Austin.
The Pershing, a low-profile but highly-coveted luxury club tucked away on East 5th Street and Pedernales, is the watering hole of some of Austin's most famous creatives and elites. It's even been said to be the host of a certain business executive with a keen interest in cryptocurrency.
---
The Pershing likes to air on the side of mystery. The "Keepers of the Austin Flame," as they call their members, can reach out to management to show interest, then they are approved based on their involvement with the community. To officially become a member, the club charges an undisclosed fee. That doesn't mean they aren't inclusive though, General Manager Kyle Lauterbach said; the club just wants to create a family.
"There's two things that I think are great for somebody that wants to belong to this space," Lauterbach said. "They see a value in the community that we're building, and they're somebody that's creating positive change. That's it."
Opening in 2018, the club is named after the neighborhood in which it was originally built, and retained the original three-story house and barn structures. The club has since slowly filled to nearly 350 members (nearing capacity) mainly by word of mouth.
Here's a look at the club-slash-private concert hall that nearly 350 of Austin's most influential residents call home.
Interior
The Pershing Bar is dimly lit and stocked with liquor from sustainable sources. (The Pershing)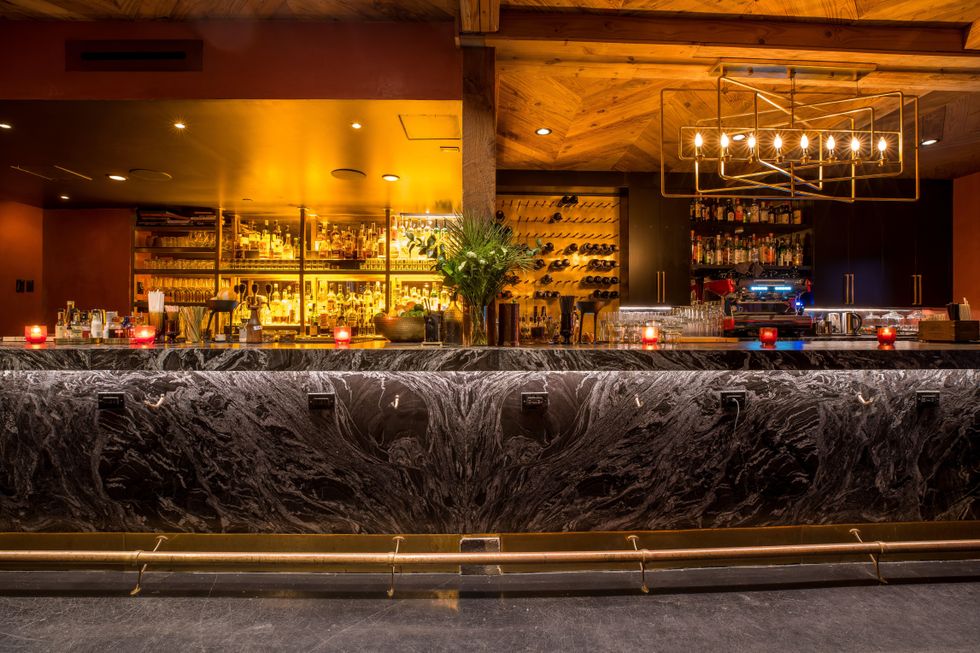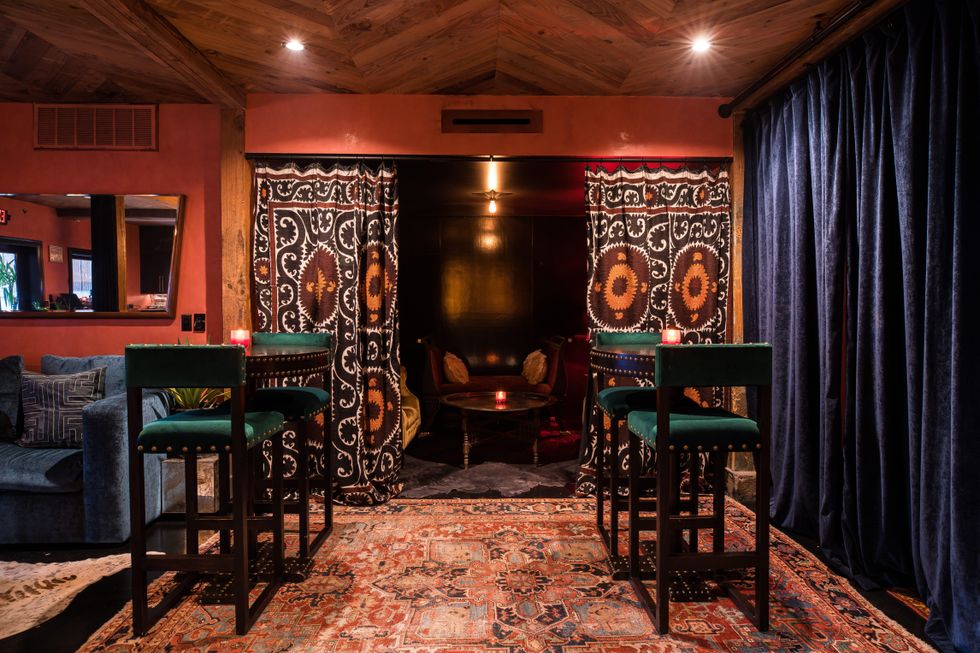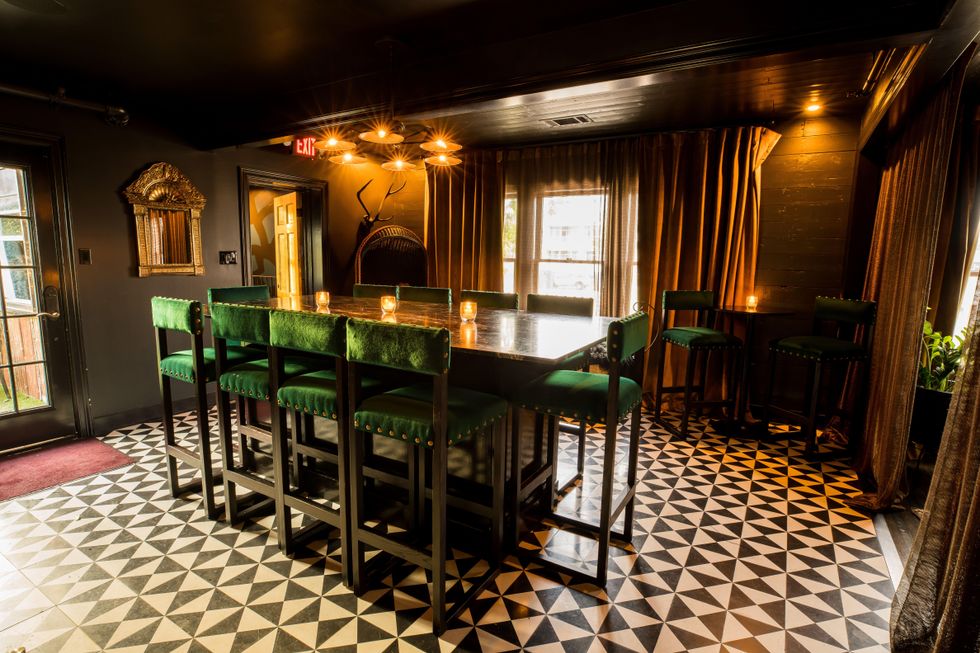 The Pershing's clubhouse mixes luxury with comfort. Downstairs, bartenders greet members by first name from behind a dark marble bar. The bar itself is stocked with sustainable liquor brands hand-selected by Director of Beverage Adam Bryan, who "helped bring craft cocktails to Austin" and permanently changed the way business development director Dannye Donnell views martinis.
As members venture farther into the space, they enter several unique rooms, each with their own unique flavor. Dark greens, golds and browns give the space a sophisticated feel. A poker room sits just upstairs; Donnell said plenty of banter is found between guests after business hours. The white room, which Donnell said is the most popular, gives the feel of being outside without the oppressive summer heat.
There are spaces for companies to work throughout with organizations often renting out the conference room to host events throughout the day. Once laptops are shut off, however—Lauterbach says at about 5 p.m.—members can head up a ladder to the hookah lounge, the ultimate child's fort decked out with floor pillows galore.
"I've had members eat their lunch here and do their work for a little bit, call friends over for dinner and play poker and next thing they know it's one in the morning," Lauterbach said. "It's really a place you can spend several hours of your day and not feel stuck."
Across the courtyard is the gallery hall, a private concert venue converted from the property's old barn. Gary Clark Jr., who is also a member, has performed in this space, as have other famous musicians and members of local artist collective Black Fret. The club has branched out, too, introducing comedy shows and new genres to the space every week.
Because many members are creatives themselves, Lauterbach said that every experiential concert is so absorbed by its audience that the entire space could hear a chip drop.
"It goes to show how much your members care about music when you walk in there and it's completely silent," Lauterbach said. "People are so dialed in."
Exterior
The Pershing's outdoor space can best be enjoyed on summer evenings when heat gives way to a warm breeze. (The Pershing)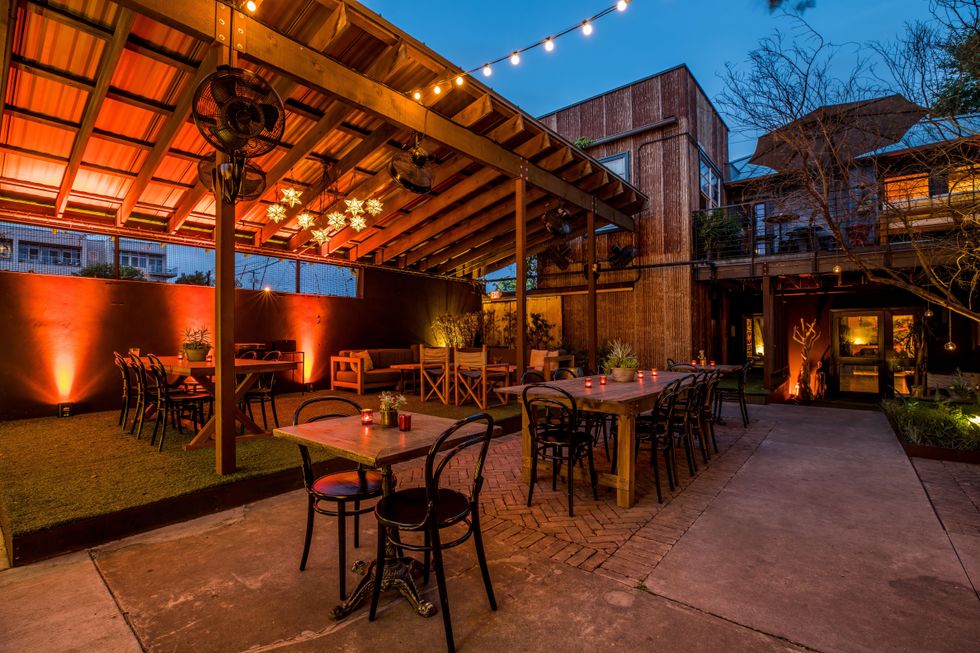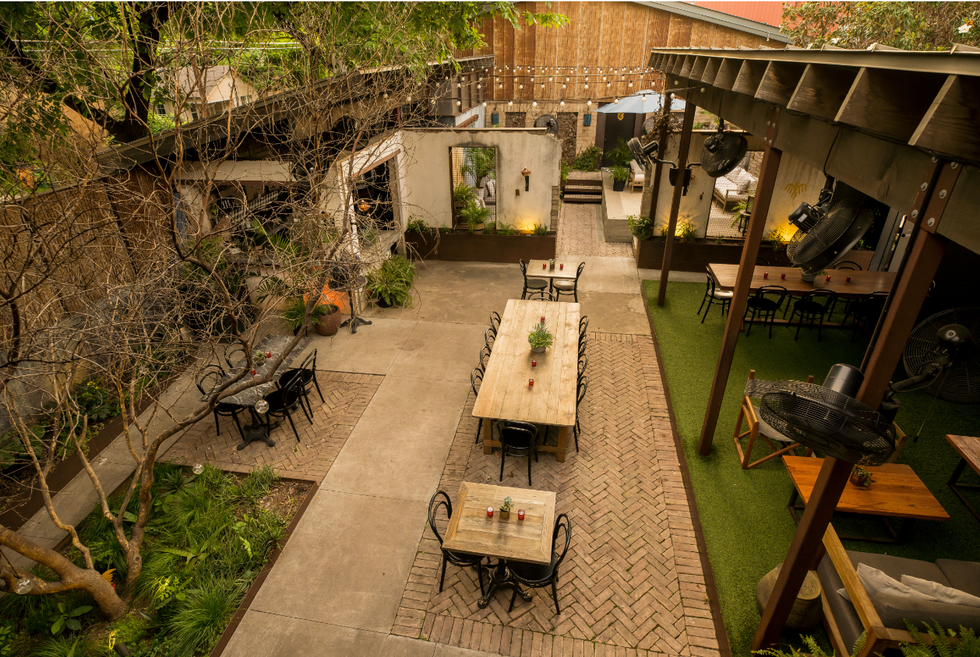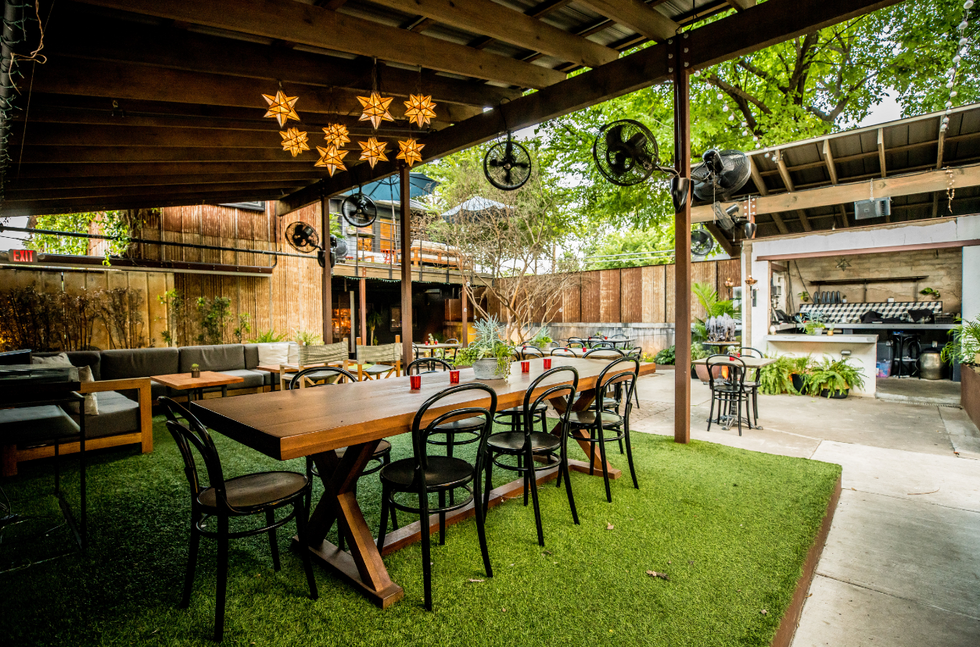 The outdoor courtyard is host to evening fun in the summer. The club hosts Tiki Thursdays every week—when Austonia visited, Donnell was out finding coconuts, and Lauterbach was wearing a festive Hawaiian shirt.
During the pandemic, the club was only closed for two business days, thanks to innovative planning from Lauterbach. Lauterbach introduced "Ten Foot Happy Hours" in the summer, installed UVC air sanitation systems, and even offered pina coladas while members waited for their COVID test, which was offered daily. When Lauterbach noticed that many service workers were overlooked during early vaccination, the club even offered a vaccine drive that saw over 4,000 in the industry get vaccinated.
"We're passionate about helping with vaccination—the service industry really got brushed over, (and) they were some of the most vulnerable people in this timeframe," Lauterbach said.
Future upgrades
The Pershing's upgrades will include a new pool, private cabanas, coworking spaces, and eventually, lodging for the "Keepers of the Austin Flame." (The Pershing)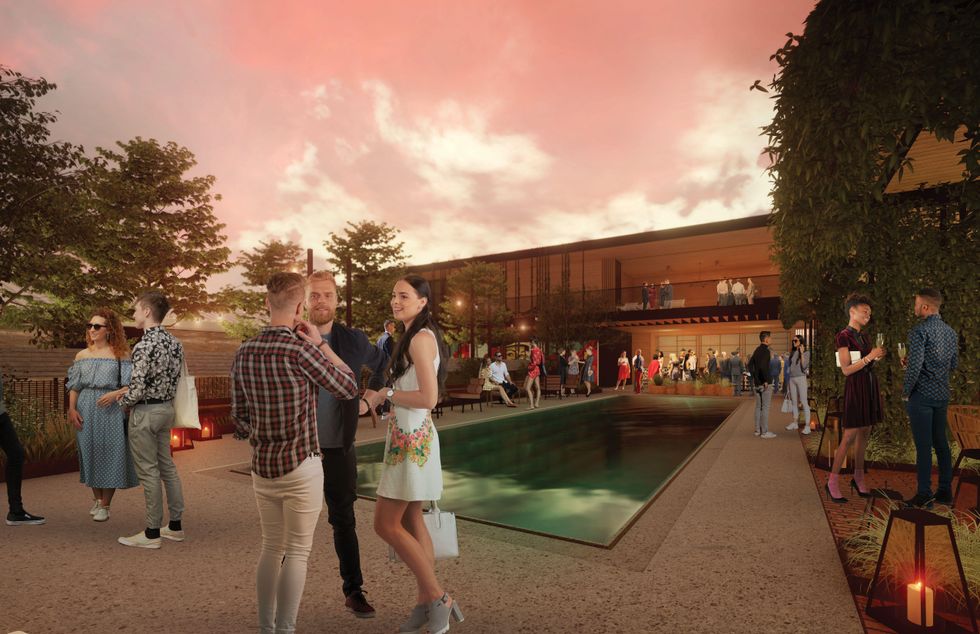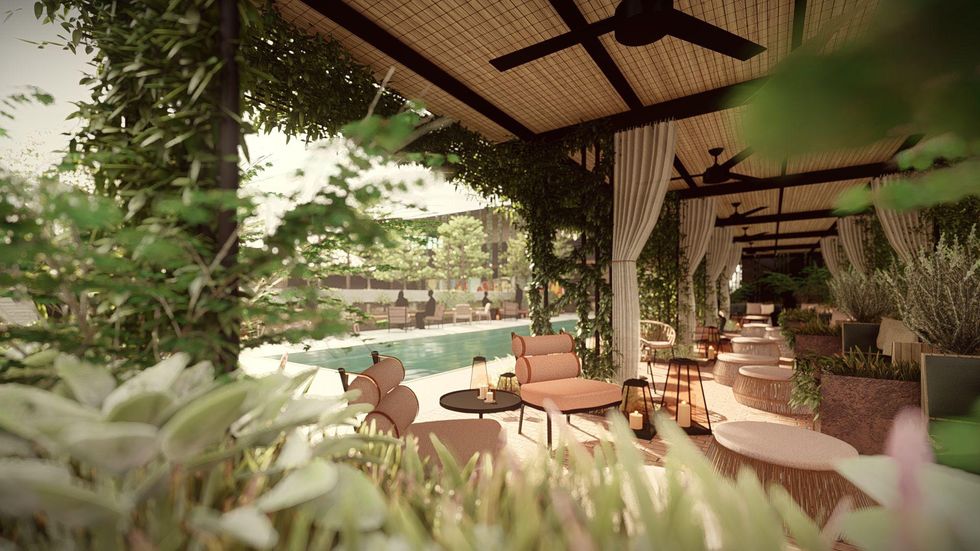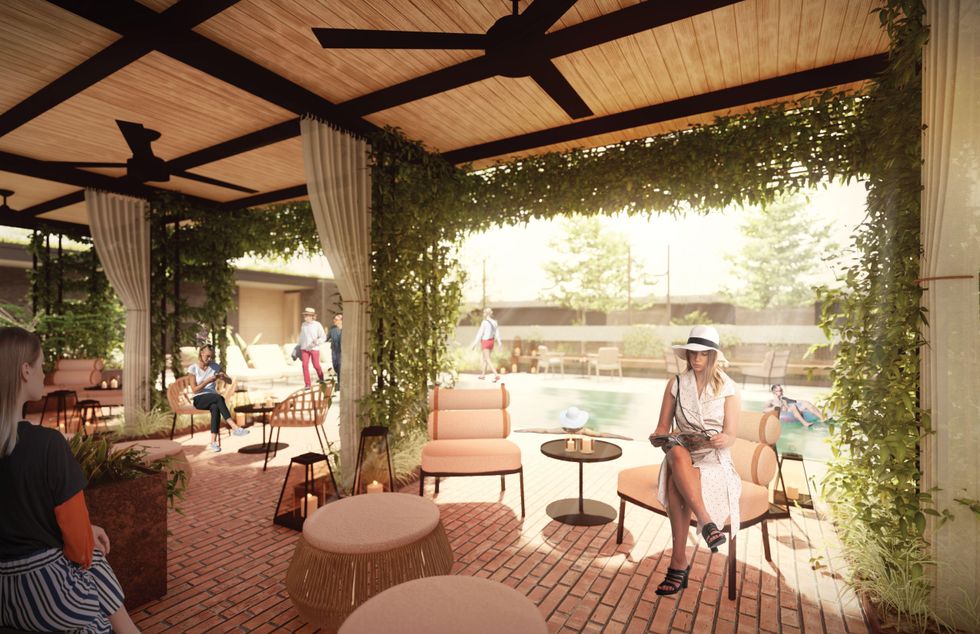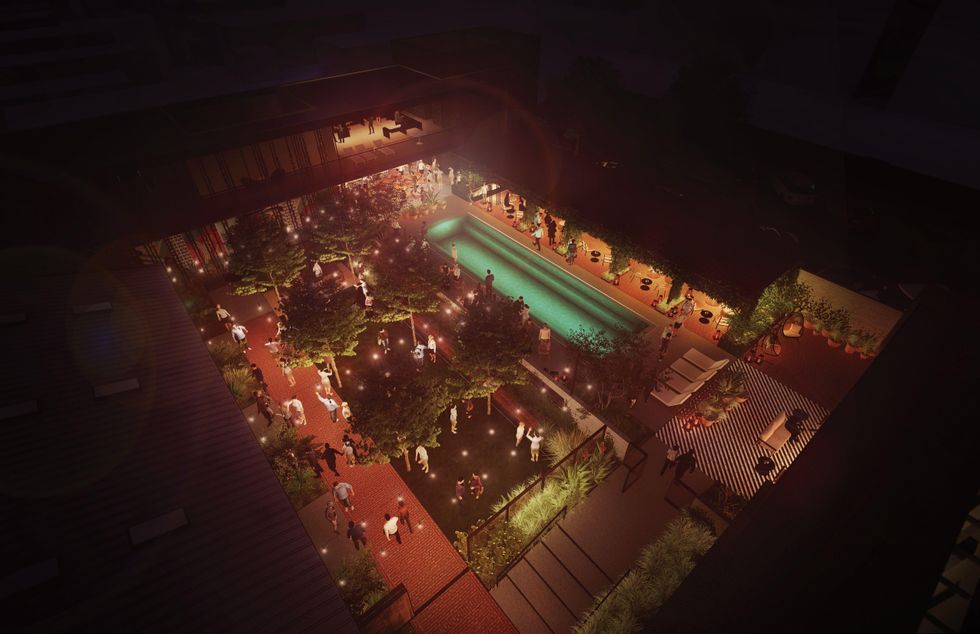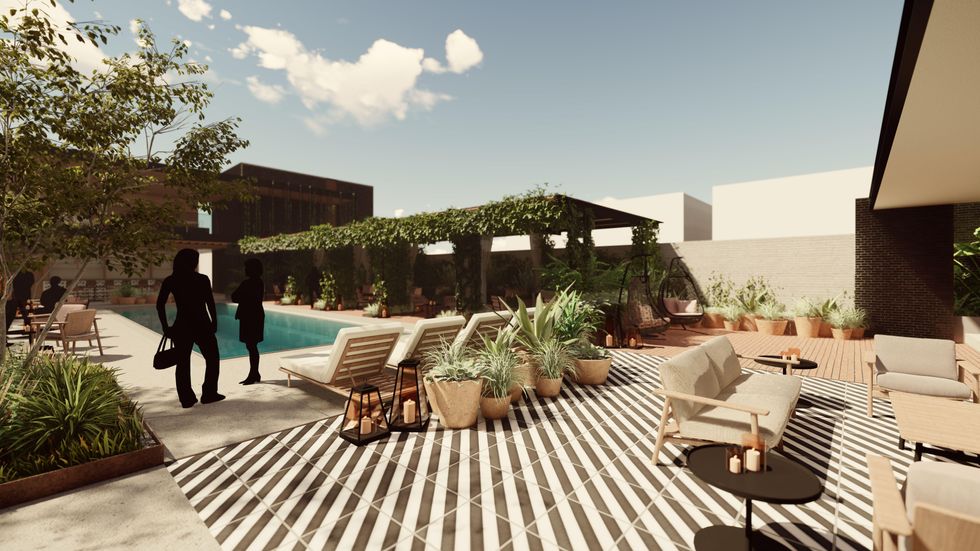 While the club is partnered with other clubs across the world and many hotels within the city, a slate of new upgrades will allow the club to become a self-sufficient haven.
In 2022, the club will break ground for plans including a swimming pool, courtyard gardens, private cabanas, co-working spaces, and private casitas for residents to stay. A new steam room and sauna will be introduced and outdoor spaces will expand as well.
While head chef Chris Bissell is now operating his fine dining out of a food truck in true Austin fashion, the club will also begin work on a new kitchen in July to expand event capabilities.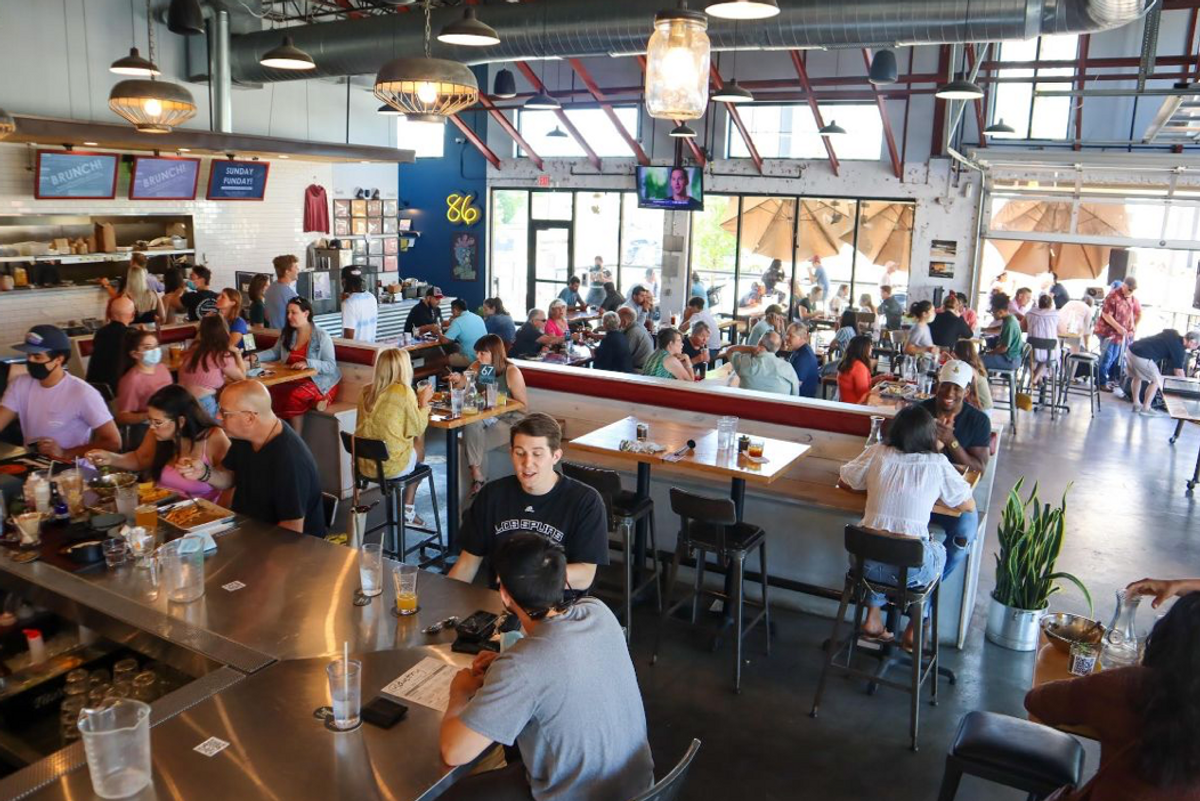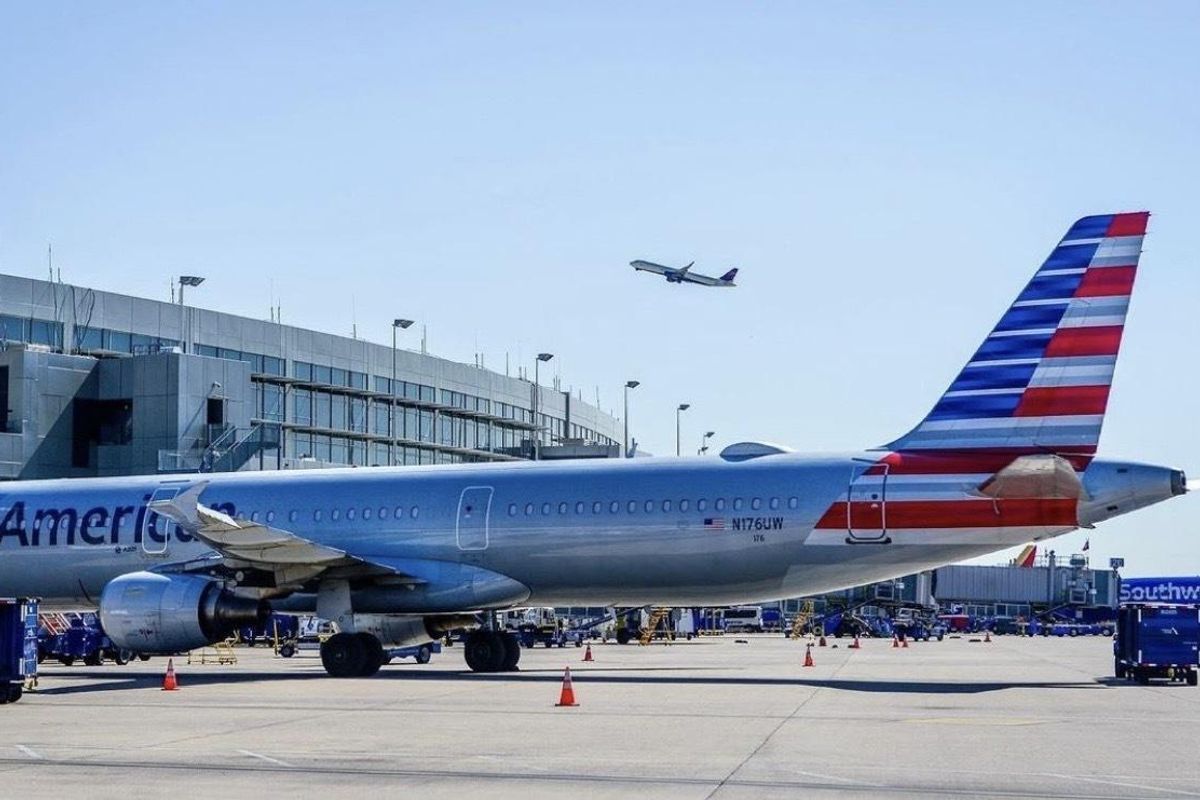 With major entertainment events slated for October, the Austin-Bergstrom International Airport is gearing up for a busy month.
Artists and music lovers are set to pack into Zilker Park for The Austin City Limits Music Festival in the coming two weekends. Following that, Formula One will bring racing fans to the Circuit of the Americas.
For those two events, the airport is anticipating high passenger days with 30,000 or more people departing flights.
ABIA recommends arriving at least two and a half hours in advance for domestic flights on those days. For ACL, it's expected on both Sundays of the festival along with the Monday and Tuesday after. The F1-driven high passenger days are expected on Oct. 20-21 and Oct. 23-26.
\u201c#AustinCityLimits visitors, you\u2019re in for a weird and wild ride \ud83e\udd18\u262e\ufe0f \n\nFlying in or out of our airport? We got firm and fun tips for you: https://t.co/RawVRalOXN\u201d

— Austin-Bergstrom International Airport (AUS) (@Austin-Bergstrom International Airport (AUS)) 1664894083
F1, especially, could draw in loads of travelers as the three-day event saw 400,000 attendees last year. ABIA warns that highways leading to the airport may see even higher traffic than usual around the event and that travelers should plan their route accordingly.
Bailey Grimmett, a spokesperson for ABIA, said travel numbers come in 24 hours in advance. So, it's hard to predict if the airport will see travel volumes at the same levels that have happened around previous F1 races or if it'll top ACL's flight traffic.
Still, she says historical knowledge points to a chance for it.
"We've had that Monday after F1 break the record for single busiest in airport history," Grimmett said. "So context clues I would say yes, but I can't confirm that. But the historical background points to that."
In anticipation of the high volume of flyers, the airport received additional TSA officers for security screening through the end of October. To prepare even further, the Department of Aviation and partners hosted a job showcase and hiring fair to address the continued labor shortage the airport has experienced.
Relief from hectic travel days is on the horizon with November likely to see a slowdown.
"I don't anticipate it will be as busy as October just because we don't have as many events going on," Grimmett said. "Thanksgiving is kind of our primary holiday that we see a lot of passengers coming in and out of the airport."