Austonia AM
100% Austin news, info, and entertainment, straight to your inbox at 6 a.m. every morning.
In five minutes, you're fully informed and ready to start another great day in our city.
Get connected with our daily update
Years before the city of Austin went Verde, thousands of the city's soccer fans formed a supporters' group—MLS in Austin—for a team that didn't even exist yet.
Now, as the team's catchphrase suggests, those same fans are #LISTOS as they prepare to see their team on national television at Austin FC's debut on Saturday.
---
What to expect
The team will face a significant opponent in LAFC, who is projected at No. 2 in the league's power rankings. Austin FC currently sits at No. 21.

"LAFC has one of the best attacking teams in the league," Head Coach Josh Wolff said. "They will punish you. They've never been shy of putting up goals, and again, I expect them to be one of the best teams in the league this year."
The club has lived up to Wolff's words: in just their second season of existence, LAFC took first in the Western Conference and were Supporters' Shield winners in 2019.
Austin FC will need to hold off LAFC captain Carlos Vela, a versatile winger/attacking midfielder who won the Most Valuable Player title in 2019, as well as high-scoring forward Diego Rossi.
Austin FC starting lineup vs. LAFC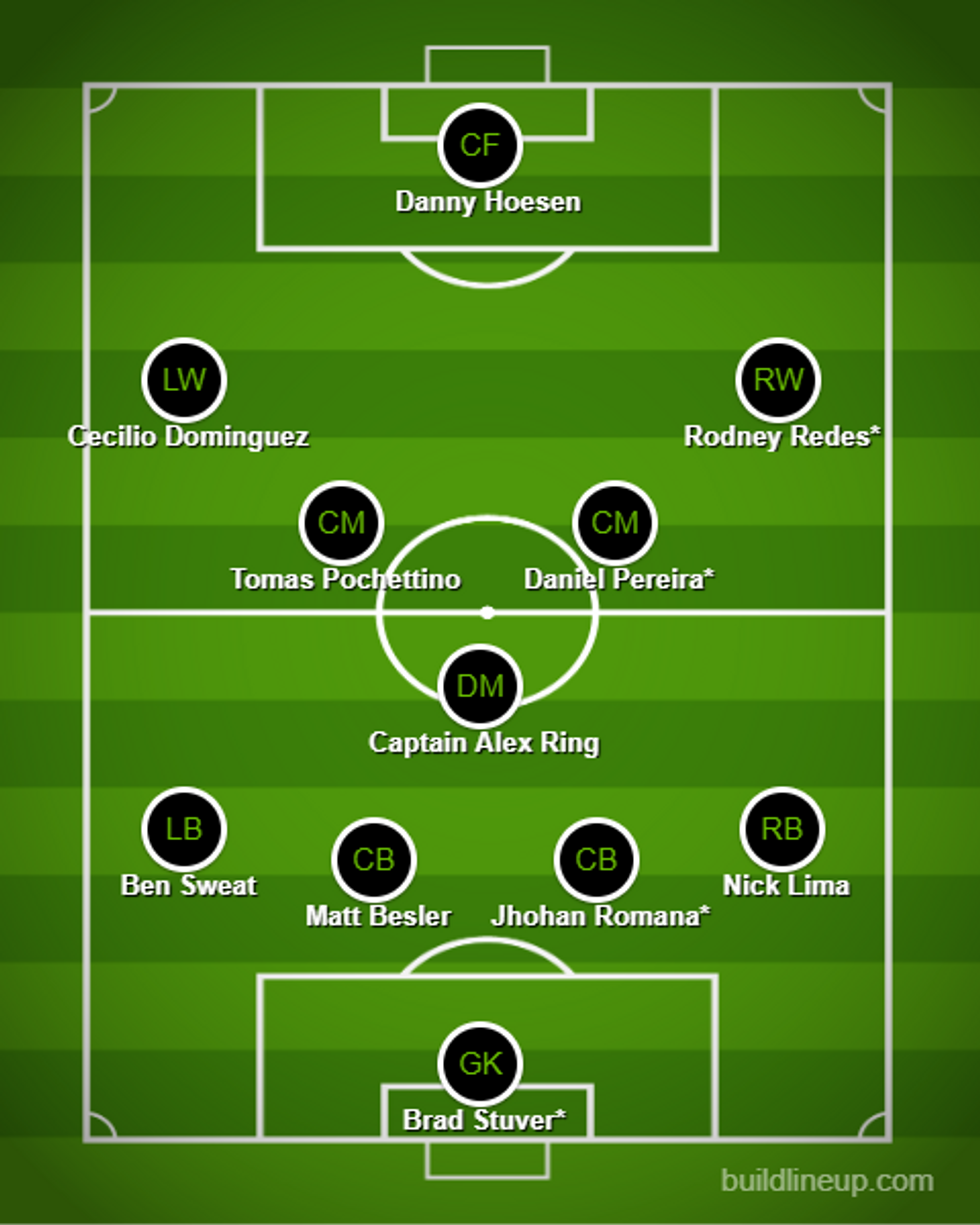 (Claire Partain/Austonia)
Meanwhile, LAFC will face challenges in DP Cecilio Dominguez and midfielder Alex Ring, the former NYCFC "ringleader" who wears the captain's armband for his new team. We still don't have any updates for starting forward Rodney Redes, who may or not be playing Saturday due to a "ding" on his knee.
If Redes is fine, we think he'll stay at forward, where he's been excelling throughout preseason. If not, a more experienced Kekuta Manneh might take to the pitch in his stead. Midfielder Jared Stroud is also in the running after he went in for an injured Redes against San Antonio FC on April 10.
While Captain Alex Ring and DPs Tomas Pochettino and Dominguez are shoe-ins for the starting lineup, some other positions are up in the air.
Twenty-year-old Daniel Pereira, Austin FC's No. 1 SuperDraft pick, has done even better than expected in preliminary scrimmages. He's still young, however, and Austin FC recruited him more for his depth than immediate starting appeal. If Pereira doesn't start, it's likely to be Diego Fagundez who takes the starting spot.
Another young potential starter comes in 22-year-old Jhohan Romana, a sturdy defender who has shown inconsistency in preseason. The backline is a clear weak spot for the team so far, and while Romana shows promise, Wolff may look for experience in Julio Cascante for their first starting lineup.
Finally, goalies Brad Stuver and Andrew Tarbell are neck-and-neck in the race for a starting spot. We put Stuver on here for his preseason performance, but neither would be a surprise as starting goalkeepers.
How we got here
It's hard to put into words how monumental it is for these supporters to see their own team one day away from its historic opening match, but the excitement can be felt across the city.
To put things in perspective, here's a timeline of events that brought us here, from "MLS in Austin" all the way up to Saturday's opener.
Where to watch
While Austin FC's first season will officially be underway, their inaugural match will be nearly 1,500 miles away from their home city.
That's no problem for some fans, including those in Austin FC fan group Los Verdes. A group of dedicated supporters are going to the West Coast to welcome their team into the stadium. While LAFC isn't officially allowing Austin fans in due to COVID protocol, some are still searching for a way to watch their beloved team take the pitch for the first time.
Meanwhile, thousands of dedicated fans are also staying home to support their club. Austin FC's first official watch party is sold out with over 1,000 RSVPs, and Austin Anthem is holding a 1000 plus-person watch party as well. For a full list of Austin FC watch parties and participating pubs, click here.
For those staying home, the match will be broadcast nationally on FOX and FOX Deportes at 5 p.m. on Saturday.
Don't miss out on the game!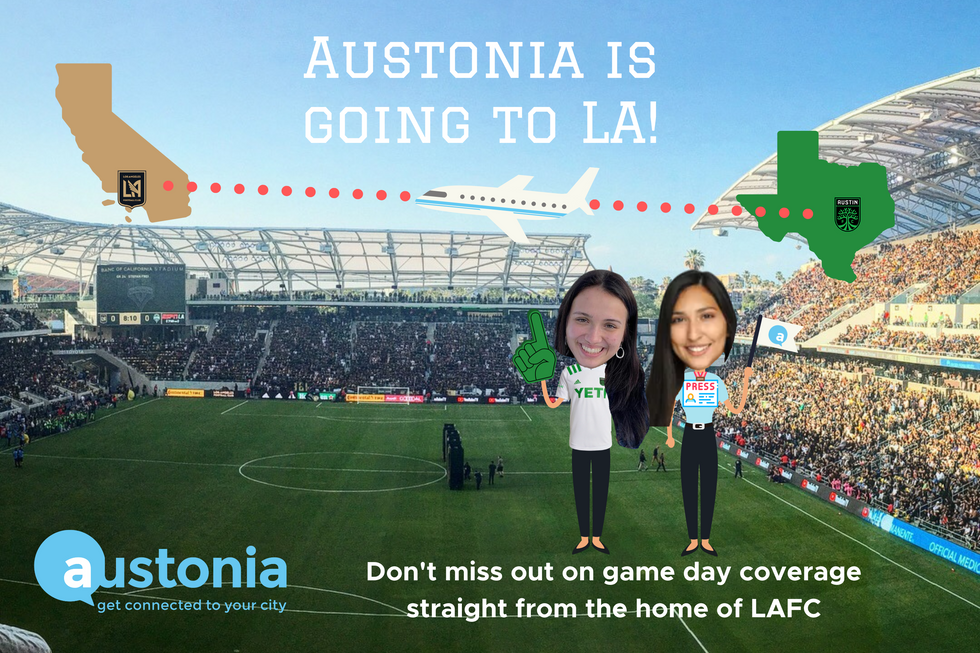 (Laura Figi/Austonia)
A week after Texas added two congressional seats and California lost one, state officials reported a population decline in 2020 for the first time in the Golden State's history.
California fell by over 182,000 people from January 2020 to January 2021, dropping almost 0.5% to cap out at around 39.5 million people. It is still the nation's most populous state.
For over thirty years, California has seen more people leave than move in from other states, state officials said, with 6.1 million people moving out and 4.9 million coming in last year. Immigration and births kept California growing, but the state saw a shrink in international migration in 2020 due to COVID and the White House's hold on visas.
Of the steady flow of ex-Californians moving to other states, more are moving to Texas than any other state. Many are relocating to Austin, which has been labeled a "little California" by billionaire resident Elon Musk and continues to grow astronomically.
Meanwhile, California cities including Los Angeles, San Diego, San Jose and San Francisco saw a population decline.
With immigration and state migration on the decline, the Golden State was also hit with a spike in deaths- 51,000 people died from COVID in 2020, and all but seven of the state's counties saw death rates higher than the three-year average.
Still, the California Department of Finance said a "slightly positive annual growth" can be expected next year as the state recovers from COVID deaths and political repercussions.


Ingredients:
1 1/2 oz of hibiscus-infused Tito's Handmade Vodka
2 oz sparkling water
1 oz fresh lime juice
3/4 oz simple syrup
1 tsp allspice dram
Directions: Add infused Tito's Handmade Vodka, lime juice, and simple syrup to a shaker with ice. Shake and strain into a glass over fresh ice. Top with sparkling water, and garnish with a lime slice. Enjoy!
The sun is out, and thousands of Austin FC fans will be as well as Austin FC goes to Kansas to play Sporting Kansas City at 6:30 p.m. on Sunday.
There's plenty of pub partners to choose from, but here's a few watch parties to help you get in on the action.