Get connected with our daily update
Years before the city of Austin went Verde, thousands of the city's soccer fans formed a supporters' group—MLS in Austin—for a team that didn't even exist yet.
Now, as the team's catchphrase suggests, those same fans are #LISTOS as they prepare to see their team on national television at Austin FC's debut on Saturday.
---
What to expect
The team will face a significant opponent in LAFC, who is projected at No. 2 in the league's power rankings. Austin FC currently sits at No. 21.

"LAFC has one of the best attacking teams in the league," Head Coach Josh Wolff said. "They will punish you. They've never been shy of putting up goals, and again, I expect them to be one of the best teams in the league this year."
The club has lived up to Wolff's words: in just their second season of existence, LAFC took first in the Western Conference and were Supporters' Shield winners in 2019.
Austin FC will need to hold off LAFC captain Carlos Vela, a versatile winger/attacking midfielder who won the Most Valuable Player title in 2019, as well as high-scoring forward Diego Rossi.
Austin FC starting lineup vs. LAFC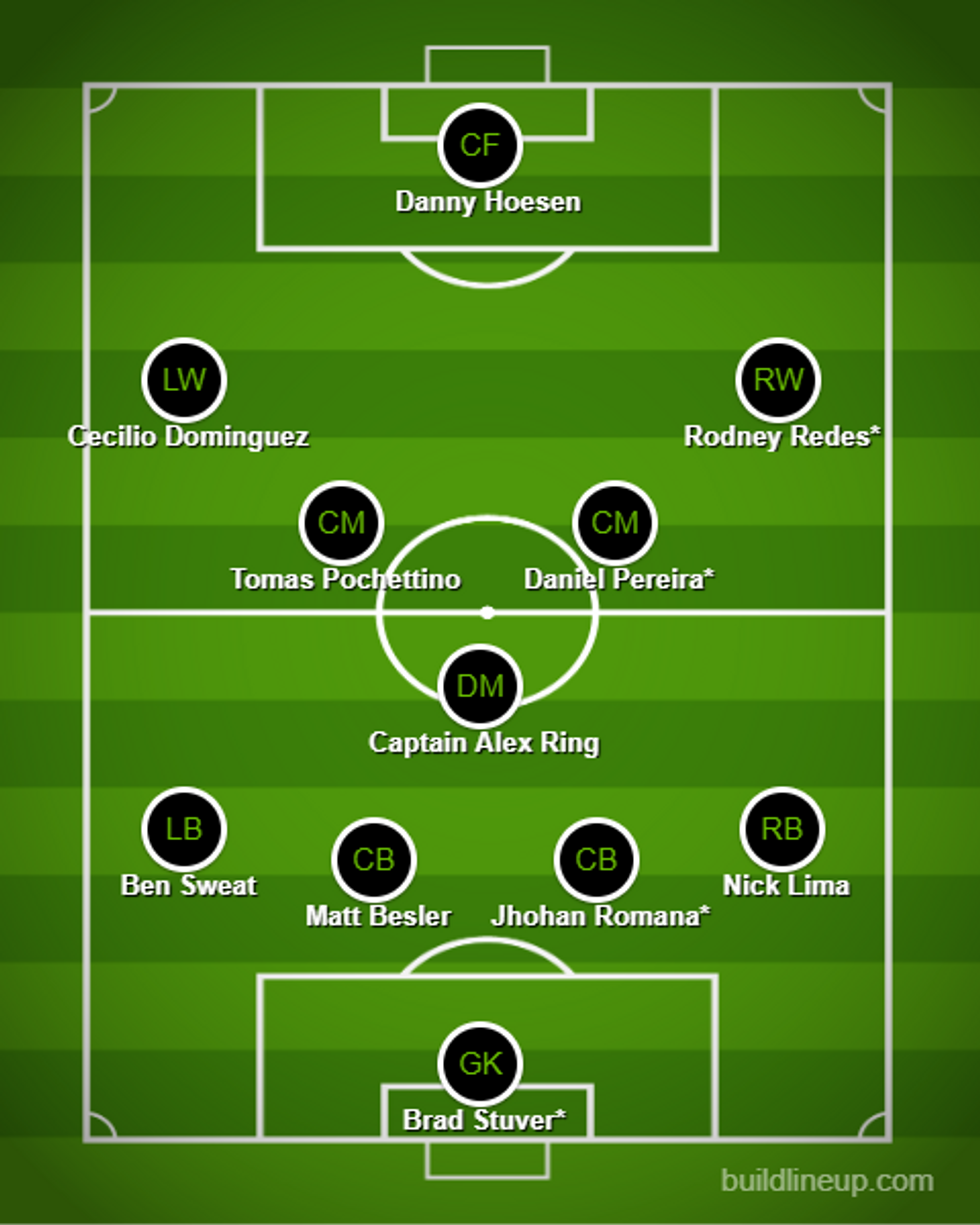 (Claire Partain/Austonia)
Meanwhile, LAFC will face challenges in DP Cecilio Dominguez and midfielder Alex Ring, the former NYCFC "ringleader" who wears the captain's armband for his new team. We still don't have any updates for starting forward Rodney Redes, who may or not be playing Saturday due to a "ding" on his knee.
If Redes is fine, we think he'll stay at forward, where he's been excelling throughout preseason. If not, a more experienced Kekuta Manneh might take to the pitch in his stead. Midfielder Jared Stroud is also in the running after he went in for an injured Redes against San Antonio FC on April 10.
While Captain Alex Ring and DPs Tomas Pochettino and Dominguez are shoe-ins for the starting lineup, some other positions are up in the air.
Twenty-year-old Daniel Pereira, Austin FC's No. 1 SuperDraft pick, has done even better than expected in preliminary scrimmages. He's still young, however, and Austin FC recruited him more for his depth than immediate starting appeal. If Pereira doesn't start, it's likely to be Diego Fagundez who takes the starting spot.
Another young potential starter comes in 22-year-old Jhohan Romana, a sturdy defender who has shown inconsistency in preseason. The backline is a clear weak spot for the team so far, and while Romana shows promise, Wolff may look for experience in Julio Cascante for their first starting lineup.
Finally, goalies Brad Stuver and Andrew Tarbell are neck-and-neck in the race for a starting spot. We put Stuver on here for his preseason performance, but neither would be a surprise as starting goalkeepers.
How we got here
It's hard to put into words how monumental it is for these supporters to see their own team one day away from its historic opening match, but the excitement can be felt across the city.
To put things in perspective, here's a timeline of events that brought us here, from "MLS in Austin" all the way up to Saturday's opener.
Where to watch
While Austin FC's first season will officially be underway, their inaugural match will be nearly 1,500 miles away from their home city.
That's no problem for some fans, including those in Austin FC fan group Los Verdes. A group of dedicated supporters are going to the West Coast to welcome their team into the stadium. While LAFC isn't officially allowing Austin fans in due to COVID protocol, some are still searching for a way to watch their beloved team take the pitch for the first time.
Meanwhile, thousands of dedicated fans are also staying home to support their club. Austin FC's first official watch party is sold out with over 1,000 RSVPs, and Austin Anthem is holding a 1000 plus-person watch party as well. For a full list of Austin FC watch parties and participating pubs, click here.
For those staying home, the match will be broadcast nationally on FOX and FOX Deportes at 5 p.m. on Saturday.
Don't miss out on the game!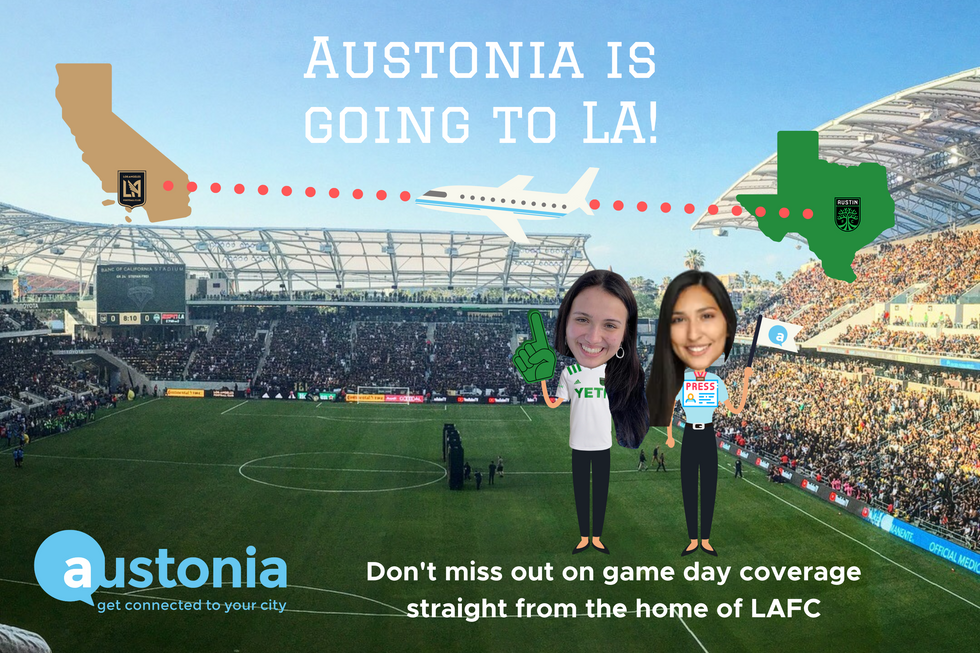 (Laura Figi/Austonia)
Returning for his second year in a row at SXSW 2022, U.S. Transportation Secretary Pete Buttigieg took to the stage for a town hall with festival-goers to talk about sustainability in transit, job growth and reconnecting communities.
After a test ride with Mayor Steve Adler on Austin's new red line light rail at MLK Station just hours before gearing up to speak at the Austin Convention Center on Wednesday, Buttigieg spoke on his many concerns as transportation secretary: accessible transit for all, lowering roadway deaths to zero and tackling climate change.
More than 38,000 people were killed in traffic accidents last year, many of them entirely preventable but too often viewed as the "cost of doing business," Buttigieg said. With the passage of President Joe Biden's $1 trillion infrastructure bill, Buttigieg said investment in infrastructure is deeply important to his department.
"I don't believe it has to be that way. Especially because we've seen that specific steps that have been taken in a number of places have dramatically reduced the rate of roadway fatalities," Buttigieg said. "That's part of what we're going to put this money toward, making it safer to get to where you need to be and to be behind the wheel in this country."
The Harvard graduate and first openly gay secretary to serve in the president's cabinet said that South Bend, Indiana, was one of the first cities to adopt dockless bike and scooter share systems while he was serving as mayor.
"Every transportation decision is a climate decision whether we recognize it or not," Buttigieg said. "As a matter of fact, in the U.S. economy, the biggest sector in terms of contributions to greenhouse gas emissions is the transportation sector. Which means in my view, that that's a challenge for us in transportation to try to be the biggest part of the solution."
Amid climate change-fueled barriers in the way and skipping "about 40 years in terms of investing at the rate we really should have," Buttigieg said he believes the 2020s will be a transformative time for the future of clean transportation.
"We have an opportunity to prepare... to make sure that the development of these innovations benefits us in terms of public policy goals, benefits all those other things I was talking about that makes us safer, makes us more equitable and more climate-ready."
In Austin, musician Grimes is raising her kids with Elon Musk and preparing for the release of her new album. But aside from her career and family life, she's also dating WikiLeaks whistleblower Chelsea Manning.
The two are reportedly dating and living together in the capital city. Manning, the U.S. Army intelligence analyst who provided WikiLeaks with classified documents in an unauthorized release of state secrets had her 35-year prison sentence commuted by President Barack Obama in 2017. Now, lovebirds Manning and Grimes are enjoying Austin, though Manning still maintains maintains an apartment in Brooklyn, New York, according to Page Six.
In September last year, Grimes and Musk broke up. And although Grimes seems to be getting serious with Manning, with a source telling Page Six the two have "U-Hauled it," she still has her connection to Musk.
Vanity Fair visited Grimes at her home in Austin and Grimes reflected fondly on her time with Musk saying, "There's no real word for it. I would probably refer to him as my boyfriend, but we're very fluid. We live in separate houses. We're best friends. We see each other all the time… We just have our own thing going on, and I don't expect other people to understand it."
It was also during that visit that it was discovered that Grimes and Musk had a second child via a surrogate. A reporter for Vanity Fair heard the cry of a baby while the two were sitting down for an interview.
The relationship pool widens with Musk's love life, as he is reportedly dating actress Natasha Bassett. The two have flown to Austin together as Musk prepares for the grand opening of Giga Texas next month.
Apparently, Bassett has known about him and Grimes having a child but was surprised with the status of Musk and Grimes' relationship.
A source told Hollywood Life that Bassett was "caught off guard" when she first saw the story of Grimes in Vanity Fair. But the source added that everyone gets along.
"She respects Elon's relationship with Grimes and has no problems with him being close friends with Grimes and co-parenting with her," the Hollywood Life source said. "Grimes also knows that Elon is with Natasha now and there is no bad blood between any of them."
Grimes has also clarified where she and Musk stand, sending a tweet that they are broken up.
Me and E have broken up *again* since the writing of this article haha, but he\u2019s my best friend and the love of my life, and my life and art are forever dedicated to The Mission now, I think Devin wrote that part of the story rly well. Sique - peace out

— \ud835\udd0a\ud835\udd2f\ud835\udd26\ud835\udd2a\ud835\udd22\ud835\udd30 (\u231b\ufe0f,\u23f3) \u16b7\u16b1\u16c1\u16d7\u16d6\u16cb (@\ud835\udd0a\ud835\udd2f\ud835\udd26\ud835\udd2a\ud835\udd22\ud835\udd30 (\u231b\ufe0f,\u23f3) \u16b7\u16b1\u16c1\u16d7\u16d6\u16cb) 1646929922