Get connected with our daily update
It may not come as a surprise that dating app use surged during the pandemic when many had to swap the benefits of in-person dating for on-screen connections. Bumble revenue swelled to $337.2 million in 2020 compared to $275.5 million, Hinge revenue tripled in the same period and Tinder users broke two records from January to March of 2021.
---
What may be more intriguing, however, is that many apps anticipate more growth into 2022. Hinge expects to double its revenue by the end of 2021, while Tinder has announced several new features to meet new demands in time for what some are calling a "third surge" of COVID-19.
Vaccinated Austinites who had been eager for "Shot Girl Summer"—a season of in-person dating, going out and making up for time lost—may have to get back on the apps, at least partially, as cases rise higher than they've been since February and mask recommendations reenter the picture.
Austin-area resident Chloe Mohr, a 22-year-old recent college graduate, had sometimes used Tinder before the pandemic. While the app wasn't a supplemental replacement for deeper connections during stay-at-home orders, it did help her stay in the dating game and continue meeting new people.
"Using dating apps during the pandemic was easy when wanting something casual or entertaining," Mohr, who now works in marketing, said.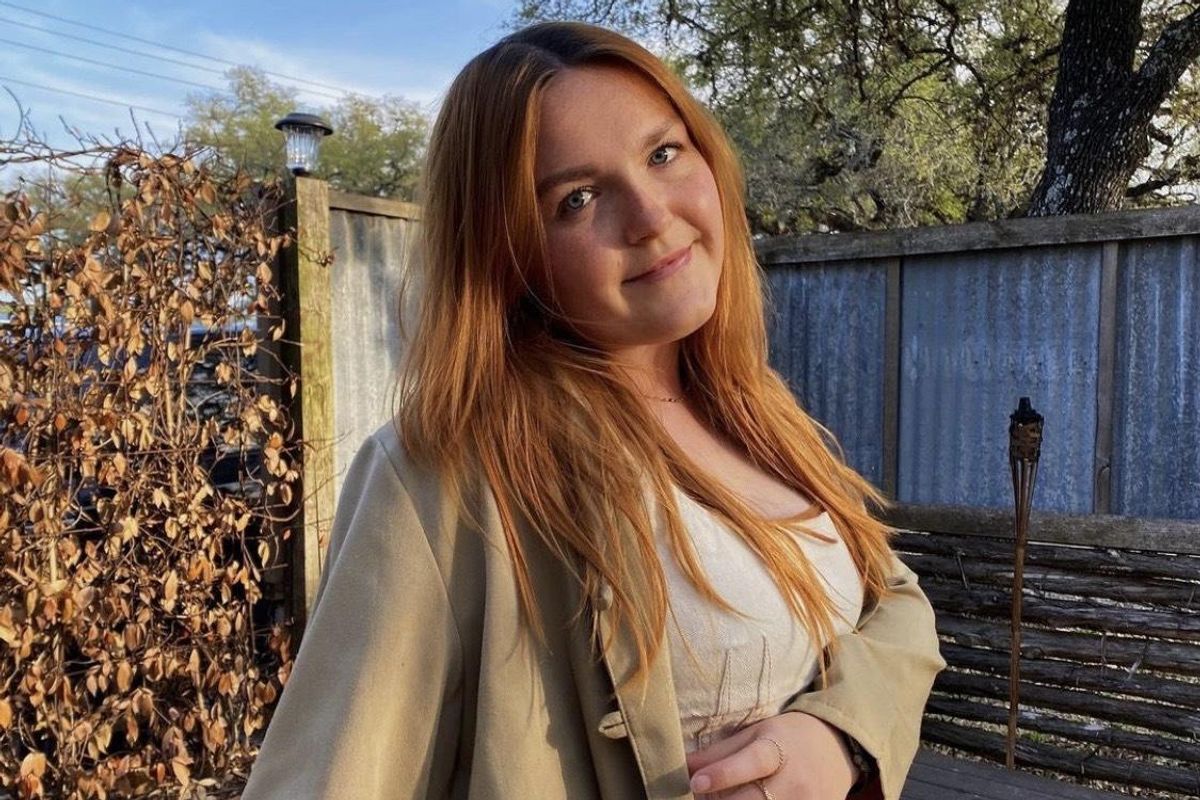 Chloe Mohr turned to Tinder more during the pandemic to stay connected to people. (Chloe Mohr)
Sixty percent of members came to Tinder because they felt lonely and wanted to connect with people, a Tinder study revealed, and chats were 32% longer during the pandemic.

But dating during a pandemic is no walk in the park when there's fear about contracting COVID, Mohr said. She had fears at the beginning
Tinder, Bumble, Hinge and OkCupid have responded to the new dating criteria, adding vaccination badges to profiles in partnership with U.S. and British governments.
In order to meet the demand for a stricter screening process and the superficial nature of swiping, Tinder has also introduced new features that allow users to add videos to their profiles and chat with others before they've even matched.
The new add-ons could be beneficial for the app as interest continues to swell—Google searches for "dating" have hit a five-year high, according to NPR.
But the future of dating could be vastly different—and stay different—even well into the next decade.
According to a Ypulse study, 43% of dating app users said the apps made them feel less lonely in the pandemic. Even post-pandemic, 40% of Tinder users say they plan on video-chatting with their matches before they meet, and being honest, authentic and respecting boundaries have become big talk on the app in the past year.
While it's unclear how the pandemic will shape dating for good, signs show that Austin residents and those nationwide may lean on dating apps once again if social distancing returns to the norm.
Five Austin companies joined Google's second Startups Black Founders Fund on Wednesday, earning $100,000 each as part of the $10 million initiative geared toward giving Black entrepreneurs access to funding for their startups.
The fund gave $100,000 to 50 founders nationwide, including Austin companies CustomerX.i, Journey Foods, Sandbox Commerce, The Mentor Method and Tadeblock.
The founders will receive the funding without giving up any ownership of their startups and will gain access to Google technical support including up to $120,000 in donated search Ads from Google.org and up to $100,000 in Google Cloud credits. The Austin companies will also join a select few—the fund is only two years old and last year rewarded 76 Black-led startups with up to $100,000 as well.
Google's Startup funds can be used to boost Black founders' companies into success—last year, founders raised up to $50 million in capital after recieving the funds, and 80% of the companies used their funds to create jobs.
Founders from last year's batch then paid it forward by nominating new companies and announcing the winners via Zoom.
Here's a look at those 5 founders in Austin:
A member of the Independent Citizens Redistricting Commission (ICRC) contacted council members asking for their home addresses despite a charter provision prohibiting the ICRC from considering such information in its mapping process, according to emails obtained by the Bulldog through a public information request.
Four council members or their staffers replied providing home addresses: Alison Alter, Paige Ellis, Mackenzie Kelly, and Leslie Pool, according to the emails dated August 9th to Aug. 17.
Austinites will once again be able to take a nonstop flight to London as Austin-Bergstrom International Airport resumes transatlantic travel this fall.
Starting Oct. 13, British Airways will offer its direct flight from ABIA to London-Heathrow Airport three times a week on Wednesday, Friday and Sunday. The airline, which has been operating in Austin since 2013, had halted service at the start of the pandemic over a year ago.
"We can't wait to welcome our customers back on board our Austin flights and we are honored to be playing our part in reuniting families and friends with their loved ones after such a long time apart," said Marie Hilditch, British Airways' head of North America sales.
Safety protocols the airline is taking include:
social distancing measures
wearing of facemasks
providing hand sanitizer stations
cleaning all surfaces after every flight
fully recycling the air once every two to three minutes through HEPA filters, which remove microscopic bacteria and virus clusters with over 99.9% efficiency
The announcement comes as COVID-19 testing requirements to enter the UK are scheduled to stop on Oct. 4. for vaccinated Americans.
Additionally, a Monday White House announcement allows fully vaccinated international travelers to enter the U.S. starting in early November with proof of a negative COVID-19 test. The ban, which was implemented in 2020, restricted travelers from a number of European countries, Iran and China throughout the pandemic.