Get connected with our daily update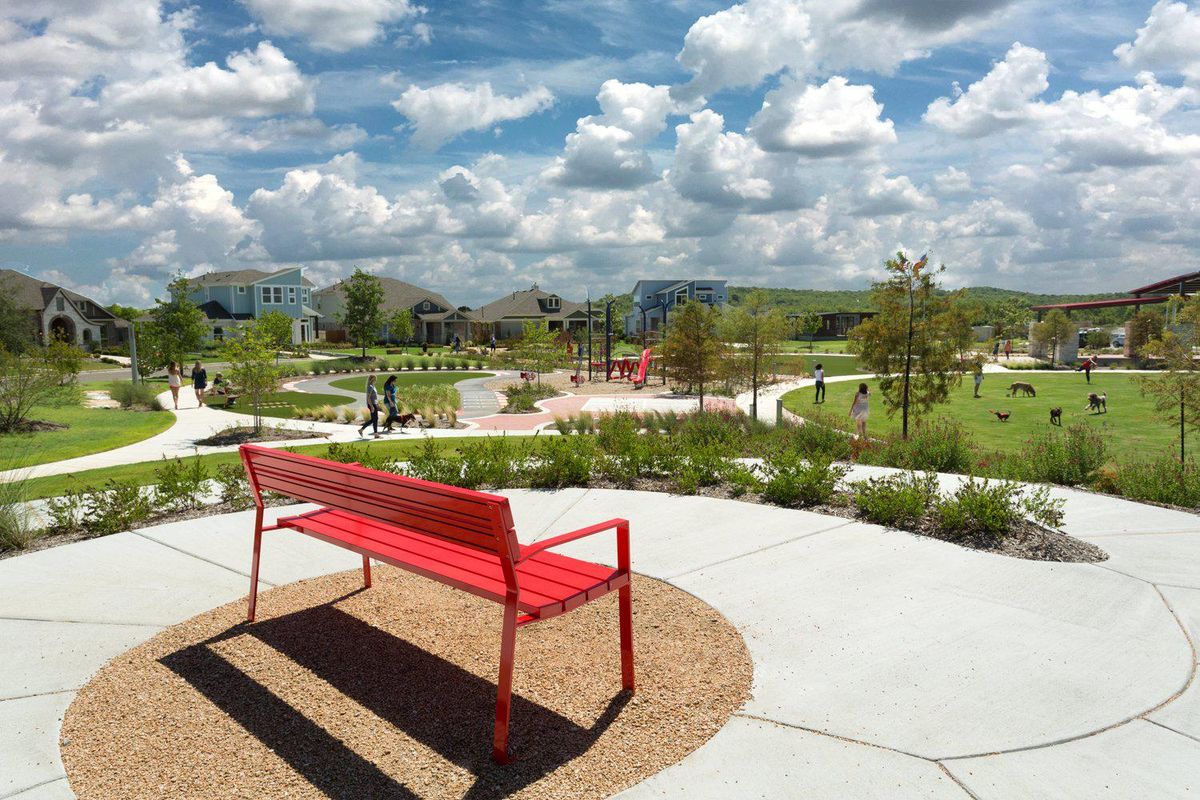 With its "boomtown" label reaching national news and swaths of tech companies migrating to the Texas capital, Austin's housing market is steamrolling ahead.
Austonia reached out to Austin Board of Realtors President Susan Horton to learn which neighborhoods are the most in-demand for incoming buyers, here is what she said.
---
1. Mueller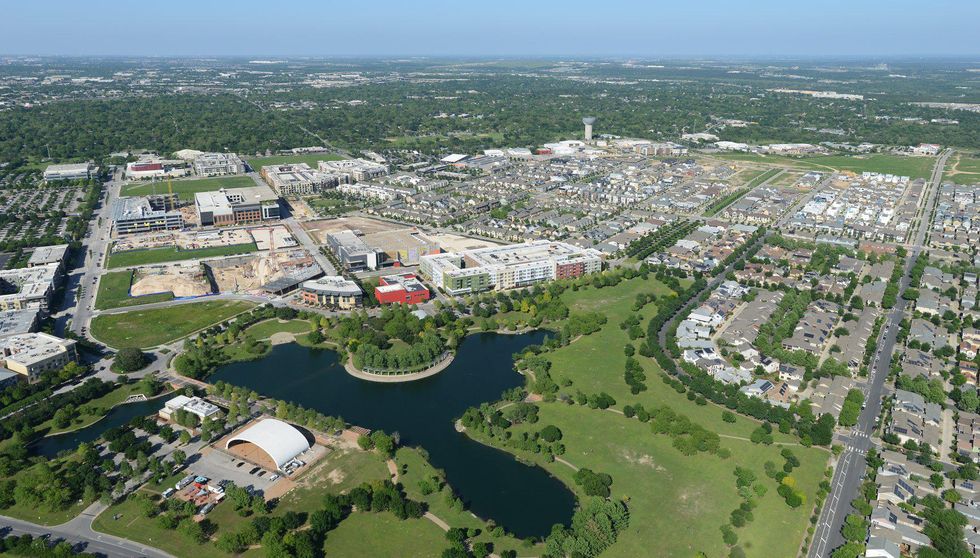 Austin's Mueller neighborhood promotes live-work-play principles with its mixed-use lots and extensive greenspaces. (Mueller Austin/Facebook)
Austin's downtown hub is often elusive for homebuyers, but Mueller, built on the city's closed Robert Mueller Municipal Airport, is drawing in droves of residents looking to live near the action.
Pros

Affordability: The only mixed-use neighborhood on the list, Mueller provides diversity in housing from large properties to apartments, and a commitment to affordable housing is part of its mission statement.
Proximity: Located just north of The University of Texas at Austin and just east of I-35 with Hyde Park as its westerly neighbor, the neighborhood is prime real estate for those who work downtown.
Walkability: With its own retail, including a large H-E-B, various businesses and schools in the area and plenty of mixed-use spaces, it's easy to get around the neighborhood by foot or public transit.
Thinking green: The neighborhood has three parks and plenty of green space to give residents a break from the hustle and bustle of city life. Homes at Mueller are constructed with recyclable and non-toxic materials and are designed to save energy and increase affordability. The neighborhood has an onsite power plant through Austin Energy that provides clean energy as well.
Cons
Supply: Due to its location near the heart of Austin, there isn't much new construction happening in the neighborhood. Those looking to make the move to Mueller need to stay posted on available listings if they want to move into the area.
Said: "It is so rich, just right almost in the heart of our city," Horton said. "It's an extremely desirable neighborhood because it's close to everything... so as soon as something comes on the market, it's gone."
2. Whisper Valley
Renewable geothermal energy to heat and cool your home, solar to power it. Zero-energy-capable living starts from the mid $200s-$400s in Whisper Valley.https://t.co/Jrh1nidw8Jpic.twitter.com/qm1wxbpRQZ

— Whisper Valley (@whisper_valley) January 15, 2021
Whisper Valley, the master planned community tucked in far east Austin that offers a wide range of prices for homes equipped with clean energy resources. The neighborhood claims to be Austin's first zero-energy capable community, with innovations that can both save money and the environment.
Pros
Cleaner, cheaper energy: Whisper Valley's homes claim to be 75-80% more efficient than most homes, according to the Home Energy Rating System, or HERS. They can also serve as their own power plant: with solar and geothermal energy, these homes can generate as much energy as they consume, creating a sustainable cycle.
Amenities: Perfect for families looking for an idyllic lifestyle and nature as a backyard, the neighborhood comes with a fitness center, a discovery center, trails and community gardens.
Range of prices: Starting at $200,000, these homes are more affordable than much of Austin amid the skyrocketing housing market.
Proximity to tech: It may be out of the city center, but Whisper Valley is a 10-minute drive from the new Tesla Gigafactory, Samsung and Dell corporate campuses and the airport. It's also close to Pflugerville, where tech jobs are plentiful.
Cons
Location: Located in East Austin, just outside Manor, Whisper Valley is great for those looking for an out-of-city lifestyle but not as great for commuters or city lovers.
No "work" in Live, Work, Play: This master planned community will have schools, but with little-to-no employment in the neighborhood, there's no "city-within-a-city" aspect to Whisper Valley.
Availability: This could be a pro or a con. While the neighborhood is currently sold out, a second phase of lots are going up for sale later this year.
Said: "Whisper Valley is going to be a big community to watch right now... It's totally sold out," Horton said. "It's desirable for a number of reasons because the builders are using specific construction materials for energy efficiency, they're putting solar panels on all the homes and it has a wonderful community amenity package."
3. Easton Park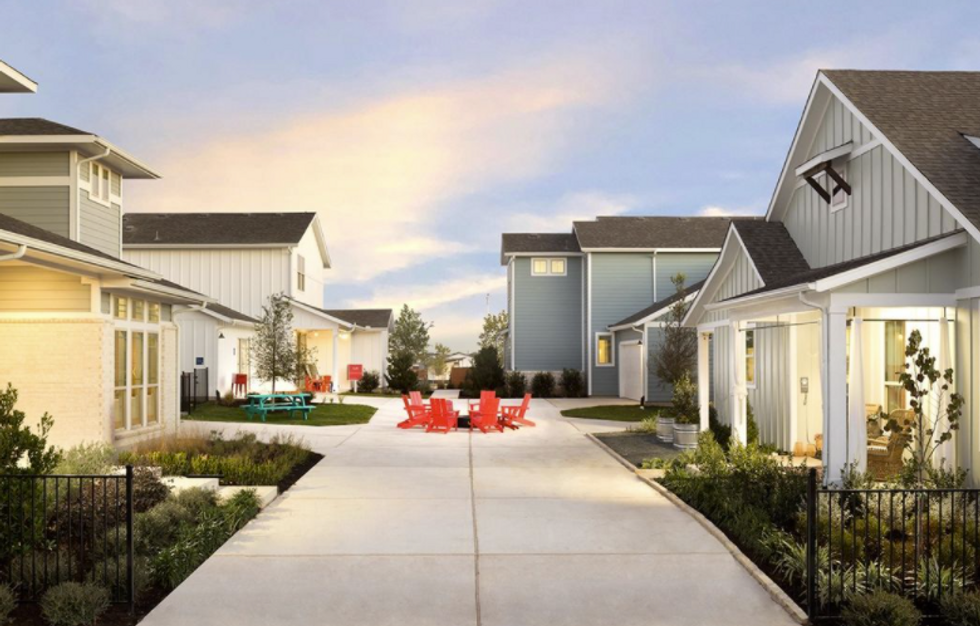 (Easton Park/Instagram)
Located in Southeast Austin, Horton said Easton Park will eventually be a "city within a city." The master planned neighborhood includes several different homebuilders to fit everyone's tastes, and it'll have commercial lots as well as multifamily units sprinkled into the neighborhood's single-family homes.
Pros
Proximity to airport: It may be far from downtown, but Easton Parks' closeness to Austin-Bergstrom International Airport is sure to ease the burden for those who need to travel often.
City-within-a-city: Once completed, Easton Hills will feel like its own city—think exceptional live-work-play with schools, employment, businesses and community centers.
Affordability: Homes start at $300,000, lower than the median home price in Austin.
Variety of choices: Easton Hills will have different neighborhoods within itself with their own unique setups—while one may have a fitness center and pool, another has a shared front area for community living. Seven home builders are available to build houses in their own styles.
Cons
Far from downtown: It's not as far as some other options, but Easton Hills is still much further southeast from the city's center. It isn't too far from Tesla's upcoming Gigafactory, however.
Patience, patience, patience: Horton says it could take 10 years before the neighborhood is complete, so it may be a while before you get that community feel. Think of it as a long-term investment.
Said: "It's just minutes from the airport and that tech area," Horton said. "It's supposed to end up taking 10 years to get there, but it's going to have shopping, schools, restaurants and infrastructure. It's going to be built into its own little city."
4. Santa Rita Ranch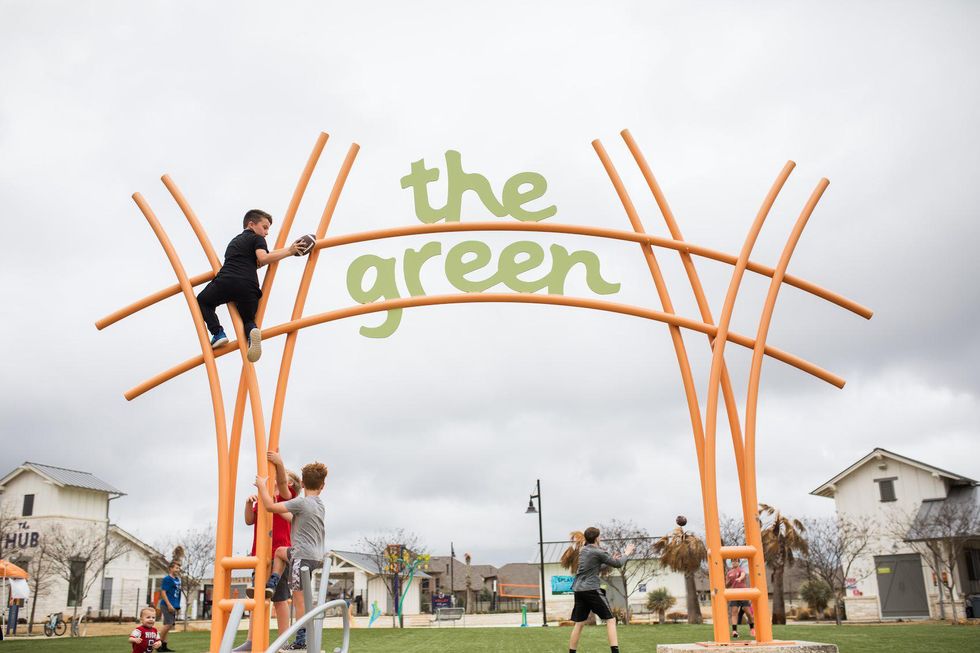 (Santa Rita Ranch/Facebook)

Located on the opposite side of Austin to the northwest, Santa Rita Ranch is an up-and-coming community in Liberty Hill that will soon be larger than all previously mentioned neighborhoods, Horton said. Marketed as a "staycation," Santa Rita Ranch was rated the No. 1 Selling Master Planned Community by resident real estate industry experts, according to its website.
Pros
Large, self-sufficient community: Santa Rita Ranch will encompass both sides of Ronald Reagan Blvd., according to Horton, and it's already created two new schools and its own fire department. Eventually, this will be an almost entirely self-sufficient neighborhood, and its size will allow residents to embody the live-work-play ideal.
Events and entertainment: From crawfish boils to water slides, there's always something going on in the neighborhood. Churches, schools and businesses are already in the community as well.
Affordability: Prices start at $250,000 and go up to $600,000, so the community will have plenty of diverse living choices.
Plenty of space: Because of its immense size, Santa Rita Ranch has extensive green spaces, including parks and hiking trails. The neighborhood offers a more peaceful, slow-paced lifestyle rich in nature and the outdoors.
Cons
Not-so commuter-friendly: located 40 minutes from downtown, this community may be more beneficial to those working remotely or within Liberty Hill itself. Luckily, there will eventually be plenty of employment within the community.
No small community feel: Because of its size, Santa Rita Ranch won't be quite as cozy as some other neighborhoods.
Said: "The transformation that's going to happen out there by Santa Rita Ranch is going to be huge," Horton said. "Because the development plans are so massive, it will be its own little city within a city."
5. Up and coming—Kyle and Buda
When looking to the future, Horton said that Austin could resemble a metro like DFW or Houston. With supply going dry, Horton said the city will grow out rather than up. Kyle and Buda, both located a few miles south of Austin, are more their own communities themselves than Austin suburbs, but they're close enough for commuters to take a liking to each city.
Pros
Community: Get away from the busy highways and know your neighbors. The small-town feel is perfect for anyone that wants quieter surroundings. And you can always drive 20 minutes to Austin on the weekend.
Affordability: While these two towns are known for being more affordable at around $325,000 for a home, prices are rising quickly as they gain in popularity.
Cons
Location: It's definitely a longer commute if you work in Austin, but it's not uncommon to sacrifice commute time for a smaller town feel.
Said: "Going south, those areas are rocking right now," Horton said. "It is unbelievable the amount of homes that are selling in that Kyle/Buda area."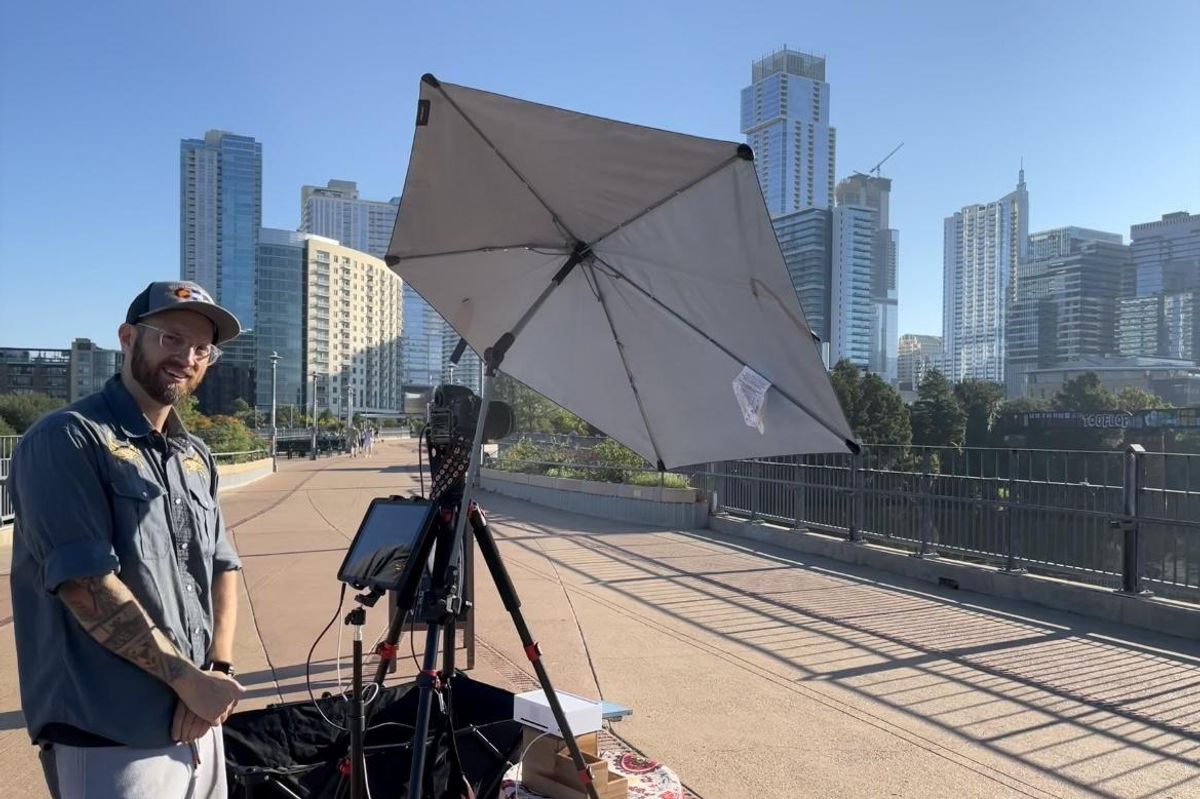 Nicklaus Pereksta says he loves photographing enthusiastic people, and it's why his latest gig offering pictures to people out on Lady Bird Lake's hike and bike trail is going smoothly. He sets up his gear on the Pfluger pedestrian bridge and puts out a sign: Photos, $10.
"Overwhelmingly, this has been a really positive experience," Pereksta said. "I get excited when I wake up in the morning and I can't wait to go to work."
Bikers and joggers are excited about it too. On the pedestrian bridge leading to downtown Thursday morning, a man on an e-bike rode up and posed, wanting more photos.
"I posted the last pictures on Instagram and people loved it. They asked, 'where is this guy?'" the biker told Pereksta. Bashfully, Pereksta, who also photographs landscapes and at weddings and other events, said he was happy to hear that.
Pereksta started these photos about a month ago, after the strenuous runs required in his valet job started causing pain in his legs. And though he has a passion for photography, he wasn't so sure when he started working independently if it would work out.
He felt uncertain about the demand for it and was also worried about having lots of expensive equipment out in the open.
"Then like the first day was nothing but high praise and people are like, this is so awesome. This is great. I've never seen anything like this before. I was like, Wow, this was really good, like positive turnout. So I got encouraged."
Now, he wants to expand and is thinking of contacting the Mueller Farmers Market about how to become a vendor. Still, he'll carry a connection to photographing on the bridge since the word bridge is related to his last name.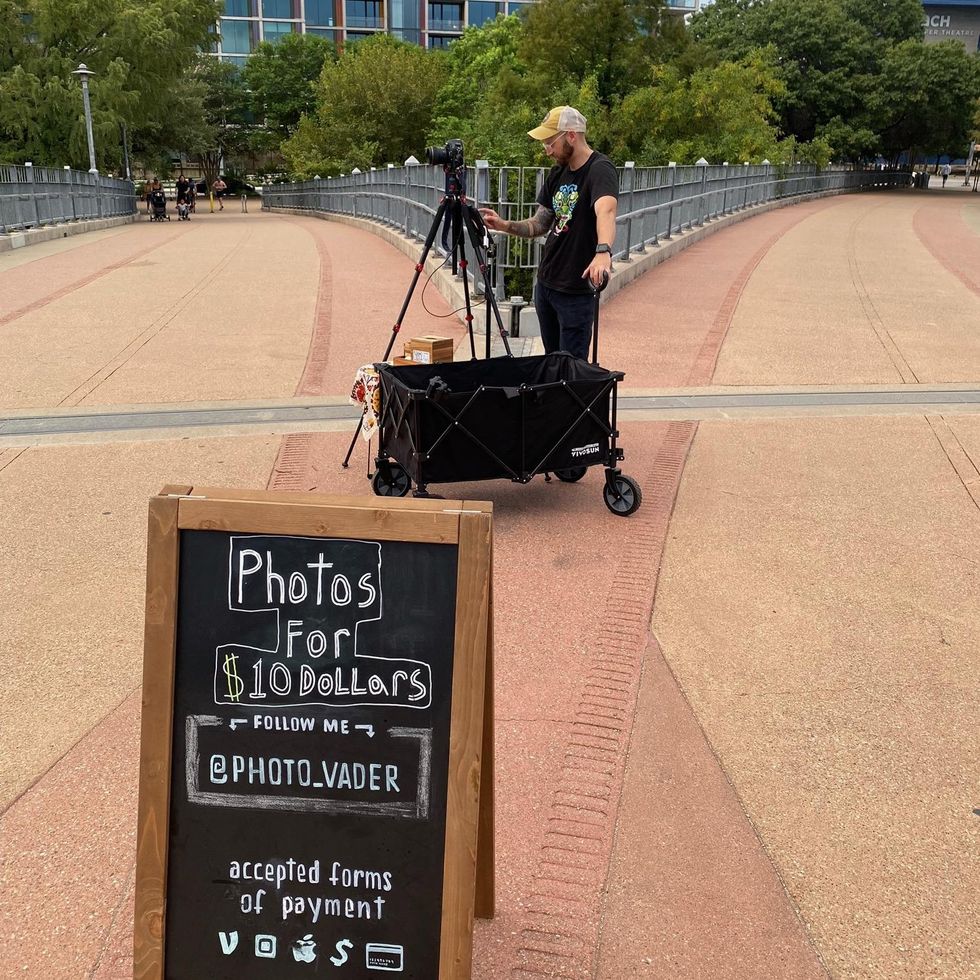 (Dewey C.)
"It's a name my great, great, great grandfather came up with when he was marrying somebody. It's actually quite a romantic name. It means a joining of two bridges," Pereksta said. "So, I thought it was ironic that I'm set up on a bridge. I'm kind of representing my last name right now."
Austonia talked to Pereksta about life in Austin, where he's lived for eight years after living in Boston doing band photography.
What was your first experience with Austin?
I came here to visit some friends and they took me to Barbarella. So we went to Barbarella and I was like, 'wow, this place is great.' And then the restaurants and the food and going to Barton Springs. I was like, 'this is amazing.' Because there's nothing like that in Boston. If you want to go to a natural spring, you got to go to New Hampshire. There's no pools in the city at all. So there's lots of swimming out here.
What do you like best about Austin?
You go to any little quiet bar and there's a band playing that should be like onstage for a sold out show. Yeah, they're playing to 10 people, right? Like, one of the best bands ever and they're playing for 10 people, right? And just little magic moments like that are pretty fun. You just run into little random weird things.
What do you think makes Austin different from other places?
There's no fall.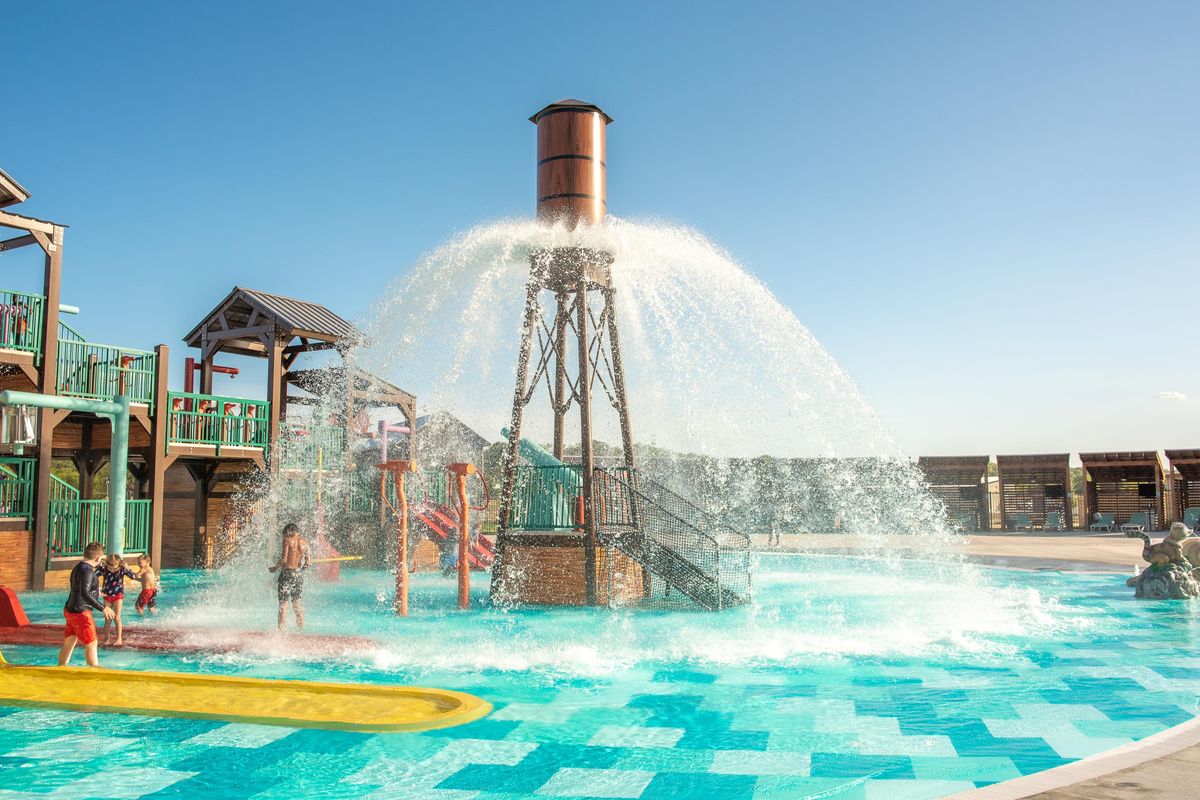 Camp Fimfo Waco
Camp Fimfo Waco, a brand new camping resort, is kicking off football and fall camping season in style! With top-notch amenities, premium accommodations, and 10 weekends of fall fun, there's no better place to have a fall camping getaway, especially if you're a Baylor football fan!
Fall promises to be a one-of-a-kind camping experience. From Sept. 16 to Nov. 24, weekends will be packed with fall-themed activities, including special Halloween weekends in October. Campers can enjoy activities like fall crafts, campground trick-or-treating, costume contests, site decorating, outdoor movie nights, and more!