Get connected with our daily update
With its "boomtown" label reaching national news and swaths of tech companies migrating to the Texas capital, Austin's housing market is steamrolling ahead.
Austonia reached out to Austin Board of Realtors President Susan Horton to learn which neighborhoods are the most in-demand for incoming buyers, here is what she said.
---
1. Mueller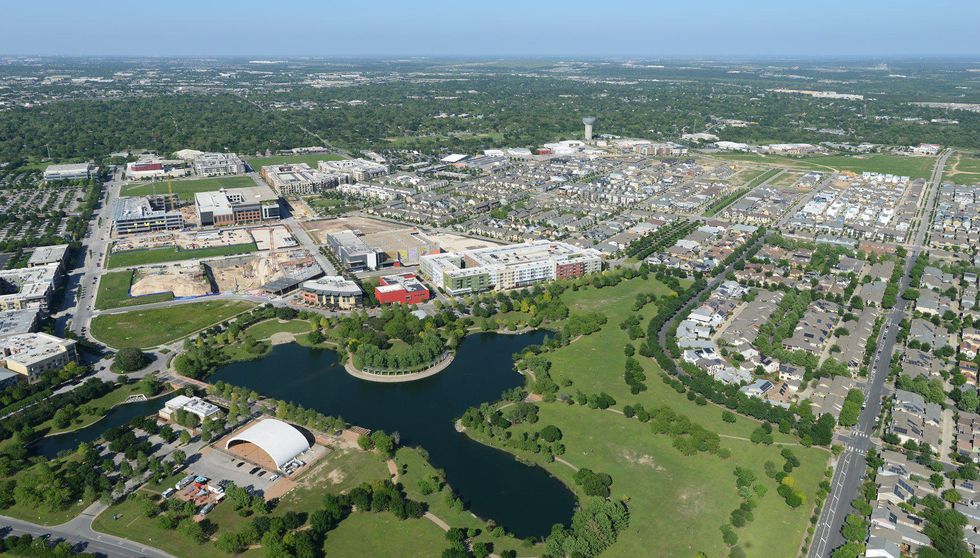 Austin's Mueller neighborhood promotes live-work-play principles with its mixed-use lots and extensive greenspaces. (Mueller Austin/Facebook)
Austin's downtown hub is often elusive for homebuyers, but Mueller, built on the city's closed Robert Mueller Municipal Airport, is drawing in droves of residents looking to live near the action.
Pros

Affordability: The only mixed-use neighborhood on the list, Mueller provides diversity in housing from large properties to apartments, and a commitment to affordable housing is part of its mission statement.
Proximity: Located just north of The University of Texas at Austin and just east of I-35 with Hyde Park as its westerly neighbor, the neighborhood is prime real estate for those who work downtown.
Walkability: With its own retail, including a large H-E-B, various businesses and schools in the area and plenty of mixed-use spaces, it's easy to get around the neighborhood by foot or public transit.
Thinking green: The neighborhood has three parks and plenty of green space to give residents a break from the hustle and bustle of city life. Homes at Mueller are constructed with recyclable and non-toxic materials and are designed to save energy and increase affordability. The neighborhood has an onsite power plant through Austin Energy that provides clean energy as well.
Cons
Supply: Due to its location near the heart of Austin, there isn't much new construction happening in the neighborhood. Those looking to make the move to Mueller need to stay posted on available listings if they want to move into the area.
Said: "It is so rich, just right almost in the heart of our city," Horton said. "It's an extremely desirable neighborhood because it's close to everything... so as soon as something comes on the market, it's gone."
2. Whisper Valley
Renewable geothermal energy to heat and cool your home, solar to power it. Zero-energy-capable living starts from the mid $200s-$400s in Whisper Valley.https://t.co/Jrh1nidw8J pic.twitter.com/qm1wxbpRQZ

— Whisper Valley (@whisper_valley) January 15, 2021
Whisper Valley, the master planned community tucked in far east Austin that offers a wide range of prices for homes equipped with clean energy resources. The neighborhood claims to be Austin's first zero-energy capable community, with innovations that can both save money and the environment.
Pros
Cleaner, cheaper energy: Whisper Valley's homes claim to be 75-80% more efficient than most homes, according to the Home Energy Rating System, or HERS. They can also serve as their own power plant: with solar and geothermal energy, these homes can generate as much energy as they consume, creating a sustainable cycle.
Amenities: Perfect for families looking for an idyllic lifestyle and nature as a backyard, the neighborhood comes with a fitness center, a discovery center, trails and community gardens.
Range of prices: Starting at $200,000, these homes are more affordable than much of Austin amid the skyrocketing housing market.
Proximity to tech: It may be out of the city center, but Whisper Valley is a 10-minute drive from the new Tesla Gigafactory, Samsung and Dell corporate campuses and the airport. It's also close to Pflugerville, where tech jobs are plentiful.
Cons
Location: Located in East Austin, just outside Manor, Whisper Valley is great for those looking for an out-of-city lifestyle but not as great for commuters or city lovers.
No "work" in Live, Work, Play: This master planned community will have schools, but with little-to-no employment in the neighborhood, there's no "city-within-a-city" aspect to Whisper Valley.
Availability: This could be a pro or a con. While the neighborhood is currently sold out, a second phase of lots are going up for sale later this year.
Said: "Whisper Valley is going to be a big community to watch right now... It's totally sold out," Horton said. "It's desirable for a number of reasons because the builders are using specific construction materials for energy efficiency, they're putting solar panels on all the homes and it has a wonderful community amenity package."
3. Easton Park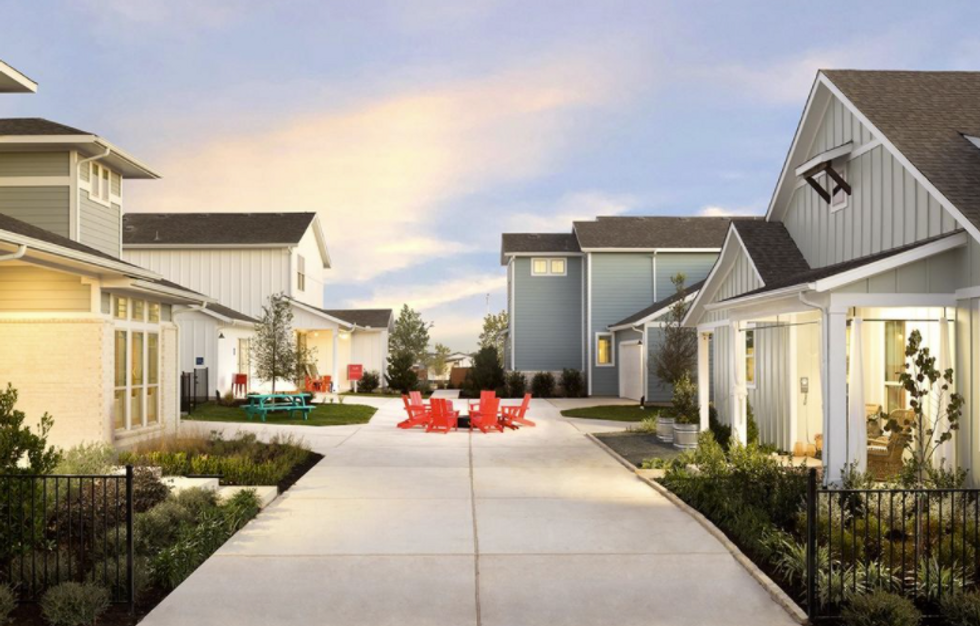 (Easton Park/Instagram)
Located in Southeast Austin, Horton said Easton Park will eventually be a "city within a city." The master planned neighborhood includes several different homebuilders to fit everyone's tastes, and it'll have commercial lots as well as multifamily units sprinkled into the neighborhood's single-family homes.
Pros
Proximity to airport: It may be far from downtown, but Easton Parks' closeness to Austin-Bergstrom International Airport is sure to ease the burden for those who need to travel often.
City-within-a-city: Once completed, Easton Hills will feel like its own city—think exceptional live-work-play with schools, employment, businesses and community centers.
Affordability: Homes start at $300,000, lower than the median home price in Austin.
Variety of choices: Easton Hills will have different neighborhoods within itself with their own unique setups—while one may have a fitness center and pool, another has a shared front area for community living. Seven home builders are available to build houses in their own styles.
Cons
Far from downtown: It's not as far as some other options, but Easton Hills is still much further southeast from the city's center. It isn't too far from Tesla's upcoming Gigafactory, however.
Patience, patience, patience: Horton says it could take 10 years before the neighborhood is complete, so it may be a while before you get that community feel. Think of it as a long-term investment.
Said: "It's just minutes from the airport and that tech area," Horton said. "It's supposed to end up taking 10 years to get there, but it's going to have shopping, schools, restaurants and infrastructure. It's going to be built into its own little city."
4. Santa Rita Ranch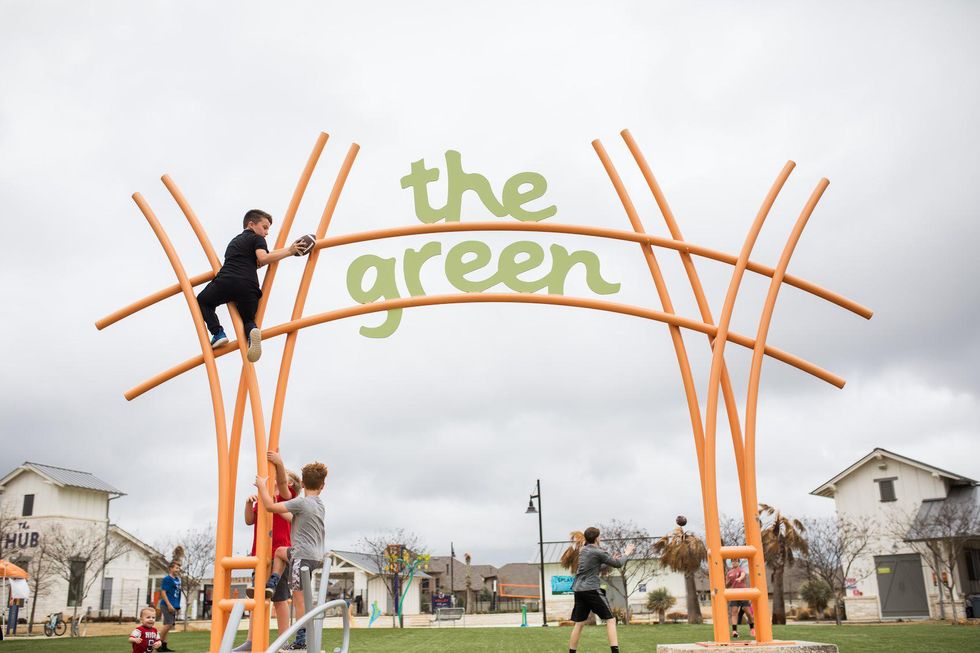 (Santa Rita Ranch/Facebook)

Located on the opposite side of Austin to the northwest, Santa Rita Ranch is an up-and-coming community in Liberty Hill that will soon be larger than all previously mentioned neighborhoods, Horton said. Marketed as a "staycation," Santa Rita Ranch was rated the No. 1 Selling Master Planned Community by resident real estate industry experts, according to its website.
Pros
Large, self-sufficient community: Santa Rita Ranch will encompass both sides of Ronald Reagan Blvd., according to Horton, and it's already created two new schools and its own fire department. Eventually, this will be an almost entirely self-sufficient neighborhood, and its size will allow residents to embody the live-work-play ideal.
Events and entertainment: From crawfish boils to water slides, there's always something going on in the neighborhood. Churches, schools and businesses are already in the community as well.
Affordability: Prices start at $250,000 and go up to $600,000, so the community will have plenty of diverse living choices.
Plenty of space: Because of its immense size, Santa Rita Ranch has extensive green spaces, including parks and hiking trails. The neighborhood offers a more peaceful, slow-paced lifestyle rich in nature and the outdoors.
Cons
Not-so commuter-friendly: located 40 minutes from downtown, this community may be more beneficial to those working remotely or within Liberty Hill itself. Luckily, there will eventually be plenty of employment within the community.
No small community feel: Because of its size, Santa Rita Ranch won't be quite as cozy as some other neighborhoods.
Said: "The transformation that's going to happen out there by Santa Rita Ranch is going to be huge," Horton said. "Because the development plans are so massive, it will be its own little city within a city."
5. Up and coming—Kyle and Buda
When looking to the future, Horton said that Austin could resemble a metro like DFW or Houston. With supply going dry, Horton said the city will grow out rather than up. Kyle and Buda, both located a few miles south of Austin, are more their own communities themselves than Austin suburbs, but they're close enough for commuters to take a liking to each city.
Pros
Community: Get away from the busy highways and know your neighbors. The small-town feel is perfect for anyone that wants quieter surroundings. And you can always drive 20 minutes to Austin on the weekend.
Affordability: While these two towns are known for being more affordable at around $325,000 for a home, prices are rising quickly as they gain in popularity.
Cons
Location: It's definitely a longer commute if you work in Austin, but it's not uncommon to sacrifice commute time for a smaller town feel.
Said: "Going south, those areas are rocking right now," Horton said. "It is unbelievable the amount of homes that are selling in that Kyle/Buda area."
Republic Square Park has turned into a Ford-themed fiesta for its Built to Connect pop-up experience, complete with test drives, off-roading and an inside look at the Tesla-rivaling electric vehicles that the motor vehicle company is planning to integrate over the next decade.
The outdoor driving event is free, open to the public and will stay in the park from now until Oct. 24, offering rides on Bronco Mountain, a 0-40 mph zip in the 2022 all-electric Ford F-150 Lightning and a chance to win an original Ford Bronco.
The event kicked off with a panel of speakers, including Austin Director of Transportation Rob Spillar, Ford General Manager Darren Palmer and engineering specialists discussing Ford's goals to make it so that 50% of the vehicles on the road are electric by 2030.
As an eco-conscious city, Spillar said that around 4,000 vehicles, or 22% of the Texas electric vehicle market, as well as over 15,000 plugins lie in Austin, meaning driving electric just got accessible.
"Austin, as you know, is a fast-growing modern city that is committed to protecting the long term health and viability of our communities and strategies that reduce greenhouse gases, mitigate the effects of climate change and improve the drone quality of life here in Central Texas for all of our residents," Spillar said.
And Ford's electric vehicles are putting up some steep competition for newly-Austin-based company Tesla. The new electric Mustang Mach-E and F-150 Lighting offer amenities that used to be exclusive to Musk's brand, such as the BlueCruise self-driving network. The cars also boast a 300-mile range on a single charge, assisted reverse technology and access to the biggest charging network outside of the home.
Plus, Ford's got affordability on its side. The F-150 Lightning starts at $39,974 and the Mustang Mach-E starts at $42,895, while the cheapest Tesla model, the Model 3, starts at $41,990 and averages 262 miles on a single charge.
Speaking of price, the numbers on the electric vehicles may look like a little more than you'd like to pay for your transport, but Palmer promises it will pay off. In addition to a $7,500 tax credit you can earn for your sustainability, you'll never have to buy a pricey tank of gas again.
"Personally, I have not found one customer ever, who would go back to gas so that says something," Palmer said. "I realized, at $51,000, that car outruns every childhood hero car I ever had."
Texas buyers: take note. The Ford Lightning can power your house for three to 10 days, just in case the statewide power grid fails. You can take it glamping with you, so you don't have to leave the comfort of modern life behind, and in a pinch, Palmer said he's even seen a wedding party powered by the truck.
Ford is investing $30 billion into the U.S. market to meet demand by 2025 and the new electric truck already has over 150,000 reservations.
"I think they're going to take off much faster than you expect—they're going to be extremely, extremely popular next year," Palmer said. "With the incentives that are available today, this is starting to become more mainstream and viable for more and more families. We couldn't have done that before, we didn't have the technology, or the technology at that price."
The event is ongoing through next weekend from 12-9 p.m. Monday-Friday and 9 a.m.- 8 p.m. Saturday and Sunday.
The Austin Police Department is searching for a man who is believed to be behind a series of robberies that is "sexual in nature and is escalating."
Three robbery cases that took place in North Austin within a 30-day period are being investigated by police, who report the victims all had similar descriptions for suspects in the case. The suspect is described as a 20-25-year-old Spanish-speaking Hispanic man, approximately 5'3, thin build, recently shaved with black hair. Police say he is known to typically wear athletic clothing and used a knife on each of the victims.
Here's a breakdown of the cases:
1. At 7:56 a.m. on Sept. 22 at the 1600 block of Rutland Drive, a woman was walking alone and returning from her child's school when a suspect walking by inappropriately touched her. The suspect then grabbed her by the arm, threatened her with a knife and demanded "her property."
2. At 8:10 a.m. on Oct. 11 at 1700 block of Colony Creek Drive, a woman was walking to her child's school when a man approached her with a knife and then demanded her personal items. The suspect then said he would return the items in return for sex.
3. At 11:03 a.m. on Oct. 13 at the 9300 block of Northgate Boulevard, a woman was with her child in the laundry room of an apartment complex when a man walked in performing a sexual act. The suspect demanded personal items from the victim, threatening to hurt the victim and take her child.
Police cautioned the public to walk without earbuds, stay alert and report suspicious activity to the police.