Get connected with our daily update
(Tamale House/Instagram)
Listen up, new Austinites. Austin loves its food and rightly so—it certainly has its own brand of vittles. The cuisine scene is leveling-up and diversifying day-by-day, though Austin has long been a hub for excellent grub.
Whether you just moved here, are just visiting or have lived here your whole life, here are some food options that you must try to get a feel for Austin's unique gastronomy.
I'm getting hungry just thinking about all these local favorites!
(Joe Rogan/Instagram)
Multiple sources confirm that LA-based podcast host Joe Rogan has purchased an Austin, Texas home overlooking Lake Austin, after working with a prominent local realtor for several weeks and touring multiple high-end homes under a non-disclosure agreement.
The home is said to be the future office and broadcast headquarters for The Joe Rogan Experience podcast, which Spotify recently licensed, reportedly for more than $100-million, sources say.
Timeline of Joe Rogan moving to Austin
An Instagram post this weekend from Rogan gives a glimpse inside his new "Texas JRE studio!" as it's being built.
Rogan has talked about Austin as his potential new home but has not publicly confirmed his new hometown.
Locals say Rogan is said to be still shopping for a home nearby for himself and his family.
The Joe Rogan Experience episodes are typically ranked among the most listened to on Apple's podcast app. JRE landed the deal with Spotify earlier this year.
Rogan posted a glimpse inside his new studio on Instagram on Saturday.
Over the last few months, Rogan has discussed his idea to move to Austin on his podcast, which is currently based in Los Angeles.

"I just want to go somewhere in the center of the country, somewhere it's easier to travel to both places, and somewhere where you have a little bit more freedom," Rogan said on the July 24 episode of JRE.
Rogan has also said he would fly guests out to Texas for interviews. Some of Rogan's most popular episodes feature interviews with Tesla founder and CEO Elon Musk, conspiracy theorist Alex Jones, conservative pundit Ben Shapiro and whistleblower Edward Snowden.
The Austin Independent School Board delayed the school year to Sept. 8 in an early-Friday vote, giving teachers three more weeks to prepare for online learning and the community more time to see a drop in COVID-19 cases before students, faculty and staff return to the classroom.
The first four weeks of classes will be virtual-only for most of the district's 80,100 students, with exceptions made for students who don't have access to the required technology, but the board also voted to ask the Texas Education Agency to allow up to four more - potentially delaying full access to the district's 130 campuses until early November.
If granted, the board stipulated, the waiver "would serve as a period where students who selected on-campus instruction may return to on-campus learning in phased-in smaller groups." Families were asked to choose between in-person or online, with the option for virtual-only students to switch to on-campus classes after the first grading period.
The Thursday night virtual meeting lasted more than six hours and drew hundreds of community members, teachers and staff who called in to comment, with the vote happening past 3 a.m. on Friday.
On its agenda documents for the meeting, the district cited "local health conditions," the need for teacher training and the fact that COVID-19 disproportionately affects the Hispanic community, represented by a third of teachers and more than half of the district's students.
The district said staff and faculty will see no reduction in pay and in most cases, no change in pay schedule. The last day of the school year was pushed to June 3, 2021.
On Monday, Education Austin, the union representing 3,000 AISD employees, asked the district to consider pushing back the official first day of school, which Gov. Greg Abbott said was within the rights of local districts, not health officials.
AISD posted this document with frequently asked questions, updated July 30, about attendance, enrollment, class size and more during the upcoming school year.
(Austonia staff)
Two major protests organized in response to police violence in Austin and around the country shut down I-35 twice and led to looting, fires and injuries this weekend. The Austin Police Department responded in several instances with pepper spray, tear gas and rubber bullets.
Thousands of protestors gathered on Saturday and Sunday afternoons to demonstrate over the killings of, primarily, Mike Ramos, who was fatally shot by an Austin Police Department officer on April 24 in Southeast Austin, and George Floyd, who was killed by a Minneapolis Police Department officer last week.
The first protest, held on Saturday, was organized by the Mike Ramos Brigade. Its members have not identified themselves, but in a call to action posted on social media they listed their demands, including the firing of APD Chief Brian Manley and the officers involved in Ramos' death.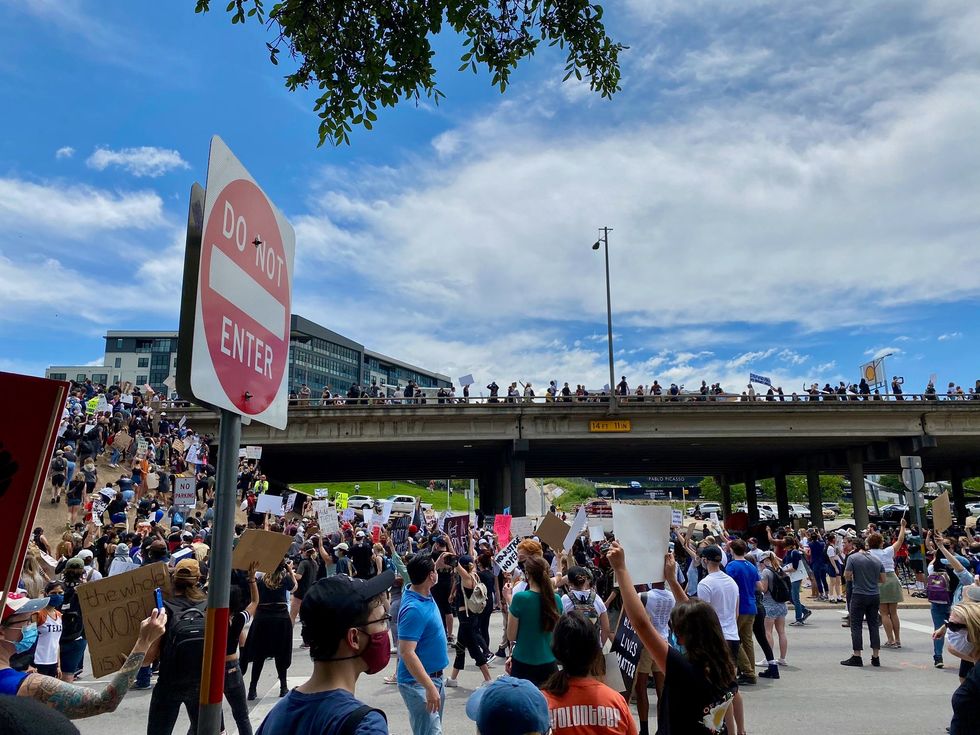 Protesters shut down I-35 on Saturday.
(Austonia staff)
APD officers, some of whom were outfitted in riot gear, used rubber bullets and pepper spray against protestors. The day ended with reports of fires and looting along Sixth Street. At least fourteen people were arrested over the course of the day, with charges including robbery, assault on a peace officer and obstructing a highway, according to APD.
A protester sets fire to a flag near I-35 Saturday afternoon. (Austonia staff)
A second protest, organized in collaboration with the Austin Justice Coalition and other community groups, was scheduled to begin at 1 p.m. Sunday. Shortly before, AJC Executive Director Chas Moore announced in a Facebook live post that the event was officially canceled.
"We are supposed to be out demonstrating, peacefully protesting the need for safety and for freedom and liberation for black people," Moore said. "And when I look at what's going on in Austin, when I look at the mess that happened last night, I look at white people burning stuff up in the name of Black Lives Matter and there's little to no black lives at these events."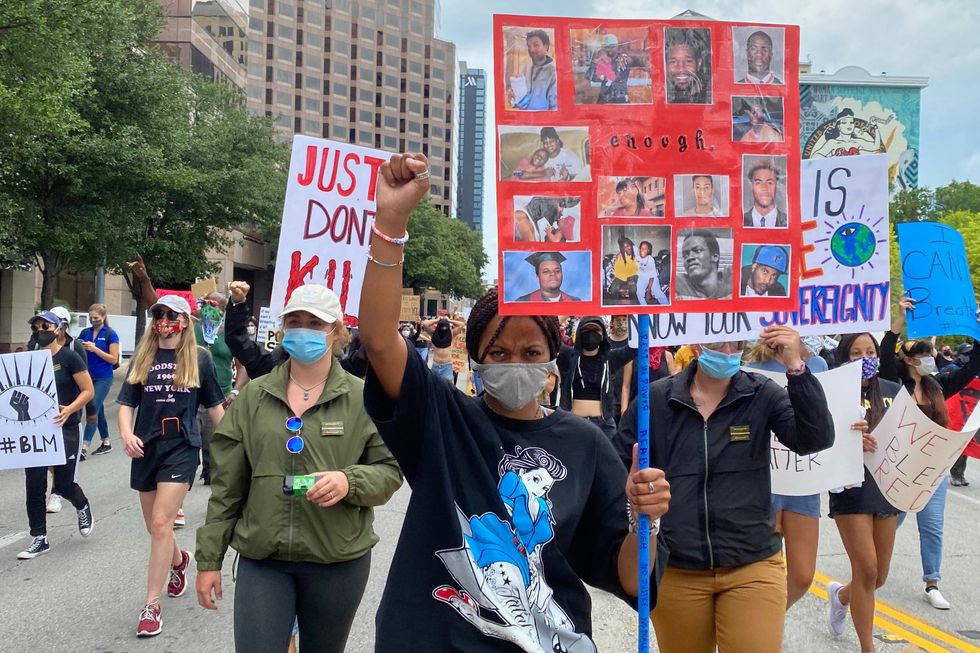 Protestors marched along Cesar Chavez Sunday afternoon in a peaceful demonstration.
(Mary Elizabeth Potts)
Nonetheless, hundreds—and then thousands—of protestors showed up in front of the Capitol Sunday, as planned.
The police form a line on Cesar Chavez Sunday afternoon, stopping demonstrators marching from City Hall.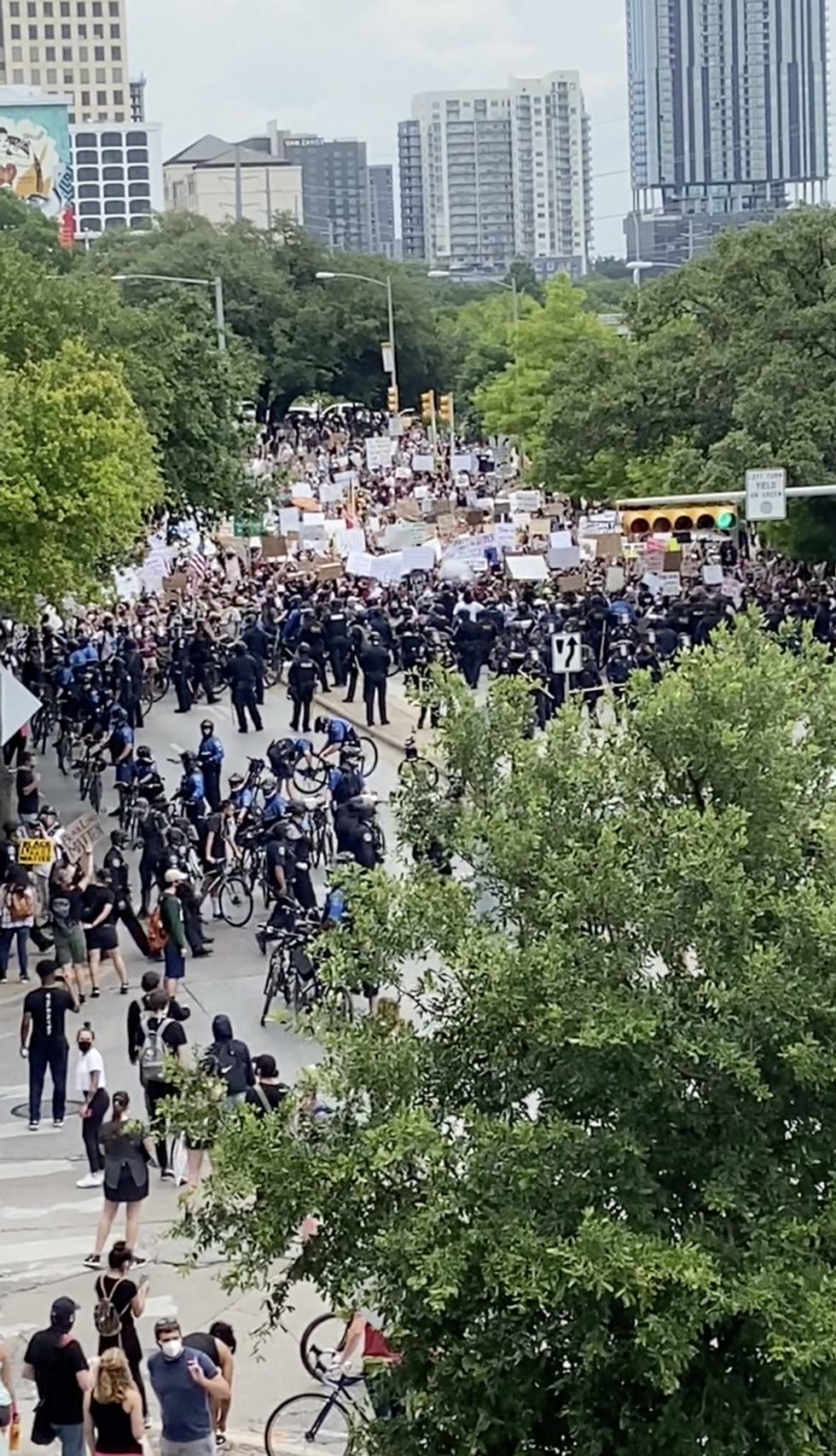 Police then allow protestors to turn north on San Antonio toward Republic Square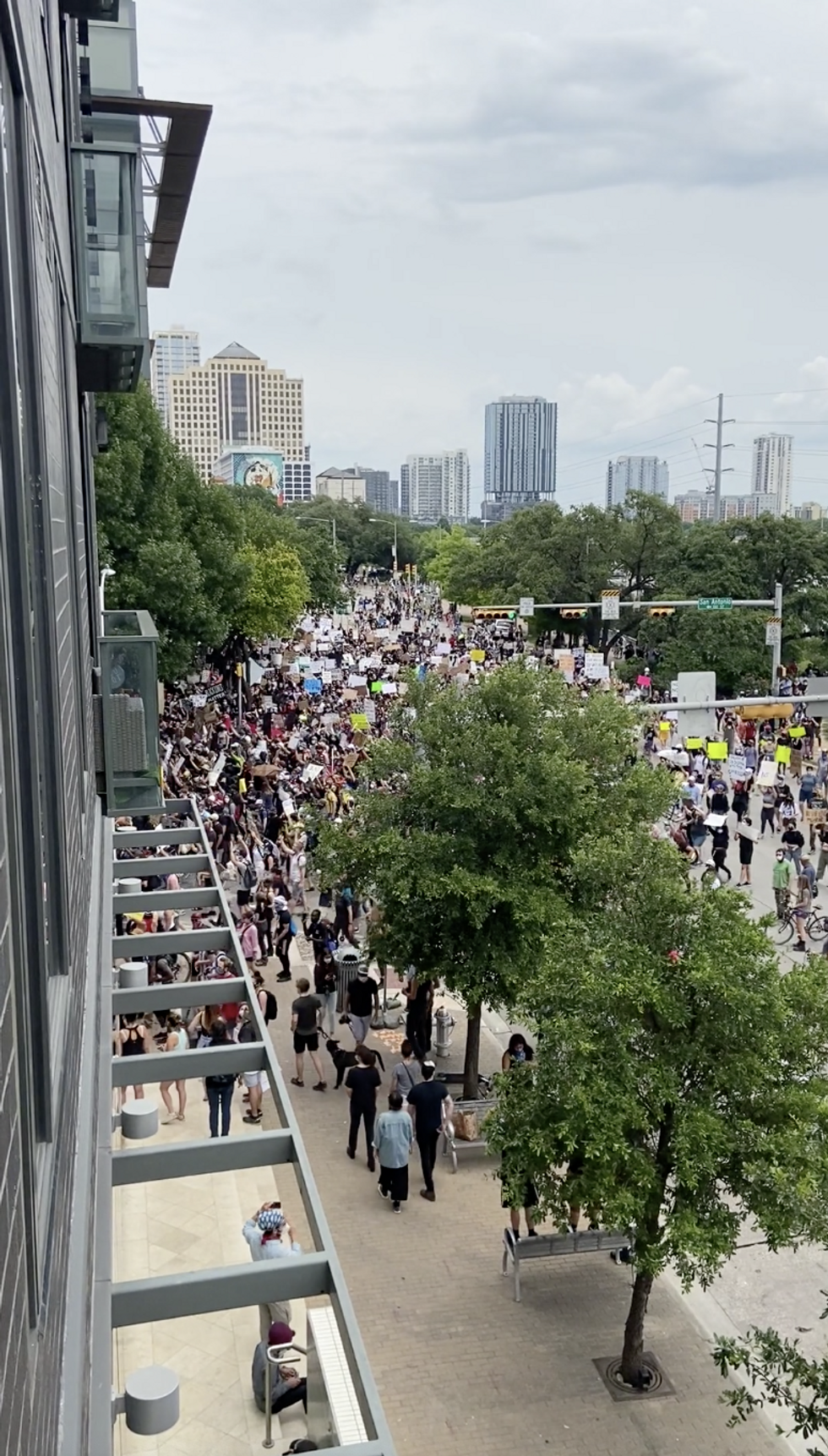 From the Capitol, protestors marched to City Hall and back, peacefully, before some continued onto I-35. APD officers used tear gas to force the crowds off the highway and arrested at least five more attendees. The department also reported looting, including at the Capital Plaza Target, on I-35 near Hwy. 290. Late in the day Michael Ramos' mother, Brenda, spoke at a press conference outside her apartment complex.
"Why is Officer [Christopher] Taylor still drawing a paycheck from us, the citizens of Austin?" she asked, pulling down her mask so she could speak. "Why are we paying his salary when he murdered my son over a month ago and he murdered someone else's son over 10 months ago? Why isn't he in jail?"
In a custodial death report filed with Attorney General Ken Paxton's office—as required by state law—APD said the officers involved in Ramos' death were responding to a narcotics call during which Ramos "became non-compliant and verbally confrontational." Taylor, "fearing the male subject intended to use [his car] as a deadly weapon," then shot Ramos with his patrol rifle.
Taylor was one of three officers involved in the fatal shooting of another black man, 46-year-old Mauris Nishanga DeSilva, last July.
On Friday evening—before Austin's planned protests had occurred but after days of unrest in Minneapolis, Louisville, Atlanta and other cities—Travis County District Attorney Margaret Moore announced she had decided to present the Ramos case to a special grand jury. "I reviewed the case today with my Civil Rights Director, and we believe the investigation has progressed to the point that we can properly make the announcement," she said in a statement.
Austin Mayor Steve Adler issued a statement that same evening, in which he said: "I am committed to doing what it takes to make this stop." He also gave a series of interviews Sunday, in which he pointed to the reforms underway at APD, including the decriminalization of smaller crimes and improved oversight.
APD and the Texas Rangers are conducting an internal investigation into Ramos' death, which is being overseen by the city's office of police oversight. Police Monitor Farah Muscadin will review all documents and participate in all interviews, a city spokesperson wrote in an email.