Austonia AM
100% Austin news, info, and entertainment, straight to your inbox at 6 a.m. every morning.
In five minutes, you're fully informed and ready to start another great day in our city.
Get connected with our daily update
American Airlines announced 14 new routes departing from Austin on Thursday. The routes will begin this fall and include 10 domestic destinations and four international ones.
Starting Sept. 8, American will offer flights from Austin to:
El Paso, Texas
Cincinnati, Ohio
Indianapolis, Indiana
Kansas City, Missouri
St. Louis, Missouri
Jacksonville, Florida
Oklahoma City, Oklahoma
Reno, Nevada
San Juan, Puerto Rico
Tulsa, Oklahoma
Starting Oct. 7, the airline will offer flights to:
Cancun, Mexico
Liberia, Costa Rica
Puerto Vallarta, Mexico
Punta Cana, Dominican Republic
American will also extend its seasonal summer routes to Los Cabos, Mexico, and Nassau, Bahamas, to year-round nonstop ones after
a successful launch
.
The airline previously announced 10 new routes in March. "Earlier this year, we added more flights from Austin, and customers have spoken: they want more," Vice President of Network Planning Brian Znotins said in a press release.
Heading into the summer travel season, Austin-Bergstrom International Airport is reporting long wait times and recommends travelers leaving during peak departure times—5-8 a.m., 11 a.m.-1 p.m. and 3:30-5 p.m.—arrive at least 2.5 hours in advance.
Mayhem at the Austin-Bergstrom International Airport started this morning, first with TSA lines wrapping around the check-in counters and then with police investigating a bomb threat, that has since been cleared.
Since before 6 a.m., TSA checkpoint lines stretched across the airport, causing some to miss their flights. ABIA estimates that wait times at security checkpoints to be two to three hours. Wait times on the ABIA website are not up to date, the airport tweeted Friday.

Before 9 a.m., only one checkpoint line was open. A source tells Austonia the other lines were not open due to multiple TSA workers calling out of work for the day. By 11 a.m., all three lines were open.
Additionally, Austin police responded to a bomb threat in the baggage claim area around 10 a.m. after a bomb-sniffing dog picked up a scent on an unattended bag. Operations have since resumed with clearance from police.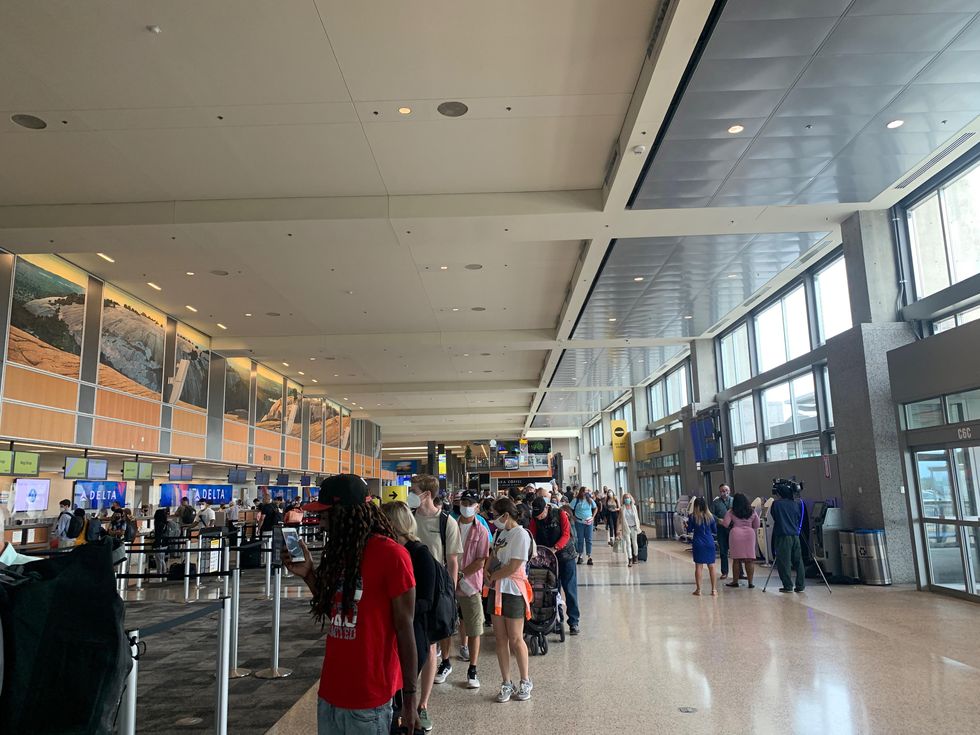 The TSA line at 11 a.m. (Claire Partain)
This may be one of the busiest travel days since the pandemic with lines stretching across the airport. ABIA Public Information Officer Bryce Dubee told Austonia it's too early to know if this is the busiest travel day, but it's possible. The record was set this past Monday, with 25,000 passengers—an average day pre-pandemic.

Brandi Horsford travels to Austin twice a year from Pittsburgh, to visit her mom. "This is the busiest I've ever seen it. I think it's because Memorial Day was last weekend," she said.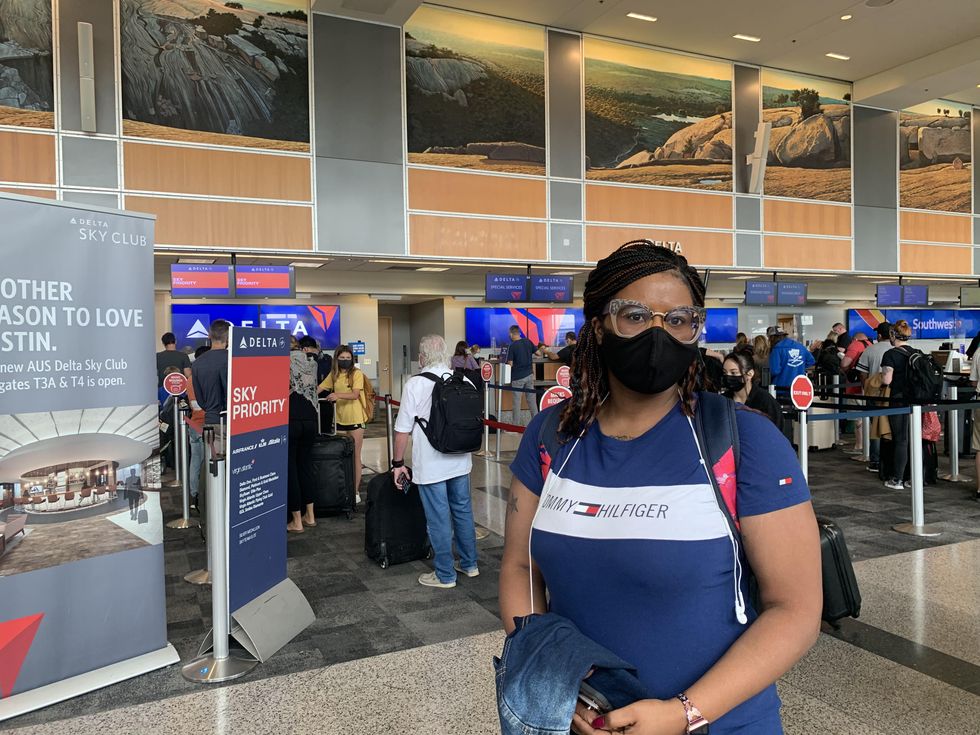 Brandi Horsford traveled from Pittsburgh to Austin, arriving at a very chaotic airport this morning. (Claire Partain)
During peak wait times, the airport encourages travelers to plan to get there with plenty of time to wait. Peak departure times include:

5-8 a.m.
11 a.m.-1 p.m
3:30-5:30 p.m.
This story was last updated at 12 p.m.
Between Central Texas barbeque and Boca Chica tacos, it's no surprise Texas' new resident Elon Musk is ready to dabble in the restaurant business next.
Tesla quietly applied for three trademarks (one for the word "Tesla" and two for the different logos) in restaurant services last week without word on what the upcoming project could be, reports Electrek. But by the looks of it, it may not be for a local restaurant.
It is suspected that Musk could be planning to go through with his '50s diner idea that he floated around in 2018 and resurfaced earlier this year. The diner would be part of a Californian supercharger station for Tesla owners to visit when charging up.
@Gfilche Major new Supercharger station coming to Santa Monica soon! Hoping to have 50's diner & 100 best movie cli… https://t.co/LZKHKd41wu

— Elon Musk (@Elon Musk)1617390799.0
While Musk may not seem to know the ins and outs of the restaurant industry, it'd take a quick phone call to brother Kimbal Musk, who is a restaurant operator in Colorado and Chicago, for some advice.

This won't be Tesla's first time creating a consumer product. Last year it debuted a Tesla Tequila, tequila in a lightning-shaped, Tesla-labeled bottle, after making an April Fools joke out of it in 2018.
With the latest Tesla Gigafactory under construction in Southeast Travis County, maybe Austin Tesla owners could be next to receive some love with a Tesla eatery.
In 1987, North and South Austinites put their differences to the test as they met on opposite banks of what was then called Town Lake for an epic tug-of-war competition, where more than a hundred "Bubbas" of South Austin, the so-called "auto parts capital of the world," met with the "Yuppies," who were known by the South as "wine-sipping, quiche-eater pantywaists."
More than 30 years later after the ripped T-shirt Bubbas dragged their suit and tie Northern foes into the water, Lady Bird Lake separates two very different cultures within the capital.
While South Austin is known for its "weird" Austin atmosphere and ties to the music and food culture, North Austin is often viewed as Austin's center for big tech, bigger corporations and swaths of young professionals.

With iconic South Congress and Zilker Park on their side, South Austinites claim to reside in the cultural hotbed of the city, where Austin's reputation as the "Live Music Capital of the World" earns its merit.
Cody O'Dell, a real estate agent and comedian who grew up in Austin, said that his current South Central neighborhood is a lingering remnant of a former Austin.
"I feel like South Central's where you really see the DNA of the city of Austin," O'Dell said. "It embodies that kind of 'Keep Austin Weird' vibe."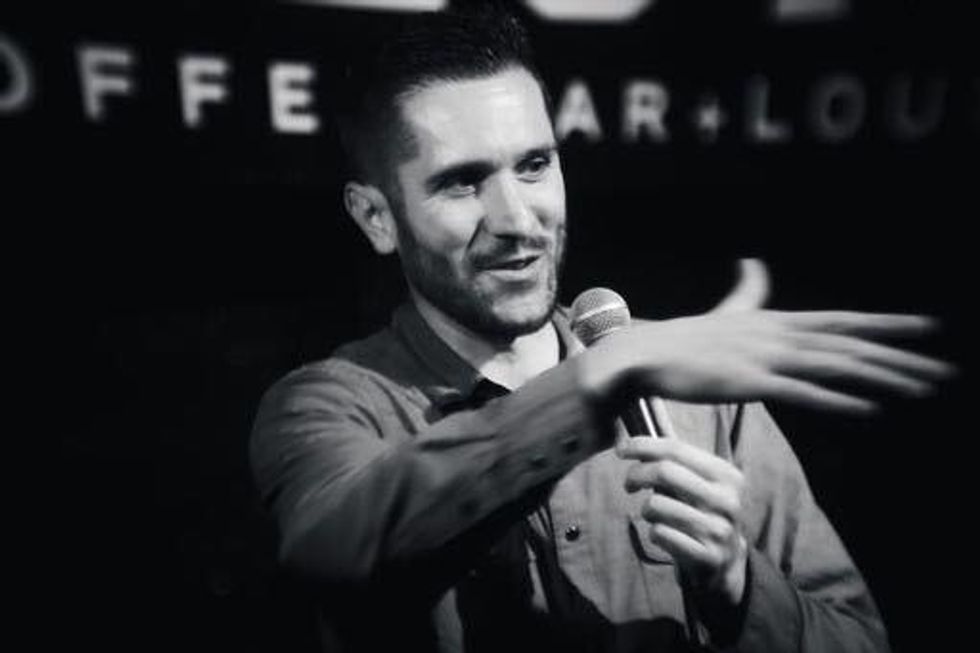 Cody O'Dell says South Austin, where he lives, still has a sense of old Austin.
Meanwhile, 24-year-old Matt DeMario, who grew up in Round Rock but has had his taste of many different Austins, is a North Austinite through and through.
DeMario boils the division down to two words: hippie vs. tech. He also said development hasn't transformed South Austin in the same way it has up North.
"One of the interesting distinctions is South Austin hasn't been gentrified, but the North has," DeMario said. "It's the old Austin hippie vibe versus new Austin tech."
Matt Myers is president of the North Austin Civic Association. He has seen his neck of the woods transform around him.

Myers set his roots in Austin more than 30 years ago and bought a North Austin home for $88,000 in 1992. Since then, he's seen large-scale developments including the Mueller planned development and The Domain, a commercial, retail and residential development, bring big business in. He's been around as the North Austin Tech District attracted Samsung, Apple and other corporations. Now, Myer's home is even within walking distance of Austin FC's new Q2 Stadium.

Myers planned to leave North Austin when his youngest daughter graduated from high school, but he stuck around because of good neighbors, lighter traffic and great entertainment.
"It's just a very attractive part of town to work in, to live in, to be entertained in," Myers said. "I've really earned a respect for the people who live here that are passionate about our neighborhoods and want to see them improve."
The Domain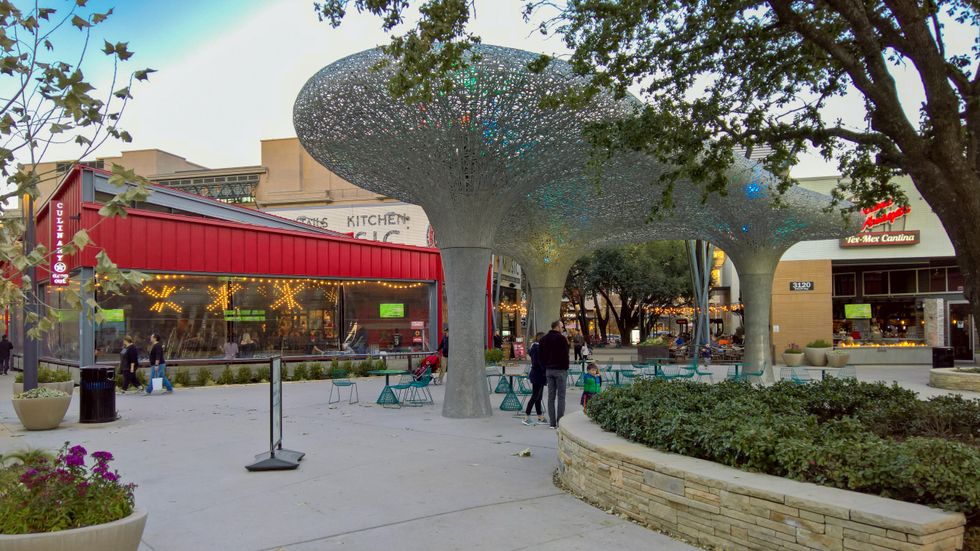 The Domain combines living, working and playing in a sprawling, high-end North Austin city center. (Shutterstock)
River Park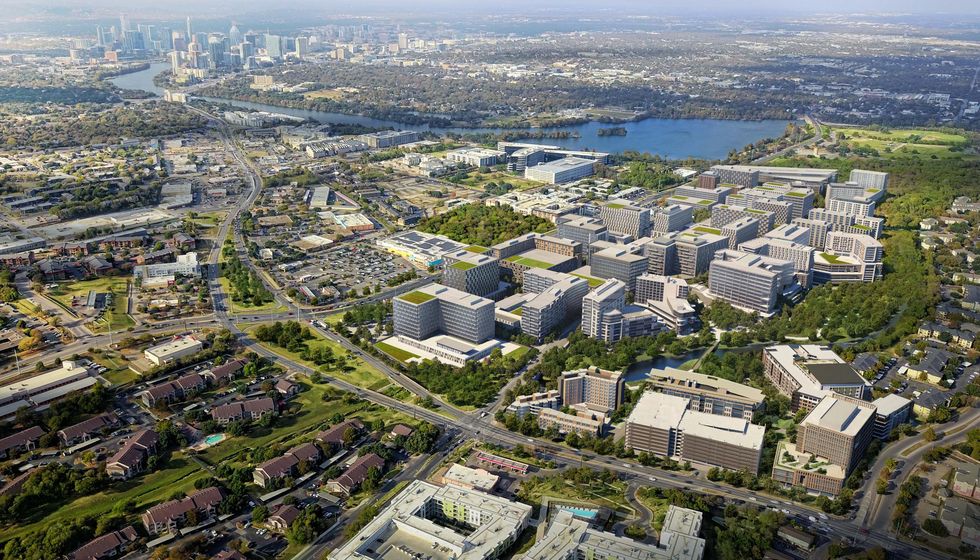 The controversial River Park development is due to open in phases over the next two decades. (Sasaki)
New developments are crowding South Austin, however, and Myers thinks the South could eventually mirror the North. A Domain-style development, River Park, is in the works on East Riverside as Tesla and Oracle move nearby, and South Congress's new Music Lane is drawing even more interest to the cultural hub. Still, DeMario thinks that development will be skewed North "for the foreseeable future."
O'Dell, who believes The Domain is the "antithesis of what Austin is supposed to be about," doesn't welcome the change.
"I feel like the South is fighting that existential battle with the North over the corporate behemoths' influence of big tech and all the shifts that come with that," O'Dell said. "It's the struggle of Austin to keep its cultural identity."
Both are united on one front, however. Skyrocketing housing prices on both sides of the river are driving people out, and eventually, the North/South division could be between Round Rock and Buda as newcomers leave Austin for less expensive housing.
"Those city vibes... (some people) aren't really interested or care about that," O'Dell said. "They're just looking for affordable living."