Get connected with our daily update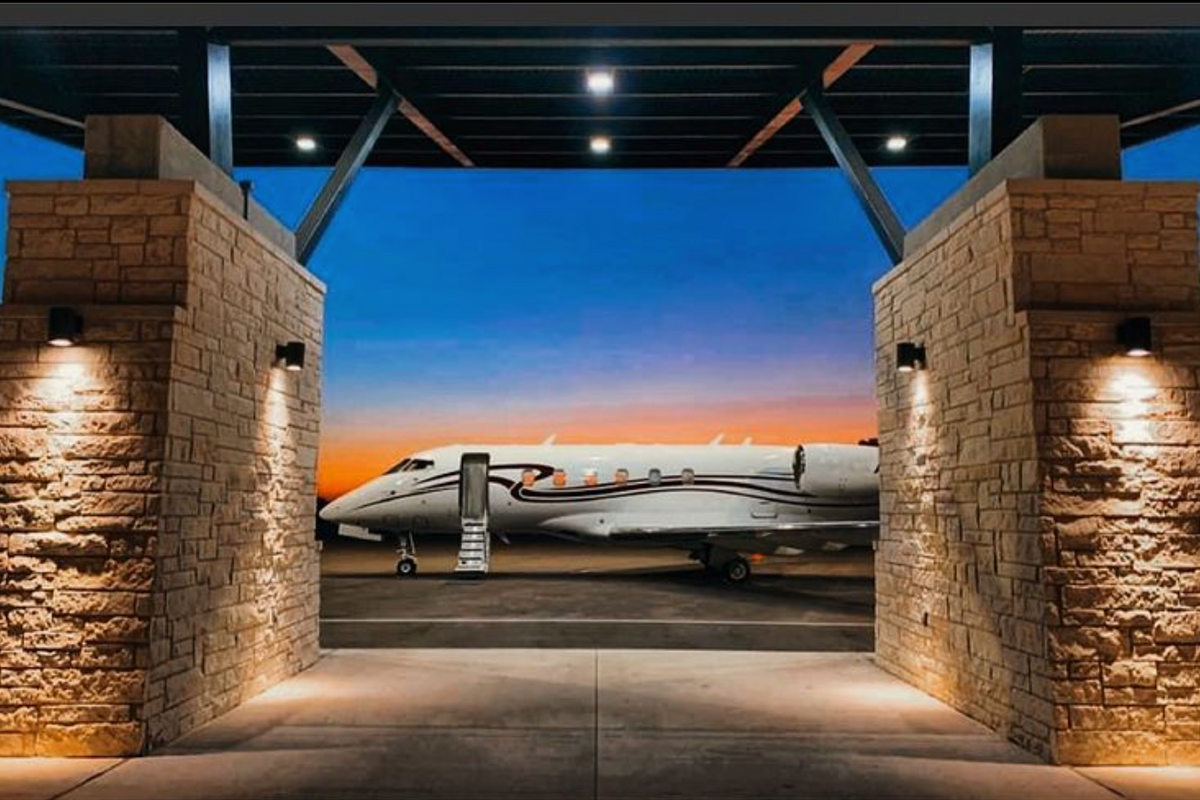 Aptly-named air operator Million Air will soon be welcoming more of Austin's wealthiest travelers at Austin-Bergstrom International Airport.
More corporate executives will soon smoothly travel into the emerging tech hub in Austin thanks to the plan, which will add additional hangars near Million Air's current South Terminal location. The site plan, which was filed June 16, will take place on a 34-acre plot of land next to the current site.
Million Air first planted its roots at ABIA in 2019 with a $40 million project that included seven hangars totaling 120,000+ square feet and a private air terminal modeled after a Hill Country ranch home.
Exact details for the expansion remain unclear, and the project is under development review for utility development and environmental impact.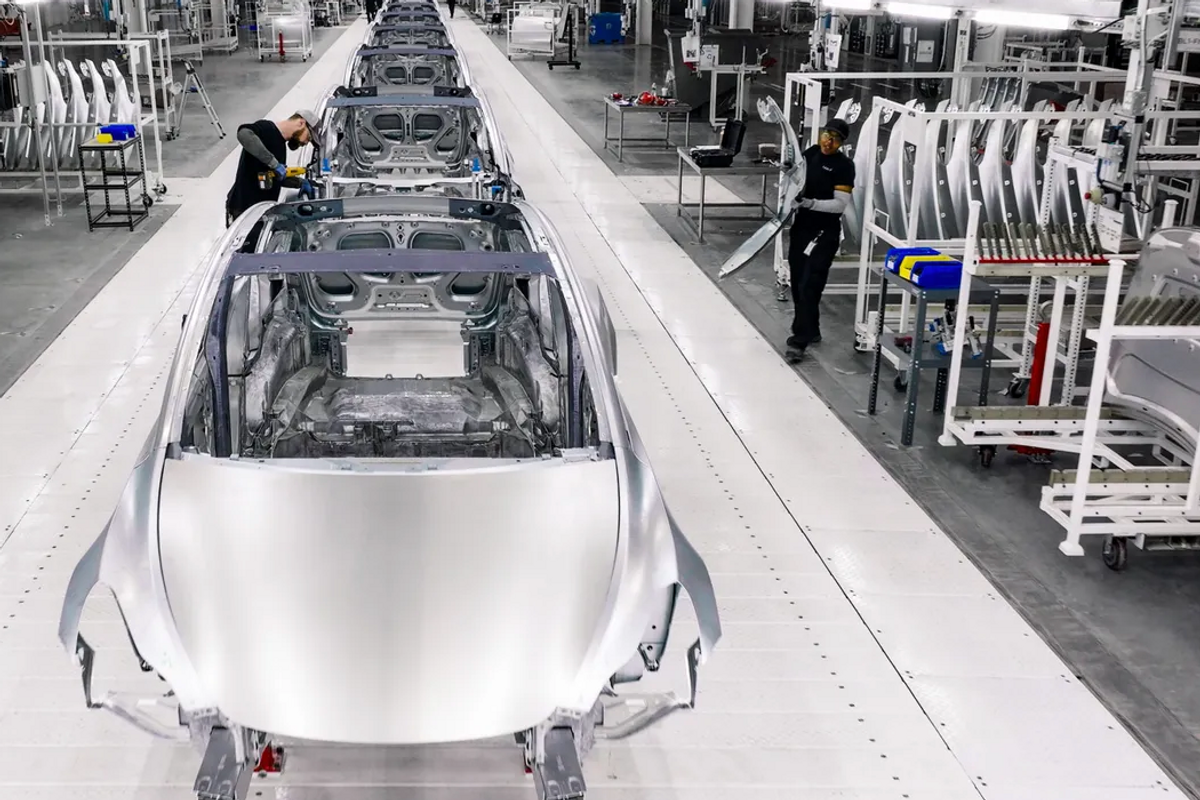 A few weeks after its opening, CEO Elon Musk expressed doubt about whether the Tesla gigafactory in southeast Travis County is lucrative so far.
In an interview with Tesla Owners Silicon Valley, Musk said, "Both Berlin and Austin factories are gigantic money furnaces right now. It's really like a giant roaring sound, which is the sound of money on fire."
The comments come just a few months after the grand opening of Giga Texas in April, where Musk threw a party to celebrate the start of production at the more than $1.1 billion site.
At the time, Musk shared bold goals for increasing scale. But now, he says electric car battery shortages and supply chain issues are costing the automaker billions of dollars.
The interview with the northern California Tesla fans was released as the third installment in a YouTube video series from a late May interview. During the conversation, Musk said Giga Texas had manufactured only a tiny number of cars.
The challenges included the production of the 4680 battery, as well as port delays in China that have affected shipments.
Musk has previously expressed concern over supply chain woes and inflation pressures. During a call about the first quarter of this year, he noted those factors and described a long waitlist extending into next year.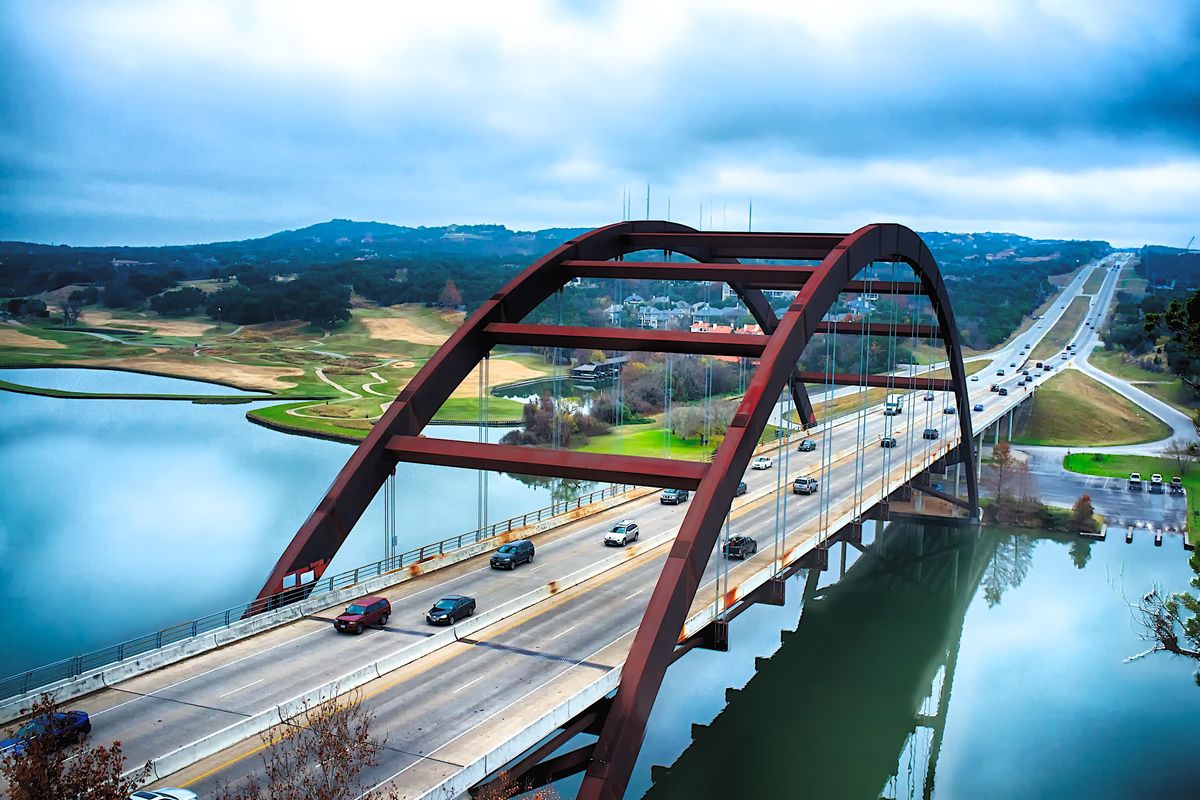 What would Austin be without its City Hall, Central Library or iconic 360 Bridge?
For 50 years, Austin developer Hensel Phelps has shaped Austin with city-focused landmark developments across the metro, gracing the top spot on Austin Business Journal's best general contracting list for years in a row.
In 1972, the company broke ground for the first time in Austin with the Town Lake, or Mopac Bridge project, connecting the developing areas of West Austin to the rest of the city.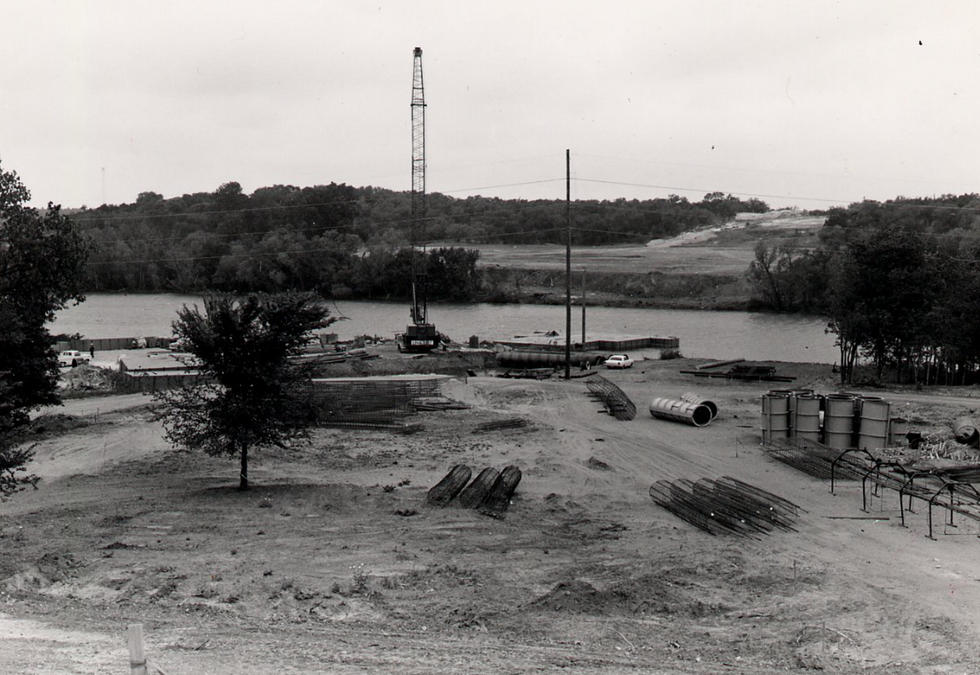 Hensel Phelps broke ground for its first project, the Mopac Bridge, in 1972. (Texas Freeway)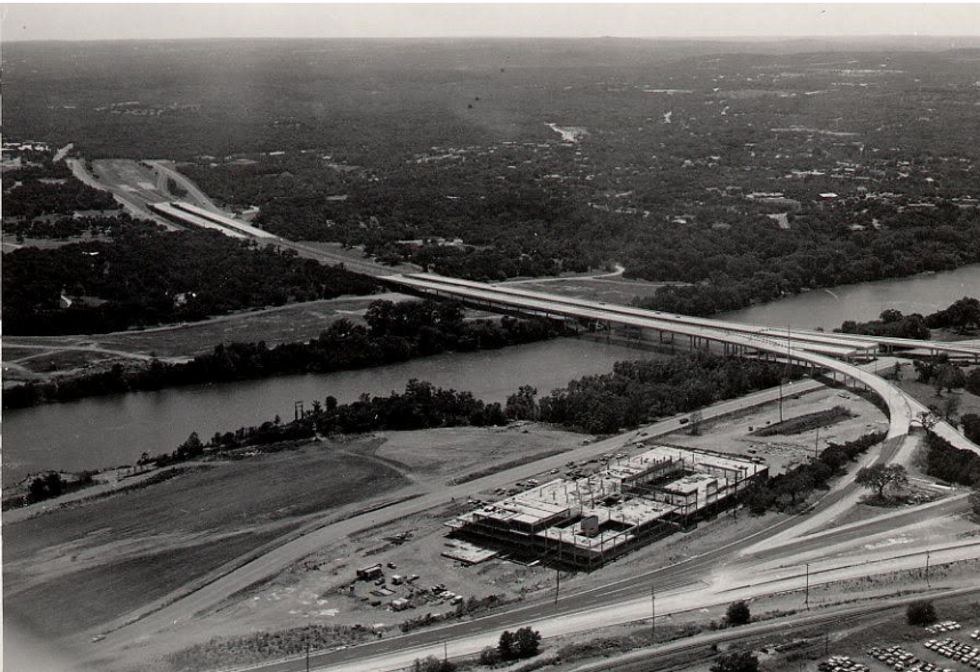 The Town Lake Bridge was one of eight available bridges in Austin at the time of construction. (Hensel Phelps)
Since then, it's headed several projects, including:
The Pennybacker (360) Bridge: After the Town Lake Bridge success, the company set out to build the world's second cable-supported bridge. Newcomers and native Austinites alike take to the nearby 360 Bridge Overlook Trail to see sunset views of the cliffside, copper-colored landmark.
Dell Diamond Baseball Stadium: Since it opened in 2000, the Round Rock Express, the metro's Triple-A- Minor League baseball team, has held countless games at this 85-acre, 11,000+ capacity stadium.
Samsung Fab 2 Chip Fabrication Facility: When Hensel Phelps helped Samsung with its second semiconductor project in the area in 2007, the grand opening ceremony was commemorated with the University of Texas Longhorn Band, UT Cheerleaders, pop singer LeAnn Rimes and a bald eagle to boot.
Austin Central Public Library: With six floors, a rooftop garden and plenty of window views of downtown, Austin's Central Library project quickly became a central hub for the city when it opened in 2017.
Darrell K. Royal-Memorial Stadium: The company has had a hand in all major expansions of the Texas Longhorns' longtime football stadium.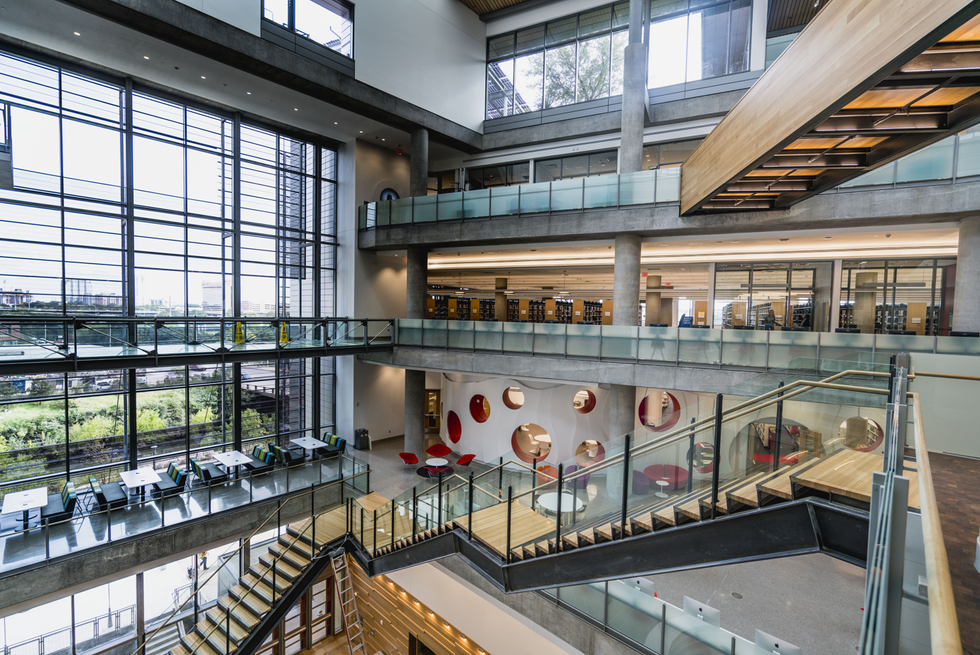 Austin's new Central Public Library first opened in 2017. (Hensel Phelps)
Through dozens of projects dotted throughout the region, Hensel Phelps' Southwest district manager and Vice President Brad Winans said the company's focus has always been the public sector.
"That's where we think we support and develop the city, from truly grassroots, truly local support and involvement in the community," Winans said. "Our job is to develop things that truly support the city, not specific to one business."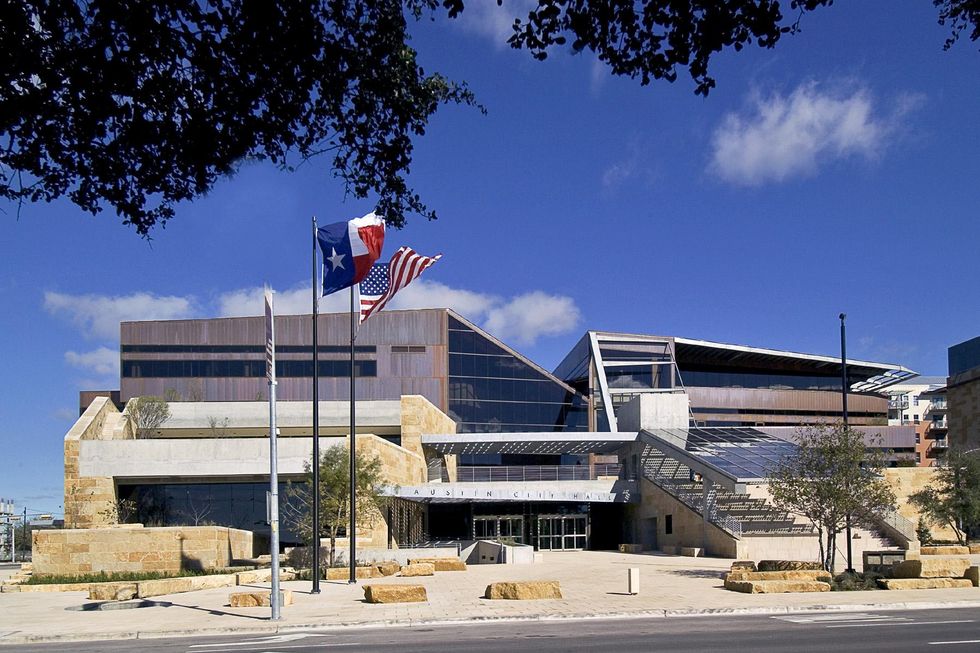 Austin's City Hall was constructed with native Texas limestone and built with sustainability in mind. (Hensel Phelps)
A University of Texas graduate and 30-year employee, Winans said that the company's 2004 City Hall project felt most impactful to the community. The building, built from both native limestone and recycled materials, embraced sustainability and high-tech qualities, including solar panels in its garage, while maintaining a classic Texan identity.
"It's a very hard industry to be a part of, but it's also very rewarding," Winans said. "For me, City Hall means a lot because the back in the day, we called it 'The Jewel,' and so it's great to be part of that."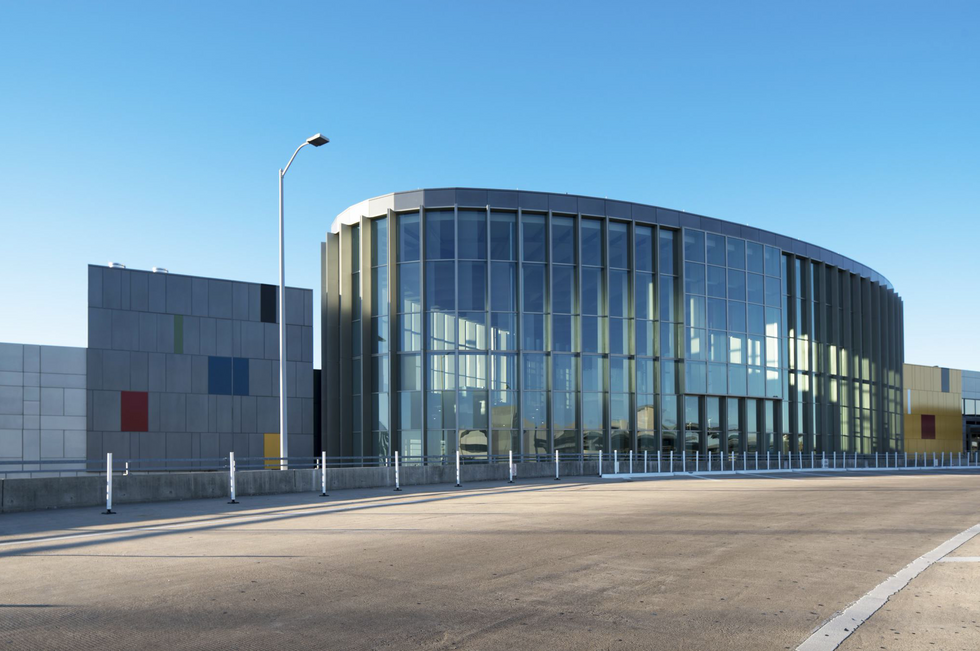 The company has constructed at Austin-Bergstrom International Airport in the past and will continue to help expand the airport. (Hensel Phelps)
With 50 years under its belt, Winans said the company will continue to work on the "endless" development opportunities coming to the city, from expansion of the rapidly-growing Austin-Bergstrom International Airport to projects in the tech sector.
"Everybody seems to want to come to Austin," Winans said. "It'd be nice if things did kind of spread out a little bit, but right now there's still a very eager push to develop in and around Central Texas and I think (Hensel Phelps) will be a major part of that."