Get connected with our daily update
Austinites will once again be able to take a nonstop flight to London as Austin-Bergstrom International Airport resumes transatlantic travel this fall.
Starting Oct. 13, British Airways will offer its direct flight from ABIA to London-Heathrow Airport three times a week on Wednesday, Friday and Sunday. The airline, which has been operating in Austin since 2013, had halted service at the start of the pandemic over a year ago.
"We can't wait to welcome our customers back on board our Austin flights and we are honored to be playing our part in reuniting families and friends with their loved ones after such a long time apart," said Marie Hilditch, British Airways' head of North America sales.
Safety protocols the airline is taking include:
social distancing measures
wearing of facemasks
providing hand sanitizer stations
cleaning all surfaces after every flight
fully recycling the air once every two to three minutes through HEPA filters, which remove microscopic bacteria and virus clusters with over 99.9% efficiency
The announcement comes as COVID-19 testing requirements to enter the UK are scheduled to stop on Oct. 4. for vaccinated Americans.
Additionally, a Monday White House announcement allows fully vaccinated international travelers to enter the U.S. starting in early November with proof of a negative COVID-19 test. The ban, which was implemented in 2020, restricted travelers from a number of European countries, Iran and China throughout the pandemic.
Just months after the pandemic saw airport traffic reach record lows, Austin-Bergstrom International Airport bounced back with its fifth-busiest month on record in July 2021.
Passenger traffic growth was up 279.6% in July 2021 when compared to July 2020, and the first seven months of 2021 (January-July) was up 54.9% when compared to the same time last year, according to the latest report from ABIA.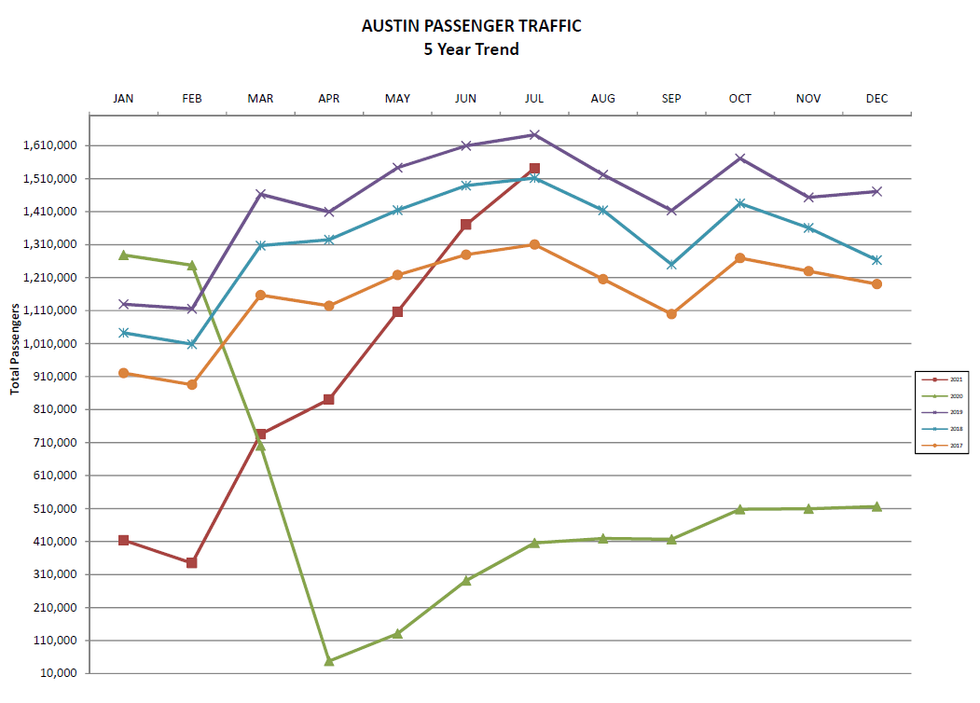 Austin saw it's fifth-busiest month on record in July 2021. (Austin-Bergstrom International Airport)
Although the airport hasn't quite recovered to record-setting 2019 levels after decades of growth, it is reaching 2018's traffic levels, according to ABIA's public information officer Bryce Dubee. "The trend this summer has been a very strong recovery," he said.
While July 2021 seems unscathed from the impact of the third COVID surge, August 2021 could see a dip as cases rose higher than the first surge in summer 2020 and some may cut back on their travels. On the week of Aug. 18, the Transportation Security Administration saw a 10-week low of traffic at airport security checkpoints, and Aug. 17 saw a 28% decrease in air passenger screenings when compared to Aug. 1.
But Dubee said there are no signs that travel dropped with the rise of the Delta variant. By at least Labor Day weekend, any dip in numbers had clearly recovered: on that Friday, traditionally the busiest day of Labor Day weekend-related travel, more travelers flew out of Austin than did on the same day in 2019. From Thursday through Monday of that weekend, the airport hosted some 110,000 outbound travelers.
The new report comes as the U.S. reversed its pandemic-long travel ban.
On Monday, White House COVID-19 Response Coordinator Jeff Zients announced that all fully vaccinated international travelers will be able to enter the U.S. starting in early November with proof of a negative COVID-19 test. The ban, which was implemented in 2020, restricted travelers from a number of European countries, Iran and China throughout the pandemic.
Per the announcement, unvaccinated Americans reentering the U.S. will need to clear tighter restrictions, including a negative test before departing and after arrival.
However, the announcement may not mean the airport is flooded with travelers; as kids return to school, the city could see a pause from the summer travel frenzy.
"We're anticipating that there will be a slowdown that happens every calendar year—summer is over, kids go back to school—and with that continued slower recovery on the business traveler front, we do anticipate that the September slowdown might be a bit more significant than it would be if it was a non-COVID year," Dubee said.
The board that governs the implementation of Project Connect has approved its first ever full-year budget of $312.8 million, setting aside funds for design work, right-of-way acquisition, community engagement, and anti-displacement efforts.
Austin Transit Partnership was incorporated by the City of Austin and Capital Metro (CapMetro) last December after voters approved Proposition A, a ballot measure authorizing a new transit tax. The tax of 8.75 cents per $100 property value provides a permanent source of revenue to build and operate a light rail system and expand CapMetro's bus network.
Read the full The Austin Bulldog story here.
Southwest Airlines will soon be offering more at Austin-Bergstrom International Airport with the addition of nine nonstop flights and increased service.
In March 2022, the airline will increase service by more than 20 flights per day, offering nonstop service between Austin and 46 destinations on up to 105 departures a day, according to a release from the airline.
Starting March 10, the following new and returning nonstop flights will be available:
Amarillo
Charleston
Columbus
Midland
Ontario
Puerto Vallarta—subject to requisite government approvals
Seasonal weekly service will also begin March 10 to:
Panama City
Sarasota/Bradenton
Destin/Fort Walton Beach
The announcement comes on the 44th anniversary of Southwest Airlines serving Austin.
"As Austin and its airport continue to grow, we are excited to welcome these new and expanded services to central Texas," said Jacqueline Yaft, chief executive officer at ABIA. "Celebrating 44 years of Southwest operations in Austin, we are grateful for their continued investment and confidence in the future of AUS."