Get connected with our daily update
(Capital Metro)
CapMetro proposed a sharply scaled-back version of its massive Project Connect transit plan, cutting one rail line from the plan entirely and several miles of another.
---
The new plan, shared Wednesday evening, comes just five days before the CapMetro board and Austin City Council plan to meet to discuss, and potentially vote on, a bond proposal to put to voters in November, and the creation of a governing body for construction and implementation of Project Connect.
The long-anticipated project was dealt an unexpected blow this year when the pandemic brought economic insecurity to government and citizens alike.
Scaling back
The cuts to Project Connect reduce the cost of the plan by $3 billion to a total of $7 billion and would lower the original 11-cent tax increase to 8.5 cents. For the median homeowner, that would reduce the annual increase in their property tax bill from $358 to $276.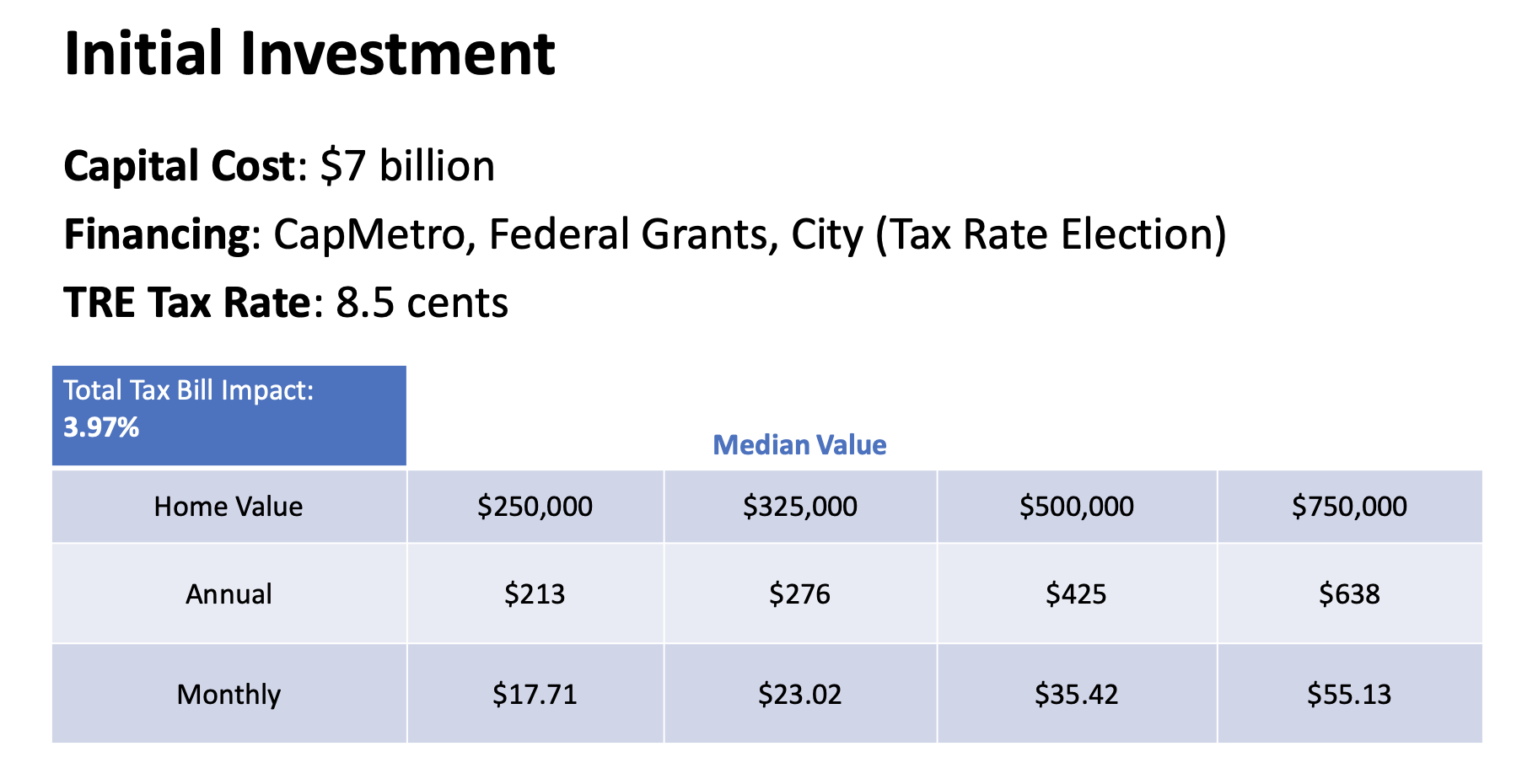 (CapMetro)
The elements cut from the plan include shortening the proposed Orange light rail line, which would span North Lamar and South Congress, so that it only stretches between Ben White and U.S. 183 rather than going all the way from Tech Ridge Center to Slaughter Lane. The mileage cut from the proposal would be replaced by MetroRapid bus service. The Gold Line from Austin Community College Highland to downtown would be replaced altogether by MetroRapid service.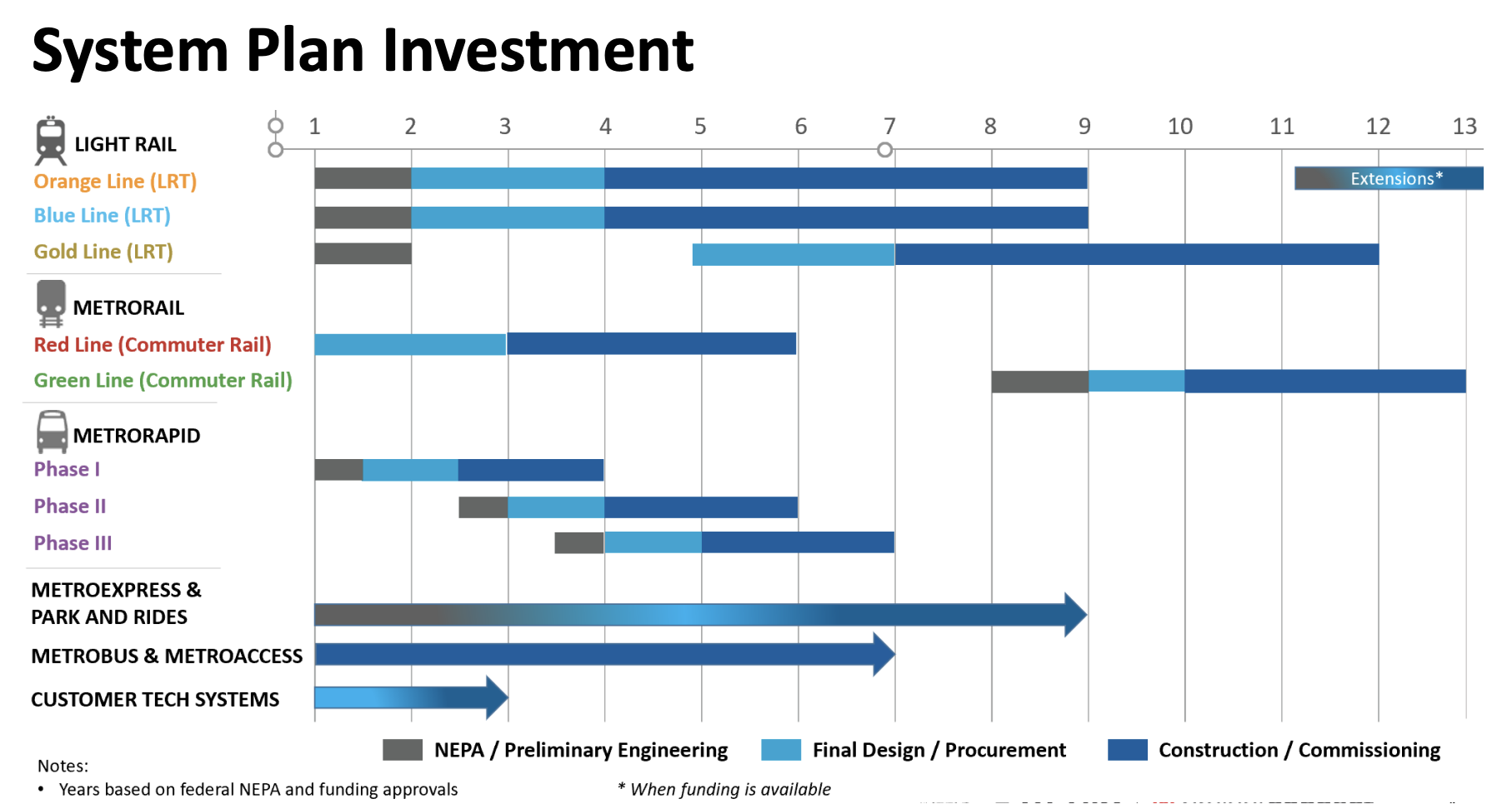 (CapMetro)
These two changes would save CapMetro $2.35 billion, with another $500 million worth of cuts coming from unnamed savings in the construction of the downtown tunnel used by the Orange Line.
Overall, this means property owners in CapMetro's service area would pay $3.85 billion.
Moving forward
Council Member Ann Kitchen, who also sits on the CapMetro Board, told Austonia this week that the council plans to vote next Monday on asking city staff to bring forward a resolution regarding a potential bond election by Aug. 7. The bond election would be officially ordered during the Austin budget meetings the week of Aug. 12.
Asked whether she thinks Project Connect could be delayed due to the coronavirus, which has brought financial cutbacks for major government programs all across the nation, Kitchen said via text, "I see transit going forward."
Austin has lost both of its last two transit bond elections. The most recent loss, by 14 points in 2014, came during a year of historically low voter turnout across the nation while the other happened in 2000 and lost by just a few thousand votes.
Along with deciding whether to take the next step toward putting a bond election on the ballot, the City Council and CapMetro Board also must vote on approving the reduced Project Connect plan. Last month, the pair approved the full plan.
If voters approve the bond in November, CapMetro would still need to seek an additional $3.15 billion in funding—45% of the total budget—from the federal government.
Want to read more stories like this one? Start every day with a quick look at what's happening in Austin. Sign up for Austonia.com's free daily morning email.
(Apple)
Former Longhorn and NFL star Emmanuel Acho stars in the two-part premiere of "The Oprah Conversation," which hit screens on Apple TV+ over the weekend.
Acho is a natural fit to kick off the new show by Oprah Winfrey. The two are partnering to publish a book based off his wildly popular social-media series, "Uncomfortable Conversations with a Black Man."
In the show's first installment, Winfrey and Acho answer questions by white and Latino guests about race and what it means to be Black in America
"He's answering uncomfortable questions about racism in America and the best ways to keep the conversation going with your family and friends," reads a statement on the show's social media.
"The Oprah Conversation" is Winfrey's newest series on Apple TV+, following "Oprah Talks COVID-19" and "Oprah's Book Club."
In future episodes, the show will continue to explore timely topics with leaders from across the globe. Watch it here.
Follow Austonia on Instagram to keep up with what's happening in your city.
Our Instagram page allows you to stay up to date with all things Austin, from coronavirus updates to local personalities. Join our Instagram family to see the faces, events and news that make up the city.
Fans attending Texas Longhorns home games this season must wear masks, maintain distance between groups and use only mobile tickets, according to safety plans for the upcoming football season, released Monday by the University of Texas Athletics department.
<p>Fans will be required to wear masks the entire time they're at the game, the guidelines said. They also must regularly wash their hands and use hand sanitizer, and are only allowed to use the entry gate assigned on their mobile tickets.</p><p>UT officials have said they are planning a 25 percent capacity limit at the Darrell K Royal - Texas Memorial Stadium this fall. </p><p>The safety plans also describe additional measures beyond rules for fans, including 225 hand sanitizer dispensers throughout the stadium and regular sanitation of high-touch areas such as fountains and charging stations. </p><p>"Our priority is to create the safest game-day environment for our student-athletes, coaches, game officials, fans, staff and visiting teams," said Chris Del Conte, vice president and director of Texas Athletics, adding that the new guidelines "accomplish our priorities within State of Texas guidelines and in conjunction with medical officials."</p>