Austonia AM
100% Austin news, info, and entertainment, straight to your inbox at 6 a.m. every morning.
In five minutes, you're fully informed and ready to start another great day in our city.
Get connected with our daily update
Travis County officials announced plans to build a diversion center that will connect homeless people and those with substance use disorders and mental illness to housing, healthcare and jobs outside of a jail setting.
---
"For the first time ever, the county, the county attorney, the district attorney and the court administration have come together around a single vision to make our community more safe and equitable," County Judge Andy Brown said at a press conference Tuesday morning.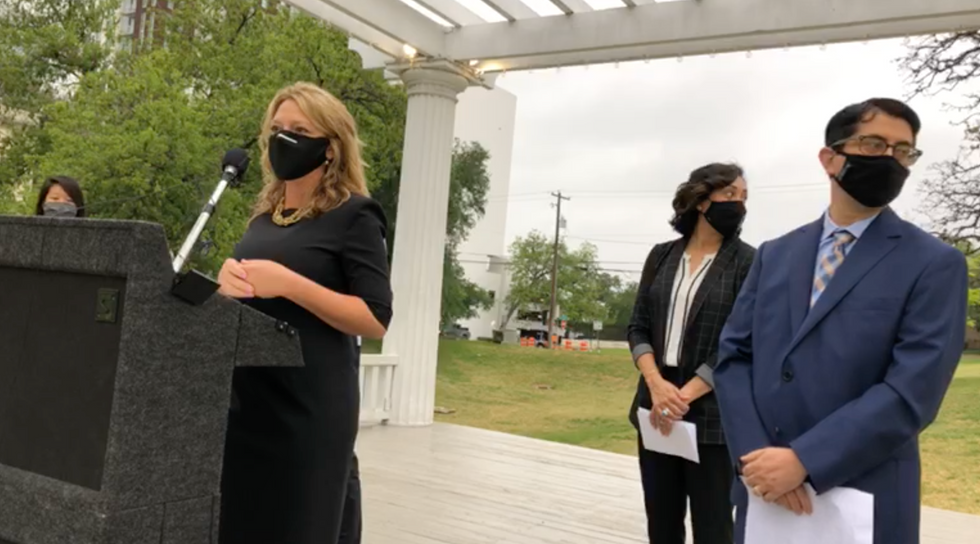 Travis County Court Judge Tamara Needles spoke at a press conference Tuesday at the Woolridge Park gazebo, followed by County Attorney Delia Garza and District Attorney José Garza. (Travis County Judge Andy Brown/Facebook)
The group submitted a Fiscal Year 2022 budget proposal Monday that prioritized the creation of the Travis Center, which would provide community-based preventative services to help divert homeless people and those with substance use disorders or untreated mental illness, from jail.
The Travis County Commissioners Court is in the initial stages of identifying programs, such as the Travis Center, that could potentially be funded by the $247 million the county received through the pandemic relief American Rescue Plan Act, as well as any remaining CARES Act funding. Initial funding for such programs could be disbursed as soon as June, with a second wave to be allocated during the FY 2022 budget process later this summer, according to a Monday memo sent to the Commissioners Court by the county's planning and budget office.
Although funding has not yet been allocated, local elected officials are united in their commitment to a diversion center—and in their belief that the current approach is failing.

"We have turned into a system that is reactive instead of proactive," County Attorney Delia Garza said. "Our jails have really become a symbol of failed policies and of a lack of available funding for the services our families need."
Last week, Garza visited the Harris Center for Mental Health and IDD (intellectual and developmental disabilities) in Houston. The center serves people with mental illness who have been arrested for low-level, non-violent offenses and provides them with mental health services as an alternative to being booked into jail.
"We must stop criminalizing poverty and mental illness and work on real solutions like standing up a diversion center in Travis Co. AS SOON AS POSSIBLE," Garza tweeted on Thursday. "Let us all be brave enough to do the work that really helps people instead of simply pushing them into jails and/or out of (sight)."
Today my team and I took a day trip to Houston to visit the Harris Center. The Harris Center is a successful model diverting people out of the criminal justice system by providing mental health resources out of the carceral setting. pic.twitter.com/3s85QaLKji
— Delia Garza (@DGTCAttorney) April 23, 2021
The diversion center would fit into a host of progressive policy changes enacted in Travis County in recent years, including the 2018 founding of the Sobering Center, which allows intoxicated people to recover in a safe place other than jail or the emergency room. It also lines up with District Attorney José Garza's campaign promises to reform the criminal justice system from the inside.
To my Travis County community: When I asked for your vote, I promised that together we would reimagine our criminal justice system. https://t.co/oDECC6itjQ
— DA José Garza (@JosePGarza) January 29, 2021
Since taking office in January, Garza's office has asked judges to set no-cost or affordable bail for defendants who aren't flight risks and do not pose a threat of violence; expanded pre-trial diversion program eligibility; and prioritized prosecution of violent crimes, securing more than 300 indictments, including a first-degree murder charge for the Austin Police Department officer who shot and killed Mike Ramos last April.

The Travis County Jail is the largest provider of mental health services in the county, similar to jails across Texas and the country. Meanwhile, city residents are in the midst of voting on Proposition B, which would reinstate a ban on sitting, lying, camping and panhandling in certain public areas. "People experiencing homelessness have become pawns of Gov. (Greg) Abbott's political agenda and threatened with jail," Garza said.
He and other county officials argue that diversion programs that offer preventative services will be more effective at ensuring public safety than jail. "True public safety is rooted in the stability of our community," Garza said.
A week after Texas added two congressional seats and California lost one, state officials reported a population decline in 2020 for the first time in the Golden State's history.
California fell by over 182,000 people from January 2020 to January 2021, dropping almost 0.5% to cap out at around 39.5 million people. It is still the nation's most populous state.
For over thirty years, California has seen more people leave than move in from other states, state officials said, with 6.1 million people moving out and 4.9 million coming in last year. Immigration and births kept California growing, but the state saw a shrink in international migration in 2020 due to COVID and the White House's hold on visas.
Of the steady flow of ex-Californians moving to other states, more are moving to Texas than any other state. Many are relocating to Austin, which has been labeled a "little California" by billionaire resident Elon Musk and continues to grow astronomically.
Meanwhile, California cities including Los Angeles, San Diego, San Jose and San Francisco saw a population decline.
With immigration and state migration on the decline, the Golden State was also hit with a spike in deaths- 51,000 people died from COVID in 2020, and all but seven of the state's counties saw death rates higher than the three-year average.
Still, the California Department of Finance said a "slightly positive annual growth" can be expected next year as the state recovers from COVID deaths and political repercussions.


Ingredients:
1 1/2 oz of hibiscus-infused Tito's Handmade Vodka
2 oz sparkling water
1 oz fresh lime juice
3/4 oz simple syrup
1 tsp allspice dram
Directions: Add infused Tito's Handmade Vodka, lime juice, and simple syrup to a shaker with ice. Shake and strain into a glass over fresh ice. Top with sparkling water, and garnish with a lime slice. Enjoy!
The sun is out, and thousands of Austin FC fans will be as well as Austin FC goes to Kansas to play Sporting Kansas City at 6:30 p.m. on Sunday.
There's plenty of pub partners to choose from, but here's a few watch parties to help you get in on the action.