Get connected with our daily update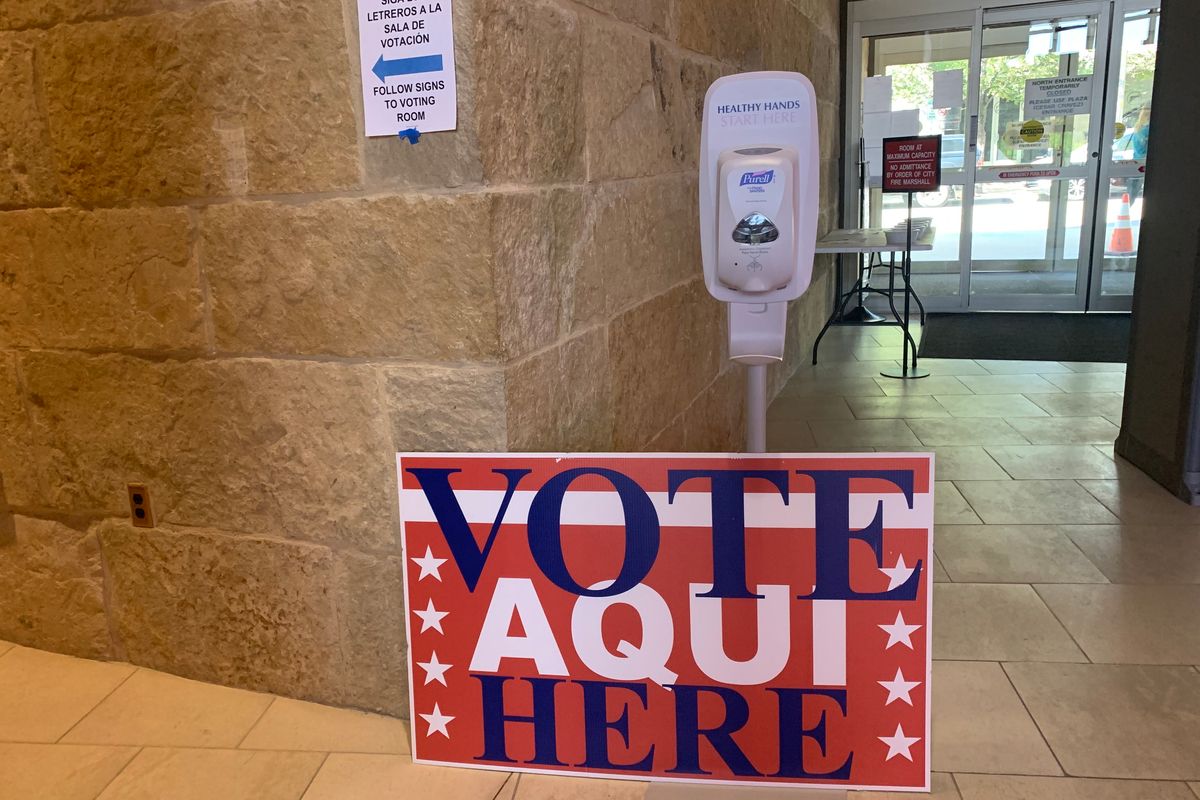 (Emma Freer/Austonia)
Early voting for the Nov. 3 election begins Tuesday, Oct. 13 and runs through Friday, Oct. 30.
---
Travis County residents who are registered can vote at the following locations during the early voting period:
Polls are open from 7 a.m. to 7 p.m. Monday through Saturday and from noon to 6 p.m. on Sundays. Residents can find wait time estimates for each location here.

The following six sites will be open from 7 a.m. to 9 p.m. on Wednesday, Oct. 28; Thursday, Oct. 29; and Friday, Oct. 30:
Ben Hur Shrine Center
Millennium Youth Complex
PfISD Rock Gym
South Park Meadows, Suite 400
South Park Meadows, Suite 500
Austin Central Library
Travis County residents can look up whether they are registered to vote here, learn more about voter identification requirements in Texas here and view their personal ballot here.
This election includes some major races at the local, state and federal levels, including:
President
President Donald Trump faces off against Democratic candidate Joe Biden. The last time a Democratic candidate won in Texas was in 1976, when Jimmy Carter was on the ballot.
Trump leads Biden by five points in Texas, according to the latest University of Texas/Texas Tribune poll.
U.S. Senate
Three-term incumbent Sen. John Cornyn is seeking his fourth term against combat veteran and self-described "badass" MJ Hegar. Cornyn was first elected to statewide office in 1990; Hegar has never held public office, but Democrats are hopeful that their candidate can win. The latest UT/TT poll found that Cornyn is leading by eight points.
U.S. House
Travis County is spliced into five congressional districts, three of which the Texas Tribune has identified as "races to watch" this November.
U.S. House District 10 incumbent Rep. Michael McCaul, R-Austin, faces Democratic candidate Mike Siegel. U.S. House District 21 incumbent Rep. Chip Roy, R-Austin, faces Democrat, and former gubernatorial candidate, Wendy Davis. And U.S. House District 25 incumbent Rep. Roger WIlliams, R-Austin, faces Democratic candidate Julie Oliver.
Texas Senate
Travis County is represented by four members of the state Senate, two of whom are up for reelection this November.
District 21 State Sen. Judith Zaffrini, D-Laredo, will face Republican candidate Frank Pomeroy, and District 24 State Sen. Dawn Buckingham, R-Lakeway, will face Democratic candidate Clayton Tucker.
Texas House
Travis County is represented by five members of the state House. One of those members, District 47 incumbent Rep. Vikki Goodwin, D-Austin, faces Republican challenger Justin Berry, in a race that the Tribune calls a "GOP target."
Travis County Commissioners Court
Three of the five seats that make up the Travis County Commissioners Court are up this November.
Democrat Andy Brown and Republican Michael Lovins will compete for the position of county judge in a special election after Sarah Eckhardt resigned less than two years into her second term to run for state senator. Both candidates were selected by their respective political parties rather than local voters.
The county judge serves as chief executive of the county and oversees the Commissioners Court. The office functions similarly to that of a city's mayor.
Precinct 1 Commissioner Jeffrey Travillion, a Democrat, will run against Republican candidate Solomon Arcoven.
Precinct 3 Commissioner Gerald Daugherty, the sole Republican on the court, is not running for reelection. Democrat Ann Howard will face off against Republican Becky Bray for his seat.
Austin City Council
Half of City Council's 10 seats are up for election this November. Twenty candidates have thrown their hats in the ring.
Council seats are nonpartisan, although all current members are affiliated with the Democratic party. You can find out which district you live in here.
District 2 Council Member Delia Garza will vacate her seat to serve as Travis County attorney. Four candidates—David Chincanchan, Vanessa Fuentes, Casey Ramos and Alex Strenger—are running to replace her. You can read more about them here.
District 4 Council Member Greg Casar faces two competitors, Louis C. Herrin III and Ramesses II Setepenre. You can read more about the candidates here.
District 6 Council Member Jimmy Flannigan is running for reelection against Deedra Harrison, Mackenzie Kelly and Dr. Jennifer Musthaler. You can read more about them here.
District 7 Council Member Leslie Pool faces one opponent, Morgan Witt. You can read more about the race here.
The most crowded race is in District 10, where incumbent Alison Alter faces six other candidates: Ben Easton, Belinda Greene, Pooja Sethi, Robert Thomas, Noel Tristan and Jennifer Virden. You can read more about the field here.
Elected members will be tasked with rewriting the city's land use code, considering further cuts to the Austin Police Department's budget and, if voters approve Proposition A, implementing the $7.1 billion Project Connect transit plan.
Propositions
There are two local mobility propositions on the November ballot.
Proposition A gives voters the chance to approve a permanent 8.75-cent increase to the city's property tax rate to pay for and maintain Project Connect, a proposed $7.1 billion, 15-year overhaul of Austin's transit system. Austonia answered some major questions about this proposition, including how much it will raise property tax bills, here.
Proposition B allows voters to opt into a $460 million active mobility bond, with funding going toward sidewalks, urban trails, bikeways and Vision Zero, a campaign to eliminate traffic fatalities and serious injuries.
You can read more about these propositions—including their ballot language and who supports and opposes the measures—here.
More on the election: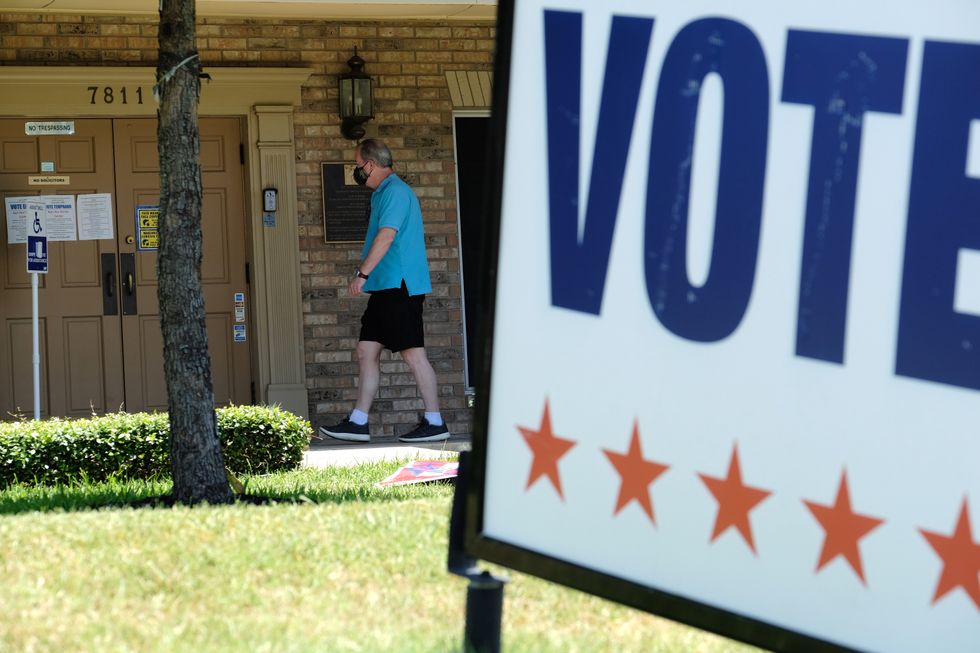 Austonia's 2020 voter guide: dates to know, where to vote and races to watch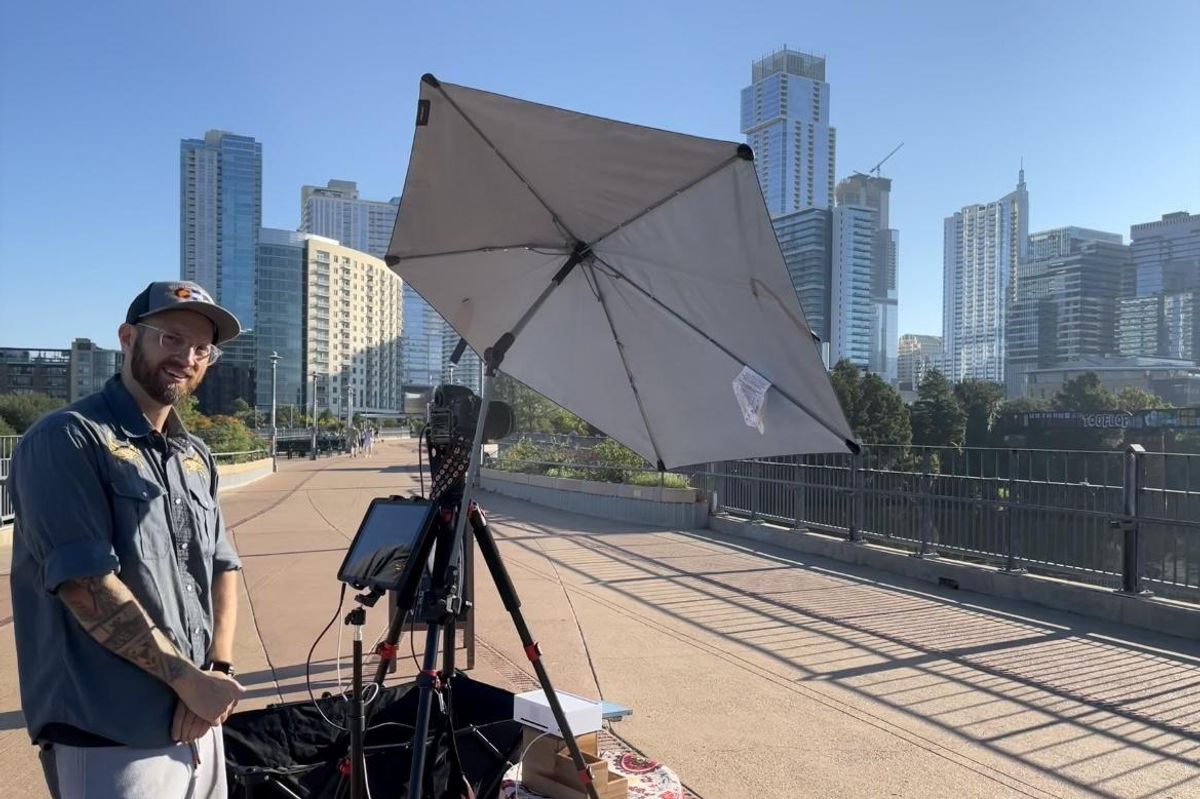 Nicklaus Pereksta says he loves photographing enthusiastic people, and it's why his latest gig offering pictures to people out on Lady Bird Lake's hike and bike trail is going smoothly. He sets up his gear on the Pfluger pedestrian bridge and puts out a sign: Photos, $10.
"Overwhelmingly, this has been a really positive experience," Pereksta said. "I get excited when I wake up in the morning and I can't wait to go to work."
Bikers and joggers are excited about it too. On the pedestrian bridge leading to downtown Thursday morning, a man on an e-bike rode up and posed, wanting more photos.
"I posted the last pictures on Instagram and people loved it. They asked, 'where is this guy?'" the biker told Pereksta. Bashfully, Pereksta, who also photographs landscapes and at weddings and other events, said he was happy to hear that.
Pereksta started these photos about a month ago, after the strenuous runs required in his valet job started causing pain in his legs. And though he has a passion for photography, he wasn't so sure when he started working independently if it would work out.
He felt uncertain about the demand for it and was also worried about having lots of expensive equipment out in the open.
"Then like the first day was nothing but high praise and people are like, this is so awesome. This is great. I've never seen anything like this before. I was like, Wow, this was really good, like positive turnout. So I got encouraged."
Now, he wants to expand and is thinking of contacting the Mueller Farmers Market about how to become a vendor. Still, he'll carry a connection to photographing on the bridge since the word bridge is related to his last name.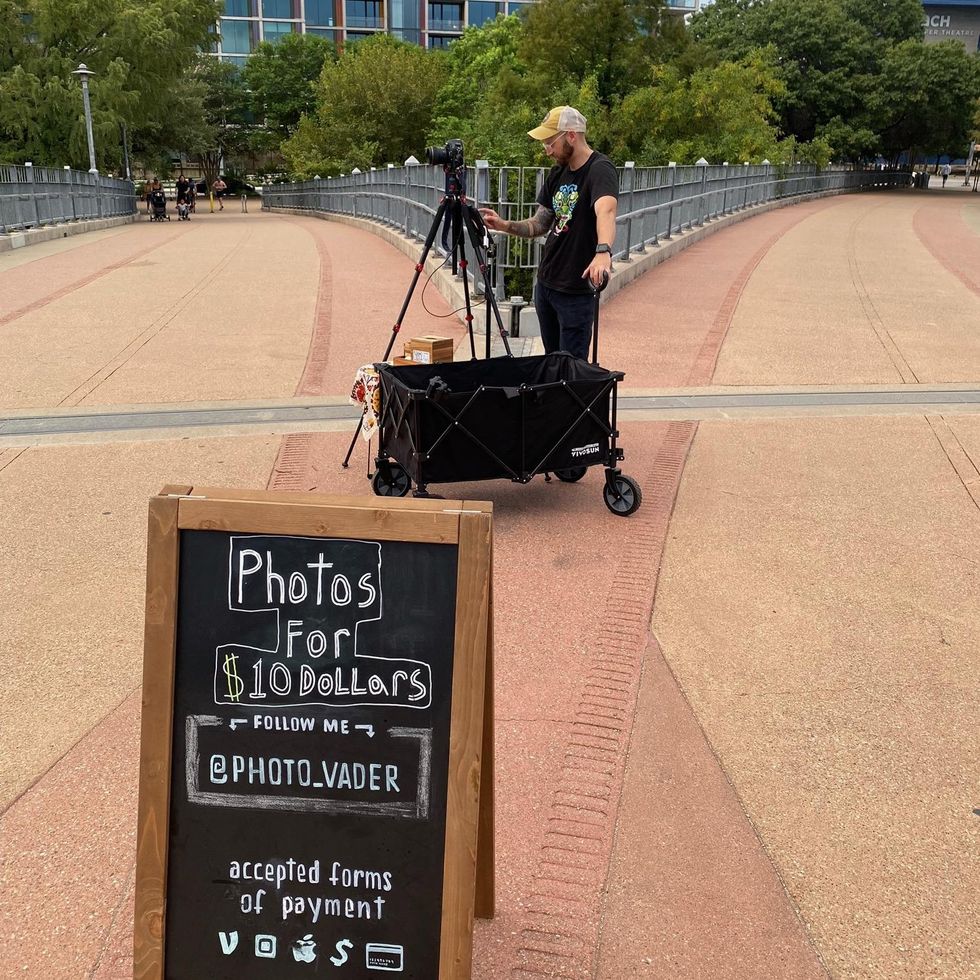 (Dewey C.)
"It's a name my great, great, great grandfather came up with when he was marrying somebody. It's actually quite a romantic name. It means a joining of two bridges," Pereksta said. "So, I thought it was ironic that I'm set up on a bridge. I'm kind of representing my last name right now."
Austonia talked to Pereksta about life in Austin, where he's lived for eight years after living in Boston doing band photography.
What was your first experience with Austin?
I came here to visit some friends and they took me to Barbarella. So we went to Barbarella and I was like, 'wow, this place is great.' And then the restaurants and the food and going to Barton Springs. I was like, 'this is amazing.' Because there's nothing like that in Boston. If you want to go to a natural spring, you got to go to New Hampshire. There's no pools in the city at all. So there's lots of swimming out here.
What do you like best about Austin?
You go to any little quiet bar and there's a band playing that should be like onstage for a sold out show. Yeah, they're playing to 10 people, right? Like, one of the best bands ever and they're playing for 10 people, right? And just little magic moments like that are pretty fun. You just run into little random weird things.
What do you think makes Austin different from other places?
There's no fall.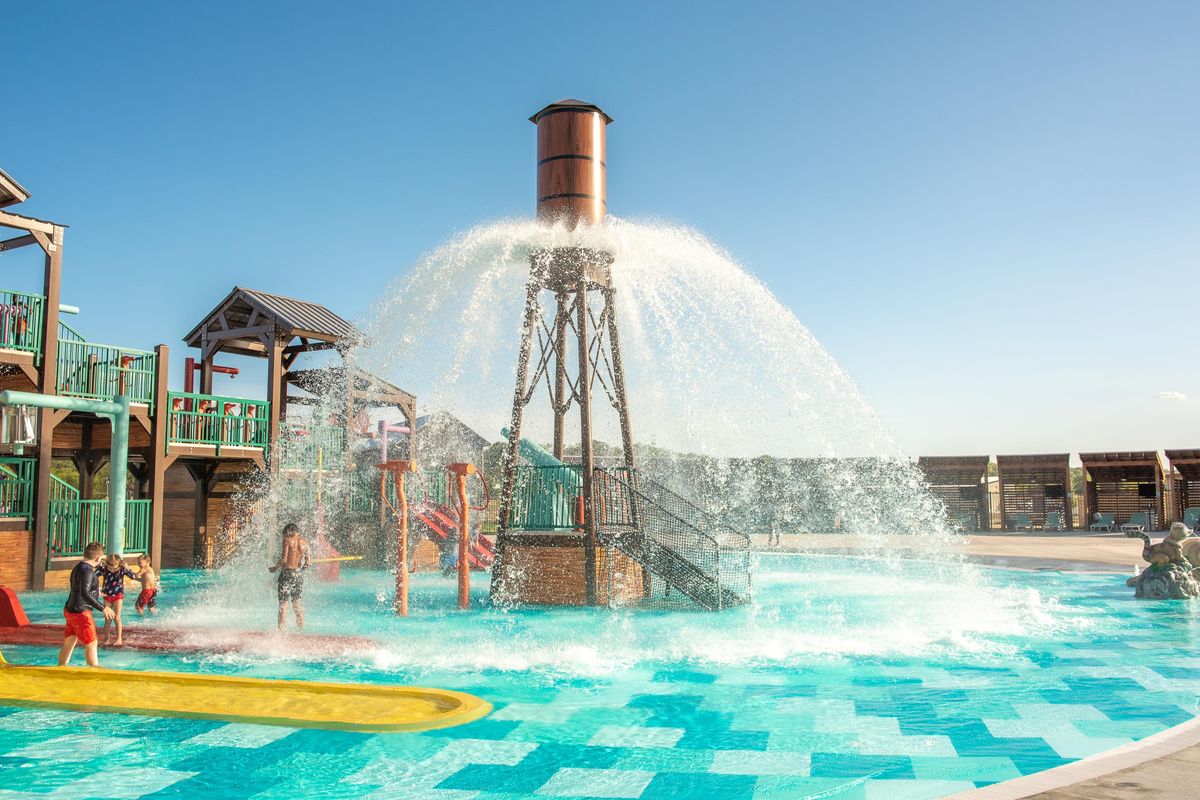 Camp Fimfo Waco
Camp Fimfo Waco, a brand new camping resort, is kicking off football and fall camping season in style! With top-notch amenities, premium accommodations, and 10 weekends of fall fun, there's no better place to have a fall camping getaway, especially if you're a Baylor football fan!
Fall promises to be a one-of-a-kind camping experience. From Sept. 16 to Nov. 24, weekends will be packed with fall-themed activities, including special Halloween weekends in October. Campers can enjoy activities like fall crafts, campground trick-or-treating, costume contests, site decorating, outdoor movie nights, and more!