Get connected with our daily update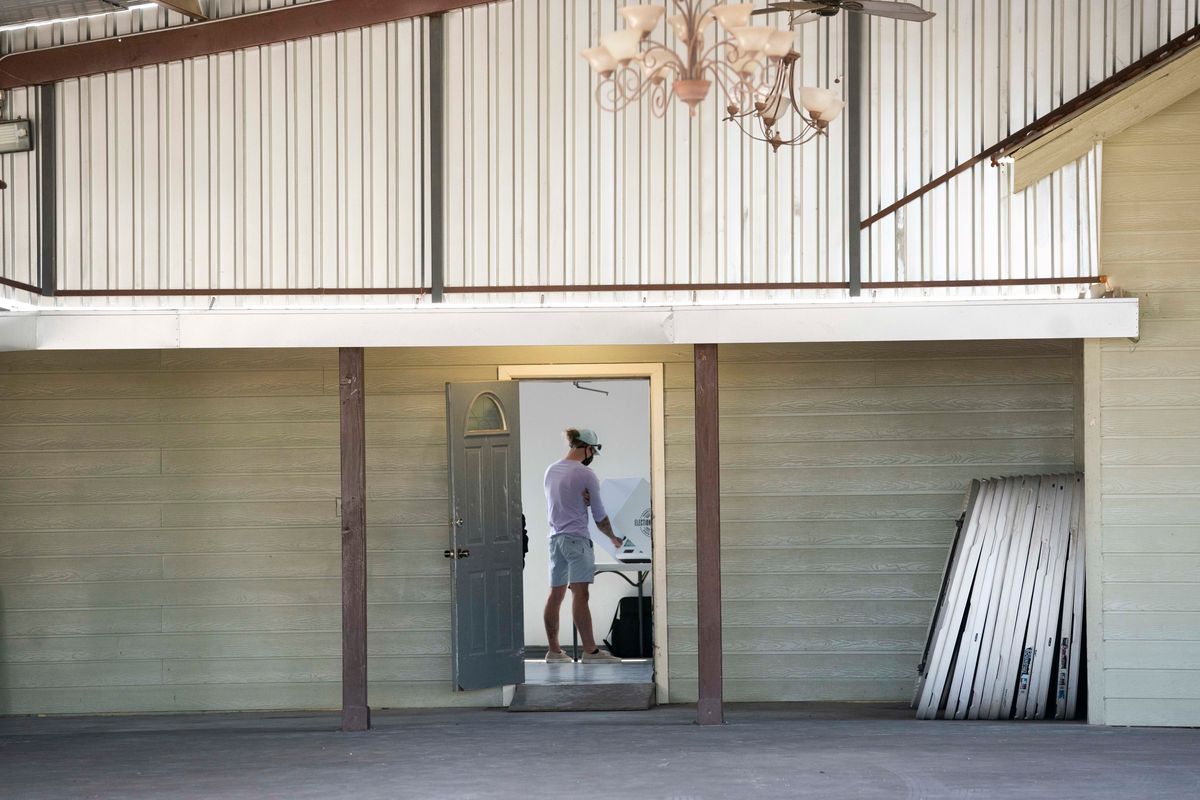 (Bob Daemmrich/Austonia)
As of 5 p.m., more than 43,000 Travis County residents have voted on Election Day.
---
"You should all be incredibly proud of yourselves for putting together such a heavy turnout," Travis County Clerk Dana DeBeauvoir said in a Facebook live.
Around midday, DeBeauvoir said Travis County residents were casting around 6,000 votes an hour, and she estimated a turnout of around 85% of registered voters.
"I think that's a conservative guess," she said.
This election has already been a record-setting one here in Austin.

More people voted early in Travis County this election than in the entire 2016 election.
As of Friday, the last day of early voting, 553,290 residents had cast their ballots. The bulk of those—nearly 90%—voted in person. The remainder voted by mail or limited ballot, which is available to those in the process of moving.
Texas Gov. Greg Abbott extended the early voting period by six days this election due to the coronavirus pandemic.
In comparison, only 477,588 people voted in Travis County during the 2016 race, including Election Day turnout.
Travis County also set a new registration record this year, with 97% of eligible voters registered to do so, according to Travis County Tax Assessor-Collector and Voter Registrar Bruce Elfant.
The last time Travis County saw more than 70% of registered voter turnout was in 1988, according to the Texas Secretary of State's office, when Republican George H.W. Bush ran against Democrat Michael Dukakis.
Election Day logistics
Polls opened at 7 a.m. and close at 7 p.m. Anyone who is in line at 7 p.m. will be able to vote in person.
There are 178 Election Day polling places in Travis County, and all but a handful were reporting wait times of fewer than 20 minutes around 6:30 p.m. Residents can find polling place wait times here.
"Most of the voters out there are wearing masks and they're socially distancing," DeBeauvoir said, adding that many of this year's Election Day polling places were chosen because they allow for ample room between voters and booths.
Austin-Travis County Interim Health Authority Dr. Mark Escott encouraged residents to get out to vote this Election Day, adding that Austin Public Health has worked closely with local election officials to ensure safety amid the pandemic. He also asked Austinites to avoid in-person watch parties, given the risk of transmission.
Travis County residents who still need to deposit their mail-in ballots may do so in-person at 5501 Airport Blvd. Voters may only hand deliver their own carrier envelope, must present an acceptable form of identification and will be asked to sign a signature roster.
There is a hard cutoff at 7 p.m. Those waiting in line will not be able to deposit their ballots, DeBeauvoir said Tuesday.
Protests?
City officials are also anticipating election-related protests and encouraging residents to be mindful, given the pandemic and the likelihood that the results of the presidential race may be delayed or otherwise contested.
"While it's possible that we might know outright who has won in each race by tonight, we could also potentially end the night with an unclear winner in the Presidential race," Austin Mayor Steve Adler said in a statement. "Stay patient, and listen to trusted sources for election information."
Many downtown Austin businesses have boarded up their doors and windows in anticipation of mass gatherings, mirroring trends in other major U.S. cities.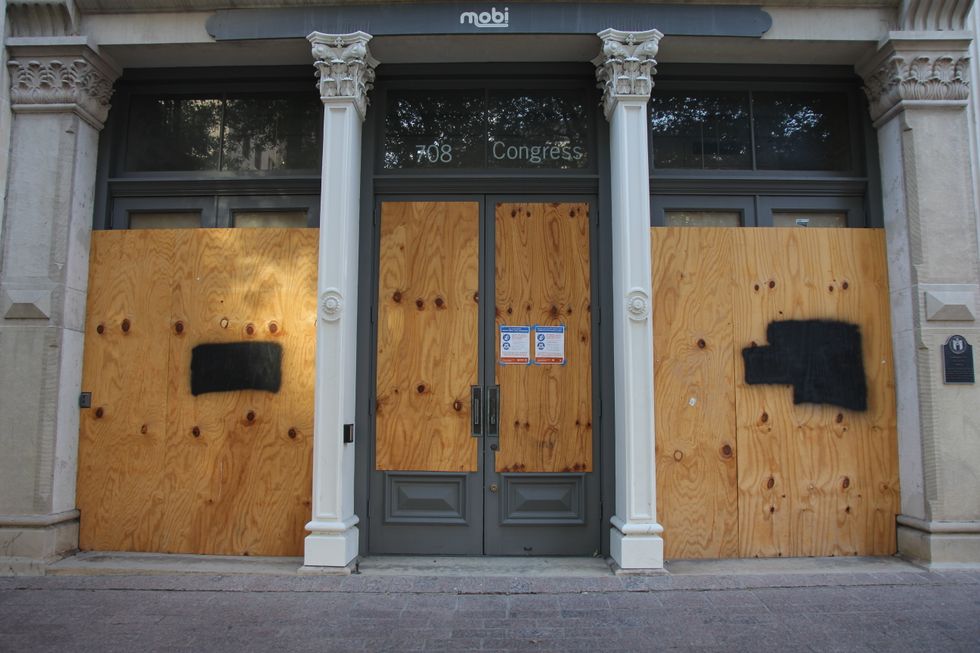 The Congress Avenue post office boarded up on Nov. 3. (Laura Figi/Austonia)
"Regardless of today's outcome, I hope everyone remembers that we are all Austinites and we show our love for this city by showing love and respect for one another," Austin City Manager Spencer Cronk said in a statement.

Local activists and four members of City Council have raised concerns about the Austin Police Department's ability to maintain safety, given the serious injuries officers inflicted at Black Lives Matter protests earlier this year and recent reports that officers have tolerated or even fraternized with white supremacist groups.
Most recently, critics of Adler gathered on Sunday for a drive-thru protest and parade in support of recalling the mayor and "backing the blue," a pro-police movement. A group of APD officers posed in photos with the protesters, some of whom displayed white supremacist hand signals, in front of City Hall.
"We want to be absolutely clear what the expectations are for a response to any peaceful protests this November," Mayor Pro Tem Delia Garza said in a statement last week. "And we want Chief Manley to help assure Austinites that we will not see a repeat of the violent tactics APD used against peaceful demonstrators this spring."
Escott encouraged Austinites to protest safely, if they so choose.
"While we do not discourage individuals from exercising any of their protected constitutional rights, including the right to assembly, we implore our community members to think of the safety of those who surround them and to social distance, wear a mask, and wash your hands often," he said in a statement.
This story has been updated to include local voter turnout as of 5 p.m. on Election Day.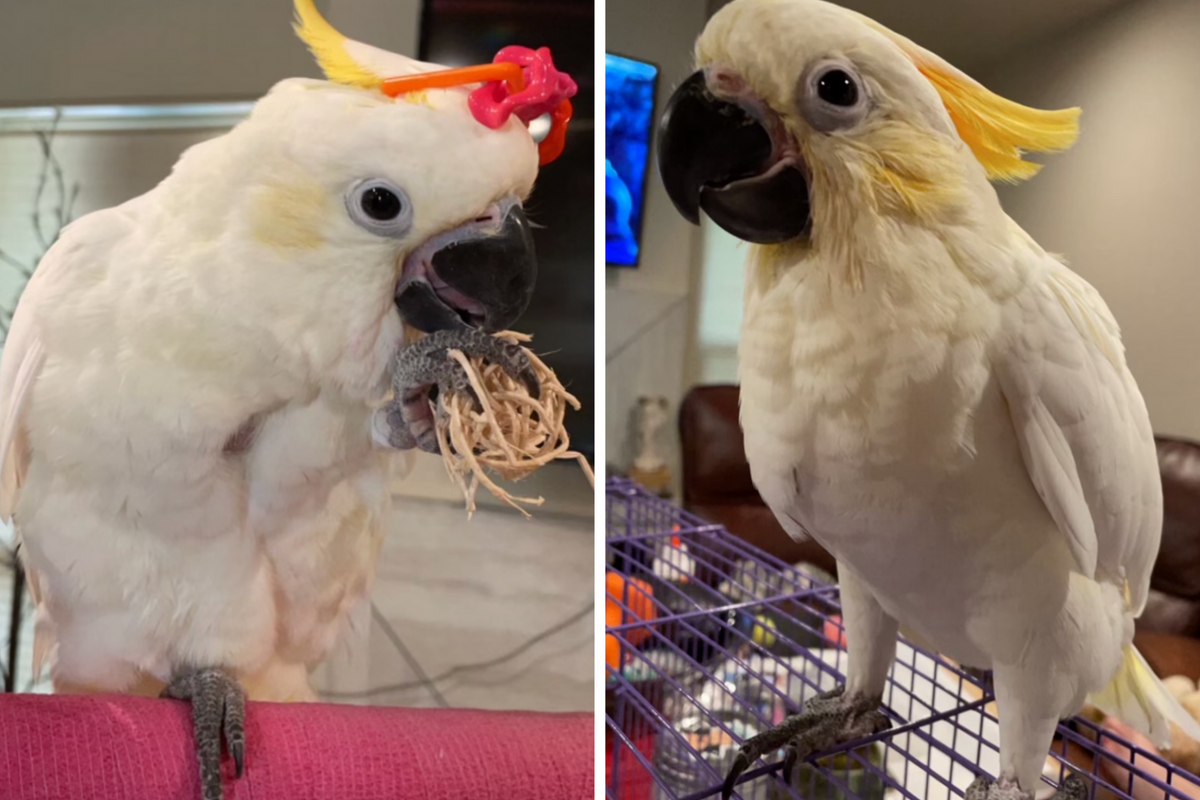 A big-money bird has been stolen from a northwest Austin pet store.
Kelsey Fernandez, the owner of a $6,000 sulphur and citron-crested cockatoo named Lemon Grab, said the emotional support animal was taken from the Gallery of Pets store, around closing time on Sunday.
"I've struggled with mental illness my entire life, and ever since I got him I've been doing so much better," Fernandez told Austonia.
The $6k cockatoo is young and will starve unless he is fed by hand, Fernandez said.
In a surveillance video, a man appears to have something under his shirt as he and two others exit the business around the same time the store believes that Lemon Grab was stolen.
Fernandez said a report has been filed with the Austin Police Department with an $1,000 reward for his return.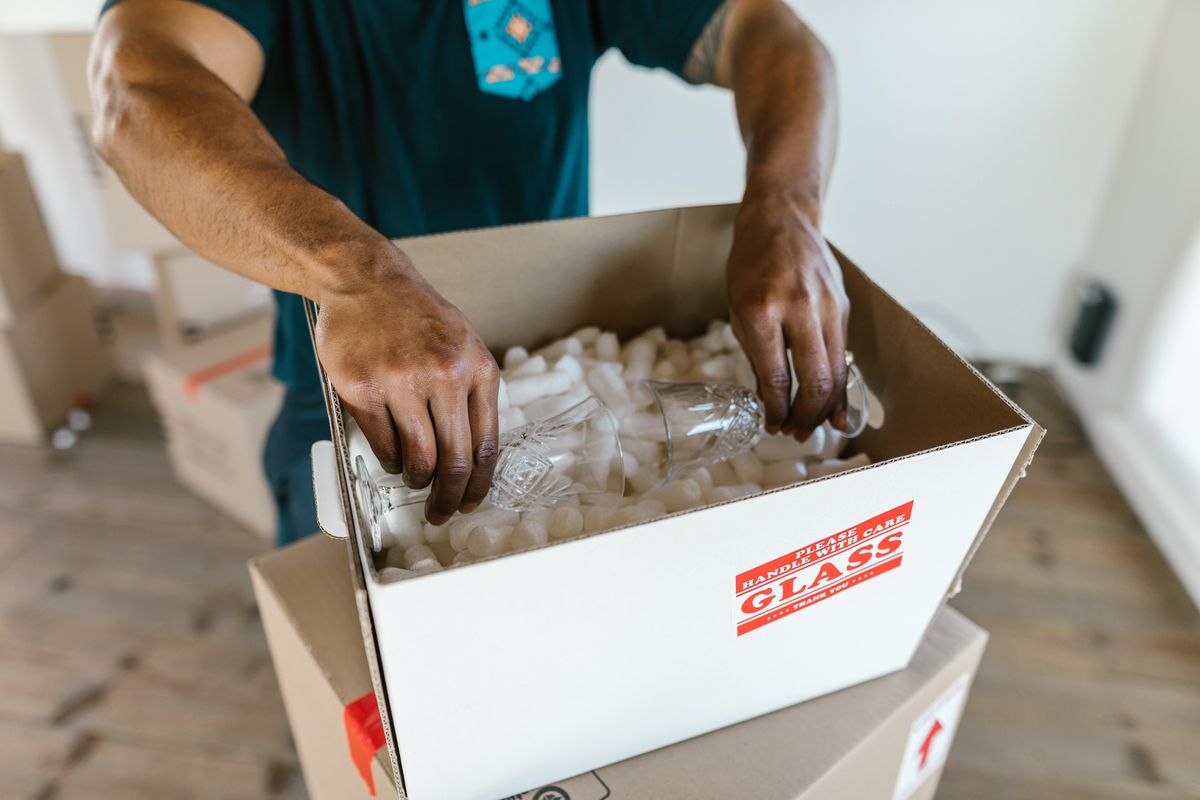 Introverts and personal space lovers may not want to make the move to Austin anytime soon: The Texas capital saw a bigger increase in one-bedroom rent prices than almost any other U.S. city in April, according to a Rent.com report.
Austin's one-bedroom rent has more than doubled—a 112% increase—from April 2021 to 2022, the report said. Only Oklahoma City saw a higher year-over-year increase with a 133% jump.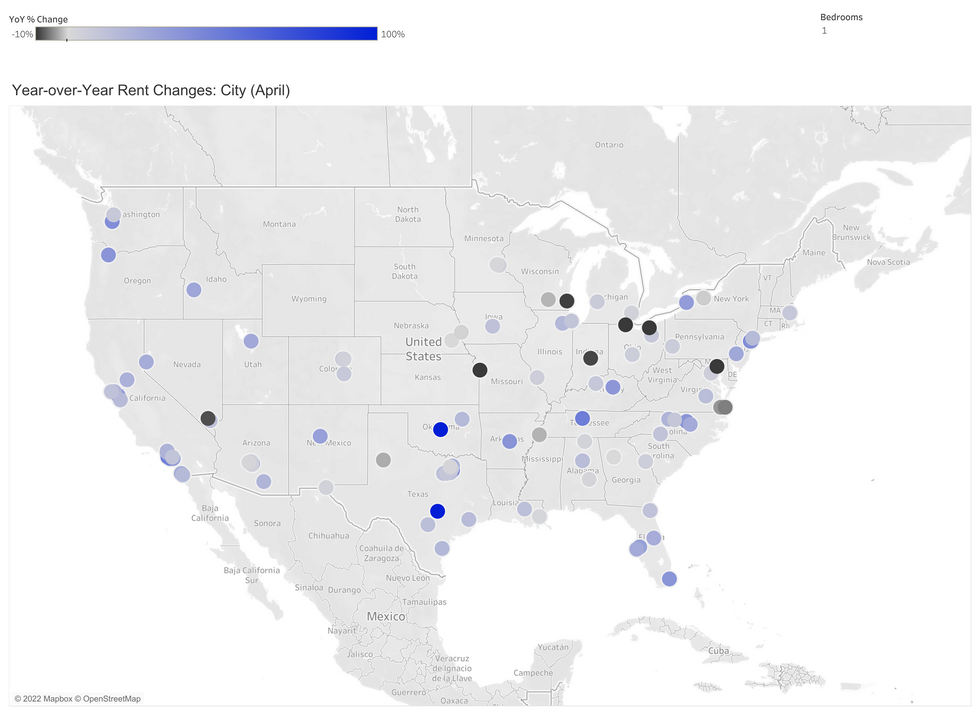 Austin also had the fourth-highest increase in two-bedroom rent, with a 50% increase in the past year. The city joined a nationwide trend where rents were up 8.3% year-over-year across the U.S, a trend exacerbated by a 6.2% increase in inflation in the same time period.
But "not everyone is experiencing inflation the same way," Redfin Deputy Chief Economist Taylor Marr said in the report, and a brunt of the load has gone to cities with more move-ins. While over 90% of state rental markets increased in the last year, that jump was seen most in Sun Belt states, including Texas, Arizona and Florida.
Even with breakneck increases in rent, however, Austin's rent prices still haven't cracked the top 10: the city's one-bedroom apartments are the 12th most expensive in the nation with an average price of $2,918. Meanwhile, its two-bedrooms fall behind Texas cities Frisco, Dallas and Plano and come out 34th on the list with a $2,302 average monthly rent.