Austonia AM
100% Austin news, info, and entertainment, straight to your inbox at 6 a.m. every morning.
In five minutes, you're fully informed and ready to start another great day in our city.
Get connected with our daily update
(Bob Daemmrich/Austonia)
As of 5 p.m., more than 43,000 Travis County residents have voted on Election Day.
---
"You should all be incredibly proud of yourselves for putting together such a heavy turnout," Travis County Clerk Dana DeBeauvoir said in a Facebook live.
Around midday, DeBeauvoir said Travis County residents were casting around 6,000 votes an hour, and she estimated a turnout of around 85% of registered voters.
"I think that's a conservative guess," she said.
This election has already been a record-setting one here in Austin.

More people voted early in Travis County this election than in the entire 2016 election.
As of Friday, the last day of early voting, 553,290 residents had cast their ballots. The bulk of those—nearly 90%—voted in person. The remainder voted by mail or limited ballot, which is available to those in the process of moving.
Texas Gov. Greg Abbott extended the early voting period by six days this election due to the coronavirus pandemic.
In comparison, only 477,588 people voted in Travis County during the 2016 race, including Election Day turnout.
Travis County also set a new registration record this year, with 97% of eligible voters registered to do so, according to Travis County Tax Assessor-Collector and Voter Registrar Bruce Elfant.
The last time Travis County saw more than 70% of registered voter turnout was in 1988, according to the Texas Secretary of State's office, when Republican George H.W. Bush ran against Democrat Michael Dukakis.
Election Day logistics
Polls opened at 7 a.m. and close at 7 p.m. Anyone who is in line at 7 p.m. will be able to vote in person.
There are 178 Election Day polling places in Travis County, and all but a handful were reporting wait times of fewer than 20 minutes around 6:30 p.m. Residents can find polling place wait times here.
"Most of the voters out there are wearing masks and they're socially distancing," DeBeauvoir said, adding that many of this year's Election Day polling places were chosen because they allow for ample room between voters and booths.
Austin-Travis County Interim Health Authority Dr. Mark Escott encouraged residents to get out to vote this Election Day, adding that Austin Public Health has worked closely with local election officials to ensure safety amid the pandemic. He also asked Austinites to avoid in-person watch parties, given the risk of transmission.
Travis County residents who still need to deposit their mail-in ballots may do so in-person at 5501 Airport Blvd. Voters may only hand deliver their own carrier envelope, must present an acceptable form of identification and will be asked to sign a signature roster.
There is a hard cutoff at 7 p.m. Those waiting in line will not be able to deposit their ballots, DeBeauvoir said Tuesday.
Protests?
City officials are also anticipating election-related protests and encouraging residents to be mindful, given the pandemic and the likelihood that the results of the presidential race may be delayed or otherwise contested.
"While it's possible that we might know outright who has won in each race by tonight, we could also potentially end the night with an unclear winner in the Presidential race," Austin Mayor Steve Adler said in a statement. "Stay patient, and listen to trusted sources for election information."
Many downtown Austin businesses have boarded up their doors and windows in anticipation of mass gatherings, mirroring trends in other major U.S. cities.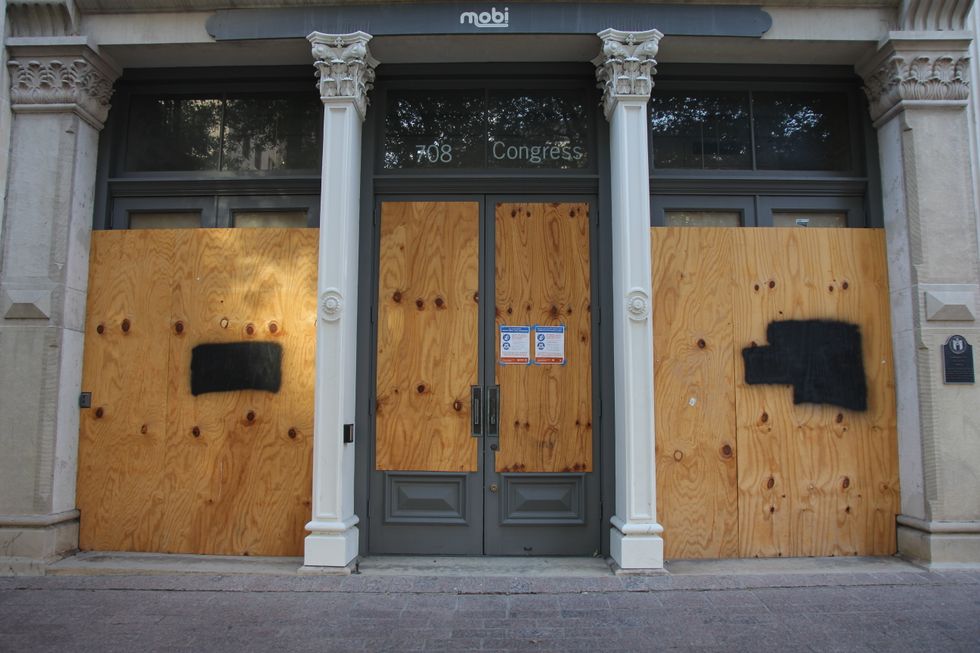 The Congress Avenue post office boarded up on Nov. 3. (Laura Figi/Austonia)
"Regardless of today's outcome, I hope everyone remembers that we are all Austinites and we show our love for this city by showing love and respect for one another," Austin City Manager Spencer Cronk said in a statement.

Local activists and four members of City Council have raised concerns about the Austin Police Department's ability to maintain safety, given the serious injuries officers inflicted at Black Lives Matter protests earlier this year and recent reports that officers have tolerated or even fraternized with white supremacist groups.
Most recently, critics of Adler gathered on Sunday for a drive-thru protest and parade in support of recalling the mayor and "backing the blue," a pro-police movement. A group of APD officers posed in photos with the protesters, some of whom displayed white supremacist hand signals, in front of City Hall.
"We want to be absolutely clear what the expectations are for a response to any peaceful protests this November," Mayor Pro Tem Delia Garza said in a statement last week. "And we want Chief Manley to help assure Austinites that we will not see a repeat of the violent tactics APD used against peaceful demonstrators this spring."
Escott encouraged Austinites to protest safely, if they so choose.
"While we do not discourage individuals from exercising any of their protected constitutional rights, including the right to assembly, we implore our community members to think of the safety of those who surround them and to social distance, wear a mask, and wash your hands often," he said in a statement.
This story has been updated to include local voter turnout as of 5 p.m. on Election Day.
(Stubb's Austin/Instagram)
After a long, long year without live music, Austin has waited patiently for a return that has finally come. Festivals are planning returns and even venues that adhered strictly to safety protocols during the pandemic are feeling safe enough to gather again in person.
Starting in just a few short days, you can finally enjoy what makes Austin, well, Austin again. Here are a few of the live shows to look forward to.
Remember to jump on those tickets–Austinites have been missing their live music!
We asked you what you wanted and you told us. More newsletter!
Austonia launched its new and improved newsletter today. You can expect:
100% Austin news, info and entertainment
Sent straight to your inbox at 6 a.m. every morning
In 5 minutes or less, you're fully informed and ready for a great day
Sign up here:
For Marco Silvestrini, gelato takes him back to his childhood when he and neighborhood kids in a small Italian town would end their day at the local gelato shop. It was part of what made some of the best memories for him.
He's since been offering that same experience for the past seven years with his artisanal gelato shop, Dolce Neve, in Austin, alongside his sister and her husband.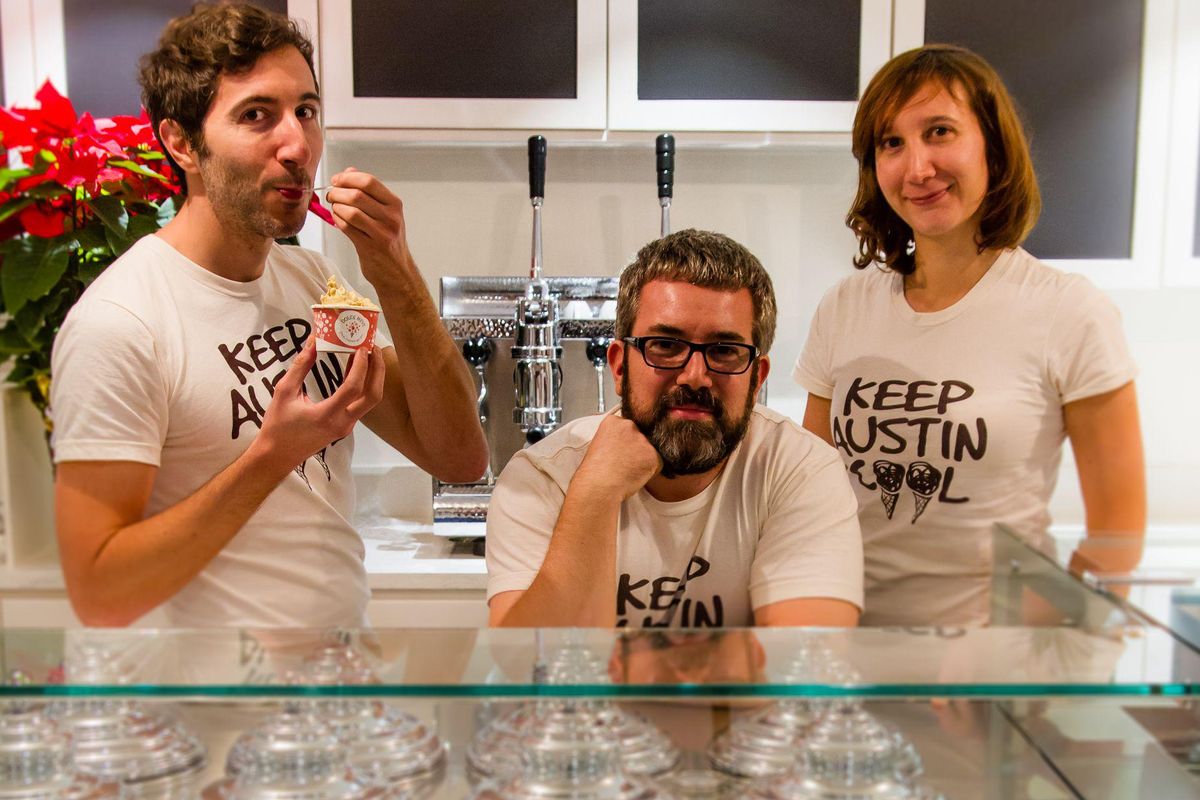 Leo Ferrarese, Marco and Franscesa Silvestrini run Dolce Neve. (Dolce Neve)
While gelato always played a big role in Silvestrini's life, it wasn't in his plans to take on a business with his favorite treat. After a few years in New York working as a management consultant, he felt he was missing out on something. "I decided to take a step back and started thinking, what could... I do to make society better and happier, even just for a moment," Silvestrini said.
He thought back to his childhood and the role gelato played in it and wanted to offer the same experience to Americans.
Once he had the product idea down, it came down to location. Growing up among farmers in a small community in Central Italy, Silvestrini knew he wanted a slower pace of living than New York, so he asked around. The answer he got: "Austin." The only thing he knew about what would become his future home was it had a Formula 1 track.
But after visiting once, he felt a great sense of community he didn't feel in The Empire State. "I felt it was not just a good place for a concept like mine, but also a good place to live because at the end of the day, you cannot just think about your business," he said.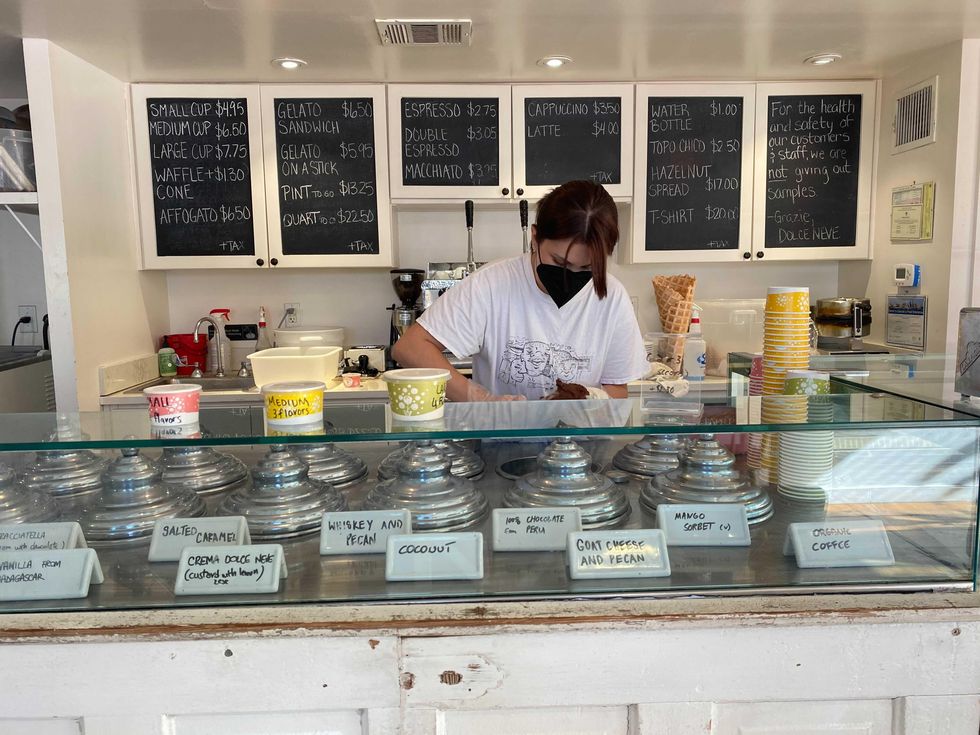 "Dolce Neve" translates to "sweet snow." The shops offers 12-18 flavors at a time. (Dolce Neve)
Similarly, his sister Francesca Silvestrini was experiencing the same feelings while studying for her Ph.D. in Ohio before teaming up with Silvestrini. She went back to Italy to be properly trained in making gelato while Silvestrini focused on the business plan. They brought Leo Ferrarese, her husband, onboard and opened their first shop on South First Street in January 2014. The rest is history.
On the menu, you'll find various traditional and innovative flavors that rotate out. Some of the staples include chocolate, 100% vanilla from Madagascar and salted caramel. Other rotating or seasonal flavors include whiskey and pecan, organic cantaloupe sorbet, goat cheese and pecan, almond custard and tiramisu. They've created over 300 flavors together in the span of the business.
So what's next for the shop? Lately, Silvestrini has been thinking a lot about that. With two locations in Austin, one in Houston—he's just not sure if expanding more is the right move. Maintaining a quality product and good service is of utmost importance that he's not willing to sacrifice.
"In order to be happy, it's not about making money, it's about being an integral part of the community," Silvestrini said. "There have been so many cases in which I think what I did today really made a difference in somebody's life."