Get connected with our daily update
You can now see your favorite Austin spots, from Lady Bird Lake to Sixth Street, on Netflix's new show "Twentysomethings: Austin."
---
The reality show, which was previously called "Roaring Twenties, premiered Friday on Netflix with the first six episodes; the last six come out Dec. 17. It follows eight strangers living under the same roof in Austin as they seek to "(step) out of their comfort zone" and find adventure. Much like Austin itself, these up-and-coming young people are grappling with finding steady ground during the pandemic. The series is sure to be a heartwarming take on the equally-confusing time that comes just after those coming-of-age movies.
Here's a look at the eight 20-somethings featured in Roaring Twenties:
Natalie Cabo, 26
Natalie Cabo had a more sheltered upbringing than most—her parents filmed her every move in her "strict Latin household" growing up," and her father wouldn't even let her hug boys without covering her chest.
Now, she's ready to make up for lost time, get her first boyfriend and have some fun in Austin.
"She is boldly extroverted yet adorably charming, and is making it her mission to do whatever it takes to get herself boo'd up in Austin, one awkward first date at a time," her bio reads.
Raquel Daniels, 25
As "one of the few black women who works in IT," Daniels may find her happy place in booming tech town Austin.
A Florida A&M grad and model and fashion ambassador on the side, Daniels hopes to add to her resume by making the connections needed to start her tech startup.
"She loves old-fashioneds, playing the stock market and roller skating, but you'll never catch her barefoot unless she's in the pool—she has a phobia of her uncovered feet touching the ground!" her bio reads.
Bruce Stephenson, 23
A Greenville, South Carolina native, Stephenson works with his father at Stephenson Insurance, but he has dreams of working for a professional sports team (preferably baseball). This "corn-fed, responsible guy" is ready to shed his roots and try his luck at a serious relationship while in Austin.
"It's always a party when Bruce is around—he lives by the motto 'LET'S GOOO!'," his bio reads. "He's a good corn-fed, responsible guy who respects women and loves ice cream... maybe a little too much."
Abbey Humphreys, 25
At 25, Houston native Abbey Humphreys has experience beyond her years—she's already a divorcee after marrying her high school sweetheart at 20. Now a microinfluencer, Humphreys hopes to find her identity, explore her bisexuality and get wild in Austin.
"She has no idea who she is or what she wants to do with her life, but she knows she's ready to shed the 'handcuffs' of her marriage and conservative upbringing and get into some trouble in Austin," her bio reads.
Keauno Perez, 28
At 28, Perez is the oldest on the show—and he's already got the accomplishments to show for it as the Coordinator for Residence Education at the University of Arkansas.
Perez came out as gay at 25 after years of struggling with his sexuality in the conservative area where he grew up, and he's now ready to shed his Arkansas roots and find himself in Austin. He's also a second-generation American and the first in his family to graduate from college, according to his bio.
"Keauno is like a puppy everyone immediately falls in love with—but he's never been kissed!" Perez's bio reads. "Keauno is leaving Arkansas behind as he hopes to find his 'gay sensei' in the very LGBTQ+-friendly community in Austin, and maybe a boyfriend to boot!"
Isha Punja, 24
An Irvine, California native, Punja thought until recently that Miami was in Maine. But her lack of geography skills belies her education and ambition: a UC Berkeley economics graduate, Punja is now working to build Hut Mentality, her fashion brand centered on ethical clothing made by indigenous women in rural India.
"Isha is clumsy, gullible, and forgetful, but she knows it, and owns it," Punja's bio reads. "After struggling with depression, she realized she needed to follow her passion, and started designing clothes."
Kamari Bonds, 23
Bonds is one of three 23-year-olds to round out the youngest on the show. A model back in his home of North Carolina, Bonds is former creative business marketing major who hopes to find ways to focus on his entrepreneurship in Austin while continuing to prioritize fitness—and maybe finding love along the way.
"He loves Southern accents and hopes to find a fiery Texan woman to settle down with...eventually," Bonds' official bio reads. "For the next few months in Austin, he wants to play the field, hit the gym, and manifest his destiny... whatever it may be."
Michael Fractor, 23
An Austin native who's moving from Los Angeles, Fractor is attracted to the "weirdos" of his hometown, which is why he hopes Austin is where he can get his stand-up comedy career off the ground. With Joe Rogan in the house and an up-and-coming comedy scene, maybe this is the perfect place for Fractor to pursue his career "with absolutely zero training or experience." While he's "unafraid to bomb night after night," he is desperate for a girlfriend, according to his bio.
"He's chasing this dream wherever it takes him, even if it's to a place of failure and being forced to give it up and make a change," his bio reads.
Find the cast members' official bios here.
Capital Metro has been awarded $750,000 from the Federal Transit Administration to go toward Project Connect's Orange Line, documents show.
The FTA announced the funding round on Thursday, which dispersed $11 million across 12 states and 20 projects. The money is meant to connect communities to affordable transit and housing through the FTA Pilot Program for Transit-Oriented Development planning.
CapMetro said the funds will go toward projects at eight stations spanning 6.5 miles on the South end of the Orange Line, which has a total of 22 stations. The full project stretches across the 20 miles from Southpark Meadows to Tech Ridge.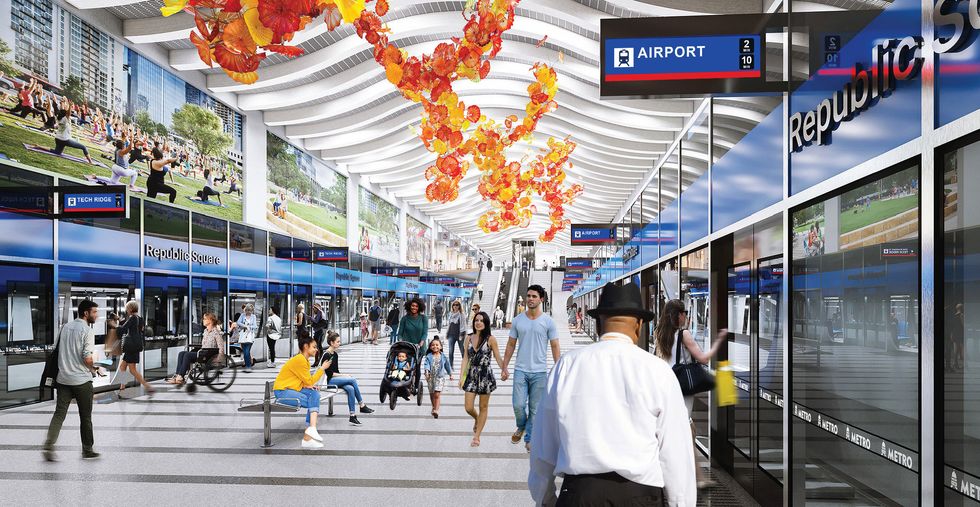 Republic Square station is along the Orange Line. (Project Connect rendering)
Once it's complete, which officials estimate will be in 2028, the Orange Line will reach the following stations:
Tech Ridge (Park & Ride)
North Lamar International District
Crestview
The Triangle
UT campus
Republic Square
Auditorium Shores
South Congress
Southpark Meadows (Park & Ride)
A $500 million mixed-use development spanning 1,400 acres is coming to Southeast Austin, near Tesla's headquarters at Giga Texas.
Plans for the development by Houston-based real estate firm Hines include 2,500 houses along with multi-family and townhomes, and commercial land. Hines is partnering with Trez Capital, Sumitomo Forestry and Texas-based Caravel Ventures.
The development, which is known as Mirador, will be located off the 130 Toll and Highway 71, which the developers say provides easy access to the Circuit of the Americas Formula 1 racetrack and other Austin attractions like restaurants, parks and live music venues.
Hines also boasts amenities like a 60-acre lake, over 600 acres of greenbelt, community parks, trails and a swimming pool.
"As Austin continues to grow into the tech epicenter of Texas, coupled with a supply-constrained market, the demand for new housing is at its highest," Dustin Davidson, managing director at Hines, said. "Mirador will be critical in providing more options for Austin's growing population and we are excited to work alongside our partners given they each provide a unique and valued perspective in single-family development."
The local housing market has been hot in recent years, with home sales accelerating earlier in the pandemic. In July 2021, the Austin metro area hit its pricing peak at $478,000. As Austonia previously reported, the area has been expected to see the Tesla effect, with the new workforce driving up demand for housing and other services.
The single-family houses are expected to be developed over the course of six years, in phases. Construction on the homes is expected to start this year and home sales will begin in 2023.