Chad Swiatecki
Chad Swiatecki
Chad Swiatecki is a 20-year journalist who relocated to Austin from his home state of Michigan in 2008. He most enjoys covering the intersection of arts, business and local/state politics. He has written for Rolling Stone, Spin, New York Daily News, Texas Monthly, Austin Monitor, Austin American-Statesman and many other regional and national outlets.
Get connected with our daily update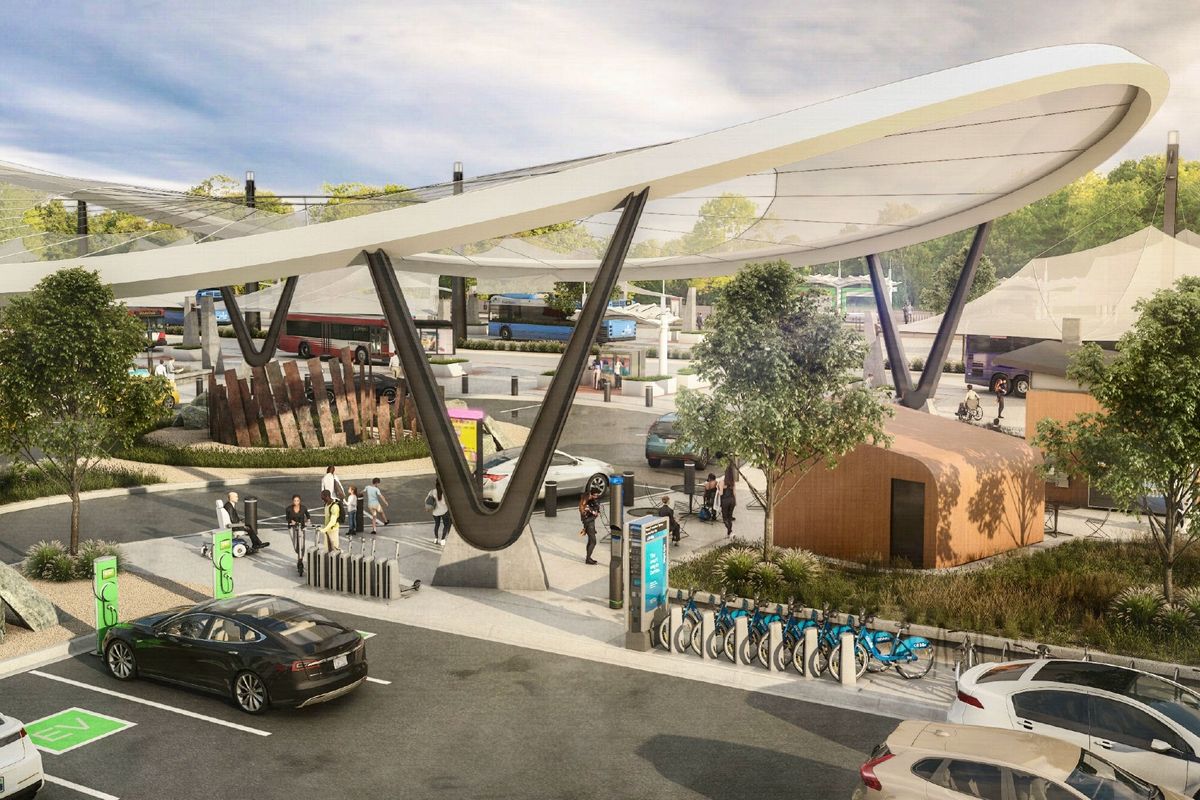 (Capital Metro)
The map for the new $9.8 billion Project Connect regional transit plan is certain, but there are still many questions to be answered ahead of a November ballot question where voters will decide the fate of the proposal.
The two biggest items to be decided: the exact language and tax rate that voters will see, and how the body created by the city and Capital Metro to manage the system will be composed—as well as what kind of power it will have over budgets and operations.
And there is also the matter of deciding how to sell voters on a significant property tax increase—estimated to be $360 per year for the owner of a median-priced home—in the middle of a recession and the ongoing COVID-19 pandemic.
Paying for Project Connect—and only Project Connect
The plan for Project Connect includes three light rail lines connecting north and south Austin, the airport and downtown; a downtown transit tunnel with stations; expansion of the Red Line commuter rail through East Austin and a new Green Line running northwest from downtown; better bus service and a zero-emissions fleet; 24 park and ride lots; and customer technology to "plan, pay and go."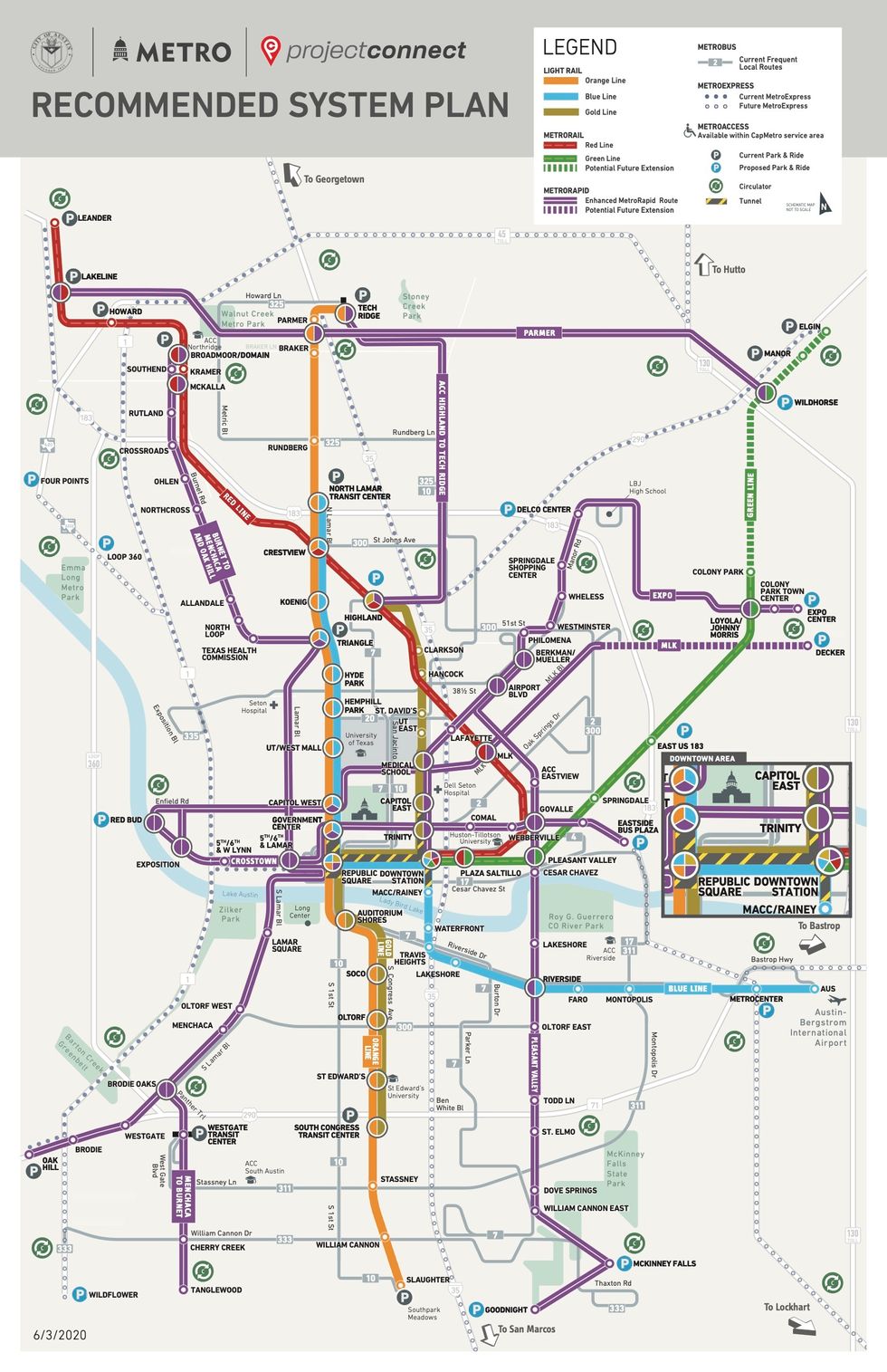 (Capital Metro)
Council Member Jimmy Flannigan said that the state's recently instituted annual cap on property taxes, which requires voters to approve increases over 3.5% in combined city and county tax revenue growth in any one year, created the ability for the city to fund the transit plan without the extensive approvals from the legislature that had been needed for prior transit proposals.
Flannigan added that the ballot language tying the new money to the transit system should give voters some assurance that the increase won't wind up in the general fund and eventually be diverted to parks, law enforcement or emergency services.
"It's more about the system you build and governance of the financial system that you build at the beginning, and if the moneys dedicated to transit have any possibility of being redirected to other things, you're screwed," he said. "The decisions you have to make for transit are generational, but your immediate shiny object needs will always win."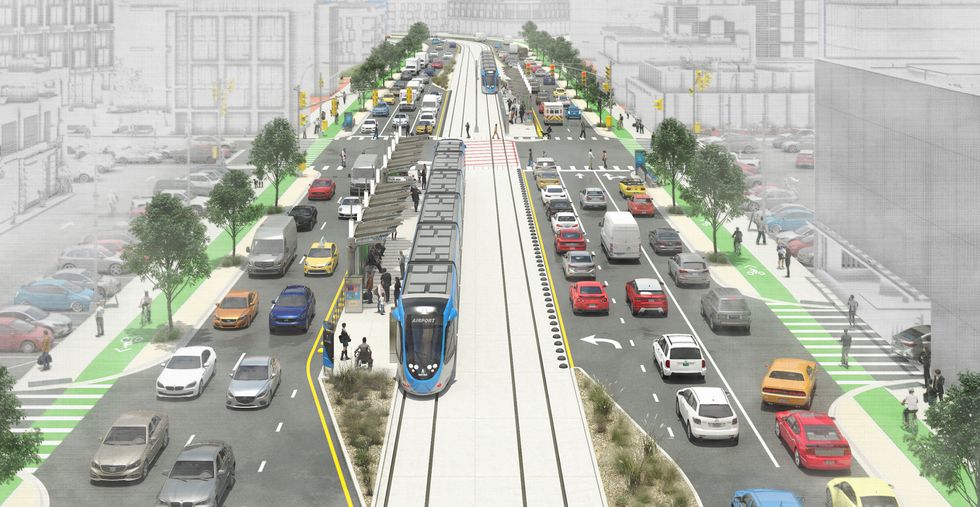 Three light rail lines form the basis of the plan for Project Connect.
(Capital Metro)
The governing body
The issue with the most need for compromise appears to be how the governing body for the system will operate. The city and Cap Metro will have to come together to create an interlocal agreement that will state how its membership will be decided, and how much authority it will have.
Flannigan said he thinks the governing body for Project Connect should mostly be involved in the management of money and priorities passed to it annually by the city and Cap Metro—a regional transportation provider led by elected and appointed board members from Austin and several suburbs.
Austin City Council Member Ann Kitchen said the governing board may have more autonomy, but will need to include members with deep experience and awareness of the ways transit impacts the entire region.
"To the extent that the body has discretion like about timing or locations of services—it will be important to include people who represent and are accountable to the public, such as elected officials," she said via email. "The Board must include people who have expertise and/or experience with equity issues, including mitigation of displacement. The Board must also include people who have an understanding of the impacts on businesses, especially small businesses during construction phases."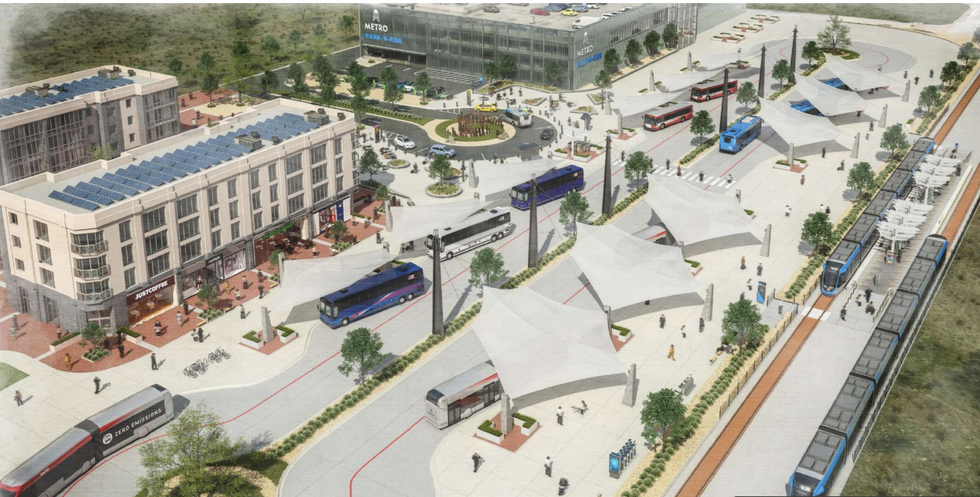 Project Connect aims to provide a better bus system for the Austin area.
(Capital Metro)
Impact and equity
Along with those questions, advocacy groups tied to transportation will continue to press the city and Cap Metro on issues such as equity and the financial impact of the likely property tax increase.
Yasmine Smith, vice-chair of People United for Mobility Action, said her group is waiting for data on the possible impacts —and how they can be limited—on lower-income communities located along some of the proposed light rail lines.
"There are lots of questions yet to be answered and yet to be fleshed out in order for us to ensure that this will not impact our most vulnerable community members," she said.

"It is hoped that the city adheres to their stated goals during the planning initiative ... it is going to be up to groups like PUMA to hold them accountable to what they have stated they will achieve, which is an evolution in mobility but one that does not continue the historic precedence of disenfranchising vulnerable populations."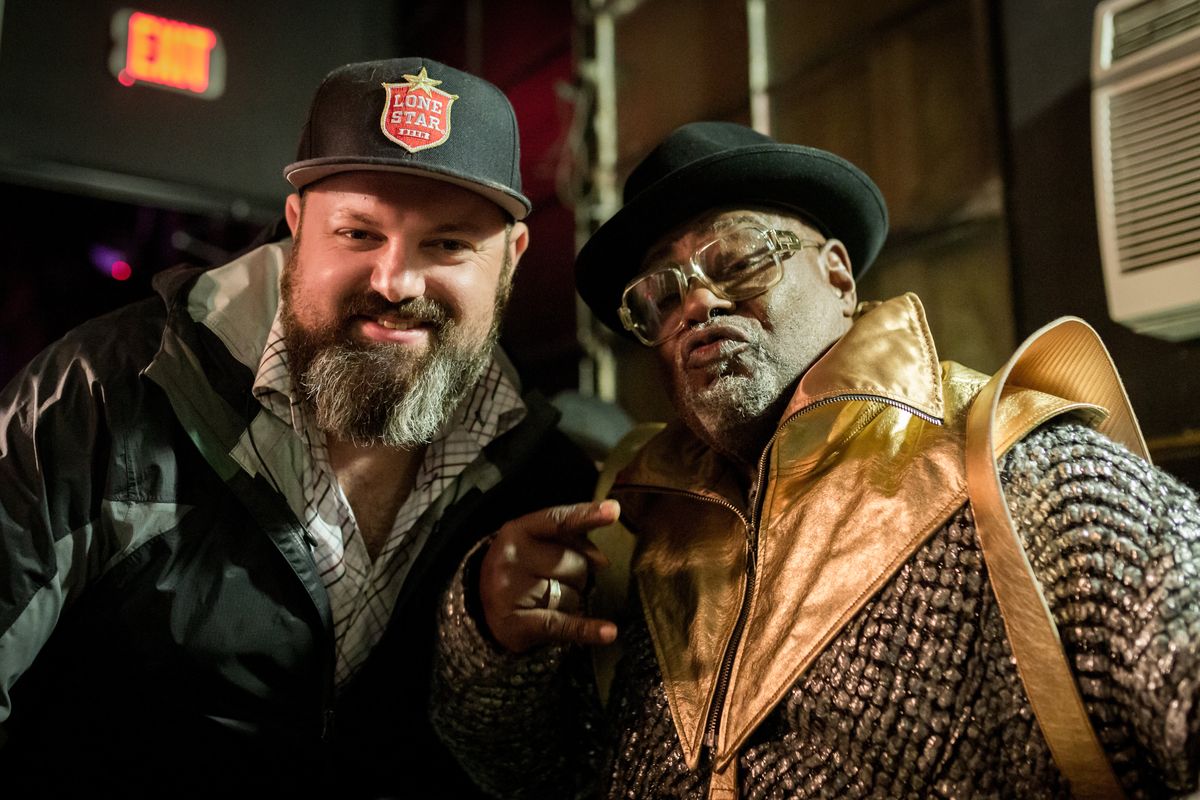 (Rob Hein)
Four weeks ago, with live music venues throughout Austin well into the grip of financial hardship from closure due to the COVID-19 pandemic, Stephen Sternschein didn't see much cause for optimism.
The co-owner of the Empire Control Room & Garage and The Parish was facing the same rent and utility costs—estimated at $40,000 per month for most clubs—as his peers, with no prospect of being able to restart his businesses anytime soon. And he knew other owners around Austin were starting to dig deep into their savings to pay their bills and hold off on possibly deciding to close for good.
Something big had to be done to save independent clubs in Austin and around the country.
And so, with a consortium of fellow owners and promoters around the country, the one-time entertainment attorney made dozens of calls and organized online meetings to help form the National Independent Venue Association.
That group has taken up lobbying efforts to push for federal aid for more than 1,300 member clubs, and expects to see action taken in Congress this week that could deliver a much-needed win.
"I choose be optimistic and believe we are going to have our sunny day, and that it's going to happen soon," he said. "I can't read any tea leaves and say that tomorrow we're going to be open, but four weeks ago I just thought that we really need some piece of good news to look forward."
The association has garnered attention quickly, with press outlets like Rolling Stone and the New York Times laying out the case for why music venues that are historically thin-margined even in good economic times face such a precarious future.
The packed-in, sweaty social dynamics of live concerts make them an unappealing prospect during a time of quarantine and social distancing. Plus there's the wrinkle that the live acts needed to draw audiences into clubs aren't in a hurry to get back in front of crowds of people who could be virus carriers.
"What we're struggling with is [figuring out]—what is the right moment to reopen? In terms of how long we'll be stuck financially, it's definitely going to be through the end of this year, if not through the end of next year," Sternschein said.
"It almost doesn't matter when we open our doors because for a period of time of at least six months we're not going to be in a position to make money, and will probably lose a bunch of money. People want to come back and party but they're not going to do it now and feel safe."
That upside-down business model means venues will need financial lifelines to stay afloat and have any chance to reopen.
There is some cause for optimism for Austin venues. City leaders are examining how much of the $170.8 million available from the federal Coronavirus Aid, Relief, and Economic Security (CARES) Act could be used to assist those businesses. Earlier this month the Red River Cultural District proposed that $2 million per month of closure would be needed to preserve the 54 small businesses that have been identified as primarily live music venues by the Music Venue Alliance of Austin.
NIVA estimates slow action or lack of large-scale relief could cause up to 90% of its member venues to close in the coming year.
Those dire prospects make possible votes in Congress this week crucial. Sternschein, who has led fundraising efforts for the group that helped to hire a lobbying firm, has spent his time engaging with major brands to begin building long-term support for venues in a post-pandemic economy.
He said prospects for federal financial aid in the Democrat-controlled U.S. House of Representatives has never been a concern, and that a letter of support from Sen. John Cornyn filed late last week gives a needed boost for a vote in the Republican-majority Senate.
"I'm going to frame that [letter] and put it on my wall," he said. "It represents the biggest group effort I've ever been a part of. It's so incredible because we went from nobody knowing who we were as independent venues … even eight weeks go no one in politics outside of Austin knew about this part of music other than big festivals like Coachella. Nobody would have had one word to say about independent venues. Today, we have a majority of the House and Senate supporting initiatives we've brought to them in the past few weeks."
Much is still to be decided, but the possible combination of assistance at the federal and city levels would provide some needed financial cover for Austin venues that are crucial to the city's reputation as the Live Music Capital of the World.
So far the most high-profile music spot to close during the pandemic is the Shady Grove restaurant on Barton Springs Road. Over the weekend the owners of dance club Plush, which was a prominent space for live acts during South By Southwest, announced the club will not reopen, creating the first pandemic-related vacancy among the cluster of music venues in the Red River Cultural District.
Cody Cowan, executive director of the RRCD, said many owners are "holding their breath underwater," tapping into their personal savings and trying to wait out the closures due to the coronavirus. While he continues to push for local relief at city hall, Cowan said NIVA's work gives hope to venues around the country.
"We're in the game, and it seems like the level of camaraderie that's happened nationwide is inspiring," he said. "Steve represents the creative hunger we have in our community. Many folks are pretty invisible but it's the handful of people like Steve who have this relentless drive for innovation and sustainability who have allowed us to come together and evolve past our previous tribalism."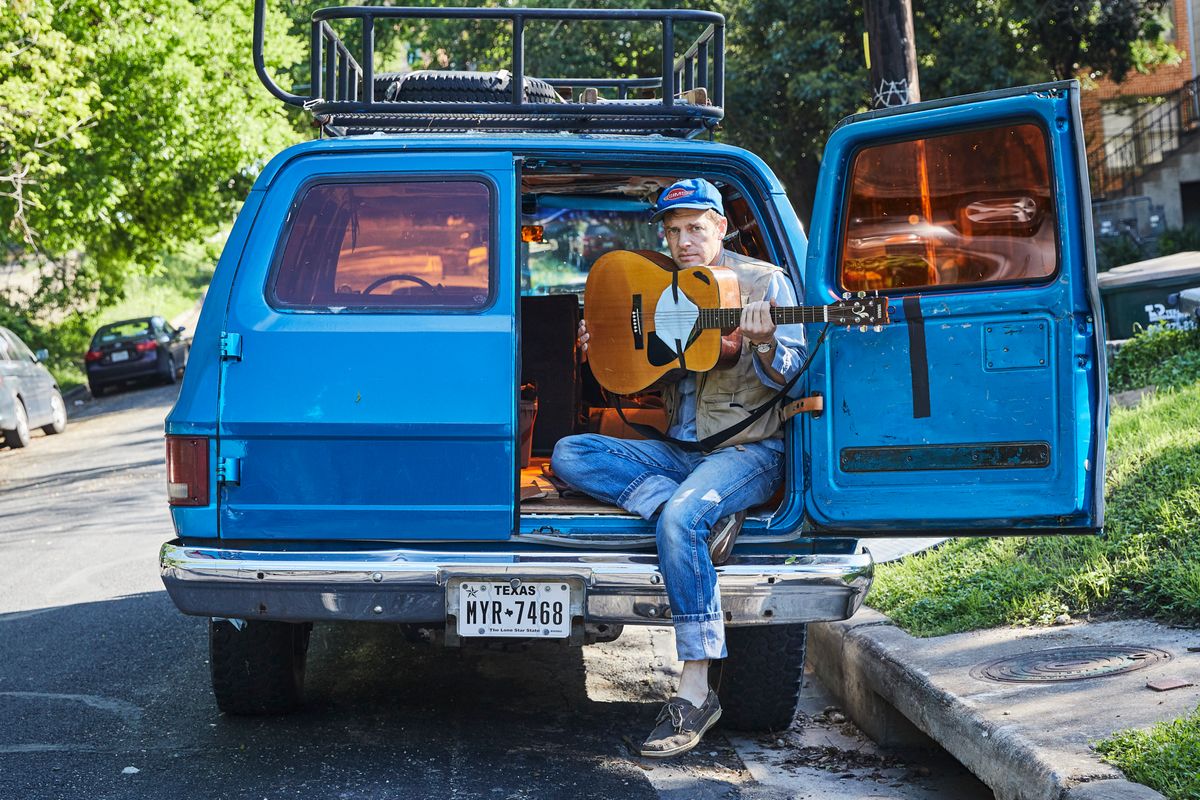 (Dave Creaney)
But with venues throughout Austin closed since mid-March as part of precautions related to the COVID-19 pandemic, the singer-songwriter said he hasn't set foot on stage since late February, when he performed at a local fundraiser for one-time presidential hopeful Bernie Sanders.
That hiatus came to an end May 7, however, thanks to some ingenuity—and Ballinger's instinct that Austin music fans are hungry for a chance to experience live music again.
Along with fellow songwriter David Ramirez and the duo of Kevin Curtin and Gary Lindsey, Ballinger booked a drive-in style concert in an undisclosed field in south Austin that accommodates 25 vehicles.
Once at the location, which was distributed only to ticket holders, passengers stayed inside the vehicles and listened to the live performances on the car radio via a low-power FM transmitter. Since all 25 slots, at $20 each, sold out in less than two hours, Ballinger said he's encouraged that local fans are ready to support live music again even if they have to do so in an unusual setting.
"My stir-craziness, if I have any, is not why I wanted to do this. But I did sense an overall stir-craziness in the community and that definitely played into it," he said. "I tried to do as much market research as I could because I didn't know how it would be received and everyone has different levels of precautions. As soon as they heard what I was thinking, everyone thought it was a great idea."
The do-it-yourself gusto that inspired Ballinger to organize the concert roughly two weeks after first conceiving of the idea means attendees had a far different experience than they've grown accustomed to while attending shows in any of Austin's dozens of bars and live music venues.
Performers used a cargo rack atop Ballinger's Chevrolet Suburban as their stage, with no alcohol on sale. Concert flyers acknowledged the lack of public restrooms on-site, which Ballinger said played a part in the decision to keep the concert short, at 90 minutes total, as a way to minimize discomfort.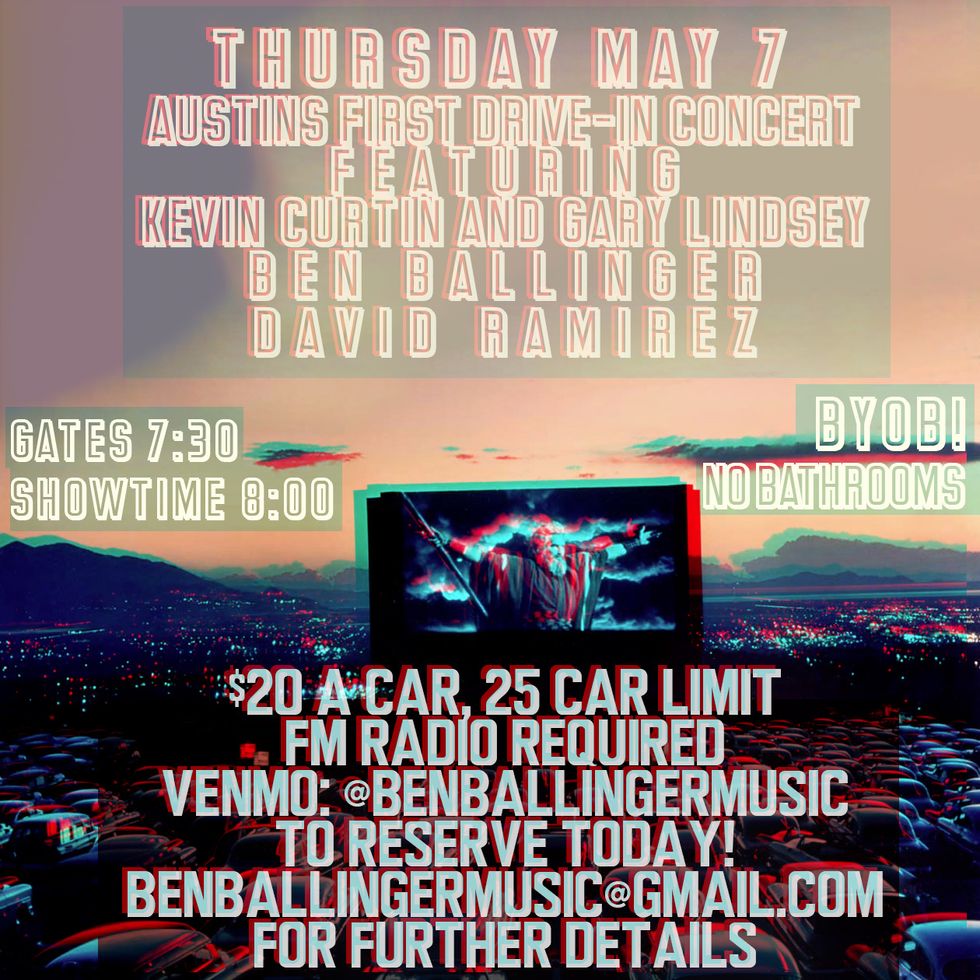 Tickets for tomorrow are sold out, but Ballinger plans to make this a weekly event.
The quick sellout has Ballinger planning to host performances weekly and he's encouraging interested acts to contact him via email (see flyer) to take part in what he said is likely to be one of the most nontraditional concert settings he or anyone else involved have ever been a part of.

"There's definitely a heartbreaking aspect to it—that in any other situation I'd be uncomfortable with the awkward distance we're going to have between us. But given the circumstances it's the best we can do right now," he said. "It's going to be unique. Part of why I felt emboldened to try it was because if anywhere was going to have something like this, this is the place where it could happen and the people here would support it and be open to it."