Christa McWhirter
Christa McWhirter
Christa McWhirter is a breaking news and lifestyle reporter for Austonia. She graduated from The University of Texas at Austin where she wrote for the Daily Texan and received her Bachelor of Journalism.
Get connected with our daily update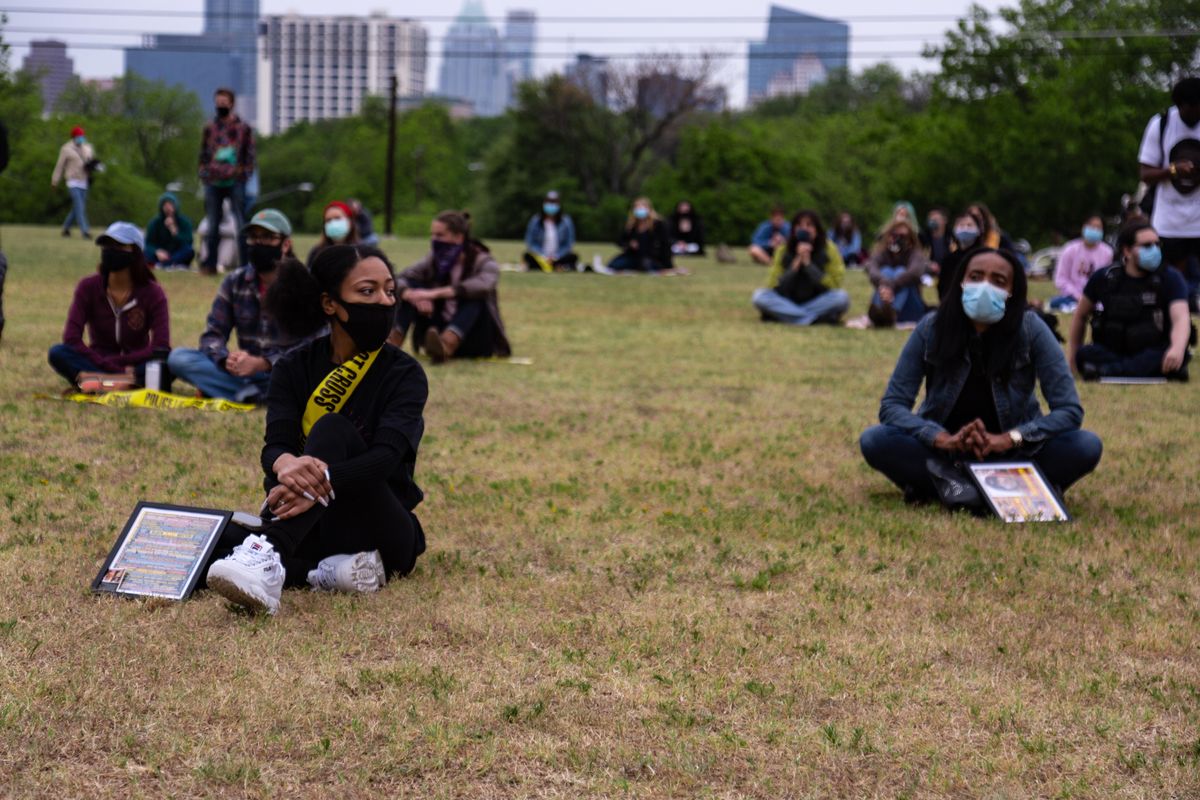 On a gloomy Thursday evening, Austin Justice Coalition hosted a vigil to honor the lives of those killed by law enforcement. The event came just two days after former Minneapolis police officer Derek Chauvin was convicted of second- and third-degree murder as well as manslaughter for the death of George Floyd last May and on the eve of the one year anniversary of Mike Ramos' death.
Both names were catalyst for the Black Lives Matter movement that sparked nationwide protests. More recently other police killings—Alex Gonzales in Austin, Adam Toledo in Chicago and Daunte Wright in Brooklyn Center, Minnesota—have made news. The vigil brought people together to remember all lives lost at the hands of police.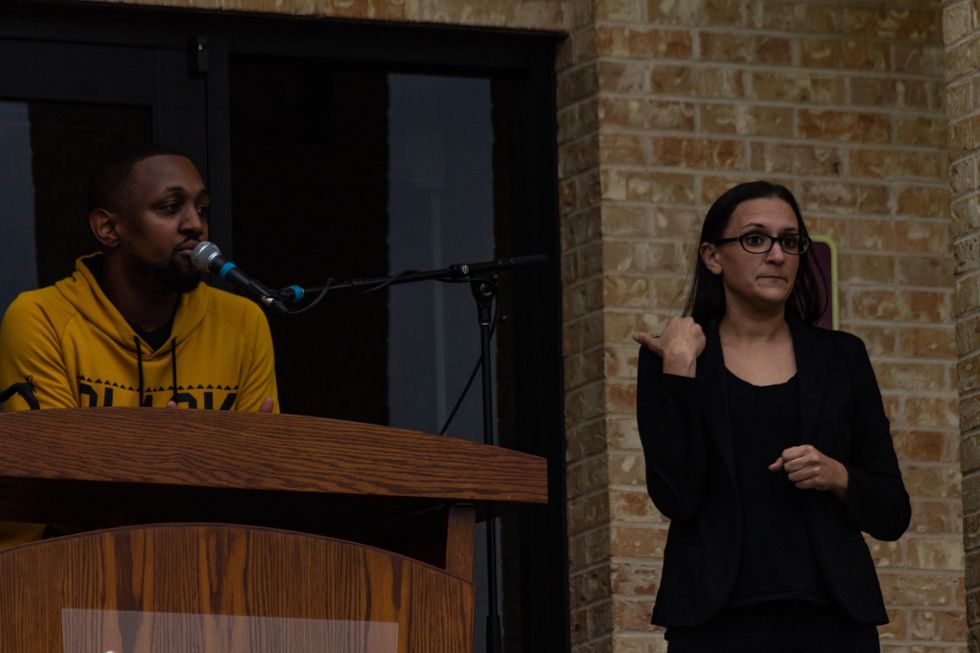 (Christa McWhirter/Austonia)
Founder and Executive Director of AJC Chas Moore, with an American sign language interpreter, started the vigil by drawing attention to the definitively fewer amount of people in attendance versus the demonstrations last summer that saw thousands gather, including at the same location.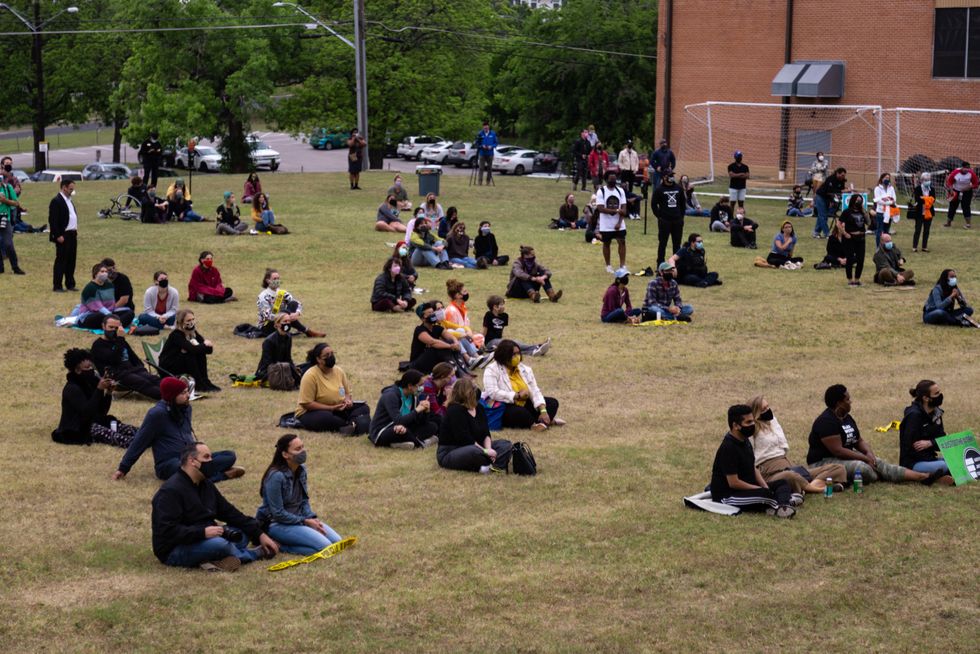 (Christa McWhirter/Austonia)
In stark contrast to demonstrations held in 2020, only around 100 people gathered at Huston-Tillotson Thursday evening.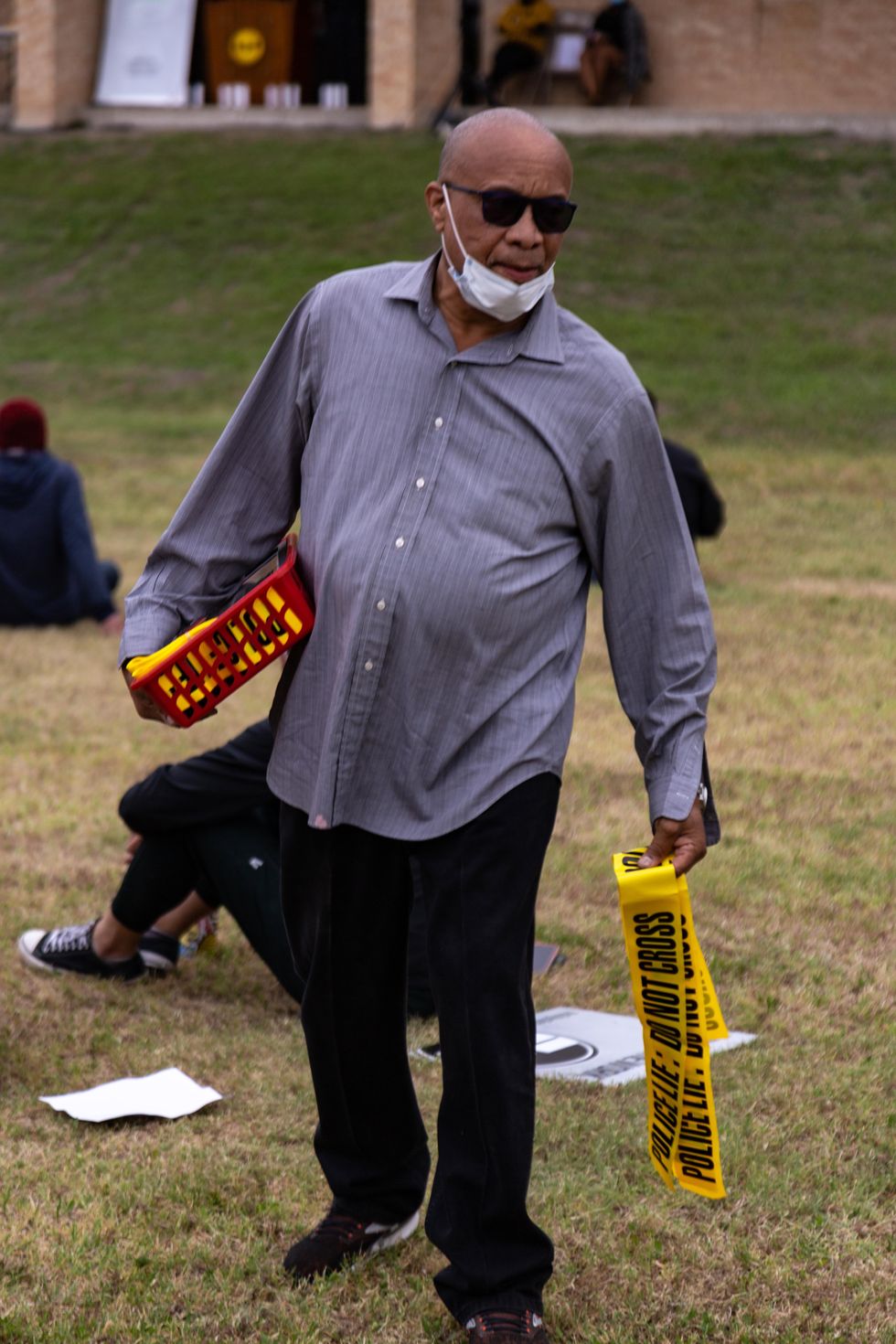 (Christa McWhirter/Austonia)
Many in the small crowd held police tape passed out by one of the volunteers of the event, Ernest, who declined to reveal his last name.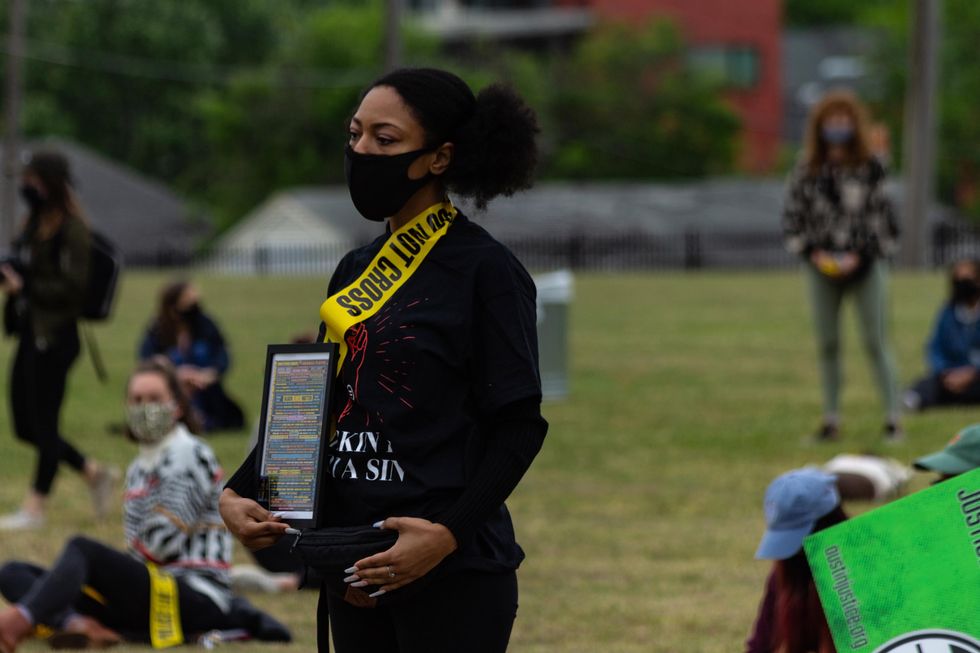 (Christa McWhirter/Austonia)
Some attendees held picture frames depicting loved ones lost to police violence, including Yasmine Smith, director of justice and advocacy at Austin Area Urban League.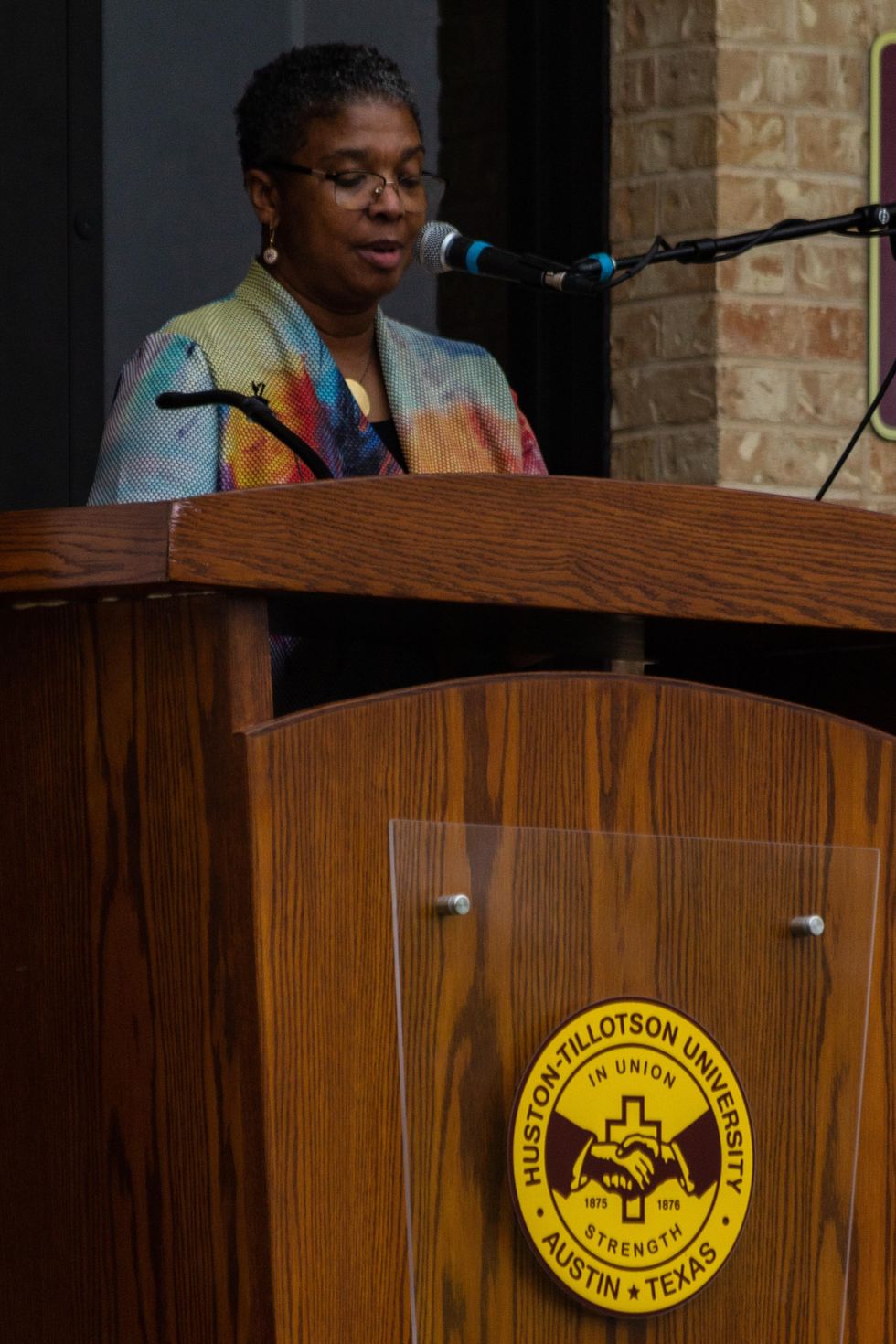 (Christa McWhirter/Austonia)
The first speaker of the evening was Colette Pierce Burnette, the president of Huston-Tillotson University. She spoke of the recent conviction of Derek Chauvin saying, "We can breathe, but not a sight of relief yet."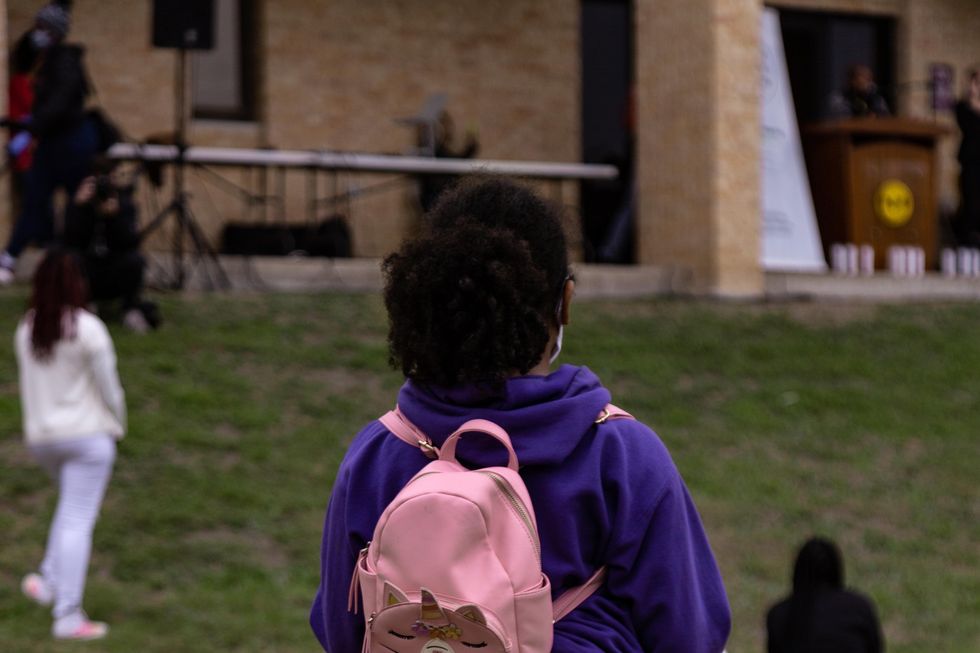 (Christa McWhirter/Austonia)
Attendees showed up with their families to listen to speakers and participate in the vigil.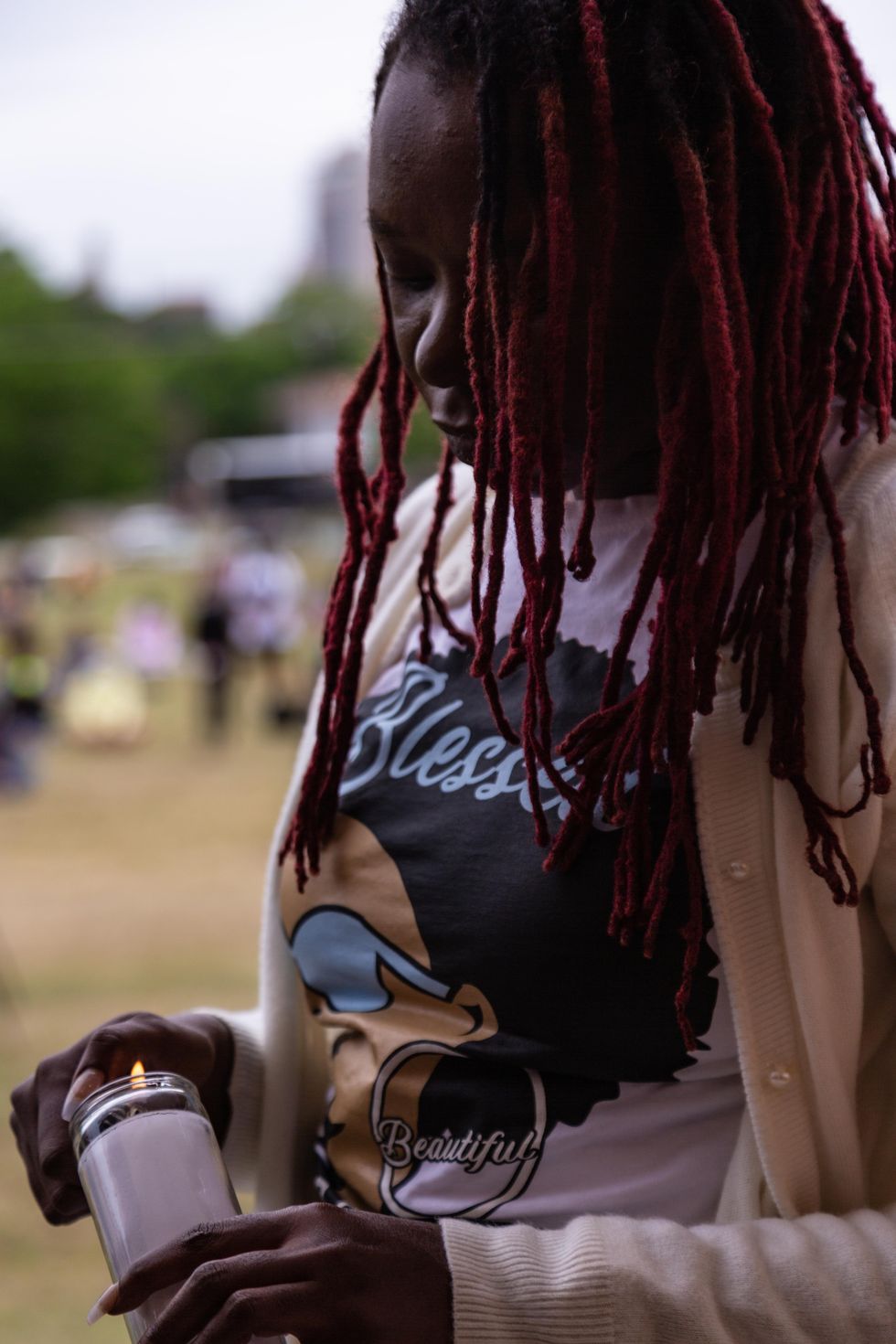 (Christa McWhirter/Austonia)
Speaker Korretta Brown lights white candles in honor of loved ones who have been killed by police violence.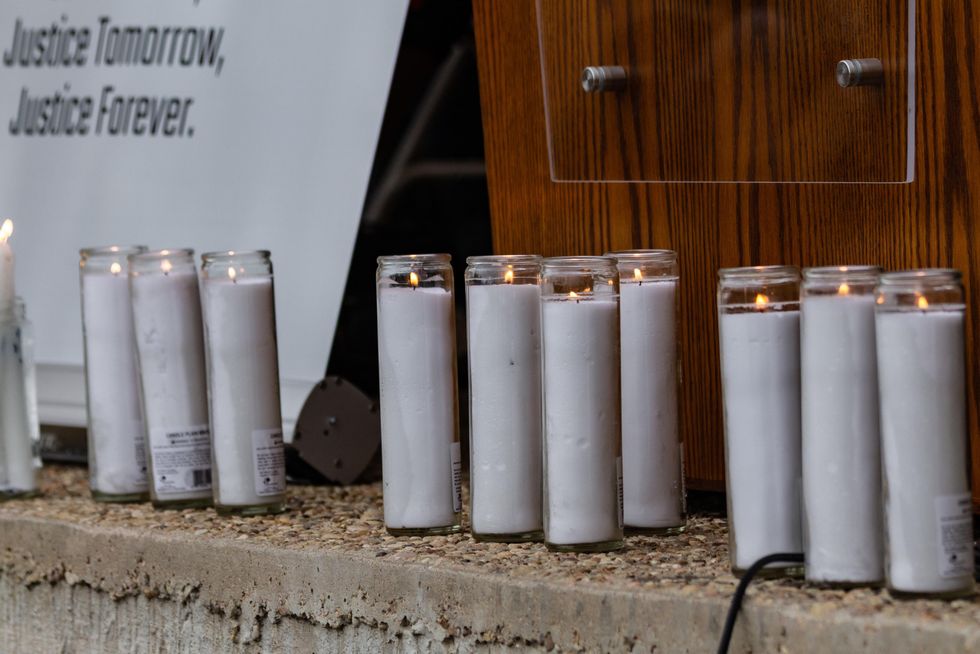 (Christa McWhirter/Austonia)
The candles were lined up at the base of the speakers' podium throughout the vigil.
Moore ended the vigil by encouraging attendees to march to the Zaragoza Rec Center to early vote in the local election.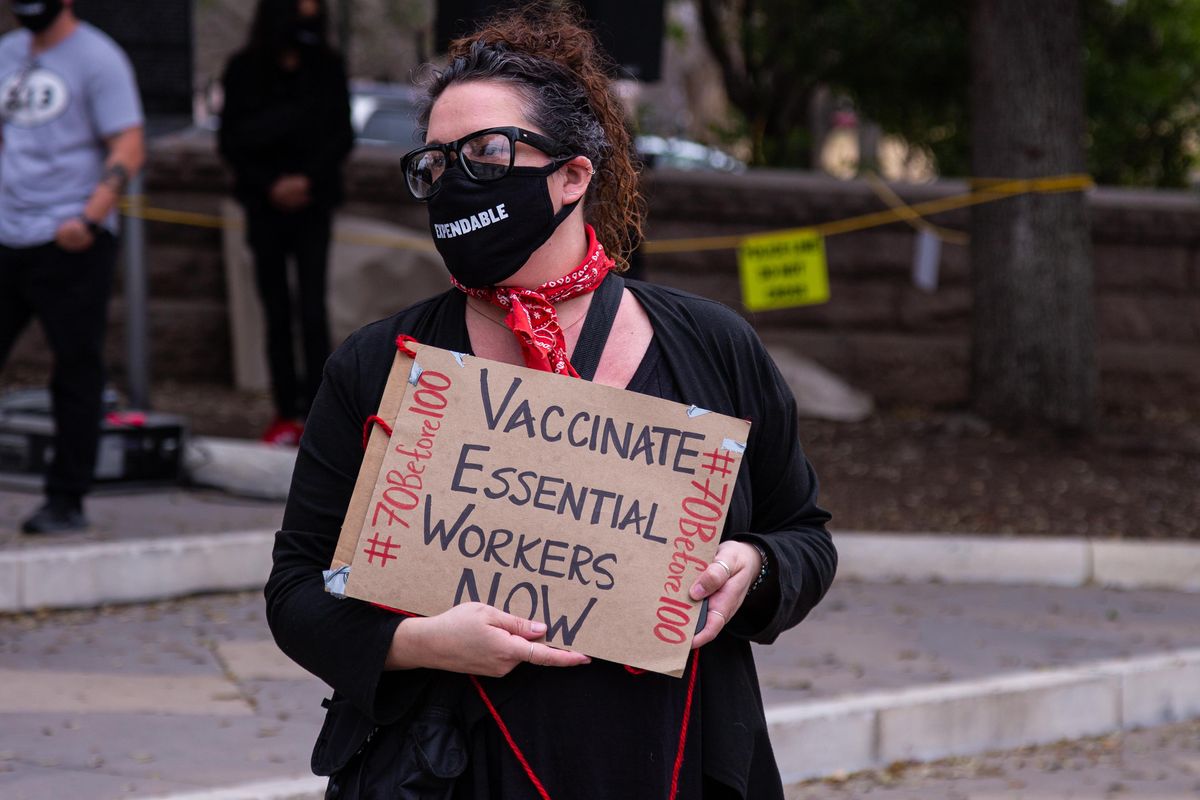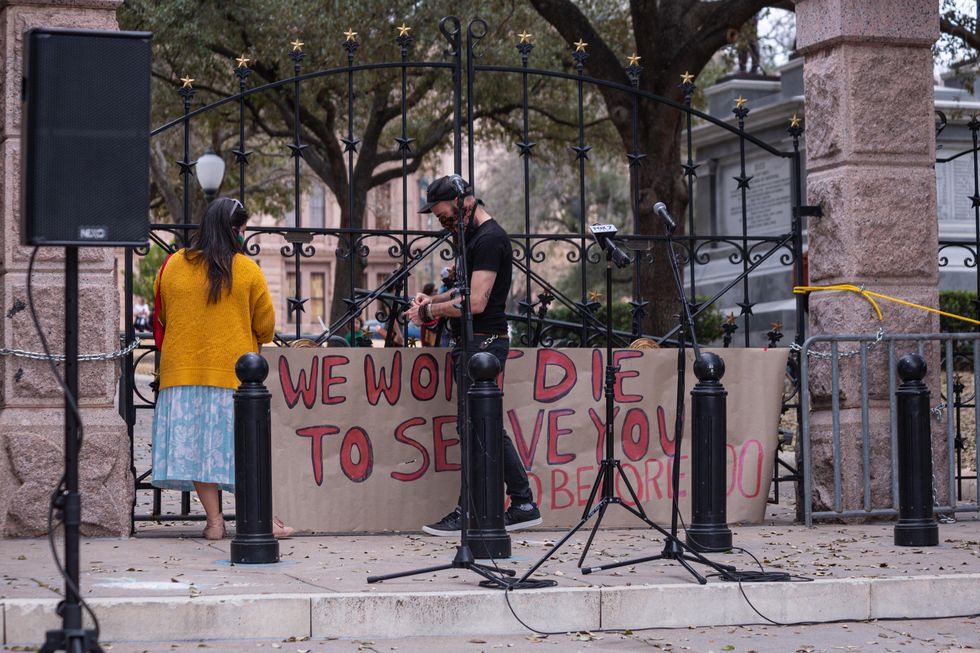 Gina Dvorak and another Restaurant Organizing Project member set up by putting up a sign which reads, "We Won't Die to Serve You. 70% before 100%." Organizers of the protest believe that the population should be at least 70% vaccinated before opening Texas 100% back up.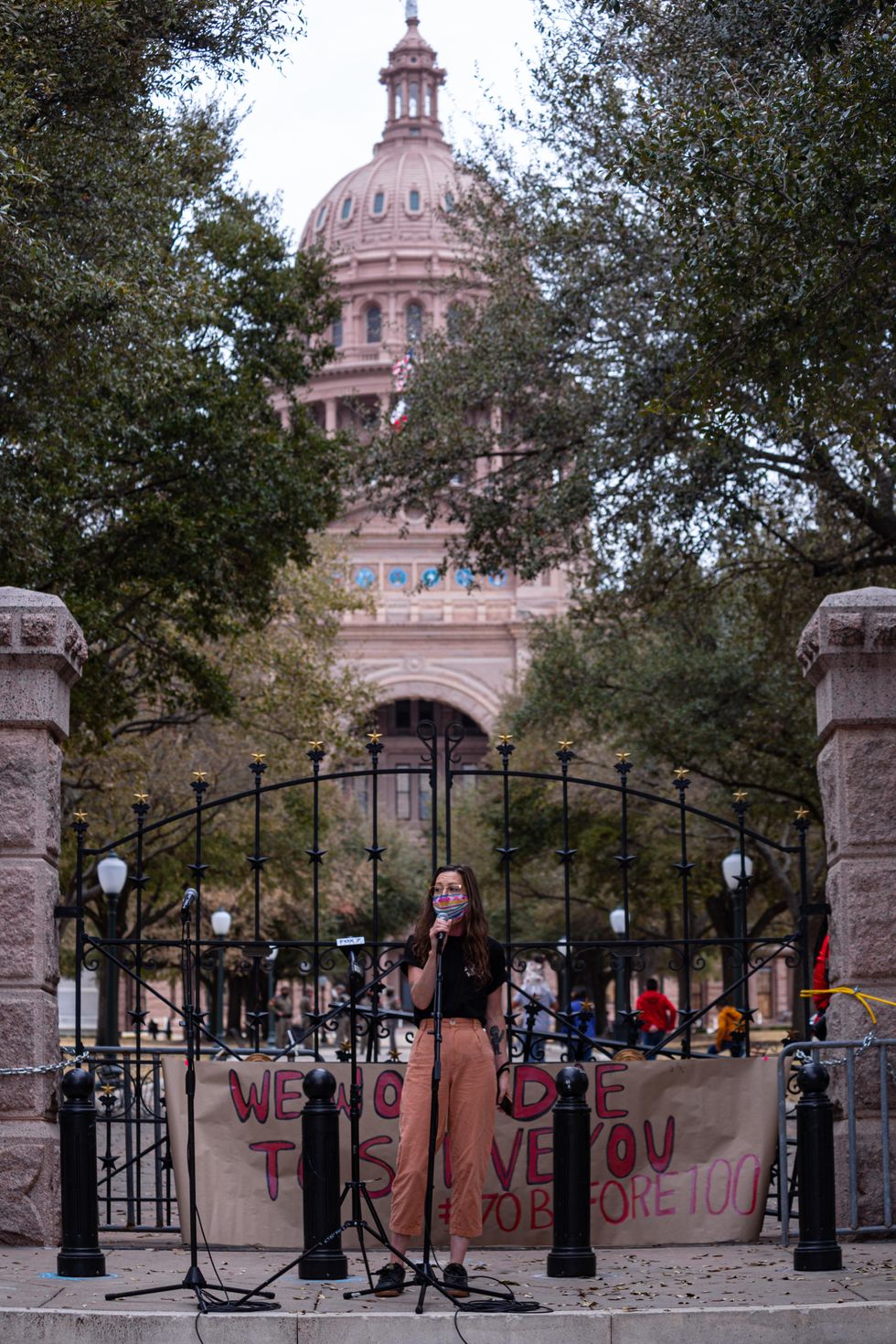 Christa McWhirter
Crystal Maher, a member of the Restaurant Organizing Project, stands in front of the Texas Capitol to express to other protesters in attendance how not being eligible for a vaccine has impacted her ability to safely keep her job.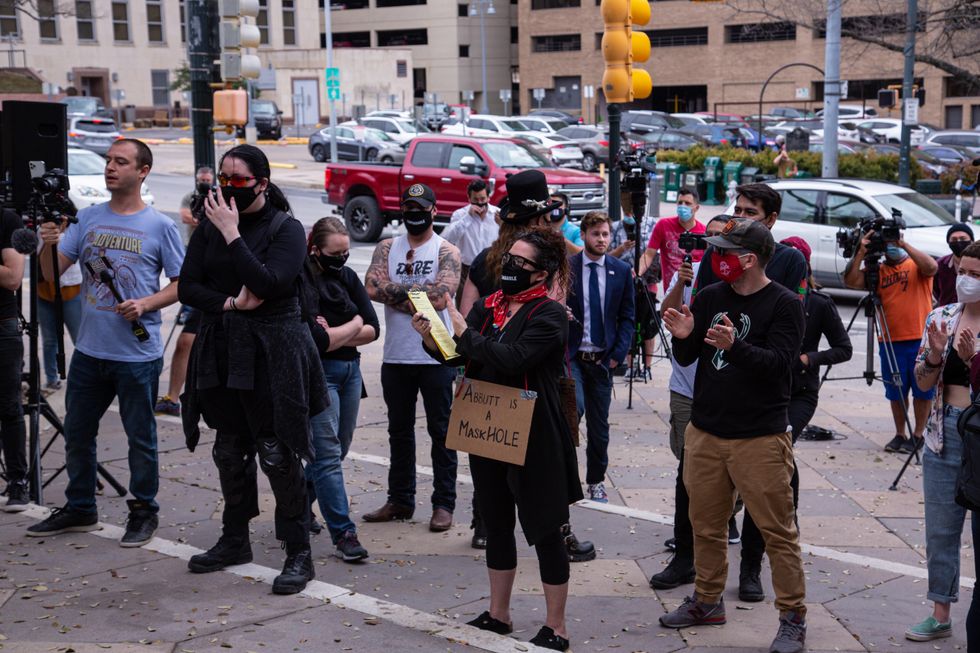 The event hosted around 50 people, most of whom are also restaurant and bar workers facing the difficulties of working during the pandemic.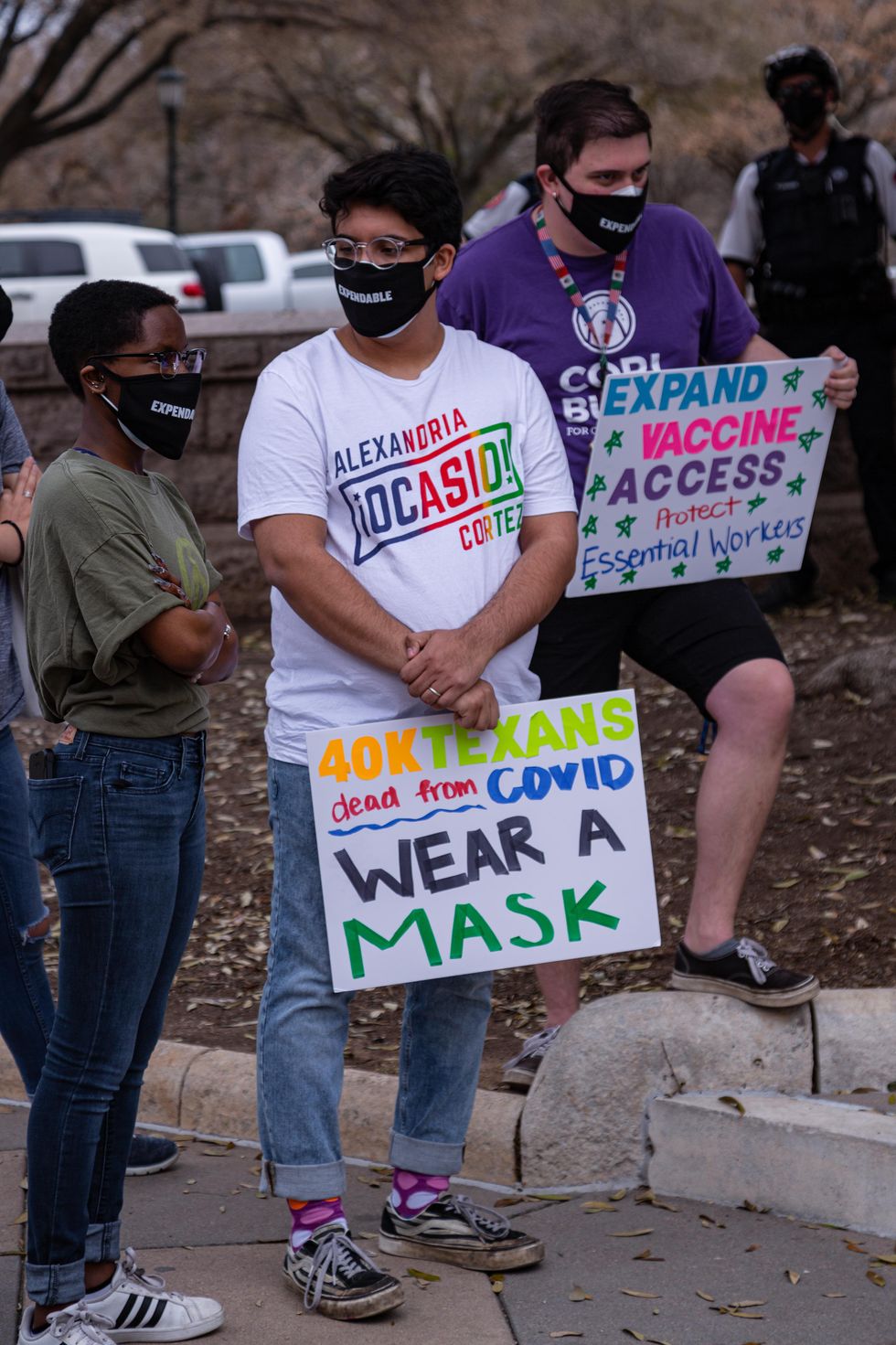 Christa McWhirter
​Kiara Collins, Eric Santos and Taylor Escamilla are all essential workers who have been questioning their safety in their workplace. As many of the other protesters, the three wore masks with the word "Expendable" on it. According to Collins, they were only given to essential workers in attendance to represent how they have been treated since the onset of COVID-19.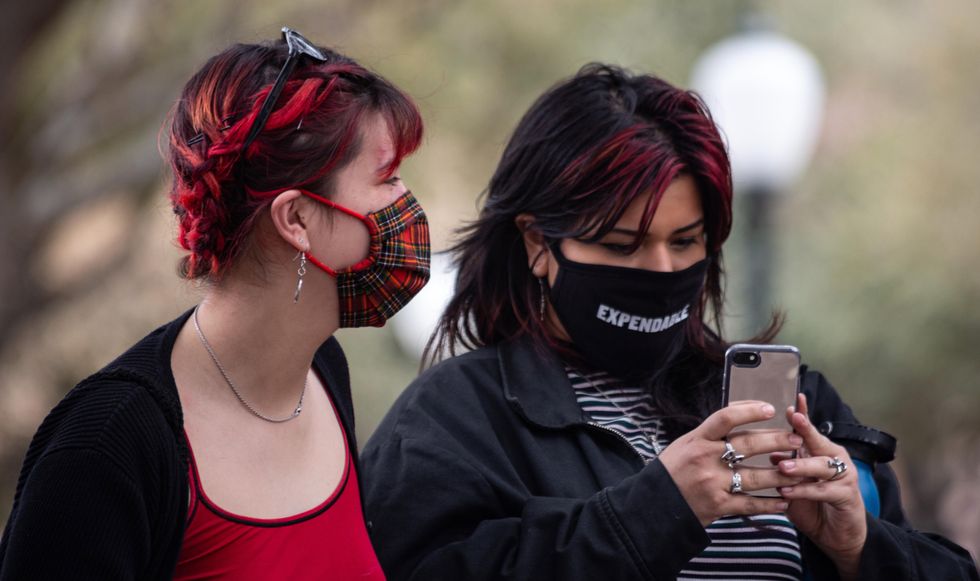 Christa McWhirter
As Maher continues to introduce speakers, two essential workers who came out to support the protest, record as counter-protesters heckled the event's speakers.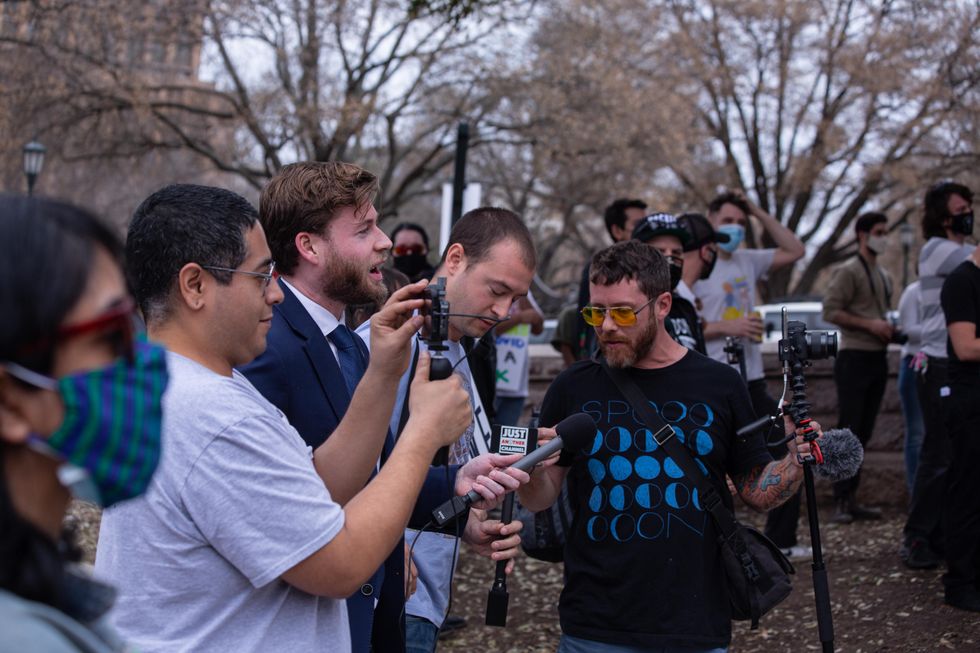 Christa McWhirter
Some of the counter-protesters in attendance were live streamers from InfoWars, an extremist organization, who heckled speakers until the rally dispersed.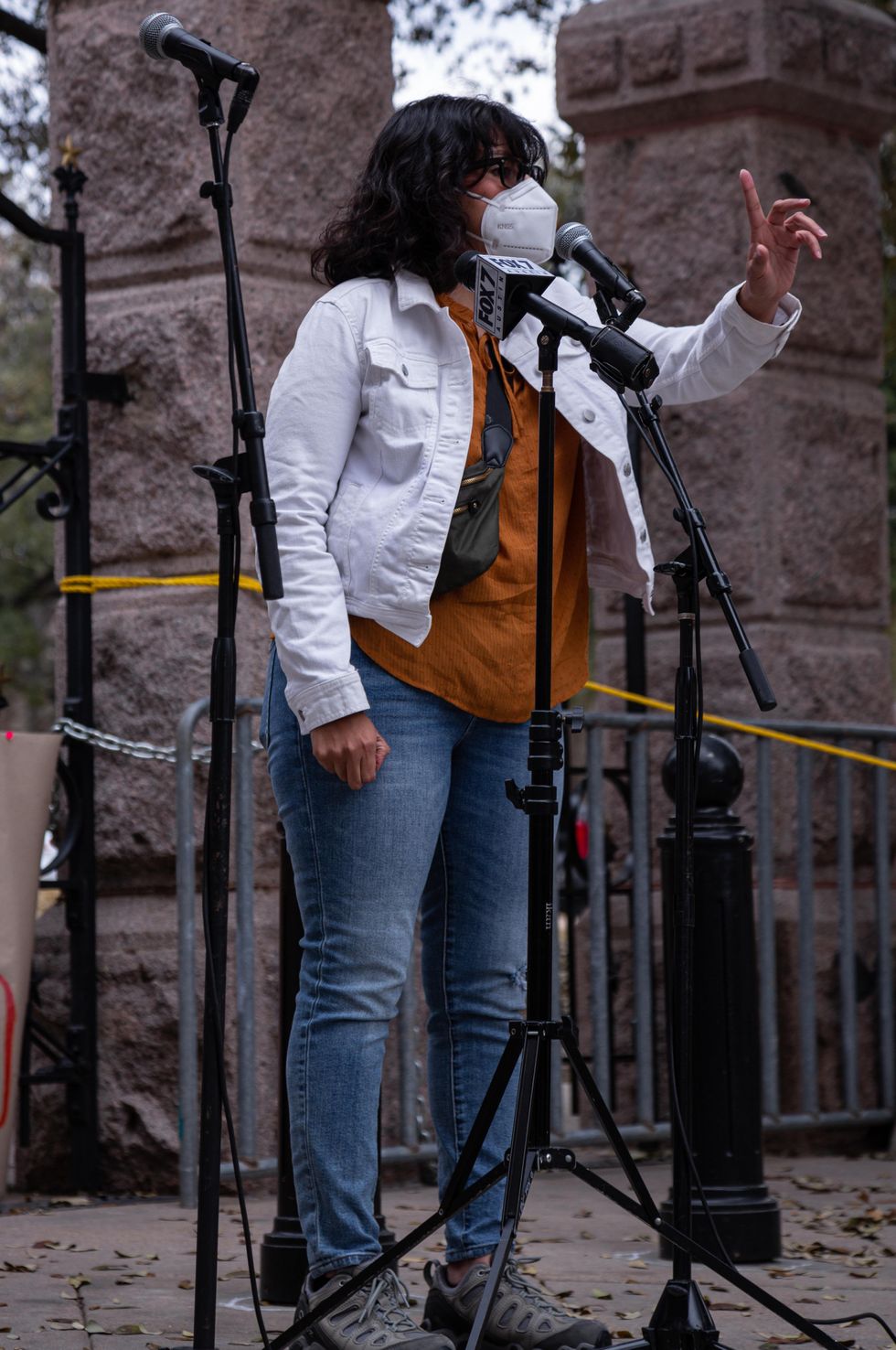 Christa McWhirter
A representative of the Del Valle Community Coalition spoke about the impact the lack of vaccine access has had on the Del Valle area. As she attempted to give her speech, anti-masking protesters yelled at her causing many people to attempt to block them out.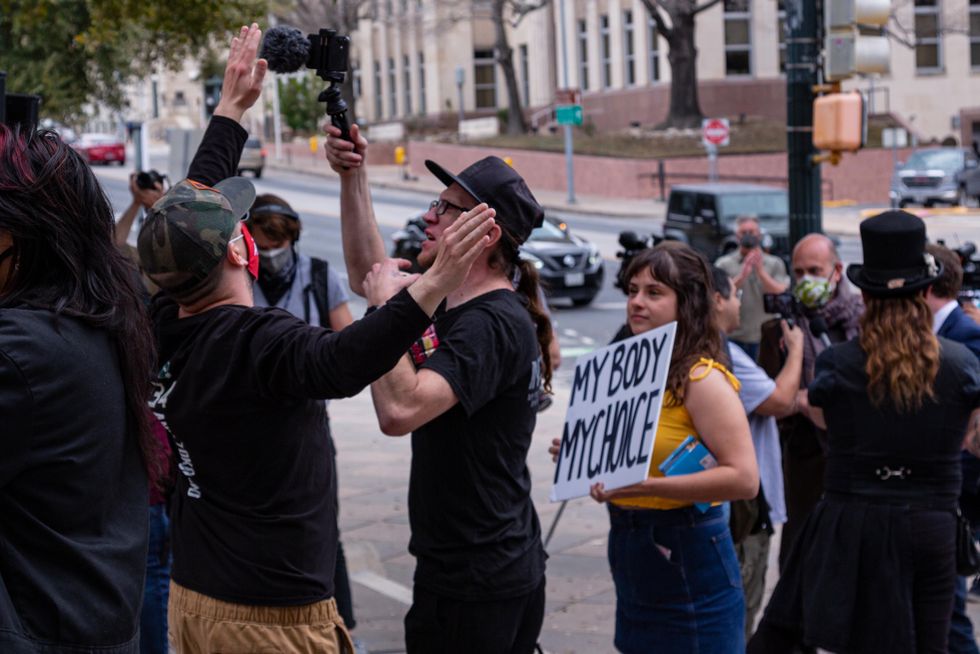 Christa McWhirter
Protesters blocked the way of anti-mask counter protesters as they heckled the event's speakers and held "My Body My Choice" signs. "It's kind of insane how they're using 'my body, my choice.' It doesn't only affect you. So it's not just your body," Taylor Escamilla said.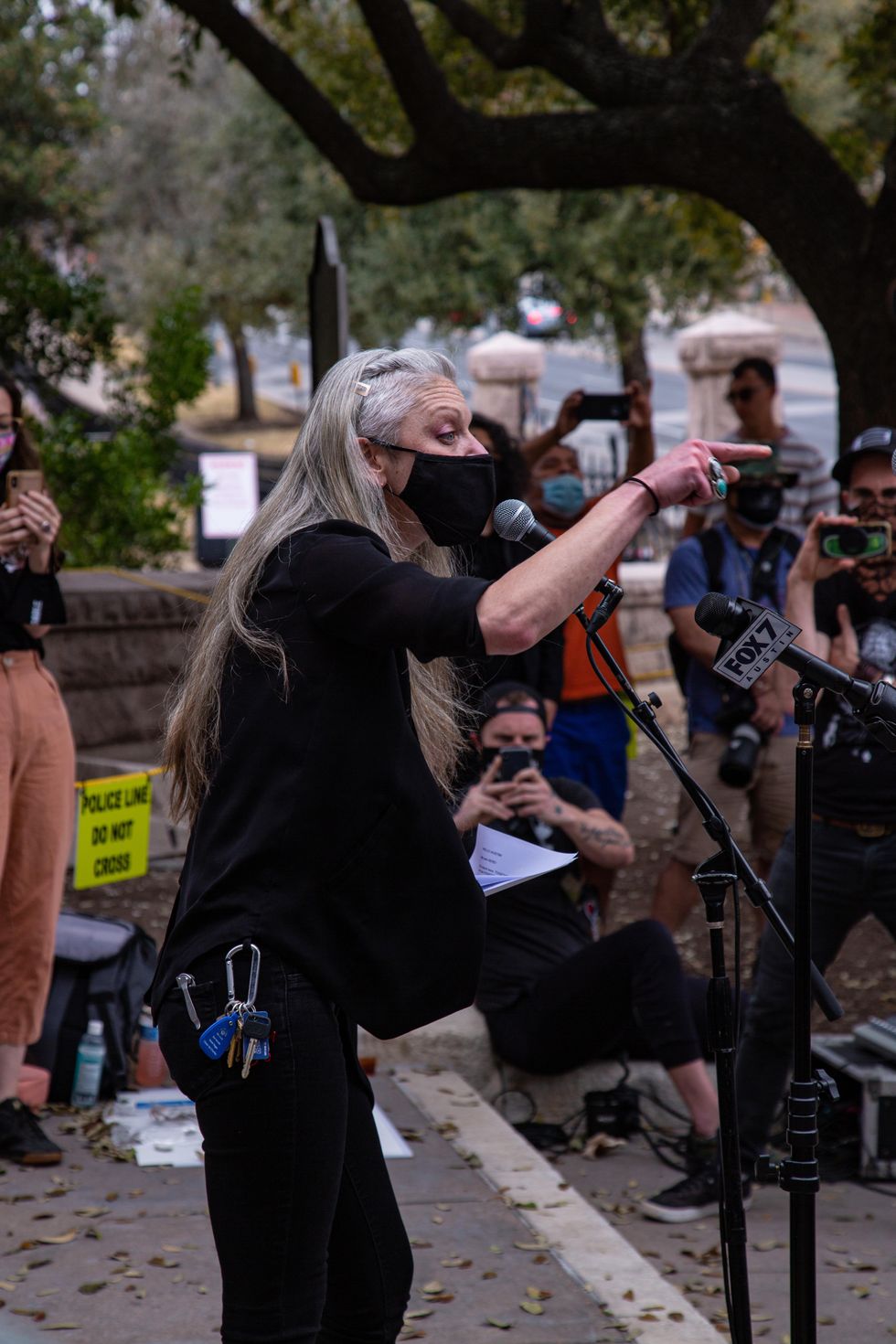 Christa McWhirter
Jeanette Gregor, cofounder of Amplified Sound Coalition, also had to fend off counter-protesters as she gave an impassioned speech about the danger essential workers place themselves in by going to work and have yet to qualify for COVID-19 vaccine.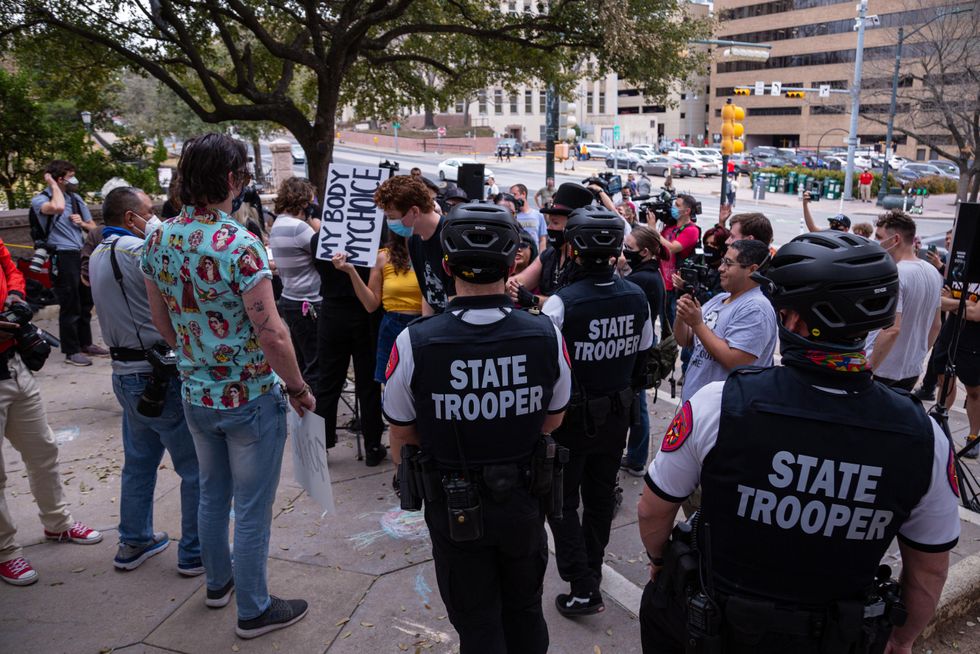 Christa McWhirter
Around 2 p.m., State Troopers began to arrive at the Capitol amid heightening tensions from protesters and counter-protesters. As police presence began to increase, the event came to end about 15 minutes later. Despite the constant back and forth between sides and the arrival of law enforcement, the protest came to end peacefully.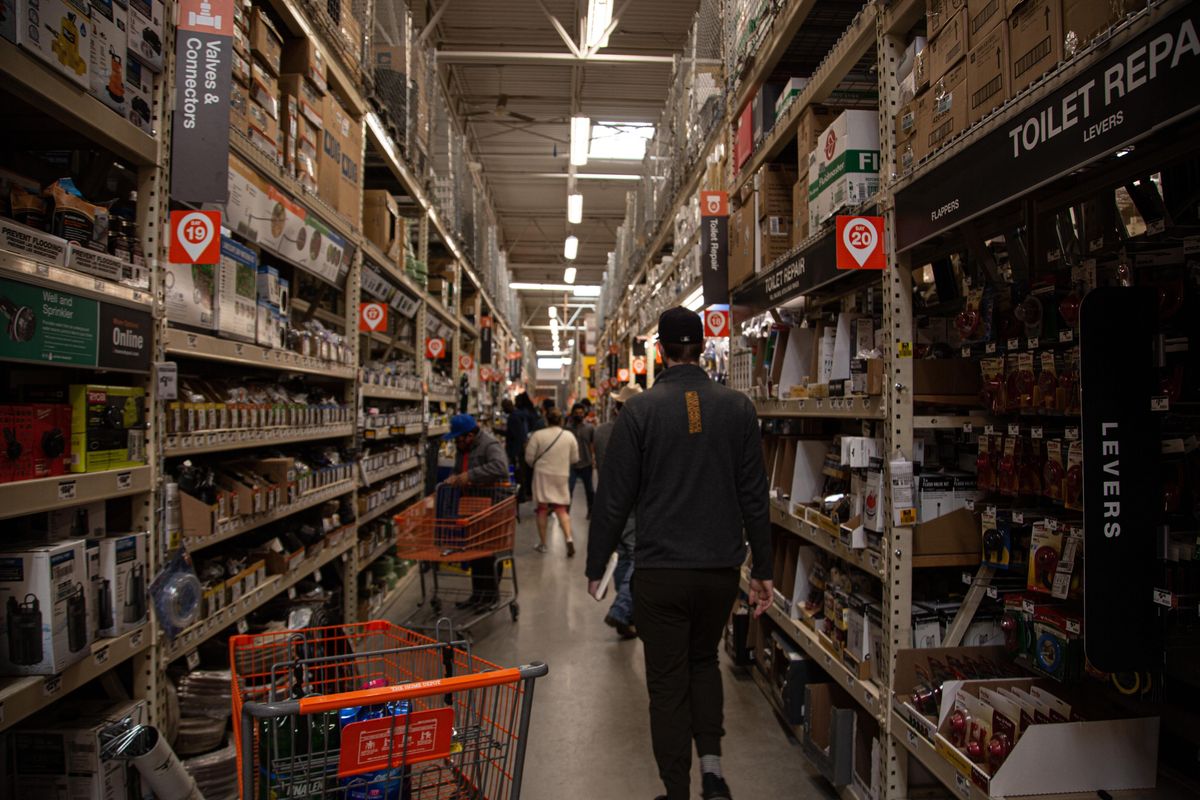 (Christa McWhirter)
Local plumbers have been overwhelmed with customers as the full extent of pipe damage is realized from frozen pipes thawing after days of sub-freezing temperatures.

With so many pipe issues resulting from the freezing temperatures of the past week, plumbing companies are being bombarded with calls for service. Radiant Plumbing and Air Conditioning is experiencing up to a 300% increase in calls, and ABC Home and Commercial Services is receiving about 1,000 calls a day. Such a drastic increase in call volume means that many customers are not able to get through to plumbers or retain appointment slots.
(2) On Tuesday, a major pipe burst under our house (pictured). A plumber from NextDoor called me and coached my partner and I on how to shut off the city valve from the street- residential valve was unusable. pic.twitter.com/9i3ApgGfaC
— emily (@emily86008799) February 22, 2021
Bailey Klentzman, an Austin resident who experienced a burst pipe in her home on Monday afternoon, said her family has had trouble getting an appointment to fix their plumbing because local plumbers are so overbooked.
Despite not being able to successfully book a plumber, they have been able to get a contractor out to assess the damage to the floors and ceilings affected by the water damage. Although the Klentzmans appropriately prepared by leaving faucets dripping and cabinets open, they will still need to replace the floor and ceiling around the pipes due to severe water damage.
While struggling to find a plumber to come out, Klentzman, her husband and two dogs, have been without water for five days as of Saturday evening.
"I'm a hiker and I've done bad hikes before where I didn't plan so I had to ration water in that way, but that's just a few hours," Klentzman said. "Days without water was a little scary. I felt like I was really rationing."
After two days of rationing the little water they had, Klentzman said their neighbors came to their rescue, leaving containers of drinkable water and dog food at their home.
Chris Webb, another Austin resident, also experienced a burst pipe in his home.
Webb was out of town during the freeze, but knew something had gone awry when he received a text from his roommate.
"I got a text message from my roommate while I was trying to get home that just said, 'Code Red, man. Code red.' And I knew that that meant a pipe had finally gone."
Webb, like Klentzman, properly prepared his home to protect their pipes, unfortunately, his home has experienced extensive damage to, not only the plumbing, but the entire bathroom the leak happened in.
Having lost water due to the plumbing disaster since Wednesday after 40 hours without power, Webb and his housemates have finally had a plumber come out and restore their water.
"The whole (bathroom) wall is gutted and ripped out, but we got water running again ... and we're down to one bathroom for the house."

While overwhelmed plumbers scramble to fit Austin customers into their books, Gov. Greg Abbott has temporarily waived certain regulations for registered and qualified Plumber's Apprentices in Texas.
These waivers will allow Plumber's Apprentices, who have met all other qualifications, to temporarily repair plumbing in the state without direct supervision by a licensed plumber.
"These waivers will help meet the plumbing needs of Texans who have experienced burst pipes and other related damage from the severe winter weather," Abbott said. "By allowing certain registered and qualified Plumber's Apprentices to perform these repairs, we will be able to expedite the recovery process throughout our communities."
Despite days without power, burst pipes and extensive water damage, many Austinites share the same sentiment of gratitude for simply making it through a historic storm.
"Even with everything we've been through," Klentzman said, "we're still the lucky ones."