Get connected with our daily update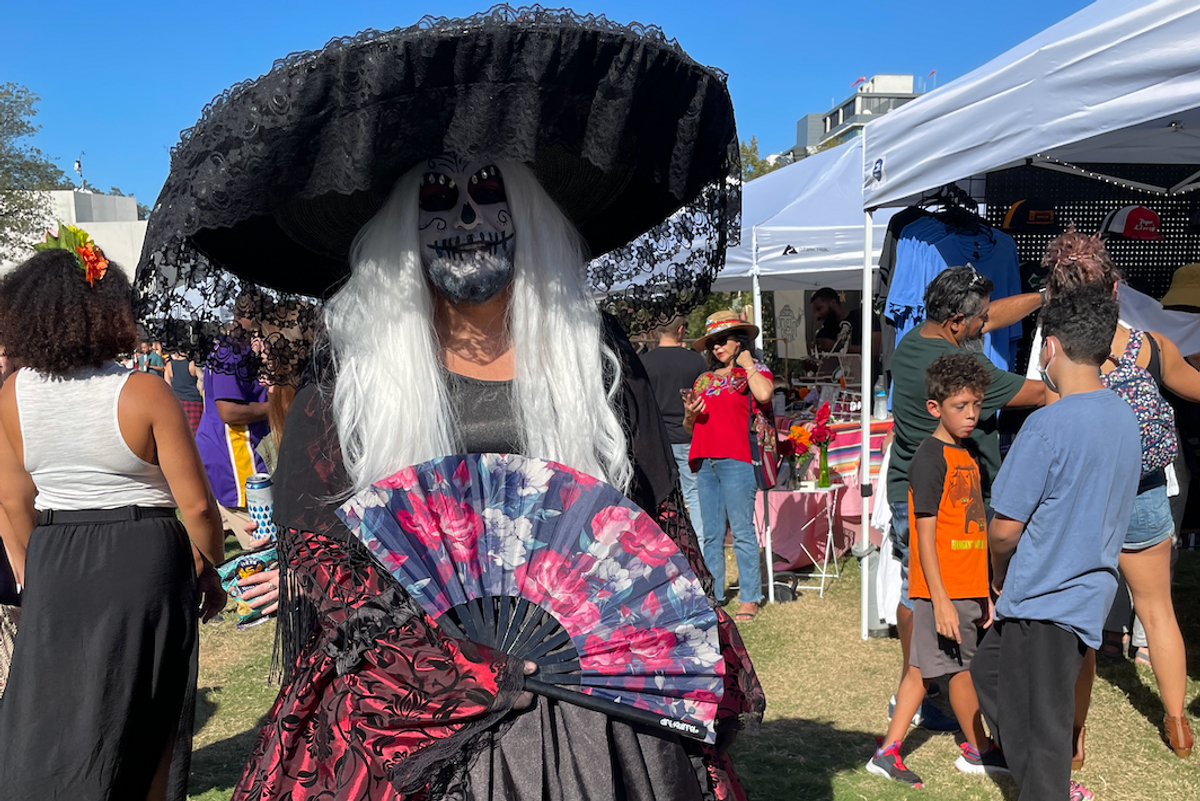 In flower crowns and Calavera face paint, Austinites gathered at the new Waterloo Park for what might be a new tradition for Dia de Los Muertos in Austin.
On the eve of the Mexican holiday that runs Nov. 1-2, thousands came together for festivities, including Mariachis playing, folkloric dancing and vendors selling handmade goods. The new Dia de los Muertos Festival was put on by Waterloo Greenway and Frida Fridays, an organization dedicated to uplifting Latin creatives with a monthly art market.
Dia de los Muertos is a long-time Mexican holiday of remembering and honoring the dead in celebration. Often it includes traditions—some seen at the festival—like decorating an ofrenda, otherwise known as an alter honoring departed loved ones; wearing face paint like a Calavera, or a sugar skull; and eating foods like pan de muerta.
Performances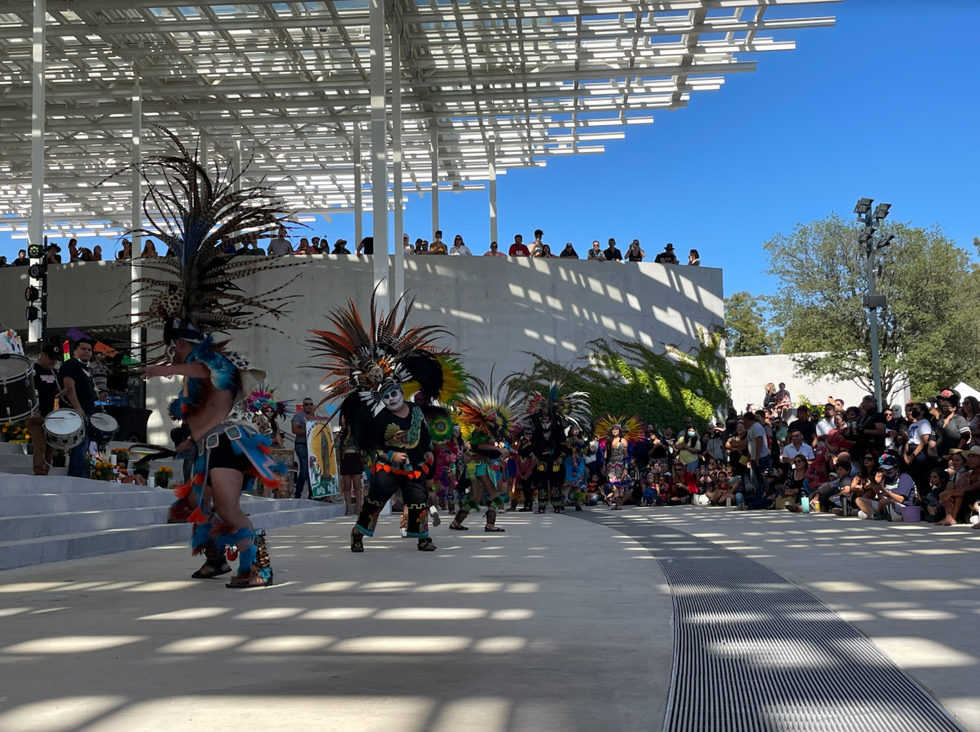 The festival opened with a traditional dance originating from San Luis de La Paz, Guanajuanto, led by Danza Azteca Guadalupana de Austin at 2 p.m.
A steady drumbeat announced the start of the festival from a block away and created a pulse for the Danza Azteca Guadalupana, who stomped rhythmically with shells on their ankles and long feathers radiating from their crowns. After welcoming the spirits of the dead with their hypnotic performance, the dancers took photos with the crowd.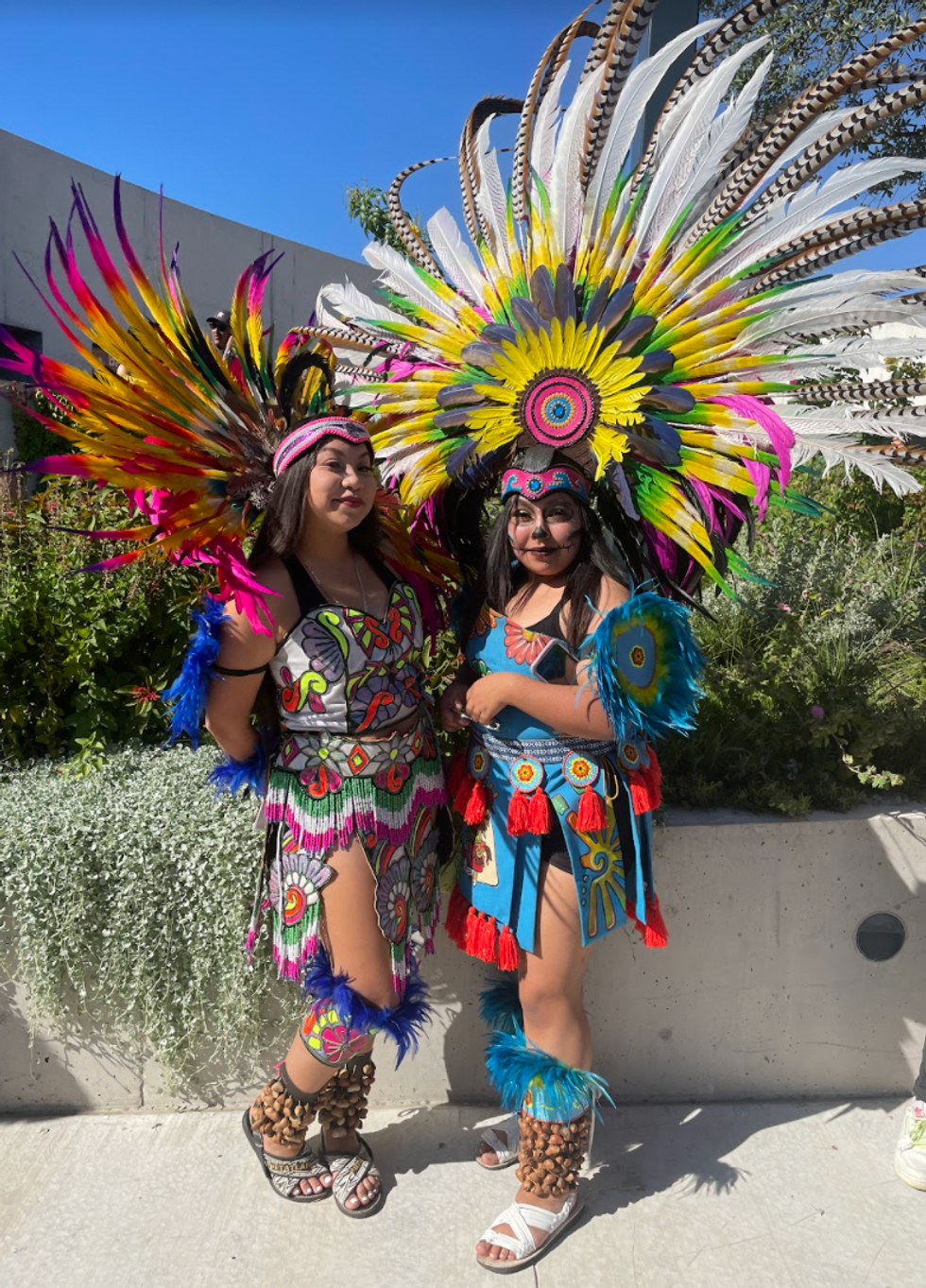 Gloria Salgado and Fatima Garcia have been dancing since they were seven years old and two months ago, respectively.
After the opening dance and a DJ performance, Vanessa del Fiero and her all-women mariachi group, Mariachi Las Coronelas willed their show to success despite sound issues.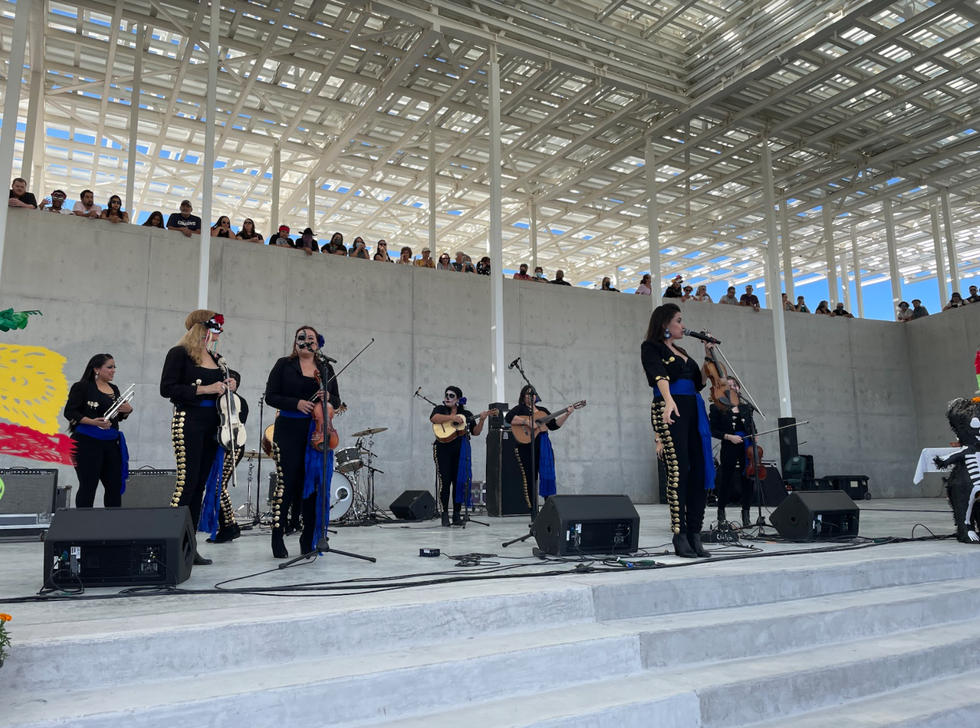 The Mariachi Las Coronelas took the Waterloo Stage just after 3 p.m.
Austin-based comedians Roxy Castillo and Vanessa Gonzalez attended together, watching the mariachis. "I was watching the mariachis and I started crying, seeing people who look like us and hearing beautiful female voices that are just so strong while we're with the community," Castillo said.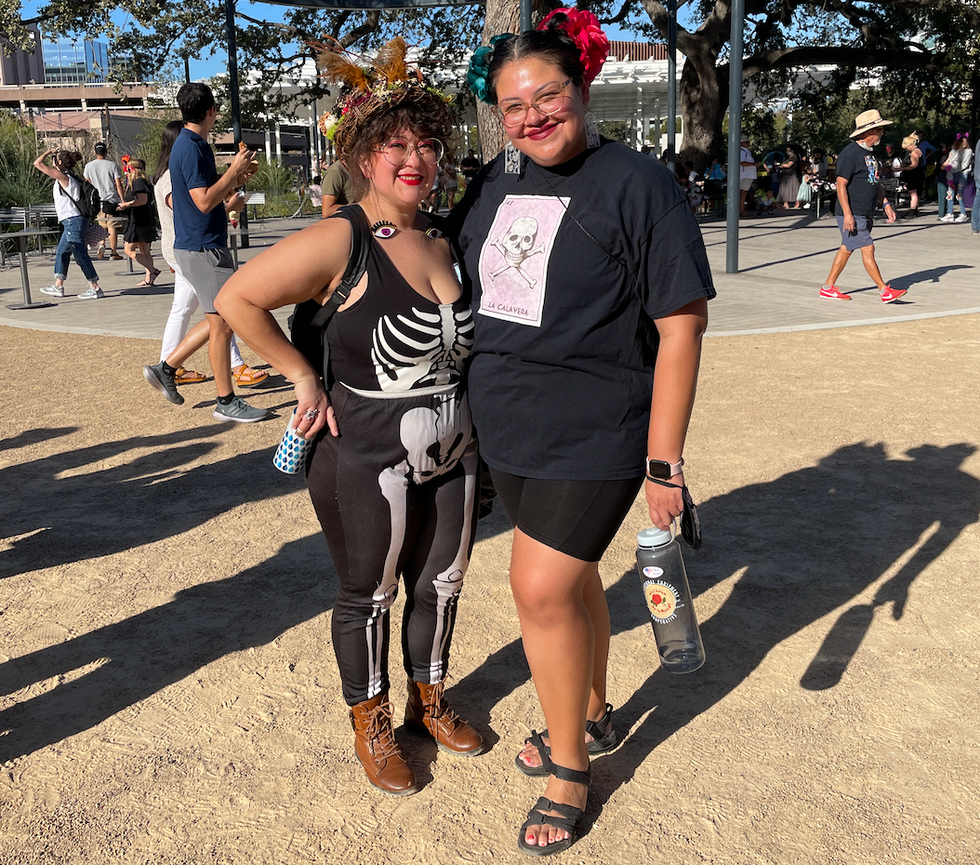 Austin-based comedians Roxy Castillo and Vanessa Gonzalez attended the festival. Gonzalez said her mother makes an ofrenda every year.
Chanting through a bullhorn and ripping through the sunny day with raucous drums and brass, the Austin FC supporting band, La Murga, made a Verde scene with the audience chanting along and waving huge FC flags in Verde and black.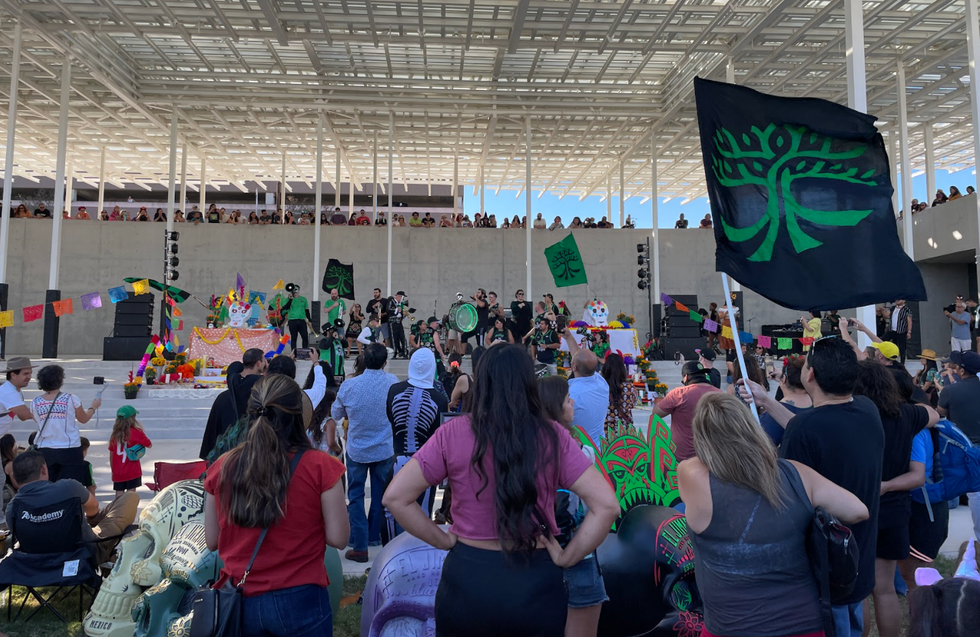 Like seen at all Austin FC home games, La Murga brought their high energy and flags to Waterloo.
The Ballet Folklorico de Austin swirled their skirts in colorful rainbows of ribbon, stamping patterns of traditional dance and song.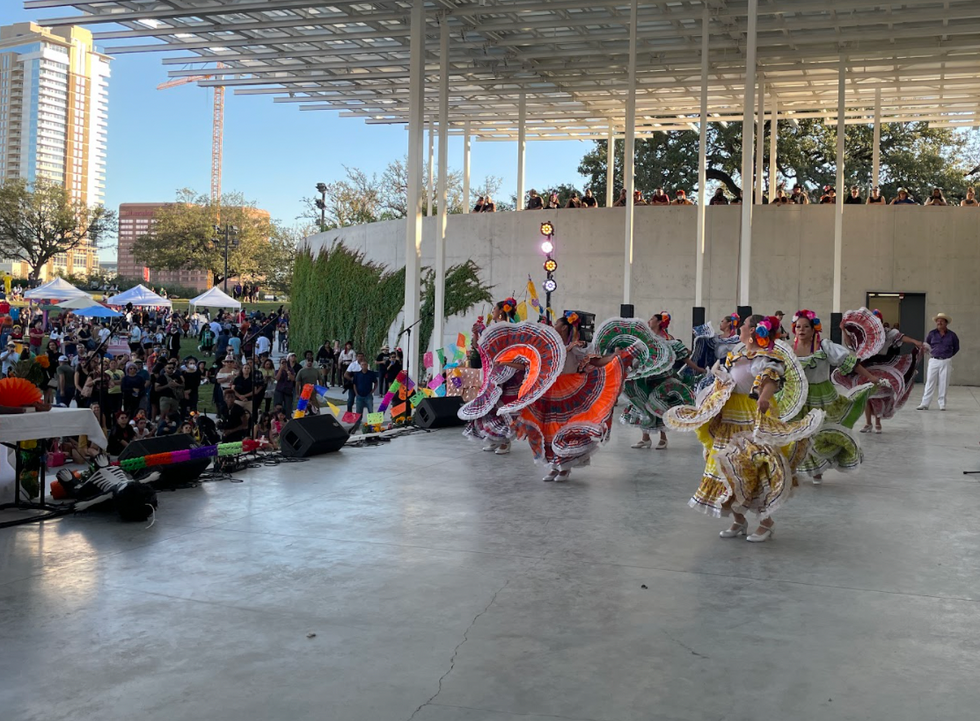 Audiences stood above and below Ballet Folklorico dancers as they swirled their visually-sumptuous skirts.
More at the festival
Heading south from the amphitheater, past the lines for food trucks, sugar skull decoration stations and a playground, a small plaza featured a strikingly beautiful altar to the dead against stacked limestone. As mourners arranged orange marigolds and framed photos, an hourly meditation guided a handful of people. Contigo Wellness owner Diana Anzaldua's yogic trataka practice gently instructs practitioners to focus on a lit candle's flame, unblinking, until tears form.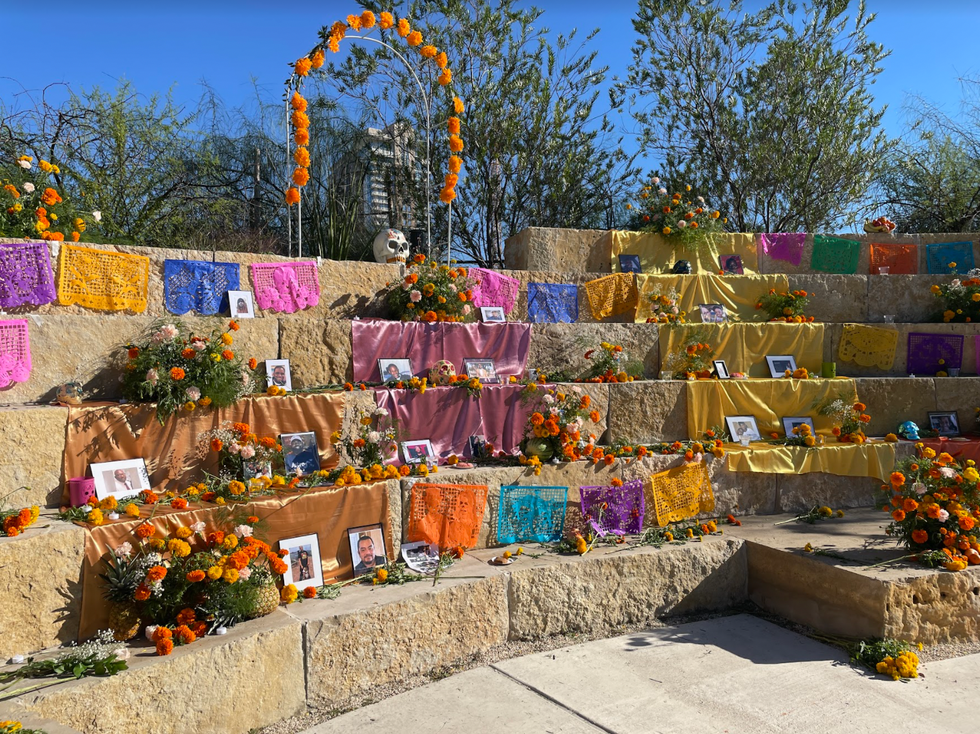 The altar gathered Mexican pan dulce, water, small candles, and photos of loved ones. The tradition welcomes spirits back to the living world.
At the Moody Amphitheater lawn, visitors shopped in a small marketplace offering wares and treats as diverse as tiny keychain bottles of Chamoy (a tasty condiment made of pickled fruit) and luchador masks (masks worn by Mexican wrestlers).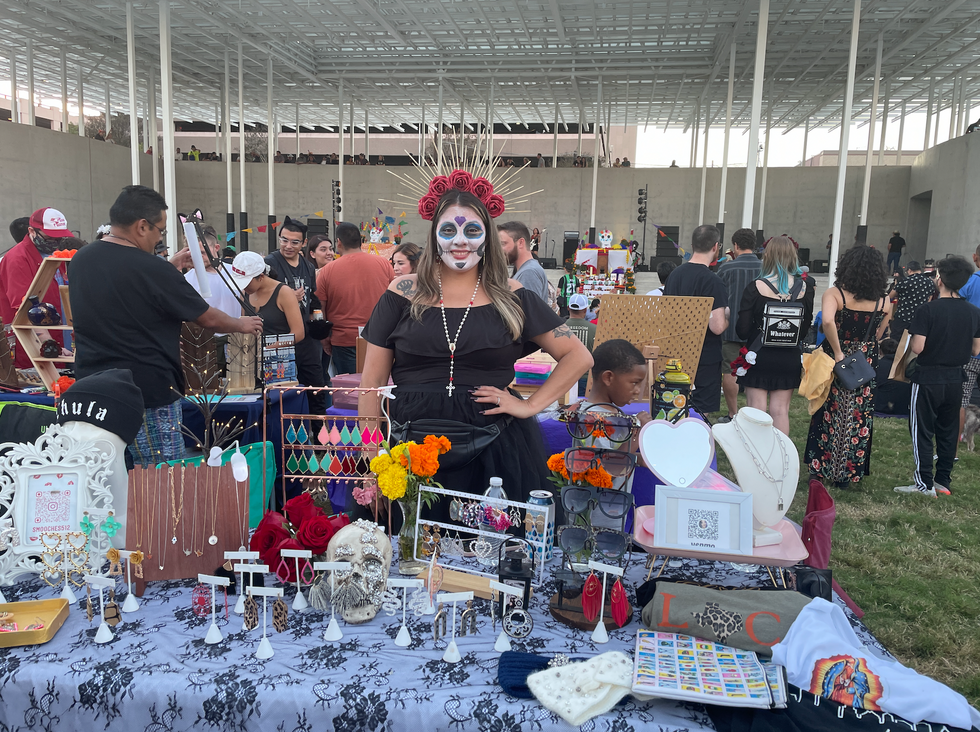 Stephanie Tijerina sold jewelry and her own homemade Besito Chamoy, a brand of mango, watermelon, and pickle chamoy.
Muralist Carmen Rangel painted throughout the event. A former Frida Friday committee member, Rangel explained how Frida Fridays began to promote businesses owned by women of color and expanded to focus on marginalized people including queer and trans community members. "I'm painting people who are part of Frida Fridays, who put on and support the events, especially in the last two years since the pandemic," Rangel said.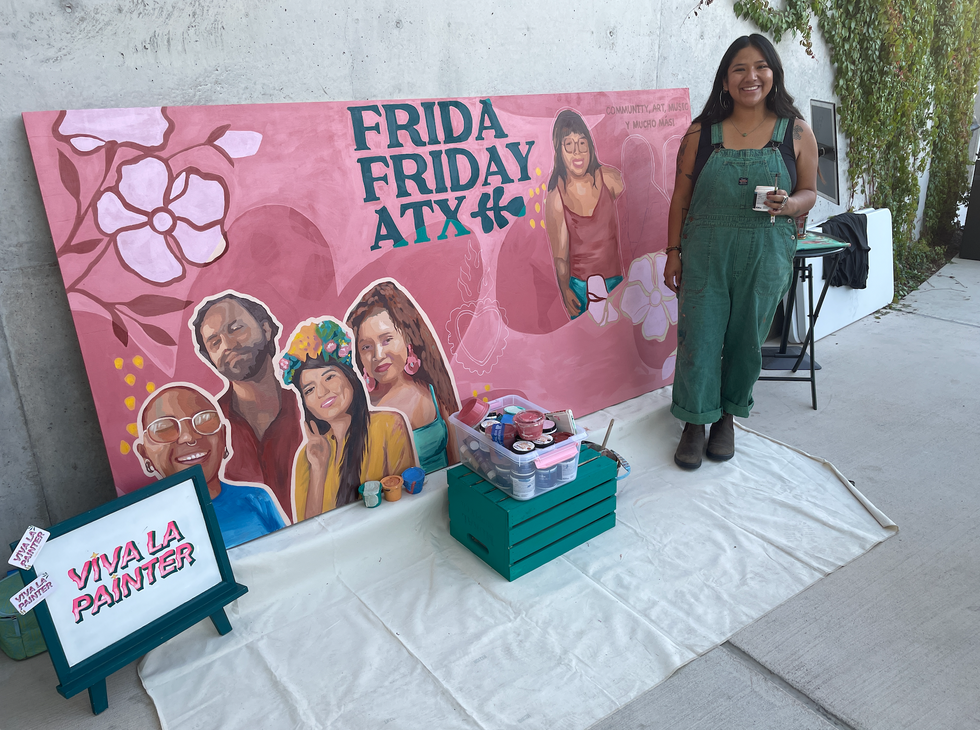 Rangel's muralist work can be seen at the Lamar bridge underpass.
While not everyone wore their Day of the Day fits, Austinite David Esparza was one that wore the traditional La Catrina outfit. The La Catrina has become an icon of the holiday.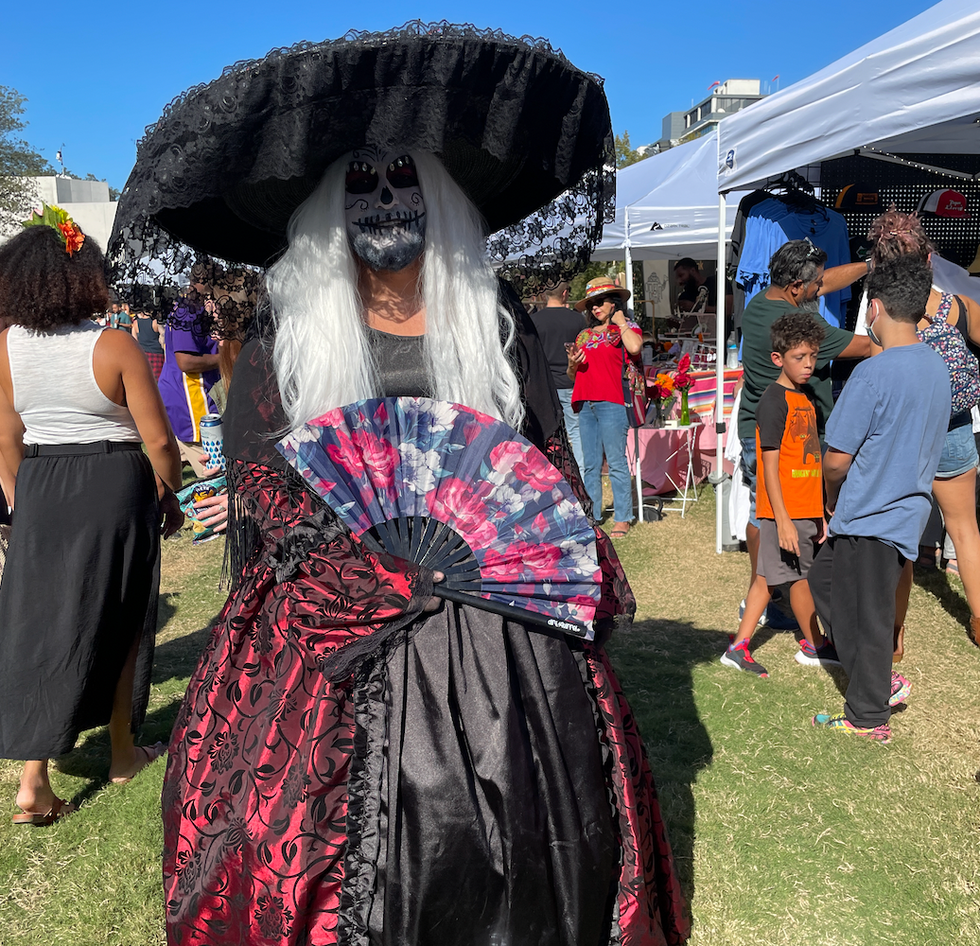 David Esparza said this was his first time decorating a traditional hat.
Enjoying Austonia? Signup for our newsletter to get daily Austin news, straight to your morning inbox!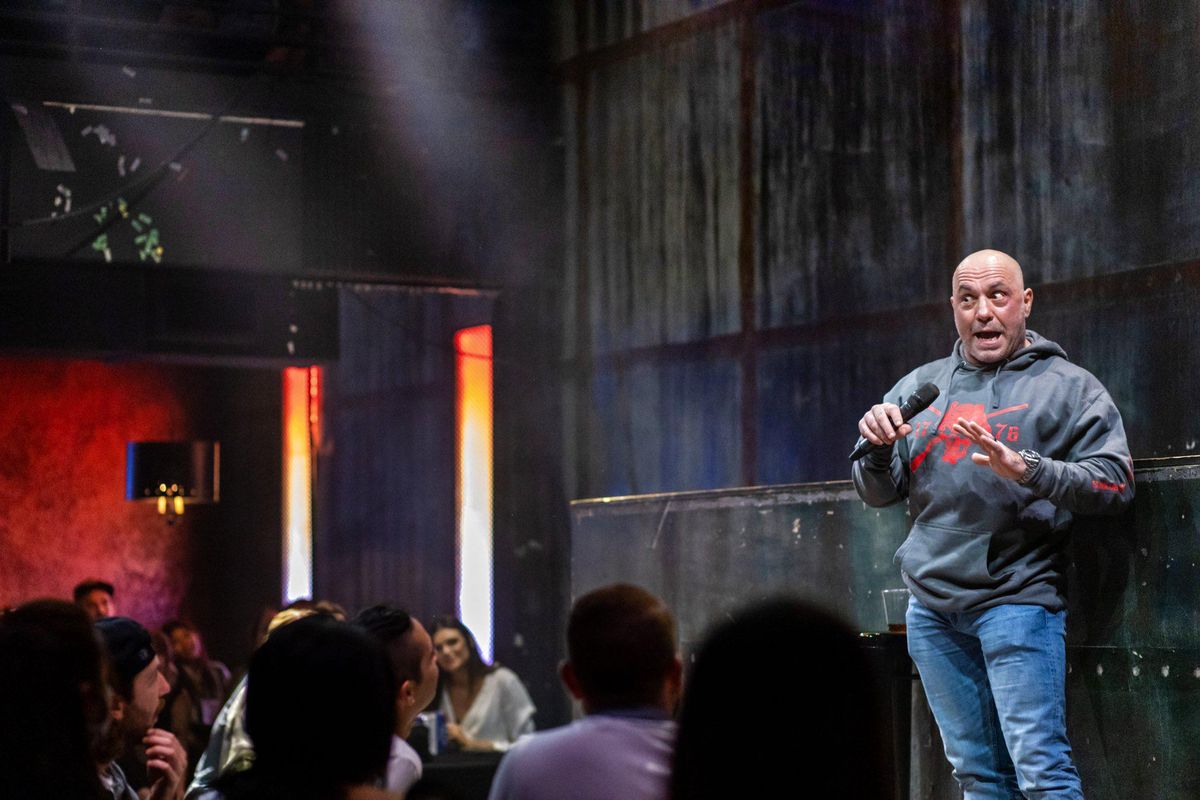 An influx of talent is both creating an Austin comedy renaissance and dividing the local stand-up community.
The California migration to Texas is influencing politics, culture and the makeup of the state capitol. With big names like Joe Rogan coming to town, it's also shaking up the entertainment industry, 11-year Austin comedy vet Chris Tellez said. Tellez is co-host of Shit's Golden, Austin's longest-running monthly stand-up show.
"There's no denying it, seems like over 100 comics moved here from New York, L.A., and everywhere in between. It's like a funny science experiment," Tellez said.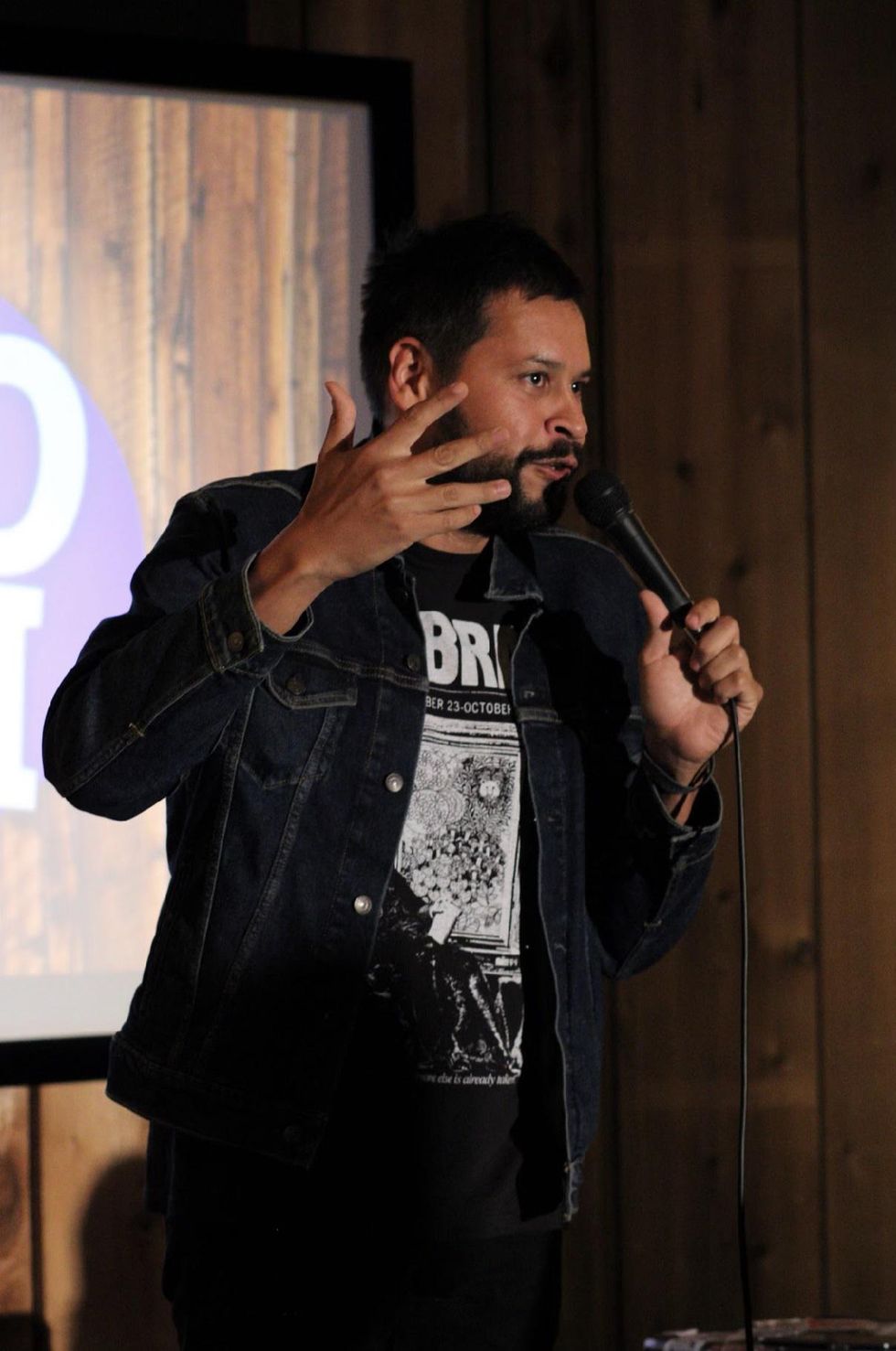 Chis Telles is a co-host of comedy monthly Shit's Golden in Austin. (Chis Tellez)
The new class is enthusiastic. "It's like we're all freshmen in college coming from different cities; making friends and having fun," Adam Hartle, booking manager for Sunset Strip in downtown's Sunset Room, said. Hartle splits time between Florida and Austin and leaned on Los Angeles connections for initial Sunset Strip bookings, he said.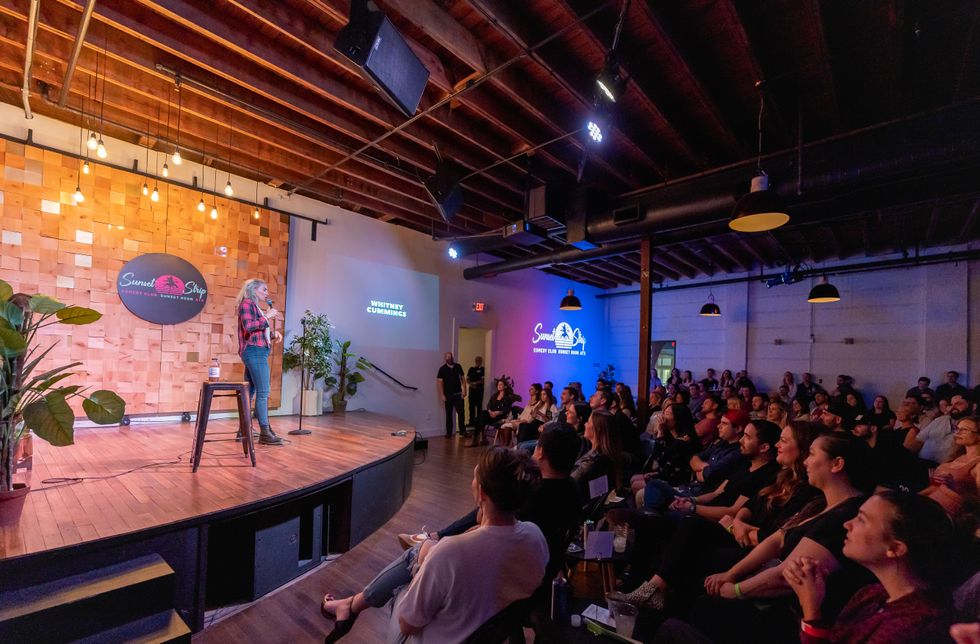 The Sunset Room is host (The Sunset Room)
New-to-Austin comic and Detroit native Genivive Clinton said Austin affords opportunities harder to get in saturated markets. After failing to get on the Kill Tony podcast in L.A. she succeeded on the first attempt in Austin, which led to her being booked for more work with Hinchcliffe and the Death Squad Secret Show. Secret Show was created by Brian Redban, the man also who helped create Kill Tony and The Joe Rogan Experience. "Local shows kept asking me to do sets too," Clinton said.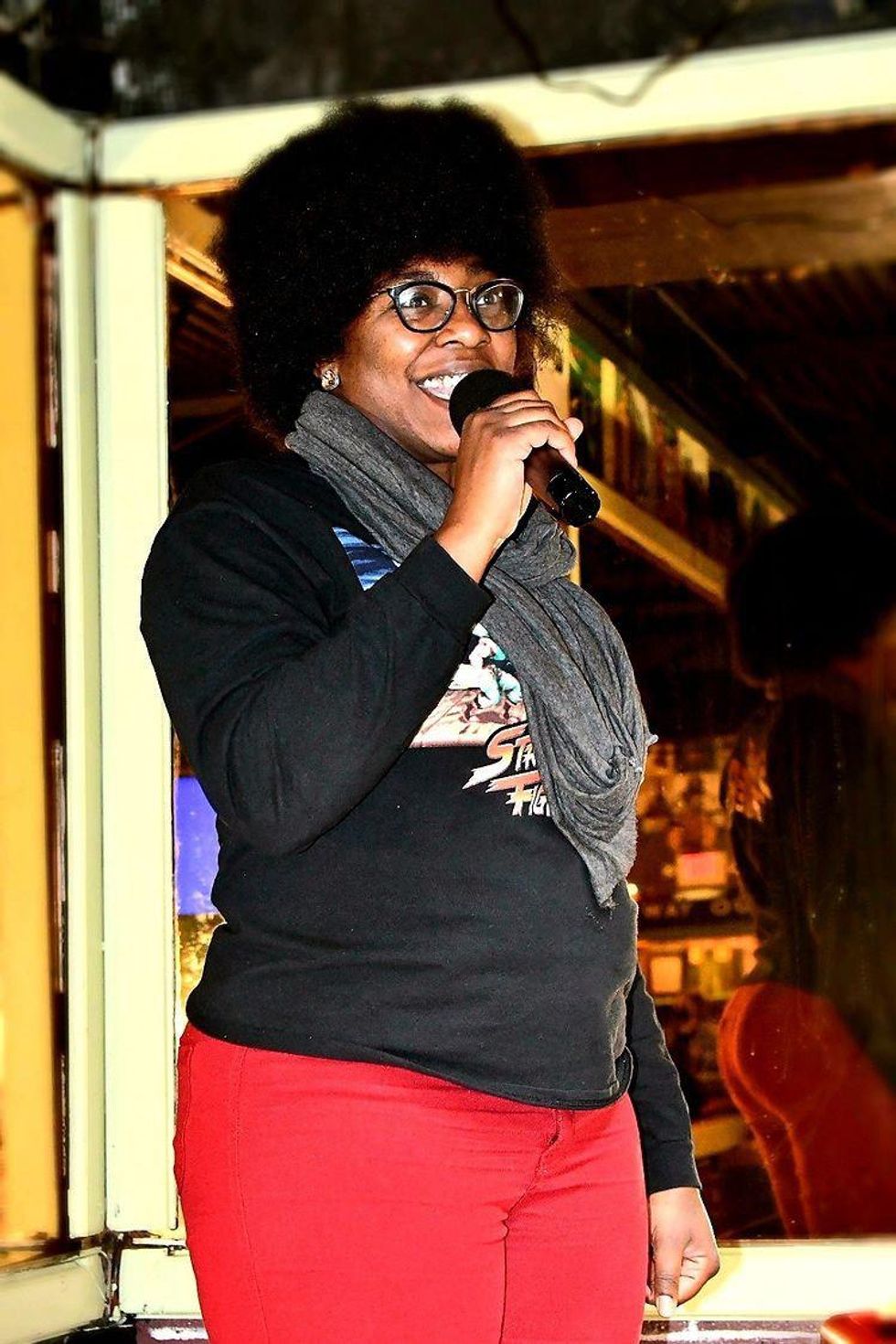 Comic Genivieve Clinton was awarded new opportunities when she moved to Austin. (Genevieve Clinton)
Some Austinites applaud the fresh blood. Round Rock native and three-year comedy vet Allison Wojtowecz says watching experienced new performers is a master class on the art of comedy. The richer landscape also means she can aspire to make sustainable career. "I loved the Austin scene," she said, "but there wasn't an opportunity to make living money here. Now there's four new places and Rogan is opening a room. There's ample stage time that actually can pay you now."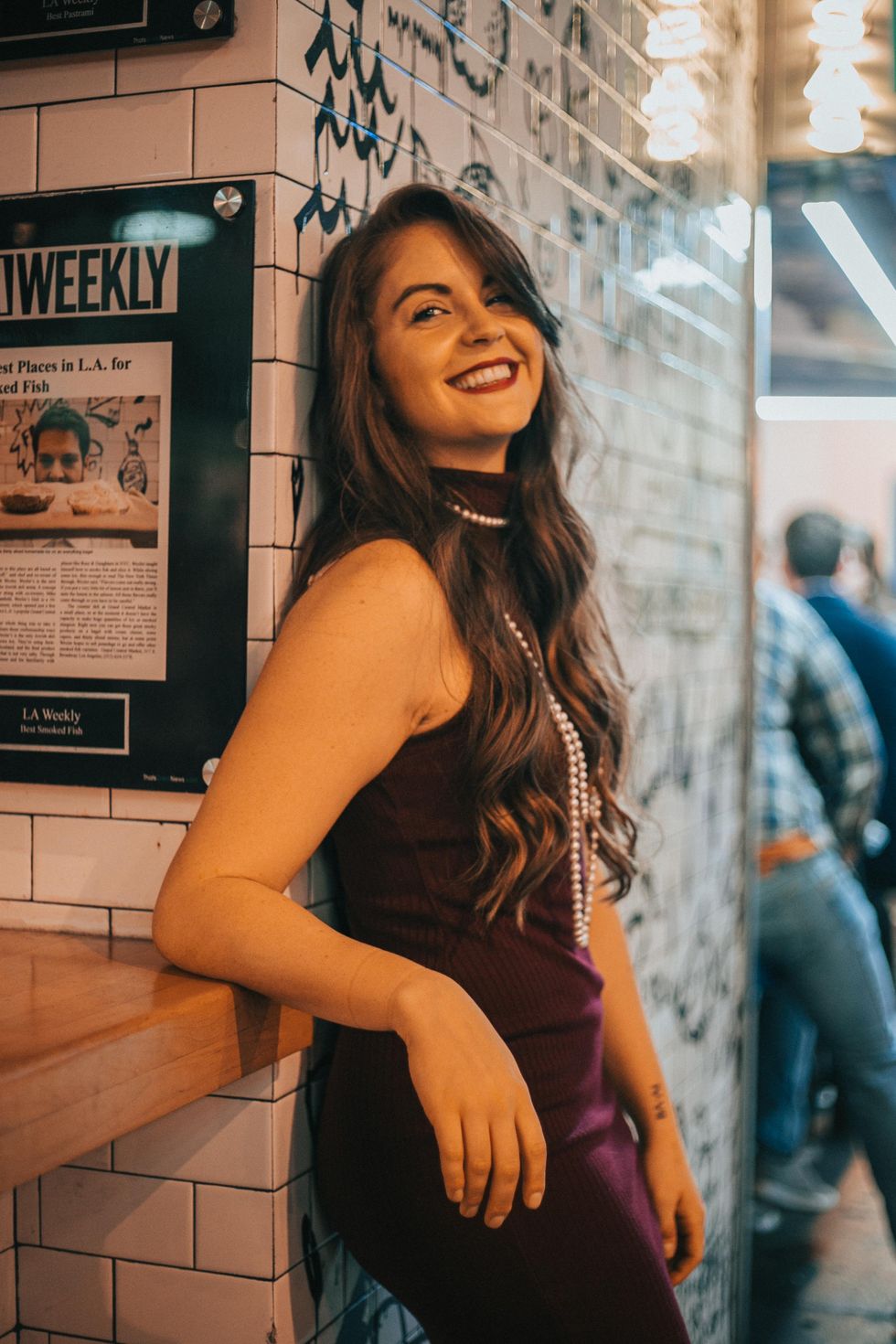 Comic Allison Wojtowecz said she can work towards a sustainable career in Austin after the new comedy boom. (Allison Wojtowecz)
Four venues have been opened or dedicated to comedy in the post-pandemic Austin comedy frenzy: The Creek and the Cave, Vulcan Gas Company, Sunset Strip at the Sunset Room, and The Romo Room in the Domain.
Joe Rogan, whose move to Texas and talk of opening a club has injected new attention to the scene, has also come at a cost. In May, Rogan and his associate Tony Hinchcliffe experienced a culture clash with locals with what critics denounced as anti-trans and racist jokes.
Brandon Lewin, Big Laugh CEO and booking manager at Vulcan, said he doesn't condone the jokes and knows Hinchcliffe learned a lesson. "What he learned from it is if you tell a joke it has to be good," Lewin said.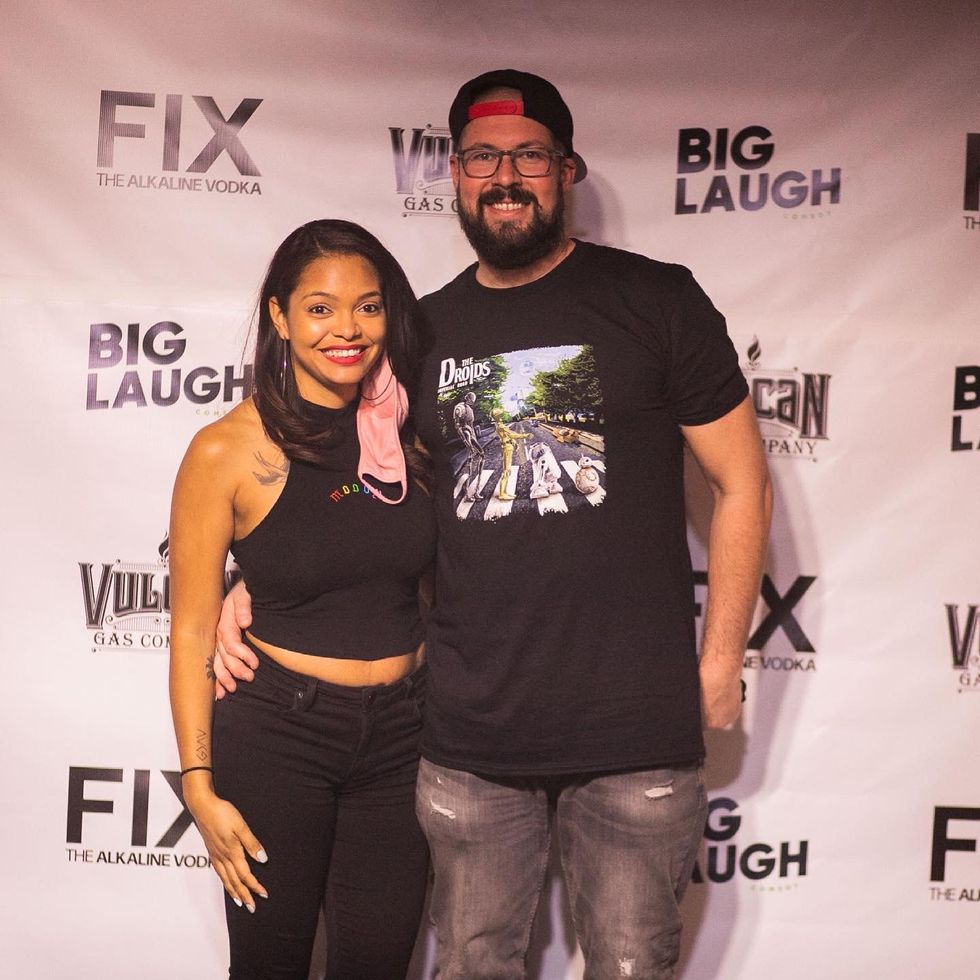 Brandon Lewin is a longtime comedian and CEO of Big Laughs in Austin. (Brandon Lewin)
Some local comedians are not so sure it's all water under the bridge. Pushing political buttons is no substitute for a real act, said Brendan K. O'Grady, co-host of Sure Thing, a weekly comedy showcase running for nine years and counting. Shock jokes are also lazy, said Andrew Murphy, ten-year Austin comedy performer and winner of 2019's Funniest Person in Austin award from Cap City Comedy. "With the comics that I grew up with, no one ever wanted to do normal or generic comedy. If you're not trying new things to be exciting or different, you're not gonna make it here," Murphy said.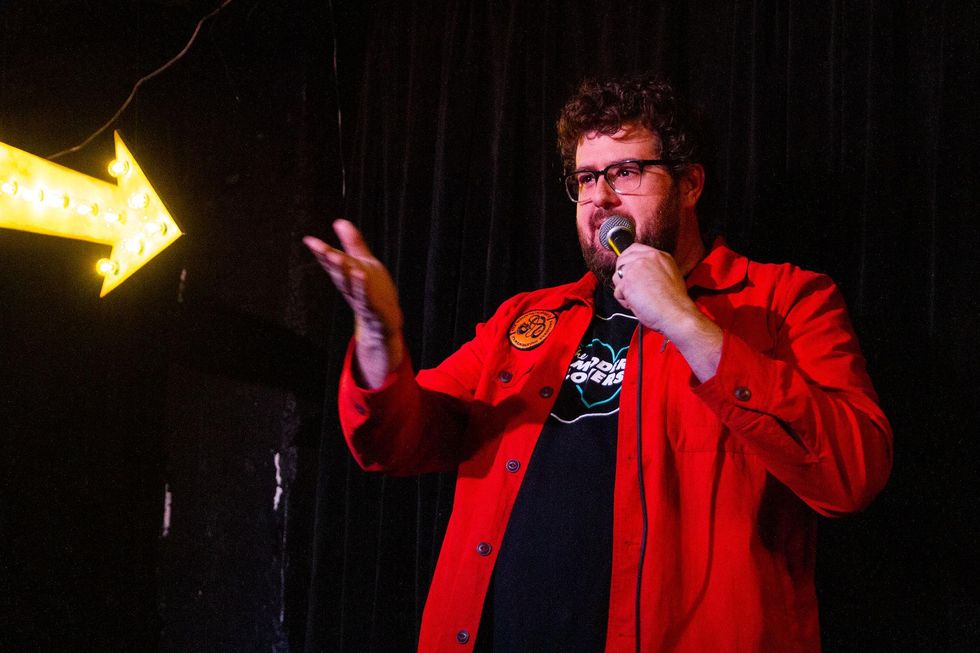 Comic Brendon K O'Grady said shock jokes are lazy and repetitive. (Brendan K O'Grady)
Out-of-town comedians who worked in the early pandemic also raised eyebrows with some locals who felt safety was sacrificed for self-promotion. "We need to have standards for what is acceptable behavior for physical safety in the pandemic and how men treat women," O'Grady said. Fallout Theater, where he co-hosts Sure Thing, plans to cap attendance at half capacity and require proof of vaccination from audiences and performers.
But some locals performed in the early pandemic too, and rule books don't exist for conducting safe pandemic events. "Especially when places were closed, people were opportunistic about doing comedy in bars," Tellez said, including himself among those who worked.
Despite their differences, many believe the two worlds can coexist and find success in the newly-energized scene—so long as they take notes.
Arielle Norman has performed stand-up in Austin since 2015 and co-hosts a monthly heckling-welcome show called Off-Script. Norman is proud to be a woman on too-often male dominated lineups and said her presence means misogynist jokes from unseasoned strangers don't go unchallenged.
She's energized too. "I was so bored here before the pandemic and now with Joe and everyone moving here and all the clubs opening, I don't have to move to L.A. or New York. I can't wait to see what Joe does with the new comedy club."
Standing before community members and current officers of the Austin Police Department, the three finalists for the Austin police chief role answered questions on how to reimagine public safety and address systemic racism at the first of two community meetings to meet the candidates on Wednesday evening.
The candidates, Avery Moore, assistant chief of the Dallas Police Department; Emada E. Tingirides, deputy chief of the Los Angeles police department; and Joseph Chacon, interim police chief for APD, were each asked the same three questions by a city moderator, followed by a unique last question.
Here are the key points from the discussion.
Share your professional background and experience, highlighting points that would help you be successful as the next chief of police, as well as tell us why you would like to serve in this position. Highlight examples of your work.
Avery Moore: Moore's 31 years in law enforcement with the city of Dallas show a track record of crime reduction and building community trust, he said. "My steps are ordained by the Lord, and he's ordered me to be here today and to be your next chief," he added.
Emada E. Tingirides: Tinigirides brought de-escalation and empathy to her 26 years "working in communities that are the most underserved, low socioeconomic, and violent communities in the City of Los Angeles," she said. Her experience has "been in exactly what the city is looking for," she said, adding that she knows what racism is, can communicate and make change.
Joseph Chacon: "There's no part of policing I haven't worked in or overseen," said the bilingual El Paso native. A 27-year officer, Chacon said he's already revamped cadet training and appointed the city's first ever Asian American assistant chief of police. "I love this city and the police department," he said.
Austin's Reimagining Public Safety Initiative will be the centerpiece for the next chief's tenure. What are your thoughts on the initiative and what would your approach be?
AM: Moore said he banned chokeholds and no-knock warrants in Dallas. Officers were also trained in properly responding to peaceful protests, he said. "Policing should always strive where you have deficiencies to make a positive. I look forward to (reimagining)… We can't run away from recommendations … It's gonna take an entire team, literally the entire city."
ET: The task force recommended services communities should already have, including reentry services to reduce recidivism after jail time, job training and rent help, said Tingirides. A program she helped create in LA placed dedicated officers in neighborhoods to build trust, ultimately seeing those neighborhoods reduce violent crime by 30% a decade years later.
JC: Chacon said he has been with the taskforce since inception and sees the training academy as the best way to effect change. Austin police training has shifted from a paramilitary academy to one based on an adult learning environment, said Chacon. Cadets now understand why they're getting into the line of work and why they should transition from a warrior mindset to a guardian mindset. Cadets analyze racial and systemic inequities through coursework from day one now, he said. They also learn the history of racism and policing in Austin.
People are taking a critical look at systematic racism in policing. What have you done in the past to address this issue and what will your approach be as Austin's police chief?
AM: "That's a touchy, sensitive topic for me because I've been on both sides," he said. Moore said he became an officer after his uncle was arrested and beaten by police. "We have to be willing to take on topics that may be unpleasant, and racism unfortunately is real," he said.
ET: "Institutional racism means everybody's bad. I don't believe the Austin Police Department is institutionalized with a bunch of police officers that are racist" said Tingirides, adding that she'd create a robust leadership program for officers to advance in their careers.
JC: Officers are taking a "course (that) looks at systems and whole institutions to see where we have unwittingly created bias that makes it tougher for communities of color and communities that have been marginalized. We bring in officers and community members and share stories," said Chacon, saying the interaction leads to greater understanding.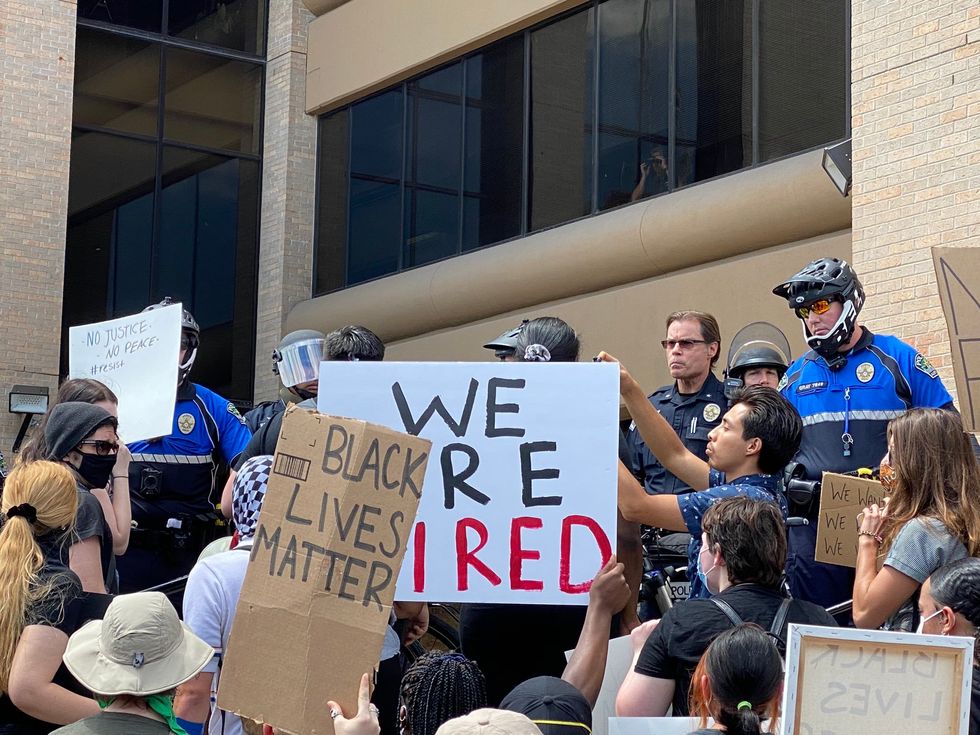 (Austonia staff)
Given a unique question to answer, the applicants took a moment to show how they'd considered some of Austin and America's most pressing policing issues.
Moore was asked how to make sure police reflect the demographic makeup of the community. "If you tell people that you want them and you give them value, they'll come and serve because everybody inherently wants to serve the community they live in." Moore added that he'd be hands-on in recruiting with those principles in mind.
Prompted to discuss her experience with policing and people with mental health issues, Tinigirides talked about officers in L.A. making a point to meet with the concerned family of a child with autism to establish a connection and familiarity before any services were necessary from police. Citing the importance of mental health clinicians, she said she thought they should be able to respond to nonviolent situations first and that clinicians should be available 24/7 to help.
Police funding came up in a question to interim chief Chacon. He was asked whether APD needs more officers, Chacon said the department is "intelligence-led and evidence-based." Thus, his answer would hinge on first carrying out detailed surveys of community demands for excellent policing and the establishment of metrics on how to meet those demands.
The search for a chief comes after the retirement of Brian Manley, chief from 2016 to early 2021, who stepped down after three decades in law enforcement in March. He faced criticism for the way he handled the local protests against police brutality. Assistant chief at the time, Joseph Chacon, was appointed interim police chief in April. Were he to be offered the job of police chief, he would be protected from job dismissal by Texas law since he is an internal hire.
City Manager Spencer Cronk and Assistant City Manager Rey Arellano plan to recommend one police chief before October, with city council making the final approval.