Claire Partain
Claire Partain is a staff reporter covering Austin FC and breaking news. Claire was previously the sports editor for The University Star, Texas State University's daily newspaper, where she covered sports, produced podcasts, and hosted a pre-game TXST football tailgate live series. She prides herself in versatile reporting and finding the human aspect in every story. Twitter: @partain_claire.
Get connected with our daily update
The floodgates have once again opened for Austin FC.
Austin FC once again ended a scoring hiatus with a breakthrough win as midfielder Tomas Pochettino stole the show for the home team with two goals to land a 3-2 victory over the Houston Dynamo. The team is now at least temporarily the best in (Copa) Tejas, Texas' annual soccer derby, after the Wednesday night win over their newfound rivals.
Austin FC won momentum early as Pochettino, who had the most shots without scoring in MLS this season prior to the match, shot one off the post in the seventh minute. The ball would then be assisted by Houston themselves as Pochettino scored his first MLS goal and broke Austin's four-match scoreless streak.
The rivalry showed its true colors in the 20th minute of play, when Houston's Darwin Ceren took down Austin's Sebastian Berhalter with an elbow to the face and was subsequently punished with a red card.
With just ten men on the field for the remainder of the match, the Dynamo proved they could fight with one man down as they responded with a goal five minutes later.
Pochettino brought the lead to Austin once again, however, as he went for seconds with a clear goal off a rebound to close out the first half.
Pochettino said building trust between himself, Dominguez and Diego Fagundez was vital to making his first goal.
"To me, this is the first time that I scored with this club and Major League Soccer, so now that definitely helps me build our trust," Pochettino said. "Because I can talk to them in Spanish, there's always that chemistry that you build around them, and obviously having them around day in day out. I think they had a sensational match, and we definitely have to keep looking forward to improve it even more."

Austin would score once more in the 57th minute when a cross by midfielder Diego Fagundez was headed in by striker Cecilio Dominguez.
Houston attempted a late-match comeback in the final ten minutes of play as they thwarted Austin FC's Brad Stuver for a second goal, but it proved too little, too late as Austin celebrated their second high-scoring victory at Q2 Stadium.
The win provides a much-needed boost for Austin FC, who were previously stuck at the bottom of the West for two straight matches as they went scoreless for nine of their last 11 games. The club is also at least temporarily the "Best in Texas" as they tally the first win in the Copa Tejas, which adds up wins and losses between the Lone Star State's best professional teams.
Austin FC saw their lowest injured lineup in months as young midfielder Danny Pereira, who has proved himself as the club's glue, reentered the pitch in the 64th minute. Right back Nick Lima also joined the pitch once more for the second time since a pulled hamstring left him out for weeks.
Head coach Josh Wolff said a full and healthy roster will help build healthy competition as the team fights for playoff berth.
"I think it'll drastically affect the outcome when you have quality and you have a full roster," Wolff said. "Competition is a must in this league, the season's long, it's a grind. You need rotations, but you also need these guys competing... when you know there's someone knocking on the door asking questions, as a player and a teammate, it pushes you a little more."
The club has even more to look forward to: they'll likely enjoy a boost as they expect at least a few of new striker signees Sebastian Driussi, Moussa Djitte and Austinite McKinze Gaines to join them in their second Texas rivalry match at FC Dallas on Saturday.
Here's what happened in the breakaway match:
86' Not so fast: Houston scores to make it 3-2
Not. Over. Yet.@HoustonDynamo pull one back late! #ATXvHOU pic.twitter.com/v3YnffcT1W

— Major League Soccer (@MLS) August 5, 2021
Just when Austin seemed to be sailing into their second home win with ease, the Dynamo found a hole in the home team's defense to land their second goal of the night.
The Dynamo now have four minutes of regulation to find an equalizer if they wish to take some points from Austin tonight.
64' Pereira reenters the ring, for Ring
64' | Three #AustinFC substitutions.

➡️ Jhohan Romaña
⬅️ Julio Cascante

➡️ Hector Jimenez
⬅️ Nick Lima

➡️ Dani Pereira
⬅️ Alex Ring pic.twitter.com/miRnwqRzbp

— Austin FC (@AustinFC) August 5, 2021
Dani Pereira, the fuel of Austin's midfield, makes a reappearance for the first time in weeks after being out on injury. He reenters the ring for Captain Alex Ring as fellow former injured teammate Nick Lima subs in for Hector Jimenez. Jhohan Romana also makes a rare appearance at center back for Julio Cascante.
A few minutes later, Jared Stroud takes the stead of Cecilio Dominguez.
57' When it rains, it pours (but in a good way)
Fagundez ➡️ Dominguez@AustinFC feelin' it! pic.twitter.com/XbZXNi8G9y

— Major League Soccer (@MLS) August 5, 2021
It's clearly all or nothing for Austin FC. The team has now scored three times in their first rivalry matchup against Houston after a well-placed header by Dominguez goes in.
46' Stuver kicks off second half with a save
No #MLSAllStar shout for @brad_stuver?…

•Leads the league in saves % ✅
•Human Highlight reel ✅ https://t.co/WN68BD46B3

— Michael Lahoud (@MikeLahoud) August 4, 2021
He may nt have been able to stretch for two back-to-back shots to keep a clean sheet, but Stuver is still showing his keeping prowess. Every save serves as an "I told you so" to the MLS, who snubbed him from the All-Star lineup Wednesday despite leading the league in saves with 65 this season.
45+ Pochettino finally has his day! 2-1 Austin at the half
POCHETTINO@AustinFC have the lead yet again. #VERDE pic.twitter.com/8nNpHzy9GM

— Major League Soccer (@MLS) August 5, 2021
Pochettino's patience is finally paying off. The Argentinian midfielder, who had the most shots without a goal of any MLS player prior to the match, got another one in goal to regain the lead for Austin as the first half wraps up.
For his first clear goal with Austin FC, Pochettino reacts to a deflection just in time to get a solid shot into the bottom right corner of the net. Austin has scored two goals in a match for the first time since their Portland match on July 1.
25' Tie game as rivalry heats up
Fresh off the Gold Cup, @Typash smashes this one to level it! #ATXvHOU pic.twitter.com/O5UcMcGdkq

— Major League Soccer (@MLS) August 5, 2021
Shortly after the Ceren red card, the Dynamo prove they can still be a threat with 10 men. An initial shot is blocked by Stuver, but he can't quite react in time as Tyler Pasher shoots one up to the top of the net on a rebound. It's now a tie game with two goals and a red card as the Texas rivalry begins to take shape.
20' Houston knocked down to 10 after red card
Cerén shown red, and we fight on with ten men 😣#HoldItDown

— Houston Dynamo FC (@HoustonDynamo) August 5, 2021
Houston will now play the finally three-quarters of the match with 10 men after Austin's Sebastian Berhalter takes an elbow to the eye from the Dynamo's Ceren.
7' Houston has a problem! Austin scores 1-0
The @AustinFC attack forces an own goal. They lead 1-0! #ATXvHOU pic.twitter.com/hehR6mtprH

— Major League Soccer (@MLS) August 5, 2021
Tomas Pochettino's first goal with Austin may not quite be his, but it's still worth celebrating. After five of six straight home games going scoreless, Austin finally broke the silence as Pochettino's shot hit the post and was guided in by an unhappy Houston player.
Austin is now up 1-0 for the first time in weeks at their home stadium.
Starting lineup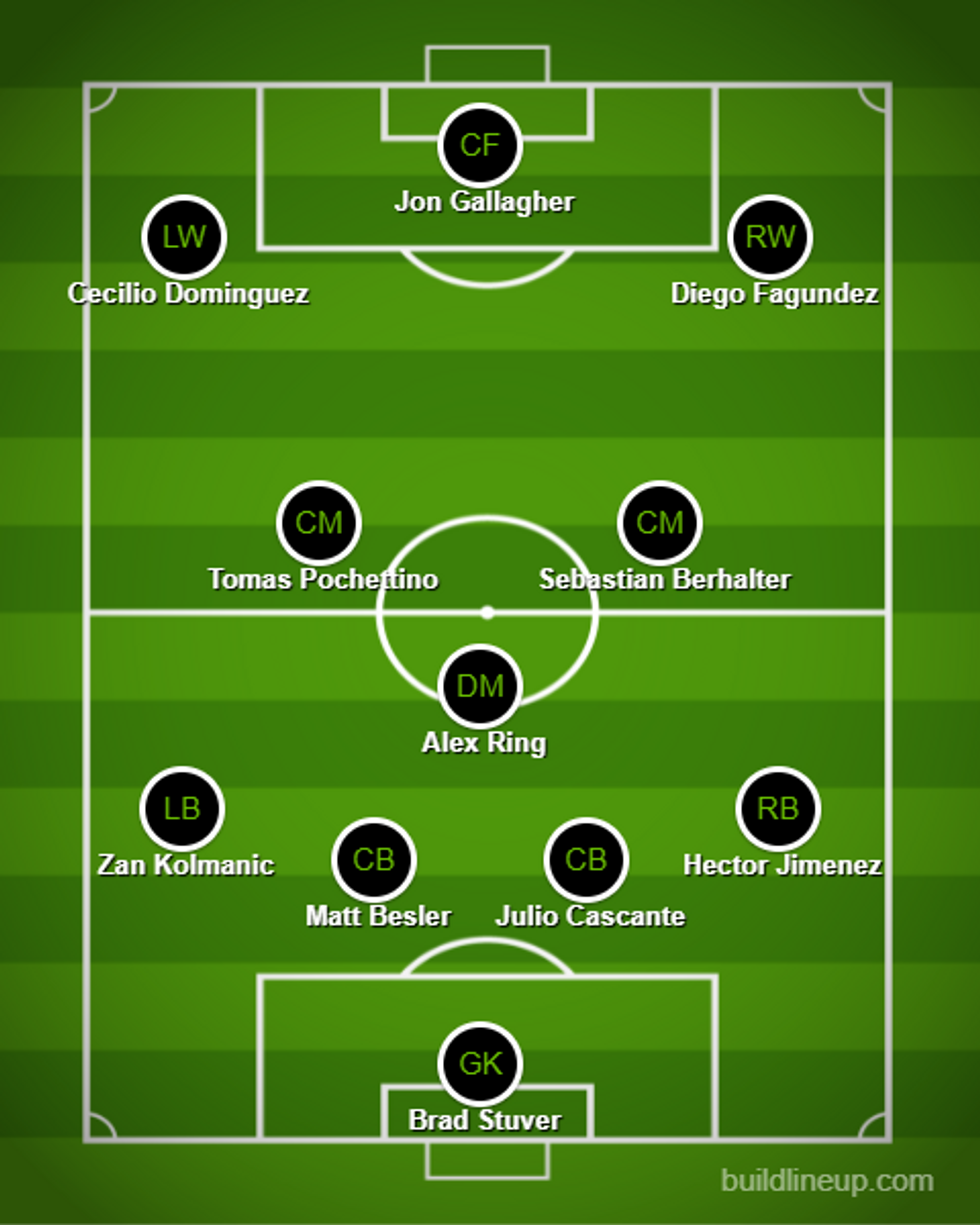 Jon Gallagher is back in the starting XI and will likely crown the lineup, with Cecilio Dominguez and Diego Fagundez flanking him on either side.
20-year-old Sebastian Berhalter will start in Fagundez's shoes for the first time since a June match vs. Minnesota United. Meanwhile, the steady back end looks much of the same with a near-All Star Brad Stuver in at keeper.
Want a two-hour tour of SpaceX's Starbase? Now, you can get one from CEO Elon Musk himself.
Musk gave viewers an extensive video tour after he took Everyday Astronaut's Tim Dodd through the nooks and crannies of the Boca Chica facility on Tuesday. The tour was divided into three clips that will soon be available on YouTube. A 50-minute first clip of the interview is available on YouTube now.
In the first leg of the tour, Musk showed off the 230-feet tall Starship Super Heavy Rocket, including its grid fin and human landing system. The same man that made the avant-garde Cybertruck design, which will soon be manufactured at Austin's Giga Texas, said that design is actually less important than cost-effectiveness if humans want to become a "multi-planet species."

"The fundamental thing we need to fix is the cost per ton to orbit," Musk said.
Musk noted some issues with the rocket's current design, including its still-too expensive parts and excessive weight. According to Musk, the avionics, grid fins, and batteries are currently too heavy; the grid fins currently borrow from Musk's other business and use an electrically-powered Tesla Model 3 motor to drive them.
The engineering process is still in the works for Musk's SpaceX, and designs are constantly evolving. Musk said that the company has created some parts for Raptor 2, the second version of the Raptor rocket engine, but they still have a ways to go.
"Everyone's wrong. No matter who you are, everyone is wrong some of the time," Musk said. "All designs are wrong, it's just a matter of how wrong."
Nearly 30 of those first-generation Raptor engines are attached to the Super Heavy Rocket, which was rolled from the factory to its launch pad on Tuesday as the prototype rolls through prelaunch checkpoints. For now, the U.S. Federal Aviation Administration is keeping the rocket on the ground as they perform an environmental review of Starship's launch operations.
If the Super Heavy Rocket is cleared to launch, the rocket will take SpaceX one step further to creating the Starship, a fully reusable transportation system that will be used to take humans to the Moon, Mars and beyond.
"It's definitely and exciting time because we are kind of in a final push to complete the launch system," Musk said.
Spirit Airlines continues to take a nosedive as it cancels most of its flights nationwide; 22 flights were canceled from Austin-Bergstrom International Airport alone since Sunday.
The Florida-based carrier stumbled through the beginning of the week, canceling half of its schedule on Tuesday due to glitches in staff scheduling technology and infrastructure issues spurred on by weather-related concerns. Cancellation woes continued into Wednesday, with 418 flights (60%) of their schedule canceled by 1 p.m.
Only one flight out of the six arrivals and six departures scheduled at ABIA will still arrive according to plan on Wednesday, ABIA Public Information Officer Bryce Dubee told Austonia.

"Spirit has had some ongoing operational issues and has seen a significant number of cancellations," Dubee said. "For them, it is significant."
The airline was joined by American Airlines with high cancellations rates. AA scrapped 300 flights by early afternoon Tuesday, but the high number only accounts for 9% of its schedule. By Wednesday afternoon, only 3% of flights were taken off the schedule.
Dubee said that American Airlines had only canceled one arrival to ABIA since Sunday and that the issues "don't seem to be ongoing." American Airlines said that at least three-fourths of cancellations were due, at least in part, to a lack of pilots, while others, namely at Dallas-Fort Worth International Airport, were weather-related.
Meanwhile, Spirit said in a statement that they would see cancellations start dropping on Thursday.
The airline, which saw 20% of its schedule canceled Sunday and 42% Monday, said that "overlapping operational challenges including weather, system outages and staffing shortages" caused issues in crew scheduling. Some of the cancellations were made proactively as they fought to reset the sinking ship.
The issue was exacerbated by peak summer travel crowds. While airports are seeing 80% of pre-pandemic peak travel levels, many airline and airport companies have significantly fewer on staff. Spirit's pilot union said in a tweet that staffing strikes were not the cause for the week's cancellations.
Unlike other standard airlines, the "ultra-low-cost-carrier" doesn't have agreements when cancellations occur, meaning travelers can be left stranded. While Dubee said the cancellations have not caused anything more than general frustration for customers at ABIA, unconfirmed reports of riots in Puerto Rico and Florida rose to the surface in the wake of the cancellations.
Spirit said that lines have already begun to decrease substantially as they work to make amends—including providing refunds and helping process meal and hotel vouchers—and reboot the network. The carrier also pointed out that they held the lowest percentage of cancellations in 2020 and would soon be able to bounce back from the meltdown.

In the meantime, Dubee said its best for Spirit customers traveling through ABIA to check with the airline itself for more assistance, refunds and cancellation information.
Austin FC's roster is stocked with guys in all different stages of life, but nearly all stick to a similar mantra: "family comes first (and) soccer comes second." For nine Austin FC athletes, that means balancing hours of grueling work with fatherhood off the pitch.
That lifestyle became apparent when Matt Besler, the club's starting defender and one of the best center backs in MLS history, stayed home for Austin's second-ever match to witness the birth of his son Miller. Besler had already missed the birth of his first daughter and wasn't going to miss one again.
"It's in God's hands of when the baby's going to come, and you do your best to plan as much as possible, but in the end, it usually never works out that way," Besler said. "We just felt like it was better for me to just stay back and not travel because you don't want to regret missing that."
Besler's wife, Amanda, and two daughters joined him on his journey to Austin after 12 years with Sporting Kansas City. Balancing family and soccer isn't too bad, Besler said, and neither aspect of his life has suffered from the other. Still, he admits there isn't much time for Netflix binging or picking up hobbies.
"I feel like I've been able to balance those two things really well... but it really is just balancing my family and soccer," Besler said. "That's about all I have time for, but... I would rather have it this way than the other way where you feel like you're getting pulled in like a million different directions."
Besler's children haven't quite wrapped their head around their dad being a professional football player—he currently has them convinced he's an aspiring magician—but they do share a post-game ritual: playing Operation on Dad.
"They like to be the doctor (and) inspect all my bruises and scratches from the game," Besler said. "So they each have their medical kits and they do a physical exam on me, and they're always worried about daddy getting hurt or kicked. So that's probably as far as we get in terms of the soccer fandom."
While adjusting to Austin has been difficult—namely, the sweltering Texas summer heat—Besler said his family has adjusted with the help of an at-home swimming pool and the city's overwhelming support.
Fellow central defender Julio Cascante feels the same way. Cascante and his wife, Jessica, had their hands full when they moved to Austin from Portland with their then-four-month-old son Anto. Pair that with Austin FC's stagnant record, which has garnered plenty of criticism, and life on the Verde pitch can be pretty stressful.
Cascante said he's able to leave the pressures of the job thanks to his role as a husband and father.
"You get home and you see your baby, I think that's that's what gives you that relief," Cascante said. "He wants to be with you as soon as you get off, and so you forget about all the bad things that happened to you today (because) they only think about you as a father."
For Diego Fagundez, seeing pictures of his children with him on the pitch reminds him why he plays.
"It's something that I'll never forget, and I hope that they'll never forget, and they can tell their kids someday," Fagundez said. "That's why I do it. I might be having a bad day, but at the end of the day, they still bring my smile... It's the best feeling in the world."
Having built-in fans has its benefits. Fagundez's three-year-old daughter, Maria, has already been seen shouting his name in the supporter's section, and he hopes one day she'll be on the podium with fan band La Murga's "capos," or chant leaders.
"They're my number one fans," Fagundez said. "In that video of my daughter in the south end with all the fans, she's throwing her arms and singing and yelling. That's amazing to me."
Fagundez, whose father played professionally too, hopes to create the same memories he enjoyed as a kid for his own children. Fagundez, Besler and Cascante all hope to see their kids play soccer one day, but more importantly, they hope to pass on key aspects of the sport—passion, kindness, dedication and sacrifice.
While adjusting to a new city with a young family has been difficult for all, they're thankful for all the support from Austin fans that help the Texas capital feel like home. Fagundez has become great friends with members of Los Verdes, and some have even helped him watch his kids as he goes to training.
"Austin's amazing," Fagundez said. "From the first day they got here, the fan base just helped me so much. If I needed something, they would be the first ones there. It's like one big, happy family."