Claire Partain
Claire Partain is a staff reporter covering Austin FC and breaking news. Claire was previously the sports editor for The University Star, Texas State University's daily newspaper, where she covered sports, produced podcasts, and hosted a pre-game TXST football tailgate live series. She prides herself in versatile reporting and finding the human aspect in every story. Twitter: @partain_claire.
Get connected with our daily update
With two weeks of rest, a dream team lineup and nearly 20 scoring attempts in the match, Austin FC could have come away with a three-match home win streak against Minnesota United on Saturday.
Instead, missed opportunities and an equally boisterous opponent forced Austin to leave Q2 with a 1-0 loss to Minnesota.
Austin FC brought what appeared to be their strongest lineup to date to the pitch after their two-week break, including breakout stars Sebastian Driussi and Moussa Djitte. But even with dozens of shots between the two teams, the home team couldn't find their footing in the back-and-forth match.
After landing a brace in the team's 2-1 win against Real Salt Lake, Austin's Cecilio Dominguez struck first in the match with a shot on goal in the eighth minute of play. The scoring attempt opened the floodgates—in just three minutes, teammates Moussa Djitte and Sebastian Driussi would follow suit with their own looks at goal.
Just seconds later, Minnesota bounced back with a shot that forced Austin keeper Brad Stuver to jump for his first save, but a bad sendoff from the Verde and Black left Stuver unable to block another as the Loons' Franco Fragapone scored from close range in the 16th minute.
Despite a wide array of scoring attempts—from Djitte's blocked high-fliers to Tomas Pochettino's many near misses— Minnesota would stay on top for the remainder of the match.
A few flops from Minnesota, including a poorly-acted fall from the Loons' Emmanuel Arriaga (which was unrewarded and resulted in an Arriaga yellow card) and a controversial foul given to Moussa Djitte as he nearly made a solo drive to goal added to Austin's woes.
The Verde and Black's final attempt came as Austin center back Julio Cascante placed a close-range header in the final seconds of regulation, but the home team was unable to capitalize on their many attempts.
Both teams shared over 30 shots in the match, with Austin making eight shots on target. Austin FC held over 65% possession and received 12 fouls to Minnesota's nine.
It could soon be impossible for Austin FC to reach the playoffs, but Verde fans still have two chances to catch their team at home. Austin's first season will wrap up with five final matches, including a 4 p.m. Sunday game against the Houston Dynamo on October 24 and an 8 p.m. Wednesday match against Sporting KC on November 4.
80' Austin makes first subs
80' | First couple #AustinFC substitutions on the night.

➡️ McKinze Gaines
⬅️ Diego Fagundez

➡️ Jon Gallagher
⬅️ Moussa Djitté pic.twitter.com/yVXyPr97Gn

— Austin FC (@AustinFC) October 17, 2021
With just over 10 minutes left in regulation ,Austin FC made some late-game subs, swapping Diego Fagundez for Austinite McKinze Gaines and Sebastian Driussi for forward Jon Gallagher. Both have a history of clutch performances for the team: Gaines scored just 10 minutes in to his first match of the game back in September, while Gallagher was Austin's first scorer at Q2 Stadium.
It's looking more like a draw at best for Austin as the time continues to tick down on the match.
61' Djitte loses chance after controversial call
In the 61st minute of a less-cohesive half for Austin, Moussa Djitte found himself alone near the goal with a good chance at making the home team's first goal. But referees had another ideas, making another controversial call on the Senegalese striker.
Refs stopped Djitte's menacing drive after Minnesota's Michael Boxall appeared to flop in a run-in with the striker, curbing Djitte's attempt to boos from the crowd. It's Djitte's second foul of the night and the team's ninth foul in the match. Both clubs host a yellow card, with center back Julio Cascante holding the home team's sole warning call. Minnesota's Emmanuel Reynoso holds the away team's yellow after an obvious flop that left him rolling on the ground for minutes, waiting on a call.
Blown whistles for both sides have slowed the match's tempo and left both clubs reeling as Austin looks for its first goal.
At the half: Austin still can't finish
45' still left to play. pic.twitter.com/39J1XnvvOc

— Austin FC (@AustinFC) October 17, 2021
With minutes-long shooting sprees and more shots on goal than Minnesota, Austin could easily have the lead in the match. But each crowd-raising attempt has still been slightly skewed as the home team ends the half with nothing on the board.
In just 45 minutes, both Austin and Minnesota have reached the double-digits in scoring attempts, but Minnesota's ability to infiltrate Austin's penalty box has given them the leg up in the match. The Loons have sometimes found themselves nearly alone alarmingly close to goal, and they've capitalized on their chances with a 16thb minute goal by Franco Fragapane.
Austin FC, however, has not. The club has seen close calls from Dominguez and Driussi, headers from Djitte and near-misses from Tomas Pochettino, but missed opportunities and a few strokes of bad luck have left them scoreless. The team will need to shake their age-old scoring issues if they hope to get back into tonight's game.
16' Minnesota nabs 1-0 lead
Fragapane at the back post!@MNUFC go up 1-0 on @AustinFC. pic.twitter.com/u5LxVgMhAU

— Major League Soccer (@MLS) October 17, 2021
Austin may have struck first, but Minnesota won the first points on the board as Franco Fragapane got one past keeper Brad Stuver from a close range in the 16th minute to make it 1-0. The Loons tested Stuver just as Austin did Miller, making two anxiety-inducing shots before Fragapane struck gold.
This goalie-vs.-goalie match has already seen three shots on goal from each team and a relatively quiet midfield as each team dukes it out in the box.
11' Austin tests Minnesota first
.@SebadriussiOk 😅 pic.twitter.com/SUdpNklgMF

— Austin FC (@AustinFC) October 17, 2021
Austin FC has taken no time to threaten goal. In a three-minute span, the home team has racked up three shots, two of which are on goal, as the ball bounces between Austin attackers but can't quite find the net.
Dominguez strikes first as he looks to find his third goal in three matches in the eights minute, but Minnesota's Tyler Miller fights back with a clutch save. Djitte then tests Miller just seconds later, while Driussi takes a final shot from farther back that just misses the top left corner.
Austin's Fagundez and Pochettino were the playmakers of the three-minute shooting spree, but the club still came out scoreless. Minnesota soon rebounded with a shot of their own that was blocked by keeper Brad Stuver.
Starting lineup
Rested and ready to be back on the pitch for #ATXvMIN. 💪#AustinFC x @YETICoolers pic.twitter.com/oHzypiVtqK

— Austin FC (@AustinFC) October 17, 2021
This may be Austin FC's most popular lineup— even the crankiest fans are commending the strong starting XI on Twitter. Tonight's starters are the same as in their win against Salt Lake.
New standouts Moussa Djitte and Sebastian Driussi are in alongside double-scorer Cecilio Dominguez up front, while fan favorite Diego Fagundez, Captain Alex Ring and Designated Player Tomas Pochettino take the midfield.
With Matt Besler still out on concussion protocol, Zan Kolmanic, Jhohan Romana and Julio Cascante take the back along with Hector Jimenez, who is in for right back Nick Lima. As (almost) always, Brad Stuver holds it down in goal.
Yet another tech company is staking a claim in the tech "boomtown" of Austin, Texas, with artificial intelligence company Moveworks announcing its move Thursday.
The Greater Austin Chamber joined Moveworks in announcing the expansion to the Texas capital. It joinsTesla, which announced its HQ move on Oct. 7, Oracle, and over a hundred AI companies that call Austin home.
Austin Chamber Vice President of economic development Charisse Bodisch said Moveworks is a great fit for Austin due to its employee-first culture.
"Moveworks is a company that prioritizes the well-being and support of its employees, and there is no better place to find a live/work culture with ample career opportunities and a high quality of life than right here in the Austin region," Bodisch said in a press release.
Moveworks, based in Mountain View, California, is a quickly-growing AI company that automates support for employees through IT, HR, finance and facilities. The company has more than doubled in the past year and has partnered with Microsoft Teams and Slack to streamline its services to employees, earning a spot on Inc.'s Best Workplaces of 2021 and an additional $200 million in funding in June. The startup is now worth over $2 billion.
Moveworks already has around 20 of its approximately 300 employees working in the new office and plans to add 20+ more by the end of the year.
Moveworks CEO Bhavin Shah said the move is vital as the company expands its reach.
"Austin is home to one of the most elite talent ecosystems in the tech industry," Shah said. "But the new office also allows us to support our many customers in the South—as they, in turn, support their employees using our platform. We're incredibly excited to invest in the development of our Austin team because, with their leadership, we'll bring instant help to every employee on earth."
The new company is ready to hire Austinites, too. The company is currently hiring across every department at its 13 locations across three countries, including remote work.
Ready to switch focus to another global Austin festival? South By Southwest announced over 160 sessions on Wednesday and is offering their lowest prices of the March 2022 event to those that register by 2 a.m. Friday.
Those who register by the deadline will see the lowest possible prices as well as the best deals through SXSW Housing & Travel.
The global music, film and media event released over 160 topics for its SXSW Conference event, which will take place in-person and feature speakers from the forefront of tech, film and TV, music and more from March 11-20. Key topics for this year's panels include a future-forward "2050" section, civic engagement, climate change, tech and startups and more within the media realm.
Notable speakers announced for the 2022 event include Chef Andrew Zimmern, Platformer News Founder Casey Newton, David Kelley, Co-Founder and CEO of The 19th Emily Ramshaw, Nickelodeon's Chief Marketing Officer Jenny Wall and VP at Amazon Web Services Sandy Carter.
The world-renowned fest has brought the best to Austin for over 30 years but was forced to remain virtual for both the 2020 and 2021 events in the midst of the pandemic. Last year's speakers and films included Austin greats including Oscar-winner Matthew McConaughey, music legend Willie Nelson and hotel powerhouse Liz Lambert as well as former President George W. Bush.
Check out all of the scheduled conferences so far for 2022 here.
Chupie the Lykoi cat isn't as feral as he may look—unless, of course, it comes to getting his paws on some precious baguettes.
The unusual kitty has recently gone viral on social media, garnering over 30 million views on TikTok and cheering up cat fans globally during the difficulties of the pandemic.
But according to owner and Austin resident Michelle, who asked not to disclose her full name for privacy reasons, this wasn't what she expected at all when she first made Chupie's Instagram and TikTok in January.
Chupie's claim to fame—aside from his overwhelming cuteness and love for all foods (except salsa and carrots)—is his unique genetics. Lykoi cats, named after the Greek word for "wolves" and often aptly dubbed "wolf cats," are the result of a mutation originally found in feral cat populations that have since become a pedigree cat breed.
He's gotten plenty of love—and plenty of bullying—for his wolf-like appearance. Michelle has been told he looks like anything from the weasel of "Suicide Squad" to Clint Eastwood as a cat.
"I think that a lot of people think that he looks like an ugly cat because he looks mangy," Michelle said. "But that's kind of what makes him special."
But Chupie doesn't have the disposition of a werewolf. In fact, the friendly cat can be seen kayaking, hiking and lounging around locales around Austin, from historic bar Nickel City to his favorite spot at South Austin's Little Darlin'.
He's almost always well-behaved, too—that is, until food enters the picture.
Just a few days after making his Internet debut, Chupie first went viral for viciously gripping onto a bag of H-E-B buns. The post gained 1.3 million views.
Since then, similar videos of Chupie gripping baguettes, treats and other goodies have gained up to 11 million views apiece.
Michelle and her husband have beencreating content nearly every weekend and are now busier than ever. Still, it's been a rewarding, if unexpected, life change, especially as she hears from fans worldwide who view Chupie as a bright spot in their life.
Michelle said that she's received countless positive messages from fans, many of whom struggled during the pandemic.
"I joke that he's a 'meowtivational speaker' because I really think that we sometimes live in really dark places, especially during COVID," Michelle said. "So if we can give them even a little part of their day, even if it's 10 seconds where they feel joy, then it's worth it."
That popularity has translated into real life. Chupie is celebrated by fans and newcomers alike nearly everywhere he goes. In an interview with Austonia, Chupie was almost immediately greeted by a fascinated stranger who was quick to scratch his head and take pictures, something Michelle said is a normal occurrence.
"Everybody knows him when I go places now," Michelle said. "People are like, 'Oh my God, is that Chupie? Can I feed him the crust of my pizza?'"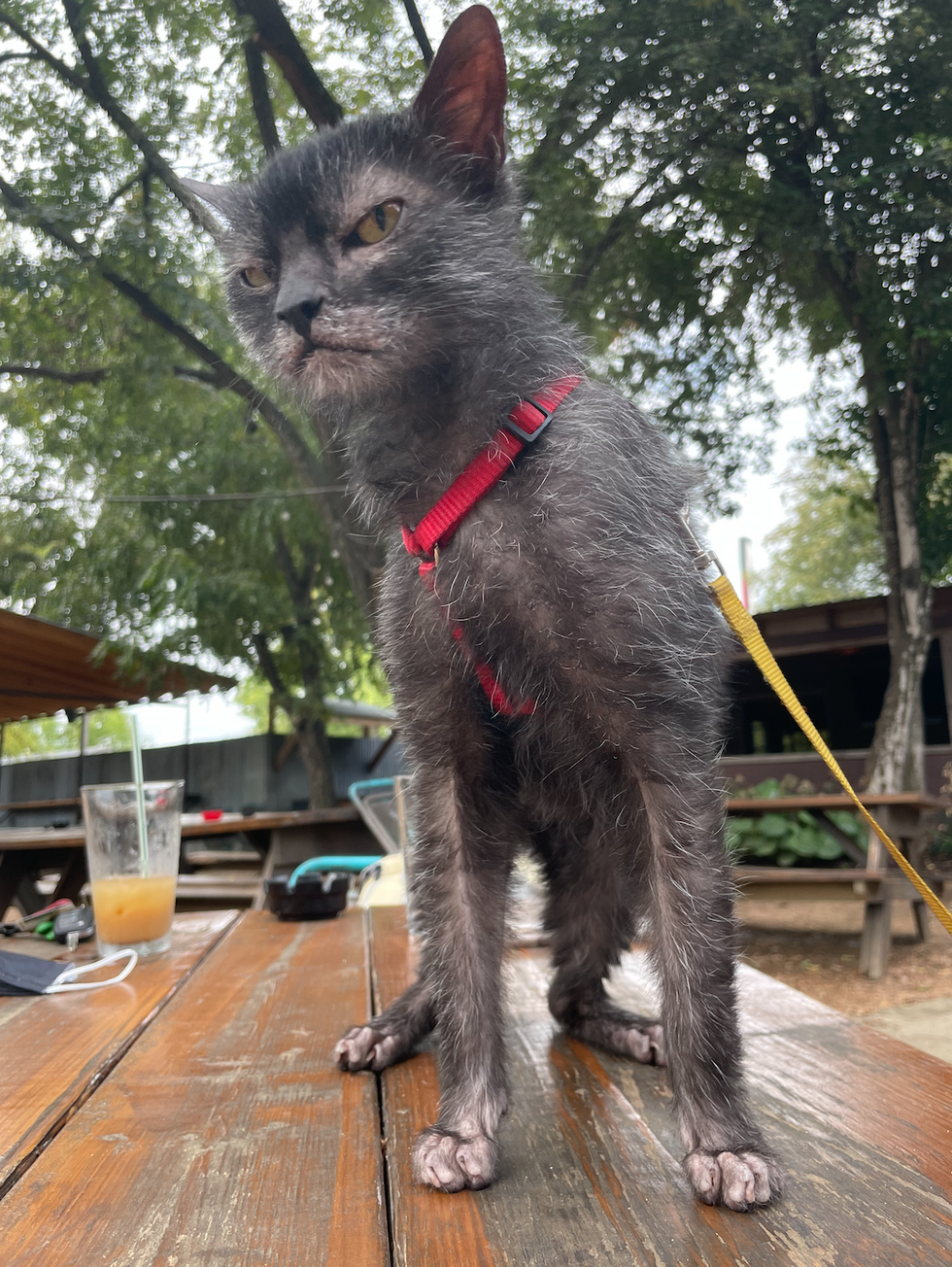 Chupie before getting a treat. (Claire Partain/Austonia)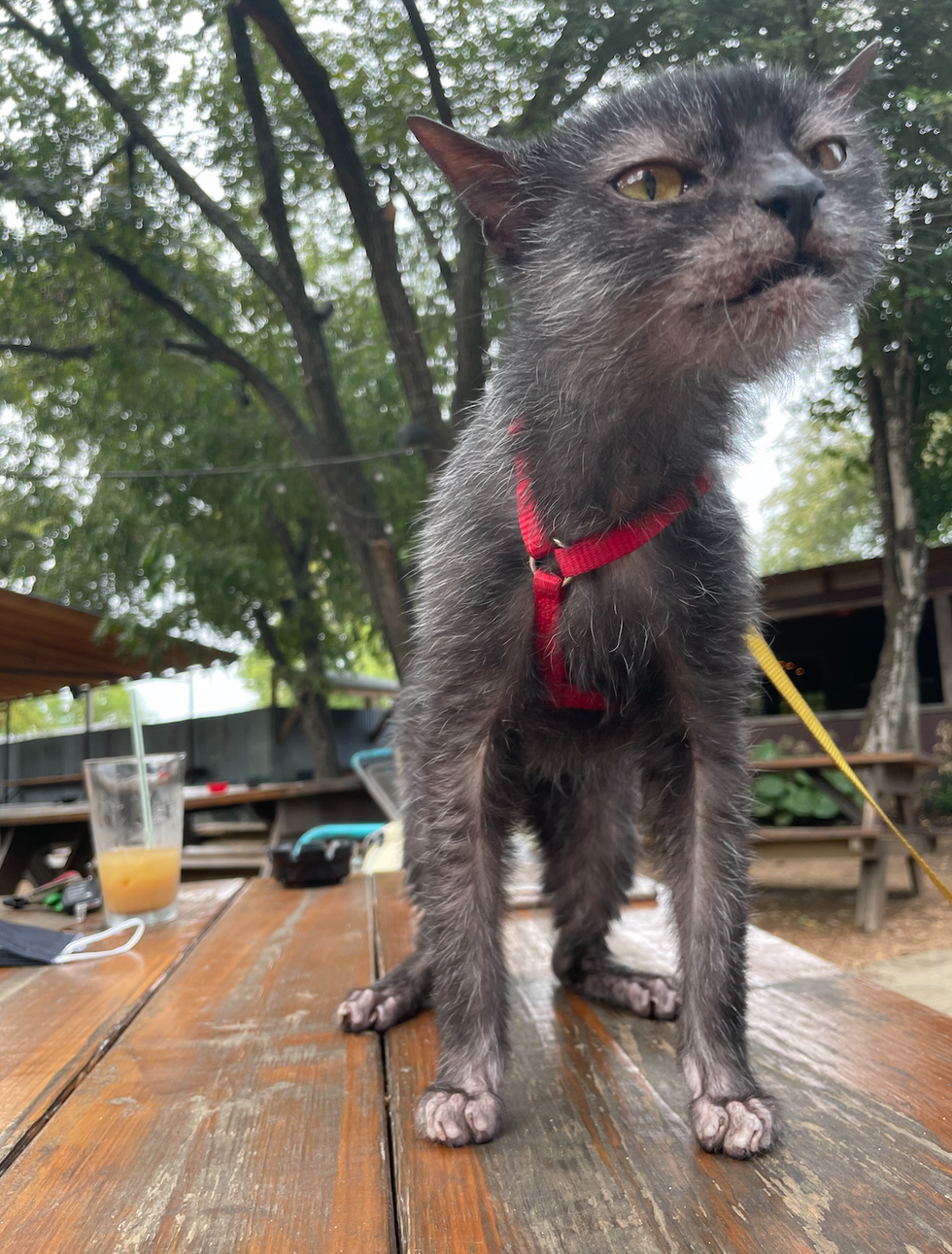 Chupie after he gets a treat. (Claire Partain/Austonia)
"He's living better than me probably," Michelle joked. "We live our lives well together. But I've never done so many things in one weekend until I started making these videos."
So what's next for Chupie? Michelle hopes one day she can take her kitty on global adventures where he can meet fans. For now, she's busy making Chupie merch, sending out care packages and is looking forward to taking her pet to animal events like the POP Cats festival on Saturday.
"This has gone way further than I ever imagined, and it's about Chupie, but it's also about the 'I don't give a meow' attitude," Michelle said. "I think people need to take life less seriously, so it's nice to be an outlet for that."