Never miss a story
Sign up for our free daily morning email...
...and afternoon text update
Emma Freer
Emma Freer is a senior reporter for Austonia, where she covers the local pandemic response, policy, Project Connect and homelessness. She previously worked for Community Impact Newspaper. A native Clevelander, she graduated from Columbia Journalism School in 2017 and the University of St. Andrews in 2016. Email: emma@austonia.com. Twitter: @freer_emma.
Get connected with our daily update
As Austin navigates its homelessness crisis, city voters will decide starting Monday whether to reinstate a ban on sitting, lying and camping in certain areas of the city. Proposition B has drawn impassioned support and opposition and is perhaps the most contentious item on the May 1 ballot.
Austonia received editorials from both sides of the debate. Arguing in favor of Prop B is Cleo Petricek, a Democrat and co-founder, along with Travis County GOP Chairperson Matt Mackowiak, of the Save Austin Now political action committee, which has led the charge to reinstate the camping ban. Opponent Emily Seales is a licensed clinical social worker and advocate with over 20 years of experience working and volunteering in homeless services in Austin and around the country. She is currently on staff at the Sunrise Homeless Navigation Center and is board co-chair of Open Door.
Editor's note: These submissions are the unedited views of their authors. Claims made have not been fact-checked to give the proponent and opponent a chance to speak their minds freely.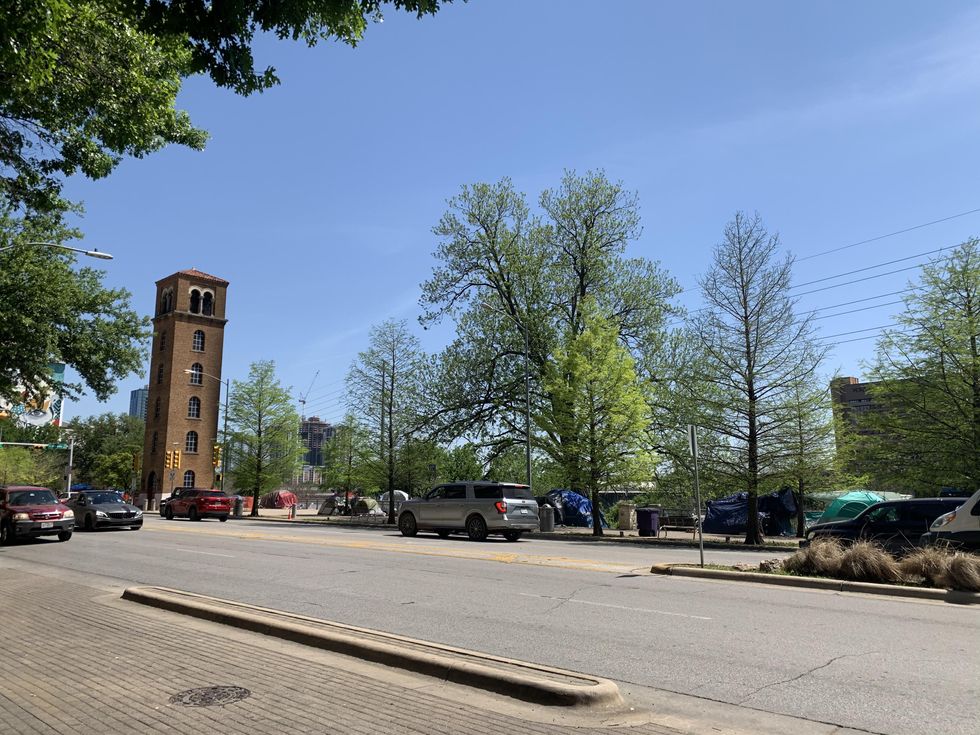 Homeless residents have also set up tents along Cesar Chavez Street near Buford Tower, which recently caught fire after a blaze spread from the camp. (Emma Freer)
Pro: Voting yes on Prop B sends a message to council that voters' voices and real solutions are paramount

In June 2019, the Austin City Council rescinded regulations on camping in public spaces. They did so without any serious public discussion and in fact appeared to actively avoid serious scrutiny. The resulting chaos is clear for all to see. Parks and playgrounds impacted by illicit behavior, lewd activities in public, trash strewn in waterways and public spaces, and most critically, assaults on the public and on other homeless individuals.
It is obvious that the homeless are not helped by this misadventure. Vulnerable women and youth in these camps are abused, mentally ill individuals are not served and there is no incentive for substance abusers to seek help.
Proponents of this mess have put forward no credible plan for any short term housing that restores safety—instead they talk about abstract housing concepts that even they acknowledge will take years to develop. This is the mark of narrowly focused activism, not what citizens should expect from elected leaders who promise to serve their communities. At every turn, the proponents of this chaos have demonstrated that they are not capable of fully considering the needs of diverse communities and proposing workable solutions. Instead they simply double down on trying to tell Austin that anything other than their chaos is heartless and inhumane. This is intellectually lazy, and Austin should demand better.
The chaos created by the City Council has resulted in a public outcry culminating in the citizens demanding to be heard by direct ballot. This demand is across the political and economic spectrum. As a co-founder of the Save Austin Now PAC and a lifelong Democrat, I have seen the diversity of people raising their voices in concern for our city.
It's time we turn this situation around and vote yes on Prop B. It sends a clear message to the council that the citizens of Austin must be heard as we work toward real solutions. There are successful models to learn from and some in our own state. But it all starts with voting yes on Prop B starting April 19.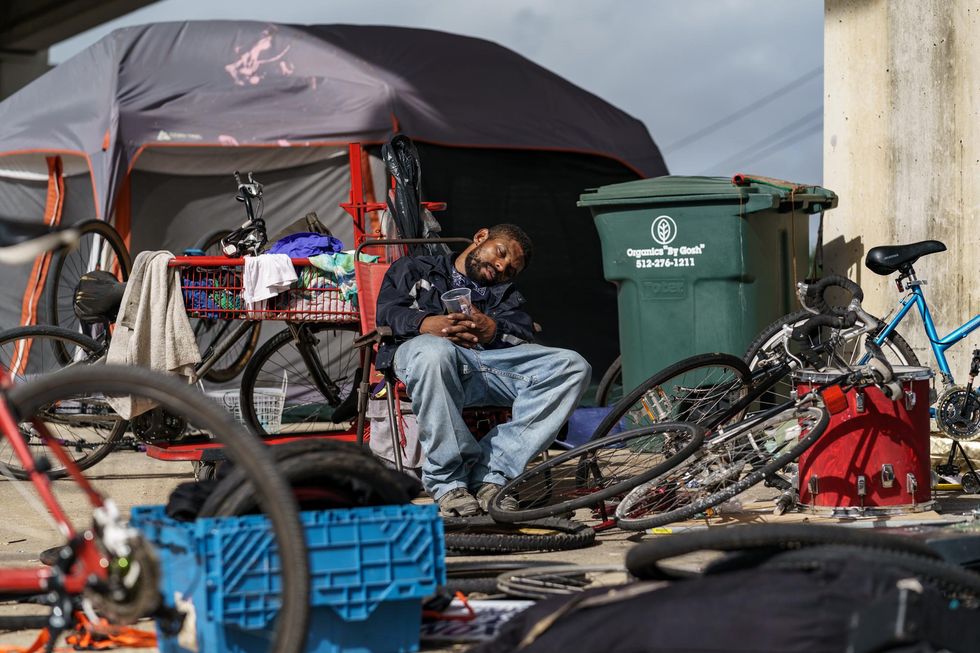 A homeless residents sleeps in the middle of a bike scavenging operation based at a camp under the South Austin overpass. (Jordan Vonderhaar)
Con: Prop B blames homeless individuals rather than providing solutions to societal problems
Austin's homeless population needs help, but Prop B doesn't do anything to solve our city's problems. It simply tells people who are experiencing homelessness that they cannot exist, visibly, in public space. I, too, am worried about the encampments. They are evidence that our strategies to help people return to housing aren't sufficient. But telling people "You can't stay here" without giving them alternatives isn't a solution.

The reason so many people are experiencing homelessness is that it takes a long time to get into housing, even when you do everything right. Shelters are at capacity, we lack deeply affordable housing, landlords can refuse housing vouchers, and housing programs are full.
As a case study, I want to tell you about "Bill," whom I met two years ago. Bill was a veteran, father, former truck driver and person of faith. He was also homeless and unsheltered. Bill had recently suffered a series of strokes and was desperate for both disability income and housing.
Bill and I worked together every single week for 17 months. He eventually was awarded disability and moved into his own apartment.
Bill's situation is typical of hundreds of people who are stymied by our complicated processes and lack of housing. Prop B would not add resources for people like Bill. Read the ballot language. Because Prop B bans "camping," people would have to move around constantly to avoid being cited. All that moving around takes time and energy. People like Bill would have a harder time keeping their appointments with case managers. Unpaid fines from citations build a criminal record—and landlords can choose not to rent to someone with a record. So punishing people for not having housing makes it even harder to get housing. Prop B hurts, not helps.
In this election, Austinites have a choice to criminalize people like Bill or to work toward solutions. Prop B places the blame on individuals rather than recognizing homelessness as a failure of society.
Prop B is an inhumane and wrong response. Oppose Prop B, and let's focus on solutions. Learn more
here
.
Starting Monday, Austin voters will decide whether to reinstate a ban on sitting, lying and camping in certain areas of the city. Proposition B is one of eight proposed city code or charter amendments on the May 1 ballot, but it is perhaps the most contentious.
Spearheaded by the political action committee Save Austin Now, Prop B is a direct response to City Council's 2019 decision to overturn a 23-year-old ban on such activities. This is the second time the group has tried to get the issue on the ballot since the first petition was ruled invalid by the county clerk for duplicate signatures and other issues last year. Homeless advocates campaigned against the ban, arguing that it criminalized homelessness and led to citations and tickets that prevented homeless people from accessing housing, employment and other resources. Since then, the city's homeless population has grown in size and visibility.

SAN, advocates and council members generally agree that the situation is untenable, but they disagree about the ban's merit. Austinites who are directly impacted—including people who live near camps, downtown business owners and homeless residents—feel similarly embattled, telling Austonia that, regardless of how they plan to vote, not enough is being done to house the homeless.
Word on the street
Lisa Novak bought a condo in the East Riverside neighborhood in 2013, drawn in by its affordability and Guerrero Park. She attributes the increase in camping along the Riverside Drive median to council's decision to repeal the ban. "It turned into open season," she said.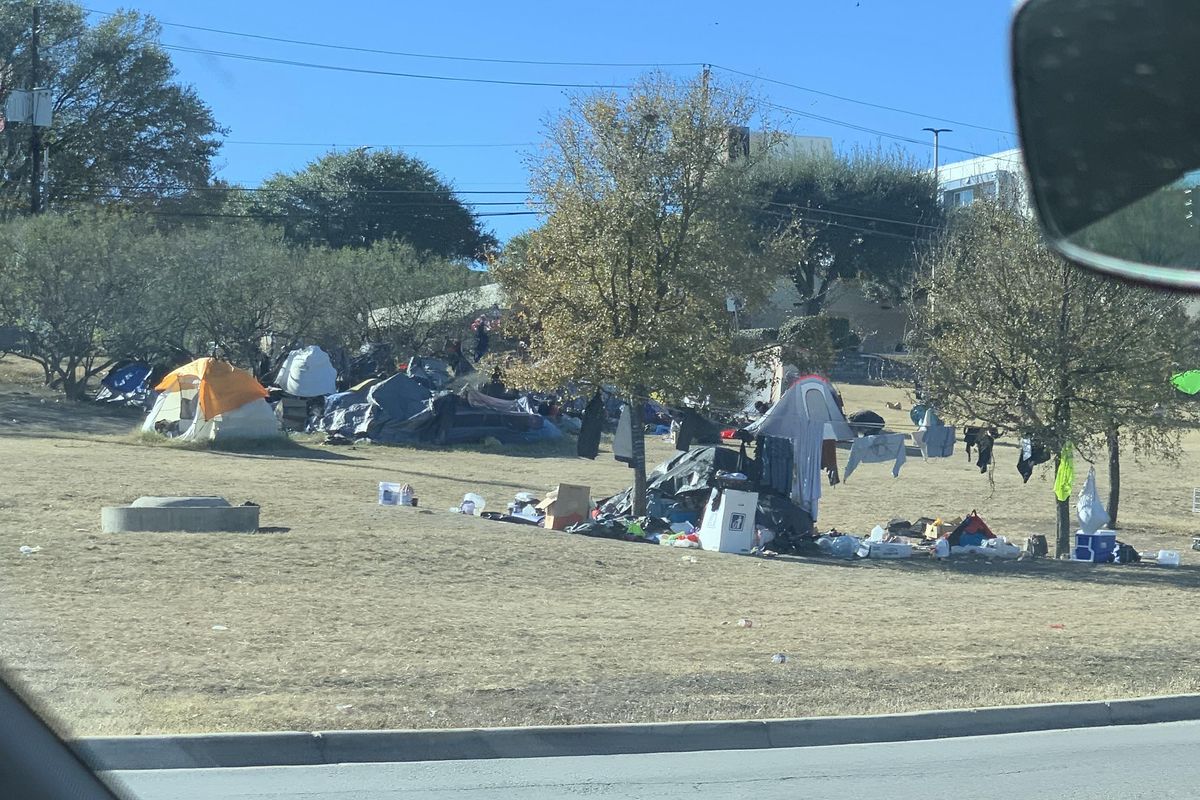 Lisa Novak took this photo of campers along the Riverside Drive median, near where she lives. (Lisa Novak)
Novak worries about the recent spate of fires and how camps affect area business owners and incoming tourists. After her husband witnessed a violent exchange between two panhandlers, the couple stopped walking to their neighborhood H-E-B. She will vote for Prop B and disagrees with advocates who say it criminalizes homelessness. "I'm sorry, but as a member of society there are certain rules and regulations," she said.

Kevin Ludlow's Windsor Park home sits right behind a long-time homeless camp along Little Tannehill Branch Creek. He estimates he has spent hundreds of hours talking to city staff, council members, nonprofits and police about trash and safety concerns.
Ludlow is undecided on Prop B. He thinks a ban will address these issues, but he also feels police could be more responsive to reports of theft, vandalism and other crimes without penalizing campers who are otherwise law-abiding. "There's no winning hand, and I feel it's by design," he said.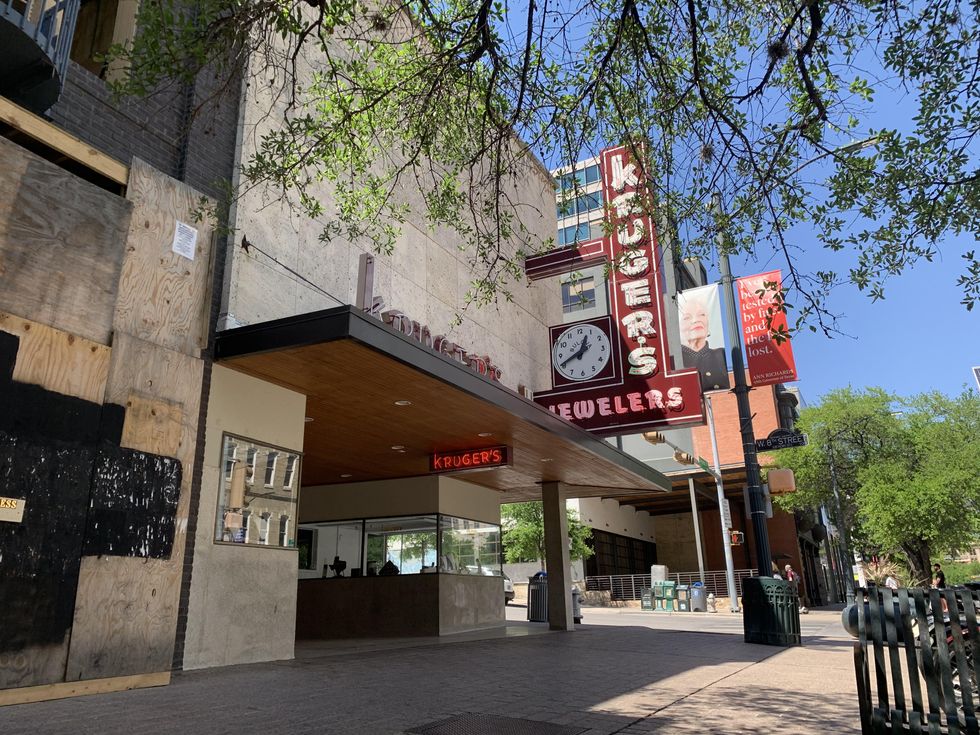 Longtime Downtown business Kruger's Diamond Jewelers often has homeless residents camping outside the entryway. (Emma Freer)
David Kruger, fourth-generation owner of Kruger's Diamond Jewelers on Congress Avenue, is similarly ambivalent. Although homeless residents often camp out in his entryway, his issue is with city leadership, whom he feels are incapable of developing solutions. "I'm probably going to vote in favor of it, I guess, but I'd feel better if there was another item that addressed the problem," he said, comparing Prop B to trying to put toothpaste back in the tube.
Christopher Carr, a member of the Austin Homeless Advisory Committee who has been intermittently homeless since graduating from the University of Texas at Austin in the 1990s, is more decisive. A poet who loves opera and has bipolar disorder, he camps near the intersection of 15th and San Antonio streets. When the ban was in effect, he was often harassed by police he says. "You felt like you might have a few seconds before the cops showed up (if you sat down on a sidewalk)," he said.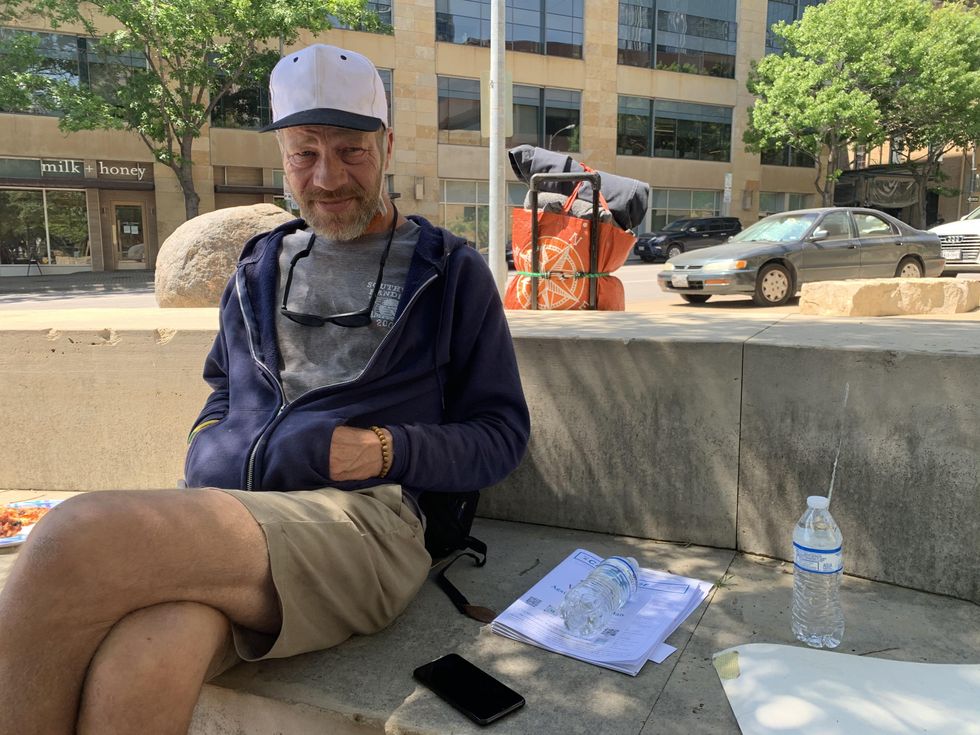 Christopher Carr attends a meeting of the Challenger Street Newspaper, for which he is a contributor and distributor, outside of City Hall on Sunday. (Emma Freer)
Since the ban was lifted, Carr feels Austin's housed residents have turned against the homeless: "If you don't like seeing all these tents everywhere, why don't you not like the country where this level of indigency exists?"

A stopgap measure
Save Austin Now argues that repealing the ban has adversely impacted public safety, residents and businesses and left homeless people to live in unsafe conditions. Ken Casaday, president of the Austin Police Association and SAN board member, added that the council vote left residents out of the process. "For me, the big issue is 'let the citizens vote,'" he said. "If the citizens vote down Prop B, we'll live with it."
But the May 1 election is likely not the end of this debate. Texas lawmakers are considering a statewide ban on public camping in a clear rebuke of local policy.
Chris Harris, director of Texas Appleseed's Criminal Justice Project and an activist who helped overturn the ban in 2019, argued that the decision has made homelessness more visible, leading to greater investment by the city and nonprofits. "No matter what happens with Prop B or with these bills at the Legislature, our community can't forget about this issue," he said. "We decriminalized homelessness not because we saw it as a solution to homelessness but because we thought it was (an issue of) right-or-wrong."
Texas lawmakers will consider a bill that would establish a statewide ban on public camping on Monday.
State Sen. Dawn Buckingham, R-Lakeway, filed the partisan bill last month. In her statement of intent, she claimed that homeless camps have led to a rise in property crimes and drug use, present a health hazard, are detrimental to economic development and business activities, strain law enforcement and incentivize homeless people to remain homeless. The Texas Senate Committee on Local Control will conduct a public hearing on State Bill 987 as the issue has reached a fever pitch in Austin.
Meanwhile, Austin leaders recently kicked off a summit to address unsheltered homelessness. A recent spate of fires at local homeless camps has intensified the debate between homeless advocates and those in support of such a ban. Starting next week, Austin voters will be able to vote on Proposition B, which proposes to reinstate a ban on public camping in certain areas of the city.
Austin Mayor Steve Adler issued a statement on Monday in opposition to the bill, comparing it to the local proposition. "This bill, like Proposition B, offers no help and no solution," he said, in part. "We can and must do better to get people out of tents, not merely to move their tents out of sight."
In a statement shared with KVUE, Gov. Greg Abbott responded to SB 987 and another similar legislative proposal, House Bill 1925, directly: "These pieces of legislation provide a uniform policy for the entire state that will hold cities accountable to develop meaningful and compassionate long-term solutions to support those experiencing homelessness."
(Bob Daemmrich)
Austin voters will determine the fates of eight propositions during the upcoming May 1 election. Each proposes to amend the city charter in ways big and small. Two in particular have garnered attention and controversy.
If passed, Proposition B would reinstate a ban on public camping that Austin City Council lifted in 2019 and Proposition F would shift the city government from a strong-manager system to a strong-mayor one. The other six propositions also have far-reaching implications for how the city is run, from police oversight to campaign finance reform.
Early voting begins next week and runs through Tuesday, April 27. The last day to apply for a mail-in ballot is Tuesday, April 20. Election Day is on Saturday, May 1.
Races to watch
Proposition A: Charter amendment regarding binding arbitration in firefighters' labor contract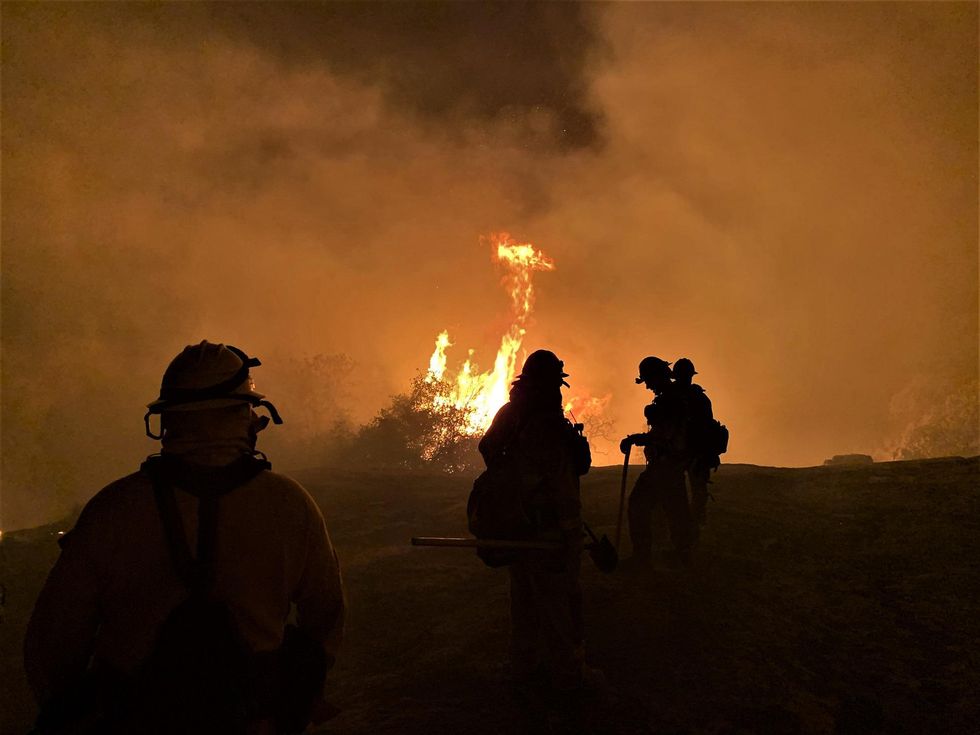 (Austin Fire Department/Twitter)
If passed, this proposition would require an arbitrator to intervene in cases where the city and the Austin Firefighters Association, a union representing Austin Fire Department employees, reach a stalemate during labor contract negotiations. The arbitrator would hear presentations from both parties and make a binding ruling, like a judge.
AFA President Bob Nicks led a petition process to get this proposition on the ballot and argues that it would help avoid future prolonged arguments, which have occurred in three of the union's last six bargaining cycles—at significant cost. "Rather than getting to impasse at the table, you're more likely to look at each other's interests and come to an agreement at the table if you know that—if you don't—it'll go to an arbitrator," he told Austonia.
Proposition B: City Code amendment to reinstate restrictions on public camping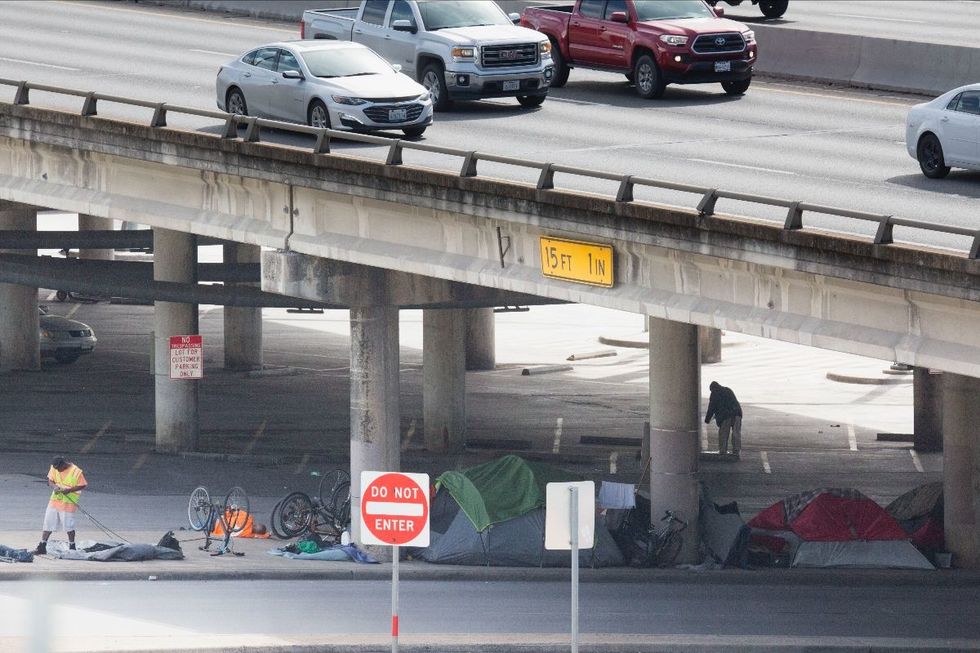 (Charlie L. Harper III)
This proposition resulted from a successful petition effort by the local political action committee Save Austin Now, which is campaigning to reinstate the city's ban on public camping—along with other activities, such as sitting or lying down on a public sidewalk or aggressive panhandling, in certain areas—after council overturned in 2019.
SAN argues that the decision to repeal the ban has adversely impacted public safety, residents and businesses and left homeless people to live in unsafe conditions. Although the group's opponents generally agree that the city's homeless situation is untenable, they argue that reinstating the ban will do nothing to address the root causes of homelessness and instead lead to citations and tickets that make it harder for homeless people to access housing, work and other resources.
Proposition C: Charter amendment regarding office of police oversight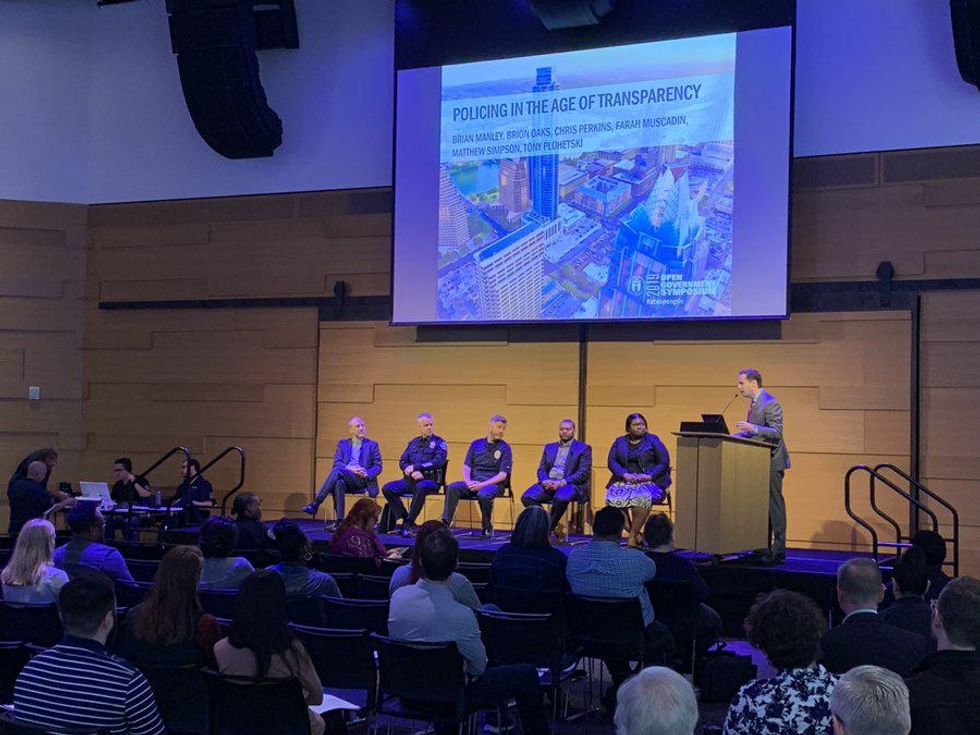 Office of Police Oversight Director Farah Muscadin, second from right, at a local policing symposium in 2019. (Office of Police Oversight/Twitter)
This proposition stems from an ordinance put forward by Council Member Greg Casar. If approved, it would move the city's office of police oversight from the control of the city manager's office to that of council. City Manager Spencer Cronk faced criticism from council members and residents for his handling of the Black Lives Matter protests last summer.
Margo Fraiser, vice president of the National Association for Civilian Oversight of Law Enforcement and former Travis County Sheriff and city of Austin police monitor, said such a shift is only half of the battle as an independent oversight office is only as strong as its ability to access and report on data from the police department. "It's hard to predict whether (this proposition alone) would improve civilian oversight or not," she said.
Proposition D: Charter amendment to move mayoral elections to presidential years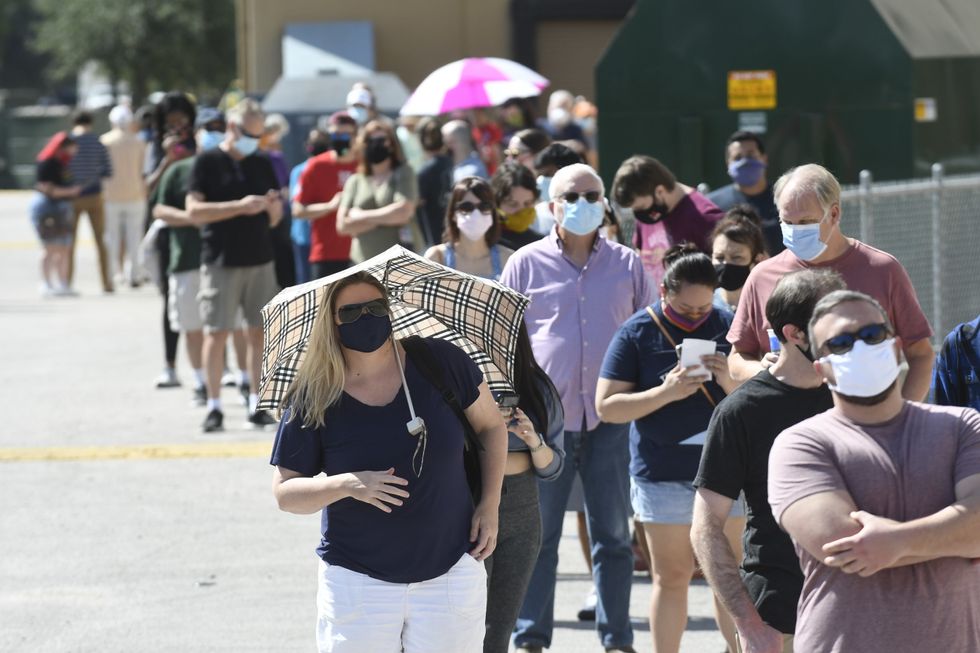 Travis County saw record turnout during the Nov. 3 general election. (Bob Daemmrich)
Local political action committee Austinites for Progressive Reform successfully submitted a petition in January that proposed a series of amendments to the city charter in an effort to increase voter turnout. Propositions D through H stem from this initiative.
This proposition would move mayoral elections from gubernatorial election years to presidential election years in an effort to ensure higher voter turnout. The mayor elected in 2022 will serve a two-year term, and the next election will take place during the general election in November 2024.
Proposition E: Charter amendment to create ranked choice voting for city elections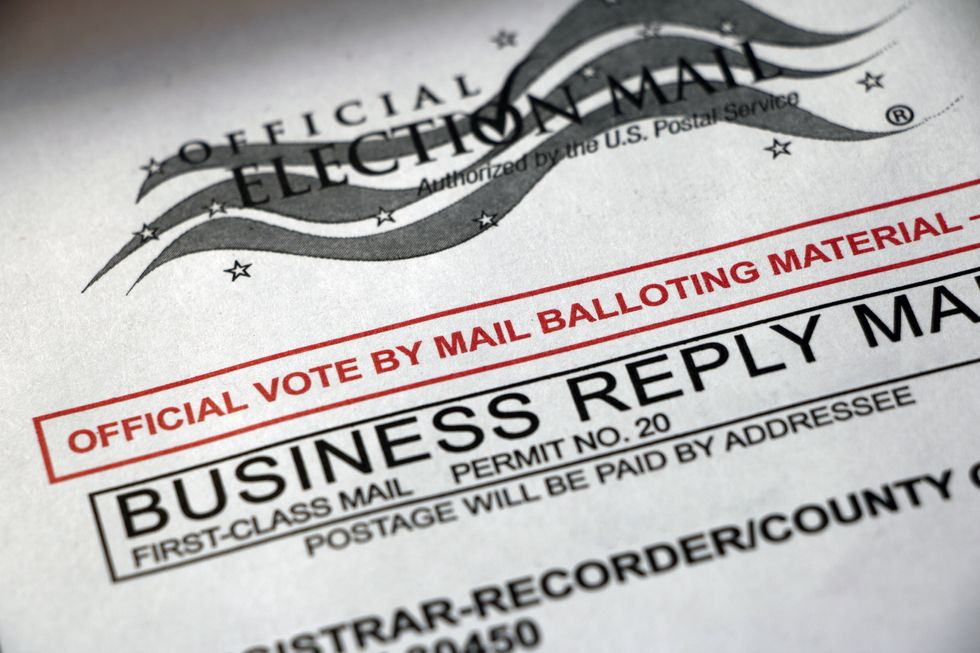 (Pexels)
Also stemming from the citizen-led petition organized by APR, this proposition would amend the city charter to provide for ranked choice voting in city elections if permitted by state law. The intention of this proposition is to eliminate runoffs, which typically have much lower turnout than general elections and participating voters tend to skew older and more conservative.
Ranked-choice voting, however, is certainly prohibited under state law. A city charter amendment, even if passed, would not be implemented unless state lawmakers make the same change.
Proposition F: Charter amendment to change to a strong mayor form of government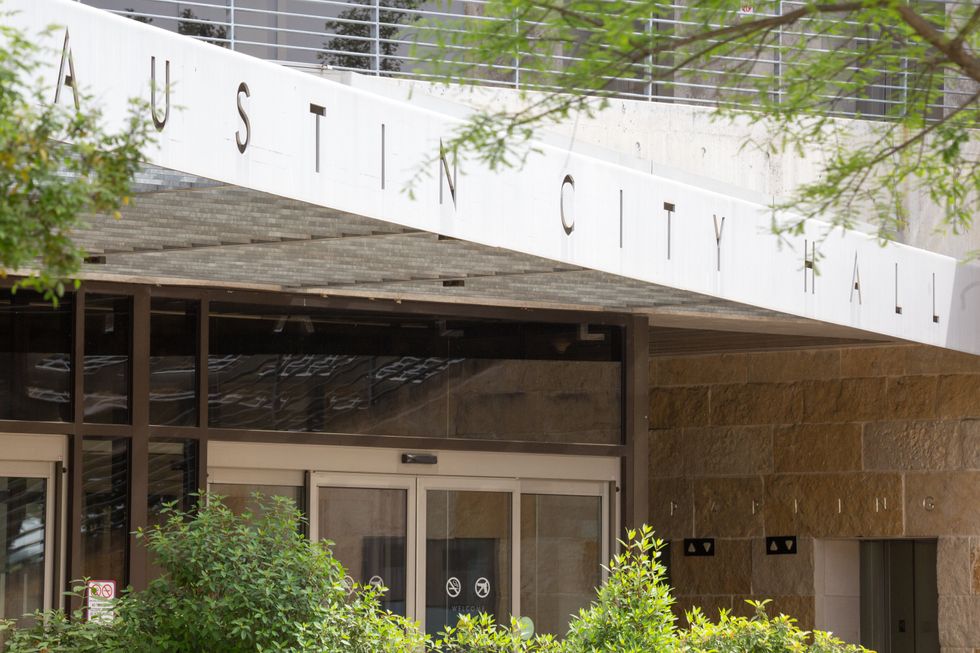 (Charlie L. Harper III)
The most controversial of APR's proposed amendments, this proposition would fundamentally change how the city government operates, shifting it from a strong-manager form to a strong-mayor form. Under the latter form, the city manager position would be eliminated and replaced by the mayor, who would not vote on items brought to council but could veto legislation approved by its members.
Proponents say it will give voters more control over the person who actually runs the city—an elected mayor rather than an appointed city manager—and point to the Jim Crow-era origins of Austin's current strong-manager system. A broad coalition of opponents, which includes local unions, most council members and business leaders, say it will consolidate power in one office and undermine the gains of the 10-1 council system enacted in 2014.
Proposition G: Charter amendment to add an 11th council district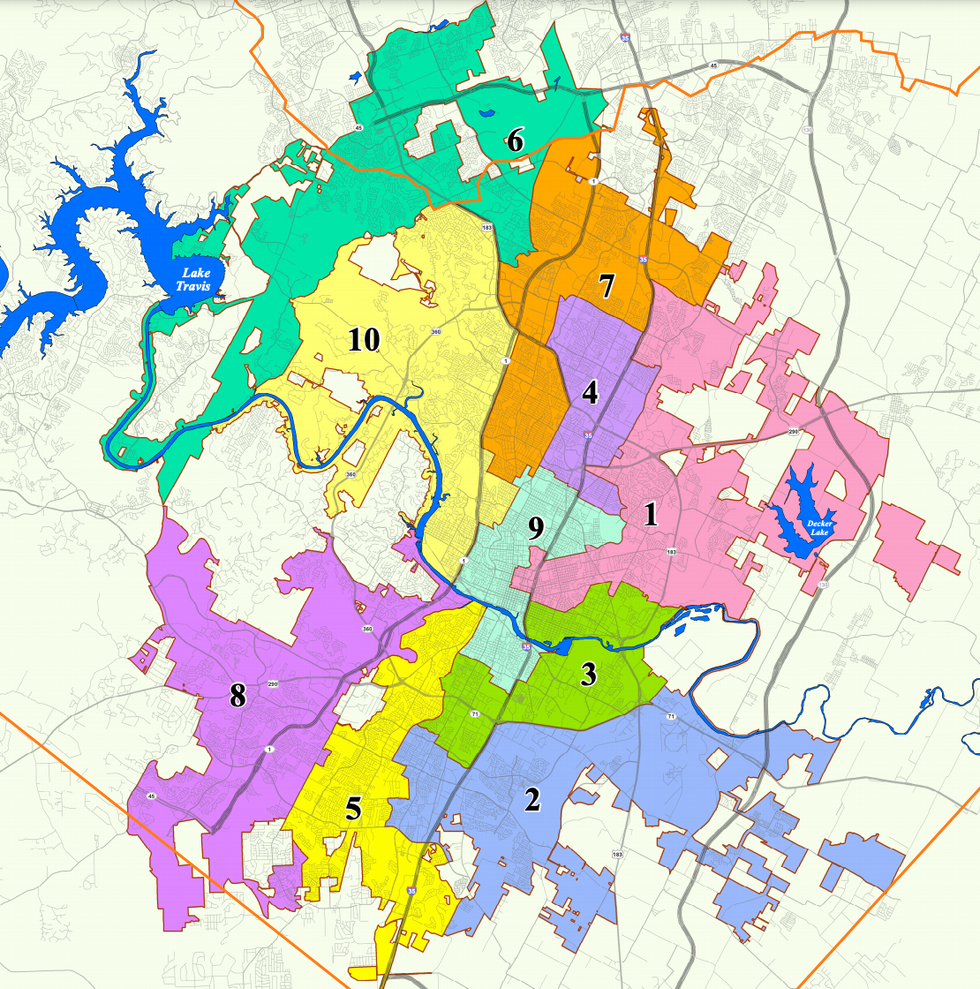 Because Proposition F entails the mayor no longer serving as a council member, APR proposed creating an 11th council district to prevent tie votes and expand district representation in keeping with the city's population growth.
Council decided to separate the initiatives on the ballot, creating the possibility that one will be approved and not the other, leaving council with an even number of voting members—and a higher chance of tie votes and legislative gridlock.
Proposition H: Charter amendment to adopt a public campaign finance program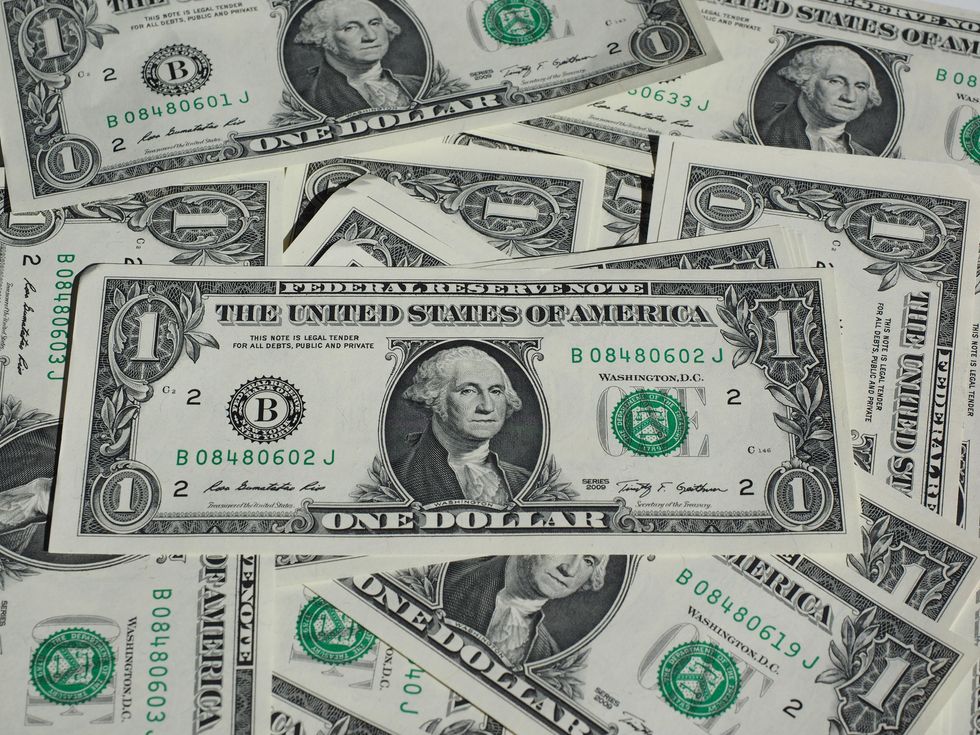 (Pexels)
This proposition would implement a public campaign funding program, called Democracy Dollars, to give voters $25 vouchers to support the local council candidate—and, in presidential election years, mayoral candidate—of their choice in an attempt to offset the influence of wealthy donors.
Such a program is already in place in Seattle, where it has driven turnout and increased donor diversity. APR has faced criticism locally for deviating from Seattle's model; as proposed, its Democracy Dollars program would exclude those unable to vote due to immigration status or criminal history.
Dates to know
Early voting begins next Monday and runs through Tuesday, April 27. Early voting polling locations will be open from 7 a.m. to 7 p.m. on Monday through Saturday and from noon to 6 p.m. on Sunday.
The last day to apply for a mail-in ballot is Tuesday, April 20. Note that applications must be received by this date, not just postmarked.

The application form, which can be found here, must be mailed to following address:
Dana DeBeauvoir
Travis County Clerk- Elections Divisions
P.O. Box 149325
Austin, TX 78714
In Texas, only certain voters are eligible to vote by mail. They include:
People who are 65 and older
Out of the country during the entire election period
Sick or disables
In jail
Election Day is on Saturday, May 1. Polling locations will be open from 7 a.m. to 7 p.m.
The registration deadline has passed. Residents can find out if they are already registered here.