Get connected with our daily update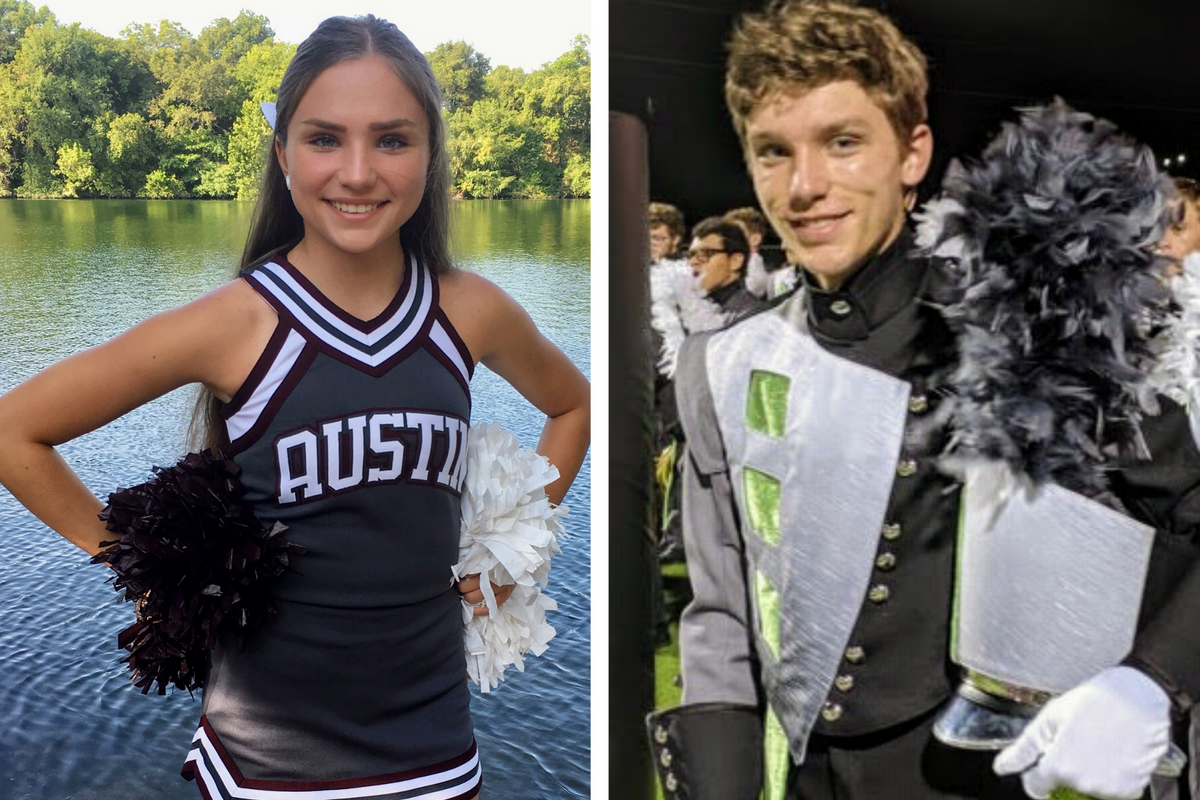 (Sheryl and Dean Jett)
After six months out of the classroom, Austin ISD parents are still seeing their children miss out on vital social interactions even as some returned to schools this week.
Sheryl and Dean Jett have twin seniors at Austin High School. Their son is the lead drum major of the marching band, which had their season scrapped, and their daughter is in cheer, which has been holding outdoor practices for a few weeks now but has seen its season limited.
"It is sad not to see our kids in the full capacity of their roles this year. There is no going back, this is it," Sheryl said.
The Jetts' kids have handled the shift to virtual learning pretty well, but what their kids are not getting is the social interaction that is important at that age, Sheryl said.

A study from John Hopkins University supports parents' concerns that schools are much more than a place for delivering educational content and recognizes that students will come back with not only educational setbacks but also setbacks in their social and emotional skills.
AISD began the early phases of reopening campuses this week. Beginning with up to 25% capacity, students in prekindergarten, kindergarten, sixth and ninth grades returned to school buildings for the first time since March.
In a district survey with over 54,000 respondents, 57% of families with elementary aged children and over 70% of middle and high schoolers said they will continue virtually.
On Monday, 104 teachers were absent for in-person teaching, according to an AISD spokesman. Despite being back in session, Education Austin—the union that represents over 3,000 AISD staff members—has requested the district continue remote teaching this fall, and continues communication with the district to find better alternatives.
The Jetts said they would like to send their kids back to school, but plan to wait until the school experience more closely resembles a "normal day," which includes kids working directly with their teachers and changing classrooms. Under the reopening plan, the Jetts' kids aren't eligible to return to campus until Oct. 26, since seniors are among the last group to return.
Students who returned to classes this week are restricted to a single classroom all day, participating in their individual Zoom classes. The Jetts' son would be unable to participate in his daily band class, which includes practicing an instrument during his Zoom meeting due to the disruption for other students in the class.
"Our kids would rather stay home, no mask, with the freedom to move around and participate in both their regular and extracurricular classes," the Jetts said; adding there's also the benefit of having snacks whenever they want.
AISD has been one of the last local districts to reopen in-person, which has prompted some criticism from parents. However, other area districts are taking similar approaches with Round Rock ISD phasing in students, and Del Valle ISD and Eanes ISD giving students the option to choose to stay remote if they like.
"I travel around the state for my work, and I see other schools are back in session, at least it seems that way. I'm not sure why AISD has been slow when other districts are moving forward," Dean said.
Other families, however, feel that their kids will rebound despite the social setbacks caused by the pandemic.
In south Austin, Ismael Flores and his wife are also navigating through the learning shift. They currently have two kids enrolled at AISD, a third-grade daughter at Cunningham Elementary, and a son, who is a senior at Crockett High School. Flores also has two older children, one of whom is attending college online.
"I don't think my kids have missed out on their education. We are fortunate to have technology," Flores said. "My daughter has speech therapy, and it feels like she and her teacher didn't miss a beat. As a parent, that felt good."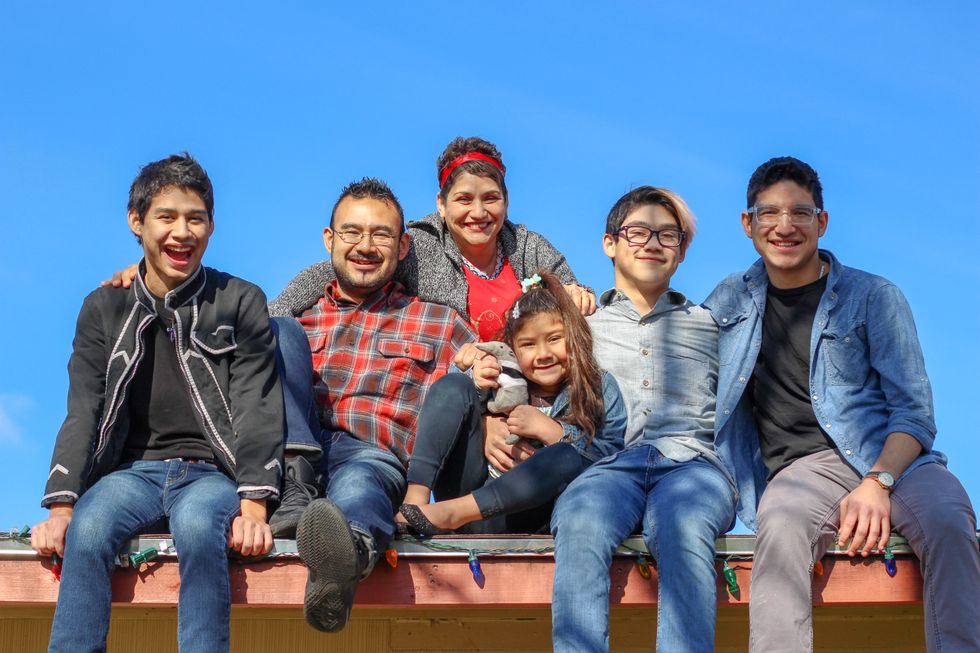 (Ismael Flores)
He knows some families are struggling and feels fortunate that his wife is a stay-at-home parent, and his job—as a pastor at South Austin Church—offers flexibility allowing him to help out at home.

Flores said while he's sad his son is missing out on the experience of his final high school year, he feels that the district and its teachers are better prepared this time around than when the pandemic hit Austin in the spring.
After some back-and-forth, the Flores family made the tough decision to return to in-person school this week, and their senior will participate in the hybrid model—which includes attending in-person two days, and remotely the other three days of each week.
Flores, who said they have been very open with their kids about COVID, likes that families can opt out of the district plans at any time. They have reminded their kids to think about others when they attend in-person classes, and have talked through safety protocols. He also said his family's interactions with teachers have been great.
"(The district) is doing the best they can with the situation they have. We won't really know how it goes until the rubber meets the road. Let's give our teachers and administrators some grace and encouragement—this is new for everyone," Flores said.
More: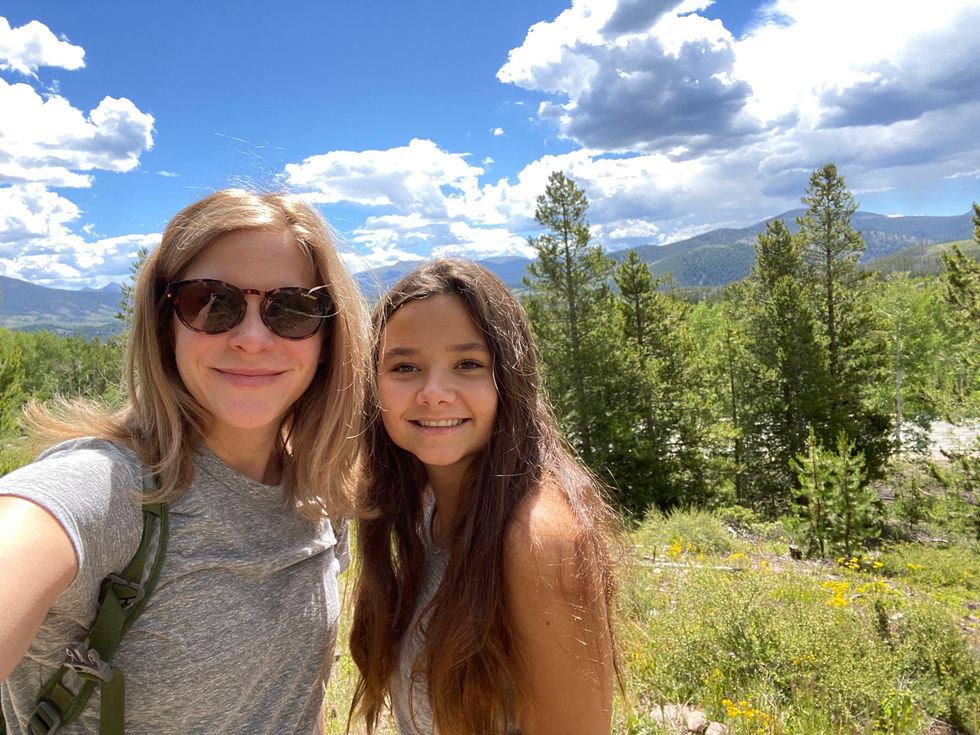 To go or not to go? Austin high schoolers weigh threat of COVID against more isolation as school year nears(Kate Volti)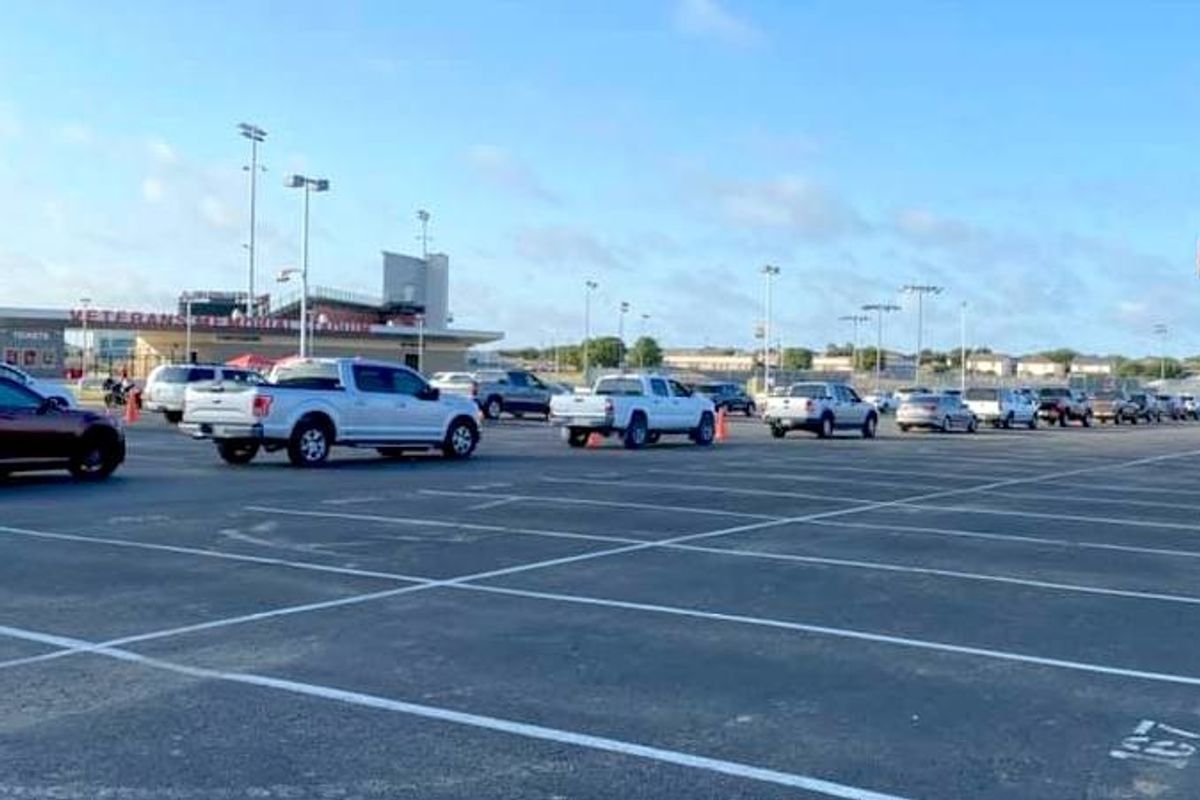 (Austin Latino Coalition, Del Valle Community Coalition)
Face coverings and hand sanitizers may not seem like the rare commodities they were back in the spring when many stores and online vendors had sold out of their stock. But for many Ausitnites, these resources remain out of reach.
"Now more than five months into the COVID-19 pandemic there is an assumption that everyone has access to [personal protective equipment], but the reality is that there are people in our community who have to make the tough choice of buying food versus buying a mask and hand sanitizer," said Paul Saldaña, coordinator of the Austin Latino Coalition.
The coalition co-hosted a PPE distribution event on Aug. 29 with the Del Valle Community Coalition. Volunteers distributed 15,00 disposable masks, 200 boxes of gloves, 5,000 reusable adult masks, 400 reusable children's masks and 500 bottles of hand sanitizers to 1,700 families. There was also voter registration and census stations set up.
"People were in line at Del Valle High School more than two hours before we began distribution," Saldaña said. "One elderly woman who was at the front of the line arrived at 5:30 a.m., with her oxygen tank. There are seniors, veterans, teachers, construction and grocery workers, among others, who are all in need."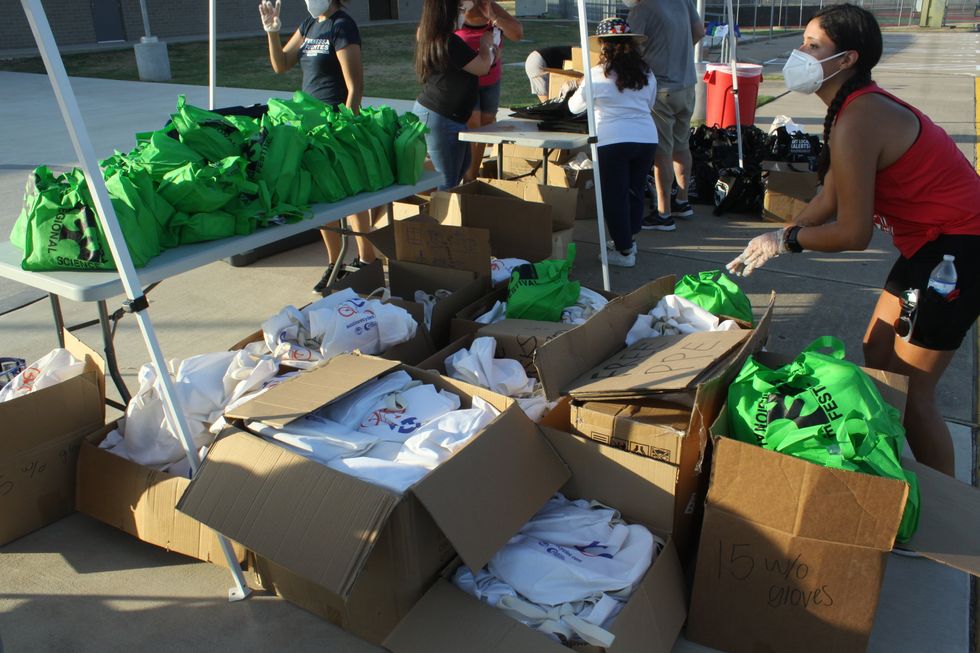 Volunteers distributed thousands of masks at the most recent distribution event. (Austin Latino Coalition, Del Valle Community Coalition)
The Austin Latin Coalition began in 2013 and is organized by 30 volunteers. Private sector partnerships—with H-E-B, Lowe's and Tito's Vodka, among others—help fund its initiatives.
At the beginning of the pandemic, the coalition saw that the needs of the local Latino community were being inadequately addressed by local governments.
"Information about the virus was not easily accessible, and not culturally relevant and difficult to find in Spanish," Saldaña said. "With over 20 subcultures in our Latino community, the Spanish translation doesn't always resonate [with everyone]."
It also became clear that Latino Austinites were disproportionately impacted by the pandemic. Despite making up around a third of the Travis County population, they account for more than half of confirmed COVID cases and hospitalizations and nearly half—49%—of deaths.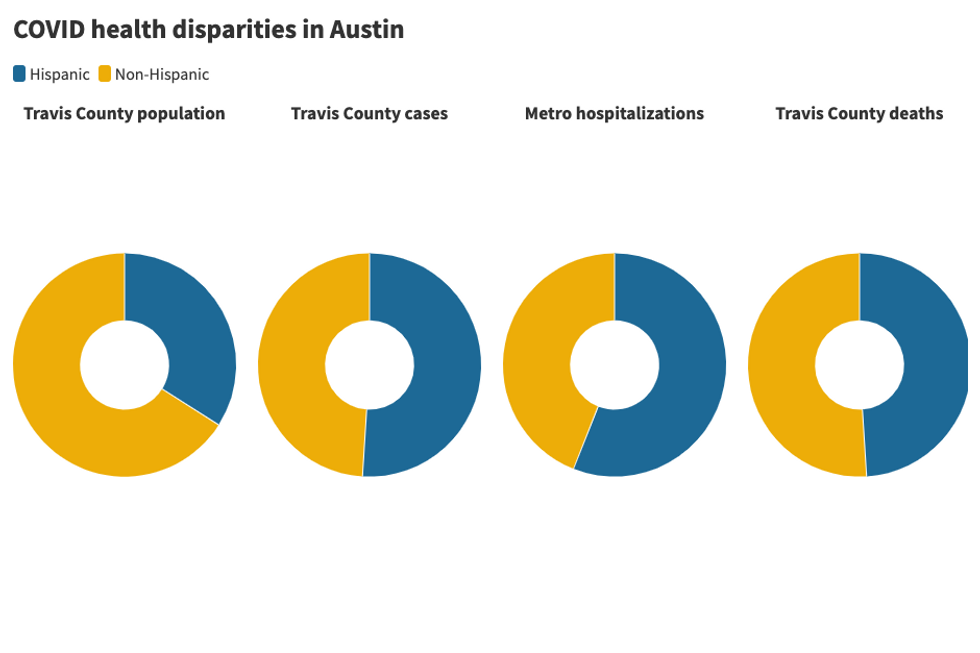 Latino residents are overrepresented when it comes to COVID cases, hospitalizations and outcomes. (Austin Public Health)
Although the number of new confirmed daily cases has been on the decline in recent weeks, transmission remains most concentrated on the city's east side. The highest number of confirmed cases is found in the 78744 ZIP code, where a majority of residents are Latino.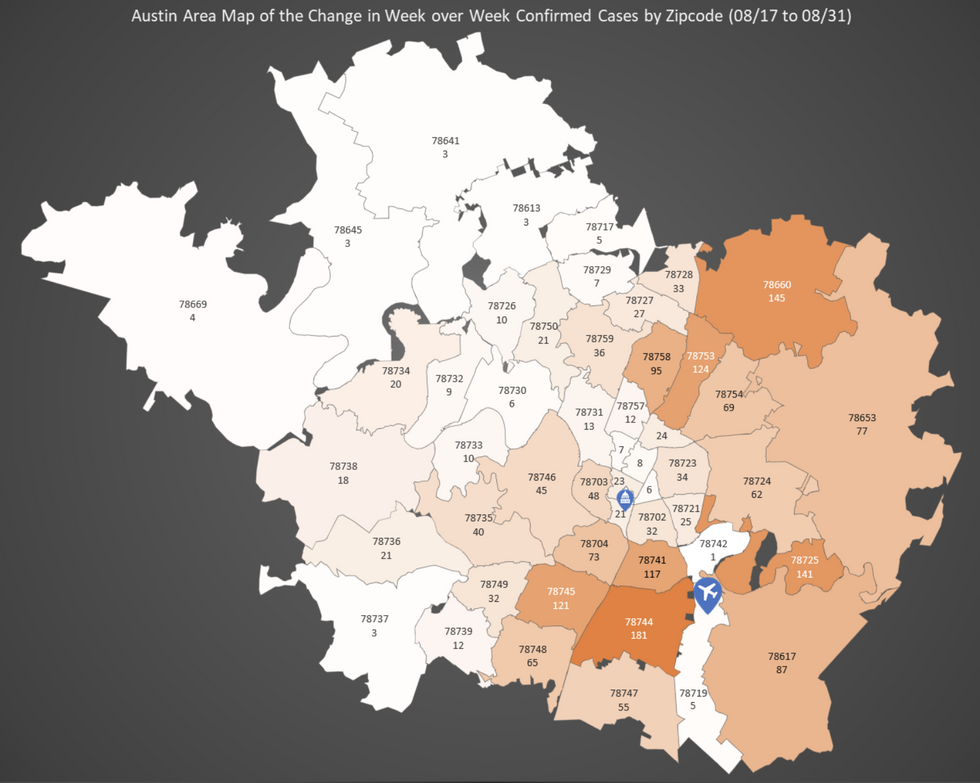 Austin's confirmed COVID cases are more concentrated on its east side, with the highest number of cases in the 78744 ZIP code, where a majority of residents are Latino. (Rational Anarchy/Reddit)
"The southeastern ZIP codes and portions of Austin [and] Travis County continue to be among the communities with the highest numbers of COVID-19 cases and positivity rates," Del Valle Community Coalition President Susanna Woody said.
Saldaña has criticized elements of the city's response to the pandemic, arguing that they could do more to address disparate outcomes.
The city's health department provided and packaged PPE and other informational materials for the distribution event last weekend. On Wednesday it also announced it would co-host, along with CommUnity Care and Central Health, nine PPE distribution events this month in areas with high COVID positivity rates, such as Pflugerville and Dove Springs.
"It is important to [Austin Public Health] to ensure that the most vulnerable in our community are protected from COVID-19," a spokesperson said. "Additionally, we are continually re-evaluating our epidemiological data and burden of disease on our community to ensure that we are meeting the community's needs during this time."
However long the pandemic lasts, ALC and its partners plan to continue offering barrier-free testing, PPE and education resources to the Latino community.
"Many won't come to the local government coordinated testing sites out of fear for a variety of reasons, so we host these events where those in our community feel safe," Saldaña said. "While our focus is the Latino community, all are welcome to come."
The U.S. Hispanic Contractors Association of Austin, a member of the ALC, is hosting a free COVID testing event this Saturday at the Sacred Heart Catholic Church in Northeast Austin, near the Little Walnut Creek Greenbelt, from 8 a.m. to 4 p.m.
"This is about being a good citizen to our neighbors and fellow Austinites," Saldaña said.
Want to read more stories like this one? Start every day with a quick look at what's happening in Austin. Sign up for Austonia.com's free daily morning email.