Katie Balevic
Katie Balevic
Katie Balevic is an investigative journalist with a degree from the University of Texas at Austin.
Get connected with our daily update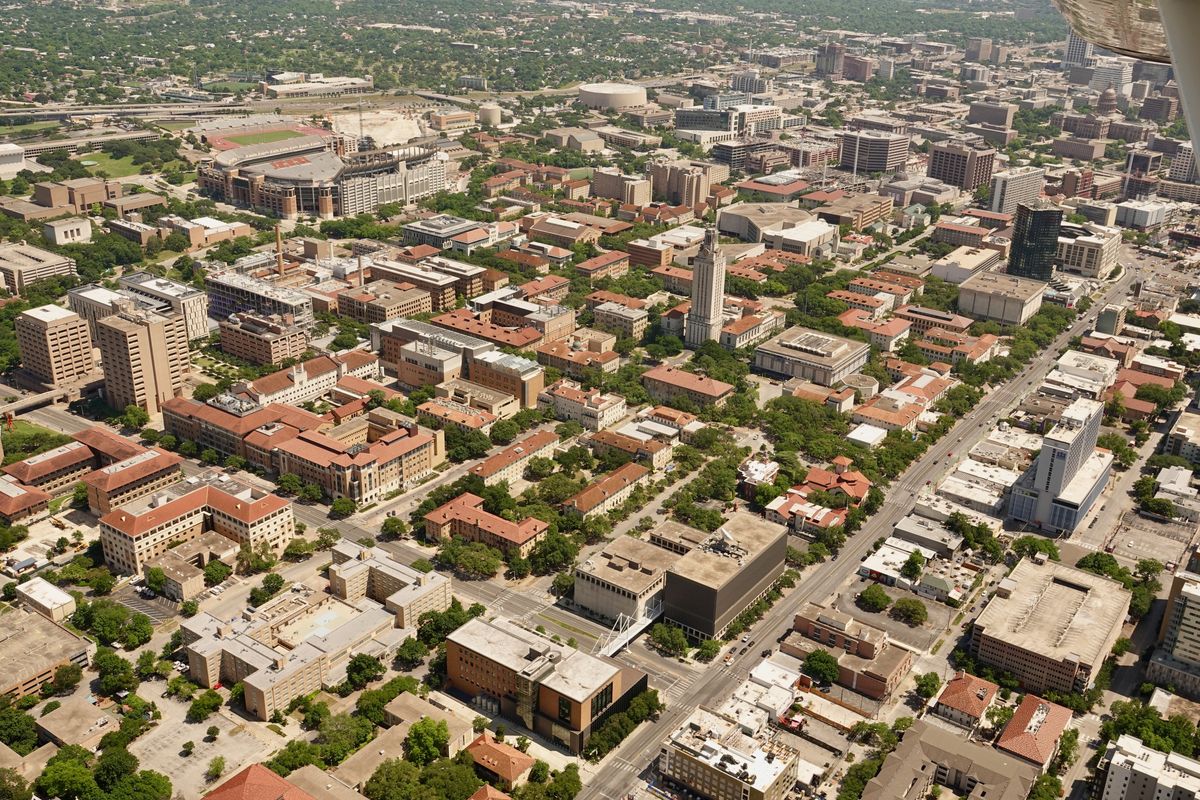 (Austonia staff)
Two students living in on-campus residence halls have tested positive for COVID-19, a University of Texas at Austin spokesperson confirmed Monday.
"Following our protocols, the individuals have been isolating and public health professionals have reached out to notify primary close contacts … advising them to get tested and self-quarantine," UT Austin spokesperson J.B. Bird told Austonia.
Bird said other contacts of the infected students were advised to self-monitor for any symptoms, practice social distancing and sign up for testing through UT's Proactive Community Testing program reserved for asymptomatic testing.
The students live in Jester and San Jacinto residence halls and have been isolated, according to a report by student newspaper The Daily Texan.
Residents of the Scottish Rite Dormitory, an off-campus house for women, received notification on Sunday that one of their peer residents had tested positive for COVID-19.
Prior to classes beginning on August 26, UT's own researchers estimated up to 183 students would arrive on campus during the first week of the semester already infected with the disease.
Since classes began last Wednesday, five people in the campus community have tested positive, according to the university's COVID-19 dashboard. (The dashboard does not yet include cases reported over the weekend.)
The university previously announced it has the capacity to test up to 5,000 asymptomatic people a week. During the week of Aug. 23, it tested 678 people, of whom one person received a positive result.
A number of colleges and universities across the country—including the University of North Carolina at Chapel Hill and the University of Notre Dame—have recently shifted to online instruction after outbreaks occurred on their campuses.
In an Aug. 21 email sent to the campus community, UT Austin Interim President Jay Hartzell said the university will consider a number of metrics in deciding whether to move more classes online or close buildings on campus in the coming weeks.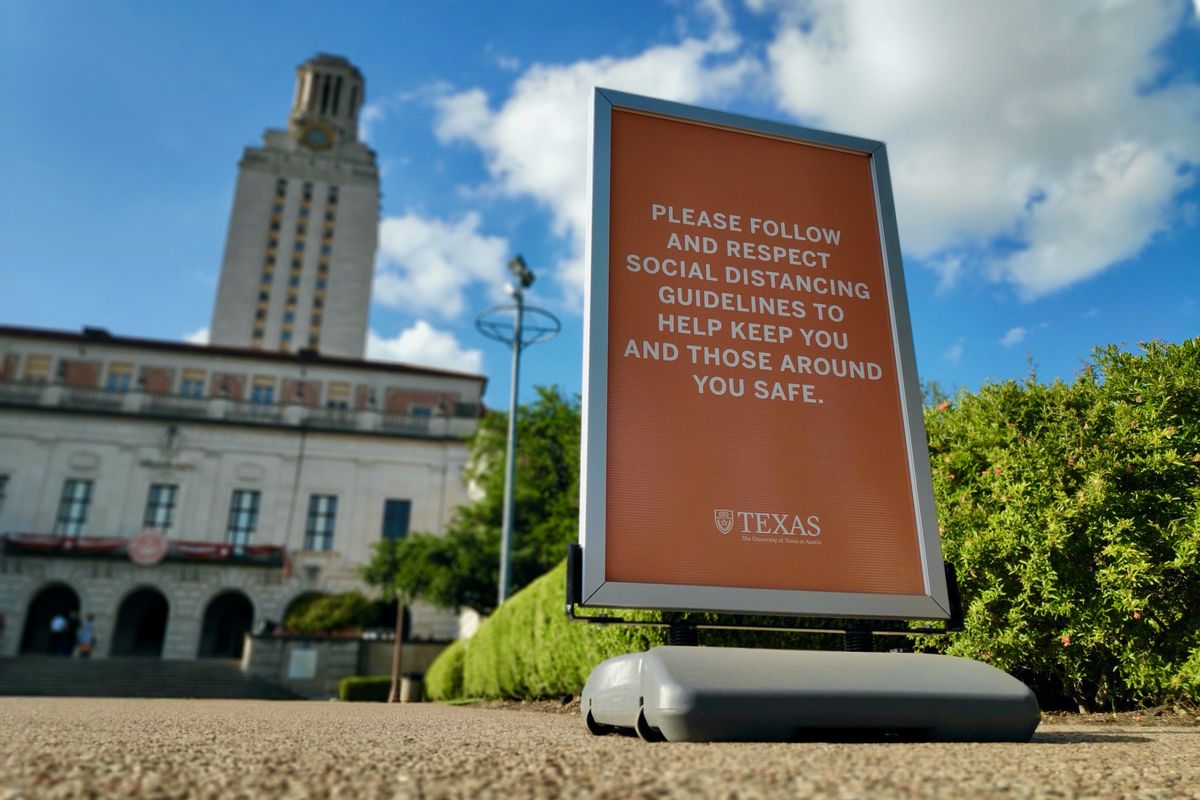 (Travel with me/Shutterstock)
With University of Texas at Austin classes beginning Wednesday, students' concerns for their safety were exacerbated when a photo and video circulated showing members of UT Greek life gathering off campus without masks or following social distancing guidelines.
In response, university spokesperson J.B. Bird said all UT students are expected to "recognize their deep responsibility" in protecting the campus and surrounding community by wearing masks and social distancing.

"The students who were in the photo on social media put themselves and others at risk and should get tested through the university's Proactive Community Testing program," Bird said. "We are reaching out to the advisers and national offices of the groups whose members were at the gathering to reinforce our expectations and will continue to look to the City of Austin to enforce its orders on public gatherings."
Many students were immediately outraged, expressing their frustration via social media.
Some have pointed out that the students aren't entirely to blame since the university has continued to push ahead with in-person class plans, even as their own models suggest between 82 and 183 students will arrive on campus with COVID-19.

On Monday, UT Austin's Interim President Jay Hartzell said there will "almost certainly" be COVID-19 clusters on campus as they proceed with reopening.

The university has maintained that concerned students should trust their peers to make good choices and avoid large gatherings.

UT's Panhellenic Council announced earlier this summer that fall recruitment would be "totally virtual," stating on its website that Bid Day—when potential new members find out which sorority they've been invited to join—"will not involve large, in-person gatherings as it has in the past."
The Panhellenic Council did not respond to requests for comment on Tuesday pertaining to the social media posts.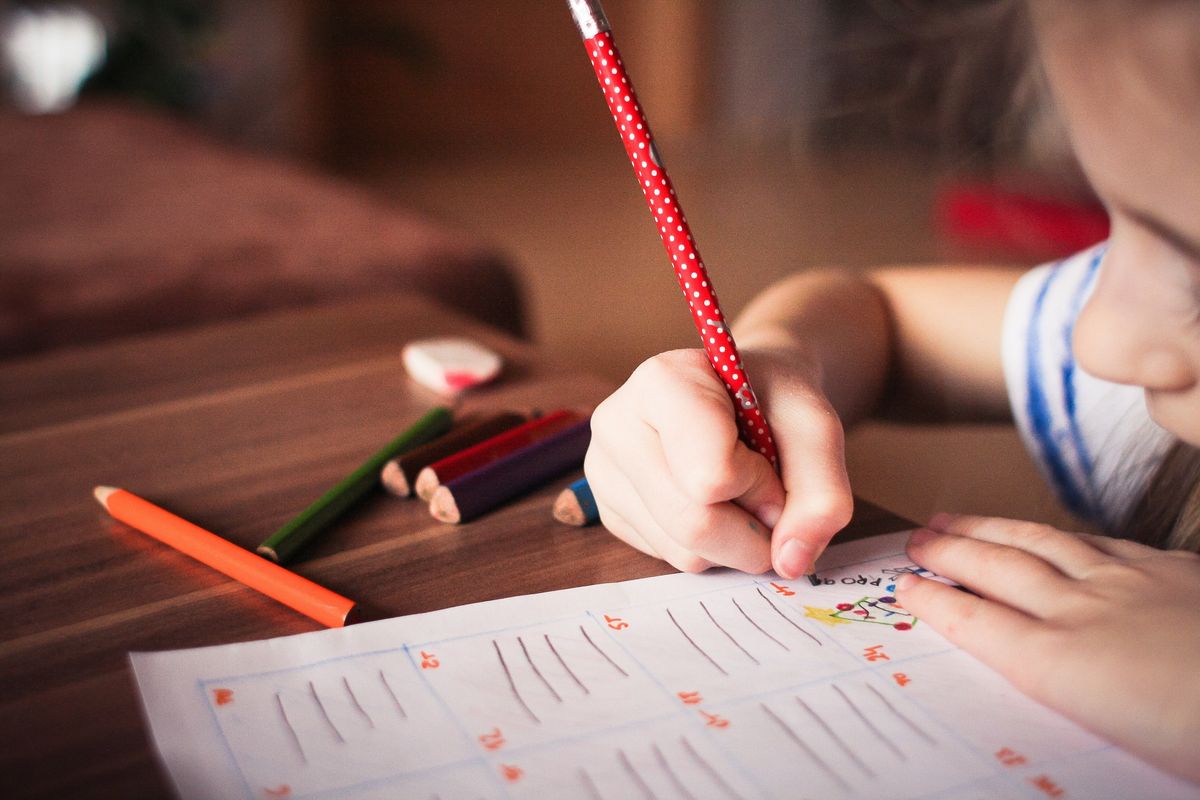 (Pexels)
In the hills of West Austin, bordered by the Colorado River and Barton Creek, Eanes ISD schools ease back into the school year with a stockpile of student laptops and tablets and a bevy of teachers at ease with virtual learning tools.
Across town, on the more economically diverse East side, Del Valle ISD has less experience with online learning, having to start from scratch: First make sure all students have WiFi and get them laptops, then teach the teachers how to run virtual classrooms.
As the school year gets underway in the Austin area, local schools all face the same challenge: Educating kids during a pandemic. How they address them depends on their resources and the priorities of the families in the district. Aside from some guiding principles, the state has largely allowed each district to work within the needs of their communities.
A look at two Austin districts that are economically and demographically different from each other provides a glimpse into what some of those differences are, and how schools are approaching a struggle they all share.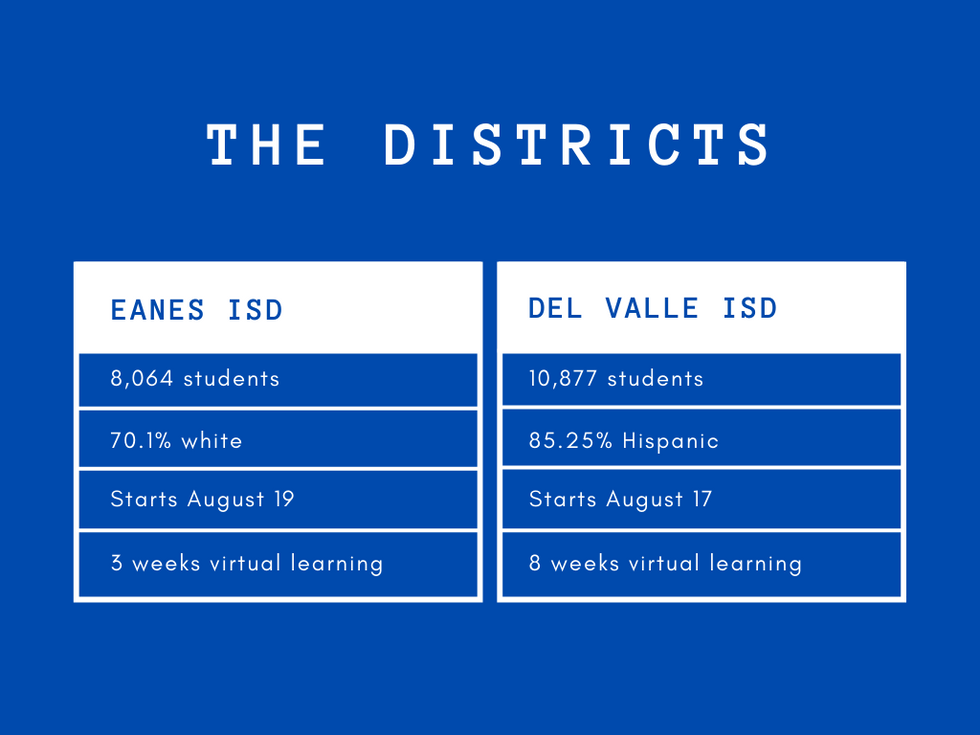 (According to 2018-2019 data)
On Wednesday, Eanes ISD welcomed its 8,000 students back for online learning. Eanes Superintendent Tom Leonard said after three weeks the district will transition to in-person instruction for students with the most needs, up to 25% capacity.

"We're going to have to be agile and flexible and have to adapt to different governing agencies, whether it be TEA, the governor, the county or the city," Leonard said. "If conditions and stages get better, we'll bring in more kids. If conditions and stages get worse, we've got a plan to go back the other way."
In a district survey taken earlier this month, 61% of Eanes parents said they want their children to return to in-person learning as soon as the option is available to them. The other 39% of Eanes parents opted for continued virtual learning, although some parents are considering forming learning pods of students on their own. However, that practice can be expensive, and usually considered a solution only for more well-off families, with some exceptions.
In the event that in-person classes are shut down, the students will be able to transition fairly easily because, as Leonard said, his district is "blessed" to have had virtual learning for a long time and students supplied with laptops and tablets for a decade.
"Our kids all have devices," Leonard said. "Our teachers have always been using different software and different online materials, so it is not as big of a leap for us to function in a remote setting as it has been for some other school districts."
That would include Del Valle ISD, which spent the summer scrambling to get technology to students, training its teachers and prioritizing school-based resources for students in need, said Ana Rush, Del Valle ISD's executive director of academics and accountability.
"We want to make sure that the lessons themselves are rigorous and engaging and that we're closing the gaps … that the students may have," Rush said. "We want to make sure they're still progressing academically."
The district is staying online for the first eight weeks of school, which started last Monday. Some 15% of the district's nearly 11,000 families did not have reliable internet access at home. To remedy that, the district surveyed several companies to provide hotspots for everyone.
"Right now we're ... at 99.9% connectivity through WiFi and through the hotspots, which we did not have in the spring," Rush said. "And that's something we were able to solve to make sure that we started the school year with all the students being able to connect."
A sizeable percentage of their students also use lunch programs and counseling services, so district officials spent much of their prep time arranging for students to have access to those resources, Rush said.
On the in-person vs. online choice, Del Valle parents are split right down the middle. Half want to send their kids back to school at the earliest opportunity, many because they are essential workers, Rush said.
But the other half fear exposure to a family member if their child goes to school. Eighty-five percent of Del Valle ISD's students are Hispanic, a demographic that has been hit especially hard by COVID-19 in Texas and nationwide.
Naila Martinez, 36, said her kids received their devices from the school, which helped her in her decision to keep her 5th grader and high schooler, both asthmatic, at home for online school.
"With flu season, their asthma flares up already, especially the fifth grader, and just imagine in the middle of this pandemic with these symptoms of COVID and the regular flu overlapping—it's just going to be mayhem if any one of them goes to school," Martinez said. "I'm always going to have that fear hanging over me, like what if they get COVID?"