Kristin Finan
Kristin Finan is an award-winning Austin-based journalist who loves shining a light on the people and places that make her hometown special. In addition to being a former staff writer at the Austin American-Statesman and Houston Chronicle and the author of four travel books, she is also a foster and adoptive parent and the co-founder of the nonprofit Carrying Hope. Email: kristinfinan@gmail.com. Instagram: @kristinfinan
Get connected with our daily update
It's a recent Wednesday night and a crowd is queuing at the Museum of Ice Cream, an Instagram-friendly hotspot comprised of installations including a plastic-sprinkled-filled swimming pool and rideable pink animal crackers that recently took up residence at the Domain shopping and entertainment complex.
A little over a mile away, fans pack into Q2 Stadium, Austin's first professional sports stadium and home to the Austin FC professional soccer club, which is midway through its first season.
As the world tiptoes back to normalcy despite a continuing pandemic, North Austin continues to court new businesses that are making a major impact on both the city's economy and the local landscape. But with all of this change and development, how do longtime residents and business owners feel about North Austin's sustained growth?
After all, North Austin has changed significantly over the years. After some started calling the city "Silicon Hills" in the 1980s due to the influx of tech companies to the area, many of those companies settled in North Austin, with some of them opting to office at the Domain—a retail, entertainment, office and residential complex that quickly became a second city-center after it opened in 2007. Even Apple, which already has a significant presence in town, plans to mark the 30th anniversary of its first Austin office with the debut of a $1 billion campus in Northwest Austin in 2022.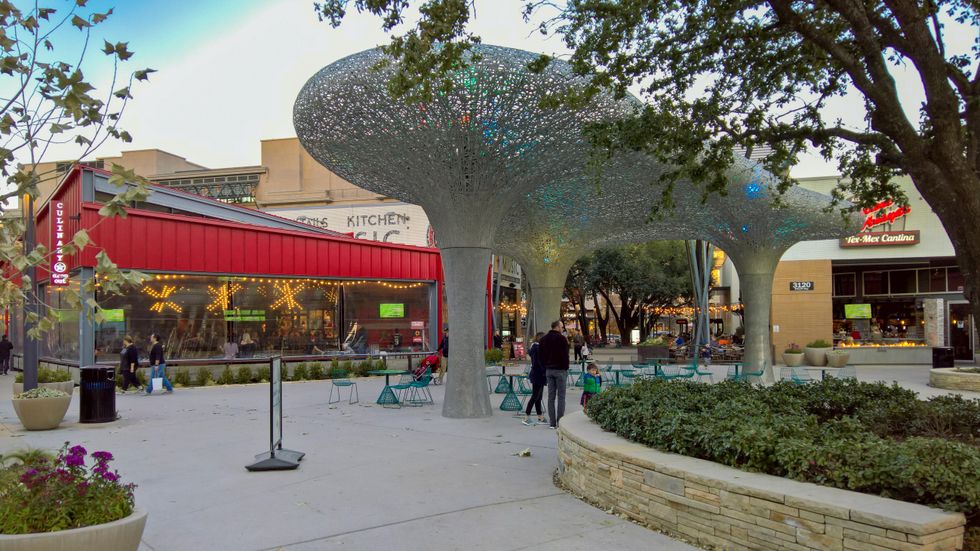 (Shutterstock)
Mike Lavigne has lived in North Austin for more than 20 years and has been a resident of the Crestview neighborhood since 2002.

"We have a 12-year-old daughter and I can't think of a better place on earth to raise a child," Lavigne said. "(The neighborhood) is mixed in terms of age and economic status. It still has diversity and, most importantly, it has families."
Lavigne said that as a whole he appreciates the role that places like the Domain serve in Austin.
"We need those multiple city centers. The Domain and Mueller are the few places that have been able to take some of the stress off single-family neighborhoods," he said. "I like that there's a place for apartments and retail and all of those things that don't need to be everywhere but do better when they're together. I think that's necessary and it's a smart way to grow."
That doesn't mean, however, that Lavigne isn't concerned about the impact that the influx of chain shops, restaurants and bars in the area are having on small business owners and the "old Austin" vibe in general. As a partner in Violet Crown Clubhouse, a neighborhood hangout for Crestview and Brentwood residents that features an arcade and an ice cream shop, and as an investor in the oddly wonderful holiday-themed dive bar LaLa's Little Nugget, Lavigne can attest firsthand that the pandemic has been "a kick in the pants" for local businesses.
"There's definitely a lot of places that were epicenters for communities that are just gone and they're not going to come back. It's up to us to create new places and keep things odd and unpredictable. That's on us to do as natives," he said. "(When it comes to progress) there's no turning back now. Whether it's good or bad remains to be seen."
Austin is currently ranked nationally as the second most overvalued market in the nation, and finding homes in the North Austin area can be next to impossible. Jen Sparks, broker and owner of Kifer Sparks Agency, said that currently there are only seven homes on the market and 38 homes with pending contracts in the Domain area between Mopac and I-35 and 183 and Walnut Creek.
"The consistent growth in the Domain area by top-tier employers continues to attract highly skilled tech talent, which is in turn driving competition in the real estate market. With a large number of restaurants and nightlife options and the new Q2 Stadium, the demand for single-family homes continues to break records," Sparks said. "Although the market historically slows in the fall, I anticipate the inventory in this area will continue to remain low, which will in turn cause prices to rise."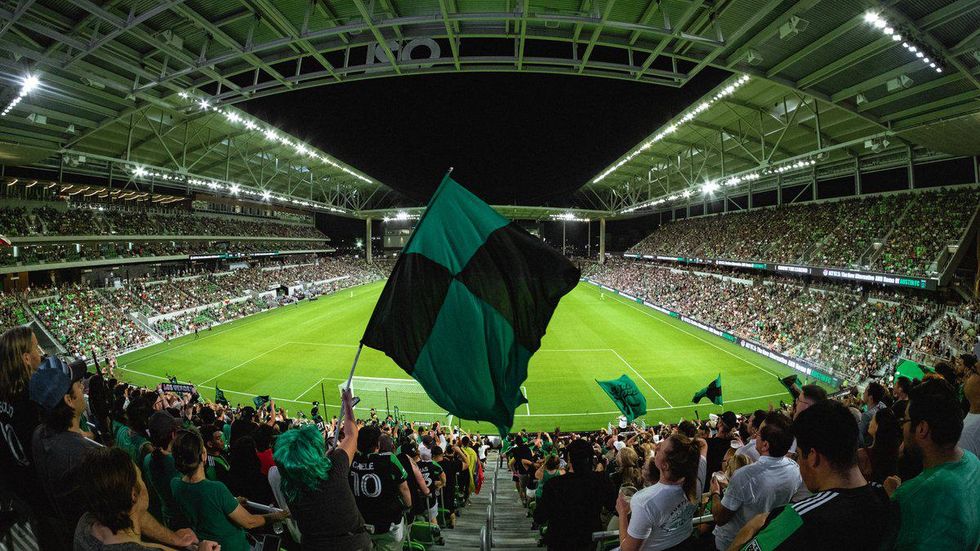 Jenni Carter has run her vehicle inspection business, Sticker Stop, on Burnet Road for the past 15 years. She said it was "pure luck" that she found the property, which is now located less than a mile from Q2 Stadium.
"For us, the growth has been amazing. The more the area grows, the more the business grows. We have been very fortunate," she said. "When we first opened, the majority of our customers were commuters, they worked in this area. Now it seems we have a very even mix of customers that reside around the Burnet Road corridor and work here."
While Lavigne said he enjoys visiting the Domain and looks forward to attending some Austin FC games, he hopes Austinites will continue to buy local in an effort to help keep Austin, well, weird.
"I would say that if there is a cool place in your neighborhood and it's a small local business, make sure you're supporting them double," Lavigne said. "The Domain doesn't need your help, but we do. We don't get the same kind of subsidies that the big guys get. If you care and you want to keep a place, you've got to spend your money there."
Read more on the growing city: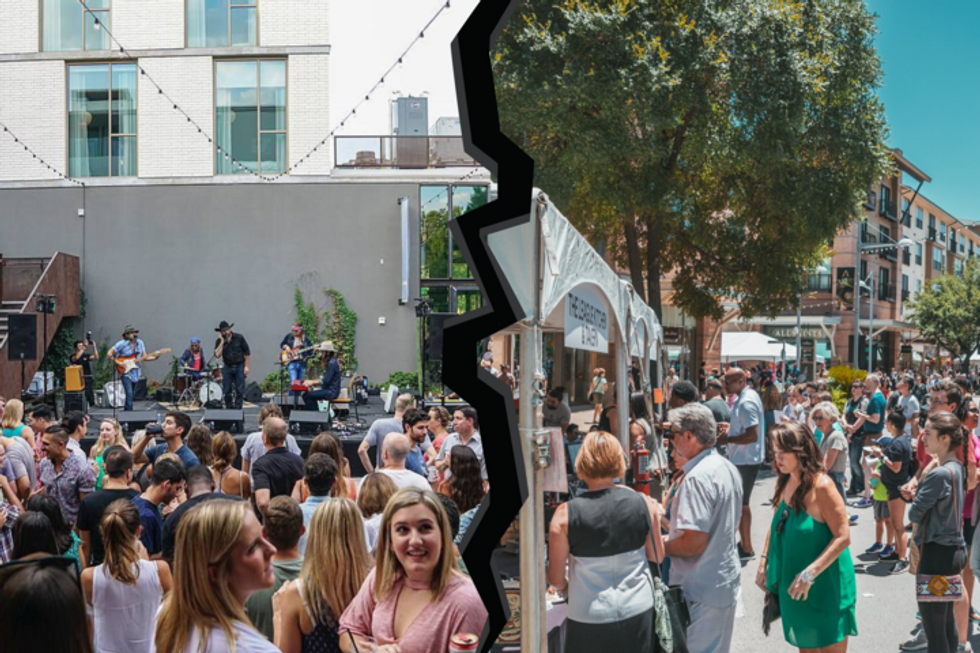 North vs. South: The 'Yuppies' and 'Bubbas' of Austin are divided by more than Lady Bird Lake
With most Central Texas schools resuming school this week amid the latest surge in COVID-19 cases, many parents have found themselves with questions about how to best protect their children.
Austonia checked in with Dr. Stanley Spinner, vice president and chief medical officer at Texas Children's Pediatrics & Texas Children's Urgent Care, to get some advice for families as the school year begins.
What do we currently know about how the Delta variant is impacting children?
"It's certainly impacting them in increasing numbers of infection," Spinner said.
There have been more pediatric COVID cases this year than all of last year so far. Austin Public Health reports 6,468 cases this year, with the most in the 10-18 age range.
Spinner said approximately 10% of total positive pediatric cases result in hospitalizations at Texas Children's Hospital. Texas Children's Hospital has between 35-50 children who have been admitted due to COVID-19 on any given day and one-third of those cases are admitted to the ICU, he said. "We're definitely seeing more kids and sicker kids than in the previous parts of the pandemic," he said.
What should parents do to try to safeguard their children?
Spinner said protecting children requires a multipronged approach. The first thing parents should do, he said, is getting themselves and all children 12 and over in their family vaccinated. "With Delta, it's highly contagious. It's very likely they can get infected and infect their children. That's something they have total control over," he said.
He also said wearing masks is critical. "Mask wearing has become such a political issue, but it's clear that wearing a mask protects others from you but also helps protect you from others," he said. He added that families should be careful who they're spending time with. "If you know certain families are vaccinated, having your kids play with those kids and those families is going to be less of a risk." He also recommended following all CDC guidelines such as avoiding large gatherings or visiting high-traffic public areas.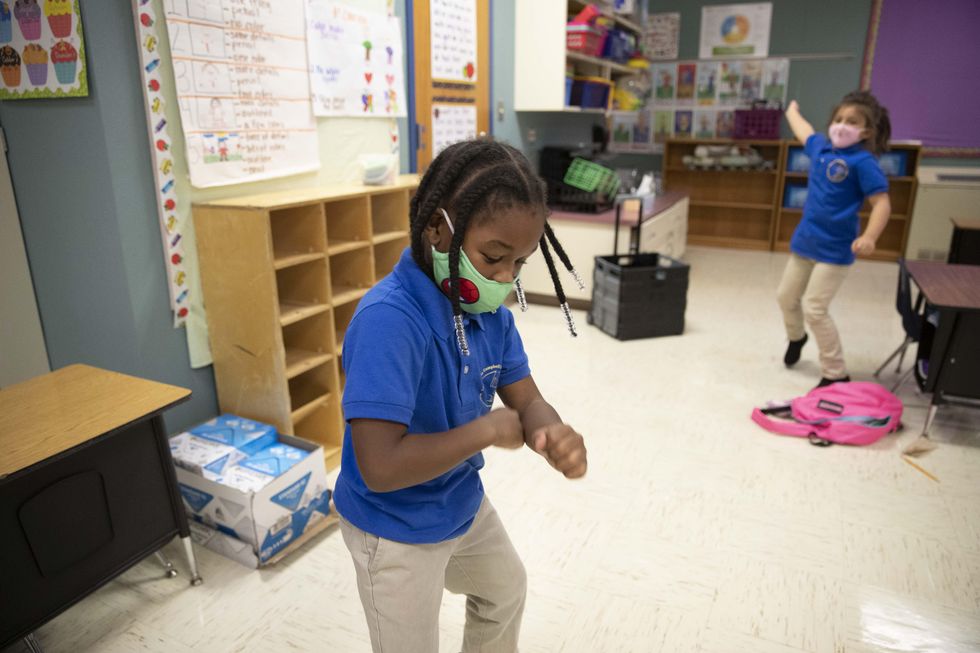 Local school districts are requiring masks this year, despite Gov. Greg Abbott's order against mask mandates. (Bob Daemmrich)
What are your thoughts on sending children back to school?

"It depends on someone's level of risk," he said. "We really, really want kids back in school this year, and we want to try to make it as safe as possible for the kids. We don't want to lock them up at home and keep them from going places, because socializing is so important. I would say that as a general rule of thumb kids are better off being at school. We learned last year that there were so many problems that kids experience, not just with learning but psychosocial. For the vast majority, yes, kids should be in school. The problem is, if you're the parent of a child, you can teach your child to keep his or her mask on, maintain distance from others and keep hands washed, but you can't control what other children do." He added, too, that if a child is immunocompromised or has immunocompromised family members, that changes the equation.
How does the fall look?
In addition to preparing for an increase of COVID cases, Spinner said that hospitals are also expecting to see an increase of RSV (respiratory syncytial virus). "If a school district does not mandate masking, for these kids under 12 that can't be vaccinated, I think we're in for a pretty rough next few weeks," he said.
Local school districts like Austin ISD and Eanes ISD are currently implementing masking. However, court battles in other Texas cities could stop the practice if ruled in favor of the governor's ban against mask mandates.
Spinner added that he is hopeful a vaccine will be released for elementary-age students in the next three months or so.
Pediatric research trials are underway for both the Pfizer and Moderna shot with the first doses for six-year-olds and older expected to be available by the end of the year or possibly by the beginning of this year since the FDA will need to approve it, drug reps told NPR.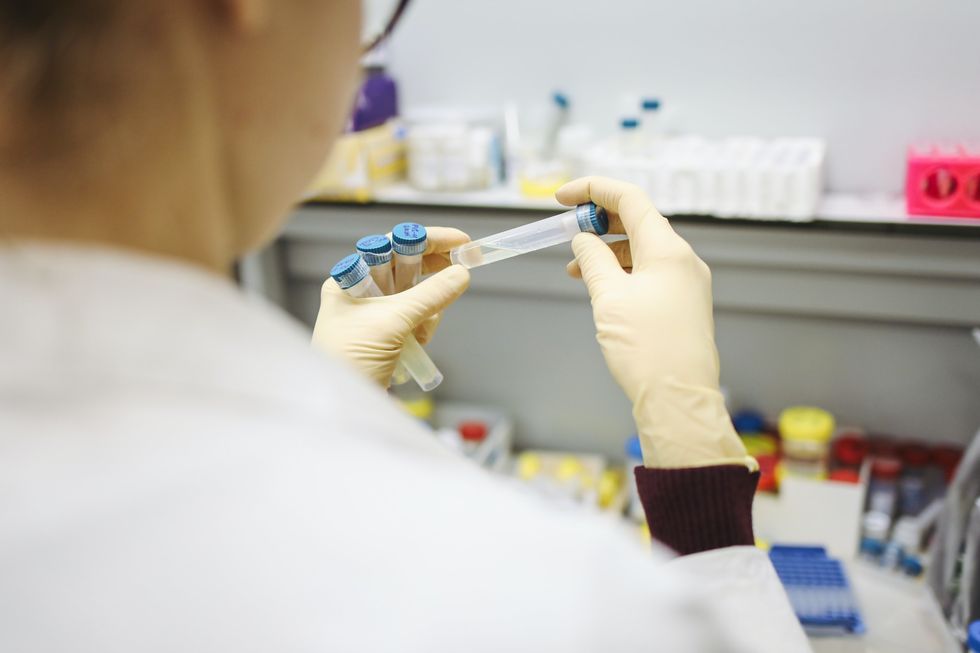 Research trials are being conducted for pediatric COVID vaccines. (Pexels)
What final advice do you have for parents, given Austin's COVID surge?
"I think people just need to know this is still a real threat. They need to take it seriously. Kids are not immune to this disease. They can get it, they can get really sick, and they can transmit it. This is not the time to ignore it. Everyone needs to hunker down and get serious about it before we see it get even worse."
The most up-to-date information from the CDC can be found at www.cdc.gov.

It's no secret that Austin's growing. But that growth, from the tech boom to the real estate explosion, can sometimes overshadow the qualities that made Austin a low-key darling and tourist favorite in the first place.
Thankfully, all around our city are smaller towns that happily embrace the old-Austin life. From live music and quirky characters to swimming holes and delicious Tex-Mex and barbecue joints, here are five places where you can enjoy the things you love about Austin while escaping the crowds.
Bastrop
Located 30 miles southeast of Austin with a population of about 9,000, Bastrop in recent years has become a microcosm of many of the things people have always loved about Austin. Take, for example, the film scene–several film studios are already in operation there, and another 546-acre film studio and movie-making facility recently received a green light from the city.
Bastrop also counts some celebrities among its residents, including actor Adrian Grenier, who relocated from Hollywood during the pandemic. In terms of food, the offerings are wide and varied, including a new restaurant by Austin Chef Sonya Cote, who opened Store House Market + Eatery there late last year. Expect a quaint yet bustling downtown brimming with boutiques, galleries, restaurants and bars as well as plentiful outdoor activities thanks to the city's location on the Colorado River.
"I am always honored when a new resident tells me they decided to move here after they had a great first visit," said Bastrop Mayor Connie Schroeder. "I promise, you will not be disappointed if you take a break from driving and check out Bastrop.

Dripping Springs
Sure, Austin has Barton Springs and the Greenbelt, but Dripping Springs has Hamilton Pool Preserve and Reimers Ranch, two destinations known for offering activities such as swimming, mountain biking, hiking and rock climbing in a bucolic, Hill Country setting.
Located about 25 miles west of Austin with a population of about 7,500, Dripping Springs is also a hub for unique craft beverages and is home to more than 35 wineries, breweries and distilleries including Treaty Oak Distilling, Desert Door, Ghost Note Brewing and Driftwood Estate Winery. It's also become a destination for brides looking for an Austin alternative–it has even been designated the Wedding Capital of Texas by the Texas Legislature.
"It's a town that is full of artisans, innovators and really rad people," said Hope Boatright of Destination Dripping Springs, "making some really cool and tasty things."

Gruene
We may love our live music in Austin, but Gruene can rival our concert calendar thanks to the star-studded line-up that regularly plays at Gruene Hall, from Gary P. Nunn to Bob Schneider. But there's more to Gruene (pronounced green) than just its famous dancehall, which was built in 1878 and also happens to be the oldest in Texas.
Like Austin, Gruene is set on water–the Guadalupe and Comal rivers, to be exact–making it an excellent place to swim, wade or tube (spelled toob, if you're a local) in the summer. It's also got artisan ice cream (Rhea's), antiquing (Gruene Antique Company) and requisite cowboy hats (Gruene Hat Company). Gruene's population is said to technically be 20, but it's located within New Braunfels, where the countywide population is more like 78,000.
"It's impossible to have a bad time in Gruene, whether you're a visitor looking for your first Stetson to wear while two-steppin' in Gruene Hall or a local looking for a good meal at the Gristmill," said Gruene Hat Company's Cody Courtney. "It's a small-town throwback in time that caters to everyone."

Buda
Located in Hays County with a population of 15,000, Buda (pronounced byoo-da) is a small town that, like Austin, has big love for the arts. From concerts and theater performances at the Buda Amphitheater and City Park to the Inspired Minds Art Center, a haven and gallery space for artists of various backgrounds, there's something for the artist in everyone.
The newish Buck's Backyard features a full line-up of big-name musical acts, and Louie's Craft BBQ, which was formerly based in Austin, now regularly ranks among the best barbecue joints in the state. A Main Street Sip and Stroll (aka drink wine and shop) and weekly farmers market only add to Buda's laidback vibe.
"Buda is a lovely small town that is unique–it's not quite rural and not quite suburban either," said Buda City Manager Kenneth Williams. "We have an ideal location contiguous to Austin and close to San Marcos and San Antonio and at the foot of the Hill Country. We enjoy our quaintness and small-town charm."

Taylor
With a population of around 17,000, the Williamson County town of Taylor packs a lot of Austin-style fun into a small space. Whether you're strolling the nine-block downtown that's chock full of boutiques and antiques shops or hitting up one of several local barbecue joints–including the famous Louie Mueller Barbecue–it's easy to discover something new and unexpected.
Since 2009, more than 20 companies have expanded to or relocated to Taylor, according to the Taylor Chamber of Commerce. The town also made headlines last month for hosting its first official Pride event supporting the LGBTQ community.
"Taylor is known for barbecue, but it's home to so much more," said writer Addie Broyles, who attended Taylor Pride and wrote about it on her website. She recommends a visit to Old Taylor High, a mixed-use development inside the former high school campus that features a bar, vintage store and arcade games, and called the Pride event "the ultimate celebration of what makes Taylor feel so special."

She had the white dress, the handsome groom and the perfect ring. But twice in 2020, Janay Green's intended wedding day came and went with no nuptials.
After two postponements due to the coronavirus pandemic, the third time was finally the charm for Green and her husband, Renondo Wilson, who tied the knot May 1 in front of 15 friends and family members on the outdoor patio of a Cedar Park home they rented through Airbnb.
"My wedding day was perfect, even with the rain," said Green, 26. "I had a great support system of friends to help decorate and cook our food so the stress level was taken off our shoulders. We were able to get ready and not have to worry about small details."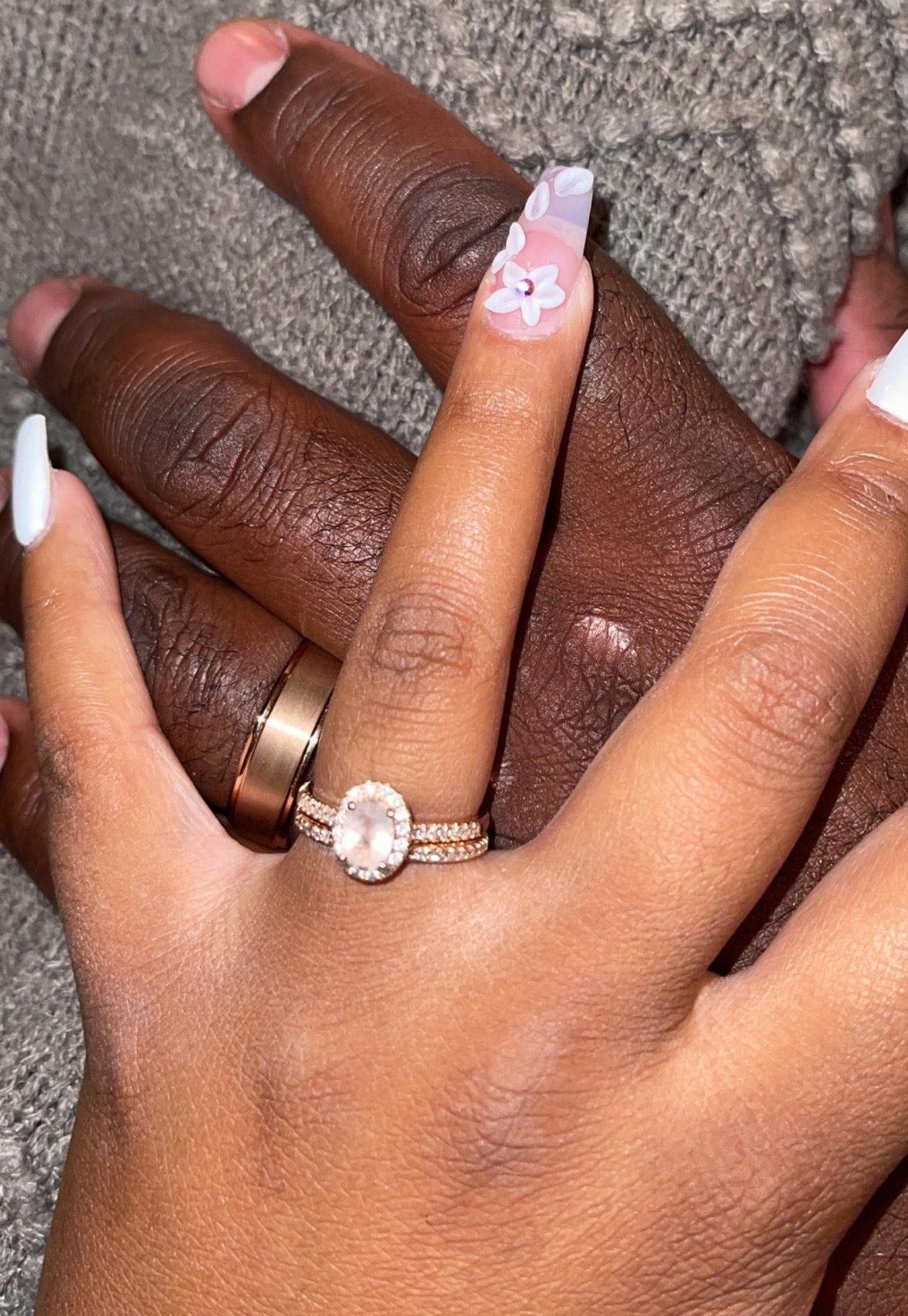 Janay Green married Renondo Wilson on May 1. (Janay Green)
Following a year that put the world–and the wedding industry–on hold, Austin wedding planners say they're now bracing for a "crazy busy" summer season.
"It was almost like people were all waiting for this open door, and when that open door came, they all just rushed in," said Lorelei Starbuck, owner of Elope in Austin. "It's been really busy and really amazing."
Starbuck, who specializes in small, affordable elopements and microweddings, expanded her offerings in 2020 to include options such as drive-up weddings to help her company stay afloat. Following Gov. Greg Abbott's announcement of plans to reopen Texas and the increased availability of COVID-19 vaccinations, however, Starbuck said she's seen a major uptick in business.
Elope in Austin, which hosts many of its events at Star Hill Ranch in Bee Cave, held 30 weddings in April and has 36 on the books for May so far, Starbuck said. These numbers are on par with her spring bookings in 2019.
"Yesterday I got 14 reservation requests in one day," Starbuck said. "This is going to be a good year I'm very pleased to say. We're back on track."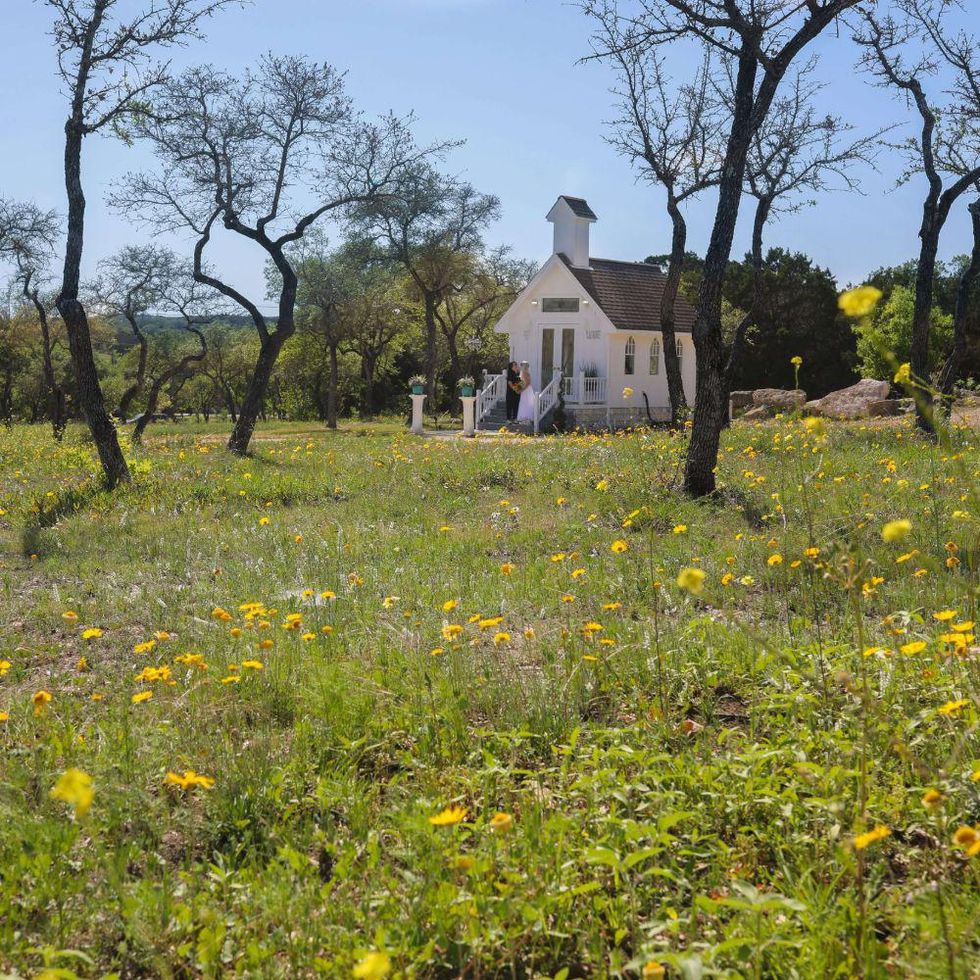 Elope in Austin, wedding planning service, hosts many of its events at Star Hill Ranch in Bee Cave. (Lance Smith/Elope in Austin)
Starbuck said she's also hearing from people who want to commemorate other special life events, such as anniversaries and vow renewals. That's the case for Round Rock resident Rey Sarmiento, who plans to celebrate his 25th anniversary with his wife, Angela Sarmiento, in a ceremony at Star Hill Ranch on July 16.
"We've gone through a lot of changes with what happened last year with the coronavirus. I didn't even know if we were going to be able to do anything," he said. "It's just going to be my wife and I—it's for us. We didn't want to spend a whole lot of money, but I did want to make it something that was special."
Wedding officiant Spike Gillespie, who performed Green's wedding, said she has also seen an increase in requests recently. Gillespie, who officiates off-site weddings as well as weddings at her picturesque Tiny T Ranch in Garfield, added that the pandemic and the stress of large-scale events including guests who did not want to wear masks has prompted her to refocus her priorities. Moving forward, she said, she plans to largely dedicate to smaller, more intimate affairs.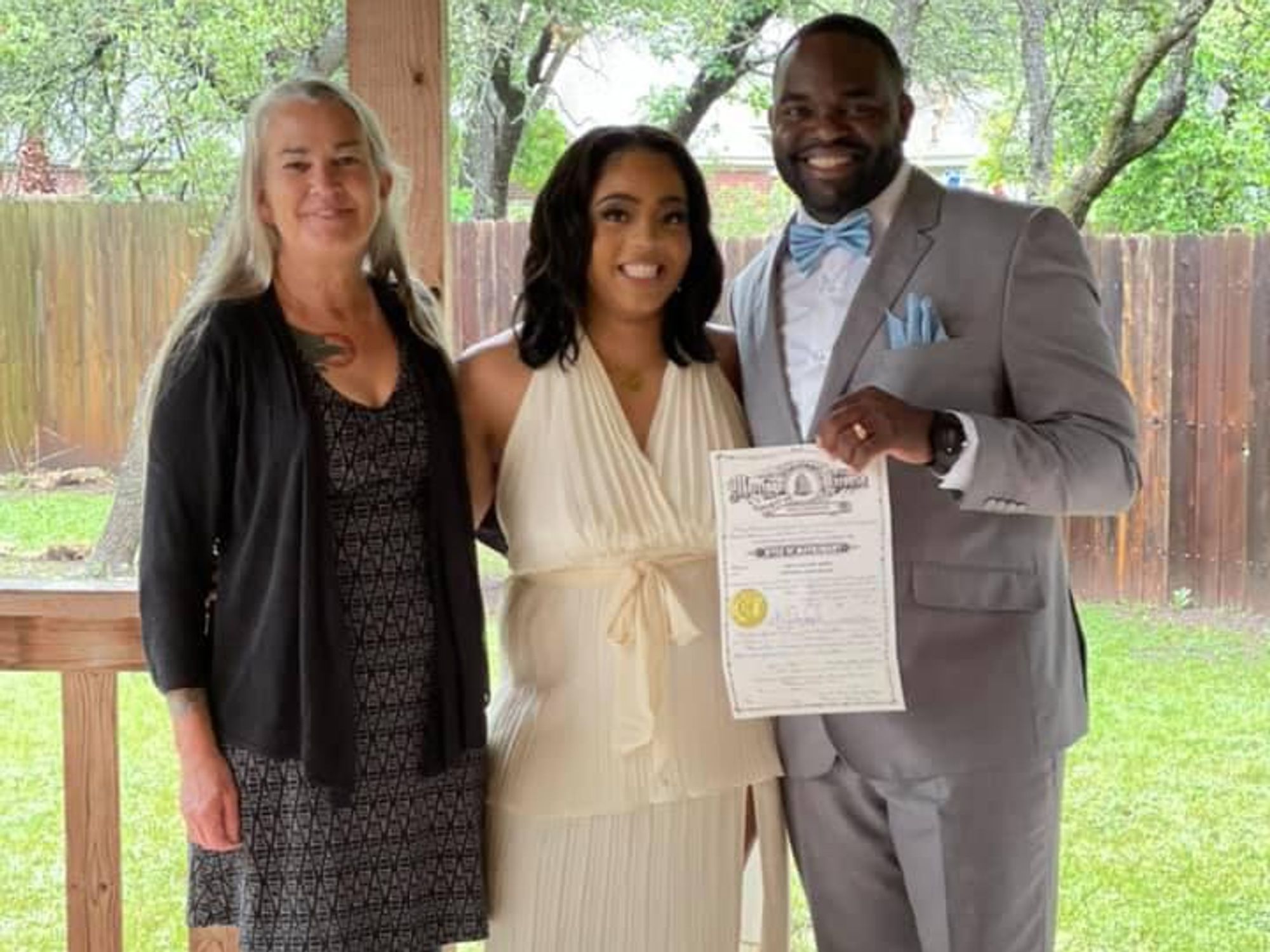 Spike Gillespie officiated the marriage of Austinites Janay Green and Renondo Wilson. (Spike Gillespie)
"The ranch will be converted to primarily a retreat center to promote slowing down, and this summer I will be opening a second property in Smithville, much smaller, but with similar 'Be Still and Feel Better' potential," she said.

For Green, who is a pharmacy technician and lives in Killeen with Wilson, an Army mechanic, the wedding was a silver lining to a difficult year.
"We wanted to get married and we were tired of waiting," she said. "We knew (the whole) family wouldn't be able to make it so there was no point to keep putting it off. We had hesitations and I had several mini breakdowns the week of the wedding, but everything turned out perfect."
Now that they've walked down the aisle, Green said, they can turn their attention to the future.
"What I am most looking forward to with my spouse is just traveling together to create new memories," she said, adding "and expanding our family."