Austonia AM
100% Austin news, info, and entertainment, straight to your inbox at 6 a.m. every morning.
In five minutes, you're fully informed and ready to start another great day in our city.
Get connected with our daily update
She had the white dress, the handsome groom and the perfect ring. But twice in 2020, Janay Green's intended wedding day came and went with no nuptials.
After two postponements due to the coronavirus pandemic, the third time was finally the charm for Green and her husband, Renondo Wilson, who tied the knot May 1 in front of 15 friends and family members on the outdoor patio of a Cedar Park home they rented through Airbnb.
"My wedding day was perfect, even with the rain," said Green, 26. "I had a great support system of friends to help decorate and cook our food so the stress level was taken off our shoulders. We were able to get ready and not have to worry about small details."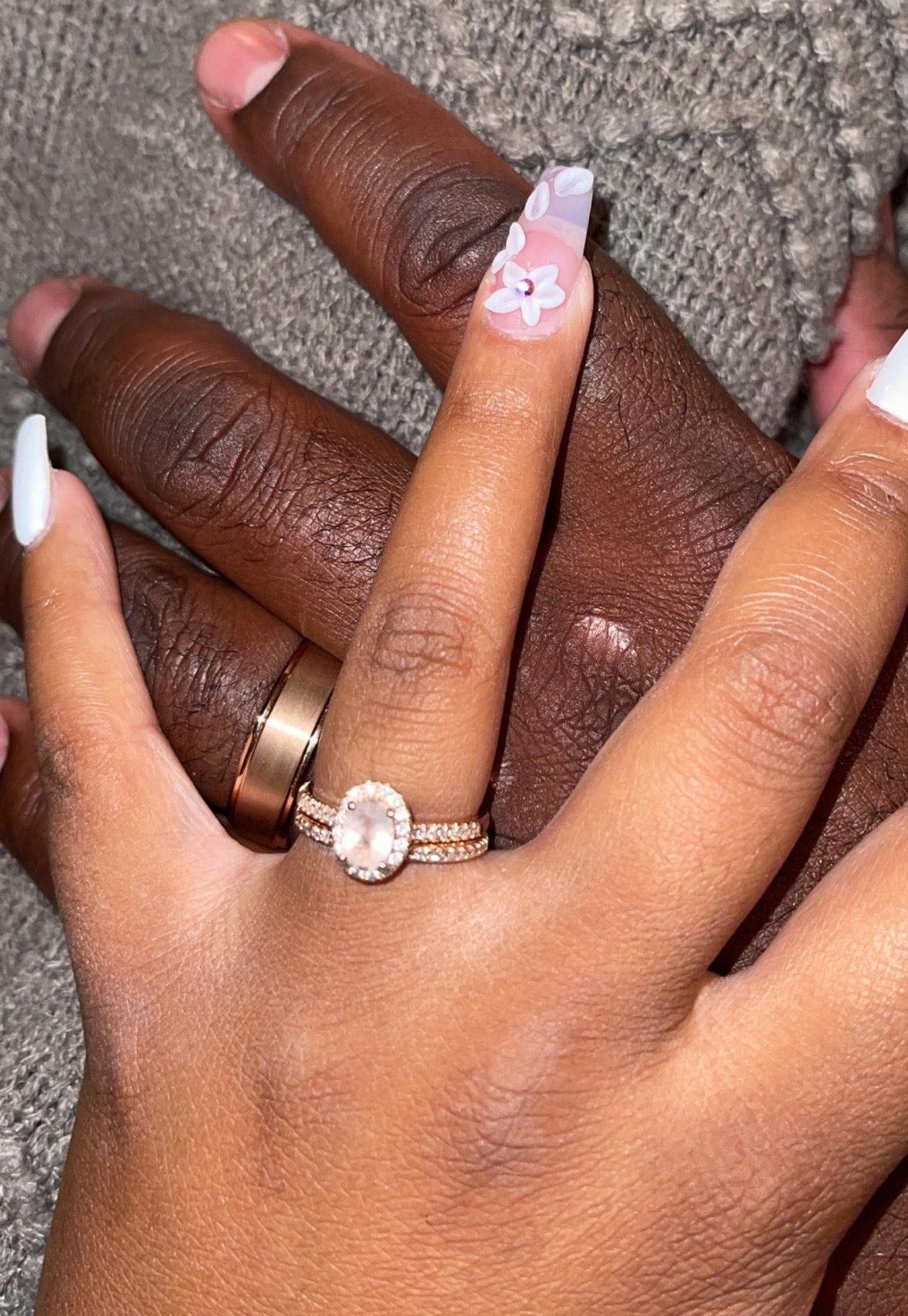 Janay Green married Renondo Wilson on May 1. (Janay Green)
Following a year that put the world–and the wedding industry–on hold, Austin wedding planners say they're now bracing for a "crazy busy" summer season.
"It was almost like people were all waiting for this open door, and when that open door came, they all just rushed in," said Lorelei Starbuck, owner of Elope in Austin. "It's been really busy and really amazing."
Starbuck, who specializes in small, affordable elopements and microweddings, expanded her offerings in 2020 to include options such as drive-up weddings to help her company stay afloat. Following Gov. Greg Abbott's announcement of plans to reopen Texas and the increased availability of COVID-19 vaccinations, however, Starbuck said she's seen a major uptick in business.
Elope in Austin, which hosts many of its events at Star Hill Ranch in Bee Cave, held 30 weddings in April and has 36 on the books for May so far, Starbuck said. These numbers are on par with her spring bookings in 2019.
"Yesterday I got 14 reservation requests in one day," Starbuck said. "This is going to be a good year I'm very pleased to say. We're back on track."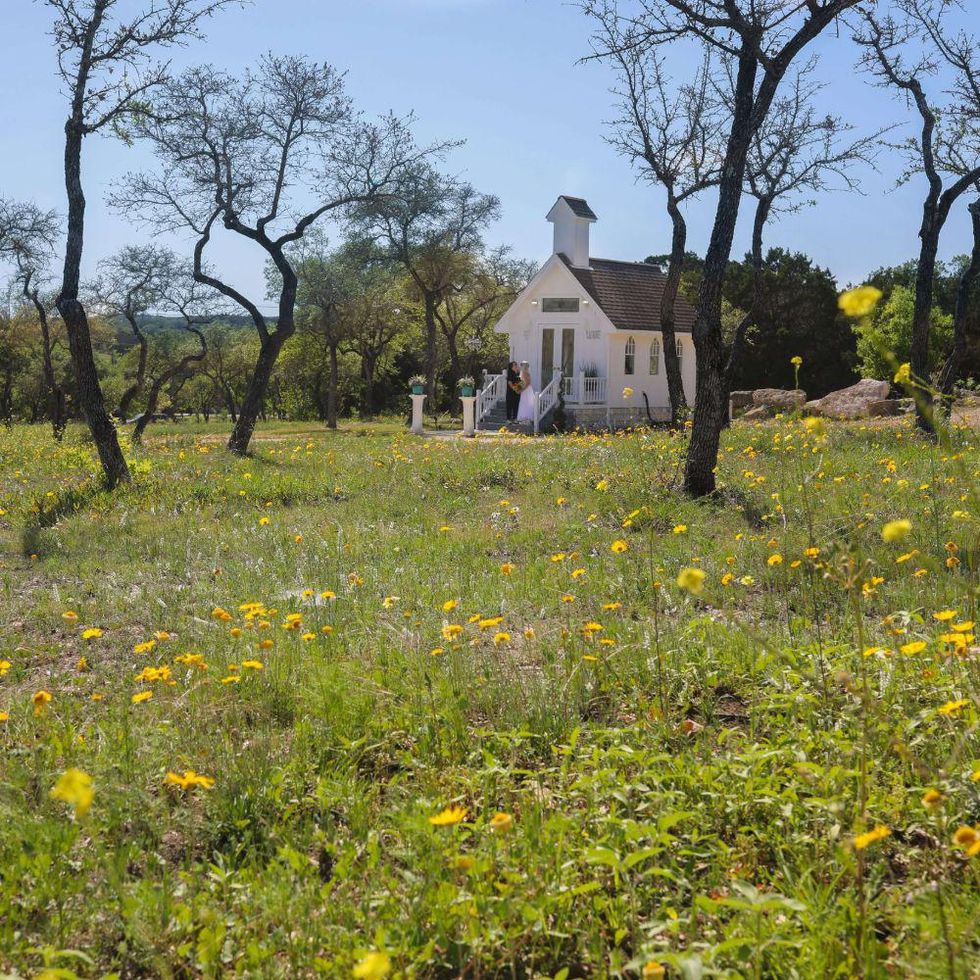 Elope in Austin, wedding planning service, hosts many of its events at Star Hill Ranch in Bee Cave. (Lance Smith/Elope in Austin)
Starbuck said she's also hearing from people who want to commemorate other special life events, such as anniversaries and vow renewals. That's the case for Round Rock resident Rey Sarmiento, who plans to celebrate his 25th anniversary with his wife, Angela Sarmiento, in a ceremony at Star Hill Ranch on July 16.
"We've gone through a lot of changes with what happened last year with the coronavirus. I didn't even know if we were going to be able to do anything," he said. "It's just going to be my wife and I—it's for us. We didn't want to spend a whole lot of money, but I did want to make it something that was special."
Wedding officiant Spike Gillespie, who performed Green's wedding, said she has also seen an increase in requests recently. Gillespie, who officiates off-site weddings as well as weddings at her picturesque Tiny T Ranch in Garfield, added that the pandemic and the stress of large-scale events including guests who did not want to wear masks has prompted her to refocus her priorities. Moving forward, she said, she plans to largely dedicate to smaller, more intimate affairs.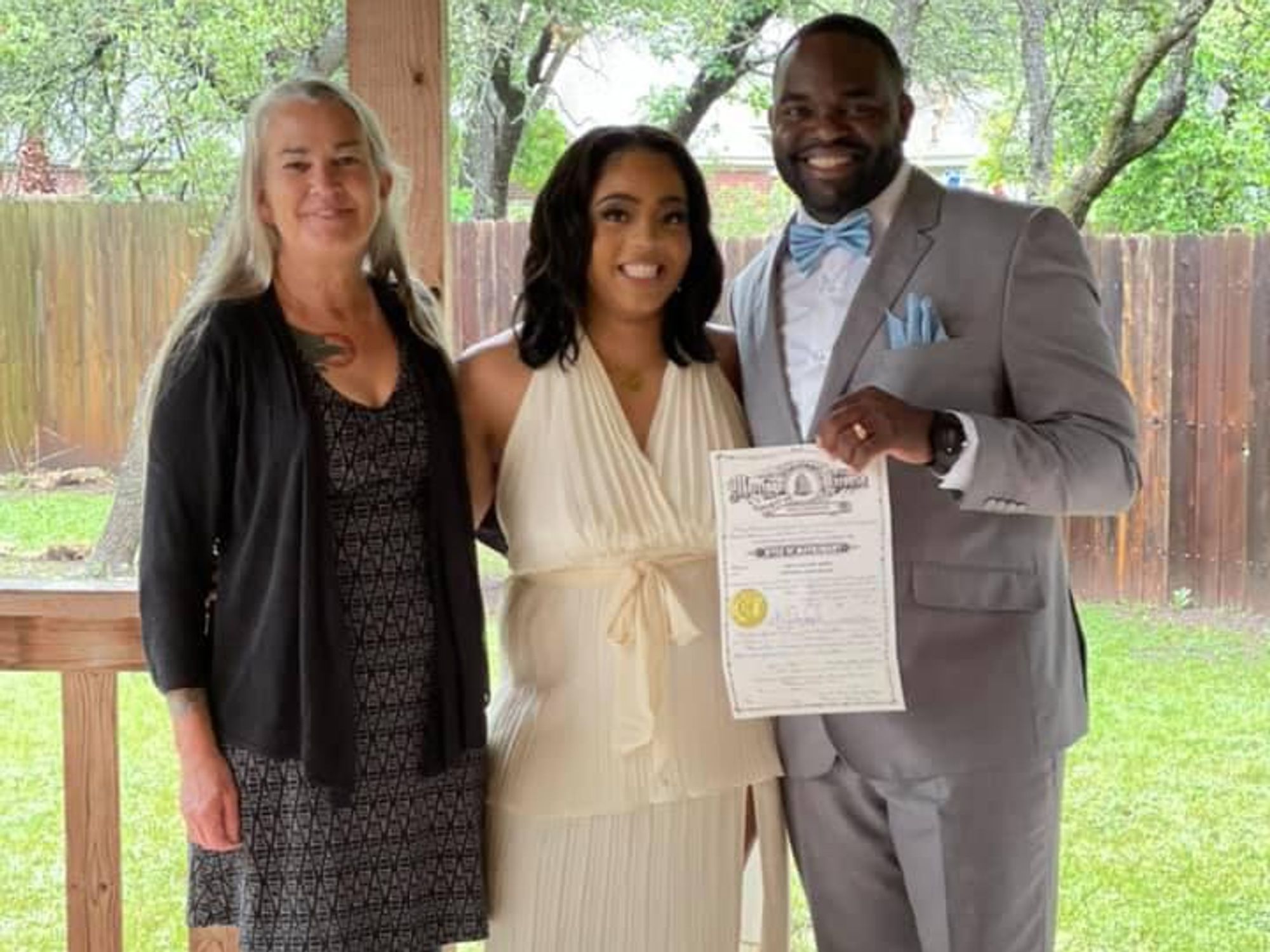 Spike Gillespie officiated the marriage of Austinites Janay Green and Renondo Wilson. (Spike Gillespie)
"The ranch will be converted to primarily a retreat center to promote slowing down, and this summer I will be opening a second property in Smithville, much smaller, but with similar 'Be Still and Feel Better' potential," she said.

For Green, who is a pharmacy technician and lives in Killeen with Wilson, an Army mechanic, the wedding was a silver lining to a difficult year.
"We wanted to get married and we were tired of waiting," she said. "We knew (the whole) family wouldn't be able to make it so there was no point to keep putting it off. We had hesitations and I had several mini breakdowns the week of the wedding, but everything turned out perfect."
Now that they've walked down the aisle, Green said, they can turn their attention to the future.
"What I am most looking forward to with my spouse is just traveling together to create new memories," she said, adding "and expanding our family."
A jackrabbit hops across the field as an employee on break plucks and samples arugula straight from the garden bed.
It may not look like the traditional U.S headquarters of a 9,000-employee international software company, but thanks to a pandemic pivot, a day at the office is also now a day on the farm for Austin-based employees of Zoho.
When three years ago Zoho purchased 375 acres in Del Valle off Highway 71, the global tech company intended to create a traditional corporate campus for its 85 local workers. But after employees expressed great satisfaction in working in a small garden they created on-site in February 2020, Zoho scrapped its plans and instead decided to embrace the land with a working farm. Rather than creating new buildings, the company is utilizing its existing structures, including an old farmhouse, as office space.
"We had met with a couple different architecture firms and design firms and they showed us super fancy beautiful renderings. It just really didn't feel like us," said Zoho Operations Manager Tom Philipps. "Why pay an architecture firm a ton of money to build a campus when we can build it ourselves? We have buildings we can renovate, we have spaces where we can build our own and, even better yet, let's do it all in the midst of a functioning organic farm."
The farm has expanded–it now includes five plots and an orchard–that Zoho recently hired two full-time staff members, Logan Pettyjohn and Brandon Connor, who are dedicated exclusively to working the fields.
"We've got to teach these tech guys what farming is and what it takes," joked Connor as he surveyed the orchard with his Blue Heeler, Eli, last week. "This is the right company to do it. Working with the people that have been around the farm has been incredible. Everybody just kind of pulled their community into it and it's just been a labor of love."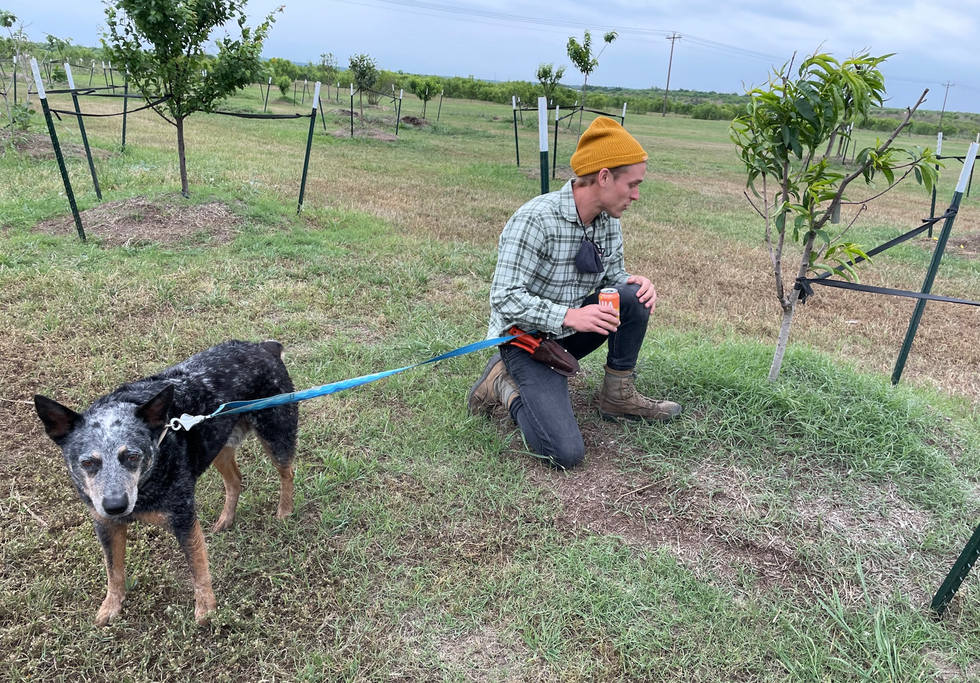 Brandon Connor, farm operations coordinator, and his dog, Eli, check on Zoho's on-site orchard. (Kristin Finan)
Zoho employees are still primarily working from home due to the pandemic but are welcome to visit the farm whenever they'd like, including to pick up produce, which is harvested twice a week and includes lettuce, beets, spinach, turnips, radishes, peppers, cantaloupe, watermelon, strawberries, apples, pears, pumpkins and squash.
"We don't use pesticides, so you can pick and eat anything," Philipps said.
The farm currently yields about 40 pounds of produce a week and will yield more than 200 over the summer, Philipps said. Food that doesn't go to employees and their families or friends is shared with the Central Texas Food Bank and other community organizations.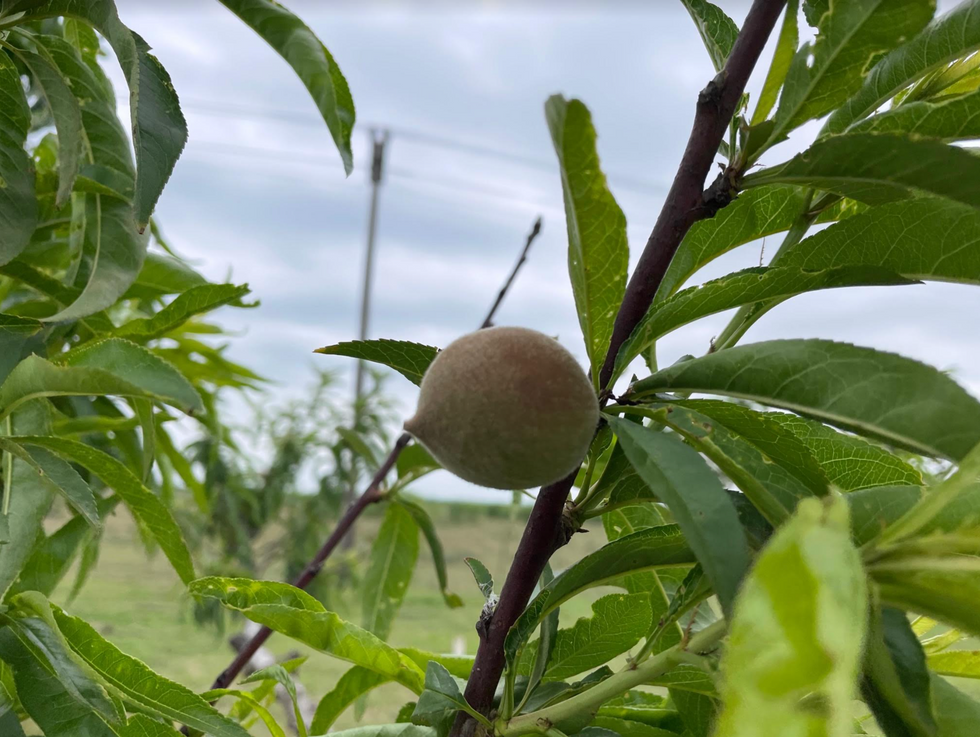 Zoho's on-site orchard features a variety of trees, including peach, pear and apple. (Kristin Finan)
Prior to the pandemic, most Zoho employees worked out of a rented office space in southeast Austin. That lease will expire at the end of May, Philipps said, and headquarters will shift completely to the farm.
Under the direction of COO Raju Vegesna, Zoho has also opened satellite offices in cities including Bastrop and New Braunfels with a goal of empowering talent and offering increased technical job opportunities in more rural areas.
"We're finding tons of incredibly qualified applicants that told us point blank, 'I used to have to go to Houston or Austin to do this work,'" Philipps said. "We've coined the term transnational localism. You want folks to live a well-rounded life."
The farm has also opened up new avenues for employee bonding, from the recipes and photos that are swapped on the Zoho group chat—Philipps recently whipped up an apple crisp using fresh green apples—to the meetings that take place under the breezy outdoor gazebo adjacent to the farm. Employees are also encouraged to experiment with their passions on the land, Philipps said. He said one coworker is drawing up plans to create a playscape where employees' children can play while another is hoping to create a butterfly garden.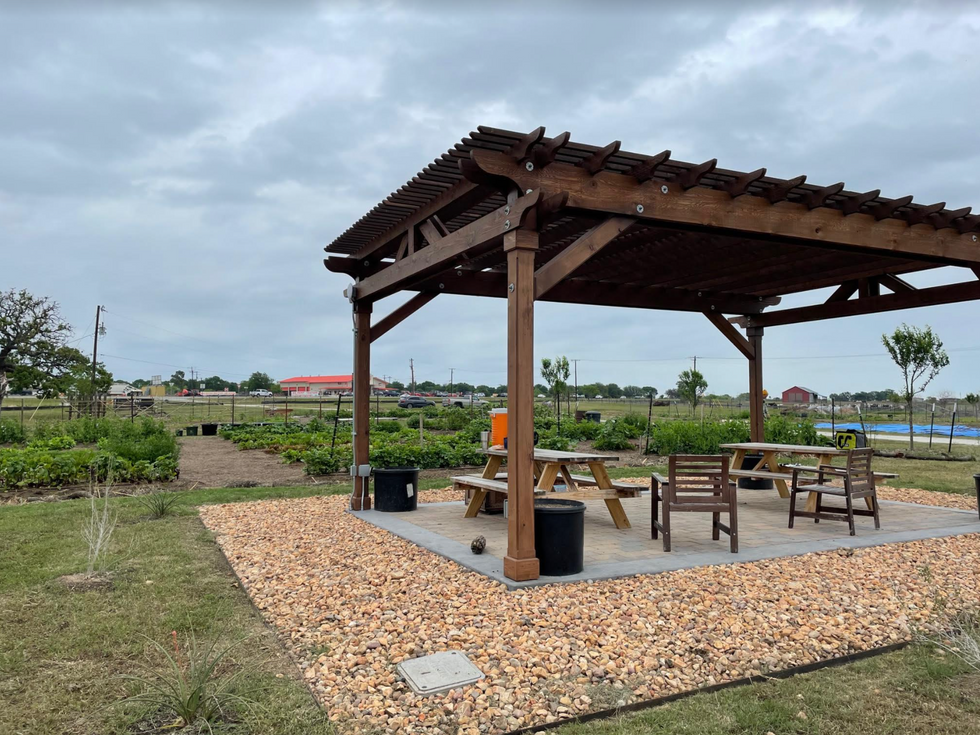 The gazebo adjacent to the farm at Zoho is available for meetings. (Kristin Finan)
"The sky's the limit in the future," Philipps said. "We're excited to see how it evolves, but we're also pretty proud of what we've scraped together in a little over a year."
As more businesses move to Austin, could this be a model that other companies embrace?
"Absolutely this is within a company's capacity to do," Philipps said. "It's just a matter of what your priorities are and what your employees are interested in."
It could be the pictures on the wall that perfectly reflect her personality. Or the full kitchen where she recently cooked up steak, asparagus and mashed potatoes for dinner.
But if 18-year-old Shaunna Contreras had to pinpoint her favorite thing about her new apartment, it would be the balcony, where she loves to sip her morning coffee while listening for the crickets and frogs that inhabit the creek below.
It's a tranquil and unexpected new phase for Contreras, who spent two years in foster care before aging out at 18 into a situation she called "hopeless." But thanks to a new program called Grace365 that funds apartments for aging out foster youth ages 18-22, Contreras now has support, and a safety net, as she transitions into adulthood. Grace365 also pays participants' bills, helps them get driver's licenses and offers twice-monthly stipends so they can purchase items such as groceries and clothing.
Contreras said walking into her own apartment for the first time was "unreal." "I just couldn't believe it," she said. "I was beyond grateful."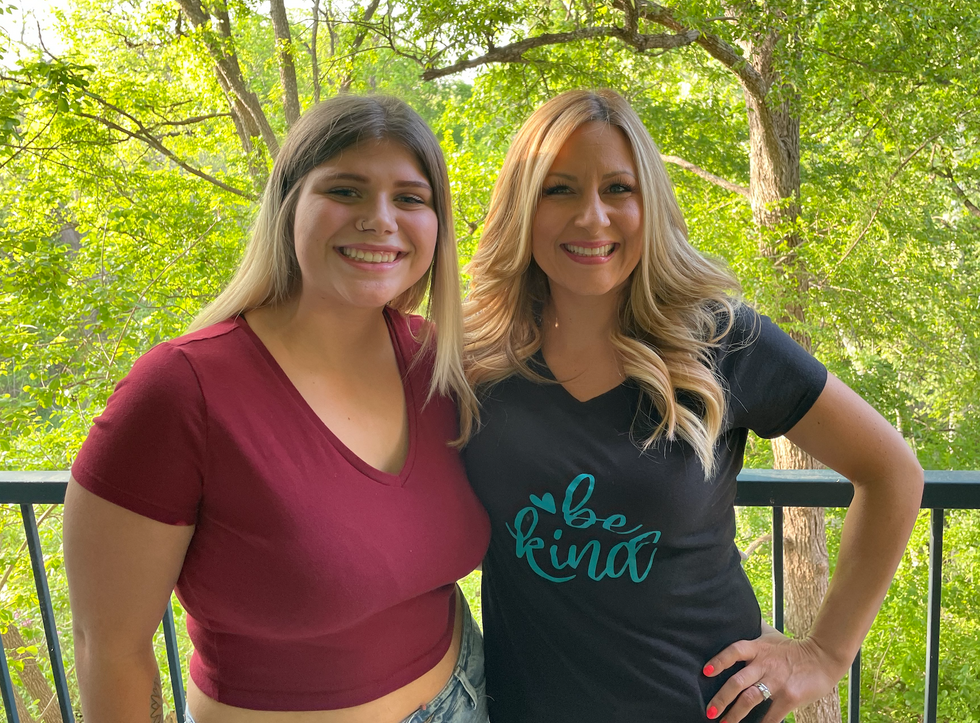 Stacy Johnson, right, with Shaunna Contreras on the porch of Contreras' apartment in Round Rock. (Kristin Finan/Austonia)
Grace365 is a new program by the nonprofit Central Texas Table of Grace. Unlike the new program, Central Texas Table of Grace only provides emergency shelter services to children and teens in the foster care system. Founder and CEO Stacy Johnson said the purpose of Grace365 is to offer stability to youth who are aging out while connecting them with all of the services available to them.
"Foster kids in Texas get free college, they get all kinds of different services that they can utilize, but nobody is really telling them how to do it and they're kind of falling through the cracks when they age out. A lot of them become homeless," Johnson said. "I'm just trying to prevent that from happening so that we can give them a place to transition."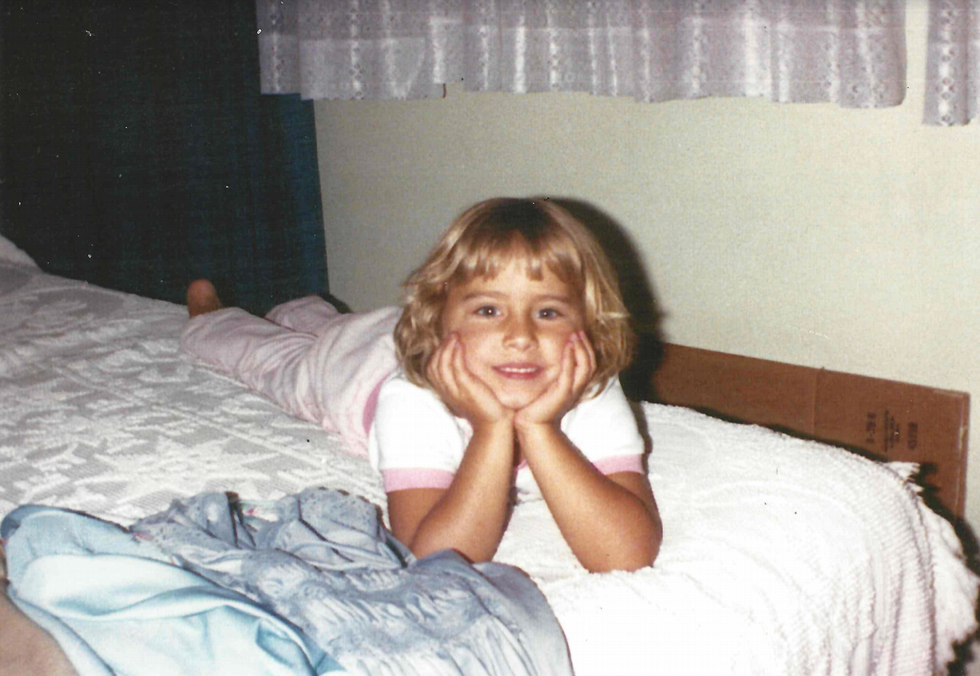 At a young age Stacy Johnson entered the foster care system where she experienced the difficulties of transitioning out of the system. (Stacy Johnson)
Johnson, a Round Rock resident, knows all about the perils of aging out of the foster care system. She entered foster care at age 2 and emancipated at age 16 only to find herself struggling to make ends meet. She recalls days when the only thing she would eat was a $1 spicy chicken sandwich from Carl's Jr., purchased with any spare change she could manage to scrape together from under her couch cushions.
"I didn't know how to cook, I didn't know how to buy groceries, I didn't know how to budget," Johnson said. "Just buying a soda if I wanted was a luxury because you literally are down to pennies. I feel like I was saved by the grace of God so many times."

As an emergency shelter, Johnson's Central Texas Table of Grace is not allowed to house youth past their 18th birthday. Johnson said it was "heartbreaking" watching children turn 18 and have nowhere to go.
"Once they age out, the people that will help them are the sex trafficker and the drug dealer and the pedophile. It's almost like they have a target on their heads," Johnson said. "Once they become homeless or something goes wrong, it's really hard to get them back."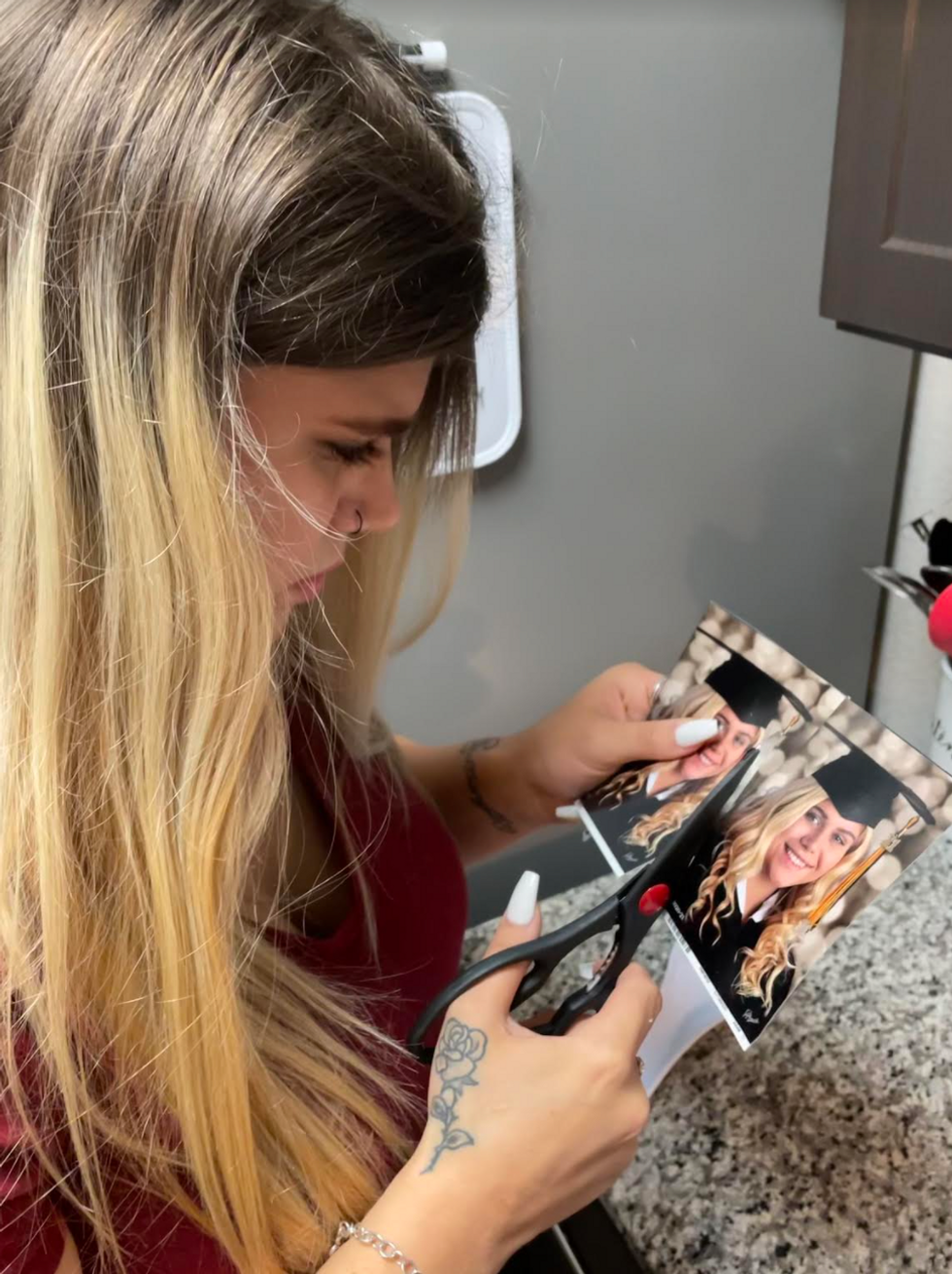 Shaunna Contreras cuts one of her graduation portraits for Stacy Johnson. (Kristin Finan/Austonia)
For Contreras, being part of Grace365 brings her full circle—she also spent three months in Johnson's shelter two years ago.
She now works as a caregiver at a retirement home and moved into her new apartment three weeks ago. She ultimately wants to be a phlebotomist and hopes to start college in the fall.
"Sometimes I'm very hard on myself, and I tell myself, 'You can do better.' But I'm proud of myself," Contreras said. "I'm proud of where I've gotten, because I didn't think I would get this far."
"I'm really proud of you, too," Johnson said.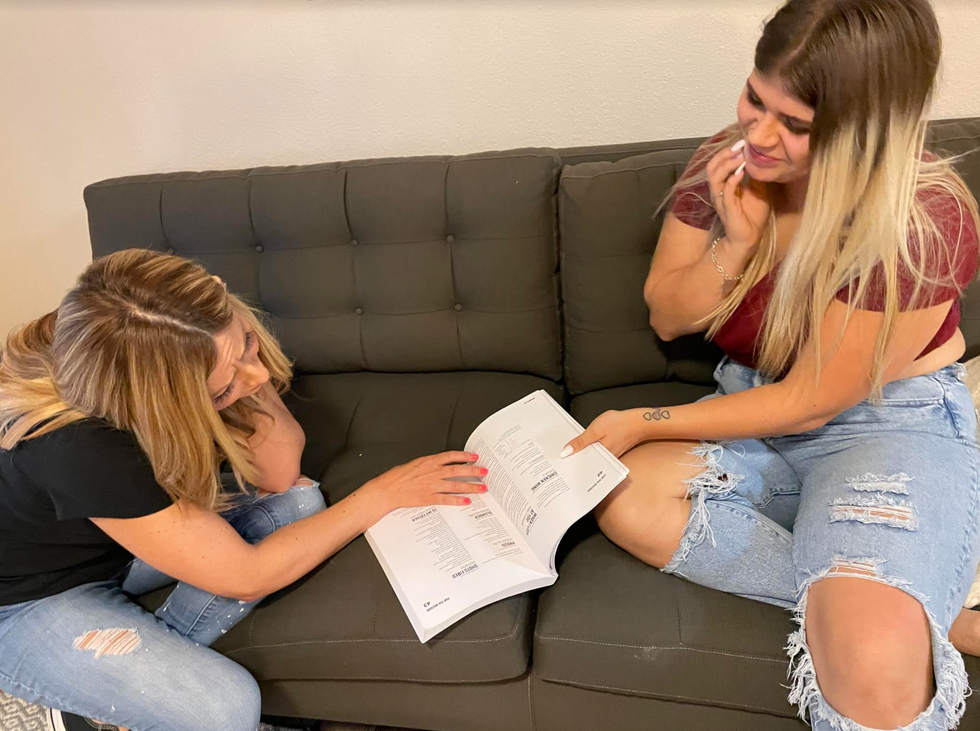 Stacy Johnson, left, reads poetry written by Shaunna Contreras in Contreras' new apartment. (Kristin Finan/Austonia)
Johnson said her hope is that participants be financially independent a year to 18 months after starting the program but that Grace365 will evaluate apartment funding on a case-by-case basis. The program currently funds three apartments but plans to quickly add more and has a long-term goal of creating a tiny home village for youth who are aging out.
As for advice to anyone going through a hard time?
"Never give up," Contreras said. "Don't feel like it's the end, because it's not."
A tender brisket plate at The Salt Lick. A perfectly crafted latte at Jo's Coffee. A sudsy pint at the Saxon Pub.
Certain things are just part of the quintessential Austin experience—even if you're just passing through the airport.
Austin-Bergstrom International Airport in recent years has become well known as a microcosm of what people love about Austin, from the live music that streams through the terminal to the local art that adorns the walls to the outposts of popular Austin shops and restaurants, including those named above.
A year after the pandemic brought the world to a halt—and in turn resulted in the lowest passenger numbers the airport had seen since it opened in 1999—and on the eve of spring break, the terminal on Thursday showed signs that the mini-Austin experience so many once treasured is beginning to reemerge.
At Tyler's, clips from former "Austin City Limits" tapings streamed on a TV inside the locally-focused apparel shop, while a socially distanced line queued for breakfast tacos at Tacodeli. In front of the Asleep at the Wheel stage—the largest of the airport's seven stages—plastic shields sat ready to safely welcome, and protect, performers.
"Such a large portion of what we offer is local and is brands that'll be familiar to you as a local to Austin," said Mandy McClendon, spokeswoman for ABIA. "While you may not have all the options, you certainly still will have many of them. For the most part, it does feel like the airport you know and love."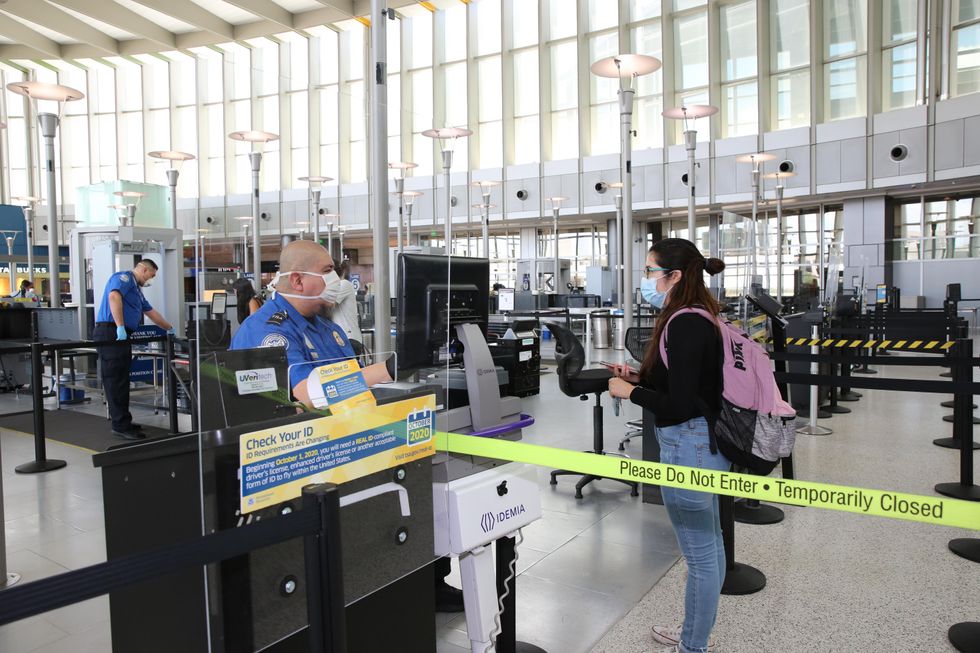 Masks are still required to be worn at the airport. (ABIA)
For those who haven't traveled during the pandemic, the first thing to know is that masks remain required throughout the airport and on flights. Despite Gov. Greg Abbott's decision to end Texas' statewide mask mandate on Wednesday, ABIA is included in an executive order issued by President Joe Biden and implemented by the Transportation Security Administration that requires face masks in airports.
"If you're in an airport you must be wearing a mask. We want to make sure we're communicating that to our passengers because we understand the conflicting advice can be a little bit confusing," McClendon said. "We don't want anyone to end up in a situation where they come to the airport without a mask and then they can't board their flight."
McClendon said that passenger traffic in April 2020 was down 96% from April 2019 and that overall passenger traffic in 2020 was down 63% from 2019, which was the airport's highest-ever passenger travel year. As a result, the airport gave its retail and restaurant vendors the flexibility to "open and close and provide staffing as they're able to and as makes sense for them while also ensuring we have a variety of options open throughout the terminal."
Live music has also continued in the form of small shows featuring only one or two musicians, aside from when the city was in Stage 5, when performances were suspended.
"Music is something that's very important to our terminal," McClendon said. "We have and continue to try to come up with creative ways to still make that a part of the experience."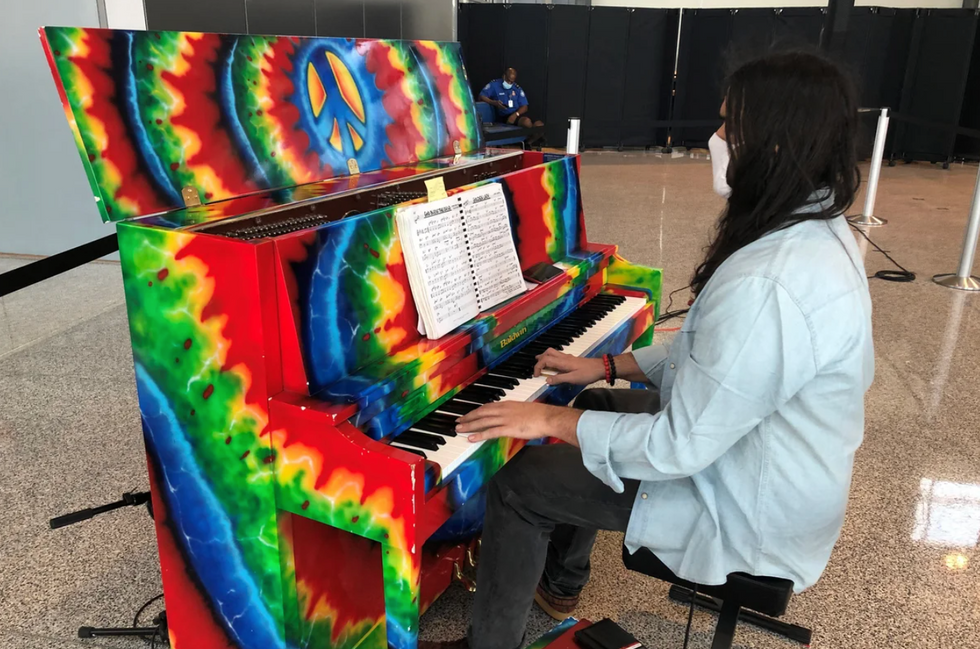 Zack Morgan playing the piano during his set at the airport in 2020. (ABIA)
As passenger travel continues to increase and more people are vaccinated, McClendon said, expect even more of the things that people love about the airport to return—safely.
"We are an essential operation to Austin," McClendon said. "The more people that we have come through our doors, the more vigilant we want to be about things like social distancing and mask wearing and just making everyone feel comfortable in the terminal."