Kristin Finan
Kristin Finan
Kristin Finan is an award-winning Austin-based journalist who loves shining a light on the people and places that make her hometown special. In addition to being a former staff writer at the Austin American-Statesman and Houston Chronicle and the author of four travel books, she is also a foster and adoptive parent and the co-founder of the nonprofit Carrying Hope. Email: kristinfinan@gmail.com. Instagram: @kristinfinan
Get connected with our daily update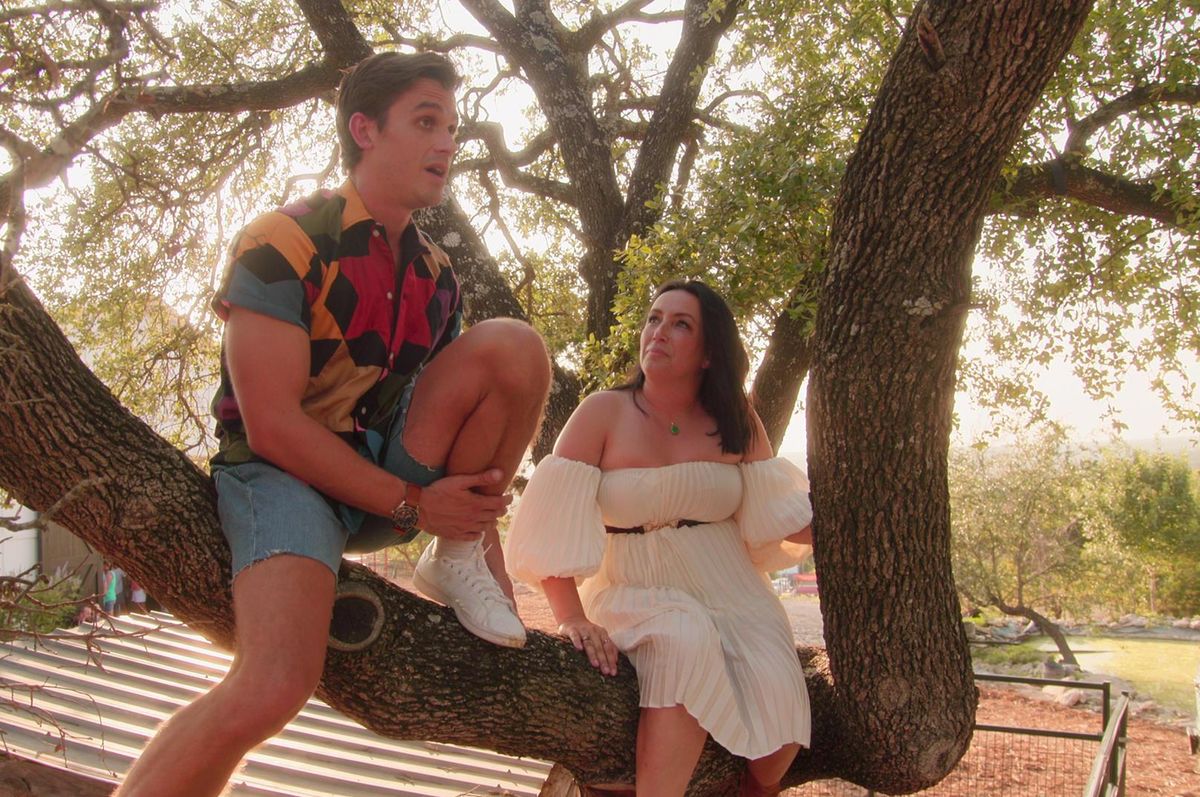 Jamie Wallace-Griner made thousands of people cry all across the world.
The founder of nonprofit Safe in Austin, which has a mission of rescuing animals who in turn help heal children who have special needs or have come from hard places, Wallace-Griner and her story were featured in Season 6 of "Queer Eye." Almost as soon as the season was released on Dec. 31, 2021, Safe in Austin began hearing from people around the globe who were inspired—and in tears—because her selfless dedication and unyielding passion for animals, many of whom who, without her, would end up dead.
"An out-of-body experience is the best way to describe it at the moment," said Wallace-Griner, adding that the nonprofit's Instagram, which had 12,000 followers before "Queer Eye," has now surpassed 100,000. "I am unbelievably grateful. I'm just trying to juggle making sure everyone knows how grateful I am and not letting this whole thing go by without realizing the magnitude of it. Sometimes I feel like I'm living a dream."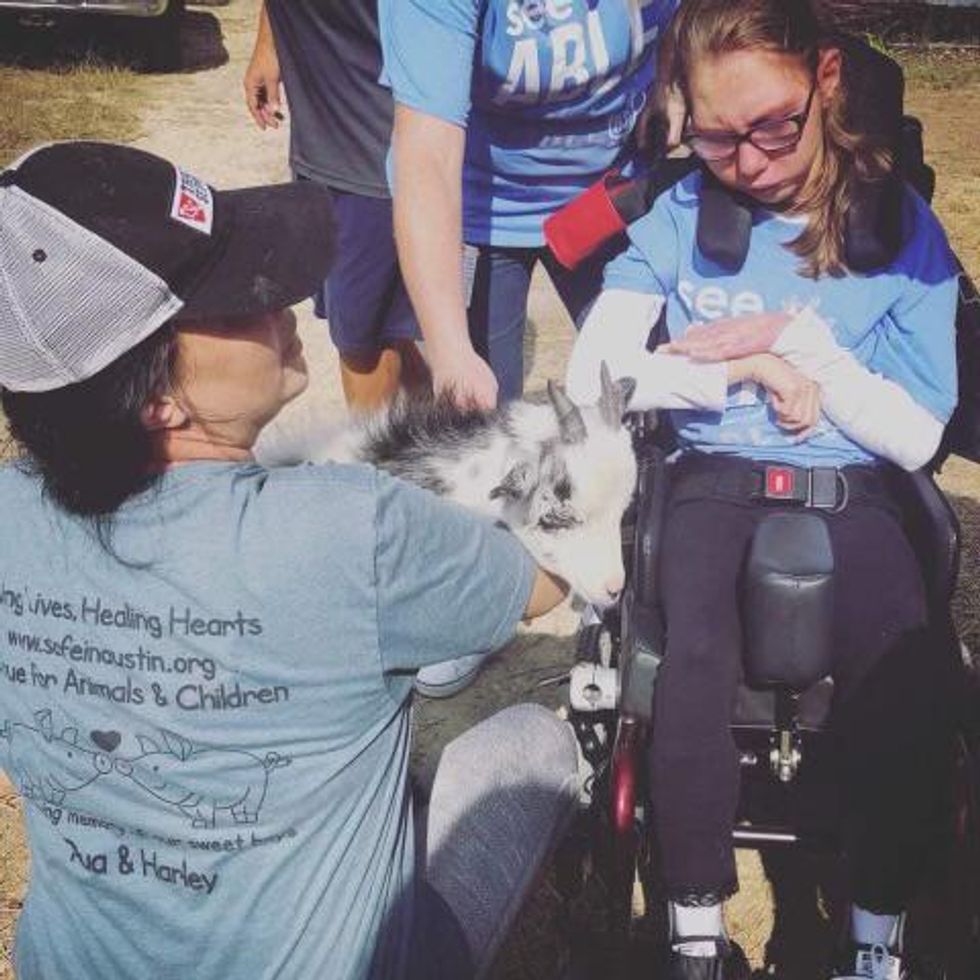 Jamie Wallace-Griner runs Safe in Austin, where she saves animals and helps children with special needs. (Jamie Wallace-Griner)
A self-described "special-needs mama that likes animals," Wallace-Griner founded Safe in Austin after witnessing the incredible bond between her son, Jackson, who has autism, and his service dog, Angel. These days, Safe in Austin, which is set on the family's 10-acre property in Leander, serves as a permanent home to more than 200 rescue animals including pigs, cows, horses, turkeys, ducks, dogs and cats.
On any given day, to walk the property is to witness magic in the making. In addition to frequent public days, Safe in Austin also hosts private Healing Hearts tours that pair children who may have special needs or a history of abuse or neglect with animals that have experienced the same traumas. Safe in Austin also hosts children's birthday parties and, should turnout ever be low, has a list of on-call kids who will eagerly show up.
"These (on-call) kids have been through a lot and may have significant extra needs themselves, but they're able to say, 'Yes, I'm coming, I'm going to be a friend to this kid,' even when they might not have very many of their own friends," she said. "They feel special for helping this person, that person feels so much love from them doing that and they all get to share the animals they're helping with. It's like you could burst if you think about all the different areas of joy that it brings in."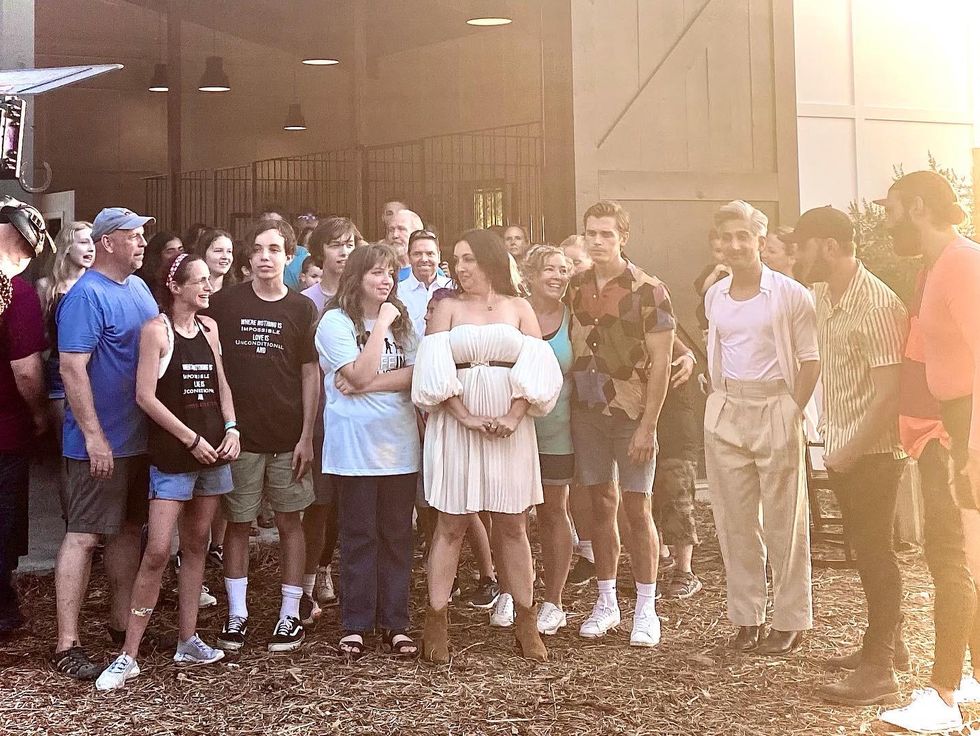 The Fab Five surprised Jamie Wallace-Griner with a much-needed barn. (Queer Eye)
Shot over five days in June 2021, the Safe in Austin "Queer Eye" episode spotlights Wallace-Griner's undying passion for animals and children while also focusing on her need for self-care.
"All five guys are exactly as they seem; there's nothing fake about what they're doing," said Wallace-Griner, a longtime fan of the show. "They're just genuinely those people that you love on the screen, even when the cameras aren't going. That was a real gift to find out."
The admiration was mutual.
"I've really never met anybody like you, and I felt that the moment that I came here," "Queer Eye" cast member Antoni Porowski said in the episode. "Every single person that I speak to tells me you gave them purpose, and that is the most unbelievable thing that you can do for somebody else, just by being you and by creating a safe environment where they can feel loved and protected and taken care of."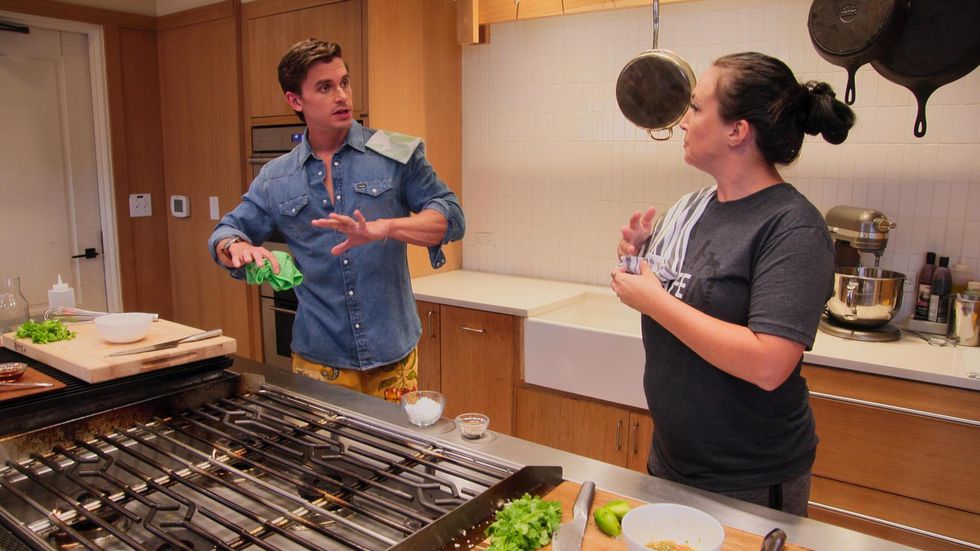 Antoni Porowski, food expert, helped Wallace-Griner find her confidence in the kitchen on the show. (Queer Eye)
Wallace-Griner said she's still in touch with several of the "Queer Eye" cast members, including Porowski, Bobby Berk and Jonathan Van Ness, who met an orphaned puppy during filming at Safe in Austin and ended up adopting it. In addition to the lessons on self-care and self-love Wallace-Griner received from the Fab Five, there was also a tangible gift—"Queer Eye" built her a barn she so desperately needed for the animals.
"We've done so much in the last six months because we have that space. It's really incredible," she said, adding that the barn is now "dramatically different than what the world saw. We had to take what they gave us, which was amazing and wonderful, but kind of tweak it into what works for us, specifically for special-needs animals and special-needs children that come out."
Wallace-Griner would also like to clarify that while she cried a lot during the episode, she really is doing well.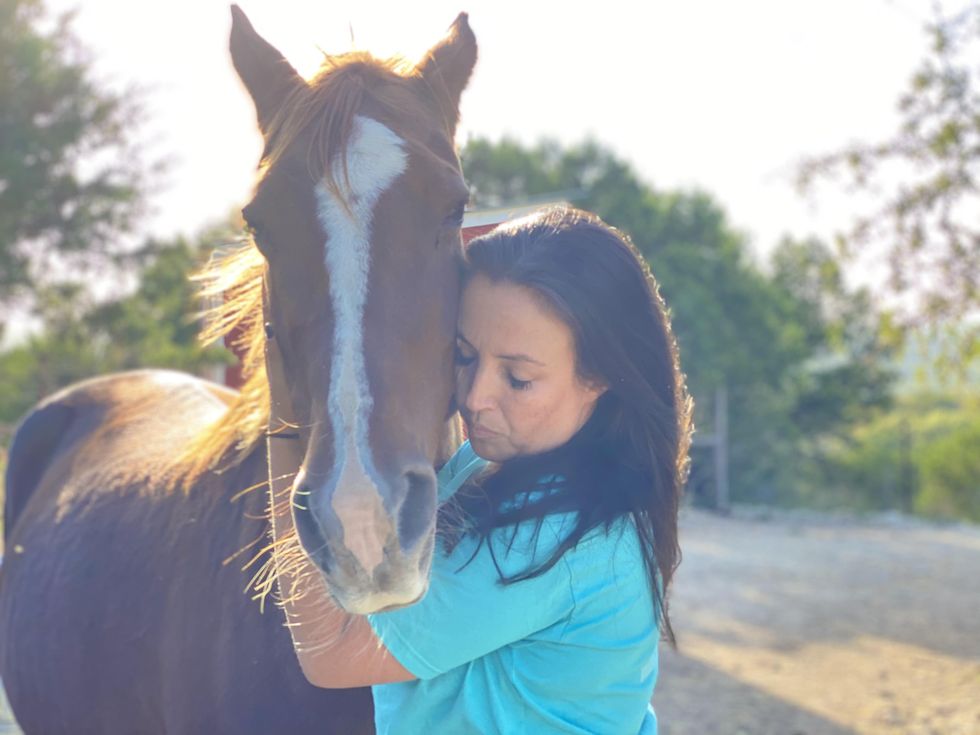 Jamie Wallace-Griner cried during the Queer Eye episode but said she is is OK and understands the stress she is under. (Jamie Wallace-Griner)
"There's been a lot of concern for my mental health, I guess because I just cried the whole time (in the episode)," she said. "I'm a little bit insane, obviously. You can't do what I do without being an open-hearted and little-bit-crazy person. But I understand the stress I'm under, I understand when I hit an emotional peak, or like our kids say, when our sensory cup is filled completely. I'm OK. I swear. I just cry a lot."

In addition to the increase of followers on social media, Safe in Austin has seen more traffic on days that they're open to the public—Wallace-Griner estimates that 90% of the people visiting in recent weeks learned about them from "Queer Eye."
"I still speak to every single person that comes on the property first. This is an important thing to me. I want them to share my heart and where we're at," she said. "Never before 'Queer Eye' did they applaud after my speech, but they keep doing that now, which is super weird. People ask to take pictures with me now, too, which they didn't before."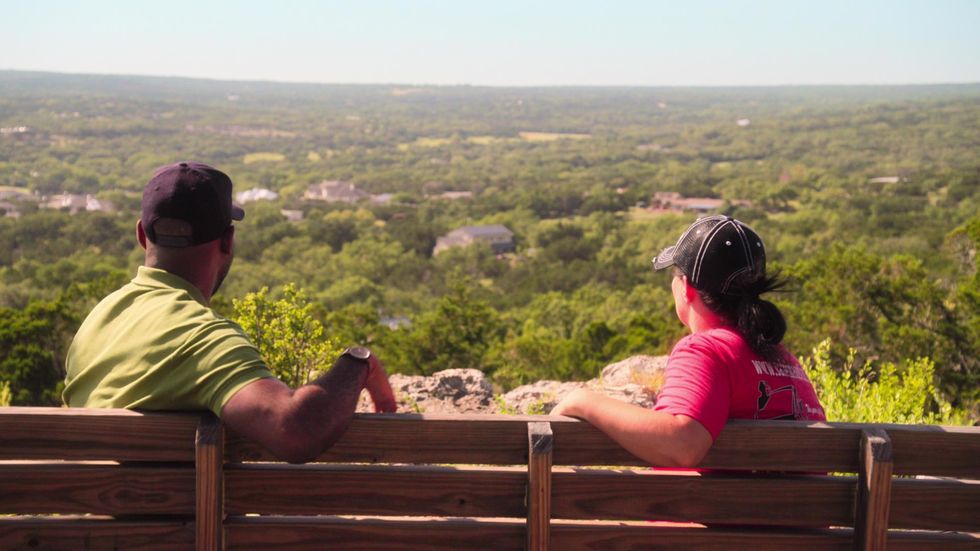 Karamo Brown speaks to Jamie Wallace-Griner on the show about taking time for herself. (Queer Eye)
Of all the ways "Queer Eye" has positively impacted Wallace-Griner's life, she said the most important is the platform it gave her to inspire others to get involved with special-needs animals and children.

"So many people are saying that they've always wanted to do this concept and that I'm inspiring them to follow their dreams," she said. "I love that aspect because there just can't be too many people helping animals and children in the world. There's no such thing as that. So that might be one of the best parts of the whole thing—inspiring that connection."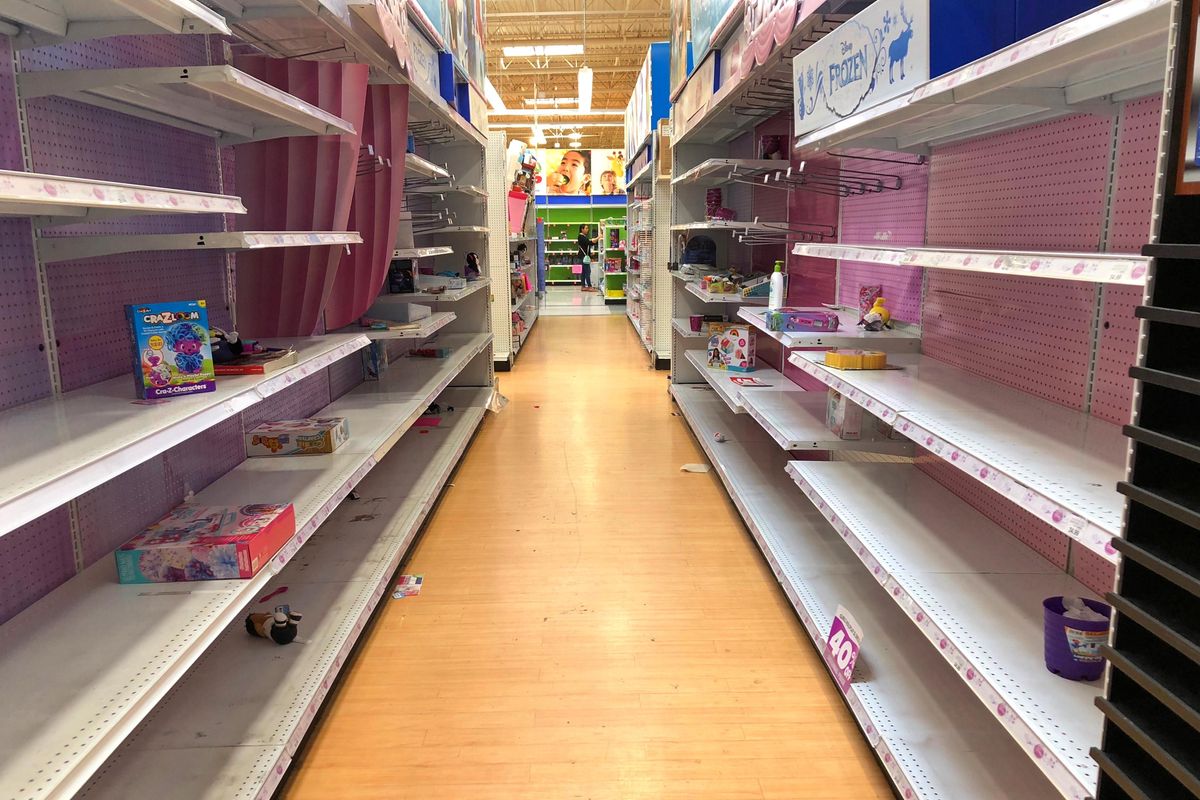 The holidays are quickly approaching, and if you think it's just a little too early to begin your Christmas shopping, well think again.
Thanks to massive and widespread shortages in the global supply chain, among other factors, this year's gifts may be hard to find and slow to arrive.
"We're genuinely concerned about adequate stock to accommodate this upcoming holiday season. With last year being a bit of a bust for holiday celebrations, there's a massive amount of pent-up demand for the holidays this year and stock across the board won't be able to keep up anywhere," said Robby Pettinato, partner and buyer for Toy Joy, Yummi Joy, Wild About Music and Austin Rocks. "The toy aisles at Walmart and Target are incredibly empty, so I'm grateful we've had enough stock allocated to us by our vendors to have a great selection for now."
What IS happening with the global supply chain right now?
Due to a variety of factors, including the COVID-19 pandemic, an increase in online consumer purchases, shortages of cargo ships and shipping containers and a lack of available warehouse and retail workers, the global supply chain is incredibly unstable right now.
"From every step of the process, all the way from product inception, manufacturing, overseas shipping and delivery to our stores, everything is bottlenecked at each step," Pettinato said. "Where as historically most vendors would fulfill 95% of an order within a few days, we're looking at some vendors taking up to three months to process an order and only receiving about 40% of the order. This has made keeping our shelves stocked much more difficult."
How does this instability impact shoppers, both at local shops and big-box retailers?
Don't be surprised to see empty shelves, inconsistent product offerings and shipping delays across the board.
Jeanne Cooper, owner of C'est Chic boutique in Southwest Austin, said many of the items she's ordered for holiday sales are arriving "incomplete or not at all."
"One particular candle line, which used to ship the next day, is now taking weeks because the jars are made overseas," she said. "We've heard from several vendors that their merchandise is sitting on cargo containers at U.S. ports and there is a delay in getting the items to local warehouses. In addition, several vendors are adding surcharges to shipping charges because of their increased freight costs."
Pettinato said "sales have suffered" due to a lack of actual product in the store over the last year, which has, in turn, resulted in an increase in product costs.
"Because of labor and material shortages, manufacturing has increased in price. Similarly, a lack of shipping containers has caused absurd spikes in shipping costs overseas. One vendor told me that what was usually a $1,000 container now costs him $12,000 and is taking several months longer to ship," he said. "All of these costs are passed down at every level, and inevitably are passed down to us as a retailer. This means we have to increase our pricing as well so we can continue to do our best to pay our staff a living wage in an increasingly expensive city."
What should I expect when it comes to shipping?
On Oct. 3, the U.S. Postal Service temporarily raised shipping rates through Dec. 26 for "commercial and retail domestic competitive parcels." This rate increase is in response to anticipated heightened peak-season package and shipping demand, which in turn results in extra handling costs. UPS and FedEx also implemented rate increases in early October. USPS also implemented a similar rate adjustment in 2020.
USPS deadlines include Nov. 6 for APO/FPO/DPO USPS Retail Ground service; Dec. 9 for APO/FPO/DPO Priority Mail and First-Class Mail; Dec. 15 for USPS Retail Ground service; Dec. 17 for First-Class Mail service and First-Class packages; Dec. 18 for Priority Mail service; and Dec. 23 for Priority Mail Express service.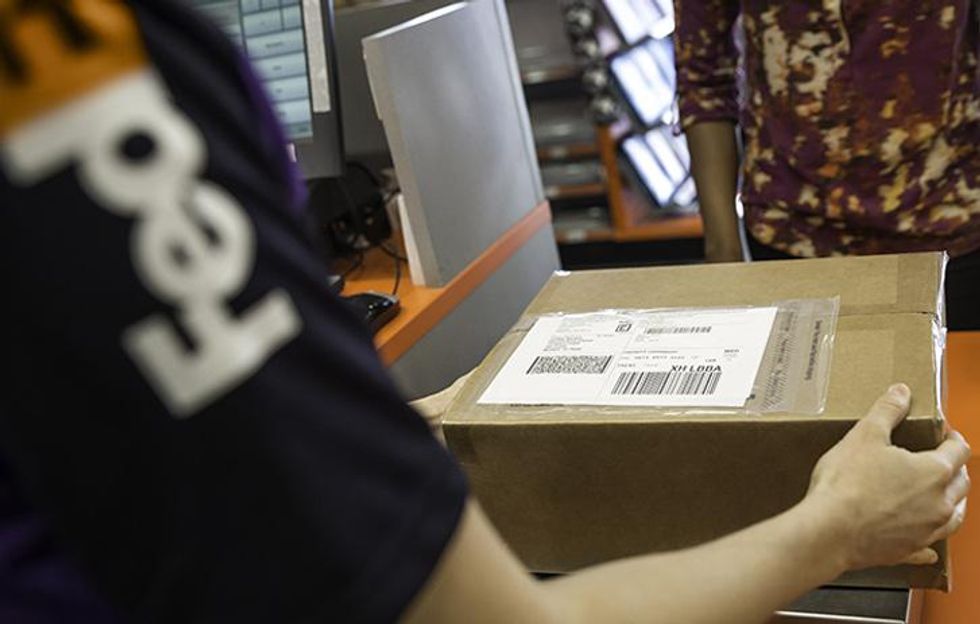 What tips do you have for getting the gifts I want?
Shop early. Like now. If you wait until you would typically be making holiday purchases, it will be too late. Also, if you see an item on the shelf, buy it. Even if you can find it online, there's no telling how long it will take to arrive at your doorstep. If you do make a purchase online, see if you can pick it up in-store to avoid shipping wait times.
Shop local. Support local businesses by shopping in person. You'll leave with products in hand and know that you're helping to support the local community.
Be flexible. If you can't find the exact item you're looking for, this year, it's worth compromising for something similar.
Be creative. In addition to stores like Target and Walmart, consider retailers such as Five Below, Kohl's and Macy's that might carry the same stock.
If you wait, expect to pay. Everything from retail costs to shipping costs will likely spike further the closer it gets to the holidays. If you're adamant about a certain item and you find it in stock, it might be worth paying for expedited shipping with tracking to ensure that it actually arrives.
What are this season's hot gifts, and how can I get them?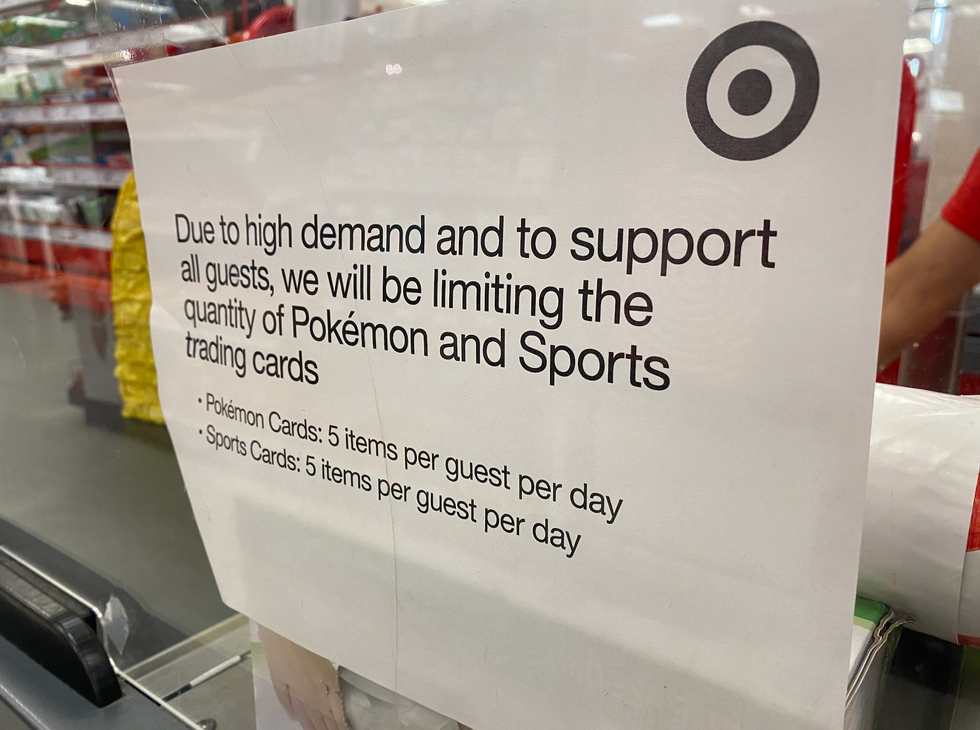 Gaming devices: The Sony PlayStation 5 and Microsoft Xbox remain among the hottest gaming devices for the 2021 holidays, and they're consistently difficult to find, particularly the PS5. Check sites such as Best Buy, GameStop, Target, Walmart and Amazon regularly for updates on restock efforts, or follow sites like Tom's Guide, which aggregate restocking information. You can also consider a somewhat easier-to-find option such as the Nintendo Switch, which has fairly wide availability at this point in time.
Apple products: In September, Apple introduced a suite of new products, including the iPhone 13, Apple Watch 7, iPad 9 and the iPad mini 6. More products could also be announced by the end of the year. While these products show availability online, it's ideal to purchase in store – either with Apple directly or with your cell carrier -- to avoid shipping delays. Both of Austin's Apple stores – Apple Barton Creek and Apple Domain NORTHSIDE – show product availability and accept shopping reservations.
Toys: Toys are another area that are expected to have limited availability and long shipping delays. As of right now, toys such as L.O.L. Surprise! O.M.G. Dolls, Star Wars "Mandalorian" items and Roblox- and Minecraft-themed items are showing as in stock at local stores. It's hard to say how long that will last, though. Also, you might start seeing limitations on some items, as seen with Pokemon and sports cards at Target.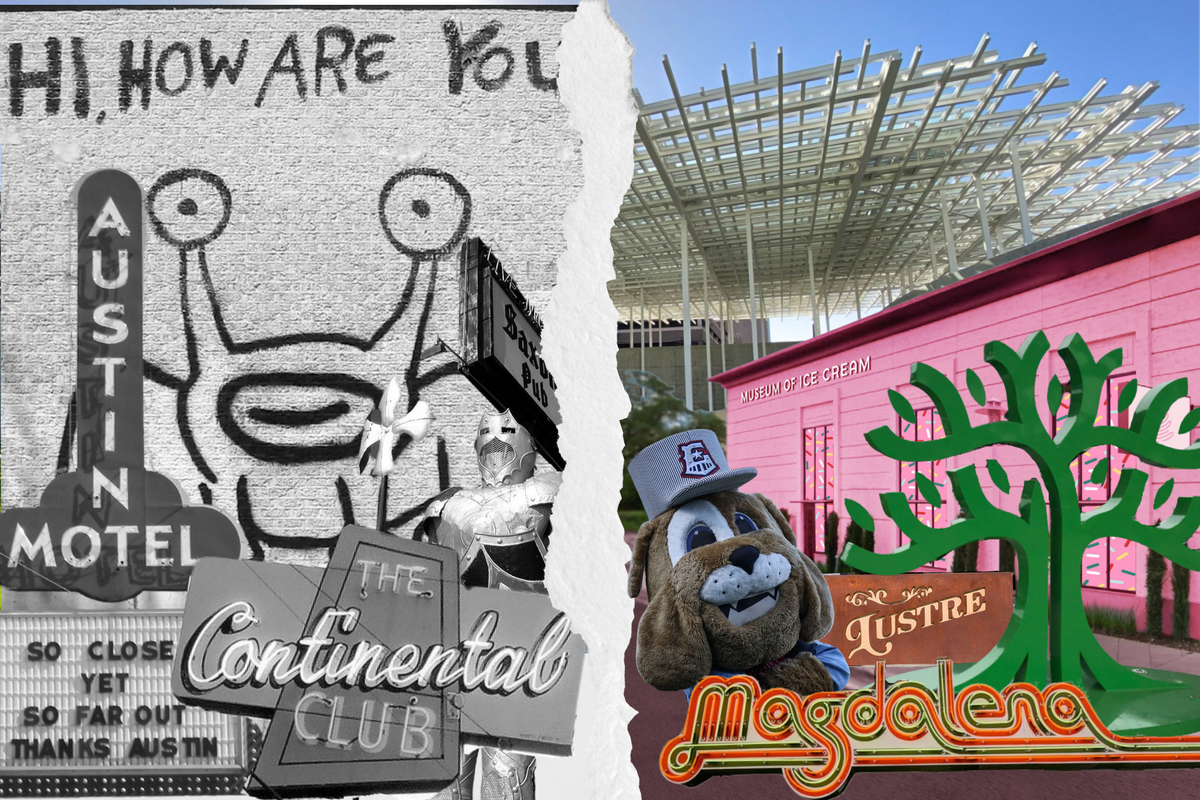 It's no secret that Austin's changing.
But as Austin changes, there can sometimes be two types of people: those who want a taste of what the city was like when it was all about "keeping it weird" in the '70s and '80s, and those who can't wait to try out the newest place on offer.
Either way, we've got you covered. If you've heard rumors about Austin's iconic spots but never experienced them, check out our guide to "Old Austin." Prefer the hottest new thing? Check out our "New Austin" itinerary.
Selfie spot:
Old Austin
If you want to snap a classic Austin shot that's instantly recognizable, don't miss a mural tour of downtown. From Daniel Johnston's iconic "Hi, How Are You" frog mural at 21st and Guadalupe streets to Federico Archuleta's colorful "Lover/Fighter" at 1209 E. Cesar Chavez St., there's something to fit every mood and situation. Want to dive even deeper into the mural scene? Check out the Dougherty Arts Center's driving tour.
New Austin
To experience Austin's latest "it" installation, book tickets to the Museum of Ice Cream, which scooped its way to the popular Domain entertainment district this summer. Expect to find a host of Instagram-worthy experiences, ranging from rideable animal crackers to banana-split swings to an epic sprinkle pool. Expect lots of free treats, including cotton candy and, yes, ice cream, as well as cocktails and mocktails. Tickets start at $39.
And if you still want more, the Domain also has the Selfie Galleries with tickets starting at $20.
Swim spot:
Old Austin
Austin has no shortage of places to swim, and if you're looking for an old-school alternative to Barton Springs, look no further than Deep Eddy Pool, the oldest swimming pool in Texas. This beloved pool started as a swimming hole in the Colorado River before transitioning into a resort in the 1920s. These days, it's operated by the City of Austin. Its location near the Ann and Roy Butler Hike-and-Bike Trail and Boardwalk makes it ideally situated for a post-splash workout.
New Austin
Clocking in as the country's largest indoor water park, Kalahari Resorts opened in Round Rock in November 2020 with 223,000 square feet of slides, pools and water features. The property also includes three acres of outdoor pools, 975 guest rooms and 20 on-site dining options. The Dell Diamond, home of the Round Rock Express Minor League Baseball Team, is located across the street, should you want to hit the ballpark before or after you take a dip.
Live music:
Old Austin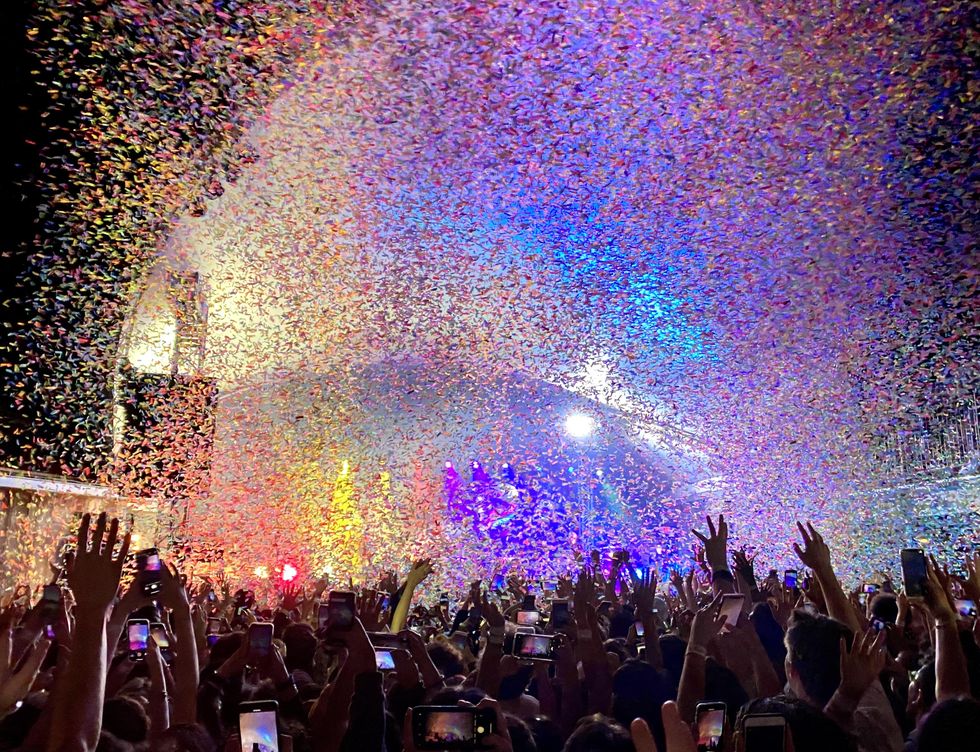 As the "live music capital of the world," it's no secret that Austin is home to copious concert venues. For example, Stubb's, which has been serving music since 1968 at its original location before moving to Red River Street in the 90s, some of the biggest and best bands in the world choose to take the stage. Upcoming acts include Machine Gun Kelly, Modest Mouse and Phoebe Bridgers. Can't make an evening show? Stop by for famous barbecue or snag a reservation for the venue's Gospel Brunch, held every Sunday from 11 a.m. to 2 p.m. Additional can't-miss Austin venues include the Continental Club on South Congress Avenue, the Saxon Pub and the Broken Spoke on South Lamar, and the Nutty Brown Amphitheatre, which will move from its current spot in far South Austin to Round Rock later this year.
New Austin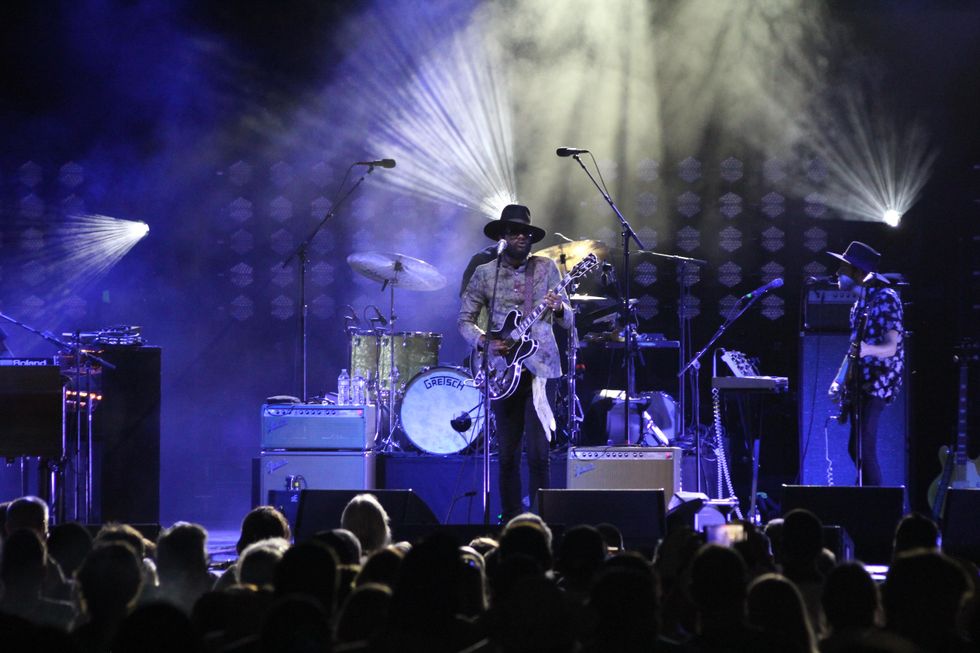 PHOTOS: Gary Clark Jr., Blackillac play Moody Amphitheater grand opening to sold-out crowd
Yes, we've got lots of classic venues, but we've got some new ones, too. For an expansive outdoor concert experience that features both assigned and lawn seating, consider the Moody Amphitheatre at Waterloo Park, which opened in August and has already hosted acts ranging from Gary Clark Jr. to Counting Crows to 311. Parking is ample at nearby garages. There's also a number of newer live music venues along Menchaca Road, such as Armadillo Den and Lustre Pearl South.
Hotel:
Old Austin
For a taste of Austin's laid-back yet quirky past, book a night or two at the Austin Motel, a former motor court where the motto is "so close, yet so far out." Expect fun wallpaper, upscale amenities and a sparkling, retro-themed pool that's ideal for taking a dip in on a 100-degree day. You can also just get a pool day pass. Because this property by Austin's Bunkhouse Group is in the heart of South Congress, it's also an excellent home base for shopping and sightseeing.
New Austin
And nearby on South Congress, you can check out Hotel Magdelena. This stunning hotel, also by Austin's Bunkhouse Group, opened in 2020 and was inspired by the city's lake house culture, incorporating color themes of green, blue, red and yellow across the property. It also houses its own restaurant, Summer House on Music Lane, which was inspired by "the casual sophistication that defines a lake house weekend." The property is surrounded by a new shopping and entertainment district, Music Lane, that includes Lululemon and Madewell storefronts.
Sports:
Old Austin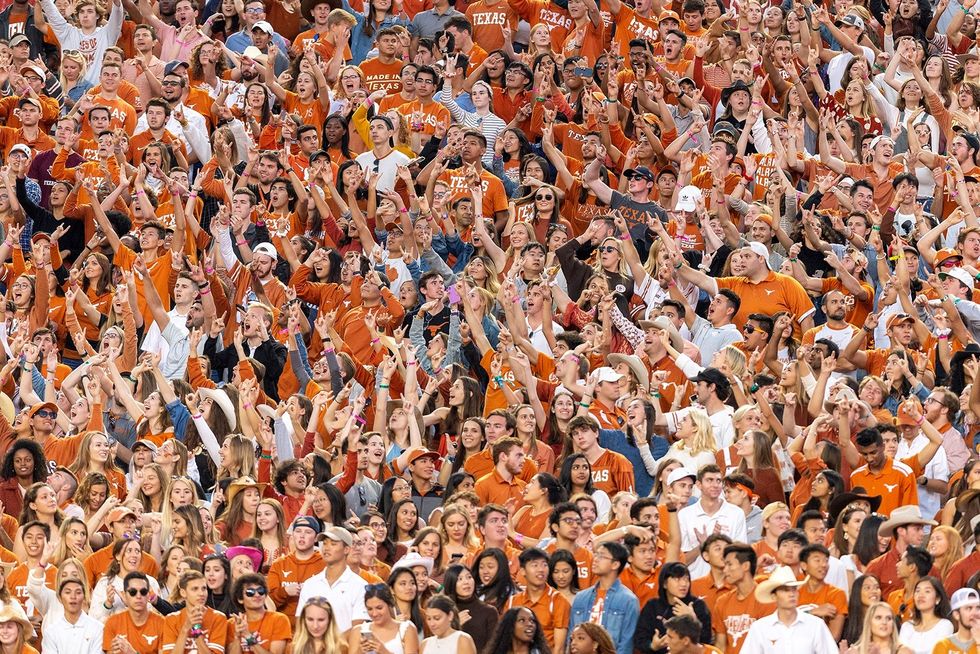 Longhorns plan for 100% stadium capacity in 2021 season
Before Verde and Black were a thing in Austin, the whole town bled burnt orange, especially because it felt like most of the town were University of Texas alumni. But even with a new team in town, the Longhorns haven't gone anywhere. Head to Darrell K Royal-Texas Memorial Stadium on most Saturdays this season for the full Texas football experience.
New Austin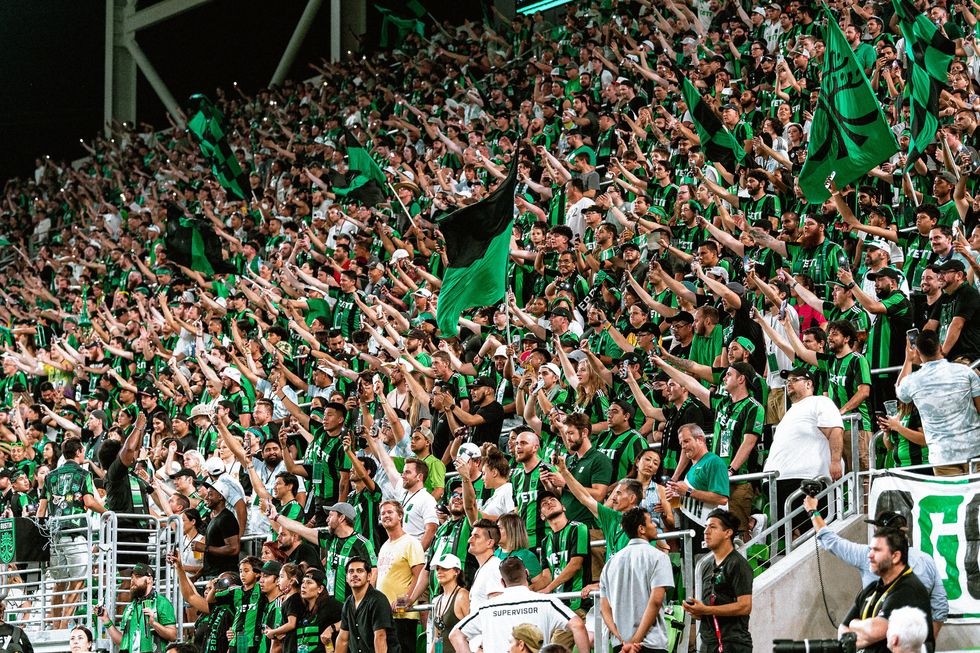 Austin FC fans chanted with members of Black Pumas as Austin FC took on the Seattle Sounders. (Austin FC/Twitter)
Austin FC is all the craze this year as it kicked off its inaugural season as the first major league team in town. While it's not exactly a standout team yet, you can catch the Q2 Stadium at full capacity every game with people cheering and lots of local eats to choose from. You don't need to know the game of soccer to have a good time with the fan band and nonstop action.
For more on Austin changing: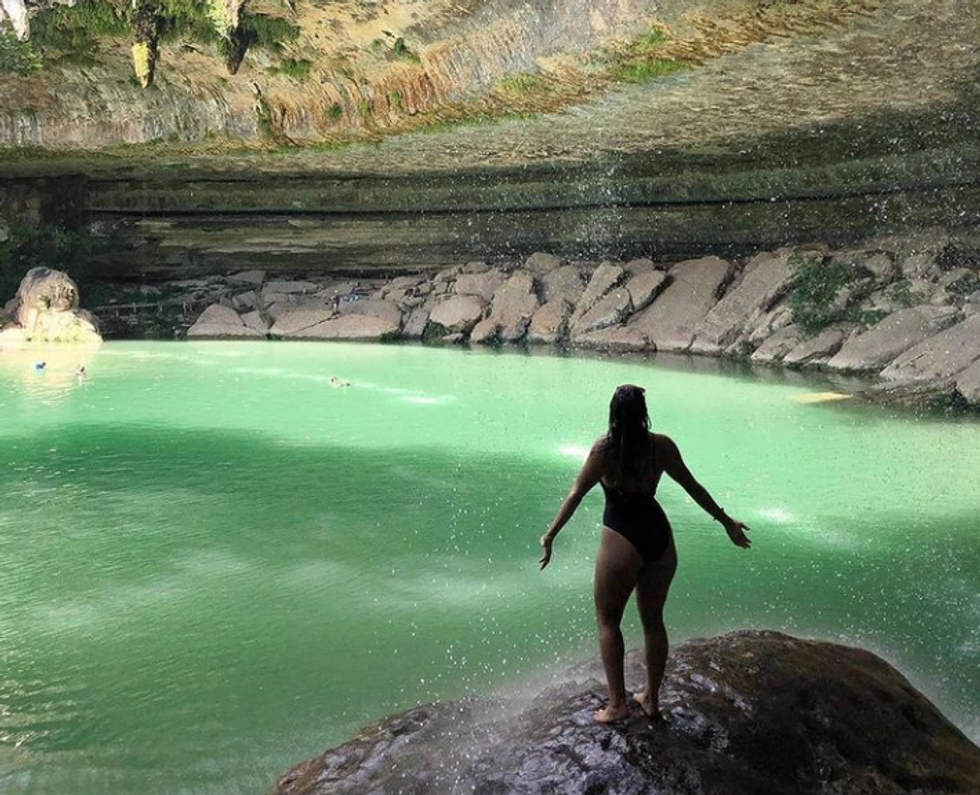 5 small towns to get a taste of old Austin life