Kristin Finan
Kristin Finan
Kristin Finan is an award-winning Austin-based journalist who loves shining a light on the people and places that make her hometown special. In addition to being a former staff writer at the Austin American-Statesman and Houston Chronicle and the author of four travel books, she is also a foster and adoptive parent and the co-founder of the nonprofit Carrying Hope. Email: kristinfinan@gmail.com. Instagram: @kristinfinan
Get connected with our daily update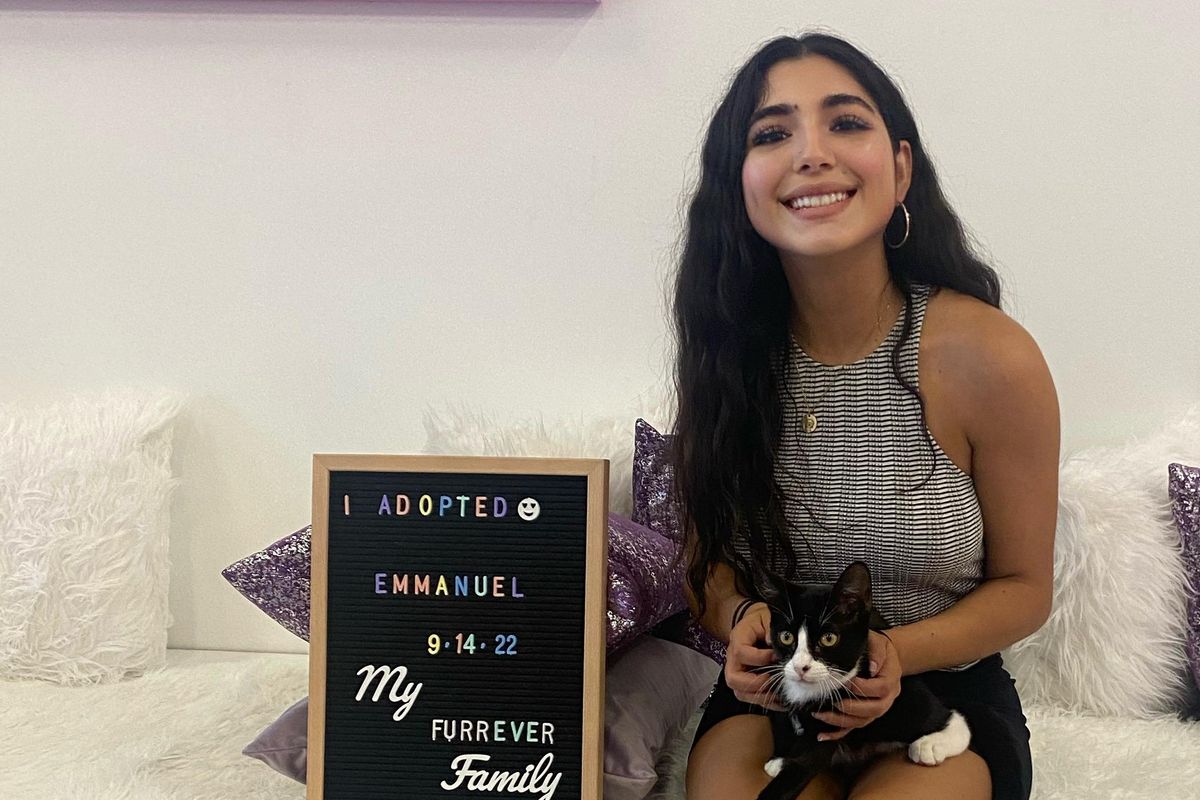 Purr-fecto Cat Lounge
Timmy and Tommy are ready to play.
As the 2-month-old white-and-tabby brothers swat feather wands, chase toys and generally hold court inside Purr-fecto Cat Lounge, a half-dozen potential adoptive parents look on lovingly, trying to get their attention.
"This is kind of like the speed dating of cats," said Lupita Foster, owner of Purr-fecto Cat Lounge. "I intentionally didn't put in any tables. That's why we call it a lounge instead of a cat café because we have these lounge areas where you can sit and relax and cuddle."
Foster, who has owned a cleaning company, Enviromaids, for 18 years, was inspired to open Purr-fecto Cat Lounge after adopting her own cat, Romeo, from a local shelter.
"When you want to adopt a cat, you have to spend a lot of time with them to get their personality," Foster said. "I wanted to do something to help the community and something that makes me feel good, that warms my heart. A business with a purpose. This was a perfect idea."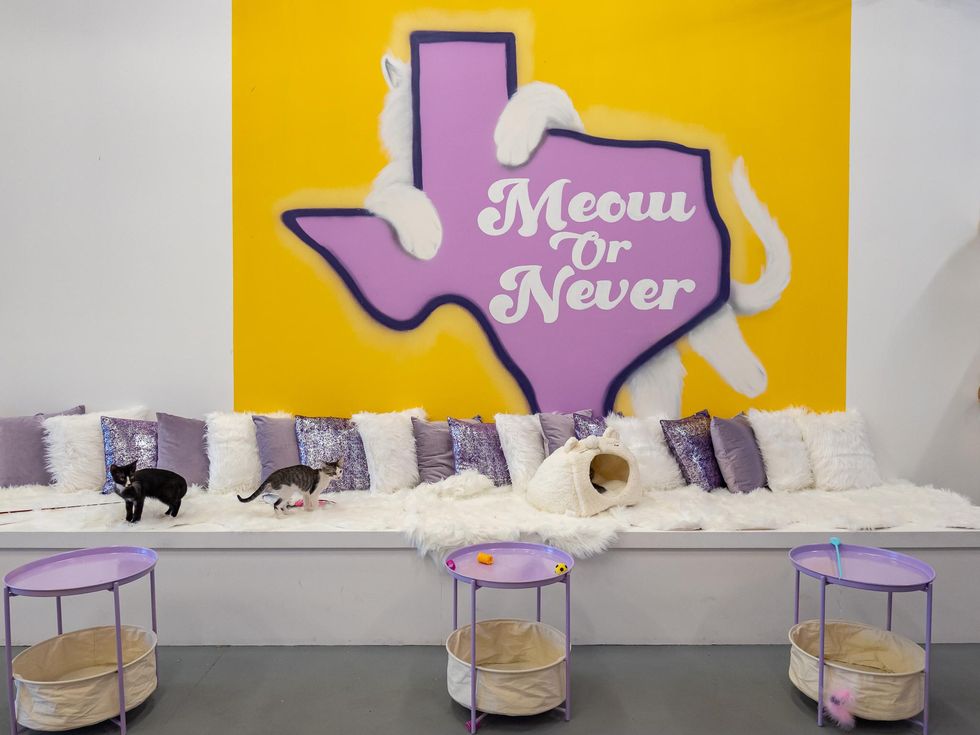 Actually, a purr-fect idea.
Inspired in part by a cat lounge she visited in Los Angeles, Foster began laying the groundwork for the business in late 2021 and officially opened the doors of Purr-fecto Cat Lounge, located at 2300 S. Lamar Blvd., in July 2022. Since then, she's worked with rescue organizations such as Fuzzy Texan Animal Rescue and Sunshine Fund Cat Rescue to facilitate nearly 100 cat adoptions.
At any given time, there are 10-15 cats living in the space, which features an ideal blend of calm, cool corners and adorably Instagrammable backdrops with phrases such as "I want to spend all my 9 lives with you."
Lina Martinez, 32, learned about Purr-fecto Cat Lounge from a friend's Instagram post and made an appointment to visit two days later.
"My first impression was, 'AWW!'" Martinez said. "The kittens were to die for. I felt happy and at peace – just what I needed."
Visitors to the cat lounge pay $15 for a 30-minute CATXperience session or $30 for a 70-minute session that is spent getting to know the personalities of each cat. Foster said the first thing she typically sees from visitors to the lounge is a smile.
"Everybody that enters the door is smiling," she said. "And we've seen people who have cried because they can't have kids and they decide to go and adopt a cat instead."
Foster said she loves bringing in cats who might not have a chance to be adopted at traditional shelters. She told the story of one cat named Izzy, who was partially blind, who was adopted by a family that had a deaf cat at home.
"Izzy was not going to get adopted anywhere else, but she's extremely beautiful," she said. "If she was in a cage in a rescue and you tell people she's blind, she was probably going to be overlooked. But visiting our space, she doesn't seem like she's blind. She knows her way around. She moves around perfectly."
Although Martinez, who had been casually looking for a pet to adopt since moving to Austin nearly four years ago, was interested in a cat named Ruby that she had seen on Purr-fecto's social media, at the lounge she instead found herself drawn to 5-month-old mixed breed Tuxedo cat.
"I thought he was a star," she said. "He worked the room and introduced himself to everyone. When I laid down to pet Ruby, he ran from the other side of the room and cuddled with me. It was game over. He got me."
And she, of course, got him, complete with a commemorative photo that read "My Furrever Family" the day she took him home. Although his original name was Emmanuel, she renamed him Sullivan after her favorite DJ.
"Purr-fecto is special because of the amount of effort and love they put into taking care of the cats," Martinez said, "and finding them good homes and making possible adopters feel at home."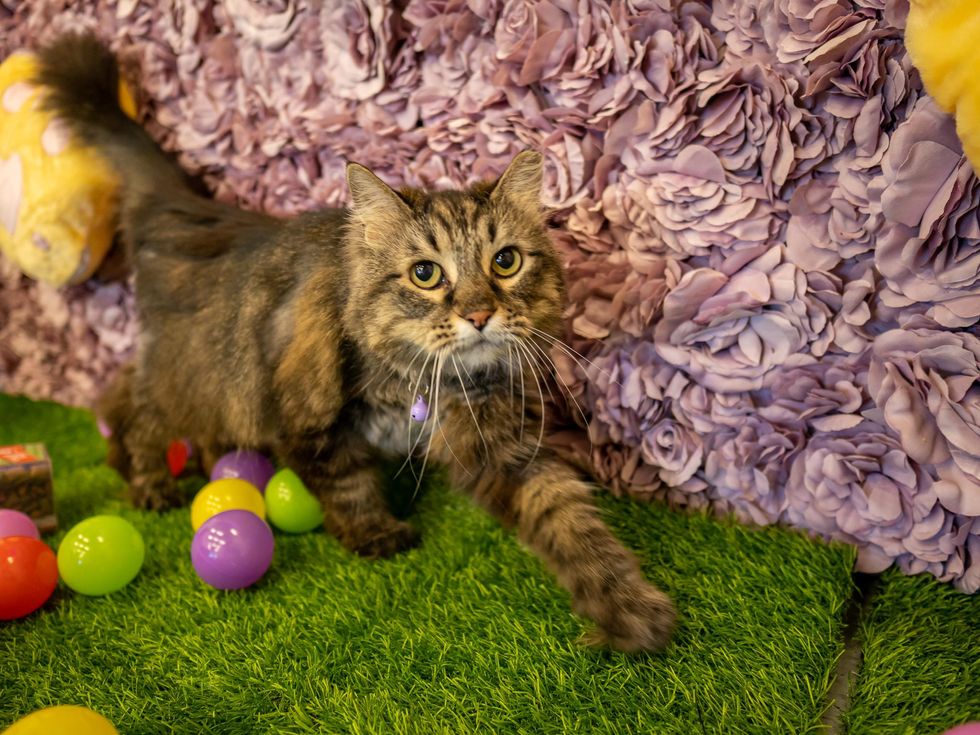 Foster, who spent a recent Thursday hosting a group of teenagers in foster care at the lounge, several of whom expressed interest in working there, said the best part about her new endeavor is that her heart is always full.
"I just feel complete," she said. "I always felt as an entrepreneur that I was missing something. I knew I accomplished a lot, but in my heart I was missing a little connection with the community. Now I'm creating connections between humans and pets and that's amazing. I'm creating family bonds. It's just about love, you know. And we need that."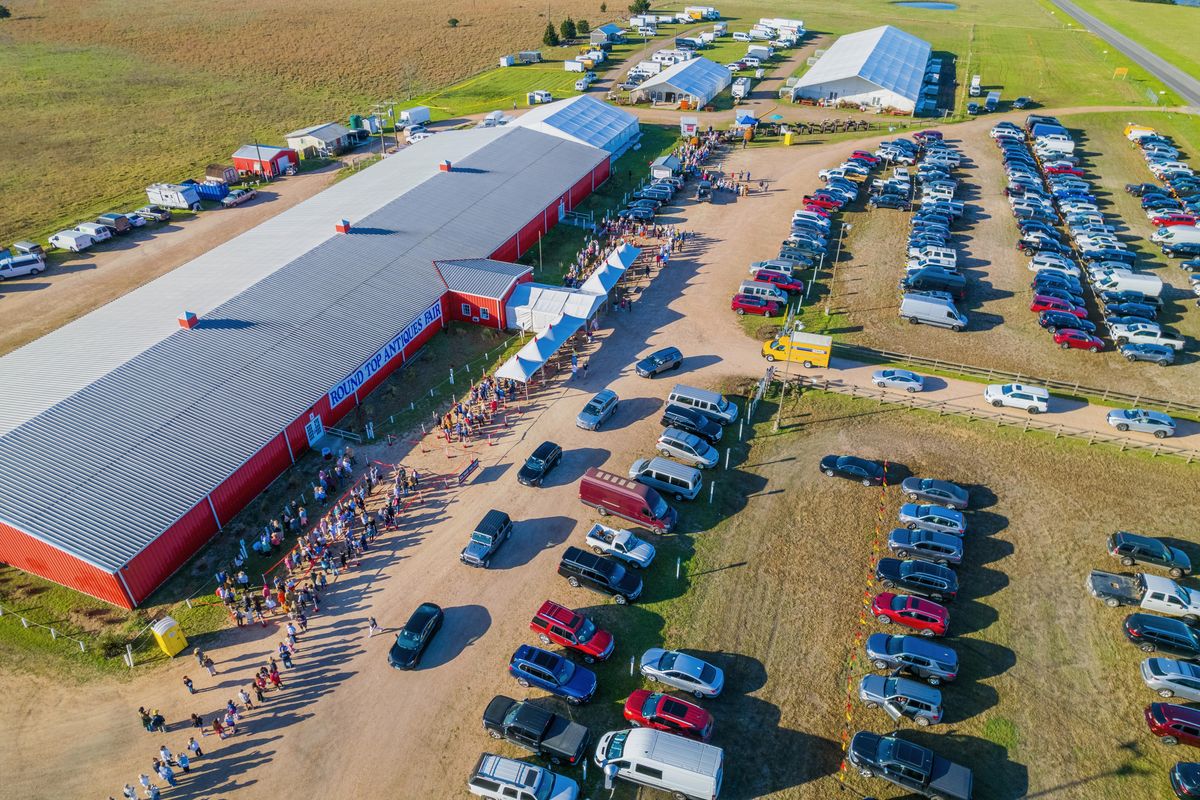 It may be known for its verdant hills, grazing longhorns and postcard-perfect sunsets, but when October rolls around, visitors to the small town of Round Top, population 90, have just one thing on their minds: antiquing.
Founded in 1968 by Emma Lee Turney, the biannual Original Round Top Antiques Fair is now one of the biggest antique shows in the country, courting more than 150,000 visitors who flood through nearly 100 venues looking for treasures in the form of fine art, home décor, jewelry and more.
"It's like a man's hunting season," said Bronwyn Walsh, who first attended the show in 2006 and has only missed two shows since. "I immediately knew I found my happy place."
Walsh, who lives in Dripping Springs, was so happy in the town that in 2013 she purchased, gutted and redecorated a travel traveler she calls Gertie so that she'd have a place to stay during visits to Round Top, which, at the time, had few lodging options. In the years since, Walsh has opened her own Austin boutique, Ollyloo Shoppe, which is named after her two children – Oliver and Lucy – and offers a "lovely curation of new and vintage treasures."
This month, rather than attending the antiques fair as a spectator as she has in years past, Walsh is having a full-circle moment as she runs a booth for her boutique at her favorite festival in her favorite place.
"It's amazing," she said, pausing our telephone conversation to help a customer who was interested in one of the lamps at her booth. "I'm having the time of my freaking life."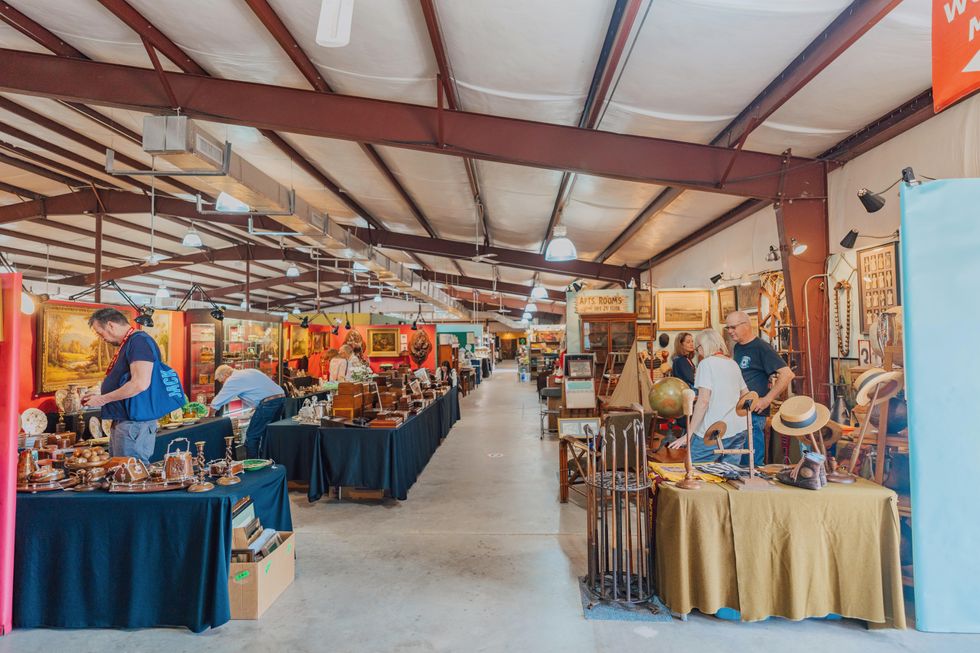 This year's fair spans more than 11 miles across Texas State Highway 237 and includes nearly 100 venues, each of which sets its own dates and schedules. The original – and most iconic – venue remains the Big Red Barn, which launches its show at 1 p.m. Monday; the show will run through Oct. 29. (A VIP Early Shopping Pass is also available that gives visitors access to the show from 9 a.m. to 1 p.m. Monday, before it opens to the public.)
Stephanie Disney, show manager at the Original Round Top Antique Show at the Big Red Barn, said the thing that keeps people coming back to the show, which is located between Austin and Houston, each year is "the thrill of the hunt." She added that she attended the show for 15 years as a spectator before becoming show manager and that all of her favorite items in her house come from Round Top.
"It's kind of like the Disneyland of antiquing. That's why people love it. It's the possibility of finding that amazing thing that you can't find anywhere else," she said, adding that as soon as this show concludes, she and her team, which includes her parents and her siblings, will immediately begin preparing for the spring show.
As for Walsh, she, too, is already looking forward to spring.
"I want my ashes spread here," she said. "I feel this horrifying, gut-wrenching pain having to drive away from Round Top. It's really freaky. It's just so much fun and people are so amazing. Everybody loves Round Top. You can't describe the love. You can't describe the energy throughout the whole town, really."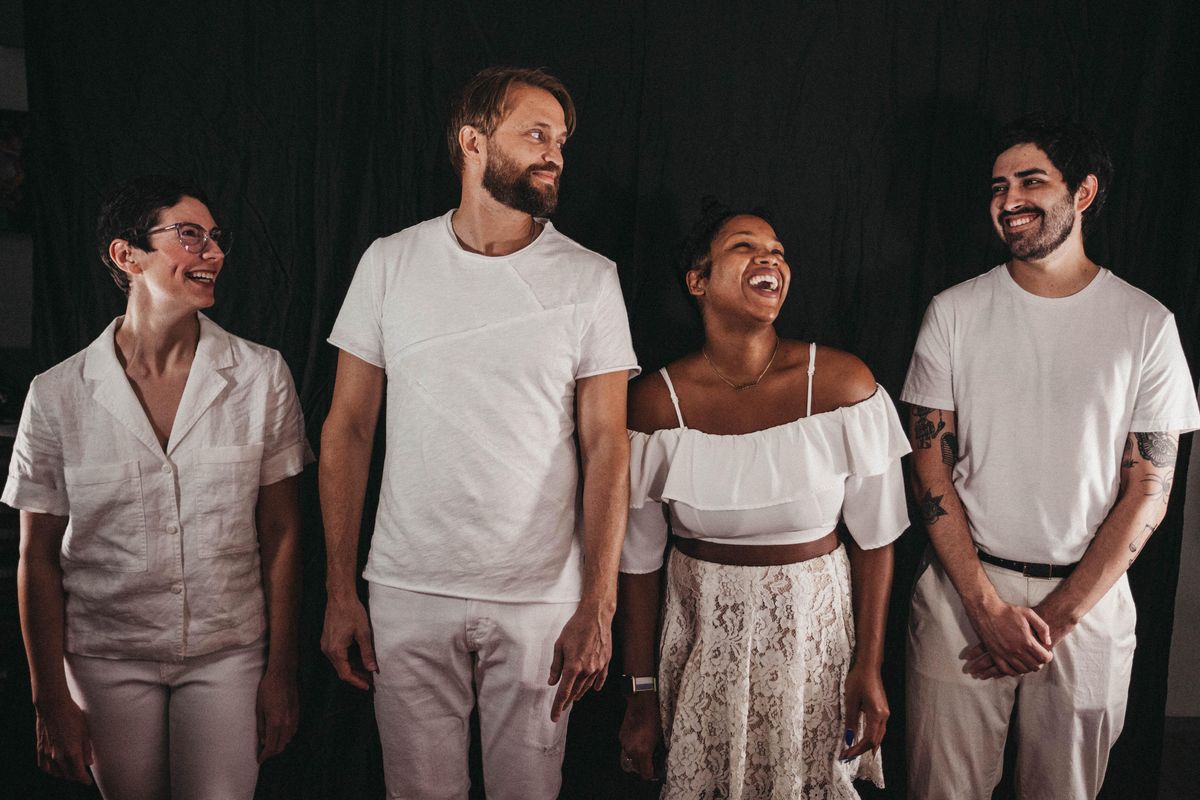 Candy Riot
Everyone knows that Austin has built its reputation on being "the Live Music Capital of the World."
Whether you're being greeted by a guitar-laden crooner upon arrival at Austin-Bergstrom International Airport or enjoying breakfast tacos in the shadow of statue and mural tributes to legends like Willie Nelson and Stevie Ray Vaughan, nods to the famous moniker are apparent throughout the city.
But following a pandemic that turned the entire world upside down, what's it actually like to be a musician in Austin right now?
Julie Nolen
Julie Nolen has been part of the local music scene for 23 years, not only as an alt-country artist but also as the host of open mic and songwriter nights across the city. She said her goal is "to keep getting better and meet a few heroes along the way."
Nolen described the Austin music community "like a college – you can learn from the best here." She said that while it can be difficult to make ends meet at times, musicians are fortunate to lean on local organizations such as the Health Alliance for Austin Musicians and the SIMS Foundation, which offers mental health and substance use recovery services for those in the music industry.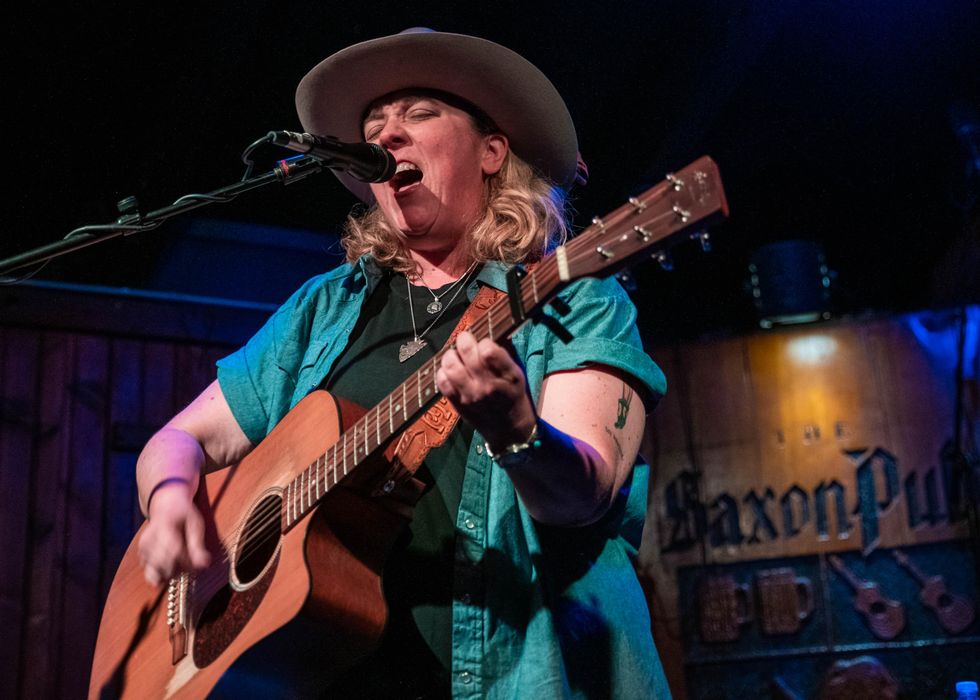 She added that the pandemic caused her to shift focus from performing to talent buying. After initially booking music for the Rustic Tap, Nolen's reputation as a talent buyer spread – her Pearlsnap Music Group now books for eight bars and produces one festival – the OUTlaw Pride Fest, which is this Saturday, Sept. 24 – each year.
Candy Riot
Bobby Cheatham and Liz Feezor, founding members of synth-rock band Candy Riot, said the pandemic forced them to write lyrics first, then build music around the words.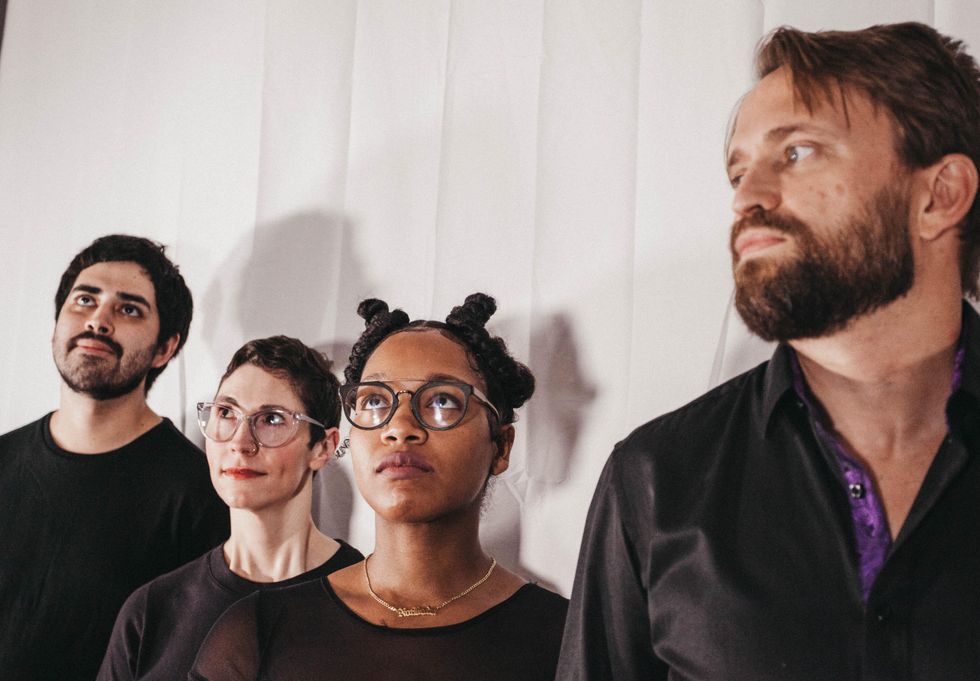 (Jessica Arroyo)
"We were heartbroken when Austin's music scene shattered for 20 months," Cheatham and Feezor said. "Writing, rehearsing, recording and performing are all communal activities, so we're grateful to see everything and everyone come back together."
The band, which has now expanded to include Ricky Rodriguez and Erica Porter, held a launch party for its debut album, "Moonstar," earlier this month and will release a cover of Blondie's "Heart of Glass" in collaboration with the Foxtales on Oct. 4. A show at Empire Control Room and a music video release for the band's single, "Black Tie," are also planned for November.
"We take emotions and give them a soundtrack, and hopefully some people will like the songs," Cheatham and Feezor said, adding that their music was featured recently on 101X Homegrown. "It feels good when they're played on the radio and when friends come to the shows. The band has given us great opportunities to create art, befriend other musicians and spend more time having fun."
Cheatham and Feezor said the challenges facing new bands in Austin post-pandemic include finding places to play, writing music and finding the money to record. They added that new bands also need "good songs, pretty pictures, a well-written bio, and traction on social media to get the attention of the venues. Knowing the right people is also important."
Nolen said that while music is still abundantly available in Austin, pay, fair treatment, affordable housing and transportation also remain major issues for artists. She added, however, that Austin remains "very receptive" to new bands and that, like so many other things, making it in the music business here comes down to hard work.
"Mostly it's how to differentiate yourself from the rest of the hay in the haystack," Nolen said. "You'd better be really different and good, but more than anything, you'd better work really hard. Harder than everybody else."