Landry Allred
Landry Allred is a freelancer for Austonia. Alongside her barista job at a local Austin coffee shop, she also works part-time for a digital agency in Plano on the content team as well as for the startup branch Austinites101 as a contributor. In the past, she's had the privilege of working at multiple publications including Austin Monthly, Texas Parks & Wildlife Magazine, Austin Woman Magazine and The Daily Texan. She graduated from UT in 2020 with a bachelor's degree in journalism and is excited to share more untold stories of Austin.
Get connected with our daily update
TikTok continues to drive entertainment, especially for teens. But one TikTok trend may have gone too far, according to Austin ISD.
The "TikTok bathroom challenge" has officially reached AISD, where students are destroying school bathrooms. Lively Middle School recently sent a letter to parents about the challenge informing them that if this vandalism continues, they will need to occasionally close restrooms for cleaning and repairs.
Though the letter said they have been able to catch a majority of the students, the school is still asking parents for their help in educating their children on the gravity of vandalism and monitoring their social media accounts.
Part of a nationwide trend, the challenge was born from students showcasing their "devious licks" as the new school year started.
On Sept. 1, a new trend started when TikTok user @jugg4elias shared a video of themselves pulling a box of disposable masks out of their backpack claiming the theft as a "devious lick," which gained over 239,000 views within a week.
Five days later, another user @dtx.2cent, whose account is now nonexistent, shared a video of themself opening their backpack revealing a stolen hand sanitizer dispenser from school also claiming it as a "devious lick." This post gained over 7.2 million views within two days.
As part of students across the country showcasing their "devious licks," the TikTok bathroom challenge came to life.
On the platform, students have tried one-upping each other on stolen items and other forms of vandalism. The trend has featured teens stealing fire extinguishers, fire alarms, brooms, clocks, security cameras, laptops, wet floor signs, bathroom mirrors, water fountains and even a smartboard. Some videos even capture students in action while taking apart their school's plumbing systems.
One YouTube channel named tiktoktrends created video compilations of all the TikToks from this trend.
This year marks the 20th anniversary of 9/11—a day many Americans will never forget.
Here are some ways you can commemorate 9/11 in Austin this year.
9/11 Memorial Ceremony at Buford Fire Tower, 201 West Cesar Chavez Street
7:30 a.m. Saturday
The Austin Firefighters Association will be hosting its annual memorial to honor 9/11, open to the public. At 9:30 a.m., firefighters in complete gear take part in a memorial climb at Pleasant Valley Drill Tower, which will mimic the height of the World Trade Center.
9/11 Memorial Stair Climb, 12700 Hill Country Blvd.
7:46 a.m. Saturday
This annual stair climb is open to the public to support representatives from the Bee Cave Police, Lakeway Police and Lake Travis Fire Rescue to undergo this challenge, climbing an equivalent of the World Trade Center's 110 stories. The event begins at the exact time the first flight crashed into the World Trade Center. The climb will take place at Parking Garage A near Dillard's.
Memorial Tower Climb, 9201 Circuit of the Americas Blvd.
8 a.m. to noon, Saturday
The Circuit of the Americas will be working in partnership with the nonprofit Samaritan Center to pay respect to the first responders who lost their lives on 9/11. Locals will be invited to climb the stairs of the tower to the observation deck and back down four times, mimicking the 110 floors in the World Trade Center. This event is open to all ages and fitness levels, and registration is $30
online
. Participants will receive a poster memorializing the event and t-shirts will be for sale onsite. Funds from the t-shirts and event will go toward supporting the Samaritan Center, which provides mental health services for veterans, first responders, members of the military and their families.
Ride for the Badge Motorcycle Ride & Party, 10917 South Interstate 35
8:30 a.m. Saturday
The Cowboy Harley-Davidson of Austin is hosting a tribute ceremony, motorcycle ride and party to honor this year's 9/11. The event will start at the Cowboy Harley-Davidson building with a ceremony featuring a moment of silence, national anthem, and first responders, military members and veterans recognition. This portion of the event is free to the public. The bike ride will start around 10:45 a.m. and it will end at the Texas Ranger Heritage Center in Fredericksburg. Tickets for the ride cost around $35 for each rider and participants will receive a free breakfast, swag bag, t-shirt, lunch and raffle ticket. The party at the heritage center will last from noon to 5 p.m., which will feature a raffle, vendors, live music and food.
Rotary Club of Northwest Austin 9/11 Tribute, 8600 Balcones Club Dr.
9 a.m. to 2:30 p.m. Saturday
In honor of 9/11, the Rotary Club of Northwest Austin placed 300 American flags across the street from the main entrance of the Balcones Country Club, one flag each representing around 10 lives lost. The memorial this weekend will recognize those who died on 9/11. Then, Boy Scout Troop 513 will post the colors, pray, recite the pledge of allegiance and sing the national anthem.
Bagpipes and Drums at the Texas Capitol, 1100 Congress Ave.
Noon, Saturday
The Emergency Service Pipes and Drums Association will perform in the rotunda in the Texas State Capitol to honor those who lost their lives on 9/11. This Central Texas band is made up of firefighters, police and paramedics.
Claude van Lingen's 9/11 Memorial: The 20th Anniversary, 5419 Glissman Road
4-10 p.m. Saturday
At Co-Lab Projects, they will be hosting an opening reception to commemorate those who died on 9/11 as well as through the conflicts in Iraq and Afghanistan. The exhibition will feature two large drawings that include the names of the 2,753 victims of the World Trade Center, the 125 victims from the Pentagon attack, the 39 victims from the Pennsylvania crash, the 2,500 victims from the wars in Afghanistan and the 4,000+ victims from the wars in Iraq. These names will be updated regularly, and during the exhibition, visitors will be asked to create a collaborative piece to honor the 9/11 victims.
Memorial Mount Climb, 3800 Mt Bonnell Road
Anytime, Saturday
Bear Creek Performance Training typically hosts a climbing event and fundraiser to honor 9/11 but unfortunately, this event has been canceled due to COVID-19. However, they encourage locals to still make the climb on their own, hiking up Mount Bonnell's 102 steps 44 times to mimic the Twin Tower stairs. The public is also welcome to donate to Team Red, White & Blue, the nonprofit that typically benefits from this event and connects veterans to the community through physical and social activity. Mount Bonnell is free to access and has free parking on site.
After nearly two months of waiting and wondering by the Fonda San Miguel staff and customers, their beloved bronze fountain was finally returned by an anonymous source this past weekend.
Tom Gilliland, owner and founder of Fonda San Miguel, thought fondly of this fountain and he, along with the restaurant's employees and visitors, was extremely concerned about its whereabouts.
"It felt like having a dear friend return safely from an unexpected trip without knowing when or if they would ever return."
The fountain, which featured an elongated face and was entitled "Rostro Rectangular, Ojos Cerrados" (eyes closed), was stolen the morning of July 6 and was immediately reported to the Austin Police Department. The restaurant offered a $500 reward for anyone who could help locate their dearest fountain piece.
The piece was created by Mexican artist Sergio Bustamante and weighs over 60 pounds. The heist was not one for beginners.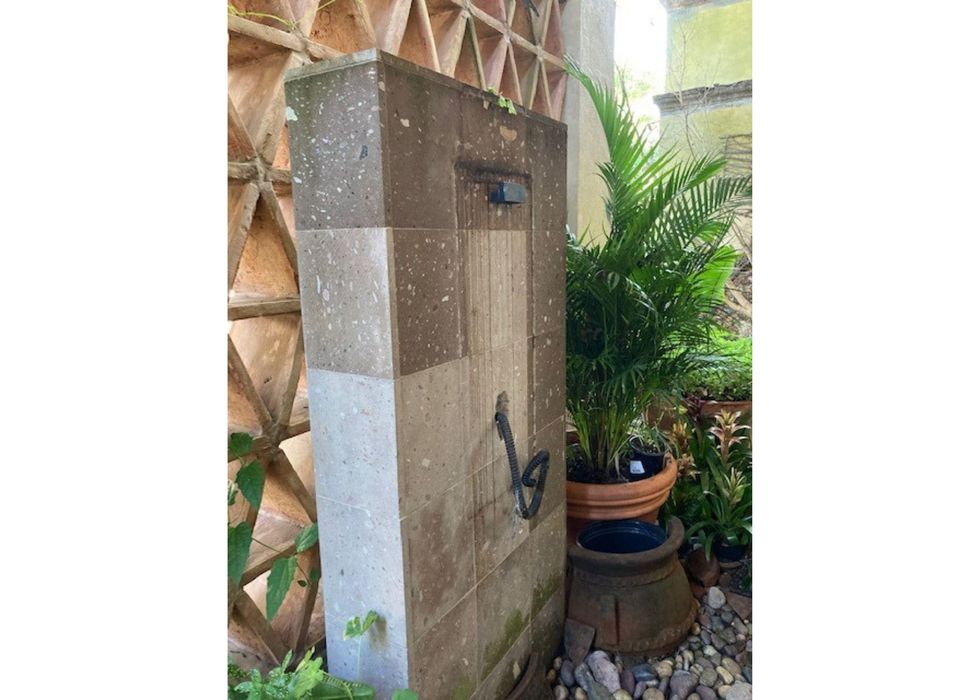 The fountain was stolen off this wall in July. (Fonda San Miguel)
"(The fountain) is massive and would have required at least two strong individuals and a truck to pull this off," Gilliland said. "My guess is the thieves knew exactly what they were stealing."
It sat tucked away behind a wooden screen and stone wall, making it not easily visible by any passersby. However, many customers adored the iconic fountain and viewed it through the window in the main dining room.
Gilliland first bought the fountain in 2019 while visiting Bustamante's gallery in Mexico. Other pieces by the renowned artist can be seen on display within the restaurant.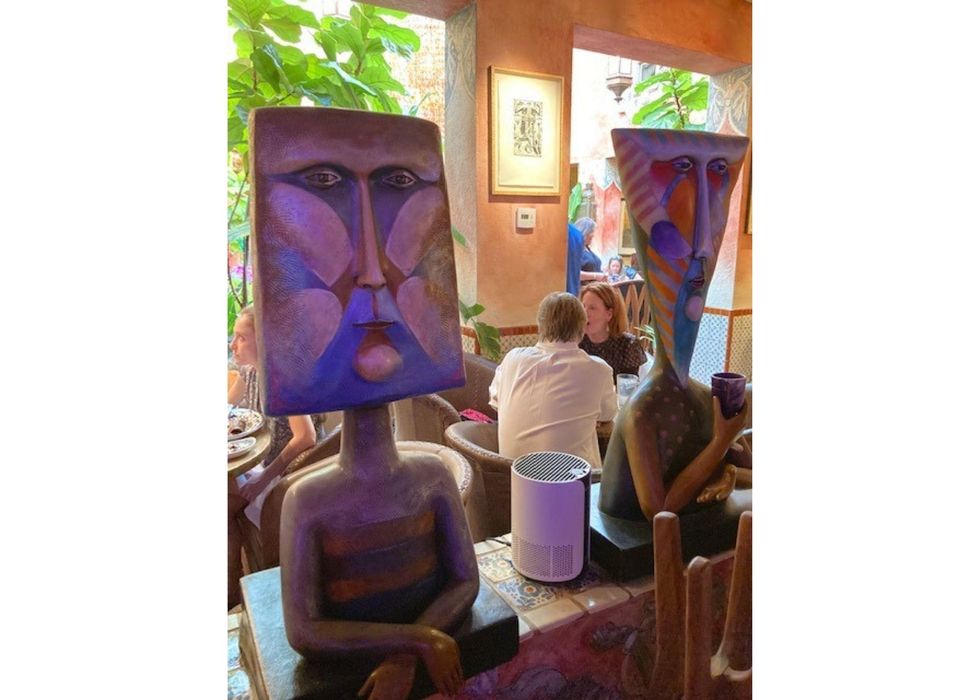 Art pieces from the same artist line the restaurant. (Fonda San Miguel)
After the fountain was stolen, Bustamante crafted a new fountain, which was slightly darker than the original. They implemented additional security measures with this installment.
When the fountain was returned, they also increased security measures in hopes of preventing a situation like this from happening again. Though it luckily only endured minimal damage while it was gone, the original fountain will return to its display spot soon, the owners say.
Gilliland encourages those who want to see the fountain back in its rightful place to visit their restaurant located on West North Loop. Fonda San Miguel is open every day starting at 5 p.m. and is closed on Sundays.