Austonia AM
100% Austin news, info, and entertainment, straight to your inbox at 6 a.m. every morning.
In five minutes, you're fully informed and ready to start another great day in our city.
Rich Oppel
Rich Oppel, editorial advisor for Austonia, is the former editor of the Austin American-Statesman, Tallahassee Democrat and Charlotte Observer. The Observer won three Pulitzers under his leadership. He also has served as chairman of the Pulitzer Prize Board and president of the American Society of Newspaper Editors. In retirement, he served as interim editor-in-chief of Texas Monthly and interim Vice President / development of Huston-Tillotson University.
Get connected with our daily update
Ken Herman, the Austin American-Statesman's columnist for the past 12 years, announced his departure Sunday in a graciously-worded report that nonetheless revealed differences between Herman and the new Statesman editor Manny Garcia.
Herman, 67, said Garcia "brings new energy and focus at a time when both of those are valued. He has a different vision from the one I have for the job I now hold. His is a good vision, one that will benefit this newspaper."
Garcia told Austonia he had "great respect for the work that Ken has done" and "really valued his work." When asked whether there was a disagreement between the two of them, Garcia said, "I do not comment on any personnel decisions beyond (saying) that I have great respect for Ken and the work he has done."
Garcia, 61, became editor and vice president of the Statesman in February after leading ProPublica's Austin-based investigative partnership with the Texas Tribune. Earlier in his career, he served as senior editor of The Miami Herald, the head of el Nuevo Herald and then executive editor of the Naples (Fla.) Daily News. He was a regional executive for Gannett, a media company that owns more than 260 brands in 46 states. Gannett now owns the Statesman. Garcia also served as head of standards and ethics for the USA Today Network.
Over more than 25 years with the Statesman, Herman served as a political reporter, headed state Capitol coverage and was the paper's Washington correspondent during the presidency of George W. Bush, who was known to kid with Herman at press conferences. Bush once jokingly admonished Herman for wearing a worn-out seersucker suit.
"It's been a wonderfully broad portfolio that's allowed me to write about whatever interested me in hopes that it would interest you and the editors. In 12 years of column writing, there have been politics, sports, obits, weird stuff, happy stuff, sad stuff and the unrivaled joy and optimism of centenarians jumping out of airplanes," Herman said.
While Herman said he expected great things to come from the Statesman, he said "the business model that produced so much profit and so much employment for so long is so kaput, disrupted into a new frontier in which success is far from assured and must be earned."
At its peak in the late 1990s under publisher Michael Laosa, the Statesman employed 1,100 people--including more than 200 in the newsroom--and had a circulation of 190,000 daily and 220,000 Sunday papers.
The newspaper was then owned by Cox Newspapers Inc.
Current Statesman print circulation and overall readership numbers were not immediately available, but Garcia said digital subscriptions were at 27,000, up 7,000 since January.
(Felix Mizioznikov/Shutterstock)
It could be the biggest Austin economic development project in a generation. One observer calls it a "get-out-of-jail-free" ticket to overcome the devastating economic impact of the coronavirus pandemic. But Tesla, the high-flying builder of electric vehicles, has asked local officials to react quickly and fully to its requests. If not, Tesla could flee to a rival location in Tulsa, Okla.
Tesla, a Palo Alto, Calif.-based company, has three objectives.
Property tax abatements of $68 million and $14 million from the Del Valle Independent School District and Travis County, respectively, over a 10-year period. This means that Tesla would be paying approximately 20 cents on the dollar of the tax bill it would otherwise face. Still, say those familiar with the proposal, the Tesla payment would represent a huge boon to DVISD, a relatively poor school district that has 11,200 students in 10 schools. Eighty-four percent of the students are Hispanic.
Rapid approval of environmental permitting from the city of Austin. While Tesla's proposed site is not in Austin's city limits, it is within the city's extraterritorial jurisdiction (ETJ), an area extending out from the city in which Austin controls development that affects the environment.
Fast-track approval of all considerations by no later than July 31 so that Tesla could begin construction soon thereafter.
Seeking incentives
Some might think that the $82 million in tax abatements is pocket change for Tesla, a company with a market capitalization of $185.5 billion as of June 19. That is several times higher than General Motors' market cap of $38.1 billion and Ford Motor Co.'s market cap of $24.8 billion.

But a source familiar with Tesla's thinking says the property tax concessions are essential, and if not granted, are a deal-breaker. While the company is financially strong and its chief shareholder, Elon Musk, is wealthy enough to launch a manned space vehicle, the valuations on an automotive plant and its highly specialized equipment can be so high that thin profit margins "go upside-down very quickly, so what [the taxing bodies] do is very important."
Tesla property tax impact. (Travis County Commissioners Court)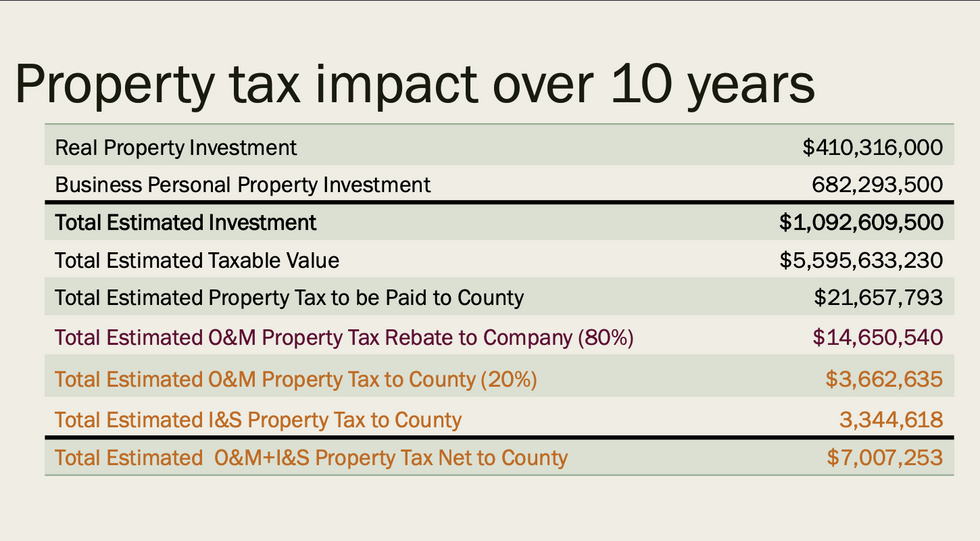 Choosing the site
Also critical is how the city of Austin's environmental regulators will consider the 2,100-acre site, where owner Martin Marietta now conducts sand and gravel mining. Tesla is said to be concerned with environmental standards in Texas that primarily relate to ranch water tanks—artificially created ponds dug to slake the thirst of cattle.

Those regulations, according to a source familiar with Tesla's application, require 300-foot setbacks from the tanks because of "wetlands" that surround them. If that standard were applied to Martin Marietta mining pits—which looks like a war zone after an aerial attack—there would be no land worthy of development, said a source. That source and others declined to be identified because they were not authorized by parties involved to speak publicly.
Tesla's proposed site is near corner of the intersections of state highways 71 and 130, east of the Austin-Bergstrom International Airport.
The rush to approval
Tesla's request for a "go-fast" processing of its application could present a significant challenge to the city of Austin, which is now overwhelmed with the need to respond to the COVID-19 pandemic and recent protests against police violence. According to observers, there is a real question whether the city has the capacity to focus quickly and in depth on the Tesla application.

Asked why Tesla is in a rush during a time when auto sales have declined sharply, a source familiar with Tesla's thinking said that for every day of lost production, there is lost revenue. "It's just the way business looks at it."
Still to be determined is whether Tesla's expectations about speed of movement align with the city's. Austin City Council is not scheduled to meet again until July 30. There is uncertainty about whether Tesla will wait that long. "The city of Austin can stand only so much pressure," said a source.
Supporters and opponents
Tesla is not without advantages in its pursuit. The firm believes it has allies within the Travis County government and DVISD, as well as in the Greater Austin Chamber of Commerce and "up and down" the ranks of state government. "The support so far has been remarkable," he said.
DVISD Superintended Annette Tielle said in a statement last week, "The addition of a company who has the ability to support our community both economically and academically would be advantageous for our students and accelerate our efforts to mentor and develop the workforce of the next generation." The DVISD board will next take up the proposal during a closed session at a meeting on Wednesday.
The Travis County Commissioners Court will receive presentations on the proposed agreement from staff and Tesla representatives at a meeting on Tuesday. In the presentation, which was made public last week, the county staff wrote that the proposal "results in a substantial benefit to the community and a net fiscal benefit to the County."
Commissioner Gerald Daugherty told Austonia that the proposed factory would benefit DVISD more than the county—equating it to the 2005 economic incentive deal Manor ISD entered into with Samsung. He added that the prospect of 5,000 jobs, most of which would go to skilled workers without college degrees, was alluring. "Let's face it, today in America manufacturing is really one of the more difficult areas to bring to your community," he said. "That's a pretty enticing deal for us."
A person familiar with Tesla's thinking said there were alternative plans if the manufacturer could not win speedy approval of the Austin site, but declined to give details. Tulsa has been mentioned publicly as a competing destination. The source declined to say whether there were alternative sites in Williamson County, which has been an ardent suitor of Tesla, or elsewhere in Texas.
Tesla job creation over time. (Travis County Commissioners Court)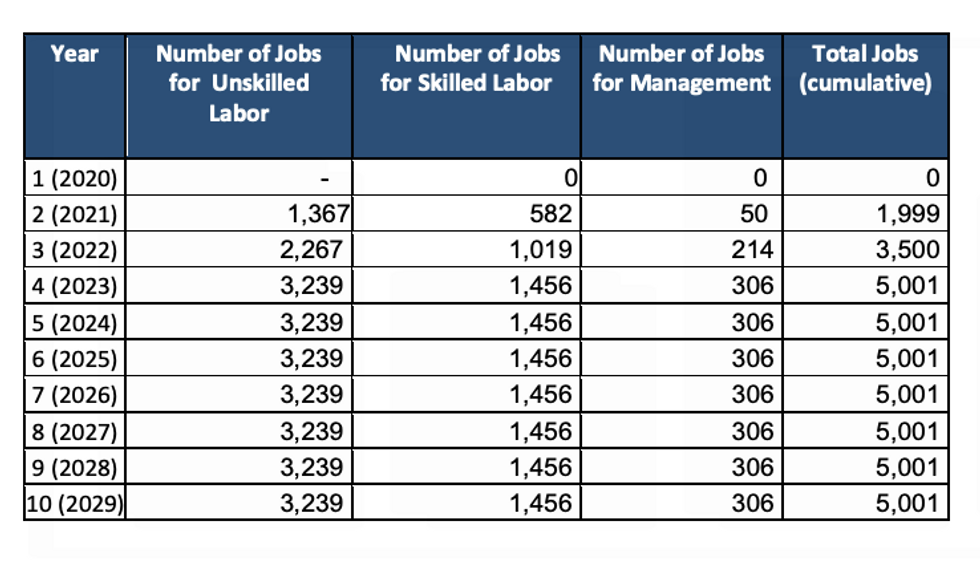 Travis County projects 5,000 Tesla jobs over the next several years.
While Tesla is unlikely to face opposition from neighborhood groups, because there are few neighborhoods in the area of the proposed site, it may well face challenges by the United Auto Workers, which has sought to organize Tesla. The firm's plants now are non-unionized. And the UAW, through allies in the local Workers' Rights groups, has political support in Austin that could become a factor in decision-making.

Rick Levy, president of Texas AFL-CIO, urged local officials to consider what he called Tesla's troubled history with taxpayer subsidies—and its flouting of government authority. He said Elon Musk reopened the company's Fremont, Calif., factory in defiance of a local county shelter-in-place order, meant to limit the spread of COVID-19.
So, you wanna give Billions to a billionaire? What's it like to work for Tesla? Have they ever kept their promises… https://t.co/TAc1Gr6yD8

— rick levy (@rick levy)1592859690.0
In a phone interview on Monday, Levy worried that if Travis County gets Tesla to agree to worker protections and other terms, it may be hard to enforce compliance. "I'm not totally sure that it's possible because when somebody is as big as this operation is, does the tail wag the dog or does the dog wag the tail?" he said.
The optics of giving a public subsidy to a billionaire-owned company are unpalatable to some.
Mayor Pro Tem Delia Garza, whose district runs closest to the proposed factory site, said in a statement to Austonia: "For me, any consideration of an opportunity like this one for residents in Southeast Austin and Travis County must include good union jobs and fair wages. I'm also concerned about some of our small businesses struggling right now, and what kind of message is sent to them for government to help wealthy corporations."
Why Austin
Asked what makes Texas attractive to Tesla, a source said that Texas' "entrepreneurial, pioneering personality" matches that of Elon Musk. As for Austin, the city carries the added advantage of a highly-educated labor pool deep in engineering and technical skills. "There are not a lot of sparks flying, welding and molten steel going on in a Tesla plant," he said. "It's pretty clean and robotic."
Those employed would fall into two groups, those with advanced management and engineering backgrounds, and skilled labor. Also, he noted that construction of a plant would require a substantial force of workers from the building trades.
Austin Business Journal reported Monday that Tesla may also relocate its headquarters to Austin, following Musk's ongoing conflict with California lawmakers over COVID-19 policies.
Transportation was clearly an issue in the location of GM and Toyota plans in Arlington and San Antonio, respectively. I-35, I-30 and I-20 are all near Arlington, and I-35 and I-10 converge in San Antonio. The proposed Tesla site adjacent to SH 130 is clearly at an advantage. "That is a yet-to-be maxed-out highway, and gives access both north and south." To the north, SH 130 connects with I-35. To the south, it intersects with I-10, running east and west. Rail service has not yet been discussed, he said.
Not yet known is the ultimate capital investment Tesla will make in the site in the plant and its equipment, but a source called it "staggering." In a presentation prepared for Tuesday's meeting of the Commissioners' Court, the court's staff said the real property investment was $410,316 and the personal property investment, apparently the building and equipment, would be $682,294—for a total of $1,092,610 over 10 years.
Let's take a break from pandemic and economic disaster to consider lighter fare that may lift your spirits and your eyes to the skies above. Set your cell phone reminder: The Air Force's fabled Thunderbirds are scheduled to fly over Austin beginning at 2:40 p.m. on Wednesday. The flyover will last 25 minutes.

Step outside with the house-bound kids. Don't congregate at a park or shopping mall. The T-birds, who are flying across many American cities in a salute to healthcare workers, first responders and other frontline workers in the pandemic, advise against any gatherings. The formation of six F-16C/D Fighting Falcons will be easy to see and hear.
Austin residents "will be able to see the flyover from the safety of their home-quarantine and should maintain all social distancing guidelines during this event," said the Air Force on its website. "They should also refrain from traveling to landmarks, hospitals and gathering in large groups to view the flyover."

A detailed flight route will be released on Tuesday. But we do know the demonstration group, based at Nellis Air Force Base in Nevada, will first fly over San Antonio beginning at 1:20 p.m.
The Air Force demonstration group is a 130-person squadron led by Lt. Col. John Caldwell, who flies in the no. 1 position. On his left wing is a Texan: Maj. Trevor Aldridge, who hails from Wichita Falls and graduated in 2009 from Texas A&M with a major in civil engineering. Another Texan, Lt. Col. (Dr.) Noel Colls, a native of El Paso who earned his medical degree at Texas Tech, is the flight surgeon.
The F-16C/D is a fighter jet that is built at cost of about $20 million. It is capable of flying at Mach 2 (1,500 mph) and at an altitude above 50,000 feet. The Falcon has a long history of flying sorties in the Persian Gulf War and in Afghanistan and Iraq.
Welcome to Austonia, a new, locally owned news company reporting on news, business, and politics in Austin. Like what you see? Sign up for our daily newsletter to get our latest stories in your inbox.
Elevator wars. Cramped life on a balcony. Darkened bars and restaurants. No deliveries to your condo. Generational differences over latex gloves, disposable wipes and social distancing. Ready to kill for a beer on a restaurant patio. Yes, those who live in Austin downtown's high-rises are stressed in the midst of the coronavirus pandemic.
Yet the downtowners believe this time will pass and are optimistic about the future of the heart of our boomtown. For one thing, downtown's density—when closely examined—seems less of a threat than elsewhere because it is highly affluent and not all that dense.
If the urban dwellers yearn for the old days, it's not for their previous lives in the suburbs, but a distant time—only six weeks ago—before Austin shut down.
Ours is a city revered for its outdoors life, entertainment and food scene. Tens of thousands are drawn to our streets and trails every week. Now our sidewalks are silent as we cautiously creep our way back to what used to be.
Twelve years ago, Forrest Preece and Linda Ball, who had lived in a comfortable, 3,000-square-foot house with a lush and sprawling backyard overlooking Shoal Creek, moved to 360 Condos at 360 Nueces Street. They were in search of a simpler, more convenient life.
Until the city's shelter-in-place expires, they are largely self-isolated in their 1200-square-foot apartment and small balcony.
"Well, I didn't have any regrets until now," says Preece, a retired advertising agency owner who is 73. "Before this, if we wanted vegetation, we'd walk three blocks south and be on the hike-and-bike trail. We are scared to be over there now. There's not a whole lot of respect for social distancing going on."
Austonia checked in with a dozen people—residents, downtown leaders and an urban thinker—to gauge how living in a high-rise during a pandemic differs from the lives of other Austin residents. For the most part, the people who live high in glass and steel say there's no material difference between the pressures of the pandemic on urban and suburban life. They take great pride in downtown Austin, are committed to sticking out the virus and know things will get better.
Coronavirus has been clearly identified with population density and poverty. The nation's hotspots are New York City, with a population density of 26,000 per square mile; Detroit, 4,900; Chicago, 12,000; and New Orleans, 2,300. All have significant pockets of poverty, and those places are where COVID-19 stalks the streets.
Is downtown Austin dense? According to the Downtown Austin Alliance (DAA), an estimated 15,500 people live within the 1.67 square miles bounded by Martin Luther King Blvd. on the north, Lady Bird Lake on the South, Lamar Blvd. on the west and I-35 on the east. That would give downtown a density of 9,300 per square mile.
But that's only part of the picture. It's not clear how many of Austin's downtown residents are part-time. But from discussions with real estate agents and others, it appears that a significant number treat our city as their second home. So that eases density.
Also, downtown residents are wealthy. Their median household income is $110,303, compared with the median of $67,462 for Austin as a whole, according to the DAA.
They say the wealthy control their own destiny, and it seems they also control their own density. Plaza Lofts at 5th and Guadalupe, where Nina and Frank Seely live, has 55 units. Nina Seely says only about 35 people are in the building at any one time.
The Seelys moved from The Ridge at Barton Creek in 2018. Plaza Lofts is two blocks away from 360 Condos, so close that Nina can wave from her balcony to her friend Forrest Preece on his.
Seely sells to wealthy buyers who prefer confidentiality. Often, they are seeking a second home downtown. She says few of her clients even mention the virus and density. "If they do ask me about that, I say you're going to have to live your life as you want to. Living in a condensed area downtown, people are behaving themselves."
Emily Zipp and Andrew Fischer, both 29, share Fischer's unit at 360 condos. For them, the pandemic arrived with a few bearable annoyances. The pool, lounge chairs and grills on the recreational deck were closed by building managers, and Zipp misses cooling off in the pool after a day's work or gathering with friends on the weekend.
"Elevators are a very hot-button subject," says Zipp, a 2013 graduate of St. Edward's University who is an account executive for Sprout Social, a Chicago-based social media software management company.
"We only have four, one is for freight, and it seems like one is always broken down. If you're trying to go out between 5 and 7 p.m., the waits can be as long as 10 minutes." The pandemic heightens elevator chagrin: "If someone is in it, I won't get in. I'll wait for the next."
Not all agree that the denizens of downtown are so well-behaved. One older person complained about young people and the homeless not wearing masks or keeping their distance on the streets, trails and parks. He asked not to be named to avoid being called out by homeless advocates.
Zipp says she carries a mask with her when she's out for a run, or when she is in the public spaces of her condo building. If she approaches someone in a hallway, she puts on the mask. She doesn't engage in 360 Condo's online chat room. Arguments prevail between those who agree with the condo's restrictive policies, such as requiring food delivery pick-ups to be in the lobby, and those who see them as over the top. Zipp agrees with the policies, though she misses the pool.
Rikki Jump, 29, head of author strategy at Scribe Media, rents a one-bedroom unit at The Catherine, a luxury high-rise apartment building at 214 Barton Springs Road. She is across Lady Bird Lake and less than a mile from her friend Zipp. In 2013 Jump moved to Austin from Springfield, Mo., where she received a bachelor's degree in professional and technical writing at Missouri State University.
"I already went over the precautions they're taking" at The Catherine, she said. All common areas have been closed and only two people are allowed in an elevator at any one time. Jump adds, "but overall the vibe has been pretty tense and eerie. No regrets about living downtown! I'm obsessed with it and don't see myself making a change for a long time."
"I do not love working from home," says Jump. "It makes me feel very lethargic and sluggish." She's getting in walks with her dog on the hike-and-bike trail. "I would kill to be enjoying a beer on a restaurant patio with my friends. I'm single, so that's been pretty lonely."
Among the part-time dwellers of downtown Austin are David Powell and Vicki Weber, whose main home is in Tallahassee, Fla. David is a 1973 graduate of the University of Texas-Austin and a former editor of the Daily Texan. He now sits on the dean's advisory board of the Moody College of Communication.
David and Vicki moved into their condo on the 20th floor of 360 in 2008. Vicki, 67, is a retired lawyer. David, 69, is of counsel to the law firm where they both worked, and says he is mostly retired. These days, they come to Austin less frequently than they once did, but stay longer—usually for a week.
When the coronavirus struck, they put off a scheduled March visit and carefully watch developments from afar.
"It will be very interesting to see what happens post-pandemic," says David. "Given the economics, and possibly some potential social changes, I will be interested to see whether Austin continues to boom. Maybe it will; maybe it won't. It's becoming harder and harder to see it going back to where it was."
A few blocks away at Northshore Apartments, Judy and Doug Moss, who both are 72 years old, are moving out to spend more time at their home on Lake LBJ in Granite Shoals, 55 miles to the northwest. Moving in from Barton Creek two and one-half years ago, the Northshore rental was an experiment in downtown living—and it worked well.
"We were on the 21st floor overlooking Auditorium Shores. It was fun to be out on the balcony with a glass of wine and enjoying Austin," says Doug, a land developer. "We have had all the fun we can stand. We're glad we did it."
However the couple found themselves spending more and more time at the lake. They are considering buying an Austin condo to keep a foothold in town. "We might buy a condo," says Judy, a retired real estate broker. "We're kind of thinking we might. We are not going to react at this time with the COVID-19."
The residents' confident views were validated by Steven Pedigo, a professor of practice and director of the Urban Lab at UT's LBJ School.
"Yes, density can play a role," he said in an interview. "But as you can see in New York the reality is the type of density. There is a more affluent density vs. poor density. Hit the hardest have been the areas of less-affluent density, where you have large families in one space, and frontline workers who may not have had protection from COVID-19."
Reports from New York, which accounts for a third of coronavirus deaths, confirms that the most severely impacted neighborhoods were in the Bronx and poor sections of Brooklyn and Queens.
Pedigo, who advises cities on growth strategies, says Austin shouldn't "pivot" in its longstanding policies of encouraging density. People are attracted to Austin by its amenities, and those things should be enhanced with investments in transportation, parks, sidewalks, public infrastructure and active mobility. Those outlays will improve life for all, he says, including those in less-affluent, high-density areas.
"At some point we'll get over the pandemic," says Pedigo. "When we get to 3 million people in 10 years, if you haven't invested in transportation, you'll have a stuck economy."
How does he see Austin's future post-pandemic? "I'm pretty optimistic."
The people we interviewed agreed. They uniformly were optimistic, with most believing that Austin's reputation and appeal is so strong that the pandemic will only cause temporary economic dislocation.
Editor's note: Vicki Weber's last name was changed from the original to reflect her maiden name.