Rich Oppel
Rich Oppel
Rich Oppel, editorial advisor for Austonia, is the former editor of the Austin American-Statesman, Tallahassee Democrat and Charlotte Observer. The Observer won three Pulitzers under his leadership. He also has served as chairman of the Pulitzer Prize Board and president of the American Society of Newspaper Editors. In retirement, he served as interim editor-in-chief of Texas Monthly and interim Vice President / development of Huston-Tillotson University.
Get connected with our daily update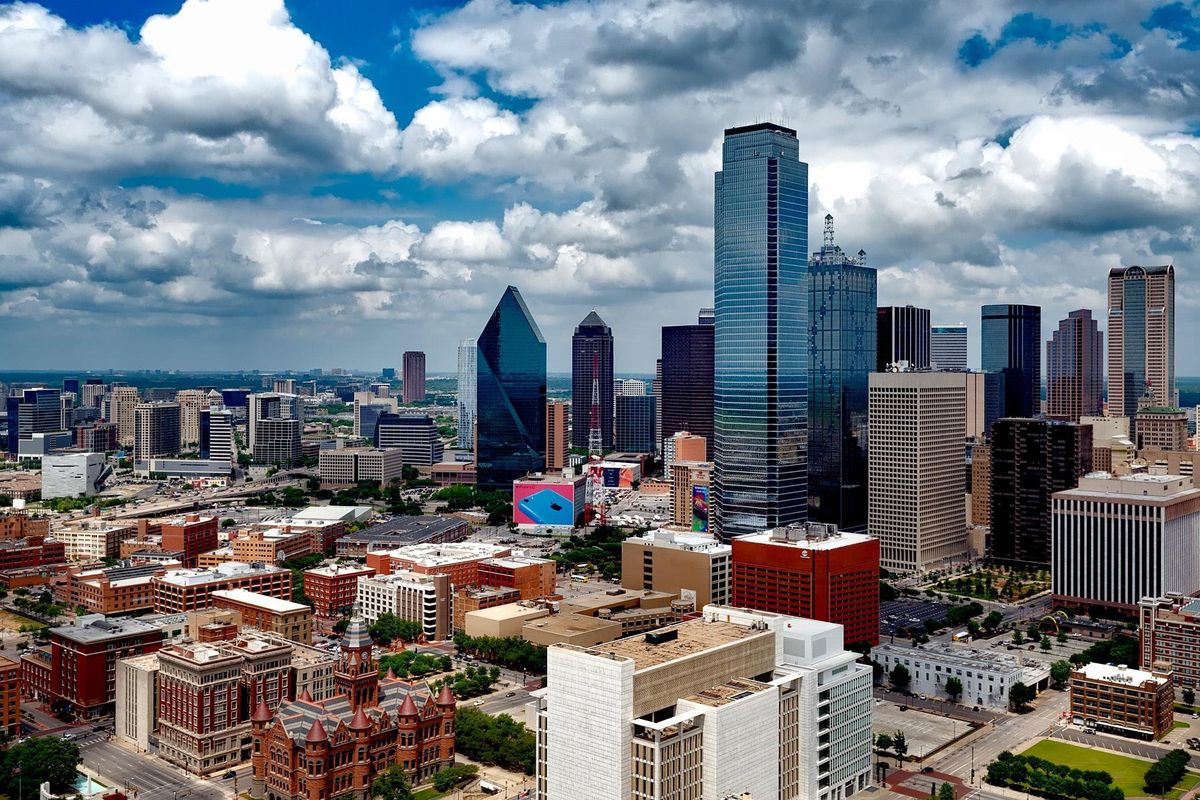 If you are a committed, grunge-wearing resident of the Pacific Northwest, it is easy–almost automatic–to look at Texas as an extraordinarily dry, hot and culturally oppressive place that is better to avoid, especially in the summer. Our two granddaughters live with their parents in Portland.
Recently we decided to take the older girl, who is 15, to Dallas. Setting aside the summer heat, a Portlander can adjust to the vibes of Austin without effort. So let's take Texas with all of its excesses straight up. Dallas, here we come.
Our 15-year-old granddaughter and her sister, 12, have spent summer weeks with us, usually separately so that we could better get to know each individually. In visits focused on Austin and Port Aransas, the girls seemed to be developing an affection for Texas.
Houston and Dallas are two great American cities, the 4th and 9th largest, each loaded with cultural treasures, each standing in glittering and starchy contrast to Austin's more louche, T-shirts and shorts ways.
Three hours up I-35, Dallas loomed before us as a set of gray skyscrapers in a filmy haze, accessed only through a concrete mixmaster of freeways, ramps and exits. I drove with false confidence. Be calm, I said to myself, it will all end in 10 minutes under the hotel entrance canopy. And it did.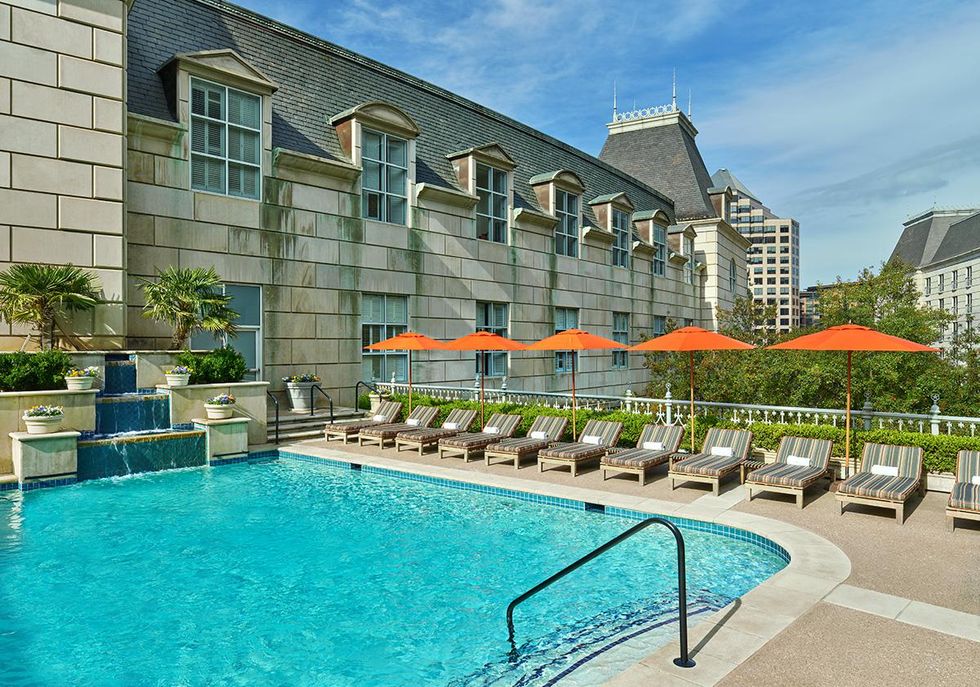 The pool at the Crescent Court Hotel in Dallas. (Crescent Court Hotel)
We stayed three nights at the Crescent Court Hotel ($622 a night for two queens), a high-end hotel in Uptown, patronized by women in white blazers, business people in suits, and tall, lean professional athletes, their shiny Escalades and Corvettes darting in and out, and other celebrities like Bill Barr, the former attorney general who shoe-horned his ample self into a Toyota.
Each morning as I walked to Whole Foods for a cappuccino, a fellow identified by a bellman as Billy the Oilman arrived in his Rolls Royce Phantom. Where does he park? "Wherever he wants to. He likes the Starbucks here."
We garaged our more modest set of wheels for the visit. We were chauffeured for tips by Matt Cooney and Alfonza "The Rev" Scott in the hotel's black Audi sedan. They drove us to museums, restaurants and past the enclaves of the rich and famous. In Highland Park, The Rev pointed out the homes of the Dallas Cowboys' Jerry Jones and Troy Aikman along with the family compound of the Hunts, oil and gas tycoons.
The Dallas Museum of Art's "Cartier and Islam" exhibit (until Sept. 18) attracted an older crowd; the nearby Perot Museum of Nature and Science was a powerful whirlpool of kids' groups ricocheting from the Tyrannosaurus Rex to the oil fracking exhibit. Watch your shins.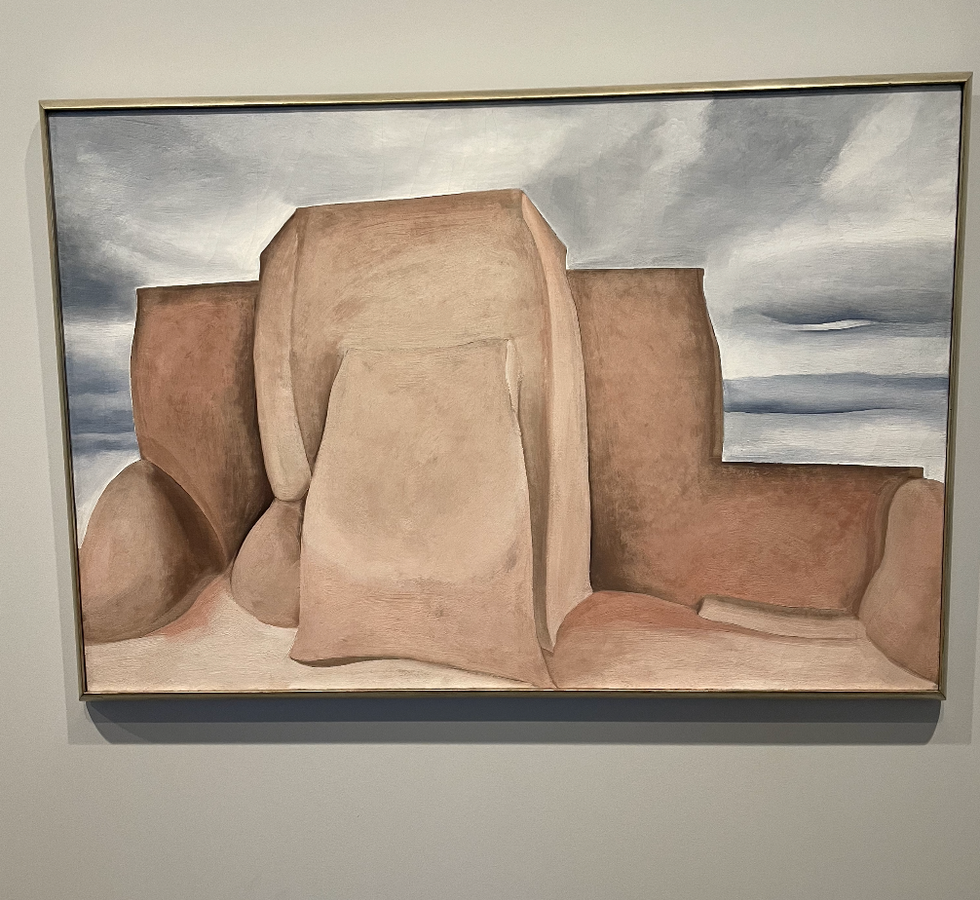 A Geogia O'Keeffe oil painting called "Ranchos Church, New Mexico" at the Amon Carter Museum of Modern Art. (Rich Oppel)
For us, the best museum was the Amon Carter Museum of Modern Art in Fort Worth, a 50-minute, madcap drive away via a 75 mph toll lane along I-30. Don't try it during rush hour. The Carter has an exquisite collection of Remington paintings and sculptures and an excellent array of 19th and 20th-century paintings as well. Pick one museum? The Amon Carter. Peaceful, beautiful, uncrowded, free admission and small enough to manage in two hours.
The Fort Worth Stockyards, a place of history (with a dab of schmaltz), fun and good shopping, filled one of our mornings. The 98 acres brand the city as Cowboy Town, with a rodeo and a twice-daily (11:30 a.m. and 4 p.m.) cattle drive. We shopped for boots, drank coffee and watched the "herd" of 18 longhorns. So languid was their progress that if this were a real market drive the beef would have been very tough and leathery before it hit the steakhouse dinner plate.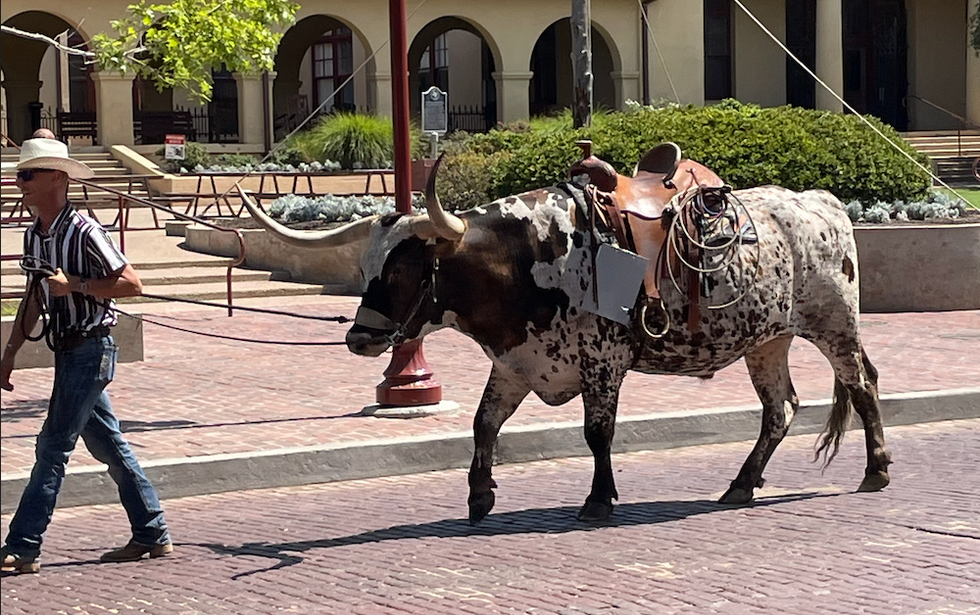 The cattle drive at the Fort Worth Stockyards. (Rich Oppel)
But we could identify: the temperature was 97. "I saw a dog chasing a cat today," said the emcee, deploying a very old joke. "It was so hot that both were walking."
With limited time, we chose three very different restaurants:
Nobu, in the Crescent Court Hotel; Jia, a modern Chinese restaurant in Highland Park; and Joe T. Garcia's in Fort Worth. Nobu's exotic Japanese menu set us back $480, with tip, for four (we had a guest), but it was worth it.
Jia was an ordinary suburban strip mall restaurant, but with good food and a reasonable tab of $110 for four.
Joe T.'s is an 85-year-old Fort Worth institution (think Matt's El Rancho but larger), a fine Mexican restaurant where a meal with two drinks was $115.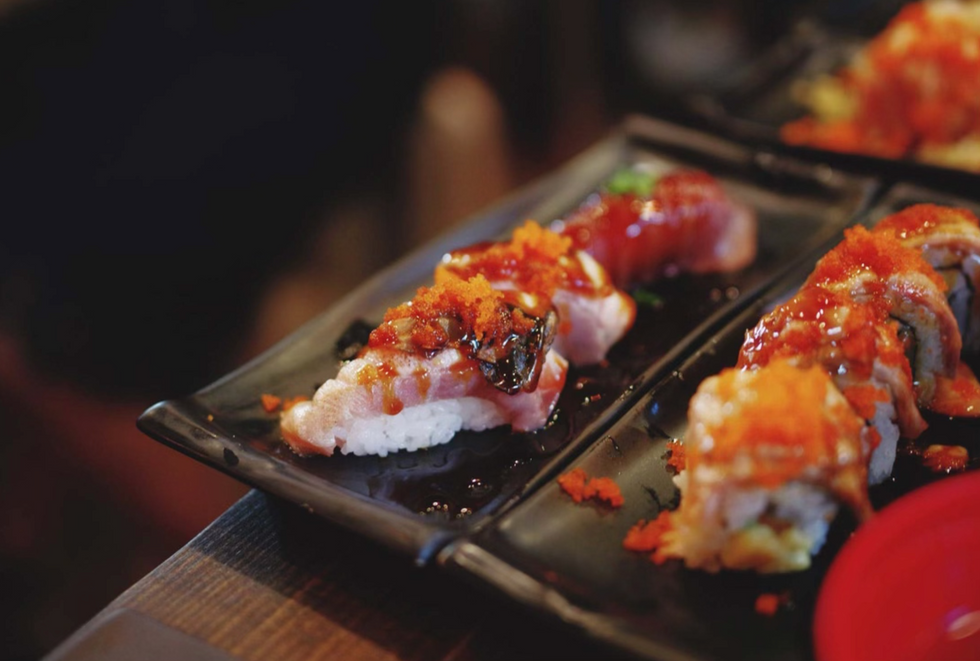 Sushi at high-end restaurant Nobu. (Crescent Hotel)
It was all a splurge for a grandchild's visit. Now we will get back to our ordinary road trips of Hampton Inns, where a room rate is closer to the Crescent Court's overnight parking rate of $52. And to corner cafes in small towns.
Did Dallas change our 15-year-old's view of Texas? "Yes. I think it's a lot cooler than I did. The fashion, the food." So, not only Austin is cool. Take Texas as a whole. It's a big, complex, diverse and wonderful state.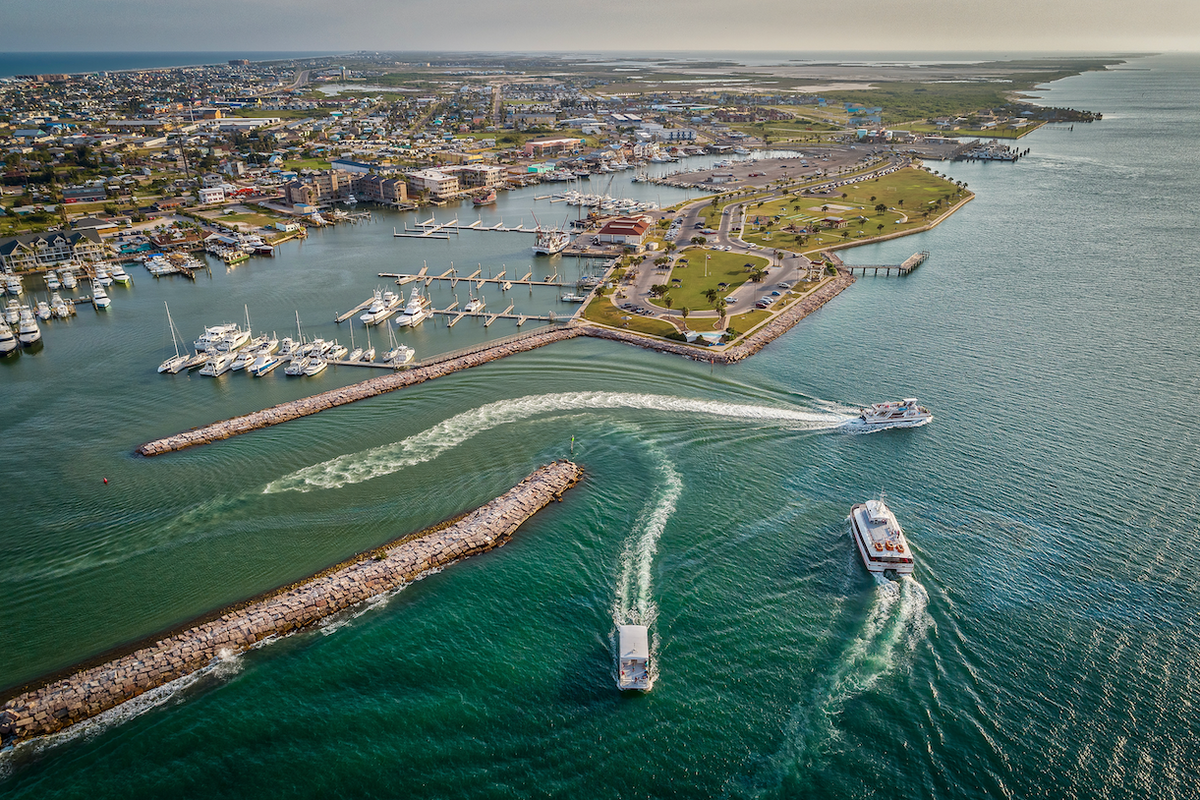 PORT ARANSAS–This is not Hilton Head or Palm Beach, with white tennis shorts and BMWs at the CVS. It's quintessentially Texas, a beach where F-350s line up at the town's three stop lights, and kids from Amarillo stare slack-jawed at "the ocean" for the first time.
Now Father's Day and the 4th of July approach, and a string of 100-degree days lurk ahead in Austin. Here's our survival guide to Port A.
Weather
The average July high in Austin is 95 and in Port Aransas 90.3.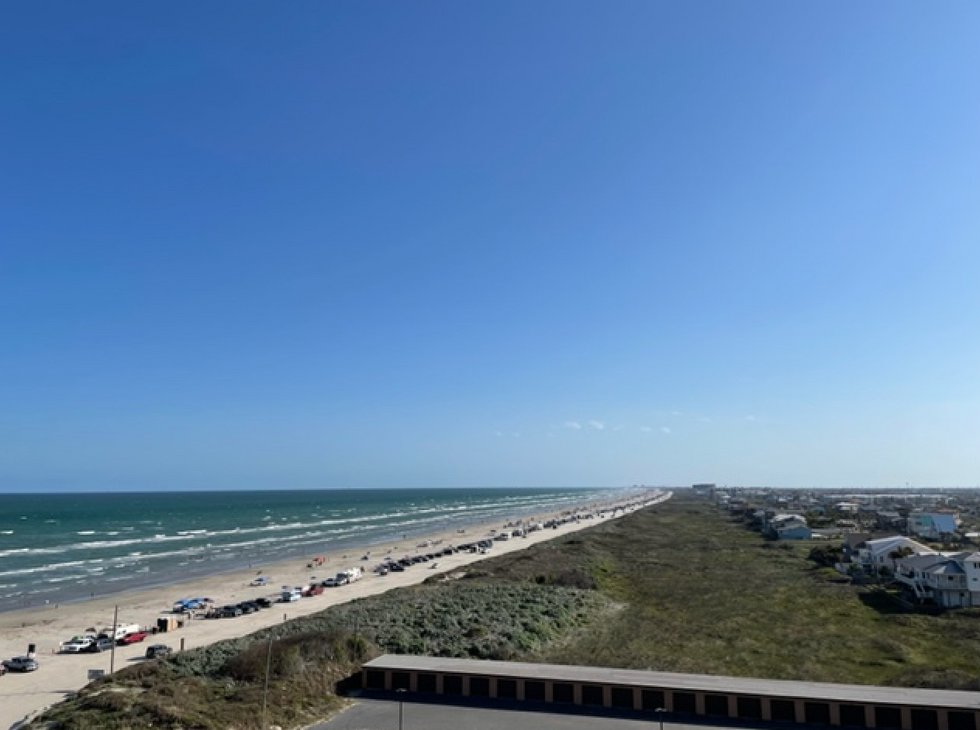 Cars lined up on the beach during Memorial Day weekend. (Rich Oppel)
Getting there
Driving from Austin, the trip is 200 miles or more. That can take four to five and a half hours, depending on time of day and route. Three strategies:

Our favorite: Take toll road SH 130 south to Lockhart and take U.S. 183 to Refugio, left on Texas 774 and follow your navigation to Aransas Pass, then left on Texas 361 to the ferry to Port A. Tips: Leave early. Avoid late Thursday or Fridays. Check the Texas DOT website for ferry wait times, which vary from 15 minutes to an hour.
Second strategy: If the ferry line is long, detour from Bayside south of Refugio to Corpus Christi and come up Mustang Island on highway 361. This adds about 30 miles.
A no-toll route: Southwest on I-35 to San Antonio, then south-southeast on I-37 into Corpus, north on 361. I-35 can be nerve-racking getting out of Austin and going through San Antonio. I-37 is blissfully boring. About 250 miles.
Money-saving tip
On the way in, refill your tank at the H-E-B in Aransas Pass, cheaper by a quarter a gallon than any fuel you'll find on Mustang Island.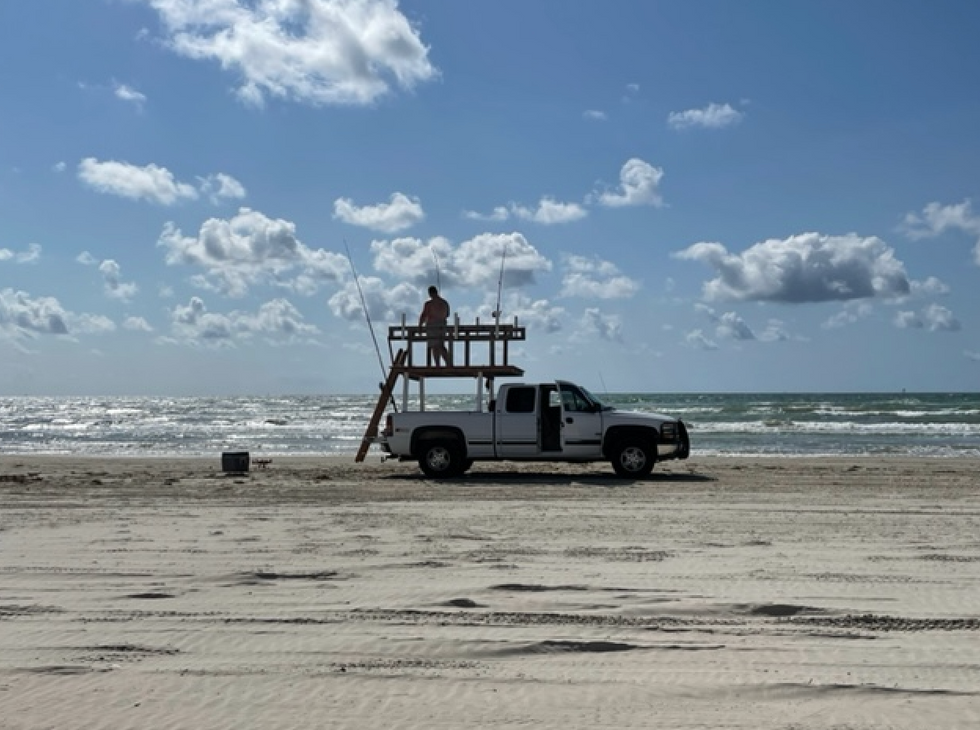 (Rich Oppel)
Sights and sounds
As you drive through South Texas you will see fields of pump jacks and wind turbines as well as fields of corn and soybean and red brangus ranches. Near the Port A ferry, huge turbine blades made in Europe are stacked high. This is a working port, but it is fast-changing.
Lodging
Check VRBO for a condo. The big condos lining the beach (Aransas Princess, The Dunes, Sandpiper, Sea Gull, Mayan Princess and more) have a few pricey rentals left, with a 2-bedroom typically going for $250 to $700 a night.
Camp on the beach. Buy a $12 annual permit at the IGA or any convenience store, and park between markers 0 and 62. Bring a sturdy tent; it can be windy. A trailer or RV are even better.
Rent a cottage off the beach. Scores of new stilt houses and multi-family dwellings were built after Hurricane Harvey laid waste to Port A in 2017. Factoid: The average elevation of Port A is 7 feet. Even cheaper than a Port A back-island rental: Find a place off-island in Rockport or Corpus Christi.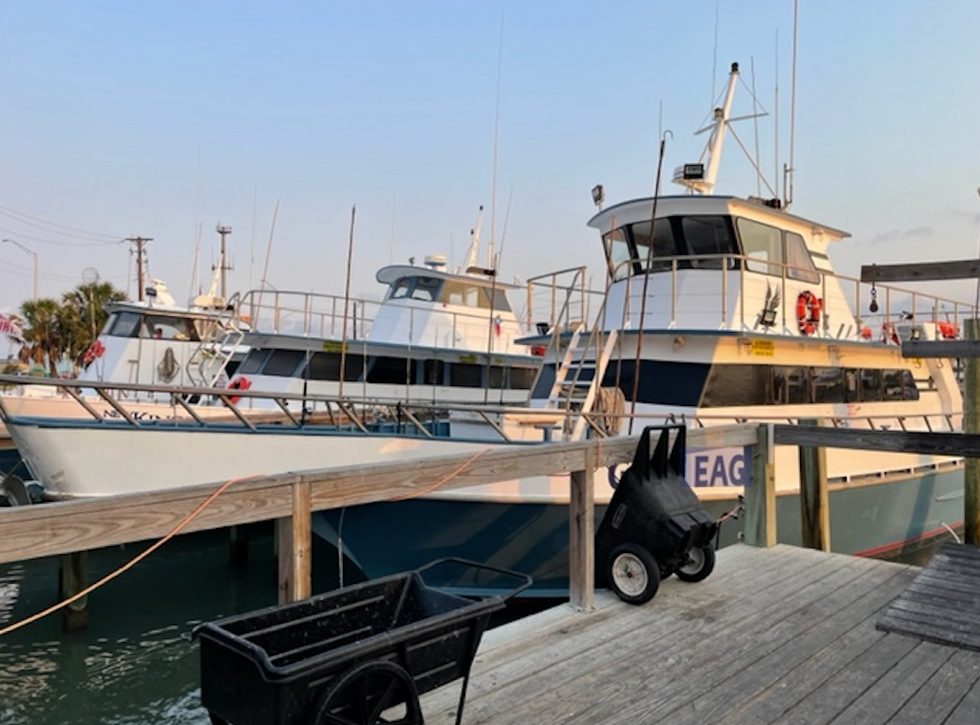 (Rich Oppel)
Food
Our favorites are the Venetian Hot Plate, Roosevelt's, Tortuga and Fins. For a cheeseburger, fries and a beer with a Gulf view, the Beach Lodge. There are 60 restaurants on Mustang Island, and the lines are long in the summer. Get there early or late, or order takeout–which is available at many places. Make reservations at the high-end places. Dress is casual. Anyone with shoelaces is way overdressed.
Fun things to do
Rent a beach cart. They'll run you up to $150 a day. Port A is one of the few places in Texas where they can be operated by unlicensed drivers 16 and older. Cart rental places outnumber seagulls.
Cast a fishing line off the South Jetty, and then watch petroleum tankers and cargo ships glide through Aransas Pass, coming from or going to Corpus Christi docks.
See hundreds of species of birds at the Turnbull Birding Center.
Eat seafood at Snoopy's Pier, overlooking Laguna Madre, on South Padre Island Drive 20 miles south of Port A. Afterward, take the kids to Scoopy's next door for ice cream.
Ride slowly along the beach and people-watch, or park and stroll or run along the wide strand. Watch the sunrise at Horace Caldwell Pier.
It's red snapper season. Take a head boat out of Deep Sea Headquarters for a $125, eight-hour trip 20 to 30 miles out. Limit out with two 16-inch or larger snapper. Great eating.
Hard truth
Port A has gotten expensive since huricane Harvey. Labor costs are skyrocketing because waiters, cleaning people and store attendants can't find affordable housing on the island. If you haven't been there in a few years, expect sticker shock.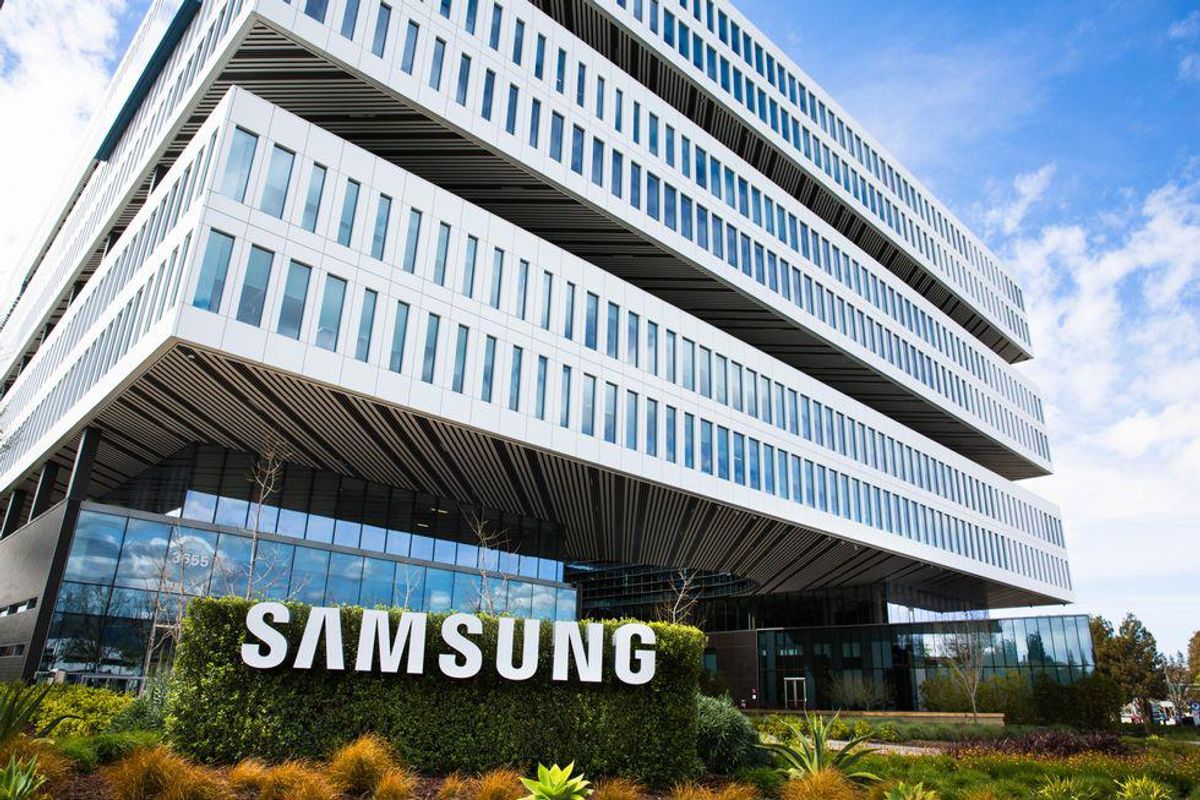 Samsung Electronics has settled on the City of Taylor, 35 miles northeast of Austin, for construction of a $17 billion new chip plant, the Korea JoongAng Daily reported Monday. Measuring 51.7 million square feet, the new facility would be four times larger than Samsung's existing plant on East Parmer Lane in Austin.
Williamson County Judge Bill Gravell confirmed a meeting this week of Samsung representatives and local officials, saying the chip plant would be a "significant economic development project with thousands of jobs" brought to Williamson County.
He added, "Good paying jobs for all skill levels to drive economic growth in our region are needed now more than ever, and we are committed to doing everything we can to land this project and bring it home to Williamson County. Stay tuned."
No official announcement has been made by Samsung. A spokesperson issued the following statement to Austonia: "All sites are under consideration and each community is performing the appropriate due diligence to put themselves in the best position for this opportunity. The actions by Williamson County and City of Taylor are part of their due diligence."
A special joint meeting of the Williamson County Commissioners Court and the Taylor City Council is scheduled for 5 p.m., Wednesday, Sept. 8, at the Taylor ISD Event Center, 3101 N. Main Street in Taylor. The meeting is open to the public.
Joongang Daily, quoting a source at the South Korea-based tech giant, reported that Samsung "has thoroughly reviewed four to five locations for the Star Project."

"What I learn is that (Samsung) finally chose Taylor after taking into account investment incentives and geographic conditions," the source said. The deal is said to include tax abatement and development agreements with the City of Taylor.
Samsung had considered several other U.S. locations. They included upstate New York; Phoenix, Ariz., and in the Manor, Tex., ISD, near its existing Austin plant. The newspaper said the Manor site was abandoned following the temporary shutdown of the Austin factory because of a power outage during the Texas freeze in February. The outage reportedly cost Samsung $350 million.
That turned Samsung off on the Manor site, according to an "industry insider" quoted by Joongang Daily.
"If you set up the new facility in a location away from the Austin plant, it could cost Samsung more for the supply of water and electricity and the establishment of other infrastructure," the source in the semiconductor industry said. "But the advantage is that it can operate the line in a more stable manner."

Samsung is engaging in a vast expansion of its semiconductor business to meet the demand for chips in telecommunications, biopharmaceuticals, robotics, artificial intelligence and quantum computing.