Roberto Ontiveros
Roberto Ontiveros is an artist, fiction writer, and literary critic. Some of his work has appeared in The Threepenny Review, Santa Monica Review, Huizache, and the Believer. His recent collection of stories, The Fight for Space, was published by Stephen F. Austin State University Press.
Get connected with our daily update
As Austin becomes little Hollywood with the latest films and series making Austin their backdrop, longtime Austinites know this is nothing new for the place that is the home to the original "Texas Chainsaw Massacre."
Here are seven films worth watching this spooky season that you'll see a piece of Austin in.
Saturday Morning Mystery (2012)
What kind of young adults would come into a haunted mansion to debunk ghosts for a shady money man looking to unload a hard-to-sell home? Desperate kids, Insane kids, inane kids, vain kids, addicts—and their dog.
"Saturday Morning Mystery" is the exact subtext of every Scooby Doo cartoon you have ever seen. Campy and flooded with a wondrous score that recalls Dario Argento films like "Suspiria" and "Tenebrae," this underappreciated parody of 1980s Saturday morning cartoon culture is what we all suspected Mystery Machine would really be like.
Planet Terror (2007)
Austin's own Robert Rodriguez's dark and dirty contribution to Grindhouse, his 2007 two-feature collaboration with Quentin Tarantino, is a Mario Bava-esque zombie flick wherein Bruce Willis becomes the pulsing yet subdued embodiment of rage.
In "Planet Terror," the incomparable Rose McGown (playing a Go-Go Dancer named Cherry Darling) is fitted with a machine gun for her missing leg and hobbles her way toward attacking a fury-infected military run amok. "Planet Terror" looks predictive with its throbbing apocalyptic creepiness, and blunt appraisal of the war machine as perhaps the truest parasite on earth.
The Faculty (1998)
"The Faculty," the fourth action-packed offering from again, Robert Rodriguez, is a kind of "Breakfast Club" meets "Invasion of the Body Snatchers," wherein the invading antagonists take the form of scintillating sea-life capable of possessing public school educators and student body alike. In this dark sci-fi about aliens trying to take over the world one teacher at a time, we see Bebe Neuwirth (Frasier's wife from "Cheers") go full-on Lilith before being taken out by a homemade drug called SCAT, and we get a young John Stewart trying hard to mack on Salma Heyeck before getting a pencil in his eye.
Texas Chainsaw Massacre: The Next Generation (1994)
When we think of Mathew McConaughey, we think charm and "Dazed and Confused," but in this film, watch mad man McConaughey as he screams "Get her Leather, Get her Leather—we've got some more fun today!" to an androgynous masked murderer who chases Rene Zellweger into a Winter Texan couples' van.

D.O.A. (1988)
In "D O.A."—a Blade Runner-inspired take on the original 1949 film noir classic—Dennis Quaid plays a college professor named Dexter Cornell, who has been poisoned and is informed by the campus doctor that he has 36 hours to live. Cornell is compelled to go on a desperate search to piece together the moment of his murder, and Super-glues a student (played by Meg Ryan no less) to his arm so that she might accompany him on his trek.
A taught trip of anxiety that mocks the meretricious merit-system of academic careerism as well as the pitfalls and pratfalls that may occur when an English teacher parties with students he could have sired, "D.O.A." gives literal meaning to the old academic adage of "publish or perish."
Blood Simple (1984)
The first film by the legendary Coen Brothers, "Blood Simple," is simply one of the most audacious neo-noir to have come out of the 1980s. In this perfectly cut crime gem, we get legendary actor Michael Emmet Walsh playing a voyeuristic private eye, and we get to witness a pre-Fargo Francis McDormand going from vulnerable to badass before our eyes.
"Blood Simple," informed by the darkest lines from Dashiel Hammet, illustrates the classic dangers of jealousy, infatuation, and revenge while showing its audience just how scary a newspaper hitting a window in the pre-dawn hours can be.
Eggshells (1969)
Before fright film legend Tobe Hooper changed the face of gore with the original "Texas Chainsaw Massacre," he cut his teeth on a very different kind of monster. "Eggshells," shot in the late 1960s, is a true time capsule of the Hippie-life that once typified the capital city.
With a picaresque plot that recalls Harlan Ellison's "Shattered like a Glass Goblin," the well-meaning residents of a central Texas commune debate the existence of a poltergeist.
A woefully under-appreciated first film by the man who set the template for rural terror in the 1980s, "Eggshells" is closer to dream than dread, and offers the kind of sunlit horror associated with Arthur Machen's "The White People" and Ramsey Campbell's, "The Doll Who Ate His Mother."
When the first wave of Hyde Park nostalgics started saying "Keep Austin Weird" this movie, with its woodsy blend of spirituality and sloth, is what they were talking about.
Read more on films shot in Austin: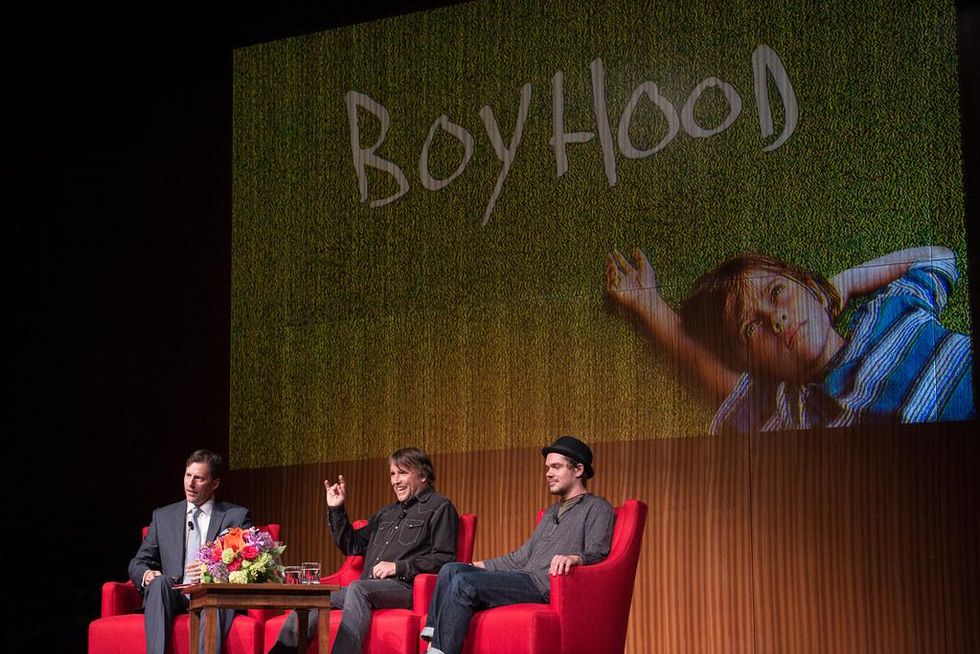 Behind the scenes: 7 movies that filmed in Austin
Full disclosure: I do not speak Spanish. Growing up in McAllen, Texas, I understand the language to a degree of absolute confidence, yet I rarely attempt to speak Spanish aloud.
I know I won't pull it off in a manner that is comparable to my English, and that stops me from even trying—or that is my rationalization.
My father, who came to the U.S. at eight from Mexico, was punished for speaking Spanish at the Catholic School he attended in his new land.
I heard those painful anecdotes in English, in a house where I also learned my American accent from watching "Three's Company" and "Rockford Files" reruns.
In 2016, Sen. Ted Cruz explained his unease with Spanish to a Univision reporter after being asked if he could answer questions in Español: "I understand almost everything in Spanish, but I can't speak as well as I'd like."
Switching back to English, Cruz said, "I have the problem of the second-generation immigrant." He added, "To be honest, what I really spoke at home was Spanglish."
The reasons for this second-generation immigrant's unease in Spanish are complex, but the source of this complication seems tied to an immigrant's sense of survival.
Virginia Talley, who runs Hyde Park's The Language House, has very personal reasons for trying to get her students to experience the fullness of the Spanish language. The Language House offers private and group Spanish conversation classes, and in pre-COVID days even offered immersion trips to Oaxaca, Mexico for those who wanted to explore the land as well as the language.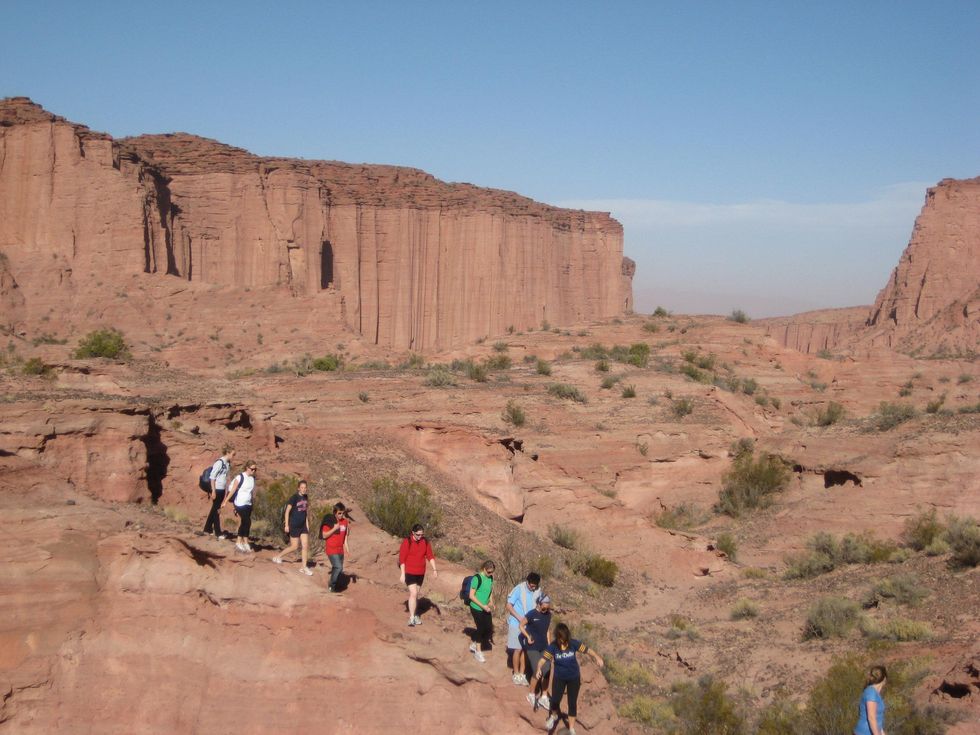 Students of the The Languge House go on a hike in Argentina as part of an immersion trip the school offers. (The Language House)
Talley's father, a family doctor in Bastrop, had a lab tech who was originally from Mexico but never spoke his native tongue. According to Talley, the man considered Spanish taboo and did not speak it to his children due to locally perceived lower-class implications of the language.
"It was this horribly tragic thing when I look back on it," said Talley. "Where I was growing up, a lot of my friends were Hispanic… but they didn't speak it at all because, again, I think it was really looked down upon; the parents didn't even try to teach their kids."
Now Talley often sees second-generation Latino immigrants coming to her classes out of something close to guilt, or even a sense of responsibility to a lost heritage. "People feeling like they were embarrassed because they think they should be able to speak Spanish; you know, maybe it was not spoken at home, or they rejected it or they did not learn it properly."
The stigma of speaking Spanish is lifting, according to Talley; and now even those who can speak Spanish fluently seem compelled to learn it better.
While teaching Spanish 101 at Austin Community College, Talley says she was flabbergasted when she saw that everyone in her class was Latino. "I thought, 'What is going on here?' They were all heritage speakers and so their Spanish was beautiful (but), they could not write, so it was like an interesting dynamic, teaching heritage speakers basically how to write properly."
Marisol Cortez, an award-winning author who will be one of the few in-person authors featured in Austin's upcoming Texas Book Festival, knows the cultural complexities of this language issue well, and she is doing something about it.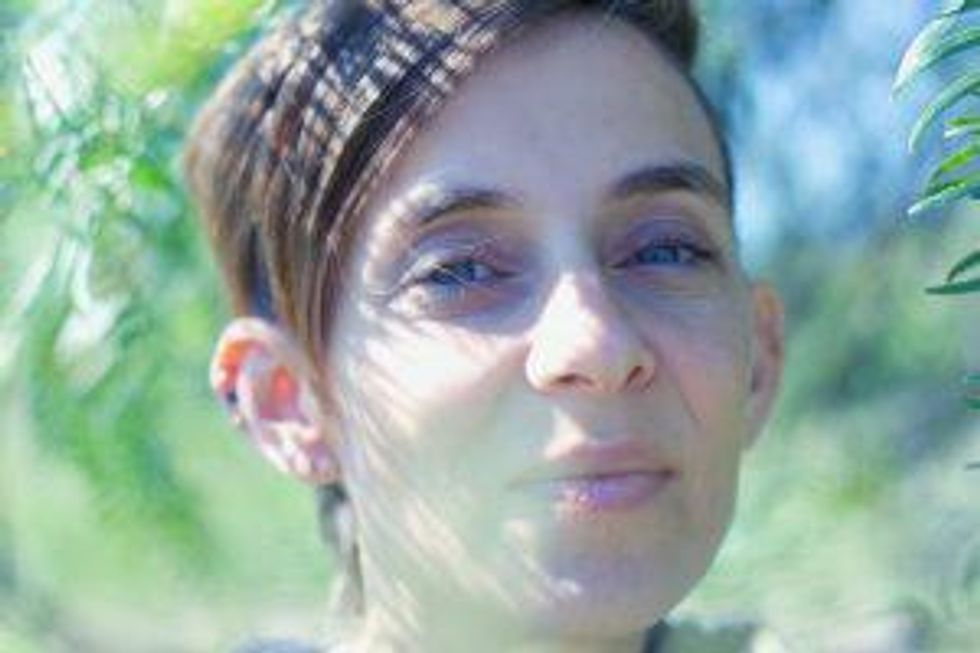 Marisol Cortez feel internal pressure when she speaks Spanish, since she's not fluent in it. (Marisol Cortez)
A mother of a 13-year-old and a toddler, Cortez has made it a point to have her children speak both English and Spanish.
This was something that she herself did not get to experience while growing up, and it was an early impediment to her environmental activism that she had to correct.
Despite having a Mexican-American father, Cortez never heard Spanish at home. Growing up with a more natural command of English than Spanish in San Antonio was a bit of a double-edged sword for the writer.
Cortez recalls how her dad's own brand of Tex-Mex Spanish was mocked when he visited relatives in Mexico; so, the language was curiously a problem on both sides of the border.
"My dad didn't ever speak it at home," she says. "So I grew up kind of absorbing it but not speaking it at home and then anything that I am able to say in Spanish now was pretty much acquired as an adult."
The insecurity regarding her Spanish remains a slight block to her even today. She says when she speaks it she's nervous and feels internal pressure to sound more fluent than she is. But it's important to her that it stays alive in her family.
"The importance of Spanish for future generations lies in its ability to keep us tied to the struggles of our parents and grandparents," Cortez said. "It's a way of acknowledging that we stand on the shoulders of those struggles. Even as we acknowledge the reality that Spanish is a colonial language imposed on peoples original to this continent, it's also a way of keeping us connected to our neighbors, accountable to their struggles. It's an important form of solidarity."
From Your Site Articles
Related Articles Around the Web
Austin rapper Jordi Esparza may not have won the 2021 Red Bull Batalla, the world's largest Spanish freestyle rap competition, but for a spirited two rounds, the 22-year old Mexican native looked like he had every right to.
On Saturday evening in Los Angeles, the event itself looked like Cobra Kai meets Star Search with graphics adding a very Batman Beyond aesthetic. Over a dozen rappers hoping to represent the U.S. in the international round of the competition took to the stage with in-your-face jabs at accents, sexual orientation and odors, among other things.
This was Esparza's second rodeo; he had placed third at the 2020 National Finals, automatically securing him a spot this year.
However, things were different this year. He was not nervous about the contest. Unlike in 2020, when he made his Red Bull Batalla debut, the anxiety of the event led him to "feeling so bad."
Affecting a casual calm, the locally-based landscaper said he just felt "so relaxed, so happy" and primarily wanted to "enjoy everything."
Choosing his first-round opponent, Esparza, whose stage name is Jordi, elected to go against LA-based Boss.
Esparza freestyled an attack on his opponent's weight and cholo style of dress.
Boss—bracketing his Latin freestyle with English appeals to the crowd—mocked Jordi's lack of education, made fun of how clean Jordi's shoes looked and suggested that Jordi just came back from a Footlocker.
That first round went to Jordi.
But his next opponent Eckonn would prove to be his undoing.
Eckonn compared Jordi to Hannah Montana, while Jordi soulfully explained that he had learned from the best.
Esparza's verbal dexterity is matched by a rattling rhythm and a game face that is as mawkish as it is mockish. The overall effect is that of an underdog with bite.
Eckonn beat Esparza in that round with the overall championship going to Palm Beach-based rapper Reverse.
However, Esparza was just happy to be there. He recently told Austonia going to the finals again was a dream come true—a pinnacle that he said he won't know how to top.
With his nimble jabs and sneaky prowess, honed from pop culture and the swagger of a young working man hungry to be more, Jordi Esparza is just getting started.
Truths about Texas' history took center stage in "Forget the Alamo: The Rise and Fall of an American Myth," a book released last month, which reminds anyone who cares to remember that Gen. Santa Anna—well, the whole country of Mexico if you want to get technical about it—was very much against slavery at the time of the Texas Revolution and that Davy Crockett and his slave-trading cohorts Jim Bowie and William B. Travis were in fact fighting for the right to treat people as property.
The myth (more suitable to comic books than Texas History classrooms) is that Crockett would not surrender and died in a blaze of glory for the cause of freedom; however, the book underscores the truth that Crockett's surrender and execution were widely reported in 1836 and only morphed into martyrdom in the popular imagination thanks to Walt Disney's 1954-1955 miniseries.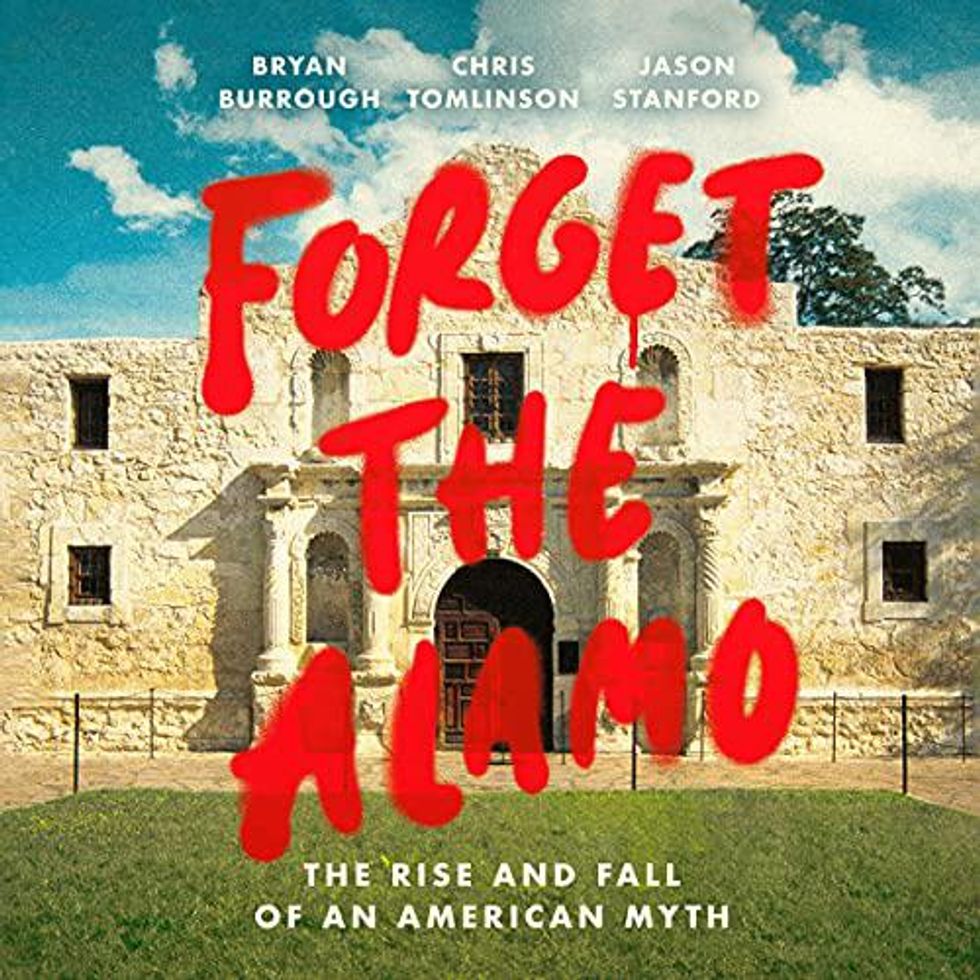 The authors of "Forget the Alamo" maintain (and back up their findings with copious footnotes that will supply any skeptic with a serious summer reading list) that the myth of the freedom fighters standing their ground in the Alamo, or Misión San Antonio de Valero," has been used to promote a number of reactionary causes, from Nixon-era anti-communism to post-9/11 anti-Arab drum-beating. But primarily the authors argue the Alamo has been employed to foster a narrative of white supremacy for the right.
"The Alamo, long used in a myth that demonized and gaslit Mexican-Americans and Indigenous people, might as well be a Confederate monument in the minds of conservative adherents to the Heroic Anglo Myth," the authors stress. "We must recognize that the Battle of the Alamo was as much about slavery as the Civil War was about slavery," they write.
Describing themselves as "proud Texans," the authors of "Forget the Alamo" (Bryan Burrough, Chris Tomlinson, and Jason Stanford) are a trio of veteran journalists who "don't believe knowing the truth about Texas history makes the state any less unique or important."
The authors (whose byline bona fides extend from Texas Monthly to Vanity Fair) don't ask for much, really, just to open a conversation involving some obvious truths that might make for a more nuanced, factual account of the "cradle of Texas liberty."
This conversation has proven to be a difficult one to have in public.

On July 1., Lt. Gov. Dan Patrick called for the cancellation of a "Forget the Alamo" book event at the Bullock Texas State History Museum. Patrick tweeted out his motivation the next day, saying: "As a member of the Preservation Board, I told staff to cancel this event as soon as I found out about it... this fact-free rewriting of TX history has no place."
As a member of the Preservation Board, I told staff to cancel this event as soon as I found out about it. Like efforts to move the Cenotaph, which I also stopped, this fact-free rewriting of TX history has no place @BullockMuseum. #txlege https://t.co/ua1aSFxHCk
— Dan Patrick (@DanPatrick) July 2, 2021
Much to GOP officials' dismay, the book's authors have called for some honesty to be injected into the education system rather than let Texas schools keep teaching what they call "the whitewashed story." "To learn the real lessons of the Texas Revolt, we need to learn the truth about Bowie, Travis and Crockett," they write. "Bowie was a murderer, slaver, and con man; Travis was a pompous, racist agitator and syphilitic lech; and Crockett was a self-promoting old fool who was captive to his own myth."

Patrick and Gov. Greg Abbot have a vested interest in controlling any dialogue that emerges from "Forget the Alamo."
In June, the governor established the "1836 Project," a nine-member advisory committee crafted for the promotion of a "patriotic education" to the residents of Texas, regarding the state's secession from Mexico in 1836. The project aims to ensure that "future generations understand TX values."
Abbot's 1836 project—following Trump's now-canceled 1776 Commission -- is a not-so-subtle attempt to counter The New York Times' 1619 Project: which seeks to shine a light on the legacy of slavery and racism in the U.S. while offering an easily accessible curriculum for interested educators.
In recent months 22 states have put forth legislation designed to limit educators' ability to reference the 1619 Project, and states such as Idaho, Iowa, Oklahoma, Tennessee and Texas, have signed those limits into law.

The facts about the Alamo made prominent in "Forget the Alamo" would no doubt make Abbott's not-yet compulsory "patriotic education" more complicated. For, regarding the heroes of the Alamo, the authors note: "They fought for freedom, just not everybody's freedom."