Austonia AM
100% Austin news, info, and entertainment, straight to your inbox at 6 a.m. every morning.
In five minutes, you're fully informed and ready to start another great day in our city.
Roberto Ontiveros
Roberto Ontiveros is an artist, fiction writer, and literary critic. Some of his work has appeared in The Threepenny Review, Santa Monica Review, Huizache, and the Believer. His recent collection of stories, The Fight for Space, was published by Stephen F. Austin State University Press.
Get connected with our daily update
When Konstantin B., a vertical foundry ontologist working at Austin's Google offices, was told he would be working from home, he felt simultaneously safer and more inspired.
"Working from home has been a relief in the very real sense that it minimized my chances of getting infected," Konstantin says.
Google, as with other big tech companies such as Twitter and Facebook, has had their employees and contractors working remotely since March. In July, the search engine announced that it would extend its remote working policy until September 2021.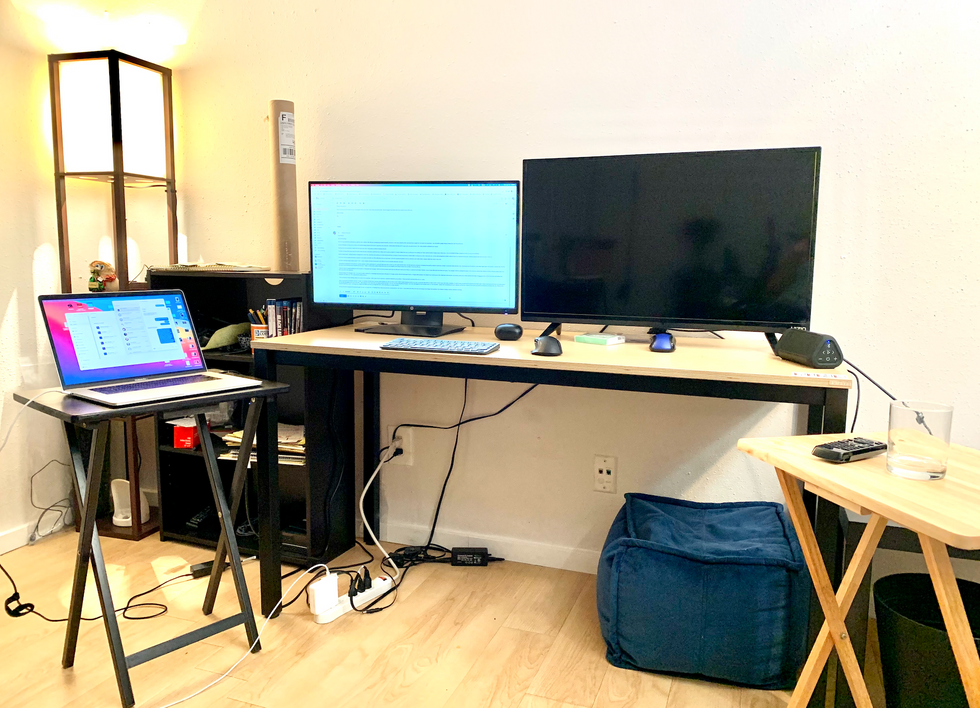 Konstantin B.'s at home setup as an employee of Google. (Konstantin B.)
Konstantin, who asked for his last name not to be used for privacy concerns, says Google management has been exceptionally open-minded regarding the breaks necessary to keep sane and productive while working from home.
"They understand that working from home can be daunting, as staying at home can be hard on mental health," he says. "It's best to pace yourself and be productive the whole week, instead of just pushing through and being awake for two days and getting all the work done then."
Reports from Google's internal data in October showed, coding from home has had a negative effect on Google's productivity. In June an internal survey found that only 31% of the company's engineers reported feeling "highly productive," a number that was down 8% from a record high in the March quarter.
Elsa Morales, senior account director at Austin's Giant Noise Public Relations and Communications, who has been working from home since March, has found remote working relaxing.
"Working from home has encouraged me to take breaks during the day and take short walks around my neighborhood which I've really enjoyed," says Morales.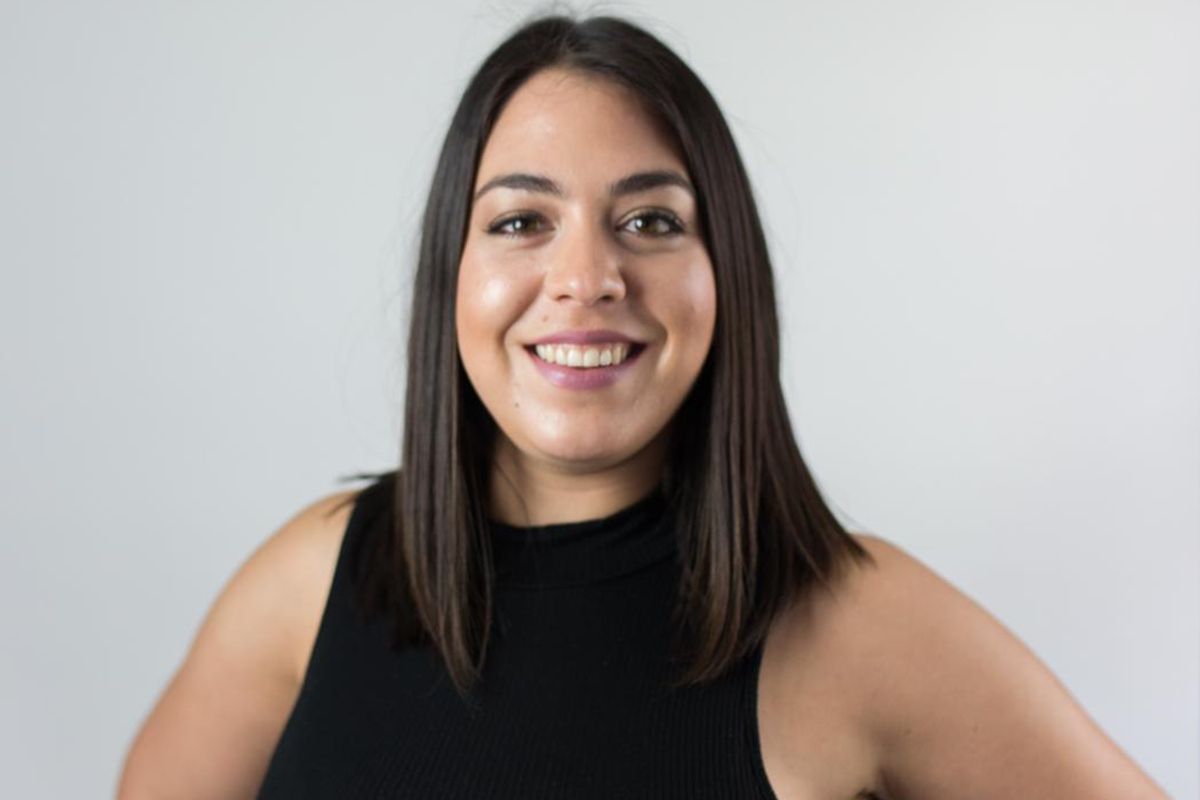 Elsa Morales is the senior account director at Austin's Giant Noise Public Relations and Communications. (Elsa Morales)
But despite the perks of strolling between screen-sessions, Morales feels that everyone misses that face-to-face exchange of ideas and in-person interaction.
"At the beginning of the pandemic, it was a bit challenging getting a hang of constantly communicating on the phone or video. Not having that in-person collaboration has probably been one of the biggest challenges for me," she says, adding, "being together in the office allowed us to have brainstorm sessions over coffee or immediately bouncing ideas off each other after a call."
A recent poll published in Forbes, which surveyed 312 people working from home, found that 82% agreed or strongly agreed that they enjoyed working from home, and 60% said they felt less stressed working from home.
Gina Littlefield, CEO of Austin Staffing, Inc., says working from home has allowed the more introspective individuals in the business world to really shine.
"The people that are real outgoing Type A Personalities, they are the ones having an issue," she adds, referring to those employees that thrive off the more social aspects of office work. "I think you are seeing a bit of depression, especially if you are that Type A Personality—you want to be in the world with everyone there and going into the lunchroom and feeling that hustle-bustle, and I feel a lot of people are having troubles right now and so I definitely feel that has to be addressed."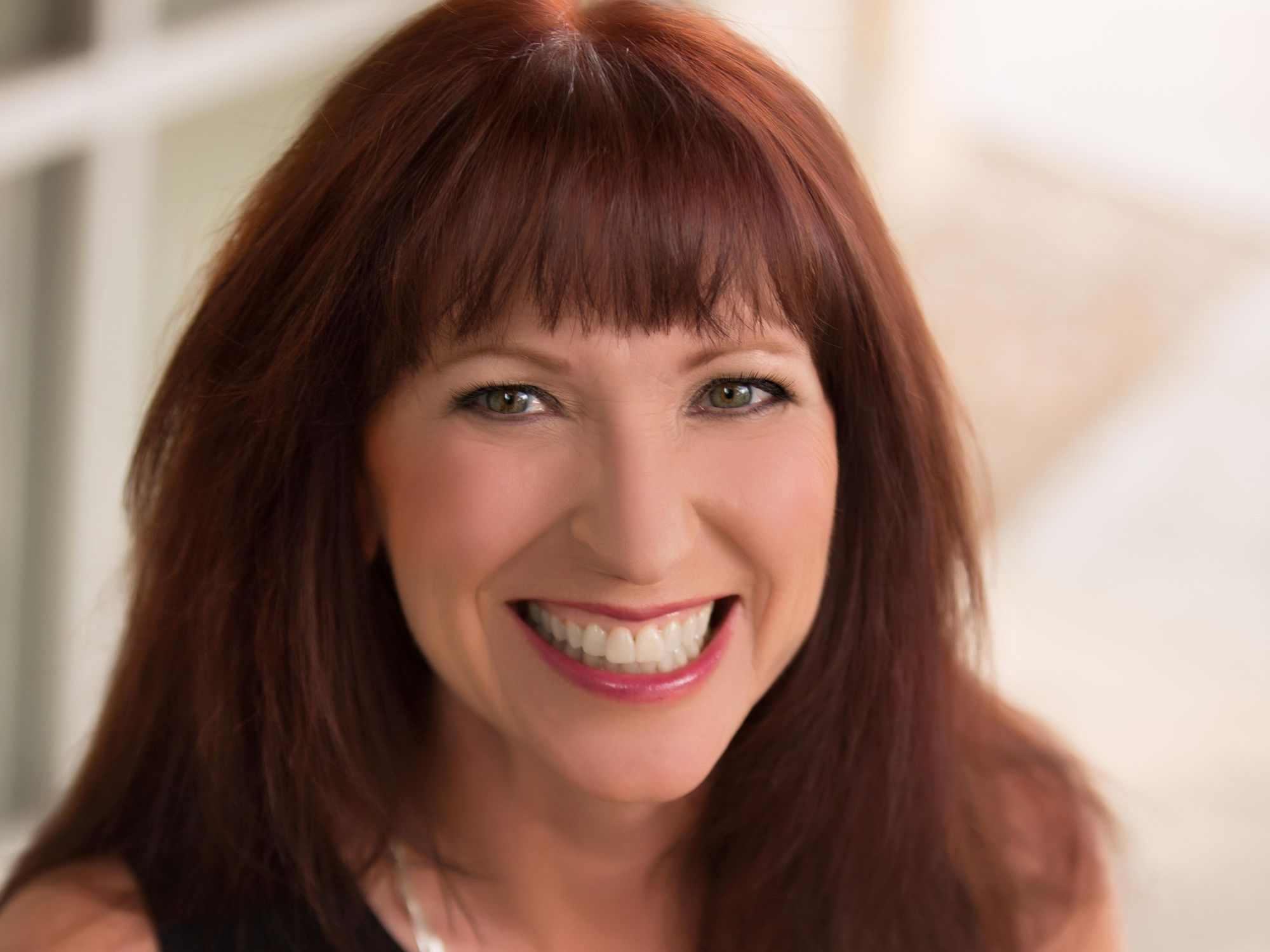 Gina Littlefield is the CEO of Austin Staffing. (Gina Littlefield)
Littlefield is certain that working from home will become a major facet of the business world since everything is done electronically. She stipulates that as far as her company is concerned the decision to work from home will be entirely up to the individual worker.
"We are happy to be able to extend that final decision to them and sometimes it works well for them because they have small children and they can't take them to a daycare and can't do this or that, so, you know what? That's workable, and why not? I have no problem with that."
In order to accommodate those who want to work in an actual office during the pandemic, Littlefield is currently looking into purchasing a new building to expand the physical office space to allow everyone six feet of separation from workstation to workstation.
"We have half of our people out and half of our people in," says Littlefield. "We do intend to have people in (person) more but (want to) give them the opportunity to make the decision to come and go if they need. We want people to enjoy working from home."
(Pexels)
On the last night of 2020 Stanley Adams, owner of Siena Ristorante Toscana, prepared for a scaled-back salute to the end of a very bad business year.
"We are doing a relatively full, normal New Year's Eve but, you know, with the required spacing and with less capacity than in a normal year," Adams says. "Of course, we've added a lot of outside seats at Siena; none of that's going to be very useful tonight."
December—which is normally Siena's best month—was a bust.
"We will struggle to just break even this month because our sales are much reduced," says Adams, who has recently closed several of his Brick Oven restaurants.
Atop of the already-in-place limitations to Austin dining, Mayor Steve Adler issued a statement announcing that restaurant and beverage operations would be expected to close their dining rooms between 10:30 p.m. and 6 a.m. for a three-day curfew from Dec. 31 to Jan. 3. Disobeying this order could result in a citation and a fine of up to $1,000.

Adams, an Austin restaurateur for over 30 years, modified his establishment's usual New Year's Eve plans to comply with Adler's order. "We didn't have any reservations after 9:30 p.m. and we didn't do the usual sort of midnight toast for those who stuck around for that."
Not only did the curfew hurt his business but shooing patrons out the door killed the convivial end-of-the-year atmosphere of the upscale eatery. In past years, Siena would have 20 or 25 people that hung out until midnight but that wasn't the case this year.
On Tuesday, Gov. Greg Abbott tweeted: "This shutdown order by Austin isn't allowed. Period," adding: "The city has a responsibility to enforce existing orders, not make new ones." Then the next day Texas Attorney General Ken Paxton sued Austin and Travis County.
This shutdown order by Austin isn't allowed. Period. My executive order stops cities like Austin from arbitrarily… https://t.co/HCvHLZA8Uy

— Greg Abbott (@Greg Abbott)1609304025.0
The complaints on the city's curfew continued into New Year's Eve when bar and restaurant owners, including Ellis Winstanley (El Arroyo) and Ben Davis (Come and Take it Live), joined First Assistant Attorney General Brent Webster, for a press conference regarding the new orders placing temporary restrictions on restaurant hours of operations. They said restaurants are not the problem because they are doing everything they can to ensure the safety of their customers and the food industry needs all the business they can get in a tough year.

Kelsey Erickson Streufert, vice president of government relations and advocacy for the Texas Restaurant Association, linked the ability of bars and restaurants to stay open late to a kind of social contract of coolness. "We like to say 'keep Austin weird'; well, Austin is not going to be very weird if we keep going down our current path," she said.
Less than five hours before 2021, Gov. Abbott released a statement: "The Governor's statewide executive order allows food establishments to be open for in-person dining on New Year's Eve as authorized by the Texas Alcoholic Beverage Commission. They should remain open. Happy New Year!"
An hour after that, Mayor Adler released his own statement appealing to common sense and decency, saying: "We are trying to save as many lives as we can, guided by the doctors and the data. We're encouraged the District Court agreed that cities have the authority to react to local conditions and protect their residents when the state won't. This is not a drill—Austin is experiencing uncontrolled spread of the virus."
The political ping-pong more or less came to an end an hour before midnight when a Travis County District judge upheld Austin's curfew restricting when restaurants and bars could serve customers during the New Year's weekend.
But even with that, multiple bars and venues along 6th street remained open past curfew, The Austin American-Statesman reported.
Across Austin, food and beverage venues have had to make difficult decisions when it comes to how they operate. Some have opted to stay close entirely during the COVID surge.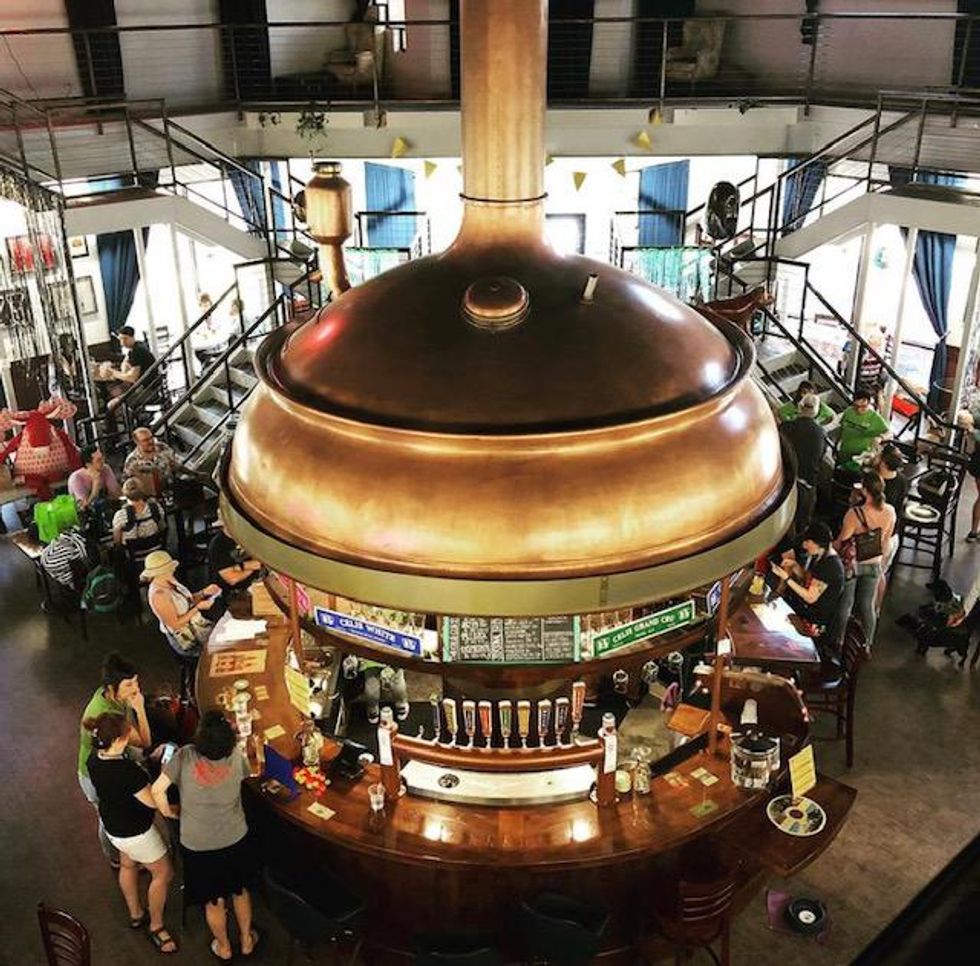 Celis Brewery(Teresa Mikulastik)
Teresa Mikulastik, taproom manager/event coordinator at Celis Brewery, said that this year the brewery elected to stay closed on New Year's Eve for the first time since opening in 2017. She said the decision was made before the curfew was put in place.

Celis Brewery, which briefly switched to to-go only service in an effort to provide craft beer during the strictest stages of the pandemic, is focused on providing peace of mind along with its pints.
"Breweries and brewpubs are about fellowship and camaraderie: sitting with your friends and family at the bar, drinking your favorite beers, and sharing your day," says Mikulastik. "To have that experience taken away is very difficult."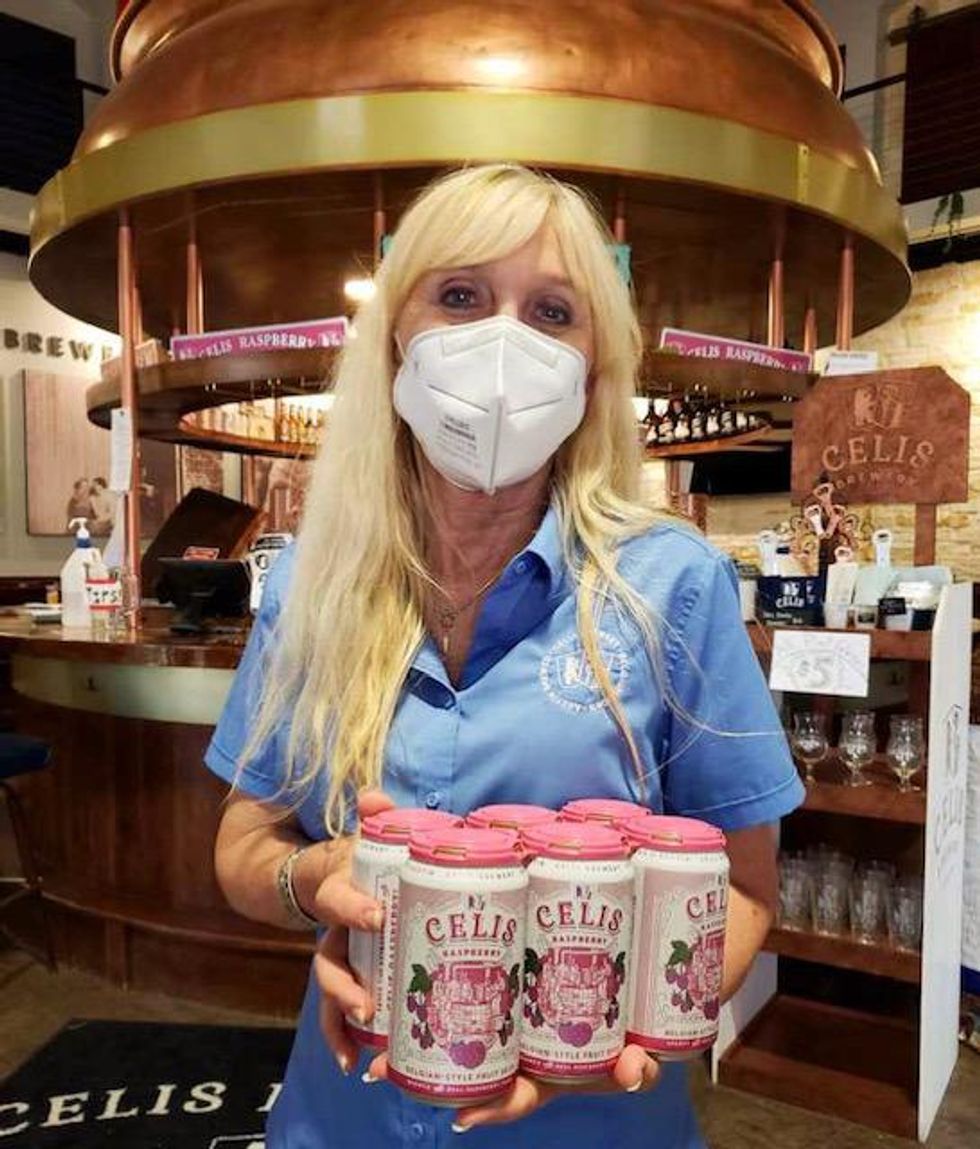 Christine Celis, owner of Celis Brewery(Teresa Mikulastik)
Austin Kalman, owner of the Aristocrat Lounge, had planned on reopening at the end of November but, when he saw the spike of COVID coming, decided that postponing would be the wiser thing to do.

Kalman feels bothered by what he views as the reckless attitude of some bars regarding COVID-19 restrictions.
"It is frustrating because I know a bunch of people that are doing a really good job of running their establishment as safely as they can and trying, even going beyond, you know, whatever the governor's recommendations are," he says, adding, "then to see other places, you know, like a lot of places downtown that are basically just letting people do whatever they want … yeah, it is pretty frustrating."
Kalman plans on reopening the Aristocrat Lounge the second or third week of January.
"They always used to joke in the bar business that we were in a recession-proof industry," he says. "People are broke and out of work, they want to go have a drink, and when people are happy and things are good they want to go out and celebrate ...which is actually true. But not in the pandemic," he says.
(Hyde Park Baptist Church)
Since turning to Zoom church services, Isabel Sheldon's preferred place of worship is no longer where she wishes to hear the word of God. She says she would love to meet fellow worshipers for an in-person church service but understands that it's not easy during a global pandemic.
"I lost interest in joining Zoom for meetings," Sheldon says.
Sheldon, a retired Austin teacher, sought out other options and turned to the Pentecostal church where her nephew is the pastor, which offers in-person services.
"The service was uplifting," she says. At the entrance, Church goers selected one of three ribbons: green for "you can hug," red for "do not touch" and yellow for "you have to stay six feet away from me."
From masked congregations enjoying world-class gospel via Zoom to socially distanced in-person events, Austin churches are taking measures to keep this year's Christmas celebrations from becoming a super-spreader occasion.
On Dec. 15, Travis County Judge Andy Brown and Austin Mayor Steve Adler sent a letter to Austin's faith community leaders, imploring them to support the city's efforts to slow the spread of COVID-19 by hosting virtual worship services and enforcing social distancing and masking guidelines.
But judging from the prophylactic measures taken by parishes and pulpits alike, Austin churches were already committed to containing contagions while spreading the word.
The Diocese of Austin, made up of 127 parishes over 25 counties in Central Texas, plans to offer Mass both in person and over live stream on Christmas, following the protocols to mitigate the spread of COVID-19, said Shelley Metcalf, editor of the Austin Diocese's monthly newspaper the Catholic Spirit.
A Dec. 16 statement from the Diocese of Austin brings attention to the church's efforts to follow safety protocols for Mass: "We hold to our belief in the sanctity of human life, which calls us to remain vigilant in our care for one another through these proven protocols." It continued: "The Church will diligently follow these protocols for the sake of all God's people and the common good of our community."
When Austin churches began to reopen in May, they were keenly aware that they could do so only by following guidelines, which included socially distanced seating and leaving every other row empty. Per state order, places of worship are not subject to the county order that limits gatherings to 10 people.
Hyde Park Baptist Church modified its annual Christmas concert program to maintain safety amid COVID-19. One of the biggest changes was only seating 500 people, of its Worship Center's 2,000-person capacity.
"Since our orchestra and choir have not practiced together since March, we did not have our usual Christmas presentation," says Becky Shipp, assistant to the senior pastor. Instead, the church brought in special guest soloist Wintley Phipps, a superstar gospel talent who has performed for U.S. presidents, to sing in its Christmas presentation earlier this month.
To follow safety protocols, Shipp says the church's traditional Christmas Eve service will be held in two services instead of one, so fewer people will be at each service.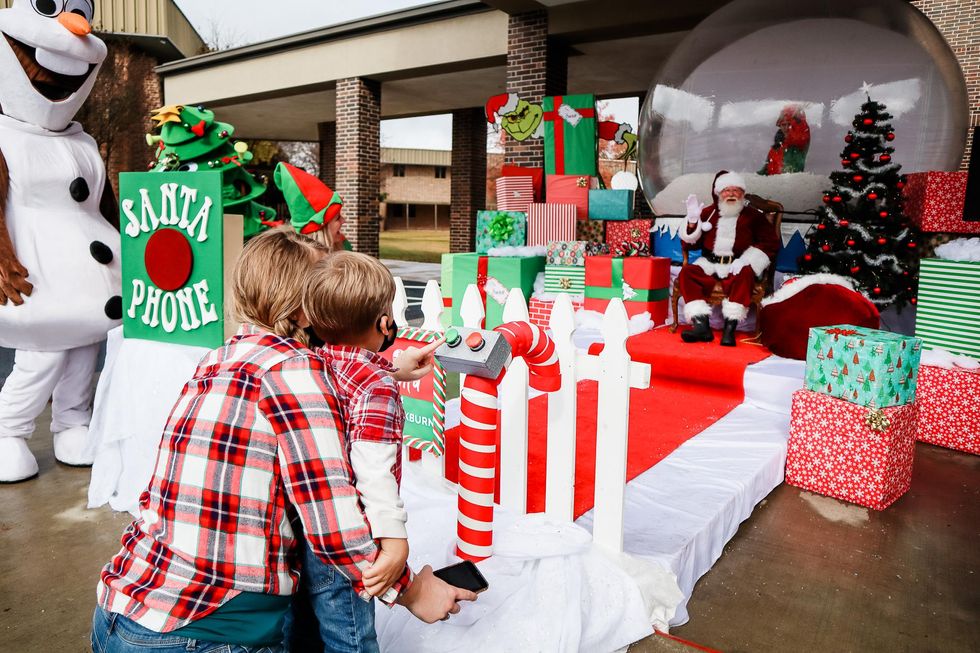 Drive-thru Santa event at Bannockburn Church. (Bannockburn Church)
Finding creative ways to figure out Christmas gatherings has been the rule this yule. For instance, Bannockburn Church offered a "Drive Thru Santa" family picture event at their South Austin campus on Dec. 19.

"We had over 150 cars drive by. The kids were so excited to wave to Santa Claus and speak to him through a 'Santa Phone,' and parents were grateful to snap a family picture," says Stephanie Robinson, the church's communications director.
Life Tabernacle Austin, which typically holds 300 people, is only allowing 100 people in the building currently. The church is making the most of Zoom and Facebook.
Bishop Frank Balboa says the new norm is live streaming, and the youth are the ones to pick up the reigns and help the pastors out.
"I am not reaching out to just two hundred of our membership—we are reaching out to families and friends and it's amazing, you know, something like this can really turn into a blessing," he said. "People are connecting from different parts of the world."
The change toward a more pixelated worship service has been difficult, but it's a blessing in disguise, Balboa added.
"Even though it's a difficult time ... we're moving (toward better) ... the church is not closed."
For those who suffer mood disorders and mental illness, this year has especially been a nightmare and to add to that, the holidays often mean the unwanted gift of seasonal depression.
Kelli Foulkrod, a transpersonal psychotherapist and trauma-informed yoga instructor based in Austin, has seen an increase in people coming to her 10-year private practice for help this winter.
Foulkrod says that the isolating strategies associated with COVID-19 have increased suicide rates, domestic abuse, homicides and child abuse.
"We are social creatures; we thrive in communities, we thrive in connection," Foulkrod said. "It is almost like air and water, how imperative it is for human beings to be in connection with one another."
A study from the National Alliance of Mental Illness showed 64% of people with mental illness report the holidays make their conditions worse. And this holiday season is like no other, with mental health statistics reaching alarming numbers before the holiday season.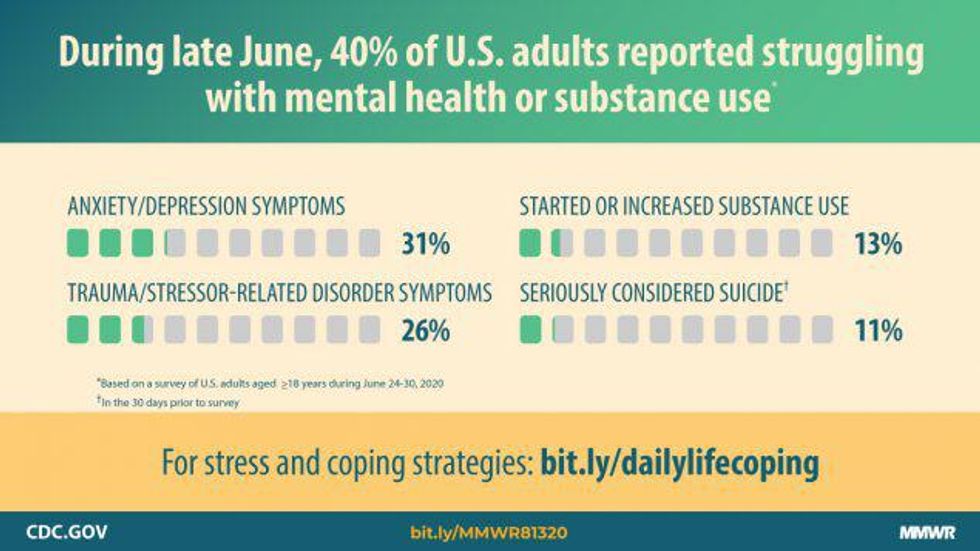 (CDC)
According to a Centers for Disease Control study conducted this summer, 10.7% of adults seriously considered suicide during the previous 30 days, a number that was almost twice as much as in 2018 when the count was 4.3%. The study shows the prevalence of depressive disorder was approximately four times what had been reported in the second quarter of 2019, going from 6.5% to 24.3%.
Additionally, the Disaster Distress Helpline, a sub-network of the National Suicide Prevention Lifeline, saw an 890% increase in call volume in April 2020 compared with April 2019, USA Today reported.
Wendy Salazar, a practice manager at Austin Travis County Integral Care, sees the increase in people reaching out for help as a positive sign indicative of an awareness that the public has regarding the importance of mental health.
"We're seeing an increase in calls to our helpline because folks are really connecting with 'Hey, you know what? It's important for me to take care of how I am feeling, there's a lot of benefit to that,'" says Salazar, who notes that over the last eight months there has been a 19% increase in calls to the helpline.
Lloyd Weatherspoon III, a rehabilitation specialist at Integral Care, notes the difficulty that the pandemic has had on those who rely upon the routine of getting together for the mutual benefits of group therapy.
"Say we have people who are in a small group therapy. We can't do group therapy and we can't do group activity because of COVID, so it is hard or more challenging for those who are used to getting together once a week or daily for activity at a mental health center, so lack of communication for people like that makes it difficult."
Although a lot can be done by Zoom and telehealth, not everyone has access to a smartphone or a laptop, and so an actual home visit—replete with full protection gear, gloves and a plastic shield—is required.
Weatherspoon says that this time of year, when seasonal affective disorder, or SAD, hits, the usual holiday relief of family get-togethers might not be an option due to COVID-19, and this of course will be a problem for those suffering from depression.
"It is one thing to have SAD if you're dealing with mental health issues on your own. It's another thing to do that and not be able to have the actual physical contact and see your family, right? So that is a challenge for some of them," he says.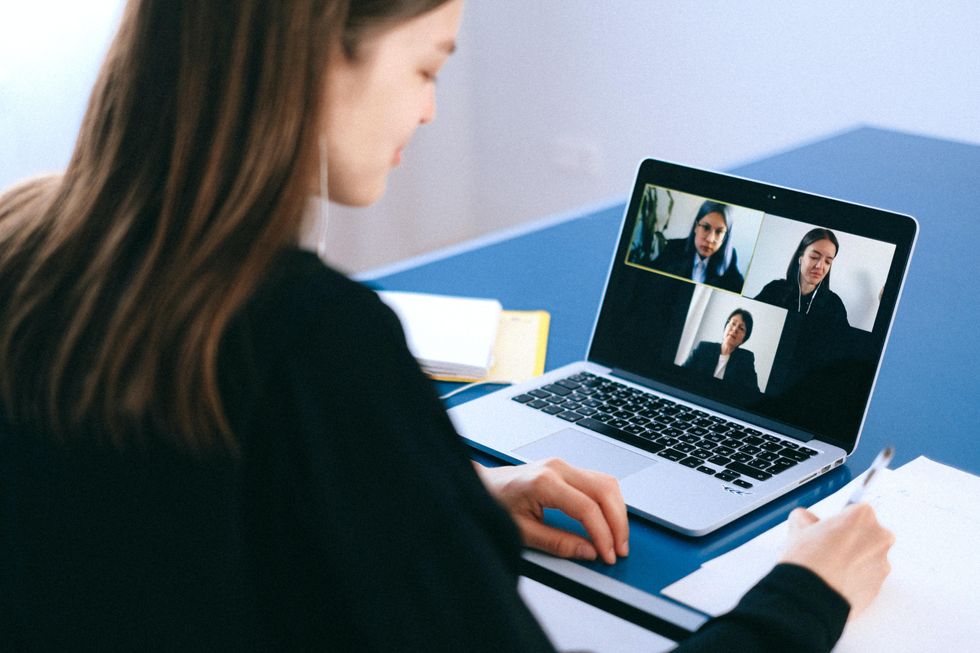 Zoom calls became a necessity for people to connect for both business and fun. While using a screen to connect with others isn't the same for the human nervous system, Foulkrod says, it is a major step toward dealing with the anxiety that comes from isolation in an uncertain time.

"We're at nine months of this and so we're seeing—at least in my opinion—the peak of a mental health crisis," she says. "We are collectively in trauma, this is a traumatic experience. I've never done this before, nobody knows how to do this, but since we don't know how long this is going to last I do encourage people to find creative ways to hang out with people."
And when you can't be with people physically, she suggests spending time in nature, journaling, learning a new skill, and filling the mind with a creative outlet until things return to a better normal.
"A giant lesson for people to realize is what we actually have control over is our responses to the uncontrollability of life," Foulkrod says.
Deann Acton, an art therapist trained in dialectical behavioral therapy, can personally attest to the power of creative work in her own life.
"Art is definitely my barometer for how well I am doing," she says. "So as long as I am making art I am probably okay."
Acton has, like Foulkrod, noticed an increase in her clientele recently due to COVID 19-related stress, and notes that some people who had moved out of therapy have come back.
In a time when getting together for a dinner party or a night out may be out of the question, the assuaging aspects of creating art becomes an ever more attractive way for people to center themselves.
She says the act of not thinking about anything but the art being created is an active meditation. Acton, a cancer survivor whose own illustrations of sea monsters helped her to understand her feelings regarding the disease, says art therapy is about using art to express oneself.
"When people … make art with me they always leave feeling better than when they came in. Naturally, it's a pretty healing thing to be able to create something," Acton says.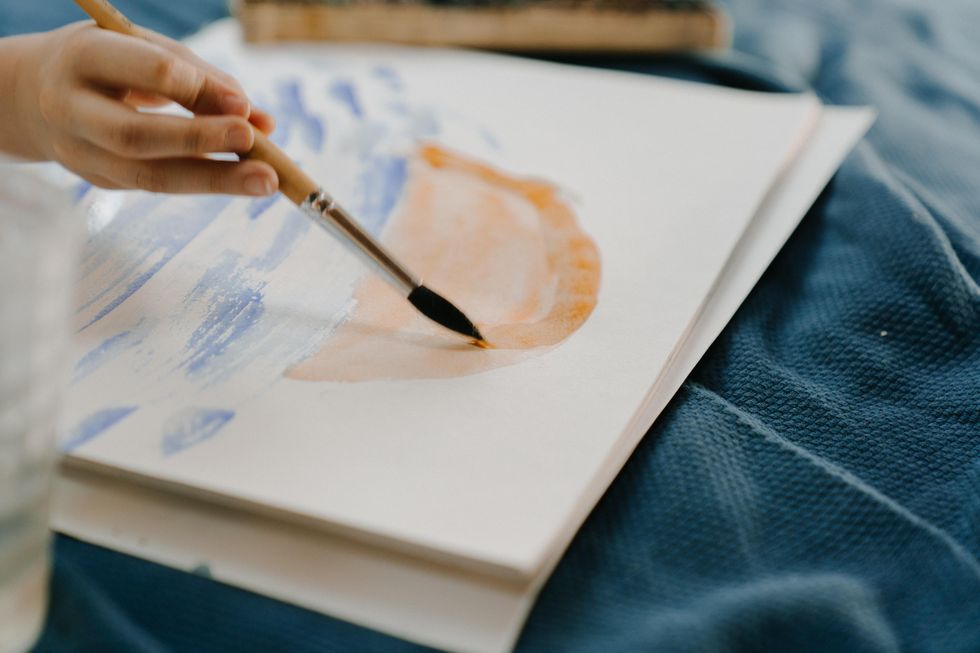 Acton counts baking, crocheting and holiday gift-making as therapeutic acts, and suggests that people go outside and take pictures of interesting objects in their yard or put together a vision board collage of what they feel grateful for.
Acton emphasizes learning ways to accept a situation rather than be negatively affected by it, as exceptionally useful during the pandemic.
"It is all about teaching coping strategies; how do you accept a moment that you'd rather not accept?" Acton says. "Yeah, this sucks, so you can be woeful about it and just be angry all day that it's happening … or you can just accept this is the now, so what do I do with this now? How do I like lean into the now that it is and like figure out ways to have a good experience in whatever moment I can, given that this is what it is right now?"
Austin residents feeling the mental stress associated with the pandemic should call the
COVID-19 Health and Wellness Support Line
which will provide short-term counseling and support to Austin workers and families whose mental health has been impacted by the COVID-19 pandemic.